Travel Money Guide: Italy
Ciao, Amico! Travelling to Italy? Start comparing your travel money options and prep your wallet for all of the pasta, pizza and gelato you'll need to pay for on your holiday.
Traveller's advice on some of the best ways bring, access and spend travel money in Italy: As a Eurozone member state, the official currency of Italy is the euro. Compared to countries like France, Germany and the UK, Italy is still somewhat a cash based economy. Don't think you're going to be paying cash all the time, though. Shops and merchants in Italy are well equipped to accept card payments (Visa and Mastercard are more common than American Express) — the uptake of contactless payment technology increases year on year.
The good news for travellers is Italian bancomat machines (bank ATMs) will let you get cash out for free. Just look for a card that doesn't charge for international ATM withdrawals (and currency conversion) and you'll have a hassle and low-cost holiday in what is arguably one of the most beautiful countries on Earth.
One surefire way to make sure you don't end up forking out for withdrawal fees is to use a digital banking app. The big names in this field, such as Starling, Revolut and N26, offer zero transaction and withdrawal frees with their products. Mobile by nature, they can also be managed anywhere in the world and aren't subject to the same restrictions that conventional travel money products are.
Which option is right for your next trip?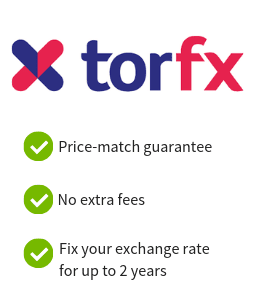 TorFX International Money Transfers
You can always get the best rate on international money transfers using TorFX.
Best price. If you can find a competitor's foreign exchange quote for a better price, TorFX will be it.
Transfer options. TorFX give you a variety of ways to make international payments.
Secure. TorFX is a safe and secure way to transfer money overseas and is subject to government regulations.
Compare the best banking apps for going abroad
How many euros do I need to bring to Rome?
High summer season premiums will add to the cost of an Italian trip, but the cost of living and travel varies depending on where you are in the country. In smaller towns, especially in the South, Italy is surprisingly affordable. In the middle of the country and the north and especially in touristic places like Rome, Venice and Milan, it can be very expensive. If you go to Italy during high season (late June, July and August) expect to pay a premium for everything. Off-season, prices drop dramatically.
Find out some typical Roman holiday prices
Budget
Midrange
Expensive

Camping in Rome

£7.50 per night

2 Star hotel in Rome
£45 – £90 per night
5 star hotel in Rome
£100 – £400 per night
Trapizzino: £3
Sandwich: £2.50 – £4
Dinner for two at a mid-range restaurant with wine
£50
5 star restaurant
£60 – £350
Colosseum entry
£10
Rome and Colosseum 1/2 Day Walking Tour
£45
Imperial Rome golf cart tour
£110
*Prices are for example purposes only.
Exchange rate history
The GBP currency pair has been relatively unstable over the last five years, thanks to recent political events such as Brexit. Travellers to Europe from Britain will find that £1 is equal to around 1.1 Euros. If you think you know whether it's going to be more expensive or cheaper to buy Euros in the future, you may want to lock in the exchange rate using a prepaid travel card.
| Year | Average annual exchange Pound Sterling (GBP) to Euro (EUR) |
| --- | --- |
| 2012 | 1.233263 |
| 2013 | 1.177964 |
| 2014 | 1.240494 |
| 2015 | 1.377982 |
| 2016 | 1.224833 |
| 2017 | 1.155113 |
Back to top
Should it be a travel card, a debit card or a credit card?
Credit cards and debit cards with travel features are just as suitable to take on a trip to Italy and Europe as a prepaid travel money card. You can use your Visa or Mastercard branded card in Italy without issue, American Express card charge a higher surcharge and are accepted in fewer places. You can use your card to pay for train tickets, souvenirs at gift shops, hotels, trattorias (Italian eateries), restaurants and more. The range of merchants which accept cards is similar to Britain. You'll need cash to pay for street food, taxis, to pay tour guides and for purchases under €10 – €20, for example, so avoiding the international ATM transaction fee should be a factor when you're comparing options.
A quick summary of travel money options in Italy
Travel money option
Pros
Considerations
Debit cards for travel

Protected by PIN & chip
Using your debit card overseas offers the convenience of having access to your own money, without needing a separate 'travel account'.
The right debit card will give you cheap and convenient access to cash.

Compare and choose carefully — the wrong debit card can charge you excessively.
International ATM charges on most everyday transaction accounts are extremely high.
Not a credit product. No emergency funds available though a cash advance facility.

Prepaid travel money cards

Pre-load Euro and spend in Italy without incurring fees for currency conversion
Protected by PIN & chip

Accepted worldwide
Emergency card replacement and backup cards
Reloadable with your own money to help you keep track of your spending

While travel cards do not charge for international transactions (currency conversion fees), you may still be charged for ATM withdrawals.
Reload fees could be high
Foreign exchange rates are usually less competitive than other personal finance products.

Credit cards for travel

Protected by PIN & chip
Access to funds up to your credit limit
Accepted worldwide
No currency conversion/ transaction fees
Interest free days when you pay your account in full
Travel-friendly features, like complimentary travel insurance and car rental excess cover
Emergency card replacement

Can charge high withdrawal and cash advance fees
Higher spending limit (depends on your approved credit limit)
Attracts an annual fee

Traveller's cheques

Secure and can be easily replaced if lost or stolen
Photo I.D. needed to cash cheques

Many banks in Italy will refuse to cash traveller's cheques.
Can be costly with initial purchase charges

Cash

Greater payment flexibility
Convenience

More difficult to manage expenses
Higher risk of theft
This table is a general summary of the travel money products in the market. Features and benefits can vary between cards.
How travel money products work in Italy
Using prepaid travel money cards
Preload a travel card with euros and spend in euros and you'll avoid the fees that usually go hand in hand with international purchases. Compare these cards by their ATM fees, initial load and reload fees. Most ATMs in Italy don't charge an ATM operator fee, by choosing a product which waives the international ATM withdrawal fee, you can access your money at Italian bancomat machines and spend over the counter without paying any additional fees or charges.
Tip: A travel card lets you lock in the exchange rate when you transfer funds between different currencies. This feature can be handy if you think it will become more expensive to purchase euros during your trip.
Using debit cards
Travel friendly debit cards waive the 3% fee for currency conversion when you transact in euros. Unlike travel cards, there's no need to manage exchanging foreign currency before you spend and the card scheme (Visa or Mastercard) daily exchange rate applies. This is usually the most competitive rate you can get on a personal finance product (credit card transactions in a foreign currency also use this rate).
Tip: Italy has been slower to adopt contactless technology than France, Germany and U.K. However, you can use your CHIP debit card to make contactless payments at Italian supermarkets, i.e. Carrefour, Auchan, Spar etc., fast food chains like McDonald's, some restaurants and bars. Merchants in Italy allow contactless payments of just a couple of euros.
Tip: You can use a debit card with a magnetic strip in Italy. However, your debit card will work in more places if it has a CHIP. A debit card with a CHIP will work at unmanned point of sale terminals such as petrol stations, ticket kiosks, toll booths and parking payment machines.
Using credit cards
Credit cards offer up to 55 days interest-free on purchases when you pay your balance in full by the statement due date. This gives you time to make purchases without paying any interest. Credit cards also offer perks such as complimentary international travel insurance and purchase protection insurance, which is money that would have been an out of pocket expense.
Credit cards which waive the fee for currency conversion can be used over the counter for purchases and you won't pay any additional fees. There are credit cards that don't charge for international ATM withdrawals. Cash advance charges and interest apply when you use your card at an ATM — a cash advance should be avoided if you're conscious of saving on unnecessary charges. So you might want to use a debit card or travel card to withdraw from ATMs instead.
Tip: A no currency conversion fee rewards credit card can be a good way to rack up frequent flyer or rewards points when you're in Italy.
Tip: Make sure you tell your bank about your travel plans in Italy and Europe. Your card provider may put a block on your account if they see a transaction in another country.
Using traveller's cheques
Traveller's cheques have been replaced by prepaid travel money cards. Many banks in Italy will refuse to cash traveller's cheques, so don't bother with this travel money product. Make bancomat (ATM) withdrawals instead.
Taking cash with you
Italy is a cash based society compared to other major economies in Europe, Australia and North America. You can still use your card in almost as many places as you would in the U.K. other countries; however, there's a reluctance among Italians to let go of cash as a method of payment for things like rent, food, clothing and so on.
Back to top
Buying currency in Britain
You can take as many Euros with you to the European Union as you want. You have to declare if you're carrying more than €10,000 cash. This includes bank notes and traveller's cheques, gold bullion etc. It's easy to buy Euros in the U.K. – you can exchange Pounds to Euros in almost any bank, high street or online travel shop, as well as in the airport.
Making ATM withdrawals
The best way to get cash in Italy is to make an ATM withdrawal when you arrive. The Visa or Mastercard exchange rate applies and is better than any rate you're likely to get exchanging currency at an exchange office or a bank.
Italian bank ATMs are called bancomats and do not charge a local ATM operator fee, avoid using independent ATMs. These third party ATMs charge like a wounded bull and you can usually find these machines alongside bank ATMs. It will be obvious which ATMs are affiliated with a bank and which aren't.
Tips:
Italian bank ATMs generally have a maximum withdrawal limit somewhere between €250 – €300 per day and you can select English as a language option when you insert your card.
Why you'll need a combination of travel money options
A combination of the products compared on this page is the best approach to taking travel money to Italy. It's advised that you take more than one way to withdraw cash as there have been anecdotal reports Italian ATMs can be temperamental with foreign cards. You don't want to be caught without access to your money in the event a card is lost or stolen.
There are few destinations that evoke history and romance quite like Italy. It's no surprise then, that Italy is one of the planet's most visited countries in the world. Every year, tourists flock to Italy to enjoy themselves among some of the finest and longest living monuments to human civilisation; revel in the richness of it's art and culture, and eat and drink to their heart's content. Make your holiday memorable for all the right reasons and travel with peace of mind that you're getting the most from your budget with a travel card, credit card or debit card.
Back to top
Read more on this topic