Leap Loans review March 2020
Peer-to-peer platform, Leap, offers personal loans with interest rates that could reduce as you repay your loan.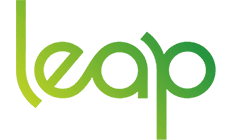 Finding a debt consolidation loan with decent conditions isn't the easiest thing in the world, but it looks like Leap may be a solid option, at least if you have a good credit score. It offers personal loans to consumers who are paying off existing debt (for example, on a credit card), and it's a peer-to-peer (p2p) lending platform, which means that it connects borrowers with investors directly.
The way p2p lending works is pretty simple. Since there is no financial institution involved, the costs of running the service are considerably lower. This translates into better rates for borrowers and higher returns for investors.
Leap aims at making its loans more competitive by combining p2p lending with its "dynamic rates". In practice, this means rewarding borrowers who demonstrate good financial behaviour by lowering the cost of their loan while they're paying it back.
Key features
| | |
| --- | --- |
| Loan type | Unsecured peer-to-peer personal loan |
| Loan amounts | £500 to £25,000 |
| Loan terms | 12 months to 60 months |
| Loan rate type | Fixed |
| Same day funding available | |
| Instant decisions in most cases | |
| Soft-search facility available | |
| Joint applications | |
| Overpay without penalty | |
How much does it cost?
You can use the tool below to calculate the cost of a Leap loan and to check your eligibility.
We compare lenders including:
Late repayments can cause you serious money problems. See our
debt help
guides.
What is a "dynamic rate"?
Long story short, a "dynamic" interest rate is a rate that, instead of being fixed, goes down while you pay back your loan.
Usually, your loan's rate is decided when you're offered the loan and depends on how risky you prove to be as a borrower. The lender assesses this based on a series of factors (your credit history and score, affordability and so on) and then offers you a quote. Once you take out the loan, your rate remains the same until you pay it all back.
The idea of "dynamic rates" is built on this very same concept of risk-based pricing. Consistently positive financial behaviour gradually turns you into a less risky borrower, so it makes sense for your loan's rate to go down too.
Leap is not the only lender offering dynamic rates (LiveLend, for example, does too), but it does it in a fairly unique way – that is, by looking not at your credit score, but at the overall amount of your debt. Leap checks it every three months; as long as your debt hasn't gone up by more than 5% compared to when you first applied for the loan, you'll get a rate reduction.
When you get a quote from Leap, you'll see an entry called "payment incentive" – this tells you how much you can save if you qualify for Leap's dynamic rate.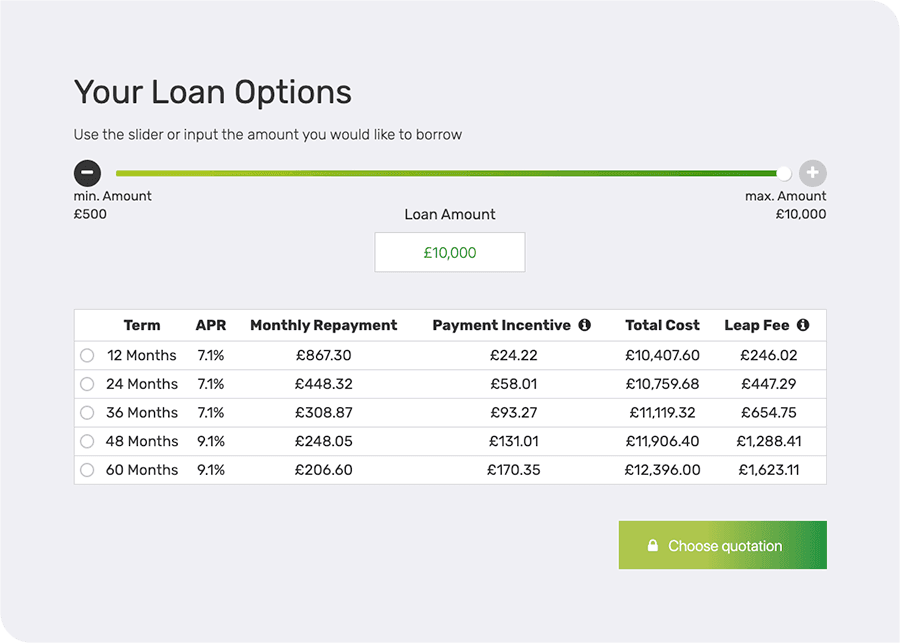 Pros and cons
Leap offers competitive rates that can enable you to pay off existing debt at a cheaper price.
Paying off your debts will get you a "discount" on your loan thanks to Leap's dynamic rate.
You can repay your loan early if you want to, without penalties.
You can get a quote and apply online in a few minutes.
Leap's fees are quite chunky (and don't go down with the rate).
You can only use Leap for debt consolidation.
Am I eligible for a Leap loan?
Eligibility criteria to qualify for a Leap loan are as follows:
| | |
| --- | --- |
| Age | 21 |
| Residency | UK resident |
| Income | £25,000 |
| Credit profiles | Good |
| Additional requirements | Applications from applicants with County Court Judgments (CCJ) or Individual Voluntary Arrangements (IVA) in the last three years will not be approved. |
How do I apply?
If you think Leap may be what you're looking for, you can kickstart your application. Here's what the process will look like, more or less:
Make sure you're eligible. Having a look at the eligibility criteria is the very first thing you should do. There's no point in wasting time with an application if you don't meet them.
Get a quote. Leap says this takes around five minutes. You'll need to know how much you want to borrow and for how long, and to fill in your personal and financial details (including details of the debts you want to pay off). Leap will then do a "soft" credit check to assess your circumstances – this won't affect your credit score, so you can ask for as many quotes as you like without worrying about it.
Submit the application. If you're happy with the quote, you can proceed with your application. This time, a full credit check will be carried out. Leap will also ask you to connect your bank account to your Leap account.
Decision. Leap's final decision usually comes after one business day. You will then be sent your loan agreement.
Funding. At this point, Leap will match you with your investors (always more than one). You'll have to accept individual agreements with them too. Funding should come one or two business days after that.
The bottom line
If you are looking for a debt consolidation loan, Leap definitely has the potential to be a cheaper solution than keeping your debt on your average credit card. Fees make up a significant part of the overall cost though, so make sure you're aware of what they are and how much you'll be charged.
Between being a p2p platform and its dynamic rate, Leap's approach is certainly innovative. The overall process is smooth and relatively fast, even though p2p lending does inevitably come with some extra paperwork.
Finally, keep in mind that Leap only allows you to use the money to pay back your debt and that you'll need a good credit score to qualify.
Frequently asked questions
Finder.com has selected Accepty Technology Ltd to provide details of credit products and whether you may be eligible to get them. Accepty Technology Ltd is authorised and regulated by the Financial Conduct Authority (FRN: 839295). Accepty is acting as a credit broker, not a lender, and may receive a payment from a credit provider if you take out a credit product.
We show offers we can track - that's not every product on the market...yet. Unless we've said otherwise, products are in no particular order. The terms "best", "top", "cheap" (and variations of these) aren't ratings, though we always explain what's great about a product when we highlight it. This is subject to our terms of use. When you make major financial decisions, consider getting independent financial advice. Always consider your own circumstances when you compare products so you get what's right for you.
Read more on this topic