Sainsbury's loans calculator and 2020 review
Use our calculator to see how much you'll pay back on a Sainsbury's Bank personal loan - and then see whether its competitors offer a better deal.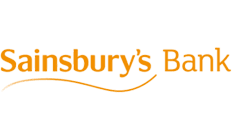 You say
★★★★★
Customer satisfaction

Preferential rates for Nectar cardholders

Sainsbury's Bank ditched its price match guarantee in 2019
Sainsbury's loan calculator
Table: sorted by representative APR, promoted deals first
Please note: You should always refer to your loan agreement for exact repayment amounts as they may vary from our results.
Late repayments can cause you serious money problems. See our debt help guides.
Our calculator lets you pick how much you want to borrow, and how long you'd like to borrow it for, to estimate how much you would pay back each month and overall. We base our calculations on Sainsbury's representative APR, but it's important to note that credit is subject to status and your circumstances may affect the rate you're offered.
With Sainsbury's loans you can request a two-month repayment holiday at the start of the loan. This can buy you time to get back on your feet financially, but it pushes up the monthly and overall cost of borrowing. We've based our calculations below on the assumption that you won't use the repayment holiday. We also assume that you don't repay the loan early.
How do Sainsbury's Bank loans compare against the competition?
Table: sorted by representative APR, promoted deals first
Please note: You should always refer to your loan agreement for exact repayment amounts as they may vary from our results.
Sainsbury's loan rates and fees
Sainsbury's Loan (Nectar cardholders):

2.9% p.a. fixed interest rate with no fee, on loans of £10,000 over 3 years. Apply to borrow up to £25,000.
Applying was an easy process with no problems. Sainsbury's has low interest rates and it's easy to overpay."
Overview of Sainsbury's loans
If you're considering a Sainsbury's loan, the good news is that you don't have to be an existing customer of Sainsbury's Bank to apply. You'll need to have a Nectar card however – it's free to get yourself one (just ask at the checkout) and it'll help you bag a reduced interest rate.
With its benefits for Nectar cardholders, Sainsbury's Bank has become a popular choice for fixed-rate personal loans and credit cards. However with the price wars extending beyond supermarket shelves into financial products such as these, there are savings to be had by shopping around for the best deal.
Sainsbury's previously offered a price match guarantee if another lender formally offered you a loan at a better rate (it's not enough to simply show an advert you've seen with a better APR). There's no longer any mention of this on the site, however.
The upper limit of £25,000 is higher than the more standard £25,000 for unsecured loans. This can make a Sainsbury's loan an appealing bet for heftier expenditures – perhaps a loft conversion or an extension – but you'll need decent credit and, more importantly, you'll need to be able to comfortably be able to afford the repayments, to get your application across the line.
Like most lenders, Sainsbury's now offers a soft-search tool so you can get a good idea whether or not you'll be approved before you apply, without hurting your credit score.
| | |
| --- | --- |
| Loan type | Unsecured Personal Loan |
| Loan amounts | £1,000.00 to £25,000.00 |
| Loan terms | 1 Year to 7 Years |
| Loan rate type | Fixed |
| Product fee | 0% |
| Same day funding available | |
| Instant decisions in most cases | |
| Soft-search facility available | |
| Joint applications | |
| Overpay without penalty | |
| Concurrent loans allowed | |
| Topping-up pays off existing loan and initiates a new loan | |
| Repayment methods | Direct Debit |
How do Sainsbury's personal loans work?
Sainsbury's Bank offers unsecured personal loans, meaning they're be based on creditworthiness, rather than using property, vehicles and other assets as collateral. While Sainsbury's rates are definitely competitive, the advertised representative APR may not be the rate you'll receive: Sainsbury's will offer you a rate based on assessment of your personal financial circumstances.
Here's the typical process for taking out and repaying a Sainsbury's loan:
Use Sainsbury's soft search to check your eligibility. This is a fast, stripped-back form which leads to a soft search (that's a credit search which can't affect your credit score) in order to tell you whether or not it's worth applying. To run the soft search, Sainsbury's will just need to know where you've lived over the last three years.
Apply to borrow £1,000–£25,000 over £1–£7 years. If you're happy with the results of your eligibility check, you can proceed to the real application. Sainsbury's will auto-fill fields with information you've already provided. You'll be asked for your Nectar card number and you'll need to decide whether you want to take advantage of the two-month repayment holiday at the start of the loan (if you can, it's cheaper not to).
Get an instant decision (in most cases)… In a few, exceptional cases, Sainsbury's Bank might request additional information.
…and access funds straightaway. Once your application has been approved, you can accept the loan offer online and the money should be transferred immediately. If you's prefer to receive and sign the physical documents, Sainsbury's Bank says it will transfer the money within 1-5 working days of receiving signed documents.
Pay a fixed sum each month for the duration of the loan. Because the interest rate is fixed, you'll pay the same amount each month and you'll know upfront how much the loan is going to cost overall.
Repay some or all of the loan early, if you wish to. Pay back your some or all of your loan early at any time. An early settlement fee equivalent to 58 days' interest on your remaining balance may apply.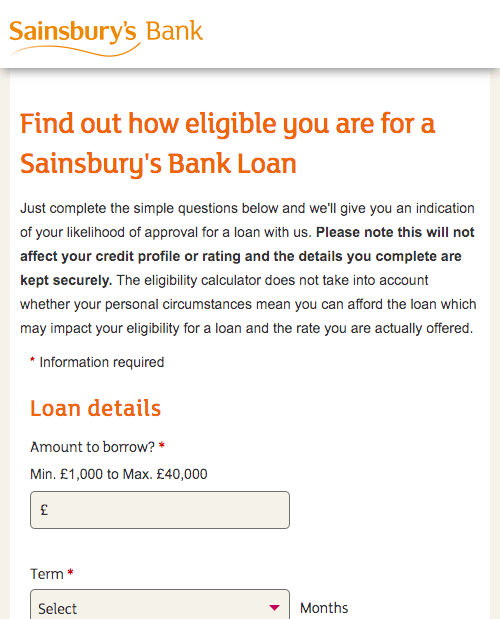 Use the eligibility checker to find out your chances of getting approved for the loan you have in mind (this will involve a "soft" credit search that doesn't have any affect on your credit score).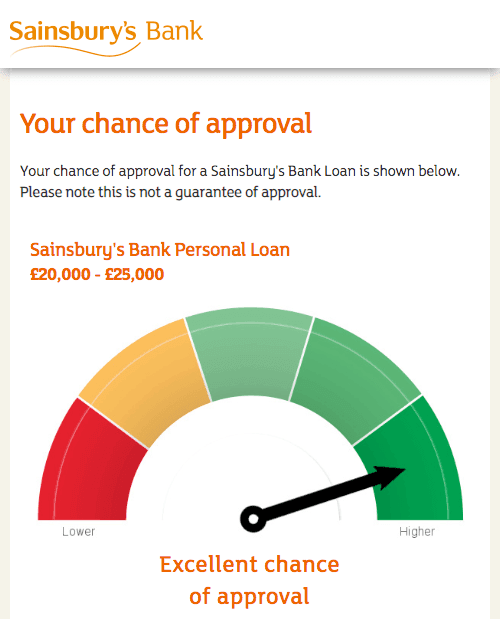 Sainsbury's will present you with your chances of approval and a repayment example. This is a useful indicator but not a guarantee of approval, and the numbers could change after a full credit search.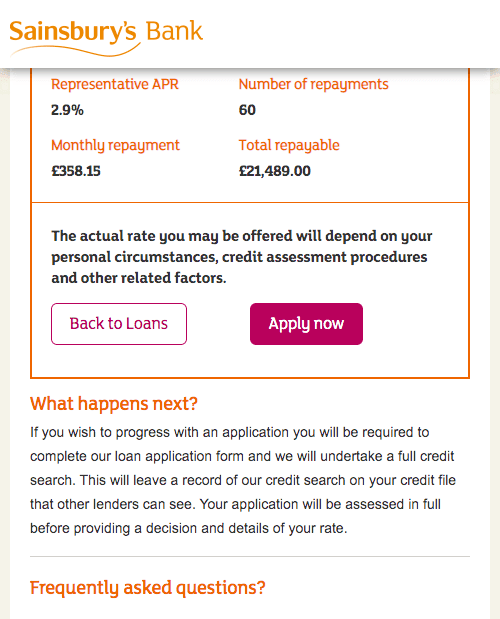 If your application is likely to be approved you can proceed to the actual application (which involves a "hard" credit search and a slight – usually short-lived – negative impact on your credit score).
What is APR?
The Annual Percentage Rate (APR) is a figure that all lenders have to calculate in the same way, which is designed to provide an annual summary of the cost of a loan. It takes into account both interest and any mandatory charges to be paid (for example an arrangement fee) over the duration of a loan.
Sainsbury's loans tend to have a very competitive APR – which is usually an indication that you'll need a decent credit score to get approved, especially for larger loans.
The APR can provide a handy benchmark for comparison (alongside other factors like the monthly and overall cost), but there is a catch. Sainsbury's is only obliged to award this rate to 51% of its borrowers – the other 49% could pay more. That's why it's often referred to as the "representative" APR. The rate you're ultimately offered will depend on factors like the amount you apply for, the term of the loan, your credit rating and your income.
Am I eligible for a Sainsbury's loan?
You should only apply for a Sainsbury's Bank personal loan if you're happy that you can meet the repayment schedule outlined. You must also:
Be aged between 18 and 76.
Be a UK resident.
Be a Nectar card holder.
Hold a UK-based bank or building society account which allows direct debits. If you're applying for a joint loan, the first named applicant must be named on this bank account.
Have a good credit record with no history of County Court Judgements or bankruptcy.
Have been employed by your current employer for over three months or retired with a pension. Unfortunately Sainsbury's does not currently offer loans to self-employed applicants.
Have a regular income of at least £7,500 (before tax) annually. Acceptable sources of income include a pension or rental/investment income, but do not include most benefits and allowances (e.g. child benefit, housing benefit, tax credit, maintenance payments, income support or job seekers allowance).
What credit score do I need to get a Sainsbury's loan?
Sainsbury's typically offers loans to applicants with high credit scores. It's important to note that your credit record is just one factor that Sainsbury's will consider, however if you don't have a high credit score, you're very unlikely to get approved for a Sainsbury's loan.
A "Good" or "Excellent" credit rating would require a score of 881 or higher, if you're referring to Experian's scale, 420 or higher if you're referring to Equifax's scale and 604 or higher if you're referring to TransUnion's scale.
Do Sainsbury's loans give an instant decision?
Yes, Sainsbury's offers instant decisions online in most cases (occasionally more info may be required). Sainsbury's can also offer same-day funding of your loan.
Can I get a second Sainsbury's loan?
Yes, Sainsbury's allows you to have more than one loan running at the same time. Each application for credit will be considered on its own merit. Alternatively, Sainsbury's also allows you to effectively "top up" your loan, by closing your current loan and starting a new, larger loan (you can call Sainsbury's on 0800 169 8503 for details). There's no penalty for repaying ahead of time, but bear in mind that any overpayments may be subject to up to two month's of interest beyond the date on which you overpay. Because of this, it may work out cheaper to run a second loan alongside the first, rather than consolidating the two.
Can I make overpayments on a Sainsbury's loan?
Yes, you can make overpayments without incurring any penalty fee. However Sainsbury's can continue to charge interest for up to two months on any sums overpaid, so although making overpayments stands to save you money in interest, you may not save quite as much as you'd imagined.
Frequently asked questions
Get personalised loan quotes
Save time by checking whether you'll be approved with multiple lenders and get rates based on your credit score.
We show offers we can track - that's not every product on the market...yet. Unless we've said otherwise, products are in no particular order. The terms "best", "top", "cheap" (and variations of these) aren't ratings, though we always explain what's great about a product when we highlight it. This is subject to our terms of use. When you make major financial decisions, consider getting independent financial advice. Always consider your own circumstances when you compare products so you get what's right for you.
More guides on Finder