Finder is committed to editorial independence. While we receive compensation when you click links to partners, they do not influence our opinions or reviews. Learn how we make money.
LendingTree home equity loans service review
This lending matchmaker can help you borrow against your home's equity at low interest rates.
LendingTree is a lender matching service that can connect you with a variety of home loans, including home equity loans. Learn how to get connected to its trusted lending partners through a single online application.
Details
| | |
| --- | --- |
| Name | LendingTree home equity loans |
| Interest Rate Type | Fixed |
| Min. Loan Amount | Depends on home value |
| Max. Loan Amount | Depends on home value |
| Loan Requirements | You have at least 20% equity in your home, a debt-to-income ratio less than 45% and good to excellent credit. You must be a US citizen, 18 years old or older. |
The majority of reviews for LendingTree are favorable. The company earns a 9.1/10 TrustScore from TrustPilot, with reviews ranging from "easy to use" to "awesome experience." LendingTree is not accredited with the BBB, but receives an A- rating from the organization.
What can I expect with LendingTree?
Many options. Connect with many types of lenders and loans.
Wide range of loan amounts. The amount you're eligible to borrow depends on the value of your home and home much you owe on it.
Tax-deductible. Like all home equity loans, you can typically deduct them on your taxes.
One application. You won't have to fill out multiple applications to get multiple offers.
Pros and cons
Pros
Multiple lenders. Get matched up with a wide range of lenders.
Simplified process. Fill out just one online application to receive multiple offers.
Alerts on better deals.

If LendingTree finds a better rate than your current loan, it sends an alert to your LendingTree account
Cons
Residual offers. You may continue to receive phone calls or emails from lenders even after you've accepted a loan offer.
Not all offers are competitive. Depending on your qualifications, you may receive up to five offers — but not all options will be good options. Be sure to compare interest rates, terms and other features you find important to make sure you're getting a good deal.
Do I qualify for a home equity loan with LendingTree?
Finding a home equity loan can be tougher to qualify for than other loans, especially if you've struggled with maintaining good credit or paying down debt. Remember that LendingTree connects you with lenders, and each one might have different requirements, including minimum credit score.
Eligibility requirements
Loan-to-value ratio. You'll need a loan-to-value ratio (LTV) of around 80 percent.
Income. You'll need to show you have sufficient income to cover your mortgage payment and the new loan payment.
Strong credit. Lenders want to know you have a history of paying your debts.
Debt-to-income ratio. Lenders also like to see a low ratio between your overall debts and your income.
Other assets. Additional assets help lenders feel more comfortable lending money to you.
Required documentation
Original purchase price of your home.
Up-to-date loan amount.
Estimated current market value of your home.
Amount you wish to borrow.
Proof of employment.
Income and expense information.
Personal information, such as your name, address and phone number, along with your Social Security number and date of birth.
How do I get started?
1. To get started, click the Find out more button on this page to go to LendingTree's website.
2. Select the type of home you own, such as a single-family home, condo or townhome.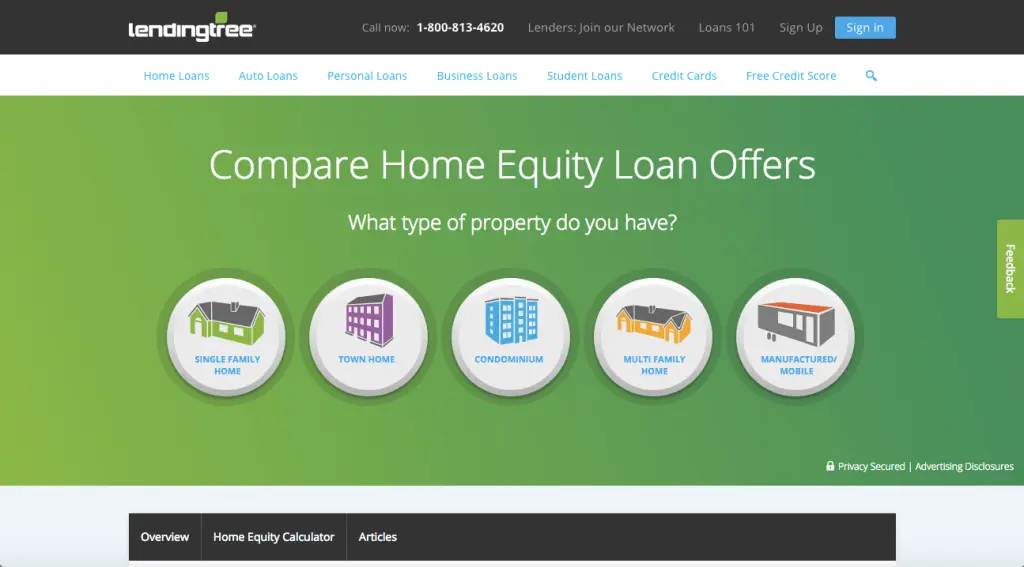 3. Enter your personal information, including ZIP code, and LendingTree will start connecting you with lenders.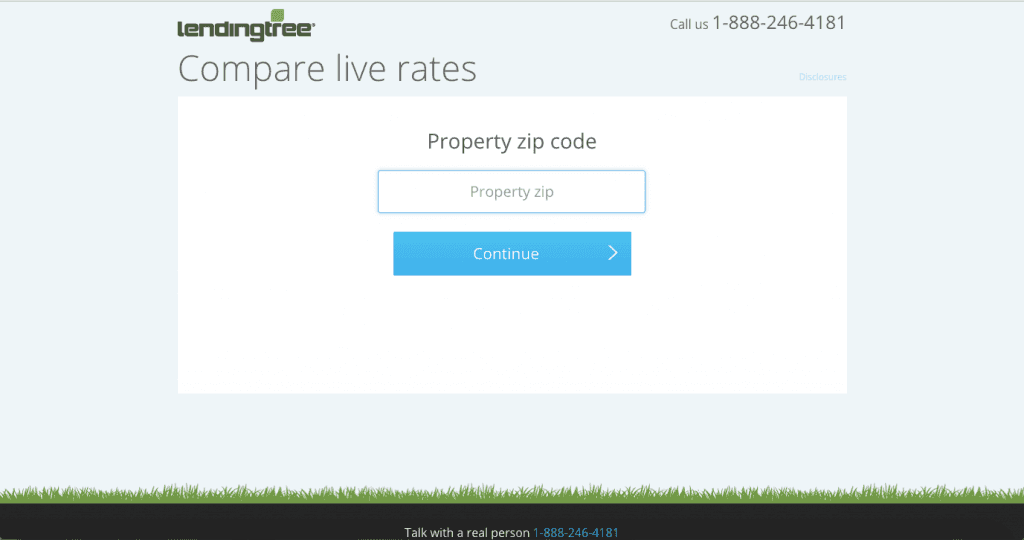 I got the loan. Now what?
Understand all terms and conditions. Be sure you understand what interest you'll be charged and how payments will be deducted, among other important factors.
Avoid late payment penalties. Although specific fees vary by loan, most lenders charge late payment fees. One way to avoid them is to set up autopay.
Frequently asked questions
Expert review
Review by
aliyyah.camp@finder.com
---
Aliyyah Camp is a writer and personal finance blogger who helps readers compare personal, student, car and business loans. Aliyyah earned a BA in communication from the University of Pennsylvania and is based in New York, where she enjoys movies and running outdoors.
Expert review
LendingTree is for homeowners looking to easily compare their loan options with one application. But if managing multiple phone calls and emails is too much for you, consider a direct lender instead.