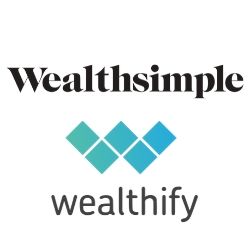 Wealthify vs Wealthsimple
They're both focused on increasing your wealth, and they offer very similar things, but how do they compare?
Wealthsimple and Wealthify are two examples of "robo-advisors", which means that ultimately, they'll manage your investments for you. Not all robo-advising is automated, there's not necessarily a Dalek choosing what you invest in (although that would be cool and a little unsettling). In the case of Wealthsimple, there are real human beings available to monitor your portfolios. There's generally at least a little bit of human input with robo-advisors.
Wealthify vs Wealthsimple: Vital statistics
Finder rating

★★★★★

★★★★★

Customer satisfaction rating

★★★★★

★★★★★

Costs rating

★★★★★

★★★★★

Stocks and shares ISA available?
FSCS protected?
Go to site
More Info
More Info
These providers are pretty similar when you look at their key statistics – they both have stocks and shares individual savings accounts (ISA) available to invest in. This lets you invest up to £20,000 without paying tax on your profits (in the 2023/2024 tax year).
They're also both protected by the Financial Services Compensation Scheme (FSCS). This protects your deposits up to £85,000 if they were to go bust.
In Finder's 2021 customer satisfaction survey, Wealthsimple customers mentioned that the platform is easy to use. Wealthify's customers find it to be simple to use and mentioned that its reasonably priced.
Round 1: Products
When it comes to products, as we mentioned above, Wealthify and Wealthsimple both offer stocks and shares ISA. They also both have private pensions available. These let you invest for your retirement – they get you a nice little top up from the government but your money is locked until you turn 55.
Out of these providers, only Wealthsimple has a lifetime ISA (LISA). This lets you save up up £4,000 per year for your first home or for retirement. The government contributes £1,000 for every £4,000 invested.
Round 2: Portfolios
Portfolios rating

★★★★★

★★★★★

Risk assessment quiz
Number of portfolios on offer
5
3
Ethical portfolios on offer
Managed portfolios on offer
Go to site
More Info
More Info
When it comes to portfolios, Wealthify is a clear winner with 10 available to choose between, with ethical and fully managed options available.
Wealthsimple has only one option, with a choice of three different risk profiles. Neither one has a risk assessment quiz – which some platforms have to help you determine how much risk you're willing to take with your investments.
Round 3: Costs
Costs rating

★★★★★

★★★★★

Annual cost of investing £10,000
£82.00
£70.00
Annual cost of investing £100,000
£820.00
£500.00
Annual cost of investing £1m
£8,200.00
£5,000.00
Go to site
More Info
More Info
Wealthsimple charges fees based on the amount that you invest. It also offers additional benefits when you invest more than £100,000 and when you invest more than £500,000, such as airport lounge access.
Investments up to £100,000 have a 0.7% fee, plus additional charges at an average of 0.2%. Investments above £100,000 have a 0.5% fee plus additional charges at an average of 0.2%. Anything over £500,000 costs the same, but you get a dedicated investment advisor with ongoing portfolio monitoring.
Wealthify charges a flat rate of 0.6% on your investment amount, plus fund fees of around 0.22% (0.66% for ethical investing).
For Wealthify, we got these numbers from the website, so if you want to check how much your investment will cost you, that's where you can find out. Wealthsimple doesn't have a cost calculator, so this was worked out the old fashioned way (£70 fee + £20 additional charges).
Round 4: Features
Features rating

★★★★★

★★★★★

Desktop or web access
iPhone app
Android app
In-app news and research
In-app top-up
Keep in mind
Capital at risk
Capital at risk
Go to site
More Info
More Info
Both of these providers have the same offering when it comes to the features available. They both have desktop or web access as well as both iPhone and Android apps.
You can access in-app news and research and top up on mobile with both providers.
Our reviews of Wealthify and Wealthsimple can give you more information on the features available for each app.
Round 5: Learning resources
Wealthsimple is the clear winner when we look at learning resources. It's got guides, videos and walkthroughs and access to advice (although the latter is only available once you invest a certain amount).
Wealthify only has guides from this selection. Neither provider has a demo account available.
Overall winner: Is Wealthify better than Wealthsimple?
These platforms are very similar in what they offer and how much they charge. They're both great platforms for ready-made portfolios and allow you to choose your investment based on your appetite to risk instead of creating portfolios yourself.
If you're looking for a trading platform for share dealing, neither of these platforms would necessarily be suitable for you. If you're looking for a platform that offers advice, then, of these two, Wealthsimple would be the most suitable, although you need to invest over £100,000 to get access to the advice.
Open an account with Wealthify and start investing today
Start investing with as little as you want
Withdraw your money anytime
Download the app for free
Refer a friend and get £25
Compare platforms similar to Wealthify and Wealthsimple
Table: sorted by promoted deals first
All investing should be regarded as longer term. The value of your investments can go up and down, and you may get back less than you invest. Past performance is no guarantee of future results. If you're not sure which investments are right for you, please seek out a financial adviser. Capital at risk.