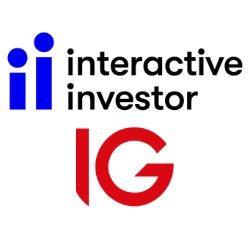 IG vs interactive investor
Which one of these platforms is suitable for your investing needs?
Both interactive investor and IG are investment platforms that offer both share dealing and ready made portfolios. This means that they've both got offerings suitable for both beginner and intermediate investors. IG also offers riskier contracts for difference (CFDs), but as interactive investor doesn't offer these, we won't be comparing this feature.
Both providers have very similar offerings, with individual savings accounts (ISAs), self-invested personal pensions (SIPPs) and general investment accounts.
The main difference between the two is the cost structures, detailed below.
IG vs interactive investor: Vital statistics
IG and interactive investor are similar providers when you look at the key statistics. They both offer ISAs and are protected by the Financial Services Compensation Scheme (FSCS), which means your deposits are covered by up to £85,000 if either provider were to go bust. This doesn't pay out if your investments don't perform well.
We've given both of these providers similar star ratings for costs, but they have vastly different pricing structures that could sway your decision – we've detailed these below.
In our 2021 customer satisfaction survey, interactive investor's customers thought that it was easy to use and had good customer service. Some of its customers felt that it was well priced, while others thought the structure didn't work for them.
IG's customers praised its excellent customer service and found it to be inexpensive and easy to use. Customers found that it was really easy to open an account.
Round 1: Products
Both of these providers let you invest in a stocks and shares ISA, which means you can use your annual ISA allowance to invest tax free. The allowance for the 2023/2024 tax year is £20,000.
They also both let you save up for your retirement by investing in a private pension. This means that you can't start to withdraw until you turn 55, but you get some great tax advantages.
Neither product has the ability to invest in a lifetime ISA (LISA). These lets you save up to £4,000 per year for your first home or for retirement. The government contributes £1,000 for every £4,000 invested.
Round 2: Exchanges
Exchanges covered score

★★★★★

★★★★★

UK - London Stock Exchange
US - NASDAQ
US - New York Stock Exchange
Canada - Toronto Stock Exchange
Japan - Japan Exchange Group
Euronext
Germany - Deutsche Börse
Keep in mind
Capital at risk. 75% of retail CFD accounts lose money
Capital at risk
Go to site
More Info
Go to site
More Info
Both of these providers let you invest in some of the largest stock exchanges in the world, including NASDAQ, NYSE and the London Stock Exchange.
Round 3: Financial instruments
Both interactive investor and IG let you invest in shares, exchange traded funds (ETFs), bonds and funds.
Round 4: Portfolios
For those looking for ready-made investments, both of these providers have this as an option. Both providers have 5 portfolios to choose between, including managed portfolios and ethical portfolios.
IG has a risk assessment quiz, which helps you choose investments by asking you questions about how you feel about risk, how long you want to invest for and how much money you have to invest.
Round 5: Costs
Costs rating

★★★★★

★★★★★

Platform fees
£0
£4.99-£19.99
Minimum deposit
£250
£1
Standard trading fee
£8
£7.99
Best trading fee
£3
£3.99
Foreign exchange fee
0.5%
1.5%
Keep in mind
Capital at risk. 75% of retail CFD accounts lose money
Capital at risk
Go to site
More Info
Go to site
More Info
IG charges based on how much you invest, while interactive investor charges a flat monthly fee. Interactive investor has the lower minimum deposit here, requiring you to only invest £1.
We'll compare the fees in two parts: ready made portfolios and share dealing.
Ready made portfolios
IG's fees are pretty simple. For its "smart portfolio", it charges 0.72% on investments up to £50,000 made up of a 0.50% IG management fee, an average of 0.15% in fund costs and 0.07% for transaction costs. For investments over £50,000 it charges 0.22%, made up of an average of 0.15% in fund costs and 0.07% in transaction costs. You pay no IG management fee over £50,000.
interactive investor has a flat fee for using all of its services (an additional fee applies if you want to add the self-invested personal pension). Its most basic plan "Investor" costs £9.99 per month.
What does that actually mean?
If you invest £10,000 with IG, then you'll spend £72 (in a year).
If you invest £10,000 with interactive investor then you'll spend £119.88 (in a year).
Many investment platforms have calculators that help you work out the costs of your investments based on a figure you enter. Neither IG nor interactive investor has this, so we did it the old fashioned way, with a calculator, pen and paper using the costs outlined above.
Share dealing
The trading fees are pretty much the same with these providers, with interactive investor being a penny cheaper. However, IG doesn't have a provider fee for share dealing, while interactive investor would still cost you a minimum of £119.88 per year in provider fees.
Round 6: Features
Features rating

★★★★★

★★★★★

Desktop or web access
iPhone app
Android app
In-app news and research
In-app top-up
Keep in mind
Capital at risk. 75% of retail CFD accounts lose money
Capital at risk
Go to site
More Info
Go to site
More Info
Both providers have desktop or web apps. They also both allow you to view your investments in their mobile apps, available with iOS and Android. You can top up and see news and research in the apps too.
Round 7: Learning resources
Resources rating

★★★★★

★★★★★

Guides
Videos and walkthroughs
Demo account
In-depth learning tools
Keep in mind
Capital at risk. 75% of retail CFD accounts lose money
Capital at risk
Go to site
More Info
Go to site
More Info
Both IG and interactive investor have a great range of learning resources to help you learn about investing. You can view guides, watch videos and use both platforms' demo accounts – good if you want to learn how to invest, but also to help you decide if you like the provider.
IG's main advantage is "IG Academy", its dedicated learning tools. You can follow a set course with videos and quizzes in its dedicated app.
Overall winner: Is IG better than interactive investor?
These platforms are, on the face of it, very similar. Typically, you'd work out better price-wise with interactive investor if you plan to open several different trading accounts (such as a JISA, an ISA and a general investment account), as you can open as many as you want for your flat fee.
IG's learning resources are a lot better than interactive investor's, and it's better for ready made portfolios.
Compare platforms similar to IG and interactive investor
Table: sorted by promoted deals first
All investing should be regarded as longer term. The value of your investments can go up and down, and you may get back less than you invest. Past performance is no guarantee of future results. If you're not sure which investments are right for you, please seek out a financial adviser. Capital at risk.