Urban Jungle insurance review
Find out all about the new kid on the block, Urban Jungle, and what its innovative, tech driven policies have to offer to young renters.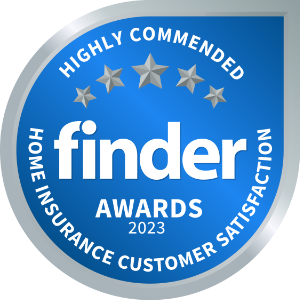 Easy and fast quote process
Some customers find the claims process unclear
Contents insurance designed for renters from £5 a month
Completely customisable – easily make changes online with no fee
Monthly rolling policy – cancel anytime
Accidental damage and tenants' liability included as standard
Who is Urban Jungle?
Founded in 2016, Urban Jungle is a newcomer to the insurance market. The company's founders were tired of the slow moving industry and wanted to introduce a product that catered for a younger audience, particularly young renters.
Urban Jungle offers three kinds of policy – contents insurance, contents and buildings insurance and tenants' liability.
Who underwrites Urban Jungle's insurance?
Urban Jungles standard contents insurance policy is underwritten by Ageas.
Ageas Insurance Limited is authorised by the Prudential Regulation Authority and regulated by the Financial Conduct Authority and the Prudential Regulation Authority.
What are Urban Jungle's cover options?
Urban Jungle offers stand-alone contents insurance, as well as a combination of contents and buildings insurance. The company also offers tenants' liability insurance, to protect you in case you cause damage to your landlord's property.



Home Contents Insurance




Buildings and Contents Insurance




Tenants Liability Insurance

Maximum cover
Up to £40k of cover per person
Buildings up to £1m
Contents up to £75k
£5,000 - £10,000 accidental damage cover
Cover per valuable
No valuables limit
£2,500
Excess
From £0
£100 - £1,000
£100
Accidental damage
Optional
Personal accident
Alternative accommodation
Home emergency
Optional
Tenants liability
Mobile phone cover
Bike cover
Landlord's property
Free online changes
What's covered under my policy?
Urban Jungle's home insurance policies offer cover and protection for your home against certain risks. These include:
Fire and smoke
Accidental damage
Household leaks
Storms or floods
Tenants' liability
How much does insurance from Urban Jungle cost?
There are many personal factors that go into determining the cost of a home insurance policy, such as the value of your possessions, the level of cover you require and your address.
However, according to its website, you can get cover from Urban Jungle from £5 per month.
Tenants' liability cover on its own will set you back £55 per year.
What is my excess?
An excess is the amount of money you contribute when you make a claim. The size of the excess is agreed when you take out the policy and it is usually the same regardless of the value of the claim.
For its contents insurance policies, Urban Jungle allows you to select your own excess, starting at £0. Choosing a higher excess usually brings down the cost of your premiums, but make sure you can actually afford to pay the amount you set should the need arise.
For buildings insurance, you can select an excess between £100 and £500 for the core policy. Excess limits will be higher for certain events, like escape of water and subsidence, which can go up to £1,000 (the exact amount will be specified in your policy document).
If you're buying combined buildings and contents insurance, you can select a different excess level for each portion of the cover. If a claim affects both parts of the cover, only the higher excess set will apply.
What is the claims process for Urban Jungle insurance?
To make a claim, log in to your account on the Urban Jungle website and follow the instructions. You can also use this section of the website to manage your policy (view documents, amend details, etc).
When you make a claim, you will need some or all of the following documents:
Original purchase receipts, invoices, bank or credit card statements
Instruction booklets
Photographs of the damage
Utility bills
Pre-purchase surveys
Plans and deeds of your home
Other evidence may also be requested, and some items, like valuable tech and jewellery, can have specific requirements.
Urban Jungle insurance customer reviews
Urban Jungle was highly commended in Finder's 2023 customer satisfaction awards, with customers praising the prices, customer service and in particular the rolling contracts for renters. One customer said "They are great and allow me to personalise my insurance to cover what I need." 91% of customers we surveyed said they would recommend Urban Jungle to a friend.
On consumer review platform Trustpilot, Urban Jungle has 4.7 out of 5 stars and a rating of "Excellent", based on over 7,000 reviews.
Pros and cons for Urban Jungle insurance
Pros
Accidental damage and tenants' liability included as standard with contents insurance policies
Easy and fast quote process
Monthly rolling policy – cancel anytime
Completely customisable – easily make changes online (no fee)
Cons
Some customers find the claims process unclear
Accidental damage not included as standard with a combined buildings and contents policy
Our verdict
If you're after easy to get, transparent, flexible insurance cover for your contents, Urban Jungle is your guy. The website is super user-friendly and perfect for a tech-focused consumer base.
However, do make sure you read the details of your policy fully and carefully, to make sure you know exactly what is included.
Phone support is only provided during the week, but you can contact Urban Jungle via email or chat as well.
Get started by visiting Urban jungle's website and sign up for a policy. If you have read this review and decided that Urban Jungle is not for you, you can also compare other home insurance policies on the market.
Frequently asked questions
The offers compared on this page are chosen from a range of products we can track; we don't cover every product on the market...yet. Unless we've indicated otherwise, products are shown in no particular order or ranking. The terms "best", "top", "cheap" (and variations), aren't product ratings, although we always explain what's great about a product when we highlight it; this is
subject to our terms of use
. When making a big financial decision, it's wise to consider getting independent financial advice, and always consider your own financial circumstances when comparing products so you get what's right for you.