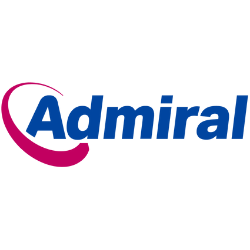 Admiral home insurance review
Whether you need contents cover, building cover or both, find out if Admiral home insurance is the right match for you.
Customer rating
★★★★★
Satisfaction survey
Customers were satisfied with the levels of cover and service
No 24/7 claims helpline
Admiral home insurance
Choose from buildings cover, contents cover or a combined policy
Pay as little as £113 if you insure your home*
24-hour emergency helpline
If you're looking to protect your home from everything life throws your way, you'll want to find the best home insurance policy to meet your needs.
Own a car? See if you could save on your home insurance by combining your car and home insurance under Admiral's MultiCover insurance policy.
Admiral offers three levels of home insurance cover and a range of optional extras for their customers. Read on to find out if Admiral has a home insurance policy that's right for you.
Who is Admiral?
Admiral is a UK based company which began in 1993 selling car insurance. Since then, Admiral has branched out and now sells a range of insurance products including home insurance, travel insurance, pet insurance and van insurance. It also deals with personal loans and car finance.
Admiral aims to save customers time and money by providing a one-stop place to meet several insurance needs.
What are Admiral's home insurance cover options?
Admiral provides three levels of cover. Each has a range of different features and you can select the cover most suitable for you. There are also option extras which you can include in your home insurance cover.
Admiral cover
Admiral cover is Admiral's most basic home insurance package. It offers essential cover for your building and contents against loss or damage caused by a long list of insured events.
Features of this policy include:
Unlimited buildings cover (eligibility criteria applies)
Get up to £50,000 contents cover
Access to a 24-hour emergency helpline
Optional family legal protection
Optional accidental damage cover
Bicycle cover and optional cover is available for bicycles over a certain value.
Optional personal possessions cover
Admiral gold cover
Just like Admiral's basic option, this policy covers you against a wide range of insured events including fire, storm and theft but it also offers additional benefits, including:
Unlimited buildings cover (eligibility criteria applies)
Up to £75,000 contents cover
Access to a 24-hour emergency helpline
Boiler emergency cover which provides customers with up to £500 per call out for a trades person to make a temporary repair to your hot water or central heating system in the case of an emergency. You can make a maximum of two claims during the policy term and can be made 14 days after the start of the policy.
Up to £5000 trade and access protection, which covers the costs of detecting and repairing the source of a water leak.
Optional family legal protection
Optional accidental damage cover
£350 bicycle cover and optional cover is available for bicycles worth more than £350.
Optional personal possessions cover
Optional home emergency cover
Admiral platinum cover
Platinum Cover is the highest level of cover on offer at Admiral and is designed for customers who would like extra security.
Unlimited buildings cover (eligibility criteria applies)
Up to £150,000 contents cover
Home emergency cover which includes cover for your boiler
Family Legal protection
Accidental damage cover on both buildings and contents
Up to £2,000 of personal possessions cover
Access to a 24-hour emergency helpline
£350 bicycle cover and optional cover is available for bicycles worth more than £350.
Matching items cover which means if Admiral can't repair of replace parts of any matching suites like for like, it will replace the whole set.
Up to £10,000 trace and access cover which covers the costs of detecting and repairing sources of water leaks.
Optional policy extras
Admiral home insurance offers additional cover options to enhance protection, including:
Family legal protection. This covers legal fees for a range of different legal issues that could affect your family.
Home emergency cover. This cover means that in the case of an emergency, a tradesperson will visit to make your home safe and secure.
Accidental damage. This cover can be added when you buy a new policy or you are renewing your current policy. Depending on which level of cover you choose will determine whether it is included as a standard.
Personal possessions. This covers any belongings you carry with you. Each item can be worth up to £1000 and you have the choice of up to £10,000 worth of cover. It includes cover for clothing, mobile phones, handbags and more.
Bicycle cover. For bicycles under £350, these will be covered via Personal possessions cover if you are away from home. But optional bicycle cover insures bicycles worth over £350 at home or away.
High value items. You can insure any individual item work more than £1000. You can have them covered in full, at home or away.
What's covered under my policy?
Admiral's home insurance policies offer cover and protection for your home against certain risks. These include:
Fire, lightning, explosion or earthquake
Smoke
Riot, civil commotion, political disturbance
Collision
Falling trees or branches
Falling television and radio aerials
Storms
Theft/vandalism
Accidental damage to underground drains, pipes, cables and tanks
Escaped oil/water
Subsidence
But Admiral's home insurance policies also include some extra cover as standard. Check out some of these additional extras below, for a full list and respective cover limits, check out the Admiral key facts document.
| Benefits | Admiral | Admiral Gold | Admiral Platinum |
| --- | --- | --- | --- |
| Locks and keys | ✓ | ✓ | ✓ |
| Alternative accommodation | ✓ | ✓ | ✓ |
| Frost damage to plumbing | ✓ | ✓ | ✓ |
| Property owner's liability | ✓ | ✓ | ✓ |
| Trace and access | | ✓ | ✓ |
| Accidental breakage of glass | | ✓ | ✓ |
| Buildings accidental damage | | | ✓ |
| Freezer food | ✓ | ✓ | ✓ |
| Occupier's liability | ✓ | ✓ | ✓ |
| Contents temporarily away from your home | | ✓ | ✓ |
| Celebration cover | | ✓ | ✓ |
| Theft From garages and outbuildings | | ✓ | ✓ |
| Garden contents | | ✓ | ✓ |
| Garden plants | | ✓ | ✓ |
| Digital downloads | | ✓ | ✓ |
| Office equipment | | ✓ | ✓ |
| Accidental damage to audio/visual | | ✓ | ✓ |
| New purchases | | | ✓ |
| Contents at university | | | ✓ |
| Fatal injury benefit | | | ✓ |
| Contents accidental damage | | | ✓ |
What is my excess?
An excess is the amount of money you contribute to the insurer when you make a claim. The amount of your excess will depend on the level of cover you have and the nature of your claim. If the nature of your claim is both buildings and contents, the higher excess will be applied. It's important to refer to your Admiral home policy schedule because it may be that more than one excess applies to your claim:
Compulsory building excess and compulsory contents excess. These apply to all buildings and contents claims unless replaced by the claims cause excess.
Claims cause excess. If the claim was caused by one of the claims causes listed in your home policy document, Admiral will charge whichever is the greatest amount, the compulsory excess or the claims cause excess.
Voluntary excess. You can choose to include this excess when you decide on your cover. You can add this voluntary excess to the compulsory excess (or claims cause excess) and additional excess (if applicable). You can then pay the total before Admiral deals with your claim.
Additional excess. Admiral may apply an additional excess to reflect any changes in risk they agree to insure.
How much is this going to cost me?
There are a number of factors that can affect the cost of your Admiral home insurance premium, including:
The level of cover you choose. A gold or platinum policy offer more features and broader cover than a basic Admiral home insurance policy, and this is reflected in its price.
Your sum insured. The greater the amount you wish to insure your home or contents for, the more you can expect to pay for cover.
Your home. The age of your home and the materials from which it is constructed can influence its ability to withstand damage.
Where your home is located. Certain risks, for example storm and theft, are more prevalent in certain areas, and insurers will take this into consideration when calculating your premiums.
Security. Security measures such as an alarm system and deadbolts can act as a deterrent to thieves and therefore reduce the cost of your cover.
What is the claims process for Admiral home insurance?
To make a home insurance claim, you will need to contact Admiral on its general claims number on 0333 220 2035. Lines are open Monday – Friday 8am – 6pm, and Saturday and Sunday from 10am to 4pm.
If you prefer, you can make a claim online by filling out a claim household form. It can take up to 24 hours for the team to review and deal with any claim.
To make a claim, you will need to provide the following information:
Policy number
Full address of the property covered
Date and time of the incident
Causes of the loss or damage
Claim value if known
Details of any person responsible for the incident
Any relevant documents or photographs to support your claim
A crime or loss reference number, if you've been a victim of theft, vandalism or lost items when outside of your home
If you need emergency assistance for your boiler or home, you can contact the 24 hour emergency helpline 0345 609 4375.
Pros and cons of Admiral home insurance
Pros
Clear access to policy documents and policy information
Three cover levels for a range of budgets
You can tailor your policy to suit your own requirements with a range of optional extras including increased bicycle cover
Cons
Claims service is not open 24/7
Limited cover on Admiral's basic buildings and contents policies
Our verdict
If you need to protect your home from mishaps, Admiral has options that you may want to explore. And with three cover levels to choose from, you can choose whether you need basic cover or more comprehensive cover offered in the gold and platinum options.
You can also enhance your policy with a range of optional extras but if you want to keep costs down, then you may want to compare these with policies that include what you need as standard.
Although you can make claims online, if you really want to speak to a claims handler, you'll need to call within Admiral's operating hours as its claim line is not open 24/7.
Do some research and compare other home insurance products to get a policy that you're happy with.
---
The offers compared on this page are chosen from a range of products we can track; we don't cover every product on the market...yet. Unless we've indicated otherwise, products are shown in no particular order or ranking. The terms "best", "top", "cheap" (and variations), aren't product ratings, although we always explain what's great about a product when we highlight it; this is
subject to our terms of use
. When making a big financial decision, it's wise to consider getting independent financial advice, and always consider your own financial circumstances when comparing products so you get what's right for you.
*Based on 10% of Admiral tier Instaquote building and contents combined customers between January and June 2021 paid from £113.