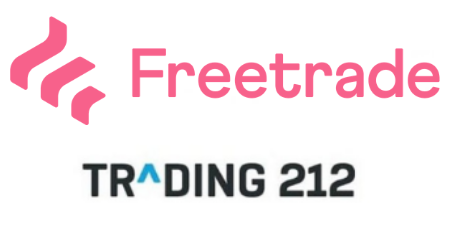 Freetrade vs Trading 212
Which is better, Trading 212 or Freetrade? We compare them in detail below.
CFDs are complex instruments and come with a high risk of losing money rapidly due to leverage. Between 70.8%-86.4% of retail investor accounts lose money when trading CFDs. You should consider whether you understand how CFDs work and whether you can afford to take the high risk of losing your money.
Freetrade
and
Trading 212
are two commission free trading platforms. Freetrade lets you buy individual UK and US stocks and exchange-traded funds (ETFs). Trading 212 allows you to trade over 3,100 instruments (not the musical type). These include cryptocurrencies, stocks,
commodities
and
currencies
. Trading 212 allows its users to trade with leverage, which is a riskier type of investing. Freetrade does not offer leveraged trading so we are comparing the investing elements of each provider.
Find out how they compare when we look at them one feature at a time.
Freetrade vs Trading 212: Vital statistics
Freetrade's free account doesn't have an ISA, but you can invest in one with Freetrade Plus for £3 a month. Trading 212's ISA is free.
In our 2021 customer satisfaction survey, Trading 212 customers found it to be a great platform that was easy to use and praised its low fees. Freetrade customers found it to be reliable and were happy with the low fees and quick transactions.
Both platforms are FSCS protected which means you're covered for up to £85,000 of deposits if they were to go bust.
Round 1: Stock exchanges
Exchanges covered score

★★★★★

★★★★★

UK - London Stock Exchange
US - NASDAQ
US - New York Stock Exchange
Canada - Toronto Stock Exchange
Japan - Japan Exchange Group
Euronext
Germany - Deutsche Börse
Keep in mind
Capital at risk
Capital at risk. 83% of retail CFD accounts lose money
Go to site
More Info
More Info
You can trade on the most stock exchanges with Trading 212. Freetrade doesn't get you access to Canadian stocks, stocks on the Deutsche Börse or the Euronext.
Round 2: Financial instruments
Financial instruments score

★★★★★

★★★★★

Shares
ETFs
Bonds
Funds
Keep in mind
Capital at risk
Capital at risk. 83% of retail CFD accounts lose money
Go to site
More Info
More Info
Financial instruments are types of investment, such as shares, bonds, funds and ETFs. You can trade in shares and ETFs with both providers If you're interested in funds or bonds, you'll need a different provider – you can look at our comparison table below to compare providers.
Round 3: Fees
Costs rating

★★★★★

★★★★★

Platform fees
£0 - £9.99
0
Minimum deposit
£1
£1
Standard trading fee
£0
£0
Best trading fee
£0
£0
Foreign exchange fee
0.59%
0.15%
Keep in mind
Capital at risk
Capital at risk. 83% of retail CFD accounts lose money
Go to site
More Info
More Info
Both of these platforms are free, which means there aren't any standard costs or charges for trades, this makes it pretty difficult to compare the costs.
While Trading 212 has virtually no charges for anything, other than a 0.15% foreign exchange fee and some restrictions on withdrawal and deposit amount. Freetrade does have a couple of charges, such as a spot rate and 0.45% foreign exchange fee if you choose to buy shares in other countries. There's also a charge to use its stocks and shares individual savings account and a £5 charge if you need a same-day withdrawal.
This is still a tiny amount in fees compared to other stock trading platforms. You'd usually expect to spend upwards of £10 per transaction, which can minimise your potential returns. This is a good opportunity to try out share trading without spending a whole lot of money.
Round 4: Mobile and web features
Features rating

★★★★★

★★★★★

iPhone app
Android app
Desktop/web app
Notifications
Watch lists
Community or forums
Keep in mind
Capital at risk
Capital at risk. 83% of retail CFD accounts lose money
Go to site
More Info
More Info
Freetrade is mobile-app only. If you want desktop access then Trading 212 is a better bet for you. Both providers have an iPhone and Android app, notifications about share price changes, watch lists and some kind of community to share ideas.
Round 5: Learning resources
Resources rating

★★★★★

★★★★★

Guides
Videos and walkthroughs
Demo account
In-depth learning tools
Keep in mind
Capital at risk
Capital at risk. 83% of retail CFD accounts lose money
Go to site
More Info
More Info
Trading 212 has the most learning resources available. It's got a demo account and a whole section of its website dedicated to helping you learn how to invest – with videos, walkthroughs and guides. Freetrade does have some in depth resources to learn about investing, including collections of guides, such as the basics of investing, how to build a portfolio, and a handy glossary of terms.
Trading 212's demo account lets you practise trading without using real money. Once you've got the hang of it, you can try it out for real! It lets you have a go without even giving up an email address. Of course, if you want to keep an eye on your imaginary stocks for days, weeks or months, you'll have to sign up.
This is something that Freetrade does not offer – meaning you have to dive into the real thing straight away or use a demo account with a different provider first.
Overall winner: Is Freetrade better than Trading 212?
These are both great options for free trading. Trading 212 is a little bit more complicated than Freetrade is, but it does have the demo account that you can have a go with before getting started. There aren't any pre-made portfolios available though, so if you're not keen on creating your own, neither of these would be suitable for you.
Freetrade vs Trading 212: Reddit's verdict
Reddit generally thinks that Trading 212 is the best of the two platforms due to it charging no commission and offering fractional shares. Most people thought it offered more stocks, and those that it doesn't offer can be added quickly on your request.
All investing should be regarded as longer term. The value of your investments can go up and down, and you may get back less than you invest. Past performance is no guarantee of future results. If you're not sure which investments are right for you, please seek out a financial adviser. Capital at risk.