Freetrade review | App, pricing and features
Freetrade is cheap (as the name suggests) but what's the catch?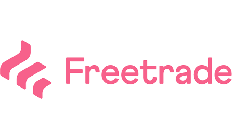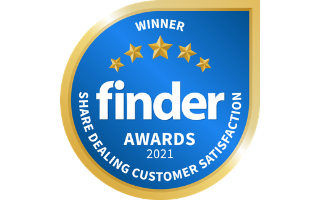 Easy to use
It may take time for Freetrade to order stocks
Trade the US market commission-free with Stake
Capital at risk
Join using the referral code finderuk to get a free share
Unrivaled access to over 3,700 Stocks and ETFs
Unlimited commission-free trading with access to advanced order types
Freetrade is a free trading platform. It's a popular choice for young investors who are looking for an attractive user interface and easy to use platform. Freetrade uses the "freemium" model – which means that it has features that are free for users, but more detail or additional features come at a cost. Freetrade was the winner of the Finder Customer Satisfaction Awards 2021. We've reviewed Freetrade's features, fees and compiled some pros and cons of Freetrade.
What is Freetrade?
Freetrade is a trading and investment app that lets you buy individual UK and US stocks, and invest in a range of funds with a variety of ETFs. (What's an ETF?).
With a slick interface and pink colour scheme, it's aimed at millennials who are used to well-designed apps like Monzo and Starling and want to dip their toes into the choppy waters of investment.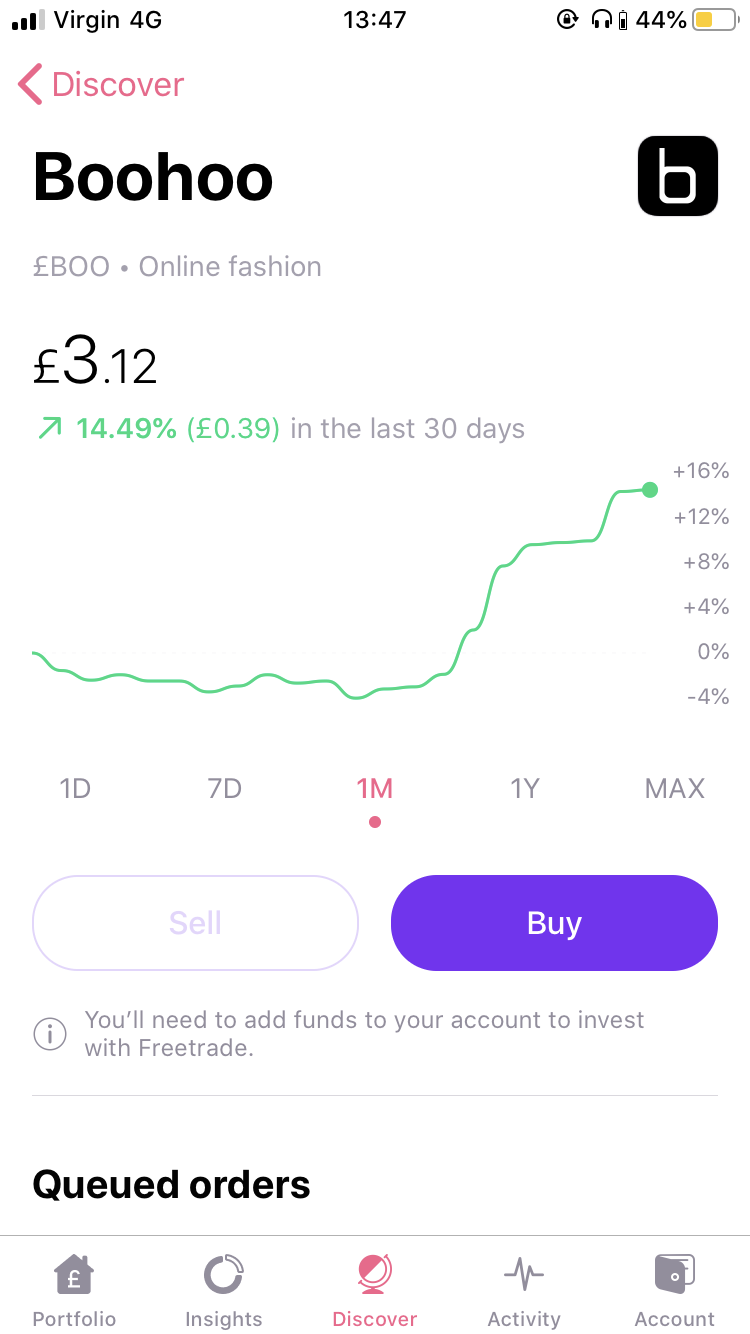 Freetrade features
Freetrade's main features include:
You can trade UK and US shares and exchange-traded funds (ETFs).
During stock market hours, all orders are instant. Outside of stock market hours, orders are executed at 10am the following day for UK stock and 3pm the following day for US stock, with no commission fee.
You can start with as little as £2.
The referral program can get you a free share when you refer a friend.
Freetrade products
There are four products available with Freetrade:
Freetrade general investment account (GIA)
Freetrade stocks and shares ISA
Freetrade Plus
Self-invested personal pension (SIPP)
Freetrade general investment account
This is Freetrade's basic account. It doesn't have a monthly cost, and you can make free instant orders.
People usually choose to go with the general investment account after they have used up their ISA allowance for the year, as you may need to pay capital gains tax on any profits you make. Capital gains tax is payable on gains over the allowance of £12,300 in each tax year.
If you haven't paid into an ISA in the current financial year (which runs from April to April) then the ISA is a more cost effective option.
Freetrade ISA
The Freetrade stocks and shares ISA is a personal account where you can invest up to a certain amount in each tax year without paying tax on your profits. The allowance for the 2021/2022 tax year is £20,000. This means you can invest £20,000 in the available stocks and ETFs and never pay any tax on the profits you make.
You can open an ISA with the Freetrade app. It costs £3 fee per month (£36 a year). With free trades, plus the FX costs on US trades, it's a pretty cheap offering compared with Hargreaves Lansdown or other traditional brokers – all of which charge anywhere between £5 and £12 for a trade.
Again, it's worth remembering Freetrade has a bit of a limited trading universe. It's not ideal for those who want to hold a variety of things in an ISA (namely, funds and shares from different markets).
On cost though, it is tough to beat, especially if you're looking to invest serious money over the long-term.
You can also transfer your existing ISA into your Freetrade account.
Compare stocks and shares ISAs
Freetrade Plus
Freetrade Plus is Freetrade's premium account. It has additional features, including access to the stocks and shares ISA.
How much does Freetrade Plus cost?
Freetrade Plus costs £9.99 per month which works out as just short of £120 per year. It includes the stocks and shares ISA, so you don't have to pay for both.
What's included with Freetrade Plus?
Features of Freetrade Plus include:
Stocks and shares ISA. You get access to the stocks and shares ISA with this account.
3% interest on cash. You can get a great interest rate on cash held in your account, up to £4,000 deposited per month.
Access more stocks. Some stocks are exclusive to Freetrade Plus customers, so you get access to these too. There's also exclusive stock collections, which are groups of stocks that have similar aims.
More control. You get access to tools that give you more control over your investments, such as stop loss and limit orders.
Priority customer service You're prioritised when you need customer service.
On top of this all, Freetrade creatively refers to you as a Plustomer. If that doesn't sell it to you then I don't know what will.
Is Freetrade Plus worth it?
This really depends on what you want to invest in and how much you want to invest. If you've not got much to invest and are alright with not having access to some stocks, a free account or just the ISA is probably fine for you. If you think you can make the most out of all the perks of Freetrade Plus and have a decent amount to invest, then it could be worthwhile.
As boring as it seems, it's often worthwhile to get out a calculator and work out the costs for exactly what you want to do.
Freetrade self invested personal pension (SIPP)
Freetrade has recently added a self invested personal pension (SIPP) to its products list. A SIPP is a type of personal pension, with added freedom of what you can invest in.
How much does the Freetrade SIPP cost?
The Freetrade SIPP costs £9.99 per month (around £120 per year), or £7 per month if you already have Freetrade Plus (which works out at £84 per year, plus the Freetrade Plus fee of £9.99 per month, totalling £203.88 per year).
What features does the Freetrade SIPP have?
Here are some of the features of the Freetrade SIPP:
Flat fee. Some SIPPs are charged as a percentage of what you invest – a flat fee can work out cheaper if you have a lot to invest.
Fractional shares. You can buy fractions of shares – great for when even just one share of a company is expensive.
Transfer in other pension pots. You can transfer in old pots to Freetrade.
Tax relief. You can claim tax relief on up to £40,000 of contributions each year.
Your money is locked in until you turn 55.
Compare Freetrade accounts
Here's a quick view of what each Freetrade account has on offer:
| | Freetrade general investment account | Freetrade ISA | Freetrade Plus | Freetrade SIPP |
| --- | --- | --- | --- | --- |
| Cost | Free | £3 per month | £9.99 per month | £9.99 per month or £7 per month with Freetrade Plus. |
| Tax relief | | – up to £20,000 in each tax year. | – if you choose to use the ISA. | – up to £40,000 in each tax year. |
| Stocks available | Limited list | Limited list | All stocks | Limited list |
| Stop loss and limit orders | | | | |
| Interest on cash | | | | |
| Priority customer service | | | | |
Freetrade app review
You can't use Freetrade without the mobile app, as the website is just for information about what's available.
You can get insights about your investments through the app, with Freetrade aiming to give you tools to make well-informed investing choices.
There's also features on the app to get some investment ideas through the "Discover" tab. Here, Freetrade has divided the stocks, shares and ETFs by popularity and sectors. It also has a list of the newest added stocks.
If you lose track of what you've been up to, you can see your activity on the "Activity" tab.
How to set up Freetrade
Setting up is super easy. You can download the Freetrade app on the App Store and Google Play.
Once you open the app, you'll need to provide:
Your name
Your address
Your national insurance number
Some of our team also had to provide additional info:
Proof of address
ID (driving license, but Passport seems to work better)
Once you've done that, you can then choose an account type.
How to fund your Freetrade account
Once your account is set up you can use Apple Pay, Google Pay or a bank transfer to fund it.
We did have a mixed bag when it came to depositing money in the app. For some it took about 10 minutes, while others waited for the top-up to come through for 6 or 7 hours.
That is one of our main criticisms of the platform, you can spend a lot of time in limbo wondering when your money will be topped up or when you'll get your free share.
Freetrade referral and free share
After you buy your first share, you'll be able to refer a friend. Send your lucky pal a link, and once they've signed up too, you'll both get a free share up to £200 in value. Freetrade dishes out the free shares on Fridays.
Freetrade fees
| Fee type | Cost |
| --- | --- |
| Basic trades | Free |
| Basic account | Free |
| Stocks and Shares ISA | £3 per month |
| FX fee | Spot rate plus 0.45%. |
| Outgoing bank transfer | Free |
| Outgoing bank transfer (same day) | £5 |
What stocks can I trade on Freetrade?
Amazon, Apple, Netflix, Tesco… there's over 500 UK and US stocks and ETFs on Freetrade, and it's adding to this each week. You can see Freetrade's stock list and search for what you're looking for below.
Title
Ticker
Currency
ISA eligible?
SIPP_eligible?
Plus only?
Micro Focus
MCRO
GBP
Hammerson
HMSO
GBP
Shaftesbury
SHB
GBP
Unite Students
UTG
GBP
Derwent London
DLN
GBP
Segro
SGRO
GBP
Landsec
LAND
GBP
Tritax Big Box
BBOX
GBP
British Land
BLND
GBP
Assura
AGR
GBP
Great Portland Estates
GPOR
GBP
Capital & Counties
CAPC
GBP
Primary Health
PHP
GBP
GCP Student Living
DIGS
GBP
Civitas Social
CSH
GBP
Big Yellow Group
BYG
GBP
Safestore Holdings
SAFE
GBP
Workspace
WKP
GBP
TP ICAP
TCAP
GBP
Tesco
TSCO
GBP
Bankers Trust
BNKR
GBP
Commercial Property
BCPT
GBP
Cairn Energy
CNE
GBP
Centrica
CNA
GBP
Centamin
CEY
GBP
Man Group
EMG
GBP
Ferguson
FERG
GBP
Polymetal
POLY
GBP
International Public Partnerships
INPP
GBP
DCC
DCC
GBP
Smurfit Kappa
SKG
GBP
CRH
CRH
GBP
BT
BT.A
GBP
SSP Group
SSPG
GBP
Melrose
MRO
GBP
Hikma Pharmaceuticals
HIK
GBP
Spectris
SXS
GBP
Spirax Sarco
SPX
GBP
Howden Joinery
HWDN
GBP
Meggitt
MGGT
GBP
Weir Group
WEIR
GBP
Trainline
TRN
GBP
Investec
INVP
GBP
Direct Line
DLG
GBP
Ashmore Group
ASHM
GBP
Quilter
QLT
GBP
Croda
CRDA
GBP
Phoenix Group
PHNX
GBP
AJ Bell
AJB
GBP
Network International
NETW
GBP
Pennon Group
PNN
GBP
Beazley Group
BEZ
GBP
Intermediate Capital Group
ICP
GBP
Carnival
CCL
GBP
Dechra Pharmaceuticals
DPH
GBP
F&C Trust
FCIT
GBP
RIT Capital
RCP
GBP
Capita
CPI
GBP
FirstGroup
FGP
GBP
Premier Foods
PFD
GBP
Airtel Africa
AAF
GBP
Sirius Real Estate
SRE
GBP
Experian
EXPN
GBP
IWG
IWG
GBP
3i Infrastructure
3IN
GBP
WPP
WPP
GBP
B&M Retail Value
BME
GBP
Glencore
GLEN
GBP
Coca-Cola HBC
CCH
GBP
Playtech
PTEC
GBP
Lancashire Holdings
LRE
GBP
Hiscox
HSX
GBP
Petrofac
PFC
GBP
Sanne Group
SNN
GBP
RHI Magnesita
RHIM
GBP
Just Eat Takeaway.com
JET
GBP
Pershing Square Holdings
PSH
GBP
Syncona
SYNC
GBP
Renewables Infrastructure
TRIG
GBP
Greencore
GNC
GBP
Flutter Entertainment
FLTR
GBP
UDG Healthcare
UDG
GBP
C&C Group
CCR
GBP
Grafton
GFTU
GBP
Cineworld
CINE
GBP
Intertek
ITRK
GBP
Autotrader
AUTO
GBP
Savills
SVS
GBP
BP
BP.
GBP
Travis Perkins
TPK
GBP
Sainsbury's
SBRY
GBP
Serco Group
SRP
GBP
Compass
CPG
GBP
National Grid
NG.
GBP
Imperial Brands
IMB
GBP
Barclays
BARC
GBP
IHG
IHG
GBP
Relx
REL
GBP
BA Tobacco
BATS
GBP
Frasers Group
FRAS
GBP
Vodafone
VOD
GBP
Next
NXT
GBP
Standard Life
SLA
GBP
Greggs
GRG
GBP
Ocado
OCDO
GBP
Lloyds
LLOY
GBP
Rightmove
RMV
GBP
Fresnillo
FRES
GBP
KAZ Minerals
KAZ
GBP
Softcat
SCT
GBP
Avast
AVST
GBP
Halma
HLMA
GBP
Aviva
AV.
GBP
Bellway Homes
BWY
GBP
United Utilities
UU.
GBP
Renishaw
RSW
GBP
Balfour Beatty
BBY
GBP
Prudential
PRU
GBP
Britvic
BVIC
GBP
Hays
HAS
GBP
John Laing
JLG
GBP
Kingfisher
KGF
GBP
JD Sports
JD.
GBP
IMI
IMI
GBP
Evraz Steel
EVR
GBP
Ibstock
IBST
GBP
3i
III
GBP
SSE
SSE
GBP
ABF
ABF
GBP
Victrex
VCT
GBP
Games Workshop
GAW
GBP
Ascential
ASCL
GBP
WHSmiths
SMWH
GBP
Bunzl
BNZL
GBP
Close Brothers Group
CBG
GBP
Informa
INF
GBP
Diploma
DPLM
GBP
Unilever
ULVR
GBP
Pearson
PSON
GBP
RSA
RSA
GBP
HomeServe
HSV
GBP
Pets at Home
PETS
GBP
Shell
RDSB
GBP
AstraZeneca
AZN
GBP
HL
HL.
GBP
BHP
BHP
GBP
Schroders
SDR
GBP
Diageo
DGE
GBP
Tate & Lyle
TATE
GBP
Barratt
BDEV
GBP
Paragon Banking
PAG
GBP
Morrisons
MRW
GBP
St James's Place
STJ
GBP
Wood Group
WG.
GBP
National Express
NEX
GBP
Dixons Carphone
DC.
GBP
Genus
GNS
GBP
Whitbread
WTB
GBP
Burberry
BRBY
GBP
Rentokil
RTO
GBP
Barr's
BAG
GBP
Johnson Matthey
JMAT
GBP
HSBC
HSBA
GBP
Jupiter
JUP
GBP
LSE
LSEG
GBP
Smith & Nephew
SN.
GBP
Hochschild Mining
HOC
GBP
GSK
GSK
GBP
Mitchells & Butlers
MAB
GBP
Aggreko
AGK
GBP
Bodycote
BOY
GBP
Rotork
ROR
GBP
Sage
SGE
GBP
Legal & General
LGEN
GBP
Admiral
ADM
GBP
Persimmon
PSN
GBP
Severn Trent
SVT
GBP
DS Smith
SMDS
GBP
Aveva
AVV
GBP
ITV
ITV
GBP
Rio Tinto
RIO
GBP
Taylor Wimpey
TW.
GBP
MoneySuper
MONY
GBP
Ashtead
AHT
GBP
Mediclinic
MDC
GBP
Smiths
SMIN
GBP
Antofagasta
ANTO
GBP
Anglo American
AAL
GBP
Electrocomponents
ECM
GBP
Mondi
MNDI
GBP
Vivo Energy
VVO
GBP
Petropavlovsk
POG
GBP
Reckitt Benckiser
RKT
GBP
Just
JUST
GBP
Virgin Money
VMUK
GBP
Countryside
CSP
GBP
Signature Aviation
SIG
GBP
Hill & Smith
HILS
GBP
Diversified Gas & Oil
DGOC
GBP
Spirent
SPT
GBP
FDM Group
FDM
GBP
James Fisher & Sons
FSJ
GBP
Go-Ahead
GOG
GBP
Inchcape
INCH
GBP
Synthomer
SYNT
GBP
Micro Focus
MCRO
GBP
Biffa
BIFF
GBP
Euromoney Institutional
ERM
GBP
Future
FUTR
GBP
TBC Bank
TBCG
GBP
Rathbone
RAT
GBP
IP Group
IPO
GBP
Marshalls
MSLH
GBP
Essentra
ESNT
GBP
Morgan Advanced
MGAM
GBP
Morgan Sindall
MGNS
GBP
Drax Group
DRX
GBP
Oxford Instruments
OXIG
GBP
Berkeley Group
BKG
GBP
Ultra Electronics
ULE
GBP
Computacenter
CCC
GBP
Vistry Group
VTY
GBP
Pagegroup
PAGE
GBP
Brewin Dolphin
BRW
GBP
Cranswick
CWK
GBP
Crest Nicholson
CRST
GBP
Grainger
GRI
GBP
Gamesys
GYS
GBP
Chemring Group
CHG
GBP
IntegraFin
IHP
GBP
Vesuvius
VSVS
GBP
PZ Cussons
PZC
GBP
Telecom Plus
TEP
GBP
Ferrexpo
FXPO
GBP
Redrow
RDW
GBP
Dunelm Group
DNLM
GBP
Kainos Group
KNOS
GBP
NatWest
NWG
GBP
M&G
MNG
GBP
Shell
RDSA
GBP
Indivior
INDV
GBP
Witan Investment
WTAN
GBP
Aston Martin
AML
GBP
Domino's Pizza
DOM
GBP
Growth & Income
FGT
GBP
China Special
FCSS
GBP
Smaller Companies
BGSC
GBP
Polar Technology
PCT
GBP
HICL Infrastructure
HICL
GBP
Monks Trust
MNKS
GBP
Edinburgh Trust
EDIN
GBP
Mercantile
MRC
GBP
Worldwide Healthcare
WWH
GBP
Emerging Markets
TEM
GBP
SMT
SMT
GBP
Alliance Trust
ATST
GBP
Greencoat UK
UKW
GBP
Aberforth
ASL
GBP
Murray Int
MYI
GBP
SIG
SHI
GBP
Stagecoach
SGC
GBP
Halfords
HFD
GBP
Senior
SNR
GBP
Vectura
VEC
GBP
Real Estate
UKRE
GBP
Global Blockchain
BCHS
GBP
FTSE 100
S100
GBP
UK Dividend
IUKD
GBP
Roll Select Commodity
ROLG
GBP
£ Corp Bond ex Fin
ISXF
GBP
US Corp Bond
VUCP
GBP
J.P.M. EM Govt Bnd
SEML
GBP
$ TIPS 0-5yr
TI5G
GBP
Global Govt Bond
IGLH
GBP
US Gvt Bnd 7-10yr
TRXS
GBP
Ultrashort $
ERNU
GBP
USD Treasury Bond
VUTY
GBP
UK Gilts
VGOV
GBP
US Gvt Bnd 7-10yr
IBTM
GBP
US Gvt Bnd 1-3yr
CU31
GBP
Global Agg. Bond
AGBP
GBP
UK Gilts
IGLT
GBP
EM Govt. Bond
VEMT
GBP
US Gvt Bnd 20+ yr
IDTG
GBP
Global Corp Bond
CRHG
GBP
£ Corp Bond
SLXX
GBP
Indexed UK Gilts
INXG
GBP
Fallen Angels
WIGG
GBP
US HY Corp Bond
IHHG
GBP
J.P.M. EM $ Govt Bnd
SEMB
GBP
EM Bond
EMHG
GBP
$ Corp Bond
LQGH
GBP
$ TIPS
ITPG
GBP
NASDAQ 100
EQQQ
GBP
MSCI Poland
SPOL
GBP
FTSE 250
VMID
GBP
FTSE Dev Europe
VEUR
GBP
FTSE 100
ISF
GBP
S&P SmallCap 600
ISP6
GBP
Eastern Europe
IEER
GBP
Japan Small Cap
ISJP
GBP
Developed Markets Property
IWDP
GBP
High Dividend Low Vol.
HDLG
GBP
Global Clean Energy
INRG
GBP
Gold Producers
SPGP
GBP
FTSE All World
VWRL
GBP
EURO STOXX Div
IDVY
GBP
FTSE Dev World
VEVE
GBP
MSCI EM
IEEM
GBP
MSCI World Small Cap
WLDS
GBP
Healthcare Innovation
DRDR
GBP
UK Property
IUKP
GBP
FTSE North America
VNRT
GBP
Momentum factor
IWFM
GBP
EURO STOXX 50
CS51
GBP
MSCI India
IIND
GBP
Ageing Population
AGES
GBP
S&P 500
IUSA
GBP
S&P 500 Utilities
IUSU
GBP
S&P 500 Financials
UIFS
GBP
APAC Ex-Japan
VAPX
GBP
US Tech Sector
IITU
GBP
S&P 500
VUSA
GBP
Robotics
RBTX
GBP
FTSE All World Div
VHYL
GBP
MSCI Turkey
ITKY
GBP
MSCI EM
EMIM
GBP
Digitalisation
DGIT
GBP
FTSE 100
VUKE
GBP
S&P 500 Health Care
IHCU
GBP
Pacific Ex-Japan
CPJ1
GBP
FTSE EM
VFEM
GBP
MSCI Korea
IKOR
GBP
FTSE Dev Eur ex UK
VERX
GBP
S&P 500
CSP1
GBP
DAX
VGER
GBP
S&P 500
GSPX
GBP
FTSE Japan
VJPN
GBP
Global Water
IH2O
GBP
FTSE 250
MIDD
GBP
Physical Silver
PHSP
GBP
Gold Bullion
GBSS
GBP
Commodities
COMM
GBP
USD Treasury Bond
VUTA
GBP
Global Agg. Bond
VAGP
GBP
£ Corp Bond 0-5yr
IS15
GBP
$ Corp Bond
LQDS
GBP
$ TIPS 0-5yr
TP05
GBP
$ EM Govt Debt
VEMA
GBP
$ Corp Bond 1-3yr
VUSC
GBP
EUR Cp Bnd 2-10.5yr
SHYG
GBP
$ Floating Rate Bond
FLOS
GBP
UK Gilts 0-5yr
IGLS
GBP
High Yield Corp Bnd
GHYS
GBP
$ TIPS
ITPS
GBP
$ HY Corp Bond
SHYU
GBP
Infl-Lnk Govt Bds
SGIL
GBP
US Gvt Bnd 1-3 yr
IBTG
GBP
Global Agg. Bond
VAGS
GBP
£ Ultrashort
ERNS
GBP
US Gvt Bnd 1-3yr
IBTS
GBP
US Gvt Bnd 20+ yr
IBTL
GBP
Eur Gvt Bonds
VETY
GBP
US Gvt Bnd 7-10 yr
IGTM
GBP
Global Govt Bond
SGLO
GBP
MSCI Brazil
IBZL
GBP
MSCI UK Small Cap
CUKS
GBP
MSCI China
IASH
GBP
MSCI World
IWDG
GBP
China Large Cap
FXC
GBP
Japan Core
SJPA
GBP
USA Momentum
IUMF
GBP
S&P Energy Sector
IESU
GBP
Europe ex-UK
IEUX
GBP
MSCI World Quality
IWFQ
GBP
Emerging mrkts ESG
SUES
GBP
MSCI Emerging LatAm
LTAM
GBP
FTSE 100
CUKX
GBP
MSCI Taiwan
ITWN
GBP
NASDAQ 100
EQGB
GBP
Japanese Equities
IJPH
GBP
Asia Property
IASP
GBP
Euro Stoxx 50
EUE
GBP
S&P 500 GBP Hedged
IGUS
GBP
Dev Mkt Prop Yield
DPYG
GBP
MSCI USA Small Cap
CUS1
GBP
MSCI Europe
IMEU
GBP
World Value
IWFV
GBP
MSCI World Islamic
ISWD
GBP
MSCI North America
INAA
GBP
FTSE All-World
VWRP
GBP
Japan SRI
SUJA
GBP
S&P 500 Staples
ICSU
GBP
World ESG
EGMW
GBP
Europe ex-UK
EUXS
GBP
MSCI World
IGWD
GBP
World Value
IWVG
GBP
USA SRI
SUUS
GBP
FTSE 100
VUKG
GBP
US Value
IUVF
GBP
EM Dividends
SEDY
GBP
World Minimum Vol
WMVG
GBP
Oil & Gas Explorers
SPOG
GBP
MSCI UK
CSUK
GBP
MSCI Europe SRI
IESG
GBP
US Property
IUSP
GBP
Core Global Stocks
SWDA
GBP
Global Infrastruc.
INFR
GBP
S&P 500 Min. Vol.
MVUS
GBP
MSCI EMU
CEU1
GBP
MSCI World
IWRD
GBP
Timber & Forestry
WOOD
GBP
MSCI Japan
IJPN
GBP
European Property
IPRP
GBP
Far East ex-Japan
IFFF
GBP
MSCI Europe
CEUG
GBP
MSCI Europe
SMEA
GBP
World Dividend
WQDS
GBP
World Minimum Vol
MINV
GBP
MSCI USA Size
IUSF
GBP
FTSE 250
VMIG
GBP
NASDAQ 100
CNX1
GBP
APAC Dividend
IAPD
GBP
Private Equity Cos.
IPRV
GBP
S&P 500 Materials
IMSU
GBP
MSCI USA Islamic
ISUS
GBP
MSCI Emerging Mkts
SEMA
GBP
S&P 500
VUAG
GBP
Dow Jones GlobalSust
IGSG
GBP
S&P Consumer
ICDU
GBP
Secure Income
SIR
GBP
UK Commercial Property
UKCM
GBP
Warehouse
WHR
GBP
Home REIT
HOME
GBP
LXI REIT
LXI
GBP
Deliveroo
ROO
GBP
MGC Pharmaceuticals
MXC
GBP
Kanabo Group
KNB
GBP
Cellular Goods
CBX
GBP
Trustpilot
TRST
GBP
Moonpig
MOON
GBP
Dr. Martens
DOCS
GBP
BG European Growth
BGEU
GBP
Mast Energy
MAST
GBP
Nightcap
NGHT
GBP
Redx Pharma
REDX
GBP
Convatec
CTEC
GBP
The Hut Group
THG
GBP
Entain
ENT
GBP
ASOS
ASC
GBP
Fever Tree
FEVR
GBP
Draper Esprit
GROW
GBP
Boohoo
BOO
GBP
888
888
GBP
Kape
KAPE
GBP
Strix
KETL
GBP
XP Power
XPP
GBP
Atalaya Mining
ATYM
GBP
Novacyt
NCYT
GBP
Property Franchise Group
TPFG
GBP
Next Fifteen
NFC
GBP
CVS
CVSG
GBP
Johnson Service Group
JSG
GBP
Dotdigital
DOTD
GBP
Ergomed
ERGO
GBP
Watkins Jones
WJG
GBP
Polar Capital
POLR
GBP
IG Design
IGR
GBP
Nichols
NICL
GBP
Frontier
FDEV
GBP
Craneware
CRW
GBP
Iomart
IOM
GBP
Advanced Medical Solutions
AMS
GBP
Focusrite
TUNE
GBP
Volex
VLX
GBP
Naked Wines
WINE
GBP
Hotel Chocolat
HOTC
GBP
Numis
NUM
GBP
IQE
IQE
GBP
Renew
RNWH
GBP
Keywords Studios
KWS
GBP
Emis
EMIS
GBP
RWS
RWS
GBP
AB Dynamics
ABDP
GBP
Learning Tech
LTG
GBP
GlobalData
DATA
GBP
Gateley
GTLY
GBP
Andrew Sykes
ASY
GBP
AFC Energy
AFC
GBP
Young & Co's
YNGN
GBP
Smart Metering Systems
SMS
GBP
CareTech
CTH
GBP
Gamma Comm
GAMA
GBP
Avacta Group
AVCT
GBP
Marlowe
MRL
GBP
Eurasia
EUA
GBP
GB
GBG
GBP
Creo Medical
CREO
GBP
Sumo Group
SUMO
GBP
Blue Prism
PRSM
GBP
Benchmark
BMK
GBP
Victoria
VCP
GBP
Alpha FX Group
AFX
GBP
Napster
NAPS
GBP
Team17
TM17
GBP
Knights
KGH
GBP
First Derivatives
FDP
GBP
Serica
SQZ
GBP
Ceres
CWR
GBP
James Halstead
JHD
GBP
ITM Power
ITM
GBP
Impax AM
IPX
GBP
Telit
TCM
GBP
Abcam
ABC
GBP
Renalytix AI
RENX
GBP
Central Asia Metals
CAML
GBP
Midwich
MIDW
GBP
Randall & Quilter
RQIH
GBP
Gooch and Housego
GHH
GBP
Judges Scientific
JDG
GBP
FRP Advisory
FRP
GBP
M&C Saatchi
SAA
GBP
Restore
RST
GBP
Cohort
CHRT
GBP
Mortgage Advice Bureau
MAB1
GBP
YouGov
YOU
GBP
Clinigen
CLIN
GBP
Alliance Pharma
APH
GBP
Ideagen
IDEA
GBP
Greatland Gold
GGP
GBP
Bioventix
BVXP
GBP
Silence Therapeutics
SLN
GBP
NextEnergy Solar
NESF
GBP
iEnergizer
IBPO
GBP
Bushveld
BMN
GBP
Burford Capital
BUR
GBP
Hipgnosis Songs
SONG
GBP
PPHE Hotel
PPH
GBP
Plus500
PLUS
GBP
Tremor Int.
TRMR
GBP
Breedon
BREE
GBP
WANdisco
WAND
GBP
JTC
JTC
GBP
Chi-Med
HCM
GBP
BBGI Global
BBGI
GBP
Emerging Markets
GSS
GBP
Vietnam Enterprise
VEIL
GBP
Global Private Equity
HVPE
GBP
Vietnam Opportunity
VOF
GBP
Sequoia
SEQI
GBP
NB Global
NBMI
GBP
JLEN Enviro
JLEN
GBP
Oriental Income
SOI
GBP
Apax Global Alpha
APAX
GBP
GCP Infrastructure
GCP
GBP
Foresight Solar
FSFL
GBP
Tiziana
TILS
GBP
Hg Capital
HGT
GBP
AO
AO.
GBP
Standard Chartered
STAN
GBP
Wetherspoons
JDW
GBP
Provident
PFG
GBP
Royal Mail
RMG
GBP
Non-Standard Finance
NSF
GBP
M&S
MKS
GBP
IG
IGG
GBP
Energean
ENOG
GBP
Genuit
GEN
GBP
Helios Towers
HTWS
GBP
Liontrust
LIO
GBP
Pan African Resources
PAF
GBP
Bank of Georgia
BGEO
GBP
St Modwen Properties
SMP
GBP
Rank
RNK
GBP
Sabre Insurance
SBRE
GBP
Equiniti
EQN
GBP
TI Fluid Systems
TIFS
GBP
S4 Capital
SFOR
GBP
ContourGlobal
GLO
GBP
Avon Rubber
AVON
GBP
Clarkson
CKN
GBP
CLS Holdings
CLI
GBP
Ninety One
N91
GBP
PayPoint
PAY
GBP
4imprint
FOUR
GBP
Coats Group
COA
GBP
Watches Of Switzerland
WOSG
GBP
Hilton Food
HFG
GBP
SolGold
SOLG
GBP
Elementis
ELM
GBP
Old Mutual
OMU
GBP
Oxford Biomed
OXB
GBP
Hemogenyx Pharma
HEMO
GBP
Caledonia
CLDN
GBP
PureTech Health
PRTC
GBP
OSB
OSB
GBP
Pineapple Power
PNPL
GBP
Smaller Companies
BRSC
GBP
European Trust
FEV
GBP
Smithson Trust
SSON
GBP
City of London
CTY
GBP
AVI Global
AGT
GBP
Scottish Invest Trust
SCIN
GBP
Japanese Investment
JFJ
GBP
American Investment
JAM
GBP
Special Values
FSV
GBP
BG Japan Trust
BGFD
GBP
TR Property
TRY
GBP
European Opportunities Trust
JEO
GBP
Herald Investment Trust
HRI
GBP
Temple Bar Investment Trust
TMPL
GBP
Pantheon
PIN
GBP
Personal Assets
PNL
GBP
Asia Pacific
SDP
GBP
Edinburgh World
EWI
GBP
Henderson Smaller Companies
HSL
GBP
World Mining
BRWM
GBP
BB Healthcare
BBH
GBP
Scottish American
SAIN
GBP
Impax Enviro
IEM
GBP
Law Debenture
LWDB
GBP
ICG Enterprise
ICGT
GBP
Allianz Technology
ATT
GBP
BG US Growth
USA
GBP
BG Shin Nippon
BGS
GBP
Emerging Markets
JMG
GBP
Ecommerce Logistics
ECOG
GBP
Europe ex-UK
XUEK
GBP
Medical Cannabis
FLWG
GBP
Battery Solutions
CHRG
GBP
FTSE 100
HUKX
GBP
FTSE 250
HMCX
GBP
FTSE 100
XUKX
GBP
$ TIPS
TIPH
GBP
DAX
XDAX
GBP
MSCI Eur. Small Cap
XXSC
GBP
UK Gov Bond 1-5yr
GLTS
GBP
UK Gov Bond 0-5yr
GIL5
GBP
Clean Energy
RENG
GBP
Gold
XGLS
GBP
HY Corp Bond Hdgd
STHS
GBP
HY Corp Bond
SSHY
GBP
Robo Global
ROBG
GBP
MSCI China
HMCH
GBP
STOXX Europe 600
XSX6
GBP
Russell Midcap
XRSS
GBP
Russell 2000
XRSG
GBP
Dividend Aristocrats
GBDV
GBP
MSCI UK Soc Resp
UKSR
GBP
UK All Share
FTAL
GBP
Artificial Intelligence
AIAG
GBP
Cyber Security
ISPY
GBP
Cloud Computing
KLWD
GBP
FTSE UK All Share
FTAD
GBP
S&P Div Aristocrat
USDV
GBP
EM Internet & Ecommerce
EMQP
GBP
S&P UK Div
UKDV
GBP
CSI 300
RQFI
GBP
MSCI World Soc Resp
UC44
GBP
MSCI China
XCX6
GBP
US Treasury Bond
USTY
GBP
£ Corp Bond
UKCO
GBP
Corp Bond 0-5yr
SUKC
GBP
Lyxor Core FTSE UK Gilts
GILI
GBP
Lyxor Core FTSE Actuaries
GILS
GBP
X Global Inflation GBP
XGIG
GBP
Global Gov Bond
XGSG
GBP
US Banks
XUFB
GBP
Cloud Computing
FSKY
GBP
MSCI Emerging Mkts
HMEF
GBP
MSCI Turkey
HTRY
GBP
MSCI Pacific ex JP
HMXJ
GBP
MSCI USA
XDUS
GBP
US Quality Income
FUSI
GBP
Euro Div Aristocrats
EUDV
GBP
Gaming and E-Sports
ESGB
GBP
MSCI Russia
HRUB
GBP
S&P 500 Eq Weight
XDWE
GBP
Gold Mining
AUCP
GBP
Battery Value-Chain
BATG
GBP
MSCI World
HMWO
GBP
S&P 500
HSPX
GBP
First Trust US Equity
UINC
GBP
Morningstar UK NR
LCUK
GBP
Inverse S&P 500
XSPS
GBP
Nikkei 225
XDJP
GBP
MSCI Russia Swap
XMRC
GBP
FTSE 100 Short
XUKS
GBP
CoreCommodity
CRBL
GBP
European REIT
SERE
GBP
Europe Real Estate
SWEF
GBP
Regional REIT
RGL
GBP
BMO Real Estate
BREI
GBP
Investment Property
SLI
GBP
Real Estate Credit
RECI
GBP
Real Estate Trust
SREI
GBP
RDI
RDI
GBP
Picton
PCTN
GBP
AEW UK Reit
AEWU
GBP
Ediston Property
EPIC
GBP
TP Social Housing
SOHO
GBP
Impact Healthcare
IHR
GBP
Custodian
CREI
GBP
Tritax Eurobox
EBOX
GBP
Residential Secure
RESI
GBP
Target Healthcare
THRL
GBP
NewRiver
NRR
GBP
Ilika
IKA
GBP
Global Real Assets
JARA
GBP
McKay Securities
MCKS
GBP
Capital & Regional
CAL
GBP
Palace Capital
PCA
GBP
W Resources
WRES
GBP
Sabien Technology
SNT
GBP
Union Jack Oil
UJO
GBP
Harbour Energy
HBR
GBP
Gulf Keystone
GKP
GBP
Empiric Student Property
ESP
GBP
Tirupati Graphite
TGR
GBP
Online Blockchain
OBC
GBP
Escape Hunt
ESC
GBP
Capital Metals
CMET
GBP
Zinnwald Lithium plc
ZNWD
GBP
Panthera Resources
PAT
GBP
Infrastrata
INFA
GBP
Landore Resources
LND
GBP
Rainbow Rare Earths
RBW
GBP
Fox Marble
FOX
GBP
Fonix Mobile
FNX
GBP
Card Factory
CARD
GBP
Tullow Oil
TLW
GBP
Argo Blockchain
ARB
GBP
Saga
SAGA
GBP
Dev Clever
DEV
GBP
Marston's
MARS
GBP
Angle
AGL
GBP
Oxford Metrics
OMG
GBP
CIP Merchant
CIP
GBP
Northbridge
NBI
GBP
BATM
BVC
GBP
Concurrent Tech
CNC
GBP
Purplebricks
PURP
GBP
Seeing Machines
SEE
GBP
Hardide
HDD
GBP
Lekoil
LEK
GBP
Sec Newgate
SECN
GBP
Agronomics
ANIC
GBP
Simec Atlantis
SAE
GBP
Panther Metals
PALM
GBP
Petro Matad
MATD
GBP
Bahamas Petroleum
BPC
GBP
TomCo Energy
TOM
GBP
SEEEN
SEEN
GBP
Plant Health Care
PHC
GBP
Bigblu Broadband
BBB
GBP
Longboat Energy
LBE
GBP
One Media IP Group
OMIP
GBP
Northamber
NAR
GBP
Oxford Biodynamics
OBD
GBP
Yourgene Health
YGEN
GBP
Pelatro
PTRO
GBP
Staffline
STAF
GBP
Tavistock Investments
TAVI
GBP
SRT Marine Systems
SRT
GBP
GRC International
GRC
GBP
Airea
AIEA
GBP
Aura Energy
AURA
GBP
Ncondezi Energy
NCCL
GBP
Braveheart
BRH
GBP
Sutton Harbour
SUH
GBP
Zoo Digital
ZOO
GBP
Genedrive
GDR
GBP
Ariana Resources
AAU
GBP
Ixico
IXI
GBP
Strategic Minerals
SML
GBP
European Metals
EMH
GBP
Northern Bear
NTBR
GBP
Metals Exploration
MTL
GBP
Cora Gold
CORA
GBP
Mobile Streams
MOS
GBP
PCI-Pal
PCIP
GBP
Omega Diagnostics
ODX
GBP
Time Finance
TIME
GBP
ThinkSmart
TSL
GBP
Trans-Siberian Gold plc
TSG
GBP
Maestrano Group
MNO
GBP
ReNeuron
RENE
GBP
Cadence Minerals
KDNC
GBP
Arcontech Group
ARC
GBP
4D Pharma
DDDD
GBP
K3 Capital
K3C
GBP
Vela Tech
VELA
GBP
Idox
IDOX
GBP
The Ince Group
INCE
GBP
Begbies Traynor
BEG
GBP
Cyanconnode
CYAN
GBP
Croma Security
CSSG
GBP
Smartspace Software
SMRT
GBP
Loopup Group
LOOP
GBP
SysGroup
SYS
GBP
Haydale Graphene
HAYD
GBP
Totally
TLY
GBP
W.H. Ireland Group
WHI
GBP
Eckoh
ECK
GBP
Zambeef Products
ZAM
GBP
Location Sciences
LSAI
GBP
Circassia
CIR
GBP
Salt Lake Potash
SO4
GBP
Pressure Tech
PRES
GBP
Gresham House
GHE
GBP
Gfinity
GFIN
GBP
Ebiquity
EBQ
GBP
Christie Group
CTG
GBP
Gama Aviation
GMAA
GBP
Brand Architekts
BAR
GBP
Gaming Realms
GMR
GBP
Reabold
RBD
GBP
Bilby
BILB
GBP
Revolution Bars
RBG
GBP
Universe Group
UNG
GBP
Altitude Group
ALT
GBP
Robinson
RBN
GBP
Kromek Group
KMK
GBP
Tracsis
TRCS
GBP
Armadale Capital
ACP
GBP
Symphony Env
SYM
GBP
Brighton Pier
PIER
GBP
Alba Mineral
ALBA
GBP
Bacanora
BCN
GBP
Accsys Technologies
AXS
GBP
Blue Star Capital
BLU
GBP
Equals
EQLS
GBP
Asimilar Group
ASLR
GBP
N4 Pharma
N4P
GBP
Valirx
VAL
GBP
Mission Group
TMG
GBP
Crossword
CCS
GBP
Hurricane Energy
HUR
GBP
Deepmatter Group
DMTR
GBP
Centralnic Group
CNIC
GBP
Finsbury Food
FIF
GBP
Accesso Technology
ACSO
GBP
Ide Group
IDE
GBP
Futura Medical
FUM
GBP
Sensyne Health
SENS
GBP
Zytronic
ZYT
GBP
Mirriad Advertising
MIRI
GBP
Westminster Group
WSG
GBP
Logistics Development
LDG
GBP
Applied Graphene Materials
AGM
GBP
Polarean Imaging
POLX
GBP
Somero
SOM
GBP
SigmaRoc
SRC
GBP
Velocys
VLS
GBP
UK Oil & Gas
UKOG
GBP
Hornby
HRN
GBP
Versarien
VRS
GBP
Argentex
AGFX
GBP
Augean
AUG
GBP
Arena Events
ARE
GBP
Bidstack Group
BIDS
GBP
City Pub Group
CPC
GBP
Morses Club
MCL
GBP
EKF Diagnostics
EKF
GBP
Manolete Partners
MANO
GBP
ADM Energy
ADME
GBP
Inland Homes
INL
GBP
Eve Sleep
EVE
GBP
Pires Investments
PIRI
GBP
Kodal Minerals
KOD
GBP
H&T Group
HAT
GBP
Catenae Innovation
CTEA
GBP
Tekcapital
TEK
GBP
Verditek
VDTK
GBP
I3 Energy
I3E
GBP
Sosandar
SOS
GBP
D4T4 Solutions
D4T4
GBP
Stanley Gibbons
SGI
GBP
First Property
FPO
GBP
Cap-XX
CPX
GBP
Deepverge
DVRG
GBP
Venture Life
VLG
GBP
Metal Tiger
MTR
GBP
Amino Technologies
AMO
GBP
GEAR4MUSIC
G4M
GBP
Helios Underwriting
HUW
GBP
Scancell Holdings
SCLP
GBP
TP Group
TPG
GBP
Tristel
TSTL
GBP
Feedback
FDBK
GBP
Skinbiotherapeutics
SBTX
GBP
Gattaca
GATC
GBP
PowerHouse Energy
PHE
GBP
Wynnstay
WYN
GBP
Inspiration Health
IHC
GBP
Tandem Group
TND
GBP
Tertiary Minerals
TYM
GBP
Jubilee Metals
JLP
GBP
Immotion Group
IMMO
GBP
Gunsynd
GUN
GBP
Trackwise Designs
TWD
GBP
Lok'nStore
LOK
GBP
Joules
JOUL
GBP
Optibiotix Health
OPTI
GBP
Thor Mining
THR
GBP
Urban Exposure
UEX
GBP
Winkworth
WINK
GBP
Tern
TERN
GBP
Sound Energy
SOU
GBP
7digital
7DIG
GBP
Mercia
MERC
GBP
Echo Energy
ECHO
GBP
Watchstone
WTG
GBP
Litigation Capital
LIT
GBP
Tekmar Group
TGP
GBP
Bango
BGO
GBP
Renold
RNO
GBP
Sdi Group
SDI
GBP
Dx
DX.
GBP
ULS Technology
ULS
GBP
Goldplat
GDP
GBP
Itaconix
ITX
GBP
Filtronic
FTC
GBP
Amryt Pharma
AMYT
GBP
Avingtrans
AVG
GBP
Remote Monitored
RMS
GBP
Provexis
PXS
GBP
Mpac Group
MPAC
GBP
SYSTEM1 Group
SYS1
GBP
Xtract Resources
XTR
GBP
Vertu
VTU
GBP
Solid State
SOLI
GBP
Red Rock Resources
RRR
GBP
Shield Therapeutics
STX
GBP
Evgen Pharma
EVG
GBP
Faron
FARN
GBP
C4X Discovery
C4XD
GBP
Sareum
SAR
GBP
Sylvania Platinum
SLP
GBP
Phoenix Copper
PXC
GBP
Amur Minerals
AMC
GBP
Oracle Power
ORCP
GBP
Anglo Asian Mining
AAZ
GBP
Rambler Mining
RMM
GBP
Arc Minerals
ARCM
GBP
Asiamet Resources
ARS
GBP
Bezant Resources
BZT
GBP
GCM Resources
GCM
GBP
Keras Resources
KRS
GBP
Europa Metals
EUZ
GBP
Savannah
SAV
GBP
Bluejay Mining
JAY
GBP
Sunrise Resources
SRES
GBP
Ironridge Resources
IRR
GBP
Zanaga Iron
ZIOC
GBP
KEFI
KEFI
GBP
Premier African
PREM
GBP
Power Metal
POW
GBP
Alien Metals
UFO
GBP
Empire Metals
EEE
GBP
Scotgold Resources
SGZ
GBP
Tlou Energy
TLOU
GBP
Checkit
CKT
GBP
Ingenta
ING
GBP
Crimson Tide
TIDE
GBP
Rosslyn Data
RDT
GBP
Pebble Beach
PEB
GBP
Blackbird
BIRD
GBP
Iofina
IOF
GBP
Byotrol
BYOT
GBP
Yu Group
YU.
GBP
Fulcrum Utility
FCRM
GBP
Wishbone Gold
WSBN
GBP
Serabi Gold
SRB
GBP
Chaarat Gold
CGH
GBP
Oriole Resources
ORR
GBP
Katoro Gold
KAT
GBP
Orosur Mining
OMI
GBP
Vast Resources
VAST
GBP
ECR Minerals
ECR
GBP
Hummingbird Resources
HUM
GBP
Victoria Oil and Gas
VOG
GBP
Angus Energy
ANGS
GBP
Parkmead
PMG
GBP
Rockhopper
RKH
GBP
Pantheon
PANR
GBP
United Oil & Gas
UOG
GBP
Independent Oil
IOG
GBP
Mosman Oil and Gas
MSMN
GBP
President Energy
PPC
GBP
Sdx Energy
SDX
GBP
Eco (Atlantic)
ECO
GBP
Bowleven
BLVN
GBP
Caspian Sunrise
CASP
GBP
Oilex
OEX
GBP
Nostra Terra
NTOG
GBP
Jersey Oil and Gas
JOG
GBP
Baron Oil
BOIL
GBP
Deltic Energy
DELT
GBP
Ascent Resources
AST
GBP
Tower Resources
TRP
GBP
Block Energy
BLOE
GBP
88 Energy
88E
GBP
Trinity
TRIN
GBP
Scirocco
SCIR
GBP
Savannah Energy
SAVE
GBP
Rockfire Resources
ROCK
GBP
Plexus Holdings
POS
GBP
Quadrise Fuels
QFI
GBP
Igas Energy
IGAS
GBP
Zephyr Energy
ZPHR
GBP
Empyrean Energy
EME
GBP
Destiny Pharma
DEST
GBP
Fusion Antibodies
FAB
GBP
E-Therapeutics
ETX
GBP
Surgical Innovations
SUN
GBP
Proteome Sciences
PRM
GBP
Rua Life Sciences
RUA
GBP
Allergy Therapeutics
AGY
GBP
Open Orphan
ORPH
GBP
Midatech Pharma
MTPH
GBP
Synairgen
SNG
GBP
Diurnal Group
DNL
GBP
Physiomics
PYC
GBP
Immupharma
IMM
GBP
Orchard Funding
ORCH
GBP
Fintel
FNTL
GBP
CPP Group
CPP
GBP
Ramsdens
RFX
GBP
Rbg
RBGP
GBP
Chariot Oil & Gas
CHAR
GBP
Fastforward
FFWD
GBP
Duke Royalty
DUKE
GBP
Woodbois
WBI
GBP
NB Private Equity
NBPE
GBP
Afritin Mining
ATM
GBP
Shanta Gold
SHG
GBP
Okyo
OKYO
GBP
Great Western
GWMO
GBP
Ovoca Bio
OVB
GBP
Mysale Group
MYSL
GBP
Yellow Cake
YCA
GBP
XLMedia
XLM
GBP
Invinity Energy
IES
GBP
Safestyle UK
SFE
GBP
Caledonia Mining
CMCL
GBP
Goldstone Resources
GRL
GBP
Xeros Technology
XSG
GBP
Edenville Energy
EDL
GBP
Bluefield
BSIF
GBP
Ruffer Investment
RICA
GBP
Riverstone Energy
RSE
GBP
Senior Secured Debt
LBOW
GBP
BH Global
BHGG
GBP
TwentyFour Income
TFIF
GBP
Chrysalis Investments
CHRY
GBP
BH Macro
BHMG
GBP
Middlefield
MCT
GBP
Asian Income
AAIF
GBP
PS Deutschland
PSDL
GBP
New City High Yield
NCYF
GBP
High Yield Trust
CMHY
GBP
Henderson Far East
HFEL
GBP
Asset Backed Income
GABI
GBP
Providence
PVR
GBP
Eqtec
EQT
GBP
Kibo Energy
KIBO
GBP
Kenmare
KMR
GBP
Arkle Resources
ARK
GBP
Conroy Gold
CGNR
GBP
NA Small Companies
NAS
GBP
Restaurant Group
RTN
GBP
Fuller's
FSTA
GBP
The Gym Group
GYM
GBP
Metro Bank
MTRO
GBP
SuperDry
SDRY
GBP
Funding Circle
FCH
GBP
Ted Baker
TED
GBP
Kier Group
KIE
GBP
Galliford Try
GFRD
GBP
Bakkavor Group
BAKK
GBP
Keller
KLR
GBP
Dignity
DTY
GBP
Treatt
TET
GBP
Harworth
HWG
GBP
Hollywood Bowl
BOWL
GBP
Robert Walters
RWA
GBP
Trifast
TRI
GBP
MacFarlane
MACF
GBP
Hyve
HYVE
GBP
Topps Tiles
TPT
GBP
Chesnara
CSN
GBP
S & U
SUS
GBP
Allied Minds
ALM
GBP
MJ Gleeson
GLE
GBP
XPS Pensions
XPS
GBP
RM
RM.
GBP
Tyman
TYMN
GBP
Studio Retail
STU
GBP
IPF
IPF
GBP
Supply@ME
SYME
GBP
TT Electronics
TTG
GBP
Foxtons
FOXT
GBP
Hunting
HTG
GBP
Helical
HLCL
GBP
Carrs Group
CARR
GBP
Speedy Hire
SDY
GBP
Vitec
VTC
GBP
Goodwin
GDWN
GBP
Renewi
RWI
GBP
Medica Group
MGP
GBP
Dialight
DIA
GBP
Guild Esports
GILD
GBP
Mitie
MTO
GBP
Costain
COST
GBP
Norcros
NXR
GBP
Spire Healthcare
SPI
GBP
Motorpoint
MOTR
GBP
Anglo-Eastern
AEP
GBP
Amigo Holdings
AMGO
GBP
discoverIE
DSCV
GBP
Luceco
LUCE
GBP
Zotefoams
ZTF
GBP
Menzies
MNZS
GBP
CMC Markets
CMCX
GBP
Photo-me
PHTM
GBP
Bloomsbury
BMY
GBP
Reach
RCH
GBP
Arrow Global
ARW
GBP
Volution
FAN
GBP
Forterra
FORT
GBP
Ten Entertainment
TEG
GBP
Severfield
SFR
GBP
Vp
VP.
GBP
Devro
DVO
GBP
Pendragon
PDG
GBP
Ricardo
RCDO
GBP
River & Mercantile
RIV
GBP
LSL Property
LSL
GBP
Hostelworld
HSW
GBP
NCC
NCC
GBP
U and I Group
UAI
GBP
City of London
CLIG
GBP
Esken
ESKN
GBP
De La Rue
DLAR
GBP
STV Group
STVG
GBP
Georgia Capital
CGEO
GBP
On The Beach
OTB
GBP
VPC Specialty
VSL
GBP
Clipper
CLG
GBP
DFS
DFS
GBP
Mears Group
MER
GBP
Kin and Carta
KCT
GBP
Sthree
STEM
GBP
Headlam
HEAD
GBP
Wincanton
WIN
GBP
Porvair
PRV
GBP
RPS Group
RPS
GBP
McBride
MCB
GBP
Redde Northgate
REDD
GBP
Stock Spirits
STCK
GBP
DWF
DWF
GBP
Kore Potash
KP2
GBP
Horizonte Minerals
HZM
GBP
MetalNRG
MNRG
GBP
Chesterfield
CHF
GBP
Aptitude Software
APTD
GBP
Alfa Financial
ALFA
GBP
Condor Gold
CNR
GBP
Pharos Energy
PHAR
GBP
EnQuest
ENQ
GBP
Nuformix
NFX
GBP
Brunner Investment
BUT
GBP
Henderson Int
HINT
GBP
TR Euro Growth
TRG
GBP
JPMorgan Mid Cap
JMF
GBP
Fundsmith EM
FEET
GBP
Henderson Eurotrust
HNE
GBP
China Growth
BGCG
GBP
Indian Investment
JII
GBP
Public Private
SUPP
GBP
Split Level Income
ASIT
GBP
Keystone Trust
KPC
GBP
European Small Comp
MTE
GBP
Augmentum Fintech
AUGM
GBP
Asia Dragon
DGN
GBP
European Assets
EAT
GBP
UK Smaller Cos
IPU
GBP
Income and Growth
ADIG
GBP
Asia Growth Income
JAGI
GBP
Emerging Markets
JEMI
GBP
Global Growth
JGGI
GBP
Ecofin Utilities
EGL
GBP
Dunedin Income
DIG
GBP
European Focus
HEFT
GBP
New Dawn
ABD
GBP
BMO Private Equity
BPET
GBP
Biotech Growth
BIOG
GBP
Smaller Companies
JMI
GBP
Schroder UK Mid Cap
SCP
GBP
SEEIT
SEIT
GBP
Pacific Assets
PAC
GBP
Invesco Asia Trust
IAT
GBP
UK Growth
BGUK
GBP
NA Income
NAIT
GBP
Japan Opportunities
AJOT
GBP
US Smaller Companies
JUSC
GBP
Claverhouse
JCH
GBP
Merchants
MRCH
GBP
Japan Trust
FJV
GBP
Securities Trust
STS
GBP
European Logistics
ASLI
GBP
UK Small Companies
SLS
GBP
High Income Trust
HHI
GBP
Montanaro Small Cos
MTU
GBP
Electra PE
ELTA
GBP
M&G Credit Income
MGCI
GBP
Emerging Markets
UEM
GBP
LatAm Trust
BRLA
GBP
Capital & Income
BCI
GBP
Troy Income Growth
TIGT
GBP
EIT (growth shares)
JETG
GBP
Russian Securities
JRS
GBP
Scottish Oriental
SST
GBP
Asian Values
FAS
GBP
Greater Europe
BRGE
GBP
Indpt. Investment
IIT
GBP
Standard Life Private Equity Trust
SLPE
GBP
Majedie Investments
MAJE
GBP
Asia Focus
AAS
GBP
Throgmorton
THRG
GBP
US Smaller Cos
JUS
GBP
Europe Small Co
JESC
GBP
NA Income Trust
BRNA
GBP
Global Financials
PCFT
GBP
Diversified Income
HDIV
GBP
Japan Growth & Income
JSGI
GBP
Equity Income Trust
ASEI
GBP
Lowland Investment
LWI
GBP
Artemis Alpha
ATS
GBP
China Growth
JCGI
GBP
Frontiers
BRFI
GBP
Int. Biotech
IBT
GBP
Japan Growth
SJG
GBP
Asia Total Return
ATR
GBP
Capital Gearing
CGT
GBP
Aurora Trust
ARR
GBP
CC Japan Trust
CCJI
GBP
Diverse Income
DIVI
GBP
Strategic Equity
SEC
GBP
Value & Indexed Property
VIP
GBP
EIT (income shares)
JETI
GBP
Global Portfolio
MNP
GBP
Gabelli Value Plus
GVP
GBP
MW Int. Investment
MWY
GBP
Global Healthcare
PCGH
GBP
Income Growth Fund
SCF
GBP
Murray Income
MUT
GBP
New India
ANII
GBP
Octopus Renewables
ORIT
GBP
Manchester & London
MNL
GBP
Pacific Horizon
PHI
GBP
Lindsell Train
LTI
GBP
Agilon Health
AGL
USD
TuSimple
TSP
USD
Alkami
ALKT
USD
ThredUp
TDUP
USD
Social Capital III
IPOC
USD
Zhihu
ZH
USD
Tuya
TUYA
USD
BIT Mining
BTCM
USD
Zepp Health
ZEPP
USD
Aenza S.A.A.
AENZ
USD
GPA
CBD
USD
Jianpu Technology
JT
USD
Studio City International
MSC
USD
Sendas Distribuidora
ASAI
USD
111
YI
USD
Morphic Holding
MORF
USD
Rush Enterprises
RUSHA
USD
ViacomCBS (Class A)
VIACA
USD
Playa Hotels
PLYA
USD
ChampionX
CHX
USD
Atlantic Union
AUB
USD
Centerspace
CSR
USD
Westlake Chemical
WLKP
USD
SilverCrest Metals
SILV
USD
CEL-SCI
CVM
USD
Delek Logistics
DKL
USD
Cedar Realty
CDR
USD
Prestige Brands
PBH
USD
Omega Flex
OFLX
USD
Boqii
BQ
USD
Juniper Industrial
JIH
USD
Equity
EQD
USD
Sprout Social Inc
SPT
USD
Cathay General
CATY
USD
Hancock Whitney
HWC
USD
American National
ANAT
USD
Tuscan Holdings
THCB
USD
Shift Tech
SFT
USD
BM Technologies
BMTX
USD
Burning Rock
BNR
USD
Sanofi
SNY
USD
Nano Dimension
NNDM
USD
Orange
ORAN
USD
Sogou
SOGO
USD
Melco
MLCO
USD
Secoo Holding
SECO
USD
Ascendis Pharma
ASND
USD
LexinFintech
LX
USD
Molecular Data
MKD
USD
Bilibili
BILI
USD
AirNet Technology
ANTE
USD
Hailiang Education
HLG
USD
Fang
SFUN
USD
Phoenix New Media
FENG
USD
UMC
UMC
USD
Yiren Digital
YRD
USD
GreenTree Inns
GHG
USD
Grupo Aero del Pacifico
PAC
USD
Sunlands
STG
USD
PLDT
PHI
USD
Fangdd.com
DUO
USD
Grupo Supervielle
SUPV
USD
Banco BBVA Argentina SA ADR
BBAR
USD
ZTO Express
ZTO
USD
Xinyuan Real Estate
XIN
USD
Leju Holdings
LEJU
USD
Qudian
QD
USD
Jupai Holdings
JP
USD
Ternium
TX
USD
argenx
ARGX
USD
New Fortress Energy
NFE
USD
Apollo Strategic
APSG
USD
Seer
SEER
USD
iTeos Therapeutics
ITOS
USD
Wunong Net Tech
WNW
USD
Allegro
ALGM
USD
Focus Financial
FOCS
USD
Pennsylvania REIT
PEI
USD
Kilroy Realty
KRC
USD
Retail Properties
RPAI
USD
DiamondRock
DRH
USD
CC Neuberger II
PRPB
USD
Xenia Hotels
XHR
USD
Cousins Properties
CUZ
USD
Brandywine Realty
BDN
USD
Highwoods
HIW
USD
Columbia Property
CXP
USD
Piedmont Office
PDM
USD
Mack Cali Realty
CLI
USD
Hudson Pacific
HPP
USD
Weingarten Realty
WRI
USD
Relay Therapeutics
RLAY
USD
QCR Holdings
QCRH
USD
H&E Equipment
HEES
USD
Helios Technologies
HLIO
USD
Washington Trust
WASH
USD
Vasta Platform
VSTA
USD
Horizon Bancorp
HBNC
USD
Noble Midstream
NBLX
USD
CPP
CPLP
USD
Cimpress
CMPR
USD
Afya
AFYA
USD
Beacon
BECN
USD
Enterprise
EFSC
USD
Capitol Federal
CFFN
USD
TriMas Corp.
TRS
USD
Lakeland Bancorp
LBAI
USD
Sandy Spring
SASR
USD
Heartland Financial
HTLF
USD
Busey
BUSE
USD
Verra Mobility
VRRM
USD
The First National Bank of Long Island
FLIC
USD
Apollo Investments
AINV
USD
Home Bancshares
HOMB
USD
TCP Capital
TCPC
USD
Alliance Resource
ARLP
USD
Stock Yards
SYBT
USD
Renasant
RNST
USD
TiVo
TIVO
USD
BP Midstream
BPMP
USD
Crestwood
CEQP
USD
Ellington Financial
EFC
USD
AXA Equitable
EQH
USD
Owl Rock Capital
ORCC
USD
Black Stone Mineral
BSM
USD
Teekay LNG
TGP
USD
Enable
ENBL
USD
Steel Partners
SPLP
USD
Fortress Transportation and Infrastructure
FTAI
USD
Enviva
EVA
USD
Ciner Resources
CINR
USD
Cedar Fair
FUN
USD
TC Energy
TRP
USD
Armstrong
AWI
USD
Kenon Holdings
KEN
USD
Compass Diversified Holdings
CODI
USD
DCP Midstream
DCP
USD
AllianceBernstein
AB
USD
Dana
DAN
USD
NuStar Energy
NS
USD
ALLETE
ALE
USD
Hoegh LNG
HMLP
USD
Taylor Morrison
TMHC
USD
Sunoco
SUN
USD
PBF Logistics
PBFX
USD
Shell Midstream
SHLX
USD
Belden
BDC
USD
CoreLogic
CLGX
USD
Dynagas LNG
DLNG
USD
KNOT Offshore
KNOP
USD
Genesis Energy
GEL
USD
Elevate
ELVT
USD
GasLog
GLOP
USD
GFL Environmental
GFL
USD
Sterling Bancorp
STL
USD
Global Partners
GLP
USD
Holly Energy
HEP
USD
NGL Energy Partners
NGL
USD
Gates
GTES
USD
Hess Midstream
HESM
USD
Leslie's
LESL
USD
Academy Sports
ASO
USD
Porch Group
PRCH
USD
GS Acquisition II
GSAH
USD
Physicians Realty
DOC
USD
Boston Properties
BXP
USD
PS Business Parks
PSB
USD
Corecivic
CXW
USD
QTS Realty Trust
QTS
USD
Welltower
WELL
USD
Howard Hughes
HHC
USD
Brixmor Property
BRX
USD
Paramount Group
PGRE
USD
JBG SMITH
JBGS
USD
Public Storage
PSA
USD
Washington REIT
WRE
USD
Franklin Street
FSP
USD
National Health
NHI
USD
Preferred Apartment
APTS
USD
Corporate Office
OFC
USD
Park Hotels
PK
USD
Spirit Realty
SRC
USD
Ryman Hospitality
RHP
USD
National Storage
NSA
USD
CyrusOne
CONE
USD
Macerich
MAC
USD
Crown Castle
CCI
USD
Saul Centers
BFS
USD
Apple Hospitality
APLE
USD
Tanger Factory
SKT
USD
GEO Group
GEO
USD
CorePoint Lodging
CPLG
USD
Simon Property
SPG
USD
Equity Commonwealth
EQC
USD
Site Centers
SITC
USD
One Liberty
OLP
USD
Uniti Group
UNIT
USD
Empire State Realty
ESRT
USD
American Assets
AAT
USD
Armada Hoffler
AHH
USD
Summit Hotel
INN
USD
Outfront Media
OUT
USD
iStar
STAR
USD
Pebblebrook Hotel
PEB
USD
EPR Properties
EPR
USD
Rayonier
RYN
USD
Farmland Partners
FPI
USD
Seritage Growth
SRG
USD
Vereit
VER
USD
Viatris
VTRS
USD
TriState Capital
TSC
USD
Trustmark
TRMK
USD
Primoris Services
PRIM
USD
Opendoor
OPEN
USD
BRP
DOOO
USD
Realty Income
O
USD
SL Green Realty
SLG
USD
NOV
NOV
USD
Texas Pacific Land
TPL
USD
Santander Consumer
SC
USD
Lazard
LAZ
USD
Main Street Capital
MAIN
USD
Arthur J. Gallagher
AJG
USD
iClick Interactive
ICLK
USD
I-MAB
IMAB
USD
SOS
SOS
USD