Freetrade review | App, pricing and features
Freetrade is cheap (as the name suggests) but what's the catch?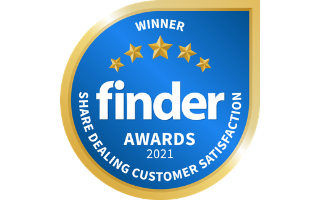 Easy to use
It may take time for Freetrade to order stocks
Trade the US market commission-free with Freetrade
Get a free share worth up to £200 with our link
Choose from the range of shares, ETFs and investment trusts
Start investing from £0 per month
Freetrade is a free trading platform. It's a popular choice for young investors who are looking for an attractive user interface and easy to use platform. Freetrade uses the "freemium" model – which means that it has features that are free for users, but more detail or additional features come at a cost. Freetrade was the winner of the Finder Customer Satisfaction Awards 2021, getting great feedback from its customers in our survey. We've reviewed Freetrade's features, fees and compiled some pros and cons of Freetrade.
What is Freetrade?
Freetrade is a trading and investment app that lets you buy individual UK and US stocks, and invest in a range of funds with a variety of ETFs. (What's an ETF?).
With a slick interface and pink colour scheme, it's aimed at millennials who are used to well-designed apps like Monzo and Starling and want to dip their toes into the choppy waters of investment.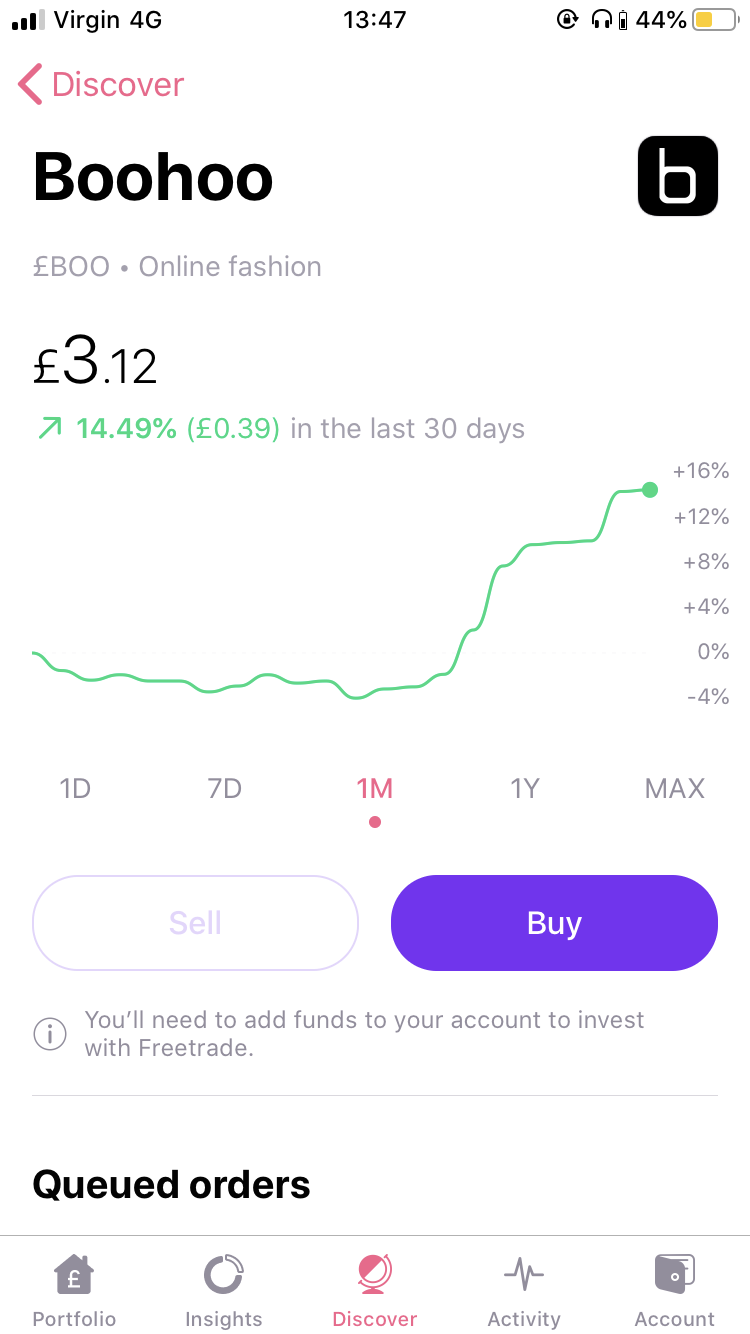 Freetrade features
Freetrade's main features include:
You can trade UK and US shares and exchange-traded funds (ETFs).
During stock market hours, all orders are instant. Outside of stock market hours, orders are executed at 10am the following day for UK stock and 3pm the following day for US stock, with no commission fee.
You can start with as little as £2.
The referral program can get you a free share when you refer a friend.
Freetrade products
There are four products available with Freetrade:
Freetrade general investment account (GIA)
Freetrade stocks and shares ISA
Freetrade Plus
Self-invested personal pension (SIPP)
Freetrade general investment account
This is Freetrade's basic account. It doesn't have a monthly cost, and you can make free instant orders.
People usually choose to go with the general investment account after they have used up their ISA allowance for the year, as you may need to pay capital gains tax on any profits you make. Capital gains tax is payable on gains over the allowance of £12,300 in each tax year.
If you haven't paid into an ISA in the current financial year (which runs from April to April) then the ISA is a more cost effective option.
Freetrade ISA
The Freetrade stocks and shares ISA is a personal account where you can invest up to a certain amount in each tax year without paying tax on your profits. The allowance for the 2021/2022 tax year is £20,000. This means you can invest £20,000 in the available stocks and ETFs and never pay any tax on the profits you make.
You can open an ISA with the Freetrade app. It costs £3 fee per month (£36 a year). With free trades, plus the FX costs on US trades, it's a pretty cheap offering compared with Hargreaves Lansdown or other traditional brokers – all of which charge anywhere between £5 and £12 for a trade.
Again, it's worth remembering Freetrade has a bit of a limited trading universe. It's not ideal for those who want to hold a variety of things in an ISA (namely, funds and shares from different markets).
On cost though, it is tough to beat, especially if you're looking to invest serious money over the long-term.
You can also transfer your existing ISA into your Freetrade account.
Compare stocks and shares ISAs
Freetrade Plus
Freetrade Plus is Freetrade's premium account. It has additional features, including access to the stocks and shares ISA.
How much does Freetrade Plus cost?
Freetrade Plus costs £9.99 per month which works out as just short of £120 per year. It includes the stocks and shares ISA, so you don't have to pay for both.
What's included with Freetrade Plus?
Features of Freetrade Plus include:
Stocks and shares ISA. You get access to the stocks and shares ISA with this account.
3% interest on cash. You can get a great interest rate on cash held in your account, up to £4,000 deposited per month.
Access more stocks. Some stocks are exclusive to Freetrade Plus customers, so you get access to these too. There's also exclusive stock collections, which are groups of stocks that have similar aims.
More control. You get access to tools that give you more control over your investments, such as stop loss and limit orders.
Priority customer service You're prioritised when you need customer service.
On top of this all, Freetrade creatively refers to you as a Plustomer. If that doesn't sell it to you then I don't know what will.
Is Freetrade Plus worth it?
This really depends on what you want to invest in and how much you want to invest. If you've not got much to invest and are alright with not having access to some stocks, a free account or just the ISA is probably fine for you. If you think you can make the most out of all the perks of Freetrade Plus and have a decent amount to invest, then it could be worthwhile.
As boring as it seems, it's often worthwhile to get out a calculator and work out the costs for exactly what you want to do.
Freetrade self invested personal pension (SIPP)
Freetrade has recently added a self invested personal pension (SIPP) to its products list. A SIPP is a type of personal pension, with added freedom of what you can invest in.
How much does the Freetrade SIPP cost?
The Freetrade SIPP costs £9.99 per month (around £120 per year), or £7 per month if you already have Freetrade Plus (which works out at £84 per year, plus the Freetrade Plus fee of £9.99 per month, totalling £203.88 per year).
What features does the Freetrade SIPP have?
Here are some of the features of the Freetrade SIPP:
Flat fee. Some SIPPs are charged as a percentage of what you invest – a flat fee can work out cheaper if you have a lot to invest.
Fractional shares. You can buy fractions of shares – great for when even just one share of a company is expensive.
Transfer in other pension pots. You can transfer in old pots to Freetrade.
Tax relief. You can claim tax relief on up to £40,000 of contributions each year.
Your money is locked in until you turn 55.
Compare Freetrade accounts
Here's a quick view of what each Freetrade account has on offer:
| | Freetrade general investment account | Freetrade ISA | Freetrade Plus | Freetrade SIPP |
| --- | --- | --- | --- | --- |
| Cost | Free | £3 per month | £9.99 per month | £9.99 per month or £7 per month with Freetrade Plus |
| Tax relief | | – up to £20,000 in each tax year | – if you choose to use the ISA. | – up to £40,000 in each tax year |
| Stocks available | Limited list | Limited list | All stocks | Limited list |
| Stop loss and limit orders | | | | |
| Interest on cash | | | | |
| Priority customer service | | | | |
Compare share dealing accounts
Freetrade app review
You can't use Freetrade without the mobile app, as the website is just for information about what's available.
You can get insights about your investments through the app, with Freetrade aiming to give you tools to make well-informed investing choices.
There's also features on the app to get some investment ideas through the "Discover" tab. Here, Freetrade has divided the stocks, shares and ETFs by popularity and sectors. It also has a list of the newest added stocks.
If you lose track of what you've been up to, you can see your activity on the "Activity" tab.
How to set up Freetrade
Setting up is super easy. You can download the Freetrade app on the App Store and Google Play.
Once you open the app, you'll need to provide:
Your name
Your address
Your national insurance number
Some of our team also had to provide additional info:
Proof of address
ID (driving license, but Passport seems to work better)
Once you've done that, you can then choose an account type.
How to fund your Freetrade account
Once your account is set up you can use Apple Pay, Google Pay or a bank transfer to fund it.
We did have a mixed bag when it came to depositing money in the app. For some it took about 10 minutes, while others waited for the top-up to come through for 6 or 7 hours.
That is one of our main criticisms of the platform, you can spend a lot of time in limbo wondering when your money will be topped up or when you'll get your free share.
Freetrade referral and free share
After you buy your first share, you'll be able to refer a friend. Send your lucky pal a link, and once they've signed up too, you'll both get a free share up to £200 in value. Freetrade dishes out the free shares on Fridays.
Freetrade fees
| Fee type | Cost |
| --- | --- |
| Basic trades | Free |
| Basic account | Free |
| Stocks and Shares ISA | £3 per month |
| FX fee | Spot rate plus 0.45% |
| Outgoing bank transfer | Free |
| Outgoing bank transfer (same day) | £5 |
What stocks can I trade on Freetrade?
Amazon, Apple, Netflix, Tesco… there's over 500 UK and US stocks and ETFs on Freetrade, and it's adding to this each week. You can see Freetrade's stock list on its website. The table lets you search for stocks and check which ones are tradeable with Freetrade Plus.
Is Freetrade safe?
Yes. Freetrade is regulated and authorised by the FCA and covered by the FSCS, so up to £85,000 of your deposits are protected if the company goes bust.
Although as always when you invest, your capital is at risk.
Freetrade customer reviews
Reviews for Freetrade are generally positive, and it came top in Finder's 2021 Share Trading Customer Satisfaction survey, carried out in December 2020.
Customers of Freetrade said that the app is easy to use and competitively priced. A lot of its customers feel that the customer service is excellent and that any complaints are dealt with well.
The word "reliable" came up frequently in our customer comments.
On Trustpilot, Freetrade has 4 out of 5 stars and a rating of Great, based on more than 600 reviews.
The Freetrade app also has 3.6 out of 5 stars on Google Play, based on more than 2,000 reviews and 4.7 out of 5 stars in the App Store, based on over 5,000 reviews (updated 20 April 2020).
How does Freetrade make money?
Freetrade makes money in three ways:
0.45% FX fee for buying shares in other countries
£5 for same day withdrawals
Fees for Freetrade Plus, the SIPP and the ISA.
Freetrade: Reddit's review
Reddit users liked that the Freetrade app is easy to use and, of course, that it's free to use. They share that it has great customer service, with really quick response rates with it's in-app chat feature. The Freetrade team is known to give loads of information about what's upcoming with the product.
Reddit users were frustrated with the limited list of investments available and that there aren't any options or leveraged products, but on the whole, they like the app and look forward to what's coming.
What is the Freetrade community?
The Freetrade community is a forum for all Freetraders to share investing tips, chat about other startups, the economy and share their ideas on what can help make Freetrade better.
Pros and cons of Freetrade
Pros
Signing up is easy
The app is easy to navigate and understand, buying stocks is a breeze
Free trading (it's in the name!)
Cons
The graphs and charts are more pretty than helpful
There isn't much data or information to help you understand performance
Our verdict: Is Freetrade any good?
Freetrade's fees are the shining star here. Buying stocks and ETFs for free? Doesn't get much better than that. No monthly fee or inactivity fee is also great, which stops your portfolio from being slowly eroded over time.
By slashing costs, Freetrade undercuts traditional stockbrokers such as Hargreaves Lansdown, Interactive Investor and AJ Bell. A single trade with Freetrade costs £0. Hargreaves Lansdown charges £11.95, interactive investor charges £7.99 and AJ Bell charges £9.95.
It's really easy to open a Freetrade account, meaning that you're quickly ready to go. The app is slick and satisfying to use. However, the graphs are more pretty than helpful, and the app is quite limited. Equally, the app only covers products from the UK and US, so it is a bit limiting. We did have a few problems with the app being laggy when loading money and getting the free referral share.
Overall, Freetrade is a great option if you're a beginner not looking to invest too much. You can make the most of free trades so your investments aren't eroded by fees, while having a decent play around and learning the basics.
Get started by visiting Freetrade and opening an account. Still not sure? Compare other share trading platforms with our comparison table.
Freetrade vs Trading 212
Another free trading option is Trading 212, but how does Trading 212 compare against Freetrade?
We decided that these are both pretty good free-trading options. Trading 212 is more suitable for those with a bit more experience, as it's a bit more complicated. We've compared both platforms and reviewed Trading 212 if you're still deciding .
Frequently asked questions
Share dealing platform ratings
Our customer satisfaction scores ("Customers say") are based on a survey of 752 customers carried out in December 2020.