Trading apps let you buy and sell investments, show you how they're performing and give you insights into key metrics of investments available. They differ widely on the features, fees, charting and user experience, so it's worth looking for one that suits you, the stocks you'd like to buy and how expert you are. The investment platform with all the bells and whistles may not be your best choice if you're just starting out, as you could wind up paying a lot in fees for features you won't use to start with.
We've tested, analysed and scored all of the trading platforms we've reviewed on our site to help you find the best trading app for beginners, 0% commission, international trading, ETFs, customer satisfaction, index funds, US shares and investing small amounts from our partners.
Finder's best trading apps and platforms in the UK 2022
Our experts have analysed and ranked 83 features and fees to round up the UK's leading stock trading apps for you to help you find the one that suits your profile best. We've summarised the best trading apps above, but if you'd prefer some more detail, we've explained what's great about each one and some pros, cons and stand out features below. We've also covered how to choose the best trading app as well as information about new trading app features and news that we've seen recently.
Best trading app for beginners
Best trading app for 0% commission
Best trading app for international trading
Best trading app for ETFs
Best trading app for customer satisfaction
Best trading app for index funds
Best trading app for US shares
Best trading app for investing in small amounts
Best trading app for ESG investing
Best trading app for managed portfolios
Best trading app features September 2022
We give a monthly round-up of all the latest new features, product launches and news from the top trading apps in the UK right now.
What is the best investment platform for the lowest-fees?
You'll face a few different fees when you start trading. We've listed some of the most popular trading apps below (from our partner investment platforms) with some of the main fees that they charge. This isn't an exhaustive list and won't include all of the fees, check out our reviews of each platform to see more about the fees.
Fees include a platform fee, which is a charge for using the platform and is usually a percentage of what you have invested (but there are exceptions). The trading fee, also known as commission, is the price for an individual trade (buy or sell). Sometimes you can get cheaper trading with certain conditions, like frequent trading, which is the frequent trader fee. The foreign exchange fee is what you'll be charged for moving your money into another currency, such as if you want to buy US shares.
Rank
Provider
Costs rating
Minimum deposit
Platform charge
Trading fee
Frequent-trader fee
Foreign-exchange fee
1st
Degiro

★★★★★

£0.01
£0
UK: £1.75 + 0.014% (max £5)
US: €0
N/A
0.1%
2nd
Freetrade

★★★★★

£1
£0
£0
-
0.45%
3rd
eToro

★★★★★

$10
£0
£0
N/A
0.5%
4th
Hargreaves Lansdown

★★★★★

£1
£0
£11.95
£5.95
1%
5th
interactive investor

★★★★★

£0
£9.99 per month
£5.99 (plus 1 free trade each month)
£3.99
1.5%
6th
Stake

★★★★★

£50
£0
US: £0
N/A
0.5%
7th
Saxo

★★★★★

£500
0.12% per year
£8
N/A
1%
8th
IG

★★★★★

£250
£0
UK: £8
US: £10
EU: 0.1% (min €10)
UK: £3
US: £0
EU: 0.1% (min €10)
0.5%
How to choose the best trading app
Choosing the best trading app ins't like choosing the best bar of chocolate (which is objectively Dairy Milk, obviously) — a lot of the time, it's down to you, and what features you're looking for and what fees you're prepared to pay for them. You wouldn't judge a goldfish on how well it can climb a tree, would you? .
There are loads of different things that you should consider when choosing the best trading app for you, such as:
Fees. There are a few different fee structures that platforms can have. Some are commission-free (but not fee-free), some platforms charge a flat fee, while others charge based on how much you invest. It's not all about commission, either — look at withdrawal fees, deposit fees, foreign exchange fees and inactivity fees.
What you can trade. You might want to buy individual shares, ETFs and funds; or you might prefer a ready made portfolio. Make sure you can invest in all the stock exchanges you want to, as well.
How easy the platform is to use. Some platforms are designed for more experienced investors, so might be quite complicated and difficult to use. On our reviews, we've explained what type of investor each platform is suitable for.
Market research and tools. The tools available on the platform can be helpful in understanding your investments, but be careful not to pay more for a platform that has tools that you won't use.
Demo account. If there's a demo account available then you can give it a go without putting down any real money, this is a nice touch if you're a newbie to investing.
Compare the best investment platforms
Table: sorted by promoted deals first
What's next?
Now you've found a trading app that suits your investment style, whether you're a beginner, want US shares or fancy yourself an index fund, all you need to do is sign up. You'll want to have your bank details and some personal details to hand (such as your National Insurance number). In most cases, you'll be up and running and ready to trade within 24 hours. Your next step is to choose your first investment.
Trading app news & launches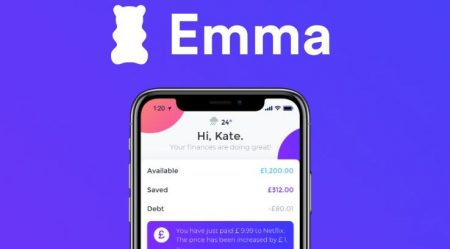 Emma users in the UK can now invest in US shares commission free.
Read more…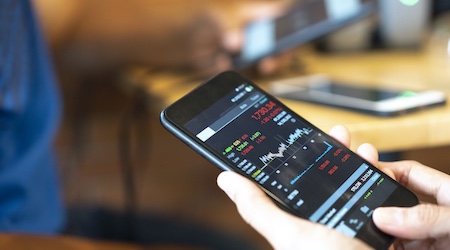 Revolut is set to end free trading for its Metal subscribers. We take a look at what could be behind this move.
Read more…