Rewards credit cards
We compare the following card issuers
Earn points
Airport lounge schemes
American Express® Preferred Rewards Gold Credit Card review 2022
A premium rewards card with a variety of enticing perks to suit big spenders and frequent flyers.
There's no getting away from it: a gold Amex is quite a statement. In the Finder offices we call this one the "Am-Flex". If you use your credit card heavily but don't carry a balance from month to month, Amex's Preferred Rewards Gold Card really can offer meaningful benefits – including airport lounge access and reward points by the truckload.
Airport lounge access: 2 complimentary visits every year, plus membership of Priority Pass, allowing further access at £20 per visit.
Fee: Year 1 - £0, Year 2 onwards - £140 per annum.
Representative example: When you spend £1,200 at a purchase rate of 25.3% (variable) p.a. with a fee of Year 1 - £0, Year 2 onwards - £140 per annum, your representative rate is 61% APR (variable).
Earn 2 points
per £1 spent with select partners
Earn 1 point
per £1 spent elsewhere
Up to 30,000 points
Intro bonus
Details
| | |
| --- | --- |
| Issuer | American Express |
| Network | Amex |
| Annual/monthly fees | Year 1 - £0, Year 2 onwards - £140 per annum |
| Purchases | 25.3% |
| Purchases interest-free period | Up to 56 days |
| Cash advances | 32.4% |
| Minimum credit limit | £700 |
| Maximum credit limit | Not specified |
| Additional cards available | 1 |
| Incentive | New welcome offer: Earn 30,000 Membership Rewards points when you spend £3,000 in your first three months of Cardmembership. Offer ends 19 July. Terms Apply. 18+, subject to status. |
| Lounge access | 2 complimentary visits every year, plus membership of Priority Pass, allowing further access at £20 per visit. |
| Additional Rewards Info | Access to tickets for must-see music, theatre and film events, often before they go on sale to the general public with American Express Experiences. Travel accident insurance on public transport when tickets are charged on the card. Global Assist support 24/7 when you travel outside of the UK. Eligible for American Express Connect where cardmembers can choose offers from selected retailers to obtain discounts or cashback. Cardmembers are eligible for two £5 vouchers per month (£10 total), when they spend at Deliveroo on their Gold Card. |
| Potential costs | ★★★★★ |
| Doing its job | ★★★★★ |
| Extras | ★★★★★ |
| Overall Finder rating | ★★★★★ |
| | |
| --- | --- |
| Annual/monthly fees | Year 1 - £0, Year 2 onwards - £140 per annum |
| Minimum monthly payment | 2% or £25 (whichever is greater) or the total of any interest, default fees and charges, 1/12th of annual fee plus 2% of the outstanding balance. |
| Foreign usage charge (EU) | 2.99% |
| Foreign usage charge (rest of world) | 2.99% |
| Cash advance fee | 3% (min. £3) |
| Late payment fee | £12 |
| Duplicate statement fee | £2 |
| Exceeding limit fee | £0 |
| Additional card fee | £0 |
| Replacement card fee | £0 |
| Dormancy fee | £0 |
| | |
| --- | --- |
| Minimum age | 18 |
| Residency | UK resident and has a UK bank or building society account. |
| Availability | Available to new customers |
Chris Lilly is a publisher at finder.com. He's a specialist in credit-based products including business and personal loans, mortgages and credit cards, and is passionate about helping UK consumers make informed decisions about their borrowing. In his spare time Chris likes forcing his kids to exercise more.
How premium is it?
When we received this card at the Finder office, there were some murmurs of "I thought it would be more… gold". It's a sort-of deep gold – less bling than it could have been, but when it catches the light you'll want your sunnies at the ready.
Plenty of card issuers throw the terms "gold" or "platinum" around without really meaning it, but Amex's Preferred Rewards Gold Card does stay true to the original concept. It offers meaningful rewards for people who use their credit card heavily and aren't deterred by an annual fee. This is the network's preferred card: they'd prefer you to take this one over one of the more entry-level products.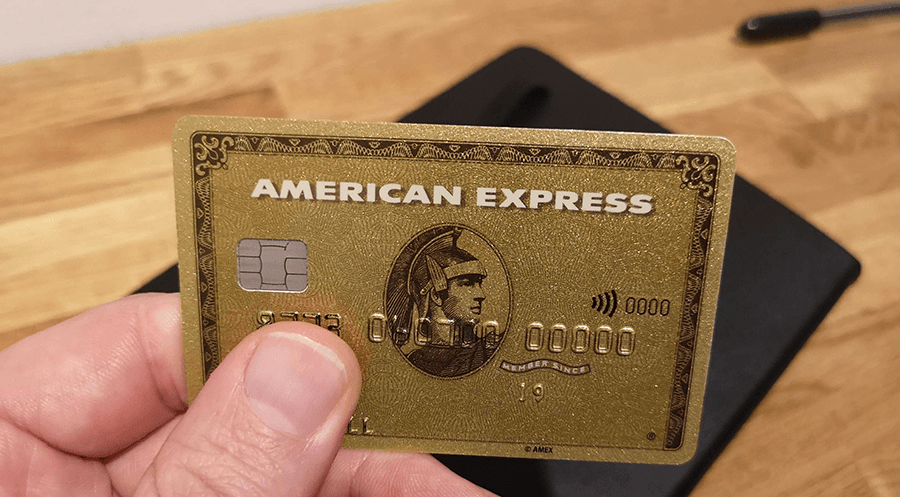 New applicants will benefit from a waived fee in the first year plus a lump sum of Membership Rewards points (subject to a minimum spend) that could potentially be redeemed for a free flight. From then on, it's points on all purchases, annual anniversary bonuses and ongoing benefits like American Express Experiences. Frequent travellers can take advantage of perks including hotel room or car hire upgrades and airport lounge access.
You can track your spending in real time and watch your points piling up (hopefully!) in Amex's very respectable mobile app. The app also lets you turn on/off a range of handy alerts – you can get updates whenever a purchase is made, when you're within a specified amount (you choose the amount) from your credit limit, when your statement is ready and when a payment is due (again, you get to specify how much notice you want). You can also browse and activate offers for nearby merchants.
You can also hook the card up to Apple Pay, or just use Amex Pay if you're on Android, but in our opinion this is a card that deserves to be seen!
How does the lounge access work?
Within a few days of your new card landing you'll be sent another – your Priority Pass membership card. This is the one you'll need to get into a lounge (not your credit card – that won't work). Amex has a network of VIP lounges covering 300+ airports worldwide. Your first two lounge visits each year are on Amex. After that you'll need to pay a small fee.
We put the lounge access deal to the test at Gatwick's No.1 lounge and had no problems at all.
Which lounges will I be able to access?
Here's a list of Priority Pass lounges around the world. You can search for the specific country or airport that you're heading to.
Airport lounge directory

A Coruna A Coruna - LCG


Lounge: Sala VIP
Location: Airside - 1st Floor, Boarding Area. The lounge is located in front of Gates 2-3.
Hours 05:30 - 22:00 Monday - Thursday & Sunday.
05:30 - 21:30 Friday.
05:30 - 21:00 Saturday.
Due to current travel restrictions impacting the area this lounge is temporarily closed.
Conditions: Access is permitted 4 hours prior to scheduled flight departure - All
Cardholders and guests are required to show a Boarding Pass with confirmed same-day travel for access to the lounge - Children 5 years and under are admitted free - Children under 18 years must be accompanied by an adult -
Outside smoking terrace available.

Aalborg Aalborg - AAL


Lounge: Aalborg Airport Lounge
Location: Airside - after TaxFree, follow signs to Level 1 where the lounge is located.
Hours The lounge opens 1 hour and 15 minutes prior to the first scheduled departure and closes 30 minutes prior to the last scheduled departure.
Conditions: Children under 2 years are admitted free of charge.

Aberdeen Dyce - ABZ


Lounge: Northern Lights Executive Lounge
Location: Airside - proceed through the departure lounge towards International Gate 1.
Take the lift to the 1st Floor where the lounge is located.
Hours 04:30 – 13:30 Monday & Friday.
04:30 – 12:00 Tuesday – Thursday.
Closed: Saturday, Sunday & Dec 25.
Conditions: Maximum 3 hour stay - Children under 3 years are admitted free - All food and beverages must be consumed inside the lounge - Smart casual dress at all times.
Additional information: Premium alcoholic drinks are subject to additional payment by credit card only. Face masks must be worn. Please note standard buffet service has been suspended but the lounge will instead offer table service.

Abha Abha - AHB


Lounge: TasHeel Lounge
Location: Airside - the lounge is located after Security Checks.
Hours 24 hours daily.
Due to current travel restrictions impacting the area this lounge is temporarily closed.
Conditions: Children under 2 years are admitted free - Children must be accompanied by an adult at all times.

Abu Dhabi Abu Dhabi Intl - AUH


Terminal: VIP Terminal
Lounge: Diamond Lounge
Location: Landside - next to Terminal 1, Ground Level adjacent to the VIP Terminal.
Passengers must first check-in at the check-in counters before proceeding to the VIP Terminal and lounge.
Hours 24 hours daily.
Conditions: Maximum 4 hour stay - Children under 2 years are admitted free - Separate smoking room available.

Abuja Nnamdi Azikiwe Intl - ABV


Terminal: Domestic Terminal
Lounge: @9tysix Lounge
Location: Airside - located on the 2nd Floor of the Departure Hall.
Hours 06:00 - last flight departure daily.
Conditions: Children under 5 years are admitted free.

Terminal: Domestic Terminal
Lounge: Airspace Lounge
Location: Landside - Module D Wing, 1st Floor. The lounge is located on the right hand side. Domestic flights only.
Hours 07:00 - 20:00 daily.
Closed: Dec 25 & Jan 01.
Conditions: Maximum 3 hour stay - Children under 6 years are admitted free.
Additional information: Alcoholic drinks are subject to payment. Face masks must be worn.

Terminal: Domestic Terminal
Lounge: Lounge One
Location: Airside - Module B Wing. The lounge is located opposite the Boarding Gate,
on the right hand side after Security Checks. Domestic flights only.
Hours 06:30 - 20:00 daily.
Conditions: Children under 5 years are admitted free - Complimentary drinks are limited to one per person.
Additional information: Alcoholic drinks are subject to payment. Face masks must be worn.

Acapulco Juan N. Alvarez Intl - ACA


Lounge: Oma Premium Lounge
Location: Airside - after Security Checks proceed to the 3rd Floor.
Hours 07:00 - 20:00 Saturday - Thursday.
07:00 - 21:00 Friday.
Access may be restricted due to space constraints.
Conditions: Maximum 3 hour stay - Children under 5 years are admitted free -
Complimentary alcoholic drinks are limited to three per adult - All food and beverages must be consumed inside the lounge.
Additional information: Please note hot food is temporarily suspended (snacks only) until further notice.

Accra Kotoka Intl - ACC


Terminal: Terminal 2
Lounge: Adinkra Lounge
Location: Airside - after Check-in, turn left and proceed to the 1st Floor and the lounge is located next to Gate 3. Domestic flights only.
Hours 06:00 - 19:00 daily.
Conditions: Maximum 3 hour stay - Children under 2 years are admitted free - Computer workstations available.

Terminal: Terminal 3
Lounge: Adinkra Lounge
Location: Airside - after Security Checks, turn right and walk towards Gate C4. Follow signs to the lounge. International flights only.
Hours 06:00 - 23:00 daily.
Conditions: Children under 2 years are not admitted.
Additional information: Face masks must be worn.

Terminal: Terminal 3
Lounge: Akwaaba Lounge
Location: Airside - Level 5. International flights only.
Hours 24 hours daily.
Conditions: Maximum 4 hour stay - Children under 2 years are admitted free.
Additional information: Telephone calls are subject to payment.

Terminal: Terminal 3
Lounge: Sanbra Priority Lounge
Location: Airside - Level 3. Main Departure Hall, opposite Gate C3. International flights only.
Hours 24 hours daily.
Conditions: Maximum 4 hour stay - Children under 4 years are admitted free.

Adelaide Adelaide International - ADL


Terminal: Terminal 1
Lounge: REX Lounge
Location: Airside - Domestic Departures, near Gate 10.
Hours 05:30 - 17:00 Monday - Friday.
10:30 - 17:00 Sunday.
Closed: Saturday.
Conditions: Two children under 12 years are admitted free per adult - Alcoholic drinks are available from 15:00 daily - Complimentary massage chairs available.
Additional information: Luggage storage is subject to payment. Due to precautionary measures this lounge may have interrupted services.

Agadir Al Massira International - AGA


Lounge: Pearl Lounge
Location: Airside - Ground Floor, near the Boarding Gates. International flights only.
Hours 07:00 - 17:00 daily.
Conditions: Maximum 3 hour stay - Children under 2 years are admitted free - Children's play area - Separate smoking room available.

Aguascalientes Jesus Teran Peredo Intl - AGU


Lounge: VIP Lounge Aguascalientes
Location: Airside - after Security Checks, take a left and continue until you reach the lounge entrance.
Hours 05:00 - 21:00 daily.
Conditions: Maximum 8 hour stay - Children under 7 years are admitted free.
Additional information: Local calls only. Please note standard buffet service has been suspended until further notice. Hot food available upon request.

Ahmedabad Ahmedabad - AMD


Terminal: Terminal 1
Lounge: The Lounge
Location: Airside - Domestic Departures. After Security, 1st Floor and the lounge is located once crossing the Food Court.
Hours 05:00 - 23:00 daily.
Conditions: Access is permitted 3 hours prior to scheduled flight departure - Children under 12 years are admitted free.
Additional information: Complimentary shoe shine available inside the lounge.

Alexandria Borg El Arab Intl - HBE


Lounge: Pearl Lounge
Location: Airside - after Security Checks, 2nd Floor. The lounge is located opposite the departure gates. International flights only.
Hours 24 hours daily.
Conditions: Maximum 3 hour stay - Children under 3 years are admitted free -
Complimentary use of iPad - Separate smoking room available.

Alicante Alicante - ALC


Lounge: Sala VIP - Salon Ifach
Location: Airside - after Check-in on the 2nd Floor, proceed through Security and Duty
Free to the main departures area between Gates B and C. Take the lift or stairs up to the 3rd Floor where the lounge is located. Follow signs 'VIP
Lounge:'.
Hours 24 hours daily (01Apr - 31Oct).
05:00 - 21:00 daily (01Nov - 31Mar).
Due to current travel restrictions impacting the area this lounge is temporarily closed.
Conditions: Access is permitted 4 hours prior to scheduled flight departure - All
Cardholders and guests are required to show a Boarding Pass with confirmed same-day travel for access to the lounge - Children 5 years and under are admitted free - Children under 18 years must be accompanied by an adult -
Separate children's play area available.
Additional information: Alcoholic drinks are available in the self service area.

Almaty Almaty - ALA


Lounge: Almaty International Business Lounge
Location: Airside - the lounge is located on the 1st Floor after Security Checks and
Passport Control, on the left hand side. For transit passengers, proceed to the
1st Floor and the lounge is located on the right hand side after Duty Free.
International flights only.
Hours 24 hours daily.
Conditions: Maximum 2 hour stay - Children under 2 years are admitted free -
Complimentary soft drinks are limited to tea, coffee and water only, all other soft drinks are subject to payment - Separate smoking room available outside the lounge.
Additional information: Alcoholic drinks and buffet menu are subject to payment.

Amman Queen Alia Intl - AMM


Lounge: Crown Lounge
Location: Airside - after clearing Immigration and x-ray machines, proceed past the
Aldeasa Duty Free Shop. The dedicated lounge entrance lift is situated straight ahead and the lounge is located on Level 4. International flights only.
Hours 24 hours daily.
Conditions: Access is permitted 3 hours prior to scheduled flight departure - Access may be restricted due to space constraints - Limited to two guests per cardholder,
subject to a per person charge, where applicable - Children under 2 years are admitted free - Children under 16 years must be accompanied by an adult -
Alcoholic drinks are not available during the month of Ramadan - Separate prayer room available - Separate smoking room available.
Additional information: Shower facilities are subject to payment.

Lounge: Petra Lounge
Location: Airside. North Pier - after clearing Immigration and X-Ray machines proceed past the Duty Free Shop then turn left towards Gate 210. The lounge is located opposite Gate 208 and next to WHSmith Bookshop and Pharmacy 1.
International flights only.
Hours 24 hours daily.
Conditions: Access is permitted 3 hours prior to scheduled flight departure - Access may be restricted due to space constraints - Children under 2 years are admitted free - Children under 12 years must be accompanied by an adult at all times -
Alcoholic drinks are not available during the month of Ramadan - Prayer room available - Separate smoking room available.
Additional information: Offsite shower facilities and fax are subject to payment.

Amritsar Sri Guru Ram Dass Jee Intl - ATQ


Lounge: Primus Lounge
Location: Airside - Domestic Departures. After Security Checks proceed to the 2nd
Floor.
Hours 24 hours daily.
Hours may vary according to flight schedules.
Conditions: Maximum 3 hour stay - Children under 12 years are admitted free -
Complimentary use of iPad - Separate smoking room available outside the lounge.
Additional information: Complimentary luggage storage and shoe shine available inside the lounge.
Alcoholic drinks, snacks, À la carte menu and massage chairs are subject to payment. Please note standard buffet service has been suspended but the lounge will instead offer pre-packed food.

Lounge: Primus Lounge
Location: Airside - International Departures. After Security Checks proceed to the 2nd
Floor.
Hours 24 hours daily.
Hours may vary according to flight schedules.
Conditions: Maximum 3 hour stay - Children under 12 years are admitted free -
Complimentary use of iPad - Separate smoking room available outside the lounge.
Additional information: Complimentary luggage storage and shoe shine available inside the lounge.
Alcoholic drinks, snacks, À la carte menu and massage chairs are subject to payment. Please note standard buffet service has been suspended and pre-packed food is provided.

Amsterdam Schiphol - AMS


Lounge: British Airways Lounge
Location: Airside - after Security Checks, Non-Schengen Area. The lounge is located on the 3rd Floor of Departure Area 2/3 in lounge 40. International and transit flights only.
Hours 05:30 - 20:30 Monday - Friday.
06:15 - 21:30 Saturday & Sunday.
Hours may vary according to flight schedules.
Access may be restricted due to space constraints between 13:00 - 19:00
Monday to Saturday.
Due to current travel restrictions impacting the area this lounge is temporarily closed.
Conditions: Maximum 3 hour stay - Children under 2 years are admitted free - Computer workstations and printers available - Smart casual dress at all times (no shorts or sandals allowed).
Additional information: Complimentary luggage storage available inside the lounge.

Terminal: Terminal 1
Lounge: Aspire Lounge (No.26)
Location: Airside - after Security Control, turn right and follow signs for 'Lounge 26'. The lounge is not accessible to passengers departing from Gate M. Schengen flights only
Hours 06:00 - 18:00 daily.
Hours may vary according to flight schedules.
Due to peak seasonal activity it is this lounge will see an increase in the number of guests. Therefore, access may be periodically restricted due to space constraints.
Conditions: Access is permitted 3 hours prior to scheduled flight departure - Children under 2 years are admitted free - Children under 12 years must be accompanied by an adult - Alcoholic drinks are only available for passengers
18 years of age or older - Smart casual dress at all times.
Additional information: Please note the lounge will provide pre-packed food.

Terminal: Terminal 2
Lounge: Aspire Lounge (No.41)
Location: Airside - follow signs for 'Lounge 41', located on the Panorama Deck on the
3rd Floor. The lounge is not accessible to passengers departing from Gate M.
Non-Schengen flights only.
Hours 06:00 - 18:00 daily.
Hours may vary according to flight schedules.
Due to peak seasonal activity it is expected this lounge will see an increase in the number of guests. Therefore, access may be periodically restricted due to space constraints.
space constraints.
Conditions: Access is permitted 3 hours prior to scheduled flight departure - Children under 2 years are admitted free - Children under 12 years must be accompanied by an adult - Alcoholic drinks are only available for passengers
18 years of age or older - Smart casual dress at all times - Separate smoking room available.
Additional information: Shower facilities are subject to payment. Please note the lounge will provide pre-packed food.

Anapa Vityazevo - AAQ


Terminal: Terminal 1
Lounge: Business Lounge
Location: Airside - after Passport Control and Security Checks. The lounge is located in the Domestic area. Domestic flights only.
Hours 24 hours daily.
Conditions: Maximum 3 hour stay - Children under 2 years are admitted free -
Complimentary alcoholic drinks are limited to beer only.

Anchorage (AK) Ted Stevens Anchorage Intl - ANC


Terminal: South Terminal
Lounge: Alaska Lounge
Location: Airside - the lounge is located in Concourse C, near Gate C1.
Hours 05:00 - 01:00 daily.
Closed: Dec 25.
Conditions: Lounge access is permitted 3 hours prior to a scheduled flight departure - All
Cardholders are required to show a physical or digital card - All Cardholders and guests are required to present a valid boarding pass for same day travel -
Cardholder name must match the passenger name on the boarding pass -
Limited to two guests per cardholder or immediate family (spouse and children under 21 years of age), subject to a per person charge, where applicable -
Cardholder must be 18 years of age or older - Lounge access may be restricted due to Lounge capacity constraints and the Lounge reserves the right to reserve seating as necessary - Children under 2 years are admitted free - Alcoholic drinks are limited to three per adult.
Additional information: Premium alcoholic drinks are subject to payment. Access is limited due to space capacity. If the lounge is at capacity, a waiting list will be available upon arrival. The waiting list does not guarantee access. Face masks must be worn.
Food offerings are limited to pre-packaged snacks and small meals until further notice.

Ankara Esenboga - ESB


Terminal: Domestic Terminal
Lounge: Primeclass Lounge
Location: Airside - the lounge is located between Gates 109 - 110. Domestic flights only.
Hours 24 hours daily.
Conditions: Maximum 4 hours stay - Children under 7 years are admitted free.
Additional information: Please note food is served between 07:00 - 23:00 daily.

Terminal: International Terminal
Lounge: Comfort Lounge
Location: Airside - proceed to Departures Level. After Passport Control on the
Mezzanine Floor.International flights only.
Hours 24 hours daily.
Conditions: Maximum 4 hours stay - Children under 7 years are admitted free.

Anta German Arias Graziani - ATA


Lounge: Caral VIP Lounge
Location: Airside - after Security Checks, the lounge is located approximately 10 metres on the right. Domestic flights only.
Hours 05:30 - 13:00 daily.
Due to current travel restrictions impacting the area this lounge is temporarily closed.
Conditions: Maximum 4 hour stay - Children under 5 years are admitted free.

Antalya Antalya International - AYT
Antalya Antalya International - AYT


Terminal: Domestic Terminal
Lounge: CIP Lounge
Location: Airside - 2nd Floor, after Security Control turn right. The lounge is located next to Gate 7. Domestic flights only.
Hours 08:30 - 17:30 daily.
Hours may vary according to flight schedules.
Conditions: Maximum 3 hour stay - Access may be restricted due to space constraints -
Children under 2 years are admitted free - Separate smoking area outside the lounge.
Additional information: Please note standard buffet service has been suspended until further notice.

Terminal: International Terminal 1
Lounge: CIP Lounge
Location: Airside - after Passport Control, on the Mezzanine Floor of the Duty Free
Area. International flights only.
Hours 04:00 - 00:00 daily.
Hours may vary according to flight schedules.
Conditions: Maximum 3 hour stay - Access may be restricted due to space constraints -
Children under 2 years are admitted free.
Additional information: Please note standard buffet service has been suspended until further notice.

Terminal: International Terminal 2
Lounge: CIP Lounge
Location: Airside - after Passport Control, 3rd Floor. International flights only.
Hours 24 hours daily.
Closed: Winter Season (Nov-Apr).
Months can vary and are subject to change.
Conditions: Maximum 3 hour stay - Access may be restricted due to space constraints -
Children under 2 years are admitted free - Separate smoking area available.

Antofagasta Cerro Moreno Intl - ANF


Lounge: The Lounge Antofagasta
Location: Airside - after Security Checks, turn right and the lounge is located opposite
Gate 3.
Hours 06:00 - 23:00 daily.
Due to current travel restrictions impacting the area this lounge is temporarily closed.
Conditions: Maximum 4 hour stay - One child under 12 years admitted free per cardholder.

Apatity Khibiny - KVK


Lounge: Business Lounge
Location: Airside - Ground Floor, the lounge is accessible via a separate entrance on the left hand side of the terminal, or from the Main Terminal entrance, please follow to the signs to the 'Business Lounge' after Security Control. Domestic flights only.
Hours 08:30 - 20:00 daily.
Conditions: Maximum 3 hour stay - Children under 2 years are admitted free - Separate children's play area available - Smart casual dress at all times.
Additional information: Local telephone calls and fax facilities only.

Aqaba Aqaba King Hussein Intl - AQJ


Lounge: Pearl Lounge
Location: Airside - the lounge is located near Gate 3.
Hours 24 hours daily.
Conditions: Maximum 3 hour stay - All Cardholders and guests are required to show a
Boarding Pass with confirmed same-day travel for access to the lounge -
Children under 2 years are admitted free - Separate smoking room available.

Arequipa Rodriguez Ballon Intl - AQP


Lounge: Andes Salon VIP
Location: Airside - after Security Checks proceed to the Domestic Departure Hall, turn right through the lounge access door and continue to the lounge reception.
The lounge is located on the 1st Floor in the Passenger Terminal Hall.
Hours Lounge opening times vary in accordance with flight schedules.
Conditions: Children under 5 years are admitted free.
Additional information: Face masks must be worn. Please note the lounge will provide pre-packed food.

Arkhangelsk Talagi - ARH


Terminal: Domestic Terminal
Lounge: VIP Lounge
Location: Airside - Ground Floor in the Pavilion 1 (International Terminal).The lounge is located on the left hand side after Check-in and Security Control. Domestic flights only.
Hours 05:30 - 21:00 daily.
Conditions: Maximum 3 hour stay - Children under 2 years are admitted free -
Complimentary dedicated bus service available from the lounge to the areoplane - Smart casual dress at all times.
Additional information: Complimentary luggage storage available inside the lounge.

Terminal: International Terminal
Lounge: Business Lounge
Location: Airside - after Security Checks and Passport Control, 2nd Floor. International flights only.
Hours 05:30 - 22:00 daily.
Conditions: Maximum 3 hour stay - Children under 2 years are admitted free - Smart casual dress at all times.

Astrakhan Astrakhan - ASF


Lounge: Business Lounge
Location: Airside - after Security Control, take the stairs to the 1st Floor and turn right.
Domestic flights only.
Hours 24 hours daily.
Conditions: Maximum 2 hour stay - Access may be restricted due to space constraints -
Children under 2 years are admitted free.

Asuncion Silvio Pettirossi Intl - ASU


Lounge: VIP Gold
Location: Airside - after Security Checks and Immigration Control, the lounge is located between Gates 1 and 2.
Hours 24 hours daily.
Due to current travel restrictions impacting the area this lounge is temporarily closed.
Conditions: Maximum 3 hour stay - Children under 6 years are admitted free - Alcoholic drinks are only available to passengers 21 years of age or older - Dress code applicable (no sandals, shorts or vests allowed).

Athens Eleftherios Venizelos Intl - ATH


Terminal: Hall A
Lounge: Goldair Handling Lounge
Location: Airside - after Passport Control and Security Checks in the main terminal building. The lounge is located in the Non-Schengen area of the Departure
Hall on Level 1, opposite Gate A11. Non-Schengen (International) flights only.
The lounge is not accessible to passengers departing from Hall B and the
Satellite Terminal.
Hours 12:00 – 22:00 Monday, Thursday & Saturday.
07:00 – 19:00 Tuesday, Wednesday, Friday & Sunday.
Please note new opening times effective 31MAY21: 07:00 - 22:00 daily.
Conditions: Maximum 4 hour stay - Children under 6 years are admitted free - Dress code applicable.
Additional information: Face masks must be worn. Please note standard buffet service has been suspended until further notice.

Terminal: Hall A
Lounge: Skyserv Aristotle Onassis Lounge
Location: Airside - Extra Schengen Area (International flights) after Passport Control and
Security Checks. The lounge is located across from Gate A9. The lounge is not accessible to passengers departing from Hall B and the Satellite Terminal.
Hours 06:00 - 20:00 daily.
Conditions: Maximum 4 hour stay - Access may be restricted due to space constraints -
Children under 3 years are admitted free and must be accompanied by an adult - Dress code applicable.

Terminal: Hall B
Lounge: Goldair Handling CIP Lounge
Location: Airside - after Security Checks in the main terminal building. The lounge is located in the Schengen Area of the Departure Hall on Level 1, opposite Gate
B13. Schengen (international & domestic) flights only. The lounge is not accessible to passengers departing from Hall A and the Satellite Terminal.
Hours 03:30 - 20:30 Monday - Saturday.
03:30 - 21:30 Sunday.
Conditions: Children under 6 years are admitted free - All children must be accompanied by an adult - All passengers must be travelling in order to access this lounge and hold a boarding pass.
Additional information: Face masks must be worn. Please note standard buffet service has been suspended until further notice.

Terminal: Hall B
Lounge: Skyserv Melina Merkouri Lounge
Location: Airside - after Security Checks, across from Gate B11 in the Intra-Schengen
Area, Schengen (international & domestic) flights only. The lounge is not accessible to passengers departing from Hall A and the Satellite Terminal.
Hours 06:00 - 22:00 daily.
Conditions: Maximum 4 hour stay - Access may be restricted due to space constraints -
Children under 3 years are admitted free and must be accompanied by an adult - Dress code applicable.

Atlanta (GA) Hartsfield Jackson Atlanta Intl - ATL


Terminal: Concourse B
Lounge: Minute Suites
Location: Airside - located near Gate B16.
Hours 24 hours daily.
Only 1 card per visit per Cardholder will be accepted at point of registration.
Conditions: 1. Cardholders can use their lounge visit entitlement to use a Minute Suite for a 1 hour stay. 1 Minute Suite usage represents a single lounge visit within the
Cardholder's existing lounge visit allocation for which the Cardholder will,
where applicable, be charged. Each subsequent hour of Minute Suite usage will be charged at a discounted rate of US$28 and payable directly to Minute
Suites. 2. Up to 3 guests accompanying the Cardholder in the same Minute
Suite may use it at no extra charge. 3. The Cardholder is responsible for any additional charges incurred. Minute Suites may ask Cardholders to present a payment card for incidentals at the time of check-in. 4. Each Minute Suite is equipped with a comfortable daybed sofa (sleeps two), pillows, fresh blankets,
a workstation, a sound masking system that helps to neutralise noise and
Nap26 audio programme to help deliver a refreshing powernap. 5. Minute
Suite usage is subject to availability.

Terminal: International Terminal / Concourse F
Lounge: The Club ATL
Location: Airside - Mezzanine Level, next to the Chapel.
Hours 06:30 - 22:00 daily.
Conditions: Access is permitted 3 hours prior to scheduled flight departure - Children under 2 years are admitted free - All children must be accompanied by an adult - Alcoholic drinks are only available to passengers 21 years of age or older - Computer workstation and printer available.
Additional information: International calls and fax facilities are subject to payment. Due to local and regional restrictions, some amenities and services may be temporarily unavailable.

Auckland Auckland Intl - AKL


Terminal: International Terminal
Lounge: Strata Lounge
Location: Airside - International Departures. Level 2. After Security Checks, follow signs to 'Premium Lounges'. The lounge is located on the left handside at the top of the escalator.
Hours 05:00 - 01:00 daily.
Hours may vary according to flight schedules.
Due to current travel restrictions impacting the area this lounge is temporarily closed.
Conditions: Maximum 3 hour stay - Access may be restricted due to space constraints -
Children under 2 years are admitted free - Children must be supervised by an adult - Smart casual dress at all times.

Ayacucho Alfredo M. Duarte - AYP


Lounge: Andes Salon VIP
Location: Airside - the lounge is located on the 1st Floor, directly across from Security
Control, on the right hand side, before entering the Boarding Area. Domestic and transit flights only.
Hours 06:00 - 17:00 daily.
Hours may vary according to flight schedules.
Due to current travel restrictions impacting the area this lounge is temporarily closed.
Conditions: Children under 5 years are admitted free - Complimentary alcoholic drinks
(local beer) are limited to two per person, subsequent drinks are subject to payment.

Baku Heydar Aliyev Intl - GYD


Terminal: Terminal 1
Lounge: Absheron Lounge
Location: Airside - after Security Checks, Level 3.
Hours 24 hours daily.
Conditions: Maximum 2 hour stay - Children under 2 years are admitted free.

Terminal: Terminal 1
Lounge: Baku Club
Location: Airside - International Arrivals, after Passport Control. The lounge is located on the 1st Floor next to Duty Free. International flights only.
Hours 24 hours daily.
Conditions: Maximum 2 hour stay - Children under 2 years are admitted free.

Terminal: Terminal 1
Lounge: Khazri Lounge
Location: Airside - Ground Floor, near Gate 15. International flights only.
Hours 24 hours daily.
Conditions: Maximum 2 hour stay - Children under 2 years are admitted free -
Complimentary sleep pods - Separate smoking room available outside the lounge - International flights only.

Terminal: Terminal 1
Lounge: Salam Lounge
Location: Landside - Ground Floor, Zone B. International flights only. Please note the lounge is temporarily closed due to construction works of the terminal until further notice. Alternate lounge: AZAL Lounge. Landside - Ground Floor, Zone
A. International flights only.
Hours 24 hours daily.
Conditions: Maximum 2 hour stay - Children under 2 years are admitted free.
Additional information: Check-in facilities and porter service for hand luggage is available inside the lounge.

Terminal: Terminal 2
Lounge: Mugam Lounge
Location: Airside - after the Passport Control turn right. The lounge is located on the 2nd
Floor, in front of Duty Free on the right hand side, by Gate 8. International flights only.
Hours 24 hours daily.
Conditions: Maximum 2 hour stay - Children under 2 years are admitted free - Separate smoking room available inside the lounge.

Bali Ngurah Rai Intl - DPS


Terminal: Domestic Terminal
Lounge: Concordia Lounge
Location: Airside - Domestic Departures, 2nd Floor, opposite Gate 2.
Hours 05:00 - 21:00 daily.
Closed: Nyepi Day.
Conditions: Children under 2 years are admitted free - Separate smoking area outside the lounge.
Additional information: Complimentary luggage storage available inside the lounge.

Terminal: International Terminal
Lounge: Premier Lounge
Location: Airside - after Immigration proceed to the Duty Free Shop Area. Take the lift up to the Mezzanine Level.
Hours 24 hours daily.
Closed: Nyepi Day.
Due to current travel restrictions impacting the area this lounge is temporarily closed.
Conditions: Access may be restricted due to space constraints - Children under 2 years are admitted free - Complimentary drinks are limited to two per person,
subsequent drinks are subject to payment - Smart casual dress at all times.
Additional information: International telephone calls and fax facilities are all subject to payment.
Reflexology therapy is also available subject to payment.

Terminal: International Terminal
Lounge: T/G Lounge
Location: Airside - International Departures. After Passport Control on the Mezzanine
Floor.
Hours 24 hours daily.
Closed: Nyepi Day.
Due to current travel restrictions impacting the area this lounge is temporarily closed.
Conditions: Access is permitted 3 hours prior to scheduled flight departure - Children under 5 years are admitted free - Complimentary alcoholic drinks (beer and wine only) are limited to three per adult, subsequent drinks are subject to payment - Separate children's play area available.
Additional information: Premium alcoholic drinks and shower facilities are subject to payment.

Balikpapan Balikpapan - BPN


Lounge: BlueSky Premier Lounge
Location: Airside - 3rd Floor, Departure Area, near Gate 10.
Hours 05:00 - 22:00 daily.
Due to current travel restrictions impacting the area this lounge is temporarily closed.
Conditions: Children under 4 years are admitted free - Soft drinks limited to tea, coffee and juice - Separate prayer room available - Complimentary use of iPad - Separate smoking room available.
Additional information: Conference facilities and massage chairs are subject to payment.

Lounge: T/G Lounge
Location: Airside - Domestic Departures, 2nd Floor, near Gate 3. The lounge is also accessible to International passengers.
Hours 05:00 - 22:00 daily.
Due to current travel restrictions impacting the area this lounge is temporarily closed.
Conditions: Access is permitted 3 hours prior to scheduled flight departure - Children under 5 years are admitted free - Separate smoking room available.

Baltimore (MD) Baltimore/Washington MD Intl - BWI


Terminal: Concourse C
Lounge: Minute Suites
Location: Airside- after security, Minute Suites is located between Gate C3 and C5 right next to Urban Bar-B-Que.
Hours 24 hours daily.
Due to current travel restrictions impacting the area this lounge is temporarily closed.
Only 1 card per visit per Cardholder will be accepted and at point of registration.
Conditions: 1. Cardholders can use their lounge visit entitlement to use a Minute Suite for a 1 hour stay. 1 Minute Suite usage represents a single lounge visit within the
Cardholder's existing lounge visit allocation for which the Cardholder will,
where applicable, be charged. Each subsequent hour of Minute Suite usage will be charged at a discounted rate of US$28 and payable directly to Minute
Suites. 2. Up to 3 guests accompanying the Cardholder in the same Minute
Suite may use it at no extra charge. 3. The Cardholder is responsible for any additional charges incurred. Minute Suites may ask Cardholders to present a payment card for incidentals at the time of check-in. 4. Each Minute Suite is equipped with a comfortable daybed sofa (sleeps two), pillows, fresh blankets,
equipped with a comfortable daybed sofa (sleeps two), pillows, fresh blankets,
a workstation, a sound masking system that helps to neutralise noise and
Nap26 audio programme to help deliver a refreshing powernap. 5. Minute
Suite usage is subject to availability.

Terminal: Concourse D
Lounge: The Club BWI
Location: Airside - Upper Level. After Security Checks, proceed to Gate D10 and the lounge is located next to 'Dunkin Donuts'. The lounge is also accessible to passengers travelling from Concourse E. Please allow sufficient time to return back to the departure gate.
Hours 04:30 -19:00 daily.
Conditions: Access is permitted 3 hours prior to scheduled flight departure - Children under 2 years are admitted free - All children must be accompanied by an adult - Alcoholic drinks are only available to passengers 21 years of age or older - Computer workstation and printer available.
Additional information: Local fax only. Due to local and regional restrictions, some amenities and services may be temporarily unavailable.

Bamako Senou International - BKO


Lounge: Salon Zira
Location: Airside - after Immigration and Customs Control, Departure Area. International flights only.
Hours 24 hours daily.
Conditions: Children under 3 years are admitted free.

Bandung Husein Sastranegara - BDO


Lounge: Saphire Lounge
Location: Airside - Domestic Departures. The lounge is located next to Gate 3.
Hours Lounge opens 2 hours prior to first flight and closes after last scheduled domestic flight departure.
Conditions: Maximum 3 hour stay - Children under 6 years are admitted free - Separate prayer room available - Separate smoking room available.
Additional information: Alcoholic drinks are subject to payment. Please note standard buffet service has been suspended until further notice and food will be served upon request.

Bangalore Kempegowda International - BLR


Terminal: Domestic Terminal
Lounge: BLR Domestic Lounge
Location: Airside - Domestic Departures. The lounge is located on the Mezzanine Level after Security Checks.
Hours 24 hours daily.
Conditions: Maximum 3 hour stay - Children under 4 years are admitted free.
Additional information: Please note the lounge will provide one takeaway food box per person which can be consumed inside the lounge.

Terminal: International Terminal
Lounge: BLR International Lounge
Location: Airside - International Departures. The lounge is located near Gate 18.
Hours 24 hours daily.
Conditions: Maximum 3 hour stay - Children under 4 years are admitted free.
Additional information: Spa facilities are subject to payment. Please note standard buffet service has been suspended and pre-packed meal boxes provided.

Bangka Belitung H.A.S. Hanandjoeddin - TJQ


Lounge: El John Executive Lounge
Location: Airside - Domestic Departures. After Security Control, go to the 2nd Floor. The lounge is located in front of Gate 4.
Hours 06:00 - 18:00 daily.
Conditions: Children under 5 years admitted free - Separate smoking area available.

Lounge: El John Executive Lounge
Location: Airside - Domestic Departures. The lounge is located before the second X-ray
Area, near to the main departure lounge.
Hours 06:30 - 10:00 & 13:00 - 16:00 daily.
Conditions: Children under 5 years are admitted free - Separate smoking area available.
Additional information: Long distance telephone calls are subject to payment.

Bangkok Don Mueang Intl - DMK


Terminal: Terminal 1
Lounge: Miracle Lounge
Location: Airside - International Departures, 3rd Floor, turn left after Immigration. The lounge is located next to the Duty Free Shop.
Hours 24 hours daily.
Due to current travel restrictions impacting the area this lounge is temporarily closed.
Conditions: Maximum 2 hour stay - Children under 3 years are admitted free.
Additional information: A la carte menu and fax facilities are subject to payment.

Terminal: Terminal 1
Lounge: Miracle Lounge
Location: Airside - International Departures, 3rd Floor, turn left after Immigration and the lounge is located opposite 'King Power Duty Free Shop'.
Hours 24 hours daily.
Due to current travel restrictions impacting the area this lounge is temporarily closed.
Conditions: Maximum 2 hour stay - Children under 2 years are admitted free.

Terminal: Terminal 1
Lounge: The Coral Executive Lounge
Location: Airside - International Departures, 3rd Floor, after Immigration, the lounge is located next to the VAT refund desk.
Hours 24 hours daily.
Due to current travel restrictions impacting the area this lounge is temporarily closed.
Conditions: Maximum 3 hour stay - Children under 2 years are admitted free -
Complimentary alcoholic drinks are limited to beer only.
Additional information: Premium alcoholic drinks are subject to payment.

Terminal: Terminal 2
Lounge: Miracle Co-Working Space
Location: Landside - 4th Floor.
Hours 05:00 - 20:00 daily.
Due to current travel restrictions impacting the area this lounge is temporarily closed.
Conditions: Maximum 2 hour stay - Children under 2 years are admitted free.
Additional information: Conference, fax and telephone facilities are subject to payment.

Terminal: Terminal 2
Lounge: Miracle Lounge
Location: Airside - Domestic Departures, 3rd Floor, turn right after Security Checks and proceed to Gate 51. The lounge is located on the right hand side.
Hours 05:00 - 20:00 daily.
Please note new opening times effective 01MAY21: 06:00 - 18:00 daily.
Conditions: Maximum 2 hour stay - Children under 2 years are admitted free.
Additional information: Fax facilities are subject to payment. Due to precautionary measures this lounge may have interrupted services.

Terminal: Terminal 2
Lounge: The Coral Executive Lounge
Location: Airside - Domestic Departures, 2nd Floor, near Gates 72-78.
Hours 08:00 - 17:00 daily.
Due to current travel restrictions impacting the area this lounge is temporarily closed.
Conditions: Maximum 3 hour stay - Children under 2 years are admitted free - Smart casual dress at all times.

Terminal: Terminal 2
Lounge: The Coral Executive Lounge
Location: Airside - Domestic Departures, 3rd Floor, turn right after Security Checks,
proceed to Gate 51. The lounge is located on the right.
Hours 09:00 - 20:00 daily.
Conditions: Maximum 3 hour stay - Children under 2 years are admitted free.
Additional information: Face masks must be worn.

Bangkok Suvarnabhumi Intl - BKK


Terminal: Domestic Concourse A
Lounge: Bangkok Airways Boutique Lounge
Location: Airside - Domestic Departures. Level 2, opposite Gate A3.
Hours 05:30 - 18:00 daily.
Due to current travel restrictions impacting the area this lounge is temporarily closed.
Conditions: Maximum 3 hour stay - Children under 2 years are admitted free.

Terminal: Domestic Concourse A
Lounge: Blue Ribbon Club Lounge
Location: Airside - Domestic Departures. Level 2, opposite Gate A3.
Hours 05:30 - 18:00 daily.
Due to current travel restrictions impacting the area this lounge is temporarily closed.
Conditions: Maximum 3 hour stay - Children under 2 years are admitted free.
Additional information: Please note the washrooms inside the lounge are not available until further notice.

Terminal: International Concourse A
Lounge: Miracle First Class Lounge
Location: Airside - International Departures. Block 2, Level 3 (East Side).
Hours 24 hours daily.
Due to current travel restrictions impacting the area this lounge is temporarily closed.
Conditions: Maximum 2 hour stay - Children under 3 years are admitted free.

Terminal: International Concourse A
Lounge: Miracle Lounge
Location: Airside - International Departures. Level 3, Block 2 (East side).
Hours 24 hours daily.
Due to current travel restrictions impacting the area this lounge is temporarily closed.
Conditions: Maximum 2 hour stay - Children under 3 years are admitted free.
Additional information: Local calls only.

Terminal: International Concourse C
Lounge: Miracle First Class Lounge
Location: Airside - International Departures. Level 3 (East Side).
Hours 24 hours daily.
Due to current travel restrictions impacting the area this lounge is temporarily closed.
Conditions: Maximum 2 hour stay - Children under 3 years are admitted free.

Terminal: International Concourse D
Lounge: Blue Ribbon Club Lounge
Location: Airside - International Departures. Level 3, opposite Gate D7.
Hours 06:00 - 22:00 daily.
Due to current travel restrictions impacting the area this lounge is temporarily closed.
Conditions: Maximum 3 hour stay - Children under 2 years are admitted free -
Complimentary massage chairs available.

Terminal: International Concourse D
Lounge: Miracle Business Class Lounge
Location: Airside - International Departures. Level 3, opposite Gate D5.
Hours 24 hours daily.
Due to current travel restrictions impacting the area this lounge is temporarily closed.
Conditions: Maximum 2 hour stay - Children under 3 years are admitted free - Separate prayer room available.
Additional information: Local calls only.

Terminal: International Concourse D
Lounge: Miracle First Class Lounge
Location: Airside - International Departures. Level 3, opposite Gate D6.
Hours 24 hours daily.
Due to current travel restrictions impacting the area this lounge is temporarily closed.
Conditions: Maximum 2 hour stay - Children under 3 years are admitted free - Separate prayer room available.
Additional information: Local calls only. Incoming fax upon request.

Terminal: International Concourse D
Lounge: Turkish Airlines Lounge
Location: Airside - after the Immigration Control proceed to the right towards Gates
D1-D8. Take the escalator down to Level 3, turn right and walk pass Gate D8.
The lounge is located on the right hand side. International flights only.
Hours 11:00 - 01:00 daily.
Conditions: One child under 12 years admitted free per cardholder - Work stations available - Dress code applicable (shirts and shoes required for entry).
Additional information: Face masks must be worn. Please note standard buffet service has been suspended and the lounge will instead offer table service.

Terminal: International Concourse E
Lounge: Oman Air First & Business Class Lounge
Location: Airside - International Departures. Level 3 (West Side).
Hours 24 hours daily.
Due to current travel restrictions impacting the area this lounge is temporarily closed.
Conditions: Maximum 2.5 hour stay - One child under 7 years admitted free per cardholder
- Alcoholic drinks are only available to passengers 20 years of age or older.
Additional information: Business Center is subject to payment.

Terminal: International Concourse F
Lounge: Air France - KLM SkyLounge
Location: Airside - International Departures. Concourse F, Level 3, Departure Level,
near Gate F2 (West Side).
Hours 24 hours daily.
During peak times it is expected this lounge will see an increase in the number of guests. Therefore, access may be periodically restricted due to space constraints, in particular during the hours of 09:30 - 11:00 & 22:30 -
00:30 daily.
Due to current travel restrictions impacting the area this lounge is temporarily closed.
Conditions: Maximum 3 hour stay - Children under 2 years are admitted free - Dedicated work stations available - Complimentary massage chairs available.

Terminal: International Concourse F
Lounge: Miracle First Class Lounge
Location: Airside - International Departures. Level 3 (West Side).
Hours 24 hours daily.
Conditions: Maximum 2 hour stay - Children under 3 years and under are admitted free.
Additional information: Local telephone calls only.

Terminal: International Concourse G
Lounge: Miracle First Class Lounge
Location: Airside - International Departures. Level 4, opposite Gate 2 (West Side).
Hours 24 hours daily.
Due to current travel restrictions impacting the area this lounge is temporarily closed.
Conditions: Maximum 2 hour stay - Children under 3 years are admitted free.

Terminal: International Concourse G
Lounge: Miracle First Class Lounge
Location: Airside - International Departures. Level 3, opposite Gate 2 (West Side).
Hours 24 hours daily.
Due to current travel restrictions impacting the area this lounge is temporarily closed.
Conditions: Maximum 2 hour stay - Children under 3 years are admitted free.
Additional information: Local calls only and incoming fax upon request.

Terminal: International Concourse G
Lounge: Miracle First Class Lounge
Location: Airside - International Departures. Level 3 (West Side).
Hours 24 hours daily.
Conditions: Maximum 2 hour stay - Children under 3 years are admitted free.
Additional information: Please note standard buffet service has been suspended and pre-packed food is provided.

Banjarmasin Syamsudin Noor Intl - BDJ


Lounge: Concordia Lounge
Location: Landside - Domestic Departures, Ground Floor. Follow signs to the lounge.
Hours 05:00 - 20:00 daily.
Conditions: Children under 2 years are admitted free - Separate prayer room available -
Separate smoking room available.

Banjul Banjul Intl - BJL


Lounge: First Class Lounge
Location: Airside - after check-in at the main terminal walk towards the old airport via a foot path and follow signs. After clearing Immigration and Security head to the
'First Class Lounge' located on the left hand side.
Hours 08:00 - 04:00 daily.
Hours may vary according to flight schedules.
Closed: Dec 25.
Conditions: Children under 4 years are admitted free - Complimentary alcoholic drinks are limited to two per person, subsequent drinks are subject to payment - Smart casual dress at all times (no shorts allowed).

Baotou Baotou - BAV


Terminal: Domestic Terminal
Lounge: First Class Lounge
Location: Airside - Domestic Departures. After Security Checks, proceed to the
Departure Hall on the 2nd Floor. The lounge is located opposite Gate 4.
Hours 06:30 - 23:45 daily.
Conditions: Children under 2 years are admitted free.

Terminal: Domestic Terminal
Lounge: First Class Lounge
Location: Airside - Domestic Departures. After Security Checks, the lounge is located opposite Gate 10.
Hours 06:30 - 23:45 daily.
Conditions: Children under 2 years are admitted free.

Barbados Grantley Adams Intl - BGI


Terminal: Departures Terminal
Lounge: Airlines Executive Lounge
Location: Airside - after Security Checks and Passport Control, between Gates 12 and
13. Access is via lift or stairs. Follow signs.
Hours 12:30 - 18:30 Wednesday, Saturday & Sunday.
Hours may vary according to flight schedules.
Closed: Monday, Tuesday, Thursday & Friday.
Conditions: Children under 12 years are admitted free - Dress code applicable.
Additional information: Face masks must be worn. Please note standard buffet service has been suspended but the lounge will instead offer table service.

Barcelona El Prat - BCN


Terminal: Terminal 1
Lounge: Premium VIP Lounge
Location: Landside - from the Arrivals Hall, follow signs for the Business Center and the lounge is located in the same area as the Air Shuttle/Air Bridge
Barcelona-Madrid.
Hours 07:00 - 22:00 daily.
Due to current travel restrictions impacting the area this lounge is temporarily closed.
Conditions: Maximum 4 hour stay - Children under 12 years are admitted free -
Gymnasium available
Additional information: Day beds, bedrooms, international adapters/ports, computer workstations,
printers, luggage storage, conference, shower and telephone facilities are subject to payment.

Terminal: Terminal 1
Lounge: Sala VIP Colomer
Location: Airside - Barcelona-Madrid Shuttle Area. After passing through Security
Checks, turn left and proceed to the end of the corridor. T1 Barcelona-Madrid
Shuttle flights only.
Hours 05:45 to the last scheduled flight departure (approx. 21:30) Monday - Friday.
07:00 to the last scheduled flight departure (approx. 21:30) Saturday &
Sunday.
Due to current travel restrictions impacting the area this lounge is temporarily closed.
Conditions: Lounge access is permitted 3 hours prior to a scheduled flight departure - All
Cardholders and guests are required to show a Boarding Pass with confirmed same-day travel for access to the lounge and the names must match the
Boarding Pass - Guests are limited to one per Cardholder - Lounge access may be restricted due to lounge capacity constraints and the lounge reserves the right to reserve seating as necessary - Children 5 years and under are admitted free - Children under 18 years must be accompanied by an adult -
admitted free - Children under 18 years must be accompanied by an adult -
Smart casual dress at all times.
Additional information: Wi-Fi access, telephone calls and fax facilities are all subject to payment.

Terminal: Terminal 1
Lounge: Sala VIP Miro
Location: Airside - turn left after Passport Control and Security Checks (towards Gate
D). Take the first set of stairs in front of McDonalds (or lift) down to the lounge and follow the VIP signs. Intercontinental Non-Schengen T1 flights only.
Hours 06:00 - 23:00 daily.
Due to current travel restrictions impacting the area this lounge is temporarily closed.
Conditions: Lounge access is permitted 3 hours prior to a scheduled flight departure - All
Cardholders and guests are required to show a Boarding Pass with confirmed same-day travel for access to the lounge and the names must match the
Boarding Pass - Guests are limited to one per Cardholder - Lounge access may be restricted due to lounge capacity constraints and the lounge reserves the right to reserve seating as necessary - Children 5 years and under are admitted free - Children under 18 years must be accompanied by an adult -
Smart casual dress at all times.
Additional information: Towel hire, Wi-Fi access, telephone calls and fax facilities are all subject to payment.

Terminal: Terminal 1
Lounge: Sala VIP Pau Casals
Location: Airside - after Security Checks, proceed down the stairs to the Sky Center and turn right. Follow VIP signs and take the stairs or lift up to the lounge.
Schengen & domestic T1 flights only.
Hours 05:00 - 22:30 daily.
Conditions: Lounge access is permitted 3 hours prior to a scheduled flight departure - All
Cardholders and guests are required to show a Boarding Pass with confirmed same-day travel for access to the lounge and the names must match the
Boarding Pass - Guests are limited to one per Cardholder - Lounge access may be restricted due to lounge capacity constraints and the lounge reserves the right to reserve seating as necessary - Children 5 years and under are admitted free - Children under 18 years must be accompanied by an adult -
Smart casual dress at all times.
Additional information: Towel hire, Wi-Fi access, telephone calls and fax facilities are all subject to payment. Please note standard buffet service has been suspended but the lounge will instead offer table service.

Terminal: Terminal 2
Lounge: Sala VIP Canudas
Location: Airside - U Gates. After Security Control, pass the Duty Free Shops and 'Ribs'
restaurant, turn left. T2 flights only.
Hours 06:30 - 22:00 daily.
Conditions: Lounge access is permitted 3 hours prior to a scheduled flight departure - All
Cardholders and guests are required to show a Boarding Pass with confirmed same-day travel for access to the lounge and the names must match the
Boarding Pass - Guests are limited to one per Cardholder - Lounge access may be restricted due to lounge capacity constraints and the lounge reserves the right to reserve seating as necessary - Children 5 years and under are admitted free - Children under 18 years must be accompanied by an adult -
Smart casual dress at all times.
Additional information: Wi-Fi access, telephone calls and Wellness zone are subject to payment.

Bari Palese - BRI


Lounge: VIP Lounge
Location: Airside - immediately on the left after Security Checks on the 1st Floor,
opposite the Extra-Schengen gates.
Hours 05:00 – 22:00 daily.
Due to current travel restrictions impacting the area this lounge is temporarily closed.
Conditions: Children under 12 years are admitted free.

Barnaul Barnaul - BAX


Lounge: Barnaul Aero
Location: Landside - the lounge is located to the right of the main terminal building on the 2nd Floor.
Hours 24 hours daily.
Conditions: Maximum 3 hour stay - Access may be restricted due to space constraints -
Children under 5 years are admitted free - Complimentary alcoholic drinks are limited to beer only - Separate smoking room available.
Additional information: Premium alcoholic drinks are subject to payment.

Barranquilla Ernesto Cortissoz Intl - BAQ


Lounge: Avianca Sala VIP
Location: Airside - proceed to the 2nd Floor, towards the National Departure Area. The lounge is located in front of Gate 7 on the left hand side. Domestic flights only.
Hours 05:20 - 20:30 daily.
Hours may vary according to flight schedules.
Due to current travel restrictions impacting the area this lounge is temporarily closed.
Conditions: Access may be restricted due to space constraints - Limited to seven guests per cardholder, subject to a per person charge, where applicable - Children under 2 years are admitted free - Alcoholic drinks are available from 16:00
daily - All food and beverages must be consumed inside the lounge.

Lounge: Cumbia Lounge
Location: Airside - after Passport Control, turn right and the lounge is located on the left hand side, next to Gate 4. International flights only.
Hours 05:00 - 16:00 daily.
Conditions: Children under 5 years are admitted free - Separate children's play area available.
Additional information: Premium alcoholic drinks are subject to payment.

Basel-Mulhouse Basel-Mulhouse-Freiburg EuroAirport - BSL


Lounge: EuroAirport Skyview Lounge
Location: Airside - the lounge is located in the center of the terminal next to the Duty
Free Shop on the Departures Level.
Hours 05:30 – 19:15 Monday – Friday.
05:30 – 11:00 Saturday.
05:30 – 11:00 & 15:30 – 19:15 Sunday.
Hours may vary according to flight schedules & Public Holidays.
Due to current travel restrictions impacting the area this lounge is temporarily closed.
Conditions: Children under 2 years are admitted free - Dress code applicable - Smoking terrace available.
Additional information: Conference facilities must be reserved in advance and are subject to payment. Tel: +33389902050 to make a booking.

Batumi Batumi International - BUS


Lounge: Primeclass Lounge
Location: Airside - after Passport Control on the right hand side.
Hours 24 hours daily.
Conditions: Children under 6 years are admitted free.

Bazhong Enyang - BZX


Lounge: First Class Lounge 1
Location: Airside - Domestic Departures, 1st Floor. After Security Check, turn left and the lounge is near the lift.
Hours 07:20 - 23:05 Monday, Wednesday & Friday.
11:30 - 22:20 Tuesday, Thursday & Sunday.
11:30 - 22:05 Saturday.
Conditions: Children under 2 years are admitted free.
Additional information: Massage chairs are subject to payment.

Beijing Capital Intl - PEK


Terminal: Terminal 2
Lounge: Air China First And Business Class Lounge
Location: Airside - International Departures. Pass the Security Check counters and follows signs to the lounge.
Hours 06:00 - 22:00 daily.
Due to current travel restrictions impacting the area this lounge is temporarily closed.
Conditions: Access may be restricted due to space constraints - Children under 2 years are admitted free - Dress code applicable.

Terminal: Terminal 2
Lounge: BGS Premier Lounge
Location: Airside - International Departures. The lounge is located next to Gate 5.
Hours 24 hours daily.
Lounge: closure may vary and is dependent on the last daily scheduled flight departure.
Due to current travel restrictions impacting the area this lounge is temporarily closed.
Conditions: Business Lounge access only - Children under 2 years are admitted free.
Additional information: Local telephone calls only.

Terminal: Terminal 3C
Lounge: Air China First And Business Class Lounge
Location: Airside - Domestic Departures. The lounge is located in the Domestic
Departure Hall Zone C. After Security Checks, proceed towards Gate C19-30
and take the escalator on the left hand side to the next floor where the lounge is located.
Hours 06:00 - 22:00 daily.
Conditions: Access may be restricted due to space constraints - Children under 2 years are admitted free - Dress code applicable.

Terminal: Terminal 3D
Lounge: Air China Premium Lounge
Location: Airside - Domestic Departure Hall Zone D. After Security Checks, take the escalator next to Gate D05 to the next floor where the lounge is located.
Hours 06:00 - 20:00 daily.
Due to current travel restrictions impacting the area this lounge is temporarily closed.
Conditions: Access may be restricted due to space constraints - Children under 2 years are admitted free - Alcoholic drinks are limited to three per adult - Dress code applicable.

Terminal: Terminal 3E
Lounge: Air China Business Class Lounge
Location: Airside - International Departures. The lounge is located in the International
Departure Hall Zone E. After the Security Check counter, proceed approximately 100 metres ahead on the right hand side, take the escalator on the left hand side to next floor where the lounge is located.
Hours 06:00 - 22:00 daily.
Please note the lounge is temporarily closed until further notice due to maintenance works. Alternate lounge: Air China First Class Lounge. Terminal
3E. Airside - International Departures. Proceed past the Security Check counters. The lounge is situated approximately 100 meters away on the left hand side.
Conditions: Access may be restricted due to space constraints - Children under 2 years are admitted free - Dress code applicable.

Terminal: Terminal 3E
Lounge: Air China First Class Lounge
Location: Airside - International Departure Hall Zone E. Proceed past the Security
Check counter, proceed approximately 100 metres ahead on the left hand side, take the escalator on the right to next floor where the lounge is located.
Hours 06:00 - 22:00 daily.
Conditions: Access may be restricted due to space constraints - Children under 2 years are admitted free - Dress code applicable.
Additional information: Due to precautionary measures this lounge may have interrupted services.

Terminal: Terminal 3E
Lounge: BGS Premier Lounge
Location: Airside - International Departures. The lounge is located near Gate E19 (Stand
519).
Hours 24 hours Monday, Wednesday & Saturday.
05:00 - 01:00 Tuesday, Thursday, Friday & Sunday.
Hours may vary according to flight schedules.
Due to current travel restrictions impacting the area this lounge is temporarily closed.
Conditions: Children under 2 years are admitted free. Business Lounge access only.
Additional information: Local telephone calls only.

Beijing Daxing International - PKX


Lounge: CHUM VIP Lounge
Location: Airside - Domestic Departures. 2nd Floor, near Boarding Gate B20.
Hours 06:30 - 20:30 daily.
Hours may vary according to flight schedules.
Conditions: Maximum 3 hour stay - Children under 2 years are admitted free -
Complimentary use of day beds.
Additional information: Massage chairs are subject to payment.

Lounge: East Pacific Passenger Lounge
Location: Airside - International Departures. After Security Checks, take the lift down to the 3rd Floor and follow signs for 'Pay Lounge'.
Hours 08:00 - 22:00 daily.
Due to current travel restrictions impacting the area this lounge is temporarily closed.
Conditions: Maximum 3 hour stay - Children under 2 years are admitted free -
Complimentary use of iPad.
Additional information: Complimentary luggage storage available inside the lounge. Conference, fax,
telephone facilities and bedrooms are subject to payment.

Lounge: Library Lounge
Location: Landside. Northeast Pier, the lounge is next to Aerotel Beijing.
Hours 05:30 - 00:00 daily.
Conditions: Maximum 2 hour stay - Children under 2 years are admitted free - Separate children's play area available - Smart casual dress at all times.
Additional information: Conference, games room, alcoholic drinks, shower and fax facilities are subject to payment.

Beirut Rafic Hariri Intl - BEY


Lounge: Ahlein - Premium Lounge
Location: Airside - after Passport Control, take the escalator to the 1st Floor. The lounge is located directly opposite the atrium. International flights only.
Hours 24 hours daily.
Conditions: Maximum 3 hour stay - Two children under 2 years are admitted free per cardholder - Quiet room - Designated Cigar Lounge and smoking area available - Separate prayer room.
Additional information: Massage chairs and nail-station subject to payment and availability. Please note buffet service has been suspended until further notice. Items on the À la carte menu are free of charge until further notice.

Lounge: Beirut Lounge
Location: Airside - after Passport Control, turn right and take the lift or stairs up to the
2nd Floor, turn right where the lounge is located.
Hours 24 hours daily.
Conditions: Maximum 3 hour stay - Children under 2 years are admitted free - Separate smoking lounge available adjacent to the Beirut Lounge.
Additional information: Please note hot food is temporarily suspended (snacks only) until further notice.

Lounge: Cedar Lounge
Location: Airside - after Passport Control, turn right and take the lift or stairs up to the
2nd Floor where the lounge is located.
Hours 24 hours daily.
Conditions: Maximum 3 hour stay - Children under 2 years are admitted free.
Additional information: Please note hot food is temporarily suspended (snacks only) until further notice.

Belem Val De Cans Intl - BEL


Lounge: Sala VIP Valeverde
Location: Airside - 2nd Floor, Boarding Area, near Gate 1.
Hours 24 hours daily.
Closed: Dec 24, 25, 31 & Jan 01.
Conditions: Children under 5 years are admitted free - Complimentary alcoholic drinks are limited to wine only.

Belfast George Best City - BHD


Lounge: Aspire Lounge
Location: Airside - after Security Checks, take the stairs or escalator to the 1st Floor.
Turn left past the Duty Free Shop and continue to 'Ritazza' coffee bar. Turn right and the lounge is located at the end of the corridor.
Hours 05:00 - 20:30 Monday & Sunday.
05:00 - 20:45 Tuesday - Friday.
05:00 - 15:00 Saturday.
Closed: Dec 25.
Due to current travel restrictions impacting the area this lounge is temporarily closed and is scheduled to re-open 07JUN21.
Conditions: Maximum 3 hour stay - Children under 2 years are admitted free - Alcoholic drinks are only available for passengers 18 years of age or older - Smart casual dress at all times (no football shirts allowed).
Additional information: The lounge will only accept group walk-ups from the same household and or support bubble. Please note standard buffet service has been suspended but the lounge will instead offer table service.

Belgorod Belgorod International - EGO


Lounge: Domestic Business Lounge
Location: Airside - do not proceed past Security Control to the lounge directly, but first register at the Information Desk located landside in the Check-in area on the
Ground Floor. The lounge is located after Check-in and Security Control, 1st
Floor on the right hand side. Domestic flights only.
Hours 24 hours daily.
Conditions: Maximum 2 hour stay - The lounge is only accessible upon presentation of a valid Boarding Pass - Children under 2 years are admitted free.

Lounge: VIP Lounge
Location: Airside - Ground Floor, near the domestic baggage claim area, left hand side of the terminal. International flights only.
Hours 24 hours daily.
Conditions: Maximum 2 hour stay - The lounge is only accessible upon presentation of a valid Boarding Pass - Children under 2 years are admitted free.
Additional information: Alcoholic drinks and conference facilities are subject to payment.

Belgrade Nikola Tesla - BEG


Terminal: Terminal 2
Lounge: Air Serbia Premium Lounge
Location: Airside - after Passport Control, turn right and the lounge is located on the right hand side between Gates A4 and A5.
Hours 05:00 - 18:00 daily.
Conditions: Maximum 2 hour stay - Cardholder must be 18 years of age or older - Children under 2 years are admitted free - Children under 18 years must be accompanied by an adult – Separate prayer room available - Smart casual dress at all times.
Additional information: Complimentary luggage storage available inside the lounge. Conference facilities must be reserved 48 hours in advance and available for duration of visit. Email: premiumlounge@airserbia.com to make a booking.

Terminal: Terminal 2
Lounge: Business Club
Location: Airside - after Passport Control, the lounge is located on the right-hand side,
near Gate A4.
Hours 07:00 - 22:00 daily.
Conditions: Children under 7 years are admitted free - All children must be accompanied by an adult.

Belo Horizonte Tancredo Neves Intl - CNF


Terminal: Terminal 1
Lounge: Ambaar Lounge
Location: Airside - after Check-in and X-ray. Domestic flights only.
Hours 07:00 - 21:00 daily.
Conditions: Children under 2 years are admitted free - Complimentary alcoholic drinks are limited to wine and beer only - Computer work stations available.
Additional information: Premium alcoholic drinks and conference facilities are subject to payment.

Terminal: Terminal 2
Lounge: Ambaar Lounge
Location: Airside - after X-ray and Passport Control, next to Duty Free. International flights only.
Hours 24 hours daily.
Due to current travel restrictions impacting the area this lounge is temporarily closed.
Conditions: Children under 2 years are admitted free - Computer work stations available.
Additional information: Shower facilities are subject to payment.

Bhubaneswar Biju Patnaik Intl - BBI


Terminal: Terminal 1
Lounge: Bird Lounge
Location: Landside - Domestic Departures. The lounge is located near Gate 2.
Hours 06:00 - 23:00 daily.
Conditions: Maximum 3 hour stay - Children under 5 years are admitted free - Separate smoking area available outside the lounge.
Additional information: Alcoholic drinks are subject to payment. Please note standard buffet service has been suspended and pre-plated meals provided or you can choose takeway from their limited choice of menu.

Bilbao Bilbao - BIO


Lounge: Sala VIP
Location: Airside - Mezzanine Level 2, by the Boarding Area.
Hours 05:30 - 21:30 Monday - Friday.
06:00 - 21:30 Saturday & Sunday.
Conditions: Access is permitted 4 hours prior to scheduled flight departure - All
Cardholders and guests are required to show a Boarding Pass with confirmed same-day travel for access to the lounge - Children 5 years and under are admitted free - Children under 18 years must be accompanied by an adult -
Workstations available.
Additional information: Please note standard buffet service has been suspended but the lounge will instead offer table service.

Billund Billund - BLL


Lounge: King Amlet Lounge
Location: Airside - after passing the Duty Free Shop,turn right and take the stairs or escalator to the next floor. The lounge is located on the right hand side.
Hours 04:45 - 21:45 Sunday - Friday.
04:45 - 20:00 Saturday.
Hours may vary on Public Holidays and are subject to seasonal changes.
Conditions: Maximum 3 hour stay - Children under 2 years are admitted free -
Complimentary alcoholic drinks are limited to three per adult - Separate smoking area available.

Birmingham Birmingham - BHX


Lounge: Aspire Lounge
Location: Airside - after Security, proceed through the World Duty Free Shop and turn immediately to the left.
Hours 10:30 - 13:00 daily.
Hours may be subject to seasonal changes.
Due to current travel restrictions impacting the area this lounge is temporarily closed and is scheduled to re-open 07JUN21.
Conditions: Access is permitted 3 hours prior to scheduled flight departure - Children under 2 years are admitted free - Alcoholic drinks are only available for passengers 18 years of age or older - Quiet area - Work stations - Smart casual dress at all times (no football shirts allowed).
Additional information: The lounge will only accept group walk-ups from the same household and or support bubble. Please note standard buffet service has been suspended but the lounge will instead offer table service. Due to local restrictions, alcohol can only be served at this lounge with a substantial meal.

Lounge: Aspire Lounge (South)
Location: Airside - after Security, proceed through the World Duty Free Shop and turn left. Follow signs for Gates 1-20. The lounge is located next to Gate 1.
Hours 04:30 - 18:00 daily.
Hours may be subject to seasonal changes.
Closed: Dec 25.
Due to current travel restrictions impacting the area this lounge is temporarily closed.
Conditions: Access is permitted 3 hours prior to scheduled flight departure - Children under 2 years are admitted free - Alcoholic drinks are only available for passengers 18 years of age or older - Quiet area - Work stations - Smart casual dress at all times (no football shirts allowed).
Additional information: The lounge will only accept group walk-ups from the same household and or support bubble. Please note standard buffet service has been suspended but the lounge will instead offer table service.

Bishkek Manas - FRU


Lounge: Business Lounge
Location: Airside - the lounge is located on the right hand side on the 1st Floor.
International flights only.
Hours 24 hours daily.
Conditions: Access is permitted 3 hours prior to scheduled flight departure - Children under 2 years are admitted free - Separate children's play area available -
Prayer room available - Separate smoking area outside the lounge.
Additional information: Alcoholic drinks are subject to payment.

Blagoveshchensk Ignatyevo - BQS


Terminal: Domestic Terminal
Lounge: Business Lounge
Location: Airside - Ground Floor, the lounge is located on the left hand side of the terminal building.
Hours Open daily - hours vary according to flight schedules.
Conditions: Maximum 3 hour stay - Access may be restricted due to space constraints -
Children under 2 years are admitted free.
Additional information: Conference facilities are subject to payment.

Bloemfontein Bloemfontein International - BFN


Lounge: Bidvest Premier Lounge
Location: Airside - after Security Checks, the lounge is located on the right.
Hours 07:00 - 19:00 daily.
Conditions: Access is restricted to a maximum of 2 hours prior to scheduled flight departure - Early check-in fees are applicable and payable directly if arriving outside these times - Access may be restricted due to space constraints -
Children under 2 years are admitted free - Alcoholic drinks are available from
10:00 daily - Separate smoking room available.

Bodrum Milas Intl - BJV


Terminal: Domestic Terminal
Lounge: Primeclass Lounge
Location: Airside - Ground Floor after the second Security Check on the left. Domestic flights only.
Hours 07:00 - 23:00 daily.
Conditions: Maximum 4 hours stay - Children under 7 years are admitted free.
Additional information: Please note the lounge will provide pre-packed food.

Terminal: International Terminal
Lounge: Primeclass Lounge
Location: Airside - after check-in and Passport Control turn right. Proceed towards the
Fast-Track X-ray Security Checks and turn right. Take the lift or escalators to the Mezzanine Level. Follow signs to the lounge. International flights only.
Hours 07:00 - 23:00 daily.
Closed: Winter Season (Oct-Mar).
Conditions: Maximum 4 hour stay - Children under 7 years are admitted free - Separate smoking area available.

Bogota El Dorado Intl - BOG


Terminal: Terminal 1
Lounge: Avianca Sala VIP
Location: Airside - after Security Checks proceed straight ahead and follow signs for the
'VIP Lounge'. Domestic flights only.
Hours 07:00 - 16:00 & 19:00 - 23:30 Monday - Wednesday.
07:00 - 16:00 & 20:00 - 23:30 Thursday - Friday.
04:00 - 23:30 Saturday, Sunday & Holidays.
Cardholders will not be admitted into the lounge outside these hours.
Due to current travel restrictions impacting the area this lounge is temporarily closed.
Conditions: Maximum 3 hour stay - Access may be restricted due to space constraints -
Limited to seven guests per cardholder, subject to a per person charge, where applicable - Children under 2 years are admitted free - Alcoholic drinks are available from 16:00 daily - All food and beverages must be consumed inside the lounge.

Terminal: Terminal 1
Lounge: Avianca Sala VIP
Location: Airside - the lounge is located on the 3rd Floor after Security Checks and
Passport Control. Proceed through the Food Court and follow the 'AVIANCA'
sign to the lounge. International flights only.
Hours 07:00 - 10:00, 12:00 - 18:00 & 21:00 - 23:00 daily.
Cardholders will not be admitted into the lounge outside these hours.
Due to current travel restrictions impacting the area this lounge is temporarily closed.
Conditions: Access may be restricted due to space constraints - Limited to seven guests per cardholder, subject to a per person charge, where applicable - Children under 2 years are admitted free - Alcoholic drinks are available from 16:00
daily - All food and beverages must be consumed inside the lounge.
Additional information: Local calls only.

Terminal: Terminal 1
Lounge: Copa Club
Location: Airside - after Security Checks, the lounge is located near Gate 45.
International flights only.
Hours 03:30 - 21:00 daily.
Due to current travel restrictions impacting the area this lounge is temporarily closed.
Conditions: Cardholder must be 18 years of age or older - Children under 2 years are admitted free - All children must be accompanied by an adult - Alcoholic drinks are only available to passengers 21 years of age or older - TV room available
- Smart casual dress at all times.

Terminal: Terminal 1
Lounge: El Dorado Lounge
Location: Airside - International Departures, in front of Gate 47.
Hours 04:00 - 01:00 daily.
Conditions: Maximum 6 hour stay - Children under 12 years are admitted free - Buffet available subject to payment - Complimentary alcoholic drinks are limited to two per adult - Cinema, Games room and separate children's play area available - Complimentary access to the 'Gold Museum Exhibit'.
Additional information: Showers, massage chairs, spa and conference facilities are subject to payment. Please note all passengers must provide name and contact telephone number when accessing the lounge. Face masks must be worn.
The lounge will provide pre-packed food. Due to local and regional restrictions,
some services may be temporarily unavailable.

Terminal: Terminal 1
Lounge: Sala VIP LATAM
Location: Airside - the lounge is located on the 3rd Floor in front of Gates 34 - 35.
International flights only.
Hours 02:00 - 00:30 daily.
Due to current travel restrictions impacting the area this lounge is temporarily closed.
Conditions: Children under 2 years are admitted free - Alcoholic drinks are only available from 12:00 daily.

Bologna G. Marconi - BLQ


Lounge: Marconi Business Lounge
Location: Landside - follow the signs to Security Checks and turn right in the direction of the glass lift. The lounge is located on the 1st Floor.
Hours 10:00 - 19:00 Monday, Tuesday, Thursday - Friday & Sunday.
08:00 - 19:00 Wednesday & Saturday.
Conditions: Children under 10 years are admitted free - Alcoholic drinks are limited to beer and local wine only - Complimentary dedicated 'Fast Track Corridor' service available to cardholders and guests from inside the lounge (05:30 - 19:00
daily) upon presentation of a valid card. The external 'Fast Track Corridor'
located to the right of the Security Control Area is available when the internal one is closed.
Additional information: Complimentary 'Left Luggage' service is available in front of the lounge.

Boston (MA) Logan International - BOS


Terminal: Terminal B
Lounge: Stephanies
Location: Airside - after Security, Departures Level, opposite Gate B24. Domestic flights only. Please note that the restaurant may exceed their seating limit at certain times of the day & access to the restaurant is at their sole discretion.
Hours 04:30 and closes 30 minutes prior to last scheduled flight departure.
Due to current travel restrictions impacting the area Stephanies is temporarily closed.
Enjoy sophisticated comfort food in a relaxed and inviting atmosphere. Bigger flavours and fresher ingredients with a simple yet elegant presentation.
Conditions: 1. Cardholders can use their lounge visit entitlement to receive US$28 off the bill. Each US$28 deduction represents a single lounge visit within the
Cardholder's existing lounge visit allocation for which the Cardholder will,
where applicable, be charged. E.g. if a Cardholder registers 1 Guest they will receive US$56 off their bill which will be charged as 1 Cardholder visit + 1
Guest visit on their account. Only 1 Card per visit per Cardholder will be accepted and at point of registration. 2. The US$28 is valid for the purchase of any meal and/or drinks. To be eligible, Cardholders must present a valid Card and Boarding Pass with confirmed same-day travel before placing an order. 3.
Cardholder may only register 1 Guest per visit to receive US$28 deduction.
Any additional Guests will not be eligible for US$28 deduction. 4. US$28 is non-transferable & cannot be exchanged for cash substitute or refund if the final bill is lower than US$28 per person. 5. Cardholder is responsible for the balance if total final bill exceeds US$28 per person. Any remaining balance cannot be used towards gratuity. 6. Priority Pass and its Affiliates Companies shall not be liable should the offer value be less than Customers lounge visit entitlement. Customers who pay for lounge and guest visits are advised to review programme Conditions of Use prior to accessing the offer.

Terminal: Terminal C
Lounge: Jerry Remy's Sports Bar and Grill
Location: Landside - before Security, Departures Level opposite the 'Alaska Airlines'
check-in counter. Please note that the restaurant may exceed their seating limit at certain times of the day & access to the restaurant is at their sole discretion.
Hours 14:00 - 20:00 daily.
Cardholders will not be admitted into Jerry Remy's Sports Bar and Grill outside these hours.
Due to current travel restrictions impacting the area Stephanies is temporarily closed.
Enjoy classic New England fare in a full service sports bar named after local icon Jerry Remy.
Conditions: 1. Cardholders can use their lounge visit entitlement to receive US$28 off the bill. Each USD$28 deduction represents a single lounge visit within the
Cardholder's existing lounge visit allocation for which the Cardholder will,
where applicable, be charged. E.g. if a Cardholder registers 1 Guest they will receive US$56 off their bill which will be charged as 1 Cardholder visit + 1
Guest visit on their account. Only 1 Card per visit per Cardholder will be accepted and at point of registration. 2. The US$28 is valid for the purchase of any meal and/or drinks. To be eligible, Cardholders must present a valid Card and Boarding Pass with same-day travel before placing an order. 3.
Cardholder may only register 1 Guest per visit to receive US$28 deduction.
Any additional Guests will not be eligible for US$28 deduction. 4. US$28 is non-transferable & cannot be exchanged for cash substitute or refund if the final bill is lower than US$28 per person. 5. Cardholder is responsible for the balance if total final bill exceeds US$28 per person. Any remaining balance cannot be used towards gratuity. 6. Priority Pass and its Affiliates Companies shall not be liable should the offer value be less than Customers lounge visit entitlement. Customers who pay for lounge and guest visits are advised to review programme Conditions of Use prior to accessing the offer.

Terminal: Terminal C
Lounge: The Lounge
Location: Airside - 1st Floor, Concourse Level across from Gate C19. The lounge is not accessible from Gates 40 - 42.
Hours 06:00 - 18:00 daily.
Due to current travel restrictions impacting the area this lounge is temporarily closed and is scheduled to re-open 09JUN21.
Conditions: Access is permitted 3 hours prior to scheduled flight departure - Children under 2 years are admitted free - All children must be accompanied by an adult - Alcoholic drinks are only available for passengers 21 years of age or older - Computer workstation and printer available.
Additional information: Local faxes only. Due to local and regional restrictions, some amenities and services may be temporarily unavailable.

Terminal: Terminal E
Lounge: Air France Lounge
Location: Airside - after Security, turn right towards Gate 4. Take the dedicated lounge lift or stairs to where the lounge is located.
Hours 10:30 – 20:30 Monday.
09:30 – 21:30 Wednesday, Friday & Sunday.
10:30 – 21:30 Thursday.
10:00 – 20:30 Saturday.
Closed: Tuesday.
Conditions: Maximum 3 hour stay - Children under 2 years are admitted free - Cardholder must be 21 years of age or older.

Terminal: Terminal E
Lounge: The Club
Location: Airside - after Security, turn left and take the lift down one level.
Hours 05:30 - 01:00 daily.
Access may be periodically restricted due to space constraints, in particular during the hours of 16:00 - 22:00 daily.
Due to current travel restrictions impacting the area this lounge is temporarily closed
Conditions: Access is permitted 3 hours prior to scheduled flight departure - Children under 2 years are admitted free - All children must be accompanied by an adult - Alcoholic drinks are only available to passengers 21 years of age or older - Computer workstation and printer available.
Additional information: Local faxes only. Due to local and regional restrictions, some amenities and services may be temporarily unavailable.

Brasilia J.Kubitschek Intl - BSB


Terminal: Domestic Terminal 1
Lounge: Aeroportos VIP Club
Location: Airside - proceed through Security Control, enter the departure lounge on the
1st Floor and take the lift or escalator to the 2nd Floor. The lounge is located on the left hand side. Domestic flights only.
Hours 05:00 - 22:00 daily.
Conditions: Children under 4 years are admitted free - Separate children's play area available.
Additional information: Shower amenities kit, telephone, fax and conference facilities are subject to payment.

Terminal: Domestic Terminal 1
Lounge: VIP Express Club Pier Norte
Location: Airside - after Security and the Dufry Store, turn left towards Gate 9. The lounge is located on the Upper Level. Domestic flights only.
Hours 06:00 - 00:00 daily.
Due to current travel restrictions impacting the area this lounge is temporarily closed.
Conditions: Children under 4 years are admitted free - Complimentary alcoholic drinks are limited to beer only, all subsequent drinks are subject to payment - Separate children's play area and Games room available.

Terminal: Domestic Terminal 1
Lounge: VIP Express Club Pier Sul
Location: Airside - after Security and the Dufry Store, turn right towards Gate 21 . The lounge is located on the Upper Level. Domestic flights only.
Hours 06:00 - 00:00 daily.
Conditions: Children under 4 years are admitted free - Complimentary alcoholic drinks are limited to beer only, all subsequent drinks are subject to payment - Separate children's play area and Games room available.

Terminal: International Terminal 1
Lounge: Aeroportos VIP Club
Location: Airside - Ground Floor, turn left at the Duty Free Shop. International flights only.
Hours 24 hours daily.
Conditions: Children under 4 years are admitted free - Complimentary alcoholic drinks are limited to three per adult, subsequent drinks are subject to payment - Alcoholic drinks are limited to beer and wine only.

Bratislava M.R. Stefanik - BTS
Bratislava M.R. Stefanik - BTS


Terminal: Terminal A
Lounge: MasterCard Lounge
Location: Airside - after Security Checks on the 2nd Floor, proceed towards the shops and departure gates. Turn right into a small corridor to where the lounge is located on the left hand side. Follow signs. Schengen and Non-Schengen flights.
Hours Lounge opens 2 hours prior to first flight departure and closes at the last scheduled flight departure.
Due to current travel restrictions impacting the area this lounge is temporarily closed.
Conditions: Limited to three guests per cardholder, subject to a per person charge, where applicable - Children under 3 years are admitted free.

Brazzaville Maya Maya - BZV


Lounge: Salon Ebene
Location: Airside - after Immigration and Security Checks. Turn left and the lounge is located on the left hand side of the Exhibition Area.
Hours 24 hours daily.
Conditions: Children under 2 years are admitted free.
Additional information: Champagne is subject to payment.

Brisbane Brisbane Intl - BNE


Terminal: Domestic Terminal
Lounge: Graze Grill & Bar
Location: Airside - Qantas Satellite. Level 2, near Gates 16 - 21. Please note that the restaurant may exceed their seating limit at certain times of the day & access to the restaurant is at their sole discretion.
Hours 05:30 - 19:00 Sunday - Friday.
05:00 - 12:00 Saturday.
IMPORTANT NOTE: For Cardholders who pay for individual visits or guest visits, please check this particular offer against your visit fee to ensure it represents value for you. We advise Cardholders to review full Conditions of access below before visiting.
Graze Grill offers a selection of cured meats, cheeses, rib-eye steak sandwiches and other delicious local specialities. A full bar serving a selection of beer, wine and spirits.
Conditions: 1. Cardholders can use their lounge visit entitlement to receive AUD$36 off the bill. Each AUD$36 deduction represents a single lounge visit within the
Cardholder's existing lounge visit allocation for which the Cardholder will,
where applicable, be charged. E.g. if a Cardholder registers 1 Guest they will receive AUD$72 off their bill which will be charged as 1 Cardholder visit + 1
Guest visit on their account. Only 1 card per visit per Cardholder will be accepted and at point of registration. 2. The AUD$36 is valid for the purchase of any meal and/or drinks. To be eligible, Cardholders must present a valid
Card and Boarding Pass with confirmed same-day travel before placing an order. 3. AUD$36 is non-transferable & cannot be exchanged for cash substitute or refund if the final bill is lower than AUD$36 per person. 4.
Cardholder is responsible for the balance if total final bill exceeds AUD$36 per person. Any remaining balance cannot be used towards gratuity. 5. Priority
Pass and its Affiliates Companies shall not be liable should the offer value be less than Customers lounge visit entitlement. Customers who pay for lounge and guest visits are advised to review programme Conditions of Use prior to accessing the offer.

Terminal: Domestic Terminal
Lounge: Merlo Caffe
Location: Airside - located in the Southern Food Hall Area, opposite Gate 40. Domestic flights only. Please note that the restaurant may exceed their seating limit at certain times of the day & access to the restaurant is at their sole discretion.
Hours 06:00 - 20:00 daily.
Hours may vary according to flight schedules.
IMPORTANT NOTE: For Cardholders who pay for individual visits or guest visits, please check this particular offer against your visit fee to ensure it represents value for you. We advise Cardholders to review full Conditions of access below before visiting.
Italian style espresso bar that serves coffee delivered fresh daily from the
Merlo Torrefazione, a large range of café snacks,cooked to order breakfast and all day menu.
Conditions: 1. Cardholders can use their lounge visit entitlement to receive AUD$36 off the bill. Each AUD$36 deduction represents a single lounge visit within the
Cardholder's existing lounge visit allocation for which the Cardholder will,
where applicable, be charged. E.g. if a Cardholder registers 1 Guest they will receive AUD$72 off their bill which will be charged as 1 Cardholder visit + 1
Guest visit on their account. Only 1 card per visit per Cardholder will be accepted and at point of registration. 2. The AUD$36 is valid for the purchase of any meal and/or drinks. To be eligible, Cardholders must present a valid
Card and Boarding Pass with confirmed same-day travel before placing an order. 3. AUD$36 is non-transferable & cannot be exchanged for cash substitute or refund if the final bill is lower than AUD$36 per person.4.
substitute or refund if the final bill is lower than AUD$36 per person.4.
Cardholder is responsible for the balance if total final bill exceeds AUD$36 per person. Any remaining balance cannot be used towards gratuity. 5. Priority
Pass and its Affiliates Companies shall not be liable should the offer value be less than Customers lounge visit entitlement. Customers who pay for lounge and guest visits are advised to review programme Conditions of Use prior to accessing the offer.

Terminal: International Terminal
Lounge: Corretto Cafe & Bar
Location: Landside - located at check-in level, north side of the food court on the 4th
Floor. Please note that the restaurant may exceed their seating limit at certain times of the day & access to the restaurant is at their sole discretion.
Hours 05:00 - 23:00 daily.
Hours may vary according to flight schedules.
IMPORTANT NOTE: For Cardholders who pay for individual visits or guest visits, please check this particular offer against your visit fee to ensure it represents value for you. We advise Cardholders to review full Conditions of access below before visiting.
A full-service restaurant serving gourmet burgers,grilled halloumi salad or chicken parmigiana and a full bar serving a great selection of beer, wine and spirits.
Conditions: 1. Cardholders can use their lounge visit entitlement to receive AUD$36 off the bill. Each AUD$36 deduction represents a single lounge visit within the
Cardholder's existing lounge visit allocation for which the Cardholder will,
where applicable, be charged. E.g. if a Cardholder registers 1 Guest they will receive AUD$72 off their bill which will be charged as 1 Cardholder visit + 1
Guest visit on their account. Only 1 Card per visit per Cardholder will be accepted and at point of registration. 2. The AUD$36 is valid for the purchase of any meal and/or drinks. To be eligible, Cardholders must present a valid
Card and Boarding Pass with confirmed same-day travel before placing an order. 3. AUD$36 is non-transferable & cannot be exchanged for cash substitute or refund if the final bill is lower than AUD$36 per person. 4.
Cardholder is responsible for the balance if total final bill exceeds AUD$36 per person. Any remaining balance cannot be used towards gratuity. 5. Priority
Pass and its Affiliates Companies shall not be liable should the offer value be less than Customers lounge visit entitlement. Customers who pay for lounge and guest visits are advised to review programme Conditions of Use prior to accessing the offer.

Terminal: International Terminal
Lounge: Plaza Premium Lounge
Location: Airside - International Departures, Level 4.
Hours 06:30 - 14:00 Thursday - Tuesday.
Closed: Wednesday.
Conditions: Maximum 3 hour stay - Children under 2 years are admitted free - All children must be accompanied by an adult - Smart casual dress at all times.
Additional information: Alcoholic drinks and fax facilities are subject to payment. Please note buffet service has been suspended until further notice. Items on the À la carte menu are free of charge until further notice.

Bristol Bristol International - BRS


Lounge: Aspire Lounge
Location: Airside - proceed to the 1st Floor, through Security Control into the main departure lounge. Turn left and take the lift or stairs to the Mezzanine Floor.
Follow signs to the lounge.
Hours 05:00 - 16:45 daily.
Hours may be subject to seasonal changes.
Closed: Dec 25.
Due to current travel restrictions impacting the area this lounge is temporarily closed and is scheduled to re-open 21JUN21.
Conditions: Children under 2 years are admitted free - Alcoholic drinks are only available for passengers 18 years of age or older - Smart casual dress at all times (no football shirts allowed).
Additional information: The lounge will only accept group walk-ups from the same household and or support bubble. Please note standard buffet service has been suspended but the lounge will instead offer table service.

Brno Turany - BRQ


Lounge: Business Lounge
Location: Airside - after Security Checks, proceed to the 1st Floor where the lounge is located next to the 'Aviette Bar'.
Hours Lounge opens 2 hours prior to first scheduled flight departure and closes after last scheduled departure.
Conditions: Limited to three guests per cardholder, subject to a per person charge, where applicable - Children under 2 years are admitted free.
Additional information: Premium alcoholic drinks are subject to payment. Conference facilities are subject to availability and payment.

Brunei Brunei International - BWN


Lounge: Royal Brunei's Sky Lounge
Location: Airside - International Departures, Mezzanine Floor. The lounge is located between Gates 1-5.
Hours 14:00 - 18:00 Wednesday & Friday.
Closed: Saturday - Tuesday & Thursday.
Conditions: Children under 2 years are admitted free - Separate prayer room available.
Additional information: Please note buffet service has been suspended until further notice and À la carte menu will be provided.

Brussels Brussels - BRU


Terminal: Terminal A
Lounge: Diamond Lounge
Location: Airside - 2nd Floor, in front of Gate A42. Schengen flights only.
Hours 05:00 - 21:00 daily.
Due to current travel restrictions impacting the area this lounge is temporarily closed and is scheduled to re-open 03JUN21.
Conditions: Children under 12 years are admitted free.
Additional information: Please note standard buffet service has been suspended and pre-packed food is provided.

Terminal: Terminal B
Lounge: Diamond Lounge
Location: Airside - pass through Customs and Security. The lounge is located after
Security and after the shops, above the terminal. Access to the lounge is via stairs approximately 20 metres ahead on the left hand side, to the left of the walking pad. Non-Schengen flights only.
Hours 05:00 - 21:00 daily.
Due to current travel restrictions impacting the area this lounge is temporarily closed and is scheduled to re-open 03JUN21.
Conditions: Children under 12 years are admitted free.
Additional information: Please note standard buffet service has been suspended and pre-packed food is provided.

Bucaramanga Palonegro Intl - BGA


Lounge: Avianca Sala VIP
Location: Airside - proceed to the 2nd Floor. After Security Checks, the lounge is located at the end of the gates.
Hours 04:30 - 21:30 daily.
Due to current travel restrictions impacting the area this lounge is temporarily closed.
Conditions: Access may be restricted due to space constraints - Limited to seven guests per cardholder, subject to a per person charge, where applicable - Children under 2 years are admitted free - Alcoholic drinks are available from 16:00
daily - All food and beverages must be consumed inside the lounge.

Budapest Ferihegy - BUD


Terminal: Skycourt Terminal
Lounge: SkyCourt Lounge
Location: Airside - after Security Control in the Transit Hall, proceed straight through the
Duty Free Shop and turn right. Take the stairs or lift up to the Gallery Level
(1st Floor) where the lounge is located.
Hours 05:00 - 21:00 daily.
Due to current travel restrictions impacting the area this lounge is temporarily closed.
Conditions: Children under 2 years are admitted free - All children must be accompanied by an adult.
Additional information: Fax facilities are for receiving only.

Terminal: Terminal 2A
Lounge: Platinum Lounge (Schengen)
Location: Airside - Schengen Area, Departure Level. The lounge is located opposite
Gates A12/A13.
Hours 05:00 - 19:00 daily.
Due to current travel restrictions impacting the area this lounge is temporarily closed. Alternate lounge: Mastercard Airport Lounge. Skycourt Terminal.
Airside - MasterCard Airport Lounge located on the mezzanine level of the
Skycourt building of main terminal. The lounge is available for both Schengen and non-Schengen passengers. Please allow sufficient time to return back to the departure gate. Hours: 05:00 – 19:30 daily.
Conditions: Children under 2 years are admitted free - Smart casual dress at all times.
Additional information: Local fax facilities only.

Terminal: Terminal 2B
Lounge: Platinum Lounge (Non-Schengen)
Location: Airside - Non-Schengen Area, Departure Level. Take the lift or stairs located next to B7 up to the Mezzanine Level.
Hours 05:00 - 20:00 daily.
Due to current travel restrictions impacting the area this lounge is temporarily closed. Alternate lounge: Mastercard Airport Lounge. Skycourt Terminal.
Airside - MasterCard Airport Lounge located on the mezzanine level of the
Skycourt building of main terminal. The lounge is available for both Schengen and non-Schengen passengers. Please allow sufficient time to return back to the departure gate. Hours: 05:00 – 19:30 daily.
Conditions: Children under 2 years are admitted free - Smart casual dress at all times.

Buenos Aires Ministro Pistarini Intl - EZE


Terminal: Terminal B
Lounge: Outback Steakhouse
Location: Airside - between Gates 7 and 8. Please note that the restaurant may exceed their seating limit at certain times of the day & access to the restaurant is at their sole discretion.
Hours 24 hours daily.
Due to current travel restrictions impacting the area Outback Steakhouse is temporarily closed.
IMPORTANT NOTE: For Cardholders who pay for individual visits or guest visits, please check this particular offer against your visit fee to ensure it represents value for you. We advise Cardholders to review full Conditions of access below before visiting.
Outback Steakhouse® is a fun, comfortable and casual restaurant with excellent personalised service and high quality food.
Conditions: 1. Cardholders can use their lounge visit entitlement to receive 1 "Meal-Kit"
valued at US$28. Each "Meal-Kit" represents a single lounge visit within the
Cardholder's existing lounge visit allocation for which the Cardholder will,
where applicable, be charged. E.g. If a Cardholder registers 1 Guest they will receive 2 "Meal-Kits" and will be charged as 1 Cardholder visit +1 Guest visit on their account. Only 1 card per visit per Cardholder will be accepted and at the point of registration. 2. Redemption is only valid for the purchase of a the point of registration. 2. Redemption is only valid for the purchase of a
"Meal-Kit" and excludes bottle sales, merchandise, and menu items. To be eligible, Cardholders must present a valid Card and Boarding Pass with confirmed same-day travel before placing an order. 3.US$28 is non-transferable & cannot be exchanged for cash substitute or refund if the final bill is lower than US$28 per person. 4. Cardholder is responsible for the balance if total final bill exceeds US$28 per person. 5. Priority Pass and its
Affiliates Companies shall not be liable should the offer value be less than
Customers lounge visit entitlement. Customers who pay for lounge visits are advised to review programme Conditions of Use prior to accessing the offer.

Terminal: Terminal B
Lounge: Star Alliance Lounge Buenos Aires
Location: Airside - after Security and Immigration, take the lift or stairs to the 2nd Floor.
The lounge is located opposite Gate 9.
Hours 24 hours daily.
Conditions: Maximum 3 hour stay - Access may be restricted subject to changes in flight departures or due to space constraints - Limited to three guests per cardholder, subject to a per person charge, where applicable - Children under
2 years are admitted free - Any persons under 18 years must be accompanied by an adult over 21 years of age at all times - Alcoholic drinks are only available to passengers 18 years of age or older.
Additional information: Local calls only. Face masks must be worn. The lounge cannot guarantee that all passengers will always be able to sit together due to social distancing within the lounge. Please note the lounge will provide pre-packed food.

Buffalo (NY) Buffalo Niagara Intl - BUF


Lounge: The Club
Location: Airside - after Security Checks, between Gates 6 and 7.
Hours 04:00 - 20:00 daily.
Due to current travel restrictions impacting the area this lounge is temporarily closed.
Conditions: Access is permitted 3 hours prior to scheduled flight departure - Children under 2 years are admitted free - All children must be accompanied by an adult - Alcoholic drinks are only available to passengers 21 years of age or older - Computer workstation and printer available.
Additional information: Due to local and regional restrictions, some amenities and services may be temporarily unavailable.

Bulawayo J.M. Nkomo Intl - BUQ


Lounge: Dzimbahwe Executive Lounge
Location: Airside - after Security Checks, the lounge is located approximately 10 metres straight ahead. International flights only.
Hours 08:00 - 18:00 daily.
Conditions: Children under 12 years are not admitted.

Burgas Burgas - BOJ


Lounge: Burgas Airport Lounge
Location: Airside - after Passport Control and Duty Free. The lounge is located on Level
1, near Gate 5, close to 'McDonalds'.
Hours 07:00 - 22:00 daily.
Conditions: Maximum 2 hour stay - Children under 2 years are admitted free - Separate smoking area available outside the lounge.
Additional information: Please note the lounge will provide pre-packed meals.

Busan Gimhae Intl - PUS


Terminal: International Terminal
Lounge: Air Busan Lounge
Location: Airside - International Departures. After Passport Control, turn right and take the stairs or escalator to the 3rd Floor where the lounge is located. The Air
Busan Lounge is only accessible when flying with Air Busan and its affiliated airlines.
Hours 06:00 - 22:00 daily.
Due to current travel restrictions impacting the area this lounge is temporarily closed.
Conditions: Maximum 3 hour stay - Children under 2 years are admitted free.

Terminal: International Terminal
Lounge: KAL Lounge
Location: Airside - inside the Customs, Immigration and Quarantine Area. The lounge is located next to Gate 4 on the 3rd Floor. The KAL Lounge is only accessible when flying with Korean Airlines and Skyteam operated flights.
Hours 05:40 - 22:00 daily.
Due to current travel restrictions impacting the area this lounge is temporarily closed.
Conditions: Access may be restricted due to space constraints - Limited to two guests per cardholder, subject to a per person charge, where applicable - Children under
2 years are admitted free - All children must be accompanied by an adult.
Additional information: International/interstate telephone calls and fax facilities are subject to payment.

Terminal: International Terminal
Lounge: Sky Hub Lounge
Location: Airside - International Departures, 2nd Floor, between Gates 9 and 10.
Hours 06:30 - 21:30 daily.
Hours may vary according to flight schedules.
Due to current travel restrictions impacting the area this lounge is temporarily closed.
Conditions: Maximum 3 hour stay - Children under 2 years are admitted free.
Additional information: Telephone and fax facilities are subject to payment.

Bydgoszcz Ignacy Jan Paderewski - BZG


Lounge: Executive Lounge
Location: Airside - Departures Zone, Schengen Area. After Security Checks, turn left and take the escalator to the 1st Floor. The lounge is located next to the coffee shop.
Hours Open daily - hours vary according to flight schedules.
Conditions: Children under 3 years are admitted free - Complimentary snacks only.

Cagliari Elmas - CAG


Lounge: Prima Vista Lounge By Aviapartner
Location: Airside - after Security Checks, 1st Floor on the left hand side. The lounge is accessible to Schengen and Non-Schengen passengers.
Hours 08:00 - 20:30 daily.
Due to current travel restrictions impacting the area this lounge is temporarily closed.
Conditions: Maximum 3 hour stay - Children under 2 years are admitted free - Separate smoking room available.
Additional information: Complimentary luggage storage available inside the lounge.

Cairo Cairo International - CAI


Terminal: Terminal 1
Lounge: First Class Lounge
Location: Airside - the lounge is located on both the 1st and 2nd Floors, after Security and Passport Control. Take the stairs or escalator and follow signs to the First
Class lounge area.
Hours 24 hours daily.
Conditions: Children under 12 years are admitted free - Children under 6 years must be accompanied by an adult.

Terminal: Terminal 2
Lounge: Ahlein - Premium Lounge
Location: Airside - after Security Checks, turn right before the Duty Free Shops and the lounge is located past the Egypt Airways Lounges. International flights only.
Hours 24 hours daily.
Conditions: Maximum 3 hour stay - Two children under 2 years are admitted free per cardholder - Quiet room - Designated Cigar Lounge and smoking area available.
Additional information: Access to the VIP Private rooms is subject to payment (USD10 for a 2 hour stay per room payable directly to the lounge) and availability. Bookings can be made in advance by email: info@pasaegypt.com. Complimentary use of day beds and luggage storage. Shower, fax, spa, salon facilities and massage chairs are subject to payment. Face masks must be worn. Due to precautionary measures this lounge may have interrupted services. Please note buffet service has been suspended until further notice. Items on the À la carte menu are free of charge until further notice.

Terminal: Terminal 2
Lounge: First Class Lounge
Location: Airside - 1st Floor, after Immigration. Follow signs to the lounge. International flights only.
Hours 24 hours daily.
Conditions: Children under 12 years are admitted free - Children under 6 years must be accompanied by an adult - Separate smoking room available.

Terminal: Terminal 2
Lounge: Pearl Assist
Location: Airside - after Immigration, the lounge is located on the 2nd Floor next to the lift. International flights only.
Hours 24 hours daily.
Conditions: Maximum 3 hour stay - Children under 2 years are admitted free -
Complimentary use of iPad - Separate children's play area and games room available - Separate prayer room available - Separate smoking room available.

Terminal: Terminal 3
Lounge: First Class Lounge
Location: Airside - the lounge is located on the 3rd Floor in the Departure Hall. After
Passport Control, turn left to Zone E and proceed to the end of the corridor.
International flights only.
Hours 24 hours daily.
Conditions: Children under 12 years are admitted free - Children under 6 years must be accompanied by an adult - Separate smoking area available.

Cajamarca Armando R. Iglesias - CJA


Lounge: Caral VIP Lounge
Location: Airside - after Security Checks on the 2nd Level. The lounge is located on the left hand side of the Gate Area. Domestic flights only.
Hours 07:00 - 18:00 daily.
Conditions: Maximum 4 hour stay - Children under 5 years are admitted free -
Complimentary alcoholic drinks are limited to liquor, local beer, wine and
Pisco Sour cocktail.
Additional information: Flight departures are announced.

Calama El Loa - CJC


Lounge: Salones VIP Pacific Club
Location: Airside - the lounge is located on the 2nd Floor immediately following Security
Control.
Hours 14:30 - 21:00 daily.
Hours are subject to change according to last scheduled flight departures.
Conditions: Maximum 2 hour stay - Children under 2 years are admitted free - Smart casual dress at all times.
Additional information: Face masks must be worn. Please note the lounge will provide pre-packed food. Due to local and regional restrictions, some services may be temporarily unavailable.

Calgary YYC Calgary Intl - YYC


Terminal: Concourse B
Lounge: Elevation Lounge
Location: Airside - Level 2 of the Domestic Terminal. The lounge is also accessible for passengers departing from Concourse D in the International Terminal; these passengers must first check baggage at the International Terminal and then clear Security at Check Point B or C. Following their lounge visit, they may proceed to the D gates through the connection point near Gates C70-74. The lounge is not accessible to passengers departing to the U.S.
Hours 07:00 - 21:30 daily.
Conditions: Maximum 3 hour stay - Children under 2 years are admitted free - Table service available - Separate children's play area available - Dress code applicable.
Additional information: Complimentary luggage storage available inside the lounge. Face masks must be worn.

Terminal: Concourse D
Lounge: Aspire Lounge International Departures
Location: Airside - after Security Checks follow signs for 'Lounge'. At Chili's proceed through the lounge lobby and take the lift to the lounge floor. International flights from Concourse D only.
Hours 04:30 - 23:30 daily.
Due to current travel restrictions impacting the area this lounge is temporarily closed.
Conditions: Access is permitted 3 hours prior to scheduled flight departure - All cardholders and guests are required to show an Outbound Boarding Pass with confirmed same-day travel - Children under 2 years are admitted free - Smart casual dress at all times (no shorts, baseball caps or football shirts allowed).

Terminal: Concourse E
Lounge: Aspire Lounge Transborder Departures
Location: Airside - after Security Checks follow signs for 'Lounge'. Proceed through Duty
Free and the lounge is on the left hand side. Only accessible to passengers departing from Concourse E for US transborder departures.
Hours 04:30 - 19:00 daily.
Due to current travel restrictions impacting the area this lounge is temporarily closed.
Conditions: Access is permitted 3 hours prior to scheduled flight departure - All cardholders and guests are required to show an Outbound Boarding Pass with confirmed same-day travel - Children under 2 years are admitted free - Smart casual dress at all times (no shorts, baseball caps or football shirts allowed).

Cali A. Bonilla Aragon Intl - CLO


Lounge: Avianca Sala VIP
Location: Landside - Airport entrance No. 2, left side, in front of ticket counters for
Avianca, SAM and ACES.
Hours 05:00 - 22:00 daily.
Hours may vary according to flight schedules.
Due to current travel restrictions impacting the area this lounge is temporarily closed.
Conditions: Access may be restricted due to space constraints - Limited to seven guests per cardholder, subject to a per person charge, where applicable - Children under 2 years are admitted free - Alcoholic drinks are available from 16:00
daily - All food and beverages must be consumed inside the lounge.

Campinas Viracopos International - VCP


Terminal: Terminal 1
Lounge: Lounge Azul
Location: Airside - after Passport Control, Mezzanine Level, in front of the Duty Free
Shopping Area. International flights only.
Hours 06:30 - 00:00 daily.
Due to current travel restrictions impacting the area this lounge is temporarily closed.
Conditions: Children under 2 years are admitted free - Complimentary alcoholic drinks are limited to beer and wine only - Separate children's play area available.
Additional information: Local calls only

Canberra Canberra - CBR


Lounge: Capital Brewing Co Taphouse
Location: Airside - Level 2. After Security, turn right. Please note that the restaurant may exceed their seating limit at certain times of the day & access to the restaurant is at their sole discretion.
Hours 10:00 until last scheduled flight departure.
IMPORTANT NOTE: For Cardholders who pay for individual visits or guest visits, please check this particular offer against your visit fee to ensure it represents value for you. We advise Cardholders to review full Conditions of access below before visiting.
One of Canberra's most successful and popular local breweries. The cool,
comfortable bar serves a huge variety of craft beers, regional wines & spirits.
Conditions: 1. Cardholders can use their lounge visit entitlement to receive AUD$36 off the bill. Each AUD$36 deduction represents a single lounge visit within the
Cardholder's existing lounge visit allocation for which the Cardholder will,
where applicable, be charged. E.g. if a Cardholder registers 1 Guest they will receive AUD$72 off their bill which will be charged as 1 Cardholder visit + 1
Guest visit on their account. Only 1 Card per visit per Cardholder will be accepted and at point of registration. 2. The AUD$36 is valid for the purchase of any meal and/or drinks. To be eligible, Cardholders must present a valid
Card and Boarding Pass with confirmed same-day travel before placing an order. 3. AUD$36 is non-transferable & cannot be exchanged for cash substitute or refund if the final bill is lower than AUD$36 per person. 4.
Cardholder is responsible for the balance if total final bill exceeds AUD$36 per person. Any remaining balance cannot be used towards gratuity. 5. Priority
Pass and its Affiliates Companies shall not be liable should the offer value be less than Customers lounge visit entitlement. Customers who pay for lounge less than Customers lounge visit entitlement. Customers who pay for lounge and visits are advised to review programme Conditions of Use prior to accessing the offer.

Lounge: City Hill Coffee
Location: Airside - Level 2. After Security Checks, turn left. Please note that the restaurant may exceed their seating limit at certain times of the day & access to the restaurant is at their sole discretion.
Hours Opening times vary in accordance with flight schedules.
IMPORTANT NOTE: For Cardholders who pay for individual visits or guest visits, please check this particular offer against your visit fee to ensure it represents value for you. We advise Cardholders to review full Conditions of access below before visiting.
City Hill Coffee delivers an exceptional café experience with locally supplied
ONA Coffee. Delicious meals served with local eggs, smallgoods, bread and pastries, in a beautiful.
Conditions: 1. Cardholders can use their lounge visit entitlement to receive AUD$36 off the bill. Each AUD$36 deduction represents a single lounge visit within the
Cardholder's existing lounge visit allocation for which the Cardholder will,
where applicable, be charged. E.g. if a Cardholder registers 1 Guest they will receive AUD$72 off their bill which will be charged as 1 Cardholder visit + 1
Guest visit on their account. Only 1 Card per visit per Cardholder will be accepted and at point of registration. 2. The AUD$36 is valid for the purchase of any meal and/or drinks. To be eligible, Cardholders must present a valid
Card and Boarding Pass with confirmed same-day travel before placing an order. 3. AUD$36 is non-transferable & cannot be exchanged for cash substitute or refund if the final bill is lower than AUD$36 per person. 4.
Cardholder is responsible for the balance if total final bill exceeds AUD$36 per person. Any remaining balance cannot be used towards gratuity. 5. Priority
Pass and its Affiliates Companies shall not be liable should the offer value be less than Customers lounge visit entitlement. Customers who pay for lounge and visits are advised to review programme Conditions of Use prior to accessing the offer.

Cancun Cancun Intl - CUN


Terminal: Terminal 2
Lounge: The Lounge by Global Lounge Network
Location: Airside - after Security Control, turn left and take the escalator to the 2nd
Floor. Pass the Duty Free Shops and the lounge is located on the left hand side.
Hours 06:00 - last flight departure daily.
Conditions: One child under 12 years admitted free per cardholder - Dress code applicable.

Terminal: Terminal 4
Lounge: The Lounge in Partnership with Air Transat
Location: Airside - after Security Checks, proceed through the Duty Free Shops towards the Boarding Gate Area. From Gate 54, turn left and go down the lift or stairs to the Ground Level where you will find the entrance to the lounge.
Hours 24 hours daily.
Please note the lounge opening times are subject to change and are open in accordance to the airport opening hours and this is subject to change.
Conditions: One child under 12 years admitted free per cardholder - Complimentary taco bar -Separate children's play room available - TV room - Dress code applicable (shoes and shirts required for entry).

Cape Town Cape Town International - CPT


Terminal: Domestic Terminal
Lounge: Bidvest Premier Lounge
Location: Airside - after Security Checks, turn right and proceed to the end of the corridor then turn right again. Take the lift on the right hand side up to the 4th
Floor where the lounge is located 20 metres ahead on the right hand side.
Domestic passengers only.
Hours 04:30 - 18:30 daily.
Conditions: Access is restricted to a maximum of 2 hours prior to scheduled flight departure - Early check-in fees are applicable and payable directly if arriving outside these times - Access may be restricted due to space constraints -
Children under 2 years are admitted free - Alcoholic drinks are available from
10:00 daily - Separate smoking room available.

Terminal: International Terminal
Lounge: Bidvest Premier Lounge
Location: Airside - directly after Passport Control in the Departure Hall.
Hours 05:00 - 23:00 daily.
Due to current travel restrictions impacting the area this lounge is temporarily closed.
Conditions: Access is restricted to a maximum of 4 hours prior to scheduled flight departure - Early check-in fees are applicable and payable directly if arriving outside these times - Access may be restricted due to space constraints -
Children under 2 years are admitted free - Separate smoking room available.

Caracas (Maiquetia) Simon Bolivar Intl - CCS


Lounge: Executive Lounge
Location: Airside - after Immigration, turn right and the lounge is located opposite Gates
12 and 13. International flights only.
Hours 06:00 - 13:00 daily.
Conditions: Access is permitted 3 hours prior to scheduled flight departure - Children under 4 years are admitted free - Separate prayer room available.
Additional information: Complimentary luggage storage available inside the lounge. Face masks must be worn. Please note the lounge will provide pre-packed meals.

Lounge: Italviajes Salon VIP
Location: Airside - after Immigration, opposite Gate 24. International flights only.
Hours 06:00 - 13:00 daily.
Conditions: Access is permitted 3 hours prior to scheduled flight departure - Children under 4 years are admitted free - Separate prayer room available.
Additional information: Complimentary luggage storage available inside the lounge. Face masks must be worn. Please note the lounge will provide pre-packed meals.

Cartagena Rafael Nunez - CTG


Terminal: Domestic Terminal
Lounge: Avianca Sala VIP
Location: Airside - proceed through the Boarding Area and the lounge is located immediately to the left. Domestic flights only.
Hours 04:30 - 15:00 & 18:00 until last scheduled flight departure.
Cardholders will not be admitted into the lounge outside these hours.
Due to current travel restrictions impacting the area this lounge is temporarily closed.
Conditions: Access may be restricted due to space constraints - Limited to seven guests per cardholder, subject to a per person charge, where applicable - Children under 2 years are admitted free - Alcoholic drinks are available from 16:00
daily - All food and beverages must be consumed inside the lounge.

Terminal: International Terminal
Lounge: Sala VIP
Location: Airside - 1st Floor, turn right after the Duty Free Shop. International passengers only.
Hours 08:00 - 16:00 Monday & Friday.
09:30 - 17:30 Tuesday - Thursday & Saturday - Sunday.
Conditions: Children under 12 years are admitted free. Face masks must be worn. The lounge cannot guarantee that all passengers will always be able to sit together due to social distancing within the lounge.
Additional information: Face masks must be worn. The lounge cannot guarantee that all passengers will always be able to sit together due to social distancing within the lounge.

Casa De Campo Casa De Campo Intl - LRM


Lounge: Premier Lounge
Location: Airside - after Security, turn left and proceed through the double doors. Take the stairs to the 2nd Floor and follow signs to the lounge.
Hours 11:00 - 18:00 daily.
Hours may vary according to flight schedules.
Due to current travel restrictions impacting the area this lounge is temporarily closed.
Conditions: All Cardholders are required to show a physical or digital Priority Pass Card -
Children under 2 years are admitted free - All children must be accompanied by an adult - Complimentary alcoholic drinks are limited to two per adult,
subsequent drinks are subject to payment - Alcoholic drinks are limited to local brands only - Smart casual dress at all times.

Casablanca Mohammed V Intl - CMN


Terminal: Terminal 1
Lounge: Pearl Lounge
Location: Airside - after Immigration proceed through the Duty Free Zone and the lounge is located on the left hand side on the 1st Floor. The lounge can also be reached from the 2nd Floor via their dedicated lift or from the entrance opposite Gate 4. International flights only.
Hours 24 hours daily.
Conditions: Maximum 3 hour stay - Children under 2 years are admitted free - Separate children's play area and games room available - Work stations - Separate smoking room available.
Additional information: Please note standard buffet service has been suspended until further notice and boxed meals will be provided.

Terminal: Terminal 2
Lounge: Pearl Lounge (Departures)
Location: Airside - after Passport and Security Control, turn left and take the lift to the
Ground Floor and turn left again. The lounge is also accessible to passengers travelling from Terminal 1. International flights only.
Hours 24 hours daily.
Conditions: Maximum 3 hour stay - Children under 2 years are admitted free - Children's play area available - Separate prayer room available - Separate smoking room available.
Additional information: Please note hot food is temporarily suspended (snacks only) until further notice.

Catania Fontanarossa - CTA


Lounge: VIP Lounge SAC
Location: Airside - after Security Checks, proceed to the 3rd Floor and the lounge is located near Gates 5 and 6.
Hours 06:30 - 21:00 daily.
Hours are subject to change.
Due to current travel restrictions impacting the area this lounge is temporarily closed.
Conditions: Children under 12 years are admitted free.

Cebu Mactan Intl - CEB


Terminal: Terminal 1
Lounge: Plaza Premium Lounge
Location: Airside - Domestic Departures. Ground Floor, Arrival Level.
Hours 08:00 - 20:00 daily.
Due to current travel restrictions impacting the area this lounge is temporarily closed.
Conditions: Maximum 3 hour stay - Children under 2 years are admitted free - All children must be accompanied by an adult - Smart casual dress at all times.
Additional information: Complimentary luggage storage available inside the lounge. Premium alcoholic drinks and shower facilities are subject to payment.

Terminal: Terminal 2
Lounge: Plaza Premium Lounge
Location: Airside - International Departures. After Immigration take the lift opposite Gate
20 to Level 1 where the lounge is located.
Hours 24 hours daily.
Due to current travel restrictions impacting the area this lounge is temporarily closed.
Conditions: Maximum 3 hour stay - Children under 2 years are admitted free - All children must be accompanied by an adult - Smart casual dress at all times.
Additional information: Local calls only. Alcoholic drinks are subject to payment.

Chandigarh Chandigarh International - IXC


Terminal: Domestic Terminal
Lounge: Cram Bar
Location: Airside - Domestic Departures, after Security Hold Area, Ground Floor, near the Food Court. Please note that the restaurant may exceed their seating limit at certain times of the day & access to the restaurant is at their sole discretion.
Hours 24 hours daily.
IMPORTANT NOTE: For Cardholders who pay for individual visits or guest visits, please check this particular offer against your visit fee to ensure it represents value for you. We advise Cardholders to review full Conditions of access below before visiting.
Cram Bar is a multi-cuisine outlet, offering different varieties across breakfast,
lunch and dinner.
Conditions: 1. Cardholders can use their lounge visit entitlement to take advantage of 1
set menu/pre-packed menu in a 24hr period. A set menu represents a single lounge visit within the Cardholder's existing lounge visit allocation for which the Cardholder will, where applicable, be charged. E.g. if a Cardholder registers 1 Guest they also will be able to take advantage of 1 set menu/pre-packed menu within a 24hr period and will be charged as 1
Cardholder visit + 1 Guest visit on their account. Only 1 card per visit per
Cardholder will be accepted at point of registration. 2. Maximum 3 hour stay.
3. Children under 12 years of age are free of charge. 4. Separate smoking room available. 5. To be eligible, Cardholders must present a valid Card and
Boarding Pass with same-day travel before placing an order. 6. Items from the
à la carte menu will be at an additional charge. Alcoholic drinks are subject to payment. 7. Complimentary luggage storage available. 8. Set menus/pre-packed menus are non-transferable & cannot be exchanged for cash substitute/ refund or be used towards gratuity.

Terminal: Domestic Terminal
Lounge: Plaza Premium Lounge
Location: Airside - Domestic Departures, 1st Floor.
Hours 24 hours daily.
Due to current travel restrictions impacting the area this lounge is temporarily closed.
Conditions: Maximum 3 hour stay - Children under 2 years are admitted free - All children must be accompanied by an adult - Smart casual dress at all times.
Additional information: Alcoholic drinks are subject to payment. Please note the lounge will provide one takeaway food box per person which cannot be consumed inside the lounge.

Terminal: International Terminal
Lounge: Cram Bar
Location: Airside - International Departures, after Security Hold Area, Ground Floor,
near the Food Court. Please note that the restaurant may exceed their seating limit at certain times of the day & access to the restaurant is at their sole discretion.
Hours 24 hours daily.
IMPORTANT NOTE: For Cardholders who pay for individual visits or guest visits, please check this particular offer against your visit fee to ensure it represents value for you. We advise Cardholders to review full Conditions of access below before visiting.
Cram Bar is a multi-cuisine outlet, offering different varieties across breakfast,
lunch and dinner.
Conditions: 1. Cardholders can use their lounge visit entitlement to take advantage of 1
set menu/pre-packed menu in a 24hr period. A set menu represents a single lounge visit within the Cardholder's existing lounge visit allocation for which the Cardholder will, where applicable, be charged. E.g. if a Cardholder registers 1 Guest they also will be able to take advantage of 1 set menu/pre-packed menu within a 24hr period and will be charged as 1
Cardholder visit + 1 Guest visit on their account. Only 1 card per visit per
Cardholder will be accepted at point of registration. 2. Maximum 3 hour stay.
3. Children under 12 years of age are free of charge. 4. Separate smoking room available. 5. To be eligible, Cardholders must present a valid Card and
Boarding Pass with same-day travel before placing an order. 6. Items from the
À la carte menu will be at an additional charge. Alcoholic drinks are subject to payment. 7. Complimentary luggage storage available. 8. Set menus/pre-packed menus are non-transferable & cannot be exchanged for cash substitute/ refund or be used towards gratuity.

Changchun Changchun Intl - CGQ


Terminal: Terminal 1
Lounge: International First Class Lounge
Location: Airside - International Departures. After Security Checks, follow signs to the
First Class Lounge (Room A307).
Hours 07:00 - 22:00 daily.
Conditions: Maximum 3 hour stay - Children under 2 years are admitted free.

Terminal: Terminal 2
Lounge: First Class Lounge
Location: Airside - Domestic Departures. After Security Checks, 3rd Floor, opposite
Gate 28.
Hours Lounge opens 90 minutes prior to the first scheduled flight departure and closes after last scheduled flight departure.
Conditions: Maximum 3 hour stay - Children under 2 years are admitted free.

Terminal: Terminal 2
Lounge: First Class Lounge 1
Location: Airside - Domestic Departures. After Security Checks, opposite Gate 15.
Hours Lounge opens 90 minutes prior to the first scheduled flight departure and closes after last scheduled flight departure.
Conditions: Maximum 3 hour stay - Children under 2 years are admitted free.

Changsha Huanghua - CSX


Terminal: Terminal 1
Lounge: No. 3 First & Business Class VIP Lounge
Location: Airside - Domestic Departures. After Security Checks, the lounge is located on the 3rd Floor, near Gate 15.
Hours 07:30 - 22:00 daily.
Due to current travel restrictions impacting the area this lounge is temporarily closed. Alternate temporary lounge available: NO. 2 First & Business Class
VIP Lounge. Terminal 1. Airside - Domestic Departures. The lounge is located on the 3rd Floor, near Gates 11 & 12.
Conditions: Maximum 3 hour stay - Children under 2 years are admitted free.
Additional information: Complimentary luggage storage available inside the lounge. Shower facilities are subject to payment.

Terminal: Terminal 2
Lounge: No. 18 First & Business Class VIP Lounge
Location: Airside - International Departures. The lounge is located on the 3rd Floor, near
Gate 46.
Hours 07:30 - 22:00 daily.
Due to current travel restrictions impacting the area this lounge is temporarily closed.
Conditions: Maximum 3 hour stay - Children under 2 years are admitted free -
Complimentary massage chairs and day beds available.
Additional information: Complimentary luggage storage available inside the lounge. Shower facilities are subject to payment.

Terminal: Terminal 2
Lounge: No. 7 First Class VIP Lounge
Location: Airside - Domestic Departures. The lounge is located on the 3rd Floor, near
Gate 28.
Hours 07:30 - 22:00 daily.
Conditions: Maximum 3 hour stay - Children under 2 years are admitted free.
Additional information: Shower facilities are subject to payment. Please note hot food is temporarily suspended (snacks only) until further notice.

Changzhou Benniu Intl - CZX


Lounge: Domestic First Class Lounge
Location: Airside - Domestic Departures. After Security Checks, opposite Gate 2.
Hours 06:00 to last scheduled flight departure.
Conditions: Children under 2 years are admitted free - All children must be accompanied by an adult - Smart casual dress at all times.

Lounge: International First Class Lounge
Location: Airside - International Departures. After Security Checks, opposite Gate 1.
Hours Lounge opens 1.5 hours prior to first flight departure and closes after last scheduled departure.
Conditions: Children under 2 years are admitted free - All children must be accompanied by an adult - Smart casual dress at all times.

Charleston (SC) Charleston SC International - CHS


Lounge: The Club CHS
Location: Airside - after Security walk straight ahead towards Concourse B. Take the lift on the left hand side for entrance to the lounge which is located over the AME
Memorial and the Eddie Bauer store.
Hours 06:00 - 18:30 Monday, Thursday, Friday & Sunday.
06:00 - 18:00 Tuesday, Wednesday & Saturday.
Conditions: Access is permitted 3 hours prior to scheduled flight departure - All
Cardholders and guests are required to show a CHS Outbound Departure
Boarding Pass - Children under 2 years are admitted free - All children must be accompanied by an adult - Alcoholic drinks are only available to passengers 21 years of age or older - Computer workstation and printer available.
Additional information: Due to local and regional restrictions, some amenities and services may be temporarily unavailable.

Charlotte Douglas (NC) Charlotte Douglas Intl - CLT


Lounge: Minute Suites
Location: Airside - D/E Connector near the Food Court.
Hours 24 hours daily.
Due to current travel restrictions impacting the area this lounge is temporarily closed.
Only 1 Card per visit per Cardholder will be accepted at point of registration.
Conditions: 1. Cardholders can use their lounge visit entitlement to use a Minute Suite for a 1 hour stay. 1 Minute Suite usage represents a single lounge visit within the
Cardholder's existing lounge visit allocation for which the Cardholder will,
where applicable, be charged. Each subsequent hour of Minute Suite usage will be charged at a discounted rate of US$28 and payable directly to Minute
Suites. 2. Up to 3 guests accompanying the Cardholder in the same Minute
Suite may use it at no extra charge. 3. The Cardholder is responsible for any additional charges incurred. Minute Suites may ask Cardholders to present a payment card for incidentals at the time of check-in. 4. Each Minute Suite is equipped with a comfortable daybed sofa (sleeps two), pillows, fresh blankets,
a workstation, a sound masking system that helps to neutralise noise. 5.
Minute Suite usage is subject to availability.
Additional information: Shower facilities are subject to payment at a discounted rate of US$20 per 30
minutes.

Terminal: Atrium
Lounge: Minute Suites
Location: Airside - the lounge is located in the main atrium, next to the Food Court Area.
Hours 24 hours daily.
Only 1 Card per visit per Cardholder will be accepted at point of registration.
Conditions: 1. Cardholders can use their lounge visit entitlement to use a Minute Suite for a 1 hour stay. 1 Minute Suite usage represents a single lounge visit within the
Cardholder's existing lounge visit allocation for which the Cardholder will,
where applicable, be charged. Each subsequent hour of Minute Suite usage will be charged at a discounted rate of US$28 and payable directly to Minute
Suites. 2. Up to 3 guests accompanying the Cardholder in the same Minute
Suite may use it at no extra charge. 3. Shower facilities are subject to payment at a discounted rate of US$20 per 30 minutes 4. The Cardholder is responsible for any additional charges incurred. Minute Suites may ask
Cardholders to present a payment card for incidentals at the time of check-in.
5. Each Minute Suite is equipped with a comfortable daybed sofa (sleeps two), pillows, fresh blankets, a workstation, a sound masking system that helps to neutralise noise and Nap26 audio programme to help deliver a refreshing powernap. 6. Minute Suite usage is subject to availability.

Chattogram Shah Amanat Intl - CGP


Terminal: Domestic Terminal
Lounge: Air Lounge
Location: Airside - Domestic Departures. The lounge is located on the 1st Floor, next to
Gate 10.
Hours 06:30 - 21:30 daily.
Conditions: Maximum 3 hour stay - Children under 2 years are admitted free - Separate prayer area available.
Additional information: Complimentary shoe shine available inside the lounge.

Chelyabinsk Balandino - CEK


Lounge: Domestic Business Lounge
Location: Airside - after Check-in and Security Control, near Gates 1 & 2. Domestic flights only.
Hours 24 hours daily.
Conditions: Maximum 3 hour stay - Children under 2 years are admitted free.
Additional information: Alcoholic drinks are subject to payment.

Lounge: International Business Lounge
Location: Airside - Ground Floor, turn left after Security Controls. International flights only.
Hours 24 hours daily.
Conditions: Maximum 3 hour stay - Children under 2 years are admitted free.
Additional information: Alcoholic drinks are subject to payment.

Chengdu Shuangliu Intl - CTU


Terminal: Terminal 1
Lounge: First Class Lounge
Location: Airside - International Departures. Pier A, 2nd Floor, next to Gate 101.
Hours 24 hours daily.
Conditions: Access is permitted 2 hours prior to scheduled flight departure - Children under 2 years are admitted free.
Additional information: Due to precautionary measures this lounge may have interrupted services.

Terminal: Terminal 1
Lounge: First Class Lounge
Location: Airside - Domestic Departures. Pier C, next to Gate 125.
Hours 06:00 - 23:00 daily.
Conditions: Access is permitted 2 hours prior to scheduled flight departure - Children under 2 years are admitted free.

Terminal: Terminal 2
Lounge: First Class Lounge
Location: Airside - Domestic Departures, next to Gate 143.
Hours 06:00 - 23:00 daily.
Conditions: Access is permitted 2 hours prior to scheduled flight departure - Children under 2 years are admitted free.

Terminal: Terminal 2
Lounge: First Class Lounge
Location: Airside - Domestic Departures. Pier G, next to Gate 172.
Hours 06:00 - 23:00 daily.
Conditions: Access is permitted 2 hours prior to scheduled flight departure - Children under 2 years are admitted free.

Terminal: Terminal 2
Lounge: First Class Lounge
Location: Airside - Domestic Departures, next to Gate 128.
Hours 10:30 - 20:00 daily.
Conditions: Access is permitted 2 hours prior to scheduled flight departure - Children under 2 years are admitted free.

Terminal: Terminal 2
Lounge: First Class Lounge
Location: Airside - Domestic Departures, next to Gate 155.
Hours 06:00 - 23:00 daily.
Conditions: Access is permitted 2 hours prior to scheduled flight departure - Children under 2 years are admitted free.

Terminal: Terminal 2
Lounge: First Class Lounge
Location: Airside - Domestic Departures. Pier F, next to Gate 169.
Hours 06:00 - 23:00 daily.
Conditions: Access is permitted 2 hours prior to scheduled flight departure - Children under 2 years are admitted free.

Chennai Chennai Intl - MAA


Terminal: Domestic Terminal
Lounge: Travel Club
Location: Airside - Domestic Departures, inside the Security Hold Area, take the lift opposite Gate 5 to the 3rd Floor and the lounge is located approximately 10
metres straight ahead.
Hours 24 hours daily.
Due to current travel restrictions impacting the area this lounge is temporarily closed.
Conditions: Maximum 3 hour stay - Children under 4 years are admitted free.
Additional information: Alcoholic drinks are subject to payment.

Terminal: Domestic Terminal
Lounge: Travel Club
Location: Airside - Domestic Departures. After Security Checks, turn right towards Gate
1. The lounge is located on the 3rd Floor.
Hours 24 hours daily.
Conditions: Maximum 3 hour stay - Children under 4 years are admitted free - Separate smoking area outside the lounge.
Additional information: Please note the lounge will provide one takeaway food box per person which can be consumed inside the lounge.

Terminal: International Terminal
Lounge: Travel Club
Location: Airside - International Departures. After Security Checks, proceed through the
Security Hold Area and turn right towards the old International Terminal and take the lift to the 1st Floor. The lounge is located near Gate 11.
Hours 18:00 - 11:00 daily.
Due to current travel restrictions impacting the area this lounge is temporarily closed.
Conditions: Maximum 3 hour stay - Children under 4 years are admitted free.

Terminal: International Terminal
Lounge: Travel Club
Location: Airside - International Departures. After Security Checks, proceed through the
Security Hold Area, turn left and take the lift opposite Gate 17 to the 3rd Floor.
The lounge is located at the end of the corridor.
Hours 00:00 - 09:00 daily.
Due to current travel restrictions impacting the area this lounge is temporarily closed.
Conditions: Maximum 3 hour stay - Children under 4 years are admitted free.
Additional information: Please note buffet has been suspended until further notice. The lounge will provide complimentary packed meals and liquor upon request.

Terminal: International Terminal
Lounge: Travel Club
Location: Airside - International Departures. After Security Checks, proceed through the
Security Hold Area and turn right towards the old International Terminal. Take the lift down to the 1st Floor and the lounge is located near Gate 16.
Hours 18:00 - 07:00 daily.
Due to current travel restrictions impacting the area this lounge is temporarily closed.
Conditions: Maximum 3 hour stay - Children under 4 years are admitted free - Separate smoking room available outside the lounge.

Chiang Mai Chiang Mai Intl - CNX


Terminal: Domestic Terminal
Lounge: Bangkok Airways Blue Ribbon Club Lounge
Location: Landside - Domestic Departures, 2nd Floor, near the domestic departure gate entrance.
Hours 08:00 - 09:30 & 17:00 - 18:30 daily.
Due to current travel restrictions impacting the area this lounge is temporarily closed.
Conditions: Maximum 3 hour stay - Children under 2 years are admitted free - Smart casual dress at all times.

Terminal: Domestic Terminal
Lounge: Bangkok Airways Boutique Lounge
Location: Landside - Domestic Departures, 2nd Floor, near the domestic departure gate entrance.
Hours 08:00 - 09:30 & 17:00 - 18:30 daily.
Due to current travel restrictions impacting the area this lounge is temporarily closed.
Conditions: Maximum 3 hour stay - Children under 2 years are admitted free - Smart casual dress at all times.

Terminal: Domestic Terminal
Lounge: The Coral Executive Lounge
Location: Airside - Domestic Departures, 2nd Floor, near Gate 8.
Hours 09:00 - 20:00 daily
Conditions: Maximum 3 hour stay - Smart casual dress at all times - Children under 2
years are admitted free.
Additional information: Face masks must be worn.

Terminal: International Terminal
Lounge: The Coral Executive Lounge
Location: Airside - 2nd Floor, International Departure Hall. The lounge is located next to the VAT refund office.
Hours 06:00 - 00:00 daily.
Due to current travel restrictions impacting the area this lounge is temporarily closed.
Conditions: Maximum 3 hour stay - Children under 2 years are admitted free -
Complimentary alcoholic drinks are limited to beer only - One complimentary
15 minute neck and shoulder massage per adult.
Additional information: Telephone calls and premium alcoholic drinks are subject to payment.

Chiang Rai Chiang Rai Intl - CEI


Terminal: Domestic Terminal 1
Lounge: The Coral Executive Lounge
Location: Airside - Domestic Departures. After Security Control, 1st Floor, near Gates 1 -
2.
Hours 09:00 - 20:00 daily.
Conditions: Maximum 3 hour stay - Children under 2 years are admitted free -
Complimentary alcoholic drinks are limited to beer only.
Additional information: Face masks must be worn.

Chicago (IL) Chicago Ohare Intl - ORD


Terminal: International Terminal 5
Lounge: Air France - KLM Lounge
Location: Airside - after Security Checks turn right. The lounge is located between Gates
M8 and M7 on the left hand side. International flights from T5 only.
Hours 07:00 - 19:00 Monday, Tuesday & Saturday.
07:00 - 01:00 Wednesday & Friday.
08:00 - 01:00 Thursday & Sunday.
Hours may be subject to change.
Conditions: Maximum 3 hour stay - Children under 2 years are admitted free - Smart casual dress at all times (no shorts, vests, baseball caps or football shirts allowed).

Terminal: International Terminal 5
Lounge: Swissport Lounge
Location: Airside - after Security turn right and the lounge is located between Gates M8
and M7 on the right.
Hours 13:00 - 21:00 daily.
Closed: Dec 25 & Jan 01.
Conditions: Access may be restricted due to space constraints and subject to changes in flight departures - Children under 4 years are admitted free - Alcoholic drinks are only available for passengers 21 years of age or older - Dress code applicable (shoes required for entry).

Chiclayo J.A. Quinones Gonzalez - CIX


Lounge: Caral VIP Lounge
Location: Airside - after Security Checks, the lounge is located approximately 20 metres on the right hand side. Domestic flights only.
Hours 07:00 - 18:00 daily.
Conditions: Maximum 4 hour stay - Children under 5 years are admitted free -
Complimentary alcoholic drinks are limited to liquor, local beer, wine and
Pisco Sour cocktail.
Additional information: Flight departures are announced.

Chihuahua Gen. R Fierro Villalobos Intl - CUU


Lounge: Oma Premium Lounge
Location: Airside - after Security Checks proceed to the 1st Floor and the lounge is located at the end of the hall on the right handside.
Hours 05:00 – 21:30 daily.
Closed: Dec 25 and Jan 01.
Access may be restricted due to space constraints.
Conditions: Maximum 3 hour stay - Children under 5 years are admitted free -
Complimentary alcoholic drinks are limited to three per adult - All food and beverages must be consumed inside the lounge.
Additional information: Please note hot food is temporarily suspended (snacks only) until further notice.

Chisinau Chisinau Intl - KIV


Lounge: Business Lounge
Location: Airside - after Passport Control and Duty Free, turn left. Take the escalator or stairs to the 2nd Floor and turn left. Pass the 'Golden Jet Restaurant' and then turn right to where the lounge is located.
Hours 24 hours daily.
Conditions: Maximum 3 hour stay - Children under 12 years are admitted free - All children must be accompanied by an adult - Separate smoking area available outside the lounge.
Additional information: Please not due to health regulations, no food of any type will be available between 22:00 - 07:00 daily until further notice. Lounge staff will provide a take-away option to all passengers at the end of their stay.

Chita Kadala - HTA


Lounge: Business Lounge
Location: Airside - 2nd Floor, left side of the terminal. Follow signs to the lounge.
Domestic flights only.
Hours 24 hours daily.
Conditions: Maximum 2 hour stay - Children under 2 years are admitted free - Soft drinks limited to tea and coffee only - Smart casual dress at all times.
Additional information: Alcoholic drinks and conference facilities are subject to payment.

Chongqing Jiangbei Intl - CKG


Terminal: Terminal 2A
Lounge: First Class Lounge
Location: Airside - Domestic Departures. After Security Checks, the lounge is located next to Gate A12.
Hours Lounge opens 2 hours prior to first flight departure and closes after last scheduled departure.
Conditions: Maximum 2 hour stay - Children under 2 years are admitted free - Dress code applicable.

Terminal: Terminal 2B
Lounge: First Class Lounge
Location: Airside - Domestic Departures. After Security Checks, the lounge is located next to Gate B1.
Hours Lounge opens 2 hours prior to first flight departure and closes after last scheduled departure.
Conditions: Maximum 2 hour stay - Children under 2 years are admitted free - Dress code applicable.

Terminal: Terminal 2C
Lounge: First Class Lounge
Location: Airside - Domestic Departures. After Security Checks, the lounge is located next to Gate C1.
Hours Lounge opens 2 hours prior to first flight departure and closes after last scheduled departure.
Conditions: Maximum 2 hour stay - Children under 2 years are admitted free - Dress code applicable.

Terminal: Terminal 3
Lounge: First & Business Class Lounge 1
Location: Airside - Domestic Departures, 3rd Floor, opposite Gate E08.
Hours Lounge opens 2 hours prior to first flight departure and closes after last scheduled departure.
Conditions: Maximum 2 hour stay - Children under 2 years are admitted free -
Complimentary massage chairs available - Separate smoking room available.

Terminal: Terminal 3
Lounge: First & Business Class Lounge 2
Location: Airside - Domestic Departures. After Security Checks, take the lift to the 3rd
Floor, turn left and follow signs to the lounge.
Hours Lounge opens 2 hours prior to first flight departure and closes after last scheduled departure.
Conditions: Maximum 2 hour stay - Children under 2 years are admitted free -
Complimentary massage chairs available - Separate smoking room available.

Terminal: Terminal 3
Lounge: International First & Business Class Lounge
Location: Airside - International Departures, 3rd Floor, opposite Gate H05.
Hours Lounge opens 2 hours prior to first flight departure and closes after last scheduled departure.
Conditions: Maximum 2 hour stay - Children under 2 years are admitted free - Dress code applicable.

Christchurch Christchurch Intl - CHC


Terminal: International Terminal
Lounge: Manaia Lounge
Location: Airside - Level 1, Departures Area, opposite Gate 29. International flights only.
Hours 04:15 - 06:30 & 09:30 - 22:00 Sunday - Friday.
04:15 - 08:00 & 09:30 - 22:00 Saturday.
Hours are subject to change.
Due to current travel restrictions impacting the area this lounge is temporarily closed.
Conditions: Maximum 3 hour stay - Children under 2 years are admitted free - Separate smoking area available.

Clark Clark International - CRK


Lounge: PAGSS Lounge
Location: Airside - International Departures. The lounge is located on Level 2, near Gate
6.
Hours 13:00 - 20:30 daily.
Hours may vary according to flight schedules.
Conditions: Maximum 3 hour stay - Limited to two guests per cardholder, subject to a per person charge, where applicable - Children under 8 years are admitted free.
Additional information: Please note standard buffet service has been suspended and pre-packed meals are provided.

Cleveland (OH) Cleveland Hopkins Intl - CLE


Terminal: Concourse C
Lounge: Bar Symon
Location: Airside - after Security, go to Concourse C and Bar Symon is located between
Gates C4 and C6. To be eligible, Cardholders and guests are required to show an Outbound Departure Boarding Pass with confirmed same-day travel.
Please note that the restaurant may exceed their seating limit at certain times of the day & access to the restaurant is at their sole discretion.
Hours 05:30 - 17:30 daily.
IMPORTANT NOTE: For Cardholders who pay for individual visits or guest visits, please check this particular offer against your visit fee to ensure it represents value for you. We advise Cardholders to review full Conditions of access below before visiting.
Bar Symon seamlessly integrates delicious comfort food & a tap-house into a timeless airport experience.Signature items such as Pierogi,Kielbasa,Lola fries & award-winning burgers.
Conditions: 1. Cardholders can use their lounge visit entitlement to receive US$28 off the bill. Each US$28 deduction represents a single lounge visit within the
Cardholder's existing lounge visit allocation for which the Cardholder will,
where applicable, be charged. E.g. if a Cardholder registers 1 Guest they will receive US$56 off their bill which will be charged as 1 Cardholder visit + 1
Guest visit on their account. Only 1 card per visit per Cardholder will be accepted and at point of registration. 2. The US$28 is valid for the purchase of any meal and/or drinks. To be eligible, Cardholders must present a valid Card and Boarding Pass with confirmed same-day travel before placing an order. 3.
US$28 is non-transferable & cannot be exchanged for cash substitute or refund if the final bill is lower than US$28 per person. 4. Cardholder is responsible for the balance if total final bill exceeds US$28 per person. Any remaining balance cannot be used towards gratuity. 5. Priority Pass and its
Affiliates Companies shall not be liable should the offer value be less than
Customers lounge visit entitlement. Customers who pay for lounge and guest visits are advised to review programme Conditions of Use prior to accessing visits are advised to review programme Conditions of Use prior to accessing the offer.

Cluj-Napoca Cluj-Napoca Intl - CLJ


Lounge: Business Lounge
Location: Airside - after Security Control, in the main departure lounge opposite the
Gates B1 and B2. International flights only.
Hours 05:00 - 19:00 daily.
Hours are subject to change.
Conditions: Maximum 4 hour stay - Children under 5 years are admitted free.

Lounge: Business Lounge
Location: Airside - after Security Control, in the main departure lounge opposite the
Gates A2 and A3. Domestic flights only.
Hours 05:00 - 19:00 daily.
Hours are subject to change.
Conditions: Maximum 4 hour stay - Children under 5 years are admitted free.

Coca Francisco De Orellana - OCC


Lounge: Ayahuasca VIP Cafe Lounge
Location: Airside - after Security Checks, 1st Floor. The lounge is located next to the coffee shop. Domestic flights only.
Hours 08:00 - 17:00 Monday - Friday.
11:00 - 14:00 Saturday & Sunday.
Closed: Nov 02 & 03, Dec 25 & Jan 01.
Conditions: Maximum 3 hour stay - Access may be restricted due to space constraints -
Children under 7 years are admitted free - Complimentary alcoholic drinks
(beer and wine only) are limited to two per adult, all subsequent drinks are subject to payment - Computer workstations and printers available.
Additional information: Herbal teas are subject to payment. Please note standard buffet service has been suspended until further notice.

Cochabamba Jorge Wilsterman Intl - CBB


Lounge: The Lounge VIP
Location: Airside - the lounge is located on the 2nd Floor between the International and
Domestic Pre-Boarding Area.
Hours 06:30 - 21:00 daily.
Conditions: Maximum 4 hour stay - Children under 12 years are admitted free -
Complimentary alcoholic drinks are limited to beer and wine only.
Additional information: Face masks must be worn. Please note standard buffet service has been suspended but the lounge will instead offer table service.

Cochin Cochin International - COK


Terminal: Terminal 1
Lounge: Earth Lounge
Location: Airside - Domestic Departures. After Security Checks, take the lift to the 2nd
Floor and the lounge is located on the right hand side.
Hours 07:00 - 19:00 daily.
Conditions: Maximum 3 hour stay - Children under 7 years are admitted free.
Additional information: Due to precautionary measures this lounge may have interrupted services.

Terminal: Terminal 3
Lounge: Earth Lounge
Location: Airside - International Departures. After Security Checks and Passport
Control, take the escalator on the right hand side to the 3rd Floor. The lounge is located on the left hand side of the Food Court area.
Hours 24 hours daily.
Conditions: Children under 7 years are admitted free - Complimentary alcoholic drinks are restricted to two spirits (30ml) or one beer (650ml) per adult; all other alcoholic drinks are subject to payment - Smart casual dress at all times.
Additional information: Please note buffet service has been suspended until further notice. Items on the À la carte menu are free of charge until further notice.

Coimbatore Coimbatore International - CJB


Lounge: BlackBerry Restaurant & Bar
Location: Airside - Domestic Departures, after Security Hold Area, 1st Floor. Please note that the restaurant may exceed their seating limit at certain times of the day & access to the restaurant is at their sole discretion.
Hours 24 hours daily.
Due to current travel restrictions impacting the area this lounge is temporarily closed.
Blackberry Restaurant & Bar is an ideal place for travellers to relax,
freshen-up and enjoy a selection of food, Indian buffet, special high-tea snacks prepared by their chefs.
Conditions: 1. Cardholders can use their lounge visit entitlement to take advantage of 1
set menu/pre-packed menu in a 24hr period. A set menu represents a single lounge visit within the Cardholder's existing lounge visit allocation for which the Cardholder will, where applicable, be charged. E.g. if a Cardholder registers 1 Guest they also will be able to take advantage of 1 set menu/pre-packed menu within a 24hr period and will be charged as 1
Cardholder visit + 1 Guest visit on their account. Only 1 card per visit per
Cardholder will be accepted at point of registration. 2. Children under 3 years of age are free of charge. 3. To be eligible, Cardholders must present a valid
Card and Boarding Pass with same-day travel before placing an order. 4.
Items from the À la carte menu will be at an additional charge. Alcoholic drinks are subject to payment. 5. Set menus/pre-packed menus are non-transferable
& cannot be exchanged for cash substitute/ refund or be used towards gratuity. 6. Priority Pass and its Affiliates Companies shall not be liable should the offer value be less than Customers lounge visit entitlement. Customers who pay for lounge and visits are advised to review programme Conditions of
Use prior to accessing the offer.
Additional information: Complimentary soft drinks. Separate smoking room available.

Cologne/Bonn Cologne/Bonn International - CGN


Terminal: Terminal 2
Lounge: Airport Business Lounge
Location: Airside - pass through Security Checks, turn left and take the escalator or stairs to the Departure Level. The lounge is located on the left hand side.
Hours 06:30 - 21:30 Monday - Friday.
08:00 - 19:00 Saturday - Sunday & Public Holidays.
Closed: Dec 25 & 31.
Due to current travel restrictions impacting the area this lounge is temporarily closed.
Conditions: Children under 13 years are admitted free - Complimentary use of iPad.
Additional information: Passengers flying with Lufthansa, Germanwings and Austrian Airlines from T1
can access the lounge but must first check-in T1 (Boarding Pass required)
before proceeding to T2. Follow signs 'D Terminal 2', and proceed through
Security Checks. Please allow sufficient time (approx.60 minutes) to reach the gate as when leaving the lounge you have to pass Security Checks again in
T1.

Colombo Bandaranaike Intl - CMB


Lounge: Lotus First Class Lounge
Location: Airside - 1st Floor, at the Pier located adjacent to Gates 6 and 7.
Hours 24 hours daily.
Conditions: Maximum 6 hour stay - Limited to six guests per cardholder, subject to a per person charge, where applicable - Access may be restricted due to space constraints - Children under 2 years are admitted free.

Lounge: Palm Strip Lounge
Location: Airside - International Departures, 1st Floor.
Hours 24 hours daily.
Due to current travel restrictions impacting the area this lounge is temporarily closed.
Conditions: Maximum 3 hour stay - Children under 3 years are admitted free -
Complimentary alcoholic drinks are limited to four per adult, subsequent drinks are subject to payment.

Colorado Springs (CO) Colorado Springs - COS


Lounge: Colorado Springs Premier Lounge
Location: Airside - after Security Checks, adjacent to Gate 6.
Hours 04:00 - to last scheduled flight departure.
Conditions: Children under 2 years are admitted free - All children must be accompanied by an adult.
Additional information: Alcoholic drinks are subject to payment.

Comodoro Rivadavia General E. Mosconi - CRD


Lounge: Aeropuertos VIP Club
Location: Airside - 1st Floor, the lounge is located in the Domestic Boarding Area, near
Gate 2. Domestic flights only.
Hours 07:00 - 03:00 daily.
Due to current travel restrictions impacting the area this lounge is temporarily closed.
Conditions: Maximum 3 hour stay - Children under 2 years are admitted free -
Complimentary alcoholic drinks are limited to wine only upon request - Smart casual dress at all times.

Conakry Gbessia International - CKY


Lounge: Salon VIP Nimba
Location: Airside - after Security Checks and Passport Control, on the right hand side of the Boarding Hall. International flights only.
Hours Lounge opening times vary in accordance with flight schedules.
Conditions: Children under 12 years are admitted free - Complimentary drinks are limited to two per person, subsequent drinks and all snacks are subject to payment.

Concepcion Carriel Sur Intl - CCP


Lounge: Salones VIP Pacific Club
Location: Airside - after Security Control, proceed to the 2nd Floor and the lounge is located opposite Gate 1.
Hours 07:00 - 22:30 daily.
Hours are subject to change according to last scheduled flight departures.
Conditions: Maximum 2 hour stay - Children under 2 years are admitted free - Smart casual dress at all times.

Coolangatta Gold Coast - OOL


Lounge: Coffee & Co
Location: Airside - after Security, turn right and Coffee & Co is located near Gate 5.
Please note that the restaurant may exceed their seating limit at certain times of the day & access to the restaurant is at their sole discretion.
Hours 05:00 - 22:00 daily.
Hours are subject to change and may vary according to flight schedules.
IMPORTANT NOTE: For Cardholders who pay for individual visits or guest visits, please check this particular offer against your visit fee to ensure it represents value for you. We advise Cardholders to review full Conditions of access below before visiting.
Coffee & Co serves delicious coffee, sandwiches, hot meals and snacks.
Customers can also enjoy local wines, beers and spirits.
Conditions: 1. Cardholders can use their lounge visit entitlement to receive AUD$36 off the bill. Each AUD$36 deduction represents a single lounge visit within the
Cardholder's existing lounge visit allocation for which the Cardholder will,
where applicable, be charged. E.g. if a Cardholder registers 1 Guest they will receive AUD$72 off their bill which will be charged as 1 Cardholder visit + 1
Guest visit on their account. Only 1 Card per visit per Cardholder will be accepted and at point of registration. 2. The AUD$36 is valid for the purchase of any meal and/or drinks. To be eligible, Cardholders must present a valid
Card and Boarding Pass with confirmed same day travel before placing an order. 3. AUD$36 is non-transferable & cannot be exchanged for cash substitute or refund if the final bill is lower than AUD$36 per person. 4.
Cardholder is responsible for the balance if total final bill exceeds AUD$36 per person. Any remaining balance cannot be used towards gratuity. 5. Priority
Pass and its Affiliates Companies shall not be liable should the offer value be less than Customers lounge visit entitlement. Customers who pay for lounge and guest visits are advised to review programme Conditions of Use prior to accessing the offer.

Copenhagen Kastrup - CPH


Terminal: Terminal 2
Lounge: Aspire Lounge
Location: Airside - after Security, turn right. The lounge is located between Pier A and B
on the right handside opposite Starbucks, on the 1st Floor.
Hours 07:00 – 19:30 daily.
Hours may be subject to change.
Due to current travel restrictions impacting the area this lounge is temporarily closed.
Conditions: Maximum 3 hour stay - Dress code applicable - Separate smoking room available.
Additional information: Face masks must be worn. Please note standard buffet service has been suspended but the lounge will instead offer table service.

Terminal: Terminal 2
Lounge: Carlsberg Aviator Lounge
Location: Airside - after Security, turn right. The lounge is located between Pier A and B.
Hours 05:00 - 19:00 Monday - Wednesday & Friday.
05:00 - 20:00 Thursday.
05:00 - 16:00 Saturday.
09:00 - 20:00 Sunday.
Conditions: Children under 2 years are admitted free.

Terminal: Terminal 3
Lounge: Eventyr Lounge
Location: Airside - Pier C, Non-Schengen area, after Passport Control, proceed to the
2nd Floor and the lounge is located next to Gate 26. International flights only.
Hours 05:30 - 20:30 Sunday - Friday.
05:30 - 17:30 Saturday.
Conditions: Maximum 4 hour stay - Children under 3 years are admitted free -
Complimentary use of iPad.
Additional information: Massage chairs available, subject to payment.

Cordoba Ambrosio L. V. Taravella - COR


Lounge: Aeropuertos VIP Club
Location: Landside - after Check-in, take the stairs to the Ground Floor. The lounge is located on the left, next to the service area.
Hours 06:00 - 22:00 daily.
Due to current travel restrictions impacting the area this lounge is temporarily closed.
Conditions: Maximum 3 hour stay - Children under 2 years are admitted free.

Cork Cork - ORK


Lounge: Aspire Lounge
Location: Airside - after Duty Free turn right and proceed to the end of the terminal building. The lounge is located opposite Gate 8.
Hours 05:00 - 21:00 daily.
Closed: Dec 25.
Due to current travel restrictions impacting the area this lounge is temporarily closed and will re-open 21JUN21.
Conditions: Maximum 3 hour stay - Children under 2 years are admitted free - Alcoholic drinks are only available for passengers 18 years of age or older - Smart casual dress at all times (no sportswear allowed).
Additional information: The lounge will only accept group walk-ups from the same household and or support bubble. Please note standard buffet service has been suspended but the lounge will instead offer table service.

Cotonou Cadjehoun Intl - COO


Lounge: AHS Business Class Lounge
Location: Airside - after Border Control and before entering the airport waiting lounges and Security Checks, take the stairs on your left hand side to the 1st Floor where the lounge is located.
Hours 07:00 - 04:00 Monday & Tuesday.
06:00 - 04:00 Wednesday.
12:00 - 16:00 & 18:00 - 23:00 Thursday.
03:00 - 06:00, 08:00 - 16:00 & 20:00 - 00:00 Friday.
08:00 - 16:00 & 19:00 - 00:00 Saturday.
03:00 - 15:00 & 19:00 - 00:00 Sunday.
Conditions: Children under 12 years are admitted free.

Lounge: Salon Plus Arrivee
Location: Airside - the lounge is located on the right hand side of the Arrivals Hall.
Hours 24 hours daily.
Conditions: Children under 12 years are admitted free.
Additional information: Complimentary luggage storage available inside the lounge.

Lounge: Salon Plus Depart
Location: Airside - after Passport Control, turn left. Pass through the Duty Free Shops,
turn left and the lounge is located on the right hand side.
Hours 24 hours daily.
Conditions: Children under 12 years are admitted free.
Additional information: Complimentary luggage storage available inside the lounge.

Cozumel Cozumel International - CZM


Lounge: Caral VIP Lounge
Location: Airside - after Security Checks, opposite Gate 6.
Hours Open daily - hours vary according to flight schedules.
Conditions: Maximum 4 hour stay - Children under 5 years are admitted free -
Complimentary alcoholic drinks (beer and wine only) are limited to three per person and all subsequent drinks including premium are subject to payment.

Cucuta Camilo Daza Intl - CUC


Lounge: The Lounge Cucuta
Location: Airside - after Security Checkpoint, proceed towards the departure gates and the lounge is located at the end of the hallway. Domestic flights only.
Hours 05:00 - 22:00 daily.
Conditions: One child under 12 years admitted free per cardholder - Complimentary computer workstations and printers available - Dress code applicable (shirts and shoes required for entry).

Cuenca Mariscal Lamar - CUE


Lounge: Sala VIP Corpac
Location: Airside - proceed through the dedicated VIP Security Checks that are signposted 'Salas VIP' and located next to the airport Information desk,
landside. After Passport Control take the lift or stairs to the 2nd Floor where the lounge is located. Follow signs.
Hours 06:00 - 18:00 Monday - Saturday.
06:00 - 21:00 Sunday.
Conditions: Children under 12 years are admitted free.
Additional information: Selected alcoholic drinks are subject to payment.

Cuiaba Marechal Rondon Intl - CGB


Lounge: W Lounge Cuiaba
Location: Airside - after Security Control, the lounge is located straight ahead.
Hours 00:00 - 20:00 Monday - Friday.
00:00 - 18:00 Saturday.
07:00 - 20:00 Sunday.
Conditions: Maximum 3 hour stay - Children under 2 years are admitted free - Smart casual dress at all times (smart shorts only, no sportswear, trainers, sandals or flipflops allowed).
Additional information: Printing facilities are subject to payment.

Culiacan Fed. De Bachigualato - CUL


Lounge: Oma Airport Lounge
Location: Airside - from Gate 1 take the lift to the 2nd Level.
Hours 05:00 - 21:00 Monday, Wednesday, Friday & Sunday.
05:00 - 18:00 Tuesday & Thursday & Saturday.
Access may be restricted due to space constraints.
Conditions: Maximum 3 hour stay - Children under 5 years are admitted free -
Complimentary alcoholic drinks are limited to three per adult - All food and beverages must be consumed inside the lounge.
Additional information: Please note hot food is temporarily suspended (snacks only) until further notice.

Curacao Hato International - CUR


Lounge: VIP Lounge
Location: Airside - after Passport and Security Checks, turn left and walk through the
Duty Free to the west side of the terminal. The lounge is located opposite Gate
4.
Hours 11:30 - 22:00 daily.
Hours may vary according to flight schedules.
Conditions: Maximum 3 hour stay - Children under 3 years are admitted free - Premium alcoholic drinks are limited to three per person - Alcoholic drinks are only available for passengers 18 years of age or older - Separate children's play area available.
Additional information: Complimentary luggage storage available inside the lounge. Separate Private rooms available subject to payment. Face masks must be worn. Please note standard buffet service has been suspended until further notice and boxed meals will be provided.

Curitiba Afonso Pena Intl - CWB


Lounge: Advantage VIP Lounge
Location: Airside - after Boarding Pass Control and before the X-ray machines, the lounge is on the left. The lounge is also accessible to International passengers upon presentation of a valid boarding pass.
Hours 05:00 - 22:00 daily.
Conditions: Children 2 years and under admitted free - Complimentary alcoholic drinks are limited to local beer and wine only.
Additional information: Please note hot food has been suspended until further notice and pre-packed meals are provided.

Lounge: Break Travel Lounge
Location: Landside - the lounge is located on the 2nd Floor in the Food Court Area,
opposite 'Pizza Hut'. Complimentary check-in facilities available inside the lounge. Cardholders and registered guests have complimentary access to the dedicated 'Fast Track Corridor' service (05:00 - 08:00 and 17:00 - 20:00 daily)
located in the Departure Area. Lounge staff will issue a voucher and this must be presented at the Fast Track Lane together with a valid boarding pass.
Hours 05:00 - 23:00 daily.
Conditions: Children under 12 years are admitted free - Complimentary alcoholic drinks are limited to beer, wine and whisky only - All food and beverages must be consumed inside the lounge.
Additional information: The lounge provides a parking discount for Cardholders. In order to receive this discount, please email the lounge in advance at contato@breaktravellounge.com.br. Conference facilities are subject to payment. Please note standard buffet service has been suspended but the lounge will instead offer packed food. The lounge cannot guarantee that all passengers will always be able to sit together due to social distancing within the lounge.

Cusco Alejandro Velasco Astete Intl - CUZ


Lounge: Hanaq Cusco
Location: Airside - 1st Floor, near Gate 9.
Hours 05:00 - 21:00 daily.
Due to current travel restrictions impacting the area this lounge is temporarily closed.
Conditions: Maximum 3 hour stay - Children under 2 years are admitted free -
Complimentary alcoholic drinks are limited to one beer per adult -
Complimentary use of iPad.
Additional information: Premium alcoholic drinks and conference facilities are subject to payment.

Daegu Daegu Intl - TAE


Lounge: KAL Lounge
Location: Landside - International Arrivals. The lounge is located between the coffee shop and infant room on the 2nd Floor.
Hours 06:00 - 18:30 daily.
Due to current travel restrictions impacting the area this lounge is temporarily closed.
Conditions: Access may be restricted due to space constraints - Limited to two guests per cardholder, subject to a per person charge, where applicable - Children under
2 years are admitted free.
Additional information: Interstate/international telephone calls and fax facilities are subject to payment.

Dakar Blaise Diagne Intl - DSS


Lounge: Odyssee Lounge
Location: Airside - Departure Level, near Gate 1. International flights only.
Hours 18:00 - 23:00 Monday, Wednesday & Saturday.
13:00 - 23:00 Tuesday, Thursday - Friday & Sunday.
Conditions: Maximum 3 hour stay - Children under 3 years are admitted free -
Complimentary use of iPad - Work stations available - Separate smoking room available.
Additional information: Massage chairs, printers, scanning and fax facilities available, subject to payment.

Lounge: Top Kapi Lounge
Location: Airside - Departure Level, near Gate 6. The lounge is accessible to
International, domestic and transit passengers.
Hours 24 hours daily.
Due to current travel restrictions impacting the area this lounge is temporarily closed.
Conditions: Maximum 3 hour stay - Children under 3 years are admitted free - Work stations available.
Additional information: Printers, scanning and fax facilities available, subject to payment.

Dakhla Dakhla - VIL


Lounge: Pearl Lounge
Location: Airside - after Immigration turn right and the lounge is located at Gate 5.
Hours 07:00 - 17:00 daily.
Conditions: Maximum 3 hour stay - Children under 2 years are admitted free.
Additional information: Please note standard buffet service has been suspended until further notice and boxed meals will be provided.

Dalaman Dalaman - DLM


Terminal: Terminal 2
Lounge: CIP Lounge
Location: Airside - after Passport Control, 3rd Floor, near the Duty Free Shops. Follow signs to the lounge. International flights only.
Hours Lounge opens from first scheduled flight departure and closes after last scheduled flight departure.
Closed: Winter Season (Nov-Mar).
Conditions: Maximum 3 hour stay - Children under 2 years are admitted free -
Workstations available - Separate smoking room available outside the lounge.
Additional information: Complimentary use of day beds. Alcoholic drinks are available upon request and are subject to payment. Please note the lounge will provide pre-packed meals.

Terminal: Terminal 2
Lounge: DLM Lounge
Location: Airside - after the 2nd Security Checks proceed to the 3rd Floor. Domestic and transit flights only.
Hours 24 hours daily.
Conditions: Maximum 3 hour stay - Children under 2 years are admitted free -
Complimentary alcoholic drinks are limited to one 33cl bottle of local beer or a glass of local wine only, all subsequent drinks including cocktails are subject to payment - Separate prayer room available - Outside smoking terrace available.

Dali Dali - DLU


Lounge: Best Business VIP Lounge
Location: Landside - Domestic Arrivals. The lounge is located before Security Checks in the Terminal Building. Follow signs to 'Best Business VIP' Lounge.
Hours Lounge opens 2 hours prior to first flight departure and closes at the last scheduled flight departure.
Conditions: Children under 2 years are admitted free - Separate smoking area available.
Additional information: Wi-Fi access, telephone calls and fax facilities are all subject to payment.

Dalian Zhoushuizi Intl - DLC


Lounge: Business Travel Lounge
Location: Airside - Domestic Departures. After Security Checks, turn right and proceed straight ahead. Take the escalator near Gate 14 to the next level and turn left.
The lounge is located at the end of the corridor.
Hours 06:00 - 21:00 daily.
Conditions: Maximum 2 hour stay - Children under 2 years are admitted free.

Lounge: VIP Lounge 7
Location: Airside - Domestic Departures. After Security Checks, take the escalator from
Gate 19 to Level 2.
Hours 06:00 - 20:00 daily.
Conditions: Maximum 2 hour stay - Children under 2 years are admitted free.
Additional information: Telephone and fax services are subject to payment.

Dallas (TX) Dallas/Fort Worth Intl - DFW


Terminal: Terminal A
Lounge: Minute Suites
Location: Airside - located near Gate A38.
Hours 24 hours daily.
Only 1 card per visit per Cardholder will be accepted at point of registration.
Conditions: 1. Cardholders can use their lounge visit entitlement to use a Minute Suite for a 1 hour stay. 1 Minute Suite usage represents a single lounge visit within the
Cardholder's existing lounge visit allocation for which the Cardholder will,
where applicable, be charged. Each subsequent hour of Minute Suite usage will be charged at a discounted rate of US$28 and payable directly to Minute
Suites. 2. Up to 3 guests accompanying the Cardholder in the same Minute
Suite may use it at no extra charge. 3. The Cardholder is responsible for any additional charges incurred. Minute Suites may ask Cardholders to present a payment card for incidentals at the time of check-in. 4. Each Minute Suite is equipped with a comfortable daybed sofa (sleeps two), pillows, fresh blankets,
a workstation, a sound masking system that helps to neutralise noise and
Nap26 audio programme to help deliver a refreshing powernap. 5. Minute
Suite usage is subject to availability.

Terminal: Terminal B
Lounge: Gameway
Location: Airside - near the Skylink and Gate 42. Gameway is bringing entertainment to airports with gaming stations that allow you to have fun playing video games whilst waiting for your flight.
Hours 09:00 - 17:00 daily.
Conditions: Complimentary soft drinks limited to one bottle of soda or water and two free snacks. 1. Cardholders can use their lounge visit entitlement to use a game station for a 2 hour stay. 1 game station usage represents a single lounge visit within the Cardholder's existing lounge visit allocation for which the
Cardholder will, where applicable, be charged. Each subsequent hour of game station usage will be charged at a 10% discounted rate and payable directly to
Gameway. 2. The Cardholder is responsible for any additional charges incurred. Gameway may ask Cardholders to present a payment card for incidentals at the time of check-in. 3.Each game station is equipped with a game console pre-loaded with over 25 of the newest games and best video games, a leather chair, 43" 4K television, noise cancelling headphones,
charging ports, and space to store luggage storage. 4.Game station usage is charging ports, and space to store luggage storage. 4.Game station usage is subject to availability. 5. Priority Pass and its Affiliates Companies shall not be liable should the offer value be less than Customers lounge visit entitlement.
Customers who pay for lounge and guest visits are advised to review programme Conditions of Use prior to accessing the offer.

Terminal: Terminal D
Lounge: Minute Suites
Location: Airside - located near Gate D23.
Hours 24 hours daily.
Shower facilities are subject to payment at a discounted rate of US$20 per 30
minutes - Only 1 card per visit per Cardholder will be accepted at point of registration.
Conditions: 1. Cardholders can use their lounge visit entitlement to use a Minute Suite for a 1 hour stay. 1 Minute Suite usage represents a single lounge visit within the
Cardholder's existing lounge visit allocation for which the Cardholder will,
where applicable, be charged. Each subsequent hour of Minute Suite usage will be charged at a discounted rate of US$28 and payable directly to Minute
Suites. 2. Up to 3 guests accompanying the Cardholder in the same Minute
Suite may use it at no extra charge. 3. The Cardholder is responsible for any additional charges incurred. Minute Suites may ask Cardholders to present a payment card for incidentals at the time of check-in. 4. Each Minute Suite is equipped with a comfortable daybed sofa (sleeps two), pillows, fresh blankets,
a workstation, a sound masking system that helps to neutralise noise and
Nap26 audio programme to help deliver a refreshing powernap. 5. Minute
Suite usage is subject to availability.

Terminal: Terminal D
Lounge: The Club DFW
Location: Airside - located on the Mezzanine Floor near Gate 27. Passengers departing from other terminals will need to access the lounge via Skylink to avoid passing through security twice. Please allow sufficient time to reach the departure gate.
Hours 05:30 - 21:00 daily.
Conditions: Access is permitted 3 hours prior to scheduled flight departure - Children under 2 years are admitted free - All children must be accompanied by an adult - Alcoholic drinks are only available to passengers 21 years of age or older - Computer workstation and printer available.
Additional information: Due to local and regional restrictions, some amenities and services may be temporarily unavailable.

Terminal: Terminal E
Lounge: Gameway
Location: Airside - near Gate 16. Gameway is bringing entertainment to airports with gaming stations that allow you to have fun playing video games whilst waiting for your flight.
Hours 06:00 - 17:00 daily.
Conditions: Complimentary soft drinks limited to one bottle of soda or water and two free snacks. 1.Cardholders can use their lounge visit entitlement to use a game station for a 2 hour stay. 1 game station usage represents a single lounge visit within the Cardholder's existing lounge visit allocation for which the
Cardholder will, where applicable, be charged. Each subsequent hour of game station usage will be charged at a 10% discounted rate and payable directly to
Gameway. 2. The Cardholder is responsible for any additional charges incurred. Gameway may ask Cardholders to present a payment card for incidentals at the time of check-in. 3. Each game station is equipped with a game console pre-loaded with over 25 of the newest and best video games, a leather chair, 43" 4K television, noise cancelling headphones, charging ports,
and space to store luggage storage. 4. Game station usage is subject to availability. 5. Priority Pass and its Affiliates Companies shall not be liable should the offer value be less than Customers lounge visit entitlement.
Customers who pay for lounge and guest visits are advised to review programme Conditions of Use prior to accessing the offer.

Dammam King Fahd Intl - DMM


Lounge: naSmiles Lounge
Location: Airside - after Security Checkpoint, proceed to Gates 120 & 121. The lounge is located before the prayer area. Domestic flights only.
Hours 07:00 - 18:00 daily.
Conditions: Maximum 3 hour stay - Children under 5 years are admitted free - Smart casual dress at all times.
Additional information: Ready 2 Order available in lounge: A contactless ordering solution for complimentary lounge refreshments. Complimentary luggage storage available inside the lounge. Please note hot food has been suspended until further notice and pre-packed meals are provided.

Lounge: Plaza Premium Lounge
Location: Airside - International Departures. The lounge is located in the Departure Area.
Hours 24 hours daily.
Conditions: Maximum 3 hour stay - Children under 2 years are admitted free - All children must be accompanied by an adult - Smart casual dress at all times.
Additional information: Complimentary luggage storage available inside the lounge. Spa facilities available, subject to payment. Please note hot food is temporarily suspended
(snacks only) until further notice.

Danang Da Nang Intl - DAD


Terminal: Terminal 2
Lounge: CIP Orchid Lounge
Location: Airside - International Departures. After Customs and Security Checks turn left, the lounge is located on the Mezzanine Floor.
Hours 24 hours daily.
Due to current travel restrictions impacting the area this lounge is temporarily closed.
Conditions: Maximum 3 hour stay - Children under 2 years are admitted free -
Complimentary use of iPad - Separate smoking room available.

Datong Datong Yungang - DAT


Terminal: Terminal 2
Lounge: First Class Lounge
Location: Airside - Domestic Departures. After Security Checks, follow signs.
Hours 07:30 - 20:00 daily.
Conditions: Children under 12 years are admitted free - Separate smoking area available.

Terminal: Terminal 2
Lounge: VIP Lounge
Location: Landside - before Security Checks. Follow the signs for 'VIP Lounge'.
Hours 07:30 - last scheduled flight departure daily.
Conditions: Children under 12 years are admitted free.

Davao Francisco Bangoy International - DVO


Lounge: PAGSS Premium Lounge
Location: Airside - International Departure Area, 2nd Floor, opposite Gate 4.
Hours 10:00 - 17:00 Monday.
14:00 - 17:00 Tuesday - Thursday, Saturday & Sunday.
14:00 - 21:00 Friday.
Due to current travel restrictions impacting the area this lounge is temporarily closed.
Conditions: Limited to two guests per cardholder, subject to a per person charge, where applicable - Children under 8 years are admitted free.

Lounge: PAGSS Premium Lounge
Location: Airside - Domestic Departure Area, 2nd Floor, opposite Gate 4.
Hours 06:00 - 23:00 daily.
Due to current travel restrictions impacting the area this lounge is temporarily closed.
Conditions: Limited to two guests per cardholder, subject to a per person charge, where applicable - Children under 8 years are admitted free.

Dehra Dun Jolly Grant - DED


Lounge: Bird Lounge
Location: Landside - Domestic Departures. The lounge is located on the Ground Floor near the Check-in counters.
Hours 24 hours daily.
Hours may vary according to flight schedules.
Conditions: Maximum 3 hour stay - Children under 5 years are admitted free - Separate smoking area available outside the lounge.
Additional information: Complimentary shoe shine available inside the lounge. Please note the lounge will provide one takeaway food box per person which can be consumed inside the lounge.

Derry City of Derry Airport - LDY


Lounge: Amelia Earhart Lounge
Location: Airside - do NOT go through Security to lounge directly. First register as a cardholder at Airport Information situated on left just after entering the building to obtain a door code to enter on the lounge door for access. The lounge is located within the Airport Shop in the Departures Area. Follow signs.
Hours 04:00 - 20:00 daily.
Closed: Dec 25.
Hours may vary according to flight schedules.
Conditions: Access may be restricted due to space constraints - Children under 12 years are not admitted - Complimentary alcoholic drinks are limited to two per adult -
Smart casual dress at all times.

Detroit (MI) Metropolitan Wayne County - DTW


Terminal: McNamara Terminal
Lounge: Be Relax Spa
Location: Airside - located near the middle of the water fall between Johnston & Murphy
& Vino Volo, near to Gate A46. Please note that the spa may exceed their capacity at certain times of the day & access to the spa is at their sole discretion. IMPORTANT NOTE: For Cardholders who pay for individual visits or guest visits, please check this particular offer against your visit fee to ensure it represents value for you. We advise Cardholders to review full
Conditions: of access below before visiting.
Hours 07:00 - 21:00 daily.
Hours may vary according to flight schedules.
30 minute Lounger Massage - Be Back (a US$35 value).
15 minute Lounger Massage plus Aromatherapy & O2 - Be Back (a US$35
value).
10 minute Head Massage plus Aromatherapy & O2 - Head Up (a US$38
value).
10 minute Foot Massage plus Aromatherapy & O2 - Be Feet (a US$38 value).
Conditions: 1. Cardholders can use their lounge visit entitlement to take advantage of one of the following options: Be Back 30-minute Lounger Massage (a US$35
value) or Be Back 15-minute Lounger Massage plus Aromatherapy & 02 (a
US$35 value) or Head Up on lounger 10-minute plus Aromatherapy & 02 (a
US$38 value) or Be Feet on Lounger 10-minute plus Aromatherapy & 02 (a
US$38 value). Each treatment represents a single lounge visit within the
Cardholders existing lounge visit allocation for which the Cardholder will,
where applicable, be charged. For example, if a Cardholder registers 1 Guest they will be charged as 1 Cardholder visit + 1 Guest visit on their account.
Cardholder may only register 1 Guest per visit to receive the treatment. Only 1
card per visit per Cardholder will be accepted and at point of registration. To be eligible, Cardholders must present a valid Card and Boarding Pass with confirmed same-day travel before selecting a treatment. 2. Cardholder is responsible for all additional charges incurred. 3. Soft drinks limited to tea and water only. Complimentary luggage storage available. 4. Be Relax usage is subject to availability. 5. Priority Pass and its Affiliates Companies shall not be liable should the offer value be less than Customers lounge visit entitlement.
Customers who pay for lounge and guest visits are advised to review program
Conditions: of Use prior to accessing the offer.

Terminal: North Terminal
Lounge: Lufthansa Business Lounge
Location: Airside - after Security Checks turn left, the lounge is located next to Gate D8.
Hours 06:00 - 17:30 Monday, Wednesday, Thursday & Friday
09:00 - 17:30 Tuesday.
Closed: Saturday & Sunday.
Please note due to a Public Holiday, the lounge will close on 31MAY21 and re-open - 01JUN21.
Conditions: Maximum 3 hour stay - All cardholders and guests are required to show a
DTW Outbound Departure Boarding Pass with confirmed same-day travel for access to the lounge - Children under 2 years are admitted free.
Additional information: Face masks must be worn. The lounge cannot guarantee that all passengers will always be able to sit together due to social distancing within the lounge.

Dhaka Hazrat Shahjalal Intl - DAC


Terminal: Terminal 1
Lounge: Intercontinental Dhaka Balaka Executive Lounge
Location: Airside - after Immigration desk turn right and proceed up the stairs at the end of the hall to the 2nd Floor then turn left. Cross over the passage to the lounge located on the left hand side. The lounge is accessible from Terminals 1 and 2
and the same directions apply to access from both.
Hours 24 hours daily.
Conditions: Children under 2 years are admitted free - Separate smoking area available.
Additional information: Alcoholic drinks, long distance telephone calls and fax facilities are all subject to payment. Conference facilities must be reserved in advance and are also subject to payment. Tel: +88028914248 to make a booking. Please note buffet service has been suspended until further notice. Items on the À la carte menu
(excluding alcohol) are free of charge until further notice.

Terminal: Terminal 1
Lounge: MTB Air Lounge
Location: Airside - International Departures. The lounge is located on the 2nd Floor.
Hours 24 hours daily.
Conditions: Maximum 6 hour stay - Children under 2 years are admitted free - Separate smoking room available outside the lounge.
Additional information: Complimentary use of massage chairs, subject to availability.

Terminal: Terminal 1
Lounge: Skylounge
Location: Airside - International Departures. The lounge is located on the 2nd Floor.
Hours 24 hours daily.
Due to current travel restrictions impacting the area this lounge is temporarily closed.
Conditions: Maximum 6 hour stay - Two children under 5 years are admitted free per cardholder - Separate prayer room available - Complimentary foot massage chairs available - Separate smoking room available.

Dharavandhoo Dharavandhoo - DRV


Lounge: Kashimaa Lounge
Location: Landside - left to the Arrival and Departure Halls.
Hours Lounge opens 1 hour prior to Check-in of first flight departure (approx.08:00)
and closes after last flight departure (approx. 20:00).
Conditions: Maximum 2 hour stay - Children under 3 years are admitted free - Separate smoking area available.

Doha Doha Hamad International - DOH


Lounge: Al Maha Services Transit Lounge
Location: Airside - from the Teddy Bear Area, walk straight and take the lift on the right to Level 2. The lounge is located close to Gates A, B and C.
Hours 24 hours daily.
Please note until further notice all passengers will be hosted in / receive a complimentary upgrade to the neighbouring Oryx Lounge. Terminal 1.
Departure Area, near Gate C1, Doha Qatar - next to Al Maha Services Transit
Lounge:.
Conditions: Maximum 4 hour stay - Children under 5 years are admitted free - All children must be accompanied by an adult - Alcoholic drinks are not available during the month of Ramadan - Business Center available - Smart casual dress at all times - Separate smoking area available.

Lounge: sleep 'n fly Sleep Lounge
Location: Airside - located in the luxury retail area, 2 minute walk from the iconic Teddy
Bear sculpture, inside the corridor next to GMT Watches. The sleep 'n fly
Sleep Lounge is centrally located in the heart of the transit area and in easy reach from passport control and all flight gates. International and transit flights only. Single FlexiSuites are the perfect way to rest, unwind and socially distance whilst waiting for your flight.
Hours 24 hours daily.
2 hour stay in a Single FlexiSuite (max. 1 pax) - 22.00 - 12.00 OR
3 hour stay in a Single FlexiSuite (max. 1 pax) - 12.00 - 22.00
Conditions: 1.Cardholders can use their lounge visit entitlement to take advantage of one of the following options: 2 hour stay in a Single FlexiSuite - max. 1 pax (22.00 -
12.00) OR a 3 hour stay in a single FlexiSuite - max. 1 pax (12.00 - 22.00).
Each Single FlexiSuite represents a single lounge visit within the Cardholder's existing lounge visit allocation for which the Cardholder will, where applicable,
be charged. For example, if a Cardholder registers 1 Guest they will be charged as 1 Cardholder visit + 1 Guest visit on their account. Only 1 card per visit per Cardholder will be accepted and at point of registration. 2.Each Single
FlexiSuite is equipped with a reclining seat with dimmable ambient lighting, a reading light, folding tray table, baggage storage and wardrobe (clothes,
shoes and laptop compartments), Wi-Fi, sound proofing and air-condition. The
FlexiSuite includes a disposable headrest cover only, blanket, pillow, bed sheet and other amenities are optional and available at extra cost. 3. Children allowed but only in their own FlexiSuite (as a Guest for which the Cardholder will, where applicable be charged) and supervised by an accompanying adult.
4. Cardholder is responsible for all additional charges incurred. 5. Single
FlexiSuite usage is subject to availability.

Doncaster Sheffield Sheffield - DSA


Lounge: Premium Lounge
Location: Airside - Level 3 above the departure lounge.
Hours 04:00 - 16:00 daily.
Hours are subject to change.
Last entry into the lounge is 45 minutes before closure.
Conditions: Maximum 2.5 hour stay - Children under 5 years are admitted free - Alcoholic drinks are only available for passengers 18 years of age or older - Full table service available - Smart casual dress at all times.
Additional information: Face masks must be worn. Please note standard buffet service has been suspended until further notice.

Douala Douala International - DLA


Lounge: Air France Lounge
Location: Landside - before Security Checks and after Passport Control. International flights only.
Hours 08:00 - 23:00 Monday & Thursday - Saturday.
Closed: Tuesday, Wednesday & Sunday.
Conditions: Access is permitted 5 hours prior to scheduled flight departure - Children under 2 years are admitted free. per adult.
Additional information: Complimentary luggage storage available inside the lounge.

Lounge: Club Market VIP Lounge
Location: Landside - before Security Checks and Passport Control, near the ATM
machine in the hall.
Hours 07:00 - 15:00 Saturday - Tuesday & Thursday.
15:00 - 22:30 Wednesday & Friday.
Conditions: Children under 2 years are admitted free - Check-in services available inside the lounge - Separate smoking area available.
Additional information: Telephone calls may be subject to payment.

Dubai Al Maktoum Intl - DWC


Lounge: Marhaba Lounge
Location: Airside - after Police Security Control, take the escalator to Level 1. The lounge is located on the right hand side.
Hours 24 hours daily.
Due to current travel restrictions impacting the area this lounge is temporarily closed.
Conditions: Maximum 2 hour stay - Children under 2 years are admitted free.

Dubai Dubai Intl - DXB


Terminal: Terminal 1 Concourse D
Lounge: Ahlan Business Class Lounge
Location: Airside - Level 2.
Hours 24 hours daily.
Due to current travel restrictions impacting the area this lounge is temporarily closed.
Conditions: Maximum 5 hour stay - Children under 1 year are admitted free - Separate children's play area available - Separate prayer room available - Alcoholic drinks are subject to request during the month of Ramadan - A la carte menu available, subject to payment - Spa services available - Separate smoking room available.
Additional information: Spa services are subject to payment.

Terminal: Terminal 1 Concourse D
Lounge: Marhaba Lounge
Location: Airside - prior to Immigration, board the train to boarding gates level then take the lift or stairs on the left to Arrival Level, turn left and then right.
Hours 24 hours daily.
Due to current travel restrictions impacting the area this lounge is temporarily closed.
Conditions: Maximum 3 hour stay - Children under 2 years are admitted free - Separate children's play area available - Theater room available - Complimentary use of tablet - Separate smoking room available.
Additional information: Shower facilities are subject to payment.

Terminal: Terminal 1 Concourse D
Lounge: SkyTeam Lounge
Location: Airside - the lounge is located at lounge level, near the Food Court Area,
opposite the 'DIH Lounge'. International flights only.
Hours 02:00 - 20:00 daily.
Cardholders will not be admitted into the lounge outside these hours.
Due to current travel restrictions impacting the area this lounge is temporarily closed.
Conditions: Maximum 4 hour stay - Children under 2 years are admitted free - Separate children's play area available.
Additional information: Shower facilities are subject to payment.

Terminal: Terminal 1 Concourse D
Lounge: sleep 'n fly Sleep Lounge & Showers
Location: Airside - opposite Gates D6 and D7. International flights only YAWN lite
Cabins are the perfect way to rest and unwind whilst waiting for your flight.
One YAWN lite Cabin with cotton sheet, pillow and duvet for one (single) or two (double cabin) adults plus one child under 2 years as applicable (space permitting inside the bed).
Hours DUE TO CURRENT TRAVEL RESTRICTIONS IMPACTING THE AREA
SLEEP'N FLY CABIN & SHOWERS IS TEMPORARILY CLOSED.
24 hours daily.
2 hour stay in a single cabin (max.1 pax) OR
1 hour stay in a double cabin (max.2 pax) OR
Off peak hours 12:00 noon - 22:00 only: 1 hour stay in a single cabin plus 15
minute shower use (max.1 pax) OR
Off peak hours 12:00 noon - 22:00 only: 3 hour stay in a single cabin.
Conditions: 1. Cardholders can use their lounge visit entitlement to take advantage of one of the following options: a 2 hour stay in a single cabin (max.1 pax) OR a 1
hour stay in a double cabin (max.2 pax) OR during off peak hours 12:00 noon
- 22:00 only: 1 hour stay in a single cabin plus 15 minute shower use (max. 1
pax) OR Off peak hours 12:00 noon - 22:00 only: 3 hour stay in a single cabin.
Each sleep cabin usage represents a single lounge visit within the
Cardholder's existing lounge visit allocation for which the Cardholder will,
where applicable, be charged. For example, if a Cardholder registers 1 Guest they will be charged as 1 Cardholder visit + 1 Guest visit on their account.
Only 1 card per visit per Cardholder will be accepted and at point of registration. 2. Each YAWN lite Cabin is equipped with a single (200 x 70cm)
or double (200 x 140cm) bed with cotton sheet, pillow, duvet, power socket,
USB charger and LED light. 3. Complimentary ear plugs (on request) and wake-up service with hot or cold towel (depending on your preference)
available. Eye shades, slippers, travel adapters & shower use (unless included during the off peak hours) are subject to payment. 4. Cardholder is responsible for all additional charges incurred. 5. Cabin usage is subject to availability.
Additional information: Shower facilities are subject to payment unless otherwise specified.

Terminal: Terminal 2
Lounge: Marhaba Lounge
Location: Airside - the lounge is located in the Departure Area, beyond Security
Clearance, opposite Gates F3 and F4.
Hours 24 hours daily.
Conditions: Maximum 2 hour stay - Children under 2 years are admitted free - Alcoholic drinks are limited to three per adult - Separate smoking area available.
Additional information: Face masks must be worn. Please note buffet service has been suspended until further notice. Items on the À la carte menu are free of charge until further notice.

Terminal: Terminal 3 Concourse A
Lounge: Marhaba Lounge
Location: Airside - Departure Level, West End. The lounge is located between Gates A2
and A3. Emirates and codeshare Qantas flights.
Hours 24 hours daily.
Due to current travel restrictions impacting the area this lounge is temporarily closed.
Conditions: Maximum 3 hour stay - Children under 2 years are admitted free - Family rooms available - Separate children's play area available - Separate smoking area available.
Additional information: Shower facilities are subject to payment and usage is restricted to 30 minutes.

Terminal: Terminal 3 Concourse A
Lounge: Plaza Premium Lounge
Location: Airside - International Departures. The lounge is located on Level 4.
Hours 24 hours daily.
Due to current travel restrictions impacting the area this lounge is temporarily closed.
Conditions: Maximum 3 hour stay - Children under 2 years are admitted free - All children must be accompanied by an adult - Smart casual dress at all times.
Additional information: Shower facilities are subject to payment.

Terminal: Terminal 3 Concourse A
Lounge: sleep 'n fly Sleep Lounge
Location: Airside - opposite Gate A1 in the Duty Free Area. Igloo Sleep Pods are the perfect way to rest and unwind whilst waiting for your flight.
Hours 24 hours daily.
Maximum 2 hour stay between: 22:00 - 12:00 daily.
Maximum 3 hour stay between: 12:00 - 22:00 daily.
Due to current travel restrictions impacting the area sleep 'n fly Sleep Lounge is temporarily closed.
One Igloo Sleep Pod per adult plus one child under 2 years as applicable
(space permitting inside the Pod).
Conditions: 1. Cardholders can use their lounge visit entitlement to use a Sleep Pod. Each
Sleep Pod usage represents a single lounge visit within the Cardholder's existing lounge visit allocation for which the Cardholder will, where applicable,
be charged. For example, if a Cardholder registers 1 Guest they will be charged as 1 Cardholder visit + 1 Guest visit on their account. Only 1 card per visit per Cardholder will be accepted and at point of registration. 2. Each Sleep
Pod is equipped with a flatbed, fold-down table, power socket, USB charger,
tablet storage and LED light with dimmer switch and in-Pod baggage compartment. 3. Complimentary disposable head rest cover, ear plugs (on request) and wake-up service with hot/cold towel is available. Blankets,
pillows, eye shades, slippers and travel adapters are subject to payment. 4.
Cardholder is responsible for all additional charges incurred. 5. Sleep Pods usage is subject to availability.

Terminal: Terminal 3 Concourse B
Lounge: Ahlan Lounge at B
Location: Airside - Departure Level, East side, next to Gate B26. The lounge entrance is situated inside the 'Cadiz Tapas Bar'. Passengers departing from Concourse
A or C must allow sufficient time (approx.15 - 20 minutes) to reach their departure gate.
Hours 24 hours daily.
Conditions: Maximum 5 hour stay - Children under 1 year are admitted free -
Complimentary alcoholic drinks on selected liquors only - Alcoholic drinks are only available between 20:00 - 03:00 (subject to request) during the month of
Ramadan - Smart casual dress at all times - Separate smoking area available.
Additional information: Complimentary massage chairs available. Telephone calls are subject to payment. Offsite shower facilities available upon request. Please note buffet service has been suspended until further notice and À la carte menu will be provided.

Terminal: Terminal 3 Concourse B
Lounge: Marhaba Lounge
Location: Airside - the lounge is located on the North side, close to Gate B21. The entrance to the lounge is via a dedicated lift from Level 3 Departures. Emirates and codeshare Qantas flights.
Hours 24 hours daily.
Conditions: Maximum 3 hour stay - Children under 2 years are admitted free - Separate smoking area available.
Additional information: Shower facilities are subject to payment and usage is restricted to 30 minutes.
Face masks must be worn. Please note buffet service has been suspended until further notice. Items on the À la carte menu are free of charge until further notice.

Terminal: Terminal 3 Concourse B
Lounge: The Gallery
Location: Airside - Level 4, near Gate B9. International flights only.
Hours 24 hours daily.
Conditions: Maximum 4 hour stay - Children under 2 years are admitted free - Separate prayer room, complimentary massage chairs and printers available - Separate smoking room available.

Terminal: Terminal 3 Concourse C
Lounge: Marhaba Lounge
Location: Airside - the lounge is located between Gates C21 and C23 at the East End of the Terminal. Emirates and codeshare Qantas flights.
Hours 23:00 - 05:00 daily.
Conditions: Maximum 3 hour stay - Children under 2 years are admitted free.
Additional information: Shower facilities are subject to payment and usage is restricted to 30 minutes.
Face masks must be worn.

Terminal: Terminal 3 Concourse C
Lounge: sleep 'n fly Sleep Lounge
Location: Airside - C-Gates, Central Lower Level Duty Free Area. Lounge check-in is via the separate main reception at departure gate level between Gates C16 and
C14. The sleep 'n fly lounge is right below Gate C14, one level down in the
Duty Free Area. Single FlexiSuites are the perfect way to rest, unwind and socially distance whilst waiting for your flight.
Hours 24 hours daily.
2 hour stay in a Single FlexiSuite (max. 1 pax) - 22.00 - 12.00 OR
3 hour stay in a Single FlexiSuite (max. 1 pax) - 12.00 - 22.00
Conditions: 1.Cardholders can use their lounge visit entitlement to take advantage of one of the following options: 2 hour stay in a Single FlexiSuite - max. 1 pax (22.00 -
12.00) OR a 3 hour stay in a single FlexiSuite - max. 1 pax (12.00 - 22.00).
Each Single FlexiSuite represents a single lounge visit within the Cardholder's existing lounge visit allocation for which the Cardholder will, where applicable,
be charged. For example, if a Cardholder registers 1 Guest they will be charged as 1 Cardholder visit + 1 Guest visit on their account. Only 1 card per visit per Cardholder will be accepted and at point of registration. 2.Each Single
FlexiSuite is equipped with a 180° reclining seat-to-flat-bed with dimmable ambient lighting, a reading light, folding tray table, baggage storage and wardrobe (clothes, shoes and laptop compartments), Wi-Fi, sound proofing and air-condition. The FlexiSuite includes a disposable headrest cover only,
blanket, pillow, bed sheet and other amenities are optional and available at extra cost. 3. Children allowed but only in their own FlexiSuite (as a Guest for which the Cardholder will, where applicable be charged) and supervised by an accompanying adult. 4.Cardholder is responsible for all additional charges incurred. 5.Single FlexiSuite usage is subject to availability.

Dublin Dublin International - DUB


Terminal: Terminal 1
Lounge: T1 Lounge
Location: Airside - pass through Security Checks and follow signs to the lounge. The lounge is situated on the 2nd Level and access is via the lift or stairs located in the center of the Security Check Area. The lounge is not available after US
Preclearance.
Hours 05:30 - 13:30 Monday, Saturday & Sunday.
08:30 - 14:30 Wednesday.
06:00 - 16:30 Thursday.
08:30 - 16:15 Friday.
Hours are subject to change and may vary according to flight schedules.
Closed: Dec 25 & Tuesday.
Conditions: Maximum 3 hour stay - All cardholders are required to show a Boarding Pass with confirmed same-day travel for access to the lounge. Cardholder name must match the passenger name on the boarding pass - Children under 2
years are admitted free - All children must be accompanied by an adult -
Alcoholic drinks are limited to two per person.

Terminal: Terminal 2
Lounge: T2 Lounge
Location: Airside - the lounge is located next to 400 Gates. Access is via the lift or escalator directly along the Airline Lounge corridor. The lounge is not available after US Preclearance.
Hours 05:00 -22:00 daily.
Closed: Dec 25.
Due to current travel restrictions impacting the area this lounge is temporarily closed.
Conditions: Maximum 3 hour stay - All cardholders are required to show a Boarding Pass with confirmed same-day travel for access to the lounge. Cardholder name must match the passenger name on the boarding pass - Children under 2
years are admitted free - All children must be accompanied by an adult -
Alcoholic drinks are limited to two per person.

Dubrovnik Cilipi - Konavle - DBV


Lounge: Business Lounge
Location: Airside - the lounge is located in the International departures area on the 3rd
Floor.
Hours 07:00 – 09:30 Monday & Wednesday
13:00 – 17:00 Tuesday & Sunday.
14:00 - 20:30 Thursday.
17:00 – 20:30 Saturday.
Closed: Friday.
Hours are subject to change.
Due to current travel restrictions impacting the area this lounge is temporarily closed until 2021.
Conditions: Children under 12 years are admitted free.
Additional information: Telephone calls are subject to payment.

Duesseldorf Duesseldorf - DUS


Terminal: Terminal B
Lounge: Hugo Junkers Lounge
Location: Airside - pass through Security Control, turn right and take the stairs to Level
2. Follow signs to the lounge which is located at Pier B.The lounge is also accessible to Non-Schengen passengers. Non-Schengen passengers should allow sufficient time to reach the departure gate as when leaving the lounge you will have to pass through Passport Control.
Hours 05:15 - 21:00 daily.
Due to current travel restrictions impacting the area this lounge is temporarily closed.
Conditions: Children under 2 years are admitted free.
Additional information: The lounge is accessible to Schengen and Non-Schengen passengers.
Non-Schengen passengers should allow sufficient time to reach the departure gate as when leaving the lounge you will have to pass through Passport
Control. Please note the lounge is undergoing refurbishment works until further notice. During this time the lounge will remain open and disruption and noise kept to a minimum.

Terminal: Terminal C
Lounge: Open Sky Lounge
Location: Airside - after Security and Passport Control. Pass through the Duty Free
Shop and follow signs to the lounge located in Pier C. The lounge is also accessible to Schengen passengers.
Hours 05:15 - 21:00 daily.
Due to current travel restrictions impacting the area this lounge is temporarily closed.
Conditions: Maximum 3 hour stay - Children under 2 years are admitted free.

Dunhuang Dunhuang - DNH


Terminal: Terminal 3
Lounge: First Class Lounge
Location: Airside - Domestic Departures. After Security Checks, the lounge is located on the 2nd Floor, next to Gate 304.
Hours Lounge opens 2 hours prior to first flight departure and closes 15 minutes after last scheduled departure.
Conditions: Children under 2 years are admitted free.

Duqm Duqm - DQM


Lounge: Primeclass Duqm
Location: Airside - Mezzanine Floor. Follow signs to the lounge. Domestic flights only.
Hours 24 hours daily.
Conditions: Maximum 3 hour stay - Children under 6 years are admitted free - Separate prayer room available

Durban Durban Intl - DUR


Lounge: Bidvest Premier Lounge
Location: Airside - after Security Checks, turn right. Proceed straight ahead and take the lift or stairs up to the 3rd Floor, then turn right. The lounge is located ahead on the right hand side. Domestic flights only.
Hours 06:45 - 18:30 daily.
Conditions: Access is restricted to a maximum of 2 hours prior to scheduled flight departure - Early check-in fees are applicable and payable directly if arriving outside these times - Access may be restricted due to space constraints -
Children under 2 years are admitted free - Alcoholic drinks are available from
10:00 daily - Separate smoking room available.

Lounge: Umphafa Lounge
Location: Airside - from Immigration proceed to the lift to the 3rd Floor where the lounge is located. International flights only.
Hours 07:00 - 21:00 daily.
Conditions: Maximum 4 hour stay - Access may be restricted due to space constraints -
Children under 2 years are admitted free.

East London East London - ELS


Lounge: Bidvest Premier Lounge
Location: Airside - after Security Checks on the Ground Level, turn right and the lounge is located at the end of the corridor. Domestic flights only.
Hours 08:00 - 18:00 Monday - Thursday.
10:00 - 18:00 Friday.
10:00 - 17:30 Saturday.
10:00 - 18:30 Sunday.
Conditions: Access is restricted to a maximum of 2 hours prior to scheduled flight departure - Access may be restricted due to space constraints - Early check-in fees are applicable and payable directly if arriving outside these times -
Children under 2 years are admitted free - Alcoholic drinks are available from
10:00 daily - Separate smoking room available.

East Midlands East Midlands - EMA


Lounge: The Escape Lounge
Location: Airside - after Security Checks and Duty Free, opposite Gate 17.
Hours 05:00 - 17:00 daily.
Hours are subject to seasonal changes.
Closed: Dec 25.
Due to current travel restrictions impacting the area this lounge is temporarily closed and is scheduled to re-open 01APR22.
Conditions: Limited to three guests per cardholder - Children under 2 years are admitted free - All children must be accompanied by an adult - Alcoholic drinks are only available to persons 18 years of age or above - Smart casual dress at all times
(shorts must be tailored and of a reasonable length. Vests, fancy dress or sports attire are not allowed).
Additional information: Face masks must be worn. Please note standard buffet service has been suspended but the lounge will instead offer table service. The lounge cannot guarantee that all passengers will always be able to sit together due to social distancing within the lounge.

Edinburgh Edinburgh International - EDI


Lounge: Aspire Lounge
Location: Airside - after Security Checks and the Duty Free Shop, turn right. Follow directions to Gate 16 and the lounge is located on the 2nd Floor.
Hours 05:00 - 17:00 daily.
Due to current travel restrictions impacting the area this lounge is temporarily closed and is scheduled to re-open 07JUN21.
Conditions: Maximum 3 hour stay - Children under 2 years are admitted free -
Workstations available - Smart casual dress at all times (no sportswear allowed).
Additional information: The lounge will only accept group walk-ups from the same household and or support bubble. Please note standard buffet service has been suspended but the lounge will instead offer table service.

Lounge: Aspire Lounge
Location: Airside - proceed through Passport Control and turn left. The lounge is located adjacent to Gate 4.
Hours 04:30 - 20:00 Sunday - Friday.
04:30 - 18:00 Saturday.
Closed: Dec 25,26 and Jan01 & 02.
Hours may be subject to seasonal changes.
Due to current travel restrictions impacting the area this lounge is temporarily closed.
Conditions: Access may be restricted due to space constraints - Children under 2 years are admitted free - Alcoholic drinks are only available for passengers 18 years of age or older - Smart casual dress at all times (no football shirts allowed).
Additional information: Flight information is available upon request. The lounge will only accept group walk-ups from the same household and or support bubble. Please note standard buffet service has been suspended but the lounge will instead offer table service.

Edmonton Edmonton International - YEG


Terminal: Domestic-International Terminal
Lounge: Plaza Premium Lounge
Location: Airside - after Security, Level 2. Take the lift or the stairway across from Gate
54. The lounge is located on the right hand side.
Hours 04:30 - 00:00 daily.
Due to current travel restrictions impacting the area this lounge is temporarily closed.
Conditions: Children under 2 years are admitted free - All children must be accompanied by an adult - Smart casual dress at all times.
Additional information: Fax facilities are subject to payment.

Terminal: US Transborder Terminal
Lounge: Plaza Premium Lounge (USA Transborder)
Location: Airside - the lounge is located near Gate 88. US Transborder flights only.
Hours 04:30 - 18:00 daily.
Due to current travel restrictions impacting the area this lounge is temporarily closed.
Conditions: Children under 2 years are admitted free - All children must be accompanied by an adult - Smart casual dress at all times.
Additional information: Local telephone calls only. Fax facilities and alcoholic drinks are subject to payment.

Eilat Ramon International - ETM


Lounge: VIP Lounge
Location: Airside - after Security Checks, Ground Floor, next to Gate 1.
Hours 06:30 - 23:00 Sunday - Thursday.
Closed: Friday, Saturday & Yom Kippur.
Due to current travel restrictions impacting the area this lounge is temporarily closed.
Conditions: Maximum 3 hour stay - Children under 2 years are admitted free.
Additional information: Complimentary luggage storage available inside the lounge.

Eindhoven Eindhoven - EIN


Terminal: Terminal 1
Lounge: Aspire Lounge
Location: Airside - 1st Floor. Follow signs to the lounge. International T1 flights only.
Hours 10:00 - 18:00 daily.
Due to current travel restrictions impacting the area this lounge is temporarily closed.
Conditions: Access is permitted 3 hours prior to scheduled flight departure - Children under 2 years are admitted free - Children under 12 years must be accompanied by an adult - Alcoholic drinks are only available for passengers
18 years of age or older - Smart casual dress at all times.

Ekaterinburg Koltsovo - SVX


Terminal: Terminal A
Lounge: Opal Business Lounge
Location: Airside - the lounge is located on the 2nd Floor after Passport Control on the right hand side, opposite Gate 14. Domestic flights only.
Hours 24 hours daily.
Conditions: Maximum 3 hour stay - Access may be restricted due to space constraints -
Children under 2 years are admitted free.
Additional information: All items on the A la carte menu including alcoholic drinks are subject to payment. Please note hot food is temporarily suspended (snacks and sandwiches available only) until further notice.

Terminal: Terminal B
Lounge: Topaz Business Lounge
Location: Airside - the lounge is located on the 3rd Floor after Passport Control on the right hand side, opposite Gate 8. International flights only.
Hours 24 hours daily.
Conditions: Maximum 3 hour stay - Access may be restricted due to space constraints -
Children under 2 years are admitted free - Separate children's play area available.
Additional information: All items on the A la carte menu including alcoholic drinks are subject to payment.

Enfidha Hammamet Intl - NBE


Lounge: Primeclass CIP Lounge
Location: Landside - before Security. The entrance to the lounge is located on the left hand side of the main hall next to Check-in counter No.60. International flights only.
Hours 08:00 - 15:00 daily.
Conditions: Maximum 4 hour stay - Children under 2 years are admitted free - Separate prayer room available.
Additional information: Telephone and printing facilities are all subject to payment. Please note the lounge will provide pre-packed food.

Entebbe Entebbe Intl - EBB


Terminal: International Terminal
Lounge: Karibuni Lounge
Location: Airside - the lounge is located at the far end of the International Departure
Lounge: near to the Boarding Gates. Follow signs.
Hours 24 hours daily.
Conditions: Maximum 3 hour stay - Children under 2 years are admitted free.
Additional information: Long distance telephone calls, fax and conference facilities are all subject to payment.

Exeter Exeter - EXT


Lounge: The Executive Lounge
Location: Airside - please register at the lounge reception desk. The lounge is located next to the upstairs bar.
Hours Lounge opens from the first scheduled flight departure (approx. 04:00) and closes after last scheduled flight departure (approx. 18:00).
Closed: Dec 25.
Due to current travel restrictions impacting the area this lounge is temporarily closed.
Conditions: Children under 2 years are admitted free - Complimentary alcoholic drinks are limited to two per adult, subsequent drinks are subject to payment - Smart casual dress at all times (no shorts, vests, baseball caps or football shirts allowed).

Faro Faro International - FAO


Lounge: CIP Lounge (Non-Schengen)
Location: Summer directions to the lounge (Mar-Oct). Airside. Non-Schengen Departure
Area. After the Security Control follow the directions towards Gates B. After
Passport Control passengers should walk through the Duty Free Shop and the lounge is located on the left hand side. Winter directions to the lounge(Nov-Feb). Airside. After Security Control follow directions towards
Boarding Gates and then proceed through the Duty Free Shop. The lounge is located on the left hand side.
Hours 06:00 - 23:30 daily (Mar-Oct).
06:00 - 22:00 daily (Nov-Feb).
Schengen passengers have access to the CIP Lounge (Non-Schengen) during the winter period between Nov-Feb.
Due to current travel restrictions impacting the area this lounge is temporarily closed and is scheduled to re-open JUL21.
Conditions: Maximum 3 hour stay - Children under 3 years are admitted free.

Lounge: CIP Lounge (Schengen)
Location: Airside - Schengen Departure Area. After Security Control follow signs towards Gates A to 'Other Destinations'. The lounge is located on the 1st Floor between the shops and restaurant area.
Hours 06:00 - 22:00 daily.
Closed: Winter Season (Nov-Feb).
Schengen passengers have access to the CIP Lounge (Non-Schengen) during the winter period between Nov-Feb. Airside - Non-Schengen Departure Area.
After Security Control follow signs towards Boarding Gates and then proceed through the Duty Free Shop. The lounge is located on the left hand side.
Due to current travel restrictions impacting the area this lounge is temporarily closed and is scheduled to re-open JUL21.
Conditions: Maximum 3 hour stay - Children under 3 years are admitted free.

Fes Saiss International - FEZ


Lounge: Pearl Lounge (Arrivals)
Location: Airside - Ground Floor, before Police Checks. Follow signs to the lounge.
Hours 07:00 - 17:00 daily.
Conditions: Maximum 3 hour stay - Children under 2 years are admitted free - Separate prayer room available.

Lounge: Pearl Lounge (Departures)
Location: Airside - Ground Floor, after Police Checks, next to Duty Free. Follow signs to the lounge.
Hours 07:00 - 17:00 daily.
Conditions: Maximum 3 hour stay - Children under 2 years are admitted free - Separate prayer room available - Separate smoking room available.

Florence Florence - FLR


Lounge: Masaccio Lounge
Location: Airside - the lounge is located on the 1st Floor.
Hours 05:00 - 19:15 Monday - Friday.
05:00 - 19:00 Saturday.
05:00 - 19:45 Sunday.
Due to current travel restrictions impacting the area this lounge is temporarily closed.
Conditions: Access may be restricted due to space constraints - Children under 4 years are admitted free.

Florianopolis Hercilio Luz Intl - FLN


Lounge: The Lounge Florianopolis
Location: Airside - after entering the Domestic Boarding Area, turn left and go through the first door and then turn left again. Take the stairs or lift to the 2nd Floor and the lounge is located opposite Gate 6. Domestic flights only.
Hours 04:00 - 20:00 daily.
Conditions: Maximum 8 hour stay -One child under 12 years admitted free per cardholder
- Separate children's play area available - Complimentary use of day beds -
Computer workstations and printers available - Dress code applicable (shoes and shirts required for entry).

Fort Lauderdale (FL) Fort Lauderdale Hollywood Intl - FLL


Terminal: Terminal 4
Lounge: Kafe Kalik
Location: Airside - after Security proceed towards Concourse G and Kafe Kalik is located near Gate G6. Please note that the restaurant may exceed their seating limit at certain times of the day & access to the restaurant is at their sole discretion.
Hours 10:00 - 20:00 daily.
IMPORTANT NOTE: For Cardholders who pay for individual visits or guest visits, please check this particular offer against your visit fee to ensure it represents value for you. We advise Cardholders to review full Conditions of access below before visiting.
Kafe Kalik offers a variety of appetisers, entrees, deserts and tropical beverages influenced by the Caribbean. Enjoy traditional Conch Fritters and
Glazed Wings with Guava BBQ.
Conditions: 1. Cardholders can use their lounge visit entitlement to receive US$28 off the bill. Each US$28 deduction represents a single lounge visit within the
Cardholder's existing lounge visit allocation for which the Cardholder will,
where applicable, be charged. E.g. if a Cardholder registers 1 Guest they will receive US$56 off their bill which will be charged as 1 Cardholder visit + 1
Guest visit on their account. Only 1 Card per visit per Cardholder will be accepted and at point of registration. 2. The US$28 is valid for the purchase of any meal and/or drinks excluding 'To-Go Orders' and 'Grab and Go'. To be eligible, Cardholders must present a valid Card and Boarding Pass with confirmed same-day travel before placing an order. 3. US$28 is confirmed same-day travel before placing an order. 3. US$28 is non-transferable & cannot be exchanged for cash substitute or refund if the final bill is lower than US$28 per person. 4. Cardholder is responsible for the balance if total final bill exceeds US$28 per person. Any remaining balance cannot be used towards gratuity. 5. Priority Pass and its Affiliates Companies shall not be liable should the offer value be less than Customers lounge visit entitlement. Customers who pay for lounge and guest visits are advised to review programme Conditions of Use prior to accessing the offer.

Foz do Iguacu Cataratas Intl - IGU


Lounge: Advantage VIP Lounge
Location: Airside - after Security Checks, 1st Floor, opposite Gate 2. Domestic flights only.
Hours 04:30 - 22:30 daily.
Conditions: Maximum 3 hour stay - Children under 2 years are admitted free - Computer workstations and printers available.
Additional information: Conference facilities are subject to payment.

Frankfurt Frankfurt Main - FRA


Terminal: Terminal 1
Lounge: LuxxLounge
Location: Landside - between Concourses B and C on the Gallery Level, next to the
Travel Market (Reisemarkt). If coming from the Sheraton Hotel, proceed across the bridge into the lounge. Transit passengers must leave the transit area and go through immigration and customs to access the lounge.
Hours 07:00 - 19:00 daily.
Hours are subject to change.
Due to current travel restrictions impacting the area this lounge is temporarily closed and is scheduled to re-open 07JUN21.
Conditions: Maximum 3 hour stay - Access may be restricted due to space constraints -
Children under 2 years are admitted free - Children under 12 years may be restricted to use designated areas and must be supervised by an adult.
Additional information: Champagne and premium wines, fax, shower and conference facilities are all subject to payment.

Terminal: Terminal 2
Lounge: Air France Lounge
Location: Airside - Level 2, Hall D, after Schengen Security Control, opposite Gate D26.
Schengen flights only.
Hours 05:45 - 12:30 daily.
Conditions: Maximum 3 hour stay - Children under 2 years are admitted free - Separate smoking area available.

Terminal: Terminal 2
Lounge: Primeclass Lounge
Location: Airside – Concourse E, after Passport Control, the lounge is located on the
2nd Floor of the Non-Schengen Area near Gate E7.
Hours 06:00 - 22:30 daily.
Hours may vary according to flight schedules.
Due to current travel restrictions impacting the area this lounge is temporarily closed.
Conditions: Maximum 3 hour stay - Children under 6 years are admitted free.

Terminal: Terminal 2
Lounge: Priority Lounge
Location: Airside - Level 3, Concourse E. The lounge is located near Gates E5-E9.
Hours 07:15 - 20:00 daily (Nov - Mar).
08:15 - 20:00 daily (Apr - Oct).
Hours may be subject to seasonal changes.
Conditions: Maximum 3 hour stay - Access may be restricted due to space constraints -
Children under 2 years are admitted free - Separate prayer room available -
Computer workstations available - Separate smoking area available outside the lounge.
Additional information: Shower facilities are subject to payment. Please note the lounge will provide individually wrapped food items.

Freetown Lungi International - FNA


Lounge: Sky Lounge
Location: Airside - 1st Floor, next to the 'Doorway' Restaurant. International flights only.
Hours 12:00 - 18:00 Monday.
00:00 - 05:00 & 09:00 - 19:00 Tuesday, Thursday & Saturday.
00:00 - 05:00 & 12:00 - 18:00 Wednesday, Friday & Sunday.
Hours are subject to change.
Access may be restricted between 15:00 - 19:00 Tuesdays due to space constraints.
Conditions: Access is permitted 3 hours prior to scheduled flight departure - Children under 2 years are admitted free.

Fuerteventura Fuerteventura - FUE


Lounge: Jable VIP Lounge
Location: Airside - after Security Checks, pass through the Duty Free Shop and turn right. The lounge is located near Gates 5 & 7. Schengen and Non-Schengen flights.
Hours 06:00 - 21:00 daily.
Due to current travel restrictions impacting the area this lounge is temporarily closed.
Conditions: Access is permitted 4 hours prior to scheduled flight departure - Access may be restricted due to space constraints - All Cardholders and guests are required to show a Boarding Pass with confirmed same-day travel for access to the lounge - Children 5 years and under are admitted free - Children under
18 years must be accompanied by an adult - Smart casual dress at all times -
Separate smoking terrace available outside the lounge.

Fukuoka Fukuoka Intl - FUK


Terminal: International Terminal
Lounge: KAL Lounge
Location: Airside - located in front of Gate 56 on the 3rd Floor after Immigration.
Hours 08:30 - 10:40 & 11:40 - 15:20 daily.
Cardholders will not be admitted into the lounge outside these hours.
Due to current travel restrictions impacting the area this lounge is temporarily closed.
Conditions: Access may be restricted due to space constraints - Limited to two guests per cardholder, subject to a per person charge, where applicable - Children under
2 years are admitted free - All children must be accompanied by an adult.
Additional information: Interstate/international fax facilities are subject to payment.

Funchal Madeira Cristiano Ronaldo Intl - FNC


Lounge: TAP Portugal Lounge
Location: Airside - after Security Checks, proceed to the 3rd Floor, turn left and follow the signs to the lounge.
Hours 04:00 - 22:00 daily.
Due to current travel restrictions impacting the area this lounge is temporarily closed.
Conditions: Children under 2 years are admitted free.

Fuzhou Changle - FOC


Lounge: First Class Lounge
Location: Airside - International Departures. After Security Checks and moving walkway,
the lounge is located approximately 25 metres away on the right hand side.
Hours 18:30 - 21:00 Saturday.
Closed: Sunday - Friday.
Conditions: Children under 2 years are admitted free - Alcoholic drinks are limited to beer only and consumption is restricted to one per person - Dress code applicable.

Lounge: First Class Lounge
Location: Airside - Domestic Departures. After Security Checks, take the escalator next to Gate 8 to Level 3. The lounge is located on the right.
Hours Lounge opens 90 minutes prior to the first scheduled flight departure and closes 30 minutes prior to the last scheduled departure.
Conditions: Children under 2 years are admitted free - Dress code applicable.
Additional information: Wi-Fi access is subject to payment.

Lounge: Sea Cloud Business Lounge
Location: Landside - 2nd Floor, opposite Check-in counter F06, near Gate No.1.
Hours 08:30 - 20:00 daily.
Conditions: Maximum 2 hour stay - Children under 6 years are admitted free - No food of any type available until further notice.

Gaborone Sir Seretse Khama Intl - GBE


Lounge: Nthula Lounge
Location: Airside - after Immigration turn right and the lounge is located straight ahead.
International flights only.
Hours Lounge opening times vary in accordance with flight schedules.
Conditions: Maximum 2 hour stay - Children under 2 years are admitted free - Smart casual dress at all times.
Additional information: Premium alcoholic drinks are subject to payment.

Lounge: Pula Lounge
Location: Airside - after Immigration, proceed straight ahead and the lounge is located near Gates 1-4. International flights only.
Hours 05:30 - 19:00 daily.
Conditions: Maximum 2 hour stay. Children under 2 years are admitted free.

Galapagos Seymour - GPS


Lounge: Aeropuertos VIP Club
Location: Airside - the lounge is located after Security Checks, on the right hand side walk through the hallway, next to the food kiosk.
Hours 09:00 - 15:00 daily.
Conditions: Children under 12 years are admitted free - Separate smoking room available.
Additional information: Alcoholic drinks and bottled soft drinks are subject to payment. À la carte menu are subject to payment. Please note the lounge will provide pre-packed snacks.

Gassim Gassim Regional - ELQ


Lounge: TasHeel Lounge
Location: Airside - the lounge is located after Security Checks, adjacent to the
Departure Gate. Domestic flights only.
Hours 06:00 - 04:00 daily.
Due to current travel restrictions impacting the area this lounge is temporarily closed.
Conditions: Children under 2 years are admitted free - Children must be accompanied by an adult at all times.

Lounge: TasHeel Lounge
Location: Airside - the lounge is located after Security Checks, adjacent to the
Departure Gate. International Departures only.
Hours 07:00 - 15:00 & 16:00 - 23:00 daily.
Due to current travel restrictions impacting the area this lounge is temporarily closed.
Conditions: Children under 2 years are admitted free - Children must be accompanied by an adult at all times.

Gdansk Lech Walesa - GDN


Terminal: Terminal 2
Lounge: Executive Lounge
Location: Airside - the lounge is located on the left hand side of the terminal near Gates
11-18.
Hours 05:00 - 21:00 daily.
Hours may vary according to flight schedules.

Gelendzhik Gelendzhik - GDZ


Lounge: Business Lounge
Location: Airside - 2nd Floor. Domestic flights only.
Hours 08:00 - 20:00 daily.
Conditions: Children under 2 years are admitted free.

Geneva Geneva International - GVA


Terminal: Terminal 1
Lounge: Air France - KLM Lounge
Location: Airside - 1st Floor, French Sector after Security Control. Flights departing from the French Sector only.
Hours 05:30 - 20:00 daily.
Access is not permitted between 05:30 - 14:00 Monday and 14:00 - 20:00
Thursday - Friday & Sunday.
Conditions: Maximum 3 hour stay - Access may be restricted due to space constraints -
Children under 2 years are admitted free.

Terminal: Terminal 1
Lounge: Dnata Skyview Lounge
Location: Airside - after X-ray Control, turn left and take the escalator up to the
Mezzanine Level and turn right. The lounge is located on the left hand side.
Hours 09:00 - 18:00 daily.
Conditions: Children under 6 years are admitted free - Limited to two children per family -
Separate prayer room available.
Additional information: Fax facilities subject to payment.

Terminal: Terminal 1
Lounge: Horizon Lounge
Location: Airside - take the stairs on the right hand side of the Transit Area to the
Mezzanine Level where the lounge is located.
Hours 08:00 - 19:00 daily.
Hours may vary according to flight schedules.
Due to current travel restrictions impacting the area this lounge is temporarily closed and is scheduled to re-open 10JUN21.
Conditions: Maximum 3 hour stay - Access may be restricted due to space constraints -
Children under 2 years are admitted free.
Additional information: Fax facilities are subject to payment. Please note standard buffet service has been suspended and pre-packed food is provided.

Genoa Cristoforo Colombo - GOA


Lounge: Sala Genova
Location: Landside - the lounge is located in the main departure hall, on the right hand side of the Check-in counters.
Hours 04:30 – 06:30 & 12:30 – 15:00 daily.
Hours may vary according to flight schedules.
Conditions: Complimentary check-in facilities available inside the lounge - Children under
2 years are admitted free.
Additional information: Complimentary dedicated 'Fast Track Corridor' service is available to passengers and their guests from inside the lounge. Please note no fresh food available (packaged biscuits only) and only water and coffee served until further notice.

George George - GRJ


Lounge: Bidvest Premier Lounge
Location: Airside - after Security Checks, take the stairs to the next level where the lounge is located immediately ahead.
Hours 07:00 - 18:00 Sunday - Friday.
08:00 - 14:30 Saturday.
Conditions: Access is restricted to a maximum of 2 hours prior to scheduled flight departure - Early check-in fees are applicable and payable directly if arriving outside these times - Access may be restricted due to space constraints -
Children under 2 years are admitted free - Alcoholic drinks are available from
10:00 daily - Separate smoking room available.
Additional information: Telephone calls may be subject to payment.

Georgetown Cheddi Jagan Intl - GEO


Lounge: Roraima Airways Executive Lounge
Location: Airside - after Security and Immigration Checks in the Restricted Area of the
Airport. The lounge is located at the start of the access ramp to the Public
Departure Area.
Hours 03:00 - 23:00 daily.
Hours may vary according to flight schedules.
Conditions: Children under 12 years are not admitted.

Gibraltar Gibraltar International - GIB


Lounge: Calpe Lounge
Location: Airside - after Security proceed straight to the departures sitting area. The lounge is located on the right hand side.
Hours 15:00 - 17:30 daily.
Due to peak seasonal activity it is expected this lounge will see an increase in the number of guests. Therefore, access may be periodically restricted due to space constraints.
Conditions: Maximum 3 hour stay - Children under 5 years are admitted free - All children must be accompanied by an adult - Smart casual dress at all times.

Glasgow Glasgow International - GLA


Lounge: UpperDeck - Glasgow
Location: Airside - proceed through Security, continue through to the 'World Duty Free
Shop' and follow the pathway to the lift/stairs. The lounge is located on the
2nd Floor.
Hours 05:00 - 20:30 daily.
Arrivals not accepted within 1 hour of closing.
Due to current travel restrictions impacting the area this lounge is temporarily closed.
Conditions: Maximum 3 hour stay (prior to scheduled flight departure time only) - Access may be restricted due to space constraints - Children under 2 years are admitted free - Smart casual dress at all times.

Gothenburg Landvetter - GOT


Lounge: Vinga Lounge
Location: Airside - the lounge is located in the Transit Area, between Gates 17 and 19.
Hours 05:00 - 18:00 Monday - Friday.
Hours may vary according to flight schedules.
Closed: Saturday & Sunday.
Conditions: Maximum 3 hour stay - Only Cardholders and registered guests own children under 12 years are admitted free.

Gran Canaria Gran Canaria - LPA


Lounge: Sala Galdos
Location: Airside - the lounge is located on the 2nd Floor, departures, Boarding Zone C.
Hours 06:00 - 22:00 daily.
Due to current travel restrictions impacting the area this lounge is temporarily closed.
Conditions: Access is permitted 4 hours prior to scheduled flight departure - The lounge is only accessible upon presentation of a valid Boarding Pass - Children 5 years and under are admitted free - Children under 18 years must be accompanied by an adult - Separate children's play area available - Outside smoking terrace available.

Graz Graz - GRZ


Lounge: VIP Lounge
Location: Airside - do not pass Security and go to lounge directly. Passengers with a valid Boarding Pass must first register at the Information desk, landside, near to Check-in counter No.1.Passenger will be given an invitation with a barcode for the automatic access system to the VIP lounge. After Security turn right and go 1st Floor.
Hours 05:30 - 20:00 daily.
Conditions: Children under 14 years are admitted free.

Guadalajara Miguel Hidalgo Intl - GDL


Terminal: Terminal 1
Lounge: VIP Lounge (East)
Location: Airside - after Security Checks, proceed up the escalators to the 2nd Floor.
The lounge is located on the right hand side at the end of the hallway.
Exclusive access to the lounge from the Domestic Arrivals Area, opposite the
Wings restaurant to the 2nd Floor.
Hours 24 hours daily.
Conditions: Maximum 8 hours stay - Children under 7 are admitted free - Games room available - Separate smoking room available.
Additional information: Local telephone calls only. Face masks must be worn. Please note standard buffet service has been suspended until further notice. Hot food available upon request. Complimentary services available inside the lounge: golf car service (subject to availability).

Terminal: Terminal 1
Lounge: VIP Lounge (West)
Location: Airside - after Security Checks, proceed up the escalators. The lounge is located before Gate B13 on the left hand side.
Hours 24 hours daily.
Due to current travel restrictions impacting the area this lounge is temporarily closed.
Conditions: Children under 7 years are admitted free - Separate children's play area available - Separate smoking area available.
Additional information: Local telephone calls only. Please note standard buffet service has been suspended until further notice. Hot food available upon request.

Guam Guam Intl - GUM


Lounge: Sagan Bisita
Location: Airside - lounge located opposite Gate 7. Please note due to renovations at the entrance/reception area, access to the lounge is through the exit door.
Hours 00:00 - 10:00 & 13:00 - 17:00 daily.
Due to current travel restrictions impacting the area this lounge is temporarily closed.
Conditions: Children 11 years and under are admitted free.

Guangzhou Baiyun Intl - CAN


Terminal: Terminal 1
Lounge: Perch Coffee Restaurant
Location: Airside - Domestic Departures. The restaurant is near Boarding Gate B213.
Please note that the restaurant may exceed their seating limit at certain times of the day & access to the restaurant is at their sole discretion.
Hours 07:00 - 21:00 daily.
IMPORTANT NOTE: For Cardholders who pay for individual visits or guest visits, please check this particular offer against your visit fee to ensure it represents value for you. We advise Cardholders to review full Conditions of access below before visiting.
The restaurant offers coffee, light meals, Chinese Lingnan snacks and a choice of dishes. The dishes are a perfect combination of colour, aroma and taste. It is the first choice for airport travellers.
Conditions: 1. Cardholders can use their lounge visit entitlement to take advantage of 1
set menu in a 24hr period. A set menu represents a single lounge visit within the Cardholder's existing lounge visit allocation for which the Cardholder will,
where applicable, be charged. E.g. if a Cardholder registers 1 Guest they also will be able to take advantage of 1 set menu within a 24hr period and will be charged as 1 Cardholder visit + 1 Guest visit on their account. Only 1 card per visit per Cardholder will be accepted at point of registration. 2. To be eligible,
Cardholders must present a valid Card and Boarding Pass with same-day travel before placing an order. 3. Items and soft drinks from the À la carte menu not included in the set menu are subject to an additional charge.
Cardholders will be given a 12% discount on items and soft drinks from À la carte menu not included in set menu. The above discount cannot be combined with any other offer. 4. Set menus are non-transferable & cannot be exchanged for cash substitute/ refund or be used towards gratuity. 5. Priority
Pass and its Affiliates Companies shall not be liable should the offer value be less than Customers lounge visit entitlement. Customers who pay for lounge and guest visits are advised to review programme Conditions of Use prior to accessing the offer.

Terminal: Terminal 2
Lounge: CITIC Food Port
Location: Airside - Domestic Departures. The restaurant is located on the 3rd Floor,
near Security Check 48. Please note that the restaurant may exceed their seating limit at certain times of the day & access to the restaurant is at their sole discretion.
Hours 07:00 - 22:00 daily.
IMPORTANT NOTE: For Cardholders who pay for individual visits or guest visits, please check this particular offer against your visit fee to ensure it represents value for you. We advise Cardholders to review full Conditions of access below before visiting.
The restaurant advocates "authentic delicious with seasonal ingredients" and is committed to connect delicacy with travels. From Chinese Lingnan cuisine to Nanyang flavour, from coffee and tea to fresh fruit juice.
Conditions: 1. Cardholders can use their lounge visit entitlement to take advantage of 1
set menu in a 24hr period. A set menu represents a single lounge visit within the Cardholder's existing lounge visit allocation for which the Cardholder will,
where applicable, be charged. E.g. if a Cardholder registers 1 Guest they also will be able to take advantage of 1 set menu within a 24hr period and will be charged as 1 Cardholder visit + 1 Guest visit on their account. Only 1 card per visit per Cardholder will be accepted at point of registration. 2. To be eligible,
Cardholders must present a valid Card and Boarding Pass with same-day travel before placing an order. 3. Items and soft drinks from the À la carte menu not included in the set menu are subject to an additional charge.
Cardholders will be given a 12% discount on items and soft drinks from À la carte menu not included in set menu. The above discount cannot be combined with any other offer. 4. Set menus are non-transferable & cannot be exchanged for cash substitute/ refund or be used towards gratuity. 5.
exchanged for cash substitute/ refund or be used towards gratuity. 5.
Maximum 4 hour stay. 6. Priority Pass and its Affiliates Companies shall not be liable should the offer value be less than Customers lounge visit entitlement. Customers who pay for lounge and guest visits are advised to review programme Conditions of Use prior to accessing the offer.

Terminal: Terminal 2
Lounge: Famous Cuisine Restaurant
Location: Airside - Domestic Departures. After Security Check Area B, turn left and proceed approximately 30 metres. The restaurant is located next to the lift.
Please note that the restaurant may exceed their seating limit at certain times of the day & access to the restaurant is at their sole discretion.
Hours 06:00 - 21:30 daily.
IMPORTANT NOTE: For Cardholders who pay for individual visits or guest visits, please check this particular offer against your visit fee to ensure it represents value for you. We advise Cardholders to review full Conditions of access below before visiting.
Cantonese, traditional Cantonese dim sum and Sichuan cuisine. Most dishes are in Northern or Southern flavour, with fresh ingredients. The restaurant provides rich selections of dishes with outstanding taste.
Conditions: 1. Cardholders can use their lounge visit entitlement to take advantage of 1
set menu in a 24hr period. A set menu represents a single lounge visit within the Cardholder's existing lounge visit allocation for which the Cardholder will,
where applicable, be charged. E.g. if a Cardholder registers 1 Guest they also will be able to take advantage of set menu within a 24hr period and will be charged as 1 Cardholder visit + 1 Guest visit on their account. Only 1 card per visit per Cardholder will be accepted at point of registration. 2. To be eligible,
Cardholders must present a valid Card and Boarding Pass with same-day travel before placing an order. 3. Items and soft drinks from the À la carte menu not included in the set menu are subject to an additional charge.
Cardholders will be given a 12% discount on items and soft drinks from À la carte menu not included in set menu. The above discount cannot be combined with any other offer. 4. Set menus are non-transferable & cannot be exchanged for cash substitute/ refund or be used towards gratuity. 5. Priority
Pass and its Affiliates Companies shall not be liable should the offer value be less than Customers lounge visit entitlement. Customers who pay for lounge and guest visits are advised to review programme Conditions of Use prior to accessing the offer.

Terminal: Terminal 2
Lounge: Library Lounge
Location: Airside - International Departures. The lounge is located in the secured area on Departure Level 4.
Hours 07:00 - 23:00 daily.
Due to current travel restrictions impacting the area this lounge is temporarily closed.
Conditions: Maximum 3 hour stay - Children under 2 years are admitted free - All children must be accompanied by an adult - Smart casual dress at all times.
Additional information: Shower and fax facilities are subject to payment.

Guatemala City La Aurora Intl - GUA


Lounge: Casa del Ron Aeropuerto
Location: Airside - North Wing. The lounge is located 100 metres after Security Checks and Passport Control, between Gates 6 and 7.
Hours 05:30 - 14:30 daily.
Closed: Dec 25 & Jan 01.
Conditions: Children under 2 years are admitted free - Complimentary drinks are limited to three per person; with a choice of one freshly prepared dish from a bistro menu, subsequent drinks and food are subject to payment - Dress code applicable.
Additional information: Conference facilities must be reserved in advance and are subject to payment. Face masks must be worn. Please note standard buffet service has been suspended but the lounge will instead offer table service.

Lounge: Copa Club
Location: Airside - after Security Check, to the left, next to Gate 14.
Hours 04:00 - 19:00 daily.
Due to current travel restrictions impacting the area this lounge is temporarily closed.
Conditions: Cardholder must be 18 years of age or older - Children under 2 years are admitted free - All children must be accompanied by an adult - Alcoholic drinks are only available to passengers 21 years of age or older - Smart casual dress at all times.
Additional information: Local telephone calls only.

Guayaquil Jose Joaquin De Olmedo Intl - GYE


Terminal: Domestic Terminal
Lounge: Aeropuertos VIP Club
Location: Airside - between the Aerogal and Icaro Lounges.
Hours 06:00 - 20:00 Monday - Friday.
08:00 - 18:00 Saturday.
08:00 - 20:00 Sunday.
Conditions: Children under 5 years are admitted free - Smart casual dress at all times.
Additional information: Alcoholic drinks are subject to payment. Please note hot food is temporarily suspended (snacks and cold food only) until further notice.

Terminal: International Terminal
Lounge: Aeropuertos VIP Club
Location: Airside - after Immigration, Security Checks and Duty Free, diagonal to Gate 8.
Hours 04:00 - 00:00 daily.
Conditions: Children under 5 years are admitted free - Smart casual dress at all times -
Separate smoking area available.
Additional information: Alcoholic drinks are subject to payment. Local telephone calls only. Please note hot food is temporarily suspended (snacks and cold food only) until further notice.

Guilin Liangjiang Intl - KWL


Terminal: Terminal 2
Lounge: First & Business Class Lounge
Location: Airside - International Departures. After Security Checks, the lounge is located approximately 16 metres on the right.
Hours The lounge opens 2 hours prior to first scheduled departure and closes after last scheduled departure.
Due to current travel restrictions impacting the area this lounge is temporarily closed.
Conditions: Maximum 3 hour stay - Children under 2 years are admitted free - Separate smoking area available outside the lounge.

Terminal: Terminal 2
Lounge: First & Business Class Lounge
Location: Airside - Domestic Departures. After Security Checks, turn right and follow the signs to the lounge. The lounge is located approximately 130 metres on the right.
Hours 06:30 - 23:30 daily.
Conditions: Maximum 3 hour stay - Children under 2 years are admitted free - Separate smoking area outside the lounge.

Guiyang Longdongbao International - KWE


Terminal: Terminal 2
Lounge: VIP Lounge
Location: Airside - Domestic Departures. After Security Checks, turn right and take the escalators to the Mezzanine Level.
Hours 06:30 to last scheduled flight departure.
Conditions: Children under 12 years are admitted free - All children must be accompanied by an adult.

Guwahati Lokpriya Gopinath Bordoloi Intl - GAU


Lounge: Primus Lounge
Location: Airside - Domestic Departures. After Security Hold Area, Ground Floor, near
Gate 2.
Hours 24 hours daily.
Conditions: Children under 12 years are admitted free - Separate smoking area available.
Additional information: À la carte menu is subject to payment.

Ha'il Ha'il Regional - HAS


Lounge: TasHeel Lounge
Location: Airside - the lounge is located after Security Checks adjacent to the Duty Free
Shop on the right hand side. Domestic flights only.
Hours 06:00 - 00:00 daily.
Due to current travel restrictions impacting the area this lounge is temporarily closed.
Conditions: Children under 2 years are admitted free - Children must be accompanied by an adult at all times.

Haikou Meilan - HAK


Terminal: Domestic Terminal
Lounge: Business Lounge
Location: Landside - Domestic Departures Hall Zone B, 2nd Floor. The lounge is located on the left hand side of Entrance No. 5.
Hours 05:30 - 22:00 daily.
Conditions: Maximum 3 hour stay - Children under 2 years are admitted free.
Additional information: Telephone calls are subject to payment.

Terminal: International Terminal
Lounge: First Class Lounge
Location: Airside - International Departures. The lounge is located next to Security
Control.
Hours Lounge opens 5 minutes prior to Check-in of first international flight departure and closes after the last scheduled international flight departure.
Due to current travel restrictions impacting the area this lounge is temporarily closed.
Conditions: Maximum 3 hour stay - Children under 2 years are admitted free.

Hamburg Hamburg Fuhlsbuettel - HAM


Terminal: Airport Plaza
Lounge: Airport Lounge
Location: Airside - behind the Security Checks, Level 3.
Hours 11:30 - 18:00 Wednesday & Friday.
13:00 - 18:00 Sunday.
Closed: Monday, Tuesday, Thursday & Saturday.
Conditions: Maximum 3 hour stay - Children under 3 years are admitted free - Separate smoking room available.

Hangzhou Xiaoshan Intl - HGH


Terminal: Terminal 2A
Lounge: Easygo VIP International Lounge
Location: Airside - International Departures. After Security Checks, the lounge is located next to Gate A08.
Hours 06:30 - 22:00 daily.
Due to current travel restrictions impacting the area this lounge is temporarily closed. Alternate temporary lounge available: First Class Lounge. Terminal
2A. Airside - International Departures. After Security Checks, take the escalator next to Gate A03 to the 2nd Floor where the lounge is located.
Conditions: Maximum 2 hour stay - Access may be restricted due to space constraints -
Children under 2 years are admitted free.
Additional information: Please note standard buffet service has been suspended until further notice and boxed meals will be provided. Lunch is served between 11:00 - 13:00
daily and dinner between 17:00 - 19:00 daily.

Terminal: Terminal 3B
Lounge: VIP No. 6 Lounge
Location: Airside - Domestic Departures. After Security Checks, the lounge is located opposite Gate B23.
Hours 06:30 - 22:00 daily.
Conditions: Maximum 2 hour stay - Access may be restricted due to space constraints -
Children under 2 years are admitted free.

Hanimaadhoo Hanimaadhoo - HAQ


Lounge: Kashimaa Lounge
Location: Airside - after Passport Control, on the peer bridge near Gates 4-6.
Hours Lounge opens 1 hour prior to the first scheduled flight departure (approx.
05:30) and closes after the last scheduled departure (approx. 20:00).
Conditions: Maximum 2 hour stay - Children under 3 years are admitted free - Dress code applicable - Separate smoking area available.

Hannover Hannover - HAJ


Terminal: Terminal A
Lounge: Karl-Jatho Lounge
Location: Landside - the lounge is located between Terminals A and B, 20 metres to the right.
Hours 09:00 - 18:00 daily.
Due to current travel restrictions impacting the area this lounge is temporarily closed.
Conditions: Maximum 3 hour stay - One child under 12 years admitted free per adult.

Hanoi Noi Bai Intl - HAN


Terminal: Terminal 1
Lounge: Song Hong Premium Lounge
Location: Airside - Domestic Departures. After Security Checks, the lounge is located on the 3rd Floor.
Hours 04:30 - 23:00 daily.
Hours may vary according to flight schedules.
Conditions: Maximum 3 hour stay - Children under 5 years are admitted free - Separate smoking room available.
Additional information: International calls are subject to payment. Complimentary luggage storage and shoe shine available inside the lounge. Please note buffet service has been suspended until further notice and complimentary À la carte menu will be provided.

Terminal: Terminal 2
Lounge: Song Hong Business Lounge
Location: Airside - International Departures. After Security Checks, 4th Floor, near Gate
28.
Hours 09:00 - 13:00 daily.
Conditions: Maximum 3 hour stay - Children under 5 years are admitted free - Separate smoking room available.
Additional information: International calls are subject to payment. Complimentary luggage storage and shoe shine available inside the lounge.

Harare Harare Intl - HRE


Terminal: International Terminal
Lounge: Dzimbahwe Executive Lounge
Location: Airside - after Passport Control and Security Checks proceed to the escalators and go down to the Ground Floor. Follow signs to where the lounge is located.
Hours 05:00 - 22:00 daily.
Hours may vary according to flight schedules.
Conditions: Children under 12 years are not admitted.

Hat Yai Hat Yai Intl - HDY


Terminal: Terminal 1
Lounge: The Coral Executive Lounge
Location: Airside - Domestic Departures, 2nd Floor, next to Gate 5.
Hours 09:00 - 20:00 daily.
Conditions: Maximum 3 hour stay - Children under 2 years are admitted free -
Complimentary alcoholic drinks are limited to beer only.
Additional information: Premium alcoholic drinks are subject to payment.

Hebron (KY) Cincinnati/Northern Kentucky Intl - CVG


Terminal: Concourse A
Lounge: The Club CVG
Location: Airside, the lounge is located between Gates A8 and A10. The lounge is also accessible to passengers travelling through Concourse B or C but will need to allow sufficient time to reach the departure gate.
Hours 06:00 - 20:00 Monday, Thursday, Friday & Sunday.
06:00 - 18:00 Tuesday, Wednesday & Saturday.
Conditions: Access is permitted 3 hours prior to scheduled flight departure - Children under 2 years are admitted free - All children must be accompanied by an adult - Alcoholic drinks are only available for passengers 21 years of age or older - Computer workstation and printer available.
Additional information: Due to local and regional restrictions, some amenities and services may be temporarily unavailable.

Helsinki Helsinki Vantaa - HEL


Terminal: Terminal 2
Lounge: Aspire Lounge
Location: Airside - after Security Checks, take the stairs next to Gate 27 or the lift by
Gate 26 to the 2nd Floor. The lounge is also accessible to Non-Schengen passengers not in transit and prior to Schengen Passport Control but allow 15
minutes to reach the departure gates.
Hours 06:00 - 18:00 Sunday - Friday.
Closed: Saturday.
Conditions: Access is permitted 3 hours prior to scheduled flight departure and is subject to space available at the time of visit - Children under 2 years are admitted free - Alcoholic drinks are only available for passengers 18 years of age or older - Smart casual dress at all times - All children must be accompanied by an adult.
Additional information: Complimentary printing services available.

Terminal: Terminal 2
Lounge: Plaza Premium Lounge
Location: Airside - Non-Schengen Area. The lounge is located on the 3rd Floor, near
Gate 40. Non-Schengen flights only.
Hours 10:00 - 17:00 Monday & Wednesday.
13:00 - 17:00 Tuesday.
06:00 - 17:00 Thursday.
14:00 - 19:00 Friday.
10:00 - 19:00 Saturday.
06:00 - 19:00 Sunday.
Conditions: Maximum 3 hour stay - Children under 2 years are admitted free - All children must be accompanied by an adult - Separate children's play area available -
Smart casual dress at all times.
Additional information: Complimentary luggage storage available inside the lounge. Premium alcoholic drinks and shower facilities are subject to payment. Please note standard buffet service has been suspended and set meals are provided.

Heraklion Kazantzakis Intl - HER


Lounge: Goldair Handling Lounge
Location: Airside - after Passport Control, turn left and take the lift or stairs to the 1st
Floor. The lounge is located on the left hand side. Non-Schengen flights only.
Hours 07:00 - 23:00 daily.
Closed: Winter (01NOV- 22APR).
Due to current travel restrictions impacting the area this lounge is temporarily closed.
Conditions: Children under 6 years are admitted free.

Hermosillo General Ignacio P Garcia Intl - HMO


Lounge: VIP Lounge
Location: Airside - 2nd Floor, in front of Gate 6.
Hours 05:00 - 21:00 Monday - Saturday.
06:00 - 21:00 Sunday.
Conditions: Maximum 8 hour stay - Children under 7 years are admitted free -
Complimentary use of tablet.
Additional information: Local telephone calls only. Please note standard buffet service has been suspended until further notice. Hot food available upon request.

Ho Chi Minh City Tan Son Nhat Intl - SGN


Terminal: Domestic Terminal
Lounge: Le Saigonnais Business Lounge
Location: Airside - Domestic Departures. After Security Checks, proceed to Boarding
Gates 10-14. The lounge is located in front of Boarding Gate 11.
Hours 04:30 - 23:00 daily.
Conditions: Maximum 3 hour stay - Two children under 5 years are admitted free per adult.

Terminal: International Terminal
Lounge: Orchid Lounge
Location: Airside - after the first Security Checks, 2nd Floor, turn left and the lounge is located near Gates 10-14.
Hours 24 hours daily.
Due to current travel restrictions impacting the area this lounge is temporarily closed. Alternate temporary lounge: Le Saigonnais Business Lounge.
International Terminal. Airside - after Security Checks, take the lift to the 2nd
Floor where the lounge is located.
Conditions: Maximum 3 hour stay - Two children under 5 years admitted are free per adult
- Separate smoking room available outside the lounge.
Additional information: Local telephone calls and fax facilities only.

Hohhot Baita International - HET


Terminal: Terminal 1
Lounge: First Class Lounge
Location: Airside - Domestic Departures. After Security Checks, the lounge is located on the 2nd Floor, near Gate 8.
Hours Lounge opens 2 hours prior to first flight and closes after last scheduled domestic flight departure.
Conditions: Children under 12 years are admitted free.
Additional information: Complimentary Wi-Fi access is limited to one hour.

Terminal: Terminal 1
Lounge: First Class Lounge
Location: Airside - Domestic Departures. After Security Checks, the lounge is located on the 2nd Floor, near Gate 7.
Hours Lounge opens 2 hours prior to first flight and closes after last scheduled domestic flight departure.
Conditions: Children under 12 years are admitted free.
Additional information: Complimentary Wi-Fi access is limited to one hour.

Terminal: Terminal 1
Lounge: First Class Lounge
Location: Airside - Domestic Departures. After Security Checks, the lounge is located on the 2nd Floor, near Gate 6.
Hours Lounge opens 2 hours prior to first flight and closes after last scheduled domestic flight departure.
Conditions: Children under 12 years are admitted free.
Additional information: Complimentary Wi-Fi access is limited to one hour.

Terminal: Terminal 1
Lounge: International FIrst Class Lounge
Location: Airside - International Departures. After Security Checks and Immigration, turn right towards the West Side on the 2nd Floor.
Hours Lounge opens 2 hours prior to first flight and closes after last scheduled international flight departure.
Closed: Tuesday, Thursday, Friday & Sunday.
Due to current travel restrictions impacting the area this lounge is temporarily closed.
Conditions: Children under 12 years are admitted free.
Additional information: Complimentary Wi-Fi access is limited to two hours.

Hong Kong SAR Chek Lap Kok Intl - HKG


Terminal: Terminal 1
Lounge: Plaza Premium Lounge
Location: Airside - Level 6, Departure Level, near Gate 35.
Hours 23:00 - 08:00 daily.
Conditions: Maximum 3 hour stay - Children under 2 years are admitted free - All children must be accompanied by an adult - Smart casual dress at all times.
Additional information: Shower facilities are subject to payment. Please note buffet and hot meals are temporarily suspended and the lounge will provide light refreshments (soup,
sandwiches, salad and fruit cup with soft drinks).

Terminal: Terminal 1
Lounge: Plaza Premium Lounge
Location: Airside - East Hall, Level 6, Departures Level, near Gate 1.
Hours 08:00 - 23:00 daily.
Conditions: Maximum 3 hour stay - Children under 2 years are admitted free - All children must be accompanied by an adult - Complimentary alcoholic drinks are limited to can beer only - Smart casual dress at all times.
Additional information: Drinks from the 'Wine List' and fax facilities are subject to payment. Please note standard buffet service has been suspended and set meals are provided.

Terminal: Terminal 1
Lounge: Plaza Premium Lounge
Location: Airside - International Departures, Level 7, Departures Level, near Gate 60.
Hours 24 hours daily.
Due to current travel restrictions impacting the area this lounge is temporarily closed.
Conditions: Maximum 3 hour stay - Children under 2 years are admitted free - All children must be accompanied by an adult - Smart casual dress at all times.

Honolulu (HI) Honolulu Intl - HNL


Terminal: Inter-Island Terminal
Lounge: The Plumeria Lounge
Location: Airside - 3rd Floor, the lounge is located near the Wiki Wiki shuttle pick up area. The lounge is not accessible for Arrivals.
Hours 08:00 - 18:00 daily.
Conditions: All cardholders and guests are required to show a HNL Outbound Departure
Boarding Pass with confirmed same-day travel for access to the lounge - Age restrictions apply and any person under 21 years must be accompanied by an adult - Children under 2 years are admitted free - Access may be restricted due to space constraints - All food and beverages must be consumed inside the lounge - Alcoholic drinks are only available for passengers 21 years of age or older.
Additional information: If access is restricted, the lounge uses a waiting list. The waiting list does not guarantee access. Face masks must be worn. Please note the lounge will provide pre-packed food.

Terminal: Overseas Terminal
Lounge: IASS Hawaii Lounge
Location: Airside - after Security Checks, proceed to Garden Court (Airline Lounge
Area) towards Gates 14-23 of the Central Concourse. Take the lift or stairs to
Ground Level and follow the signs to the lounge.
Hours 07:30 - 13:30 & 14:00 - 18:00 daily.
Due to current travel restrictions impacting the area this lounge is temporarily closed.
Conditions: Children under 3 years are admitted free - Snacks and food not available.

Houston (TX) George Bush Intercontinental - IAH


Terminal: Terminal A
Lounge: Cadillac Mexican Kitchen & Tequila Bar
Location: Airside - proceed to Security Checkpoint for Gates A17-A30 and Cadillac is located near Gate A17. Please note that the restaurant may exceed their seating limit at certain times of the day & access to the restaurant is at their sole discretion.
Hours 10:00 - 21:00 Monday - Wednesday & Saturday.
07:00 - 21:00 Thursday, Friday & Sunday.
IMPORTANT NOTE: For Cardholders who pay for individual visits or guest visits, please check this particular offer against your visit fee to ensure it represents value for you. We advise Cardholders to review full Conditions of access below before visiting.
For over 25 years Cadillac Bar has been a hotspot for fun, festivity and of course authentic Mexican food.
Conditions: 1. Cardholders can use their lounge visit entitlement to receive US$28 off the bill. Each US$28 deduction represents a single lounge visit within the
Cardholder's existing lounge visit allocation for which the Cardholder will,
where applicable, be charged. E.g. if a Cardholder registers 1 Guest they will receive US$56 off their bill which will be charged as 1 Cardholder visit + 1
Guest visit on their account. Only 1 Card per visit per Cardholder will be accepted and at point of registration. 2. The US$28 is valid for the purchase of any meal and/or drinks excluding 'To-Go Orders'. To be eligible, Cardholders must present a valid Card and Boarding Pass with confirmed same-day travel before placing an order. 3. Cardholder may only register 1 Guest per visit to receive US$28 deduction. Any additional guests will not be eligible for US$28
deduction. 4. US$28 is non-transferable & cannot be exchanged for cash substitute or refund if the final bill is lower than US$28 per person. 5.
Cardholder is responsible for the balance if total final bill exceeds US$28 per person. Any remaining balance cannot be used towards gratuity. 6. Priority
Pass and its Affiliates Companies shall not be liable should the offer value be less than Customers lounge visit entitlement. Customers who pay for lounge less than Customers lounge visit entitlement. Customers who pay for lounge and guest visits are advised to review programme Conditions of Use prior to accessing the offer.

Terminal: Terminal C
Lounge: Landry's Seafood
Location: Airside - after Security Checkpoint, turn left and Landry's is located near Gate
C42. Please note that the restaurant may exceed their seating limit at certain times of the day & access to the restaurant is at their sole discretion.
Hours 11:00 - 18:00 daily.
Hours may vary according to flight schedules.
IMPORTANT NOTE: For Cardholders who pay for individual visits or guest visits, please check this particular offer against your visit fee to ensure it represents value for you. We advise Cardholders to review full Conditions of access below before visiting.
Landry's has been a tale of legendary Gulf Coast cuisine and true hospitality.Landry's has maintained an unmatched commitment to sensational steaks,seafood and pasta.
Conditions: 1. Cardholders can use their lounge visit entitlement to receive US$28 off the bill. Each US$28 deduction represents a single lounge visit within the
Cardholder's existing lounge visit allocation for which the Cardholder will,
where applicable, be charged. E.g. if a Cardholder registers 1 Guest they will receive US$56 off their bill which will be charged as 1 Cardholder visit + 1
Guest visit on their account. Only 1 Card per visit per Cardholder will be accepted and at point of registration. 2. The US$28 is valid for the purchase of any meal and/or drinks excluding 'To-Go Orders'. To be eligible, Cardholders must present a valid Card and Boarding Pass with confirmed same-day travel before placing an order. 3. Cardholder may only register 1 Guest per visit to receive US$28 deduction. Any additional guests will not be eligible for US$28
deduction. 4. US$28 is non-transferable & cannot be exchanged for cash substitute or refund if the final bill is lower than US$28 per person. 5.
Cardholder is responsible for the balance if total final bill exceeds US$28 per person. Any remaining balance cannot be used towards gratuity. 6. Priority
Pass and its Affiliates Companies shall not be liable should the offer value be less than Customers lounge visit entitlement. Customers who pay for lounge and guest visits are advised to review programme Conditions of Use prior to accessing the offer.

Terminal: Terminal D
Lounge: Air France Lounge
Location: Airside - after Security, opposite Gate D12.
Hours 15:00 - 19:00 Monday & Wednesday.
13:00 - 19:00 Tuesday & Thursday - Sunday.
Closed: Dec 25.
Due to current travel restrictions impacting the area this lounge is temporarily closed.
Conditions: Maximum 3 hour stay - Access may be restricted due to space constraints -
Children under 2 years are admitted free.
Additional information: Local calls only.

Terminal: Terminal D
Lounge: KLM Crown Lounge
Location: Airside - the lounge is located near Gate D8.
Hours 08:00 - 21:00 daily.
Hours may vary according to flight schedules.
Conditions: Maximum 3 hour stay - Access may be restricted due to space constraints -
Children under 2 years are admitted free - Alcoholic drinks are only available for passengers 21 years of age or older - All children must be accompanied by an adult.
Additional information: Local calls only.

Huai'an Lianshui Airport - HIA


Lounge: First Class Lounge
Location: Airside - Domestic Departures. After Security Checks, 2nd Floor on the right hand side.
Hours Opens daily 1.5 hours prior to the first scheduled flight departure and closes after last scheduled departure.
Conditions: Children under 2 years are admitted free.

Lounge: International First Class Lounge
Location: Airside - International Departures. After Security Checks, 2nd Floor, near Gate
6.
Hours Opens daily 1.5 hours prior to the first scheduled flight departure and closes after last scheduled departure.
Due to current travel restrictions impacting the area this lounge is temporarily closed.
Conditions: Children under 2 years are admitted free.

Huangshan Tunxi International - TXN


Lounge: CIP Lounge
Location: Airside - Domestic Departures. After Security Checks, take the escalator to the next level where the lounge is located.
Hours 08:00 to last scheduled flight departure.
Due to current travel restrictions impacting the area this lounge is temporarily closed. Alternate temporary lounge available: First Class Lounge: Airside -
Domestic Departures. After Security Checks, take the escalator to the next level where the lounge is located, near Gate 2.
Conditions: Maximum 3 hours stay - Children under 6 years are admitted free.

Lounge: First Class Lounge
Location: Airside - International Departures, 2nd Floor, near Gate 6.
Hours Lounge opens 2 hours prior to first flight departure and closes after last scheduled flight departure.
Due to current travel restrictions impacting the area this lounge is temporarily closed.
Conditions: Maximum 3 hours stay - Children under 6 years are admitted free.

Huatulco Bahias de Huatulco Intl - HUX


Lounge: The Lounge by Global Lounge Network
Location: Airside - 1st Floor. The lounge is located at the last waiting gate.
Hours 06:00 - 19:00 daily.
Please note the lounge opening times are subject to change and are open in accordance to the airport opening hours and this is subject to change.
Conditions: One child under 12 years admitted free per cardholder.

Hulunbuir Hailar - HLD


Lounge: First Class Lounge
Location: Airside - Domestic Departures. The lounge is located near Gate 10.
Hours Lounge opens 90 minutes prior to the first scheduled flight departure and closes after last departure.
Conditions: Children under 2 years are admitted free - All children must be accompanied by an adult.

Humberside Humberside Intl - HUY


Lounge: Aspire Lounge
Location: Airside - turn right immediately after Passport Control and follow signs to the lounge which is located at the end of the corridor.
Hours 04:30 - 11:00 & 15:00 - 18:00 Sunday - Friday.
04:30 - 11:00 Saturday.
Hours may be subject to seasonal changes.
Closed: Dec 25.
Due to current travel restrictions impacting the area this lounge is temporarily closed and will re-open 21JUN21.
Conditions: Children under 2 years are admitted free - Alcoholic drinks are only available for passengers 18 years of age or older - Smart casual dress at all times (no football shirts allowed).
Additional information: Flight information is available upon request. The lounge will only accept group walk-ups from the same household and or support bubble. Please note standard buffet service has been suspended but the lounge will instead offer table service.

Hyderabad Rajiv Gandhi Intl - HYD


Lounge: Plaza Premium Lounge
Location: Airside - International Departures. After Check-in on Level F, proceed through
Immigration and Passport Control. Pass the Duty Free shop, turn right and take the lift at Gate 32A down to the lounge located on Level E.
Hours 24 hours daily.
Please note the lounge is temporarily closed due to maintenance works until further notice.
Conditions: Limited to one child per adult - Children under 2 years are admitted free - All children must be accompanied by an adult - Smart casual dress at all times.
Additional information: Alcoholic drinks, shower and fax facilities are subject to payment. Please note buffet service has been suspended until further notice and À la carte menu will be provided.

Lounge: Plaza Premium Lounge
Location: Airside - Domestic Departures. After Check-in on Level F, proceed through
Immigration and Passport Control and take the lift near Gate 28 down to the lounge located on Level E.
Hours 24 hours daily.
Conditions: Limited to one child per adult - Children under 2 years are admitted free - All children must be accompanied by an adult - Smart casual dress at all times.
Additional information: Alcoholic drinks, shower and fax facilities are subject to payment. Please note standard buffet service has been suspended and set meals are provided.

Ibiza Ibiza - IBZ


Lounge: Cap des Falco
Location: Airside - 1st Floor, next to Boarding Gate 1.
Hours 06:00 - 01:30 daily (Apr - Oct).
06:00 - 23:00 daily (Nov - Mar).
Conditions: Access is permitted 4 hours prior to scheduled flight departure - All
Cardholders and guests are required to show a Boarding Pass with confirmed same-day travel for access to the lounge - Children 5 years and under are admitted free - Children under 18 years must be accompanied by an adult.

Indianapolis (IN) Indianapolis Intl - IND


Terminal: Concourse B
Lounge: The Fan Zone
Location: Airside - after Security, turn left and The Fan Zone is located at the end of
Concourse B, near Gate B17. Please note that the restaurant may exceed their seating limit at certain times of the day & access to the restaurant is at their sole discretion.
Hours 08:00 to last scheduled flight departure.
IMPORTANT NOTE: For Cardholders who pay for individual visits or guest visits, please check this particular offer against your visit fee to ensure it represents value for you. We advise Cardholders to review full Conditions of access below before visiting.
The Fan Zone offers starters such as pretzel and pizza sticks, hot deli sandwiches served on croissant rolls and local craft beers on tap.
Conditions: 1. Cardholders can use their lounge visit entitlement to receive US$28 off the bill. Each US$28 deduction represents a single lounge visit within the
Cardholder's existing lounge visit allocation for which the Cardholder will,
where applicable, be charged. E.g. if a Cardholder registers 1 Guest they will receive US$56 off their bill which will be charged as 1 Cardholder visit + 1
Guest visit on their account. Only 1 Card per visit per Cardholder will be accepted and at point of registration. 2. The US$28 is valid for the purchase of any meal and/or drinks. To be eligible, Cardholders must present a valid Card and Boarding Pass with confirmed same-day travel before placing an order. 3.
US$28 is non-transferable & cannot be exchanged for cash substitute or refund if the final bill is lower than US$28 per person. 4. Cardholder is responsible for the balance if total final bill exceeds US$28 per person. Any remaining balance cannot be used towards gratuity. 5. Priority Pass and its
Affiliates Companies shall not be liable should the offer value be less than
Customers lounge visit entitlement. Customers who pay for lounge and guest visits are advised to review programme Conditions of Use prior to accessing the offer.

Indore Devi Ahilya Bai Holkar - IDR


Lounge: Primus Lounge
Location: Airside. After Security Checks proceed to the 1st Floor.
Hours 24 hours daily.
Conditions: Maximum 3 hour stay - Children under 12 years are admitted free -
Complimentary use of iPad - Separate smoking room available outside the lounge.
Additional information: Complimentary luggage storage and shoe shine available inside the lounge.
Alcoholic drinks, snacks, À la carte menu and massage chairs are subject to payment. Please note standard buffet service has been suspended but the lounge will instead offer pre-packed food.

Innsbruck Innsbruck - INN


Lounge: Tyrol Lounge
Location: Airside - 1st Floor, opposite Gates 11 & 12.
Hours 12:00 – 15:00 Monday, Tuesday & Thursday - Friday.
12:00 – 16:00 Wednesday.
Closed: Saturday & Sunday.
Due to current travel restrictions impacting the area this lounge is temporarily closed.
Conditions: Maximum 3 hour stay - Children under 3 years are admitted free.
Additional information: Conference facilities are subject to payment.

Inverness Dalcross - INV


Lounge: Aspire Lounge
Location: Airside - after Passport Control, turn right and follow signs to the lounge.
Hours 05:00 - 18:00 Monday - Wednesday.
05:00 - 18:30 Thursday, Friday & Sunday.
05:00 - 14:00 Saturday.
Hours may be subject to seasonal changes.
Closed: Dec 25.
Due to current travel restrictions impacting the area this lounge is temporarily closed and is scheduled to re-open 07JUN21.
Conditions: Children under 2 years are admitted free - Alcoholic drinks are only available for passengers 18 years of age or older - Smart casual dress at all times (no football shirts allowed).
Additional information: The lounge will only accept group walk-ups from the same household and or support bubble. Please note standard buffet service has been suspended but the lounge will instead offer table service.

Iquique Diego Aracena Intl - IQQ


Lounge: Salones VIP Pacific Club
Location: Airside - after Security Control, on the right hand side near Gate 2.
Hours 24 hours daily.
Due to current travel restrictions impacting the area this lounge is temporarily closed.
Conditions: Maximum 2 hour stay - Children under 2 years are admitted free - Smart casual dress at all times.

Iquitos Coronel Francisco Secada Vignetta Intl - IQT


Lounge: Caral VIP Lounge
Location: Airside - after Security Checks. The lounge is located on the left hand side of the Gate Area. Domestic flights daily and International flights (Wednesday and
Saturday subject to change).
Hours 07:00 - 19:00 daily.
Conditions: Maximum 4 hour stay - Children under 5 years are admitted free -
Complimentary alcoholic drinks are limited to liquor, local beer, wine and
Pisco Sour cocktail.
Additional information: Flight departures are announced.

Irkutsk Irkutsk Intl - IKT


Terminal: Domestic Terminal
Lounge: High Comfy Zone Lounge
Location: Airside - after Security Control, 1st Floor. Domestic flights only.
Hours 24 hours daily.
Conditions: Maximum 2 hour stay - Children under 2 years are admitted free.
Additional information: Alcoholic drinks and conference facilities are subject to payment. Local telephone calls and faxes only.

Terminal: International Terminal
Lounge: High Comfy Zone Lounge
Location: Airside - after Security, Customs and Immigration Control. The lounge is located on the right hand side. International flights only.
Hours 24 hours daily.
Conditions: Maximum 2 hour stay - Access may be restricted due to space constraints -
Children under 2 years are admitted free - Smart casual dress at all times.
Additional information: Alcoholic drinks are subject to payment.

Islamabad Islamabad International - ISB


Lounge: Airline Lounge
Location: Airside - International Departures. After Immigration Control and ASF Search
Area, the lounge is located upstairs next to the stairs in the main departure lounge.
Hours 24 hours daily.
Hours may vary according to flight schedules.
Conditions: Access is permitted 3 hours prior to scheduled flight departure - Children under 2 years are admitted free - Separate prayer room available.

Isle Of Man Ronaldsway - IOM


Lounge: Rendezvous Executive Lounge
Location: Airside - after Security Checks, on the left hand side before the entrance to the main departure lounge.
Hours 05:45 - 19:00 Monday - Friday.
05:45 - 13:30 Saturday.
12:00 - 20:00 Sunday.
Closed: Dec 25, 26 & Jan 01.
Due to current travel restrictions impacting the area this lounge is temporarily closed.
Conditions: Children under 12 years are not admitted - Smart dress at all times.
Additional information: Telephone calls and conference facilities are subject to payment.

Istanbul Istanbul - IST


Terminal: Domestic Terminal
Lounge: IGA Lounge
Location: Airside - after Passport Control, turn right. The lounge is located on the right hand side, near Gate G11. Domestic flights only.
Hours 24 hours daily.
Conditions: Maximum 3 hour stay - Children under 2 years are admitted free - Separate smoking room outside the lounge.

Terminal: International Terminal
Lounge: IGA Lounge
Location: Airside - after Passport Control, turn left. The lounge is located on the
Mezzanine Floor on the right hand side. International flights only.
Hours 24 hours daily.
Conditions: Maximum 3 hour stay - Children under 2 years are admitted free - Duty Free store within the lounge with exclusive access for lounge guests only -
Separate male, female and multifaith prayer room available - Complimentary use of computers, billiards and skype rooms - Separate smoking terrace available.
Additional information: Conference rooms and skype rooms are available upon request. Due to precautionary measures this lounge may have interrupted services.
Complimentary luggage storage available inside the lounge.

Terminal: International Terminal
Lounge: IGA Sleepod
Location: Airside, close to Gates C, D and E. International flights only.
Hours 24 hours daily.
Conditions: Children under 1 years of age admitted free whilst sharing the Sleepod cabin with the parent (mother). 1.Cardholders can use their lounge visit entitlement to use a Sleepod cabin for a 3 hour stay. Each Sleepod cabin usage represents a single lounge visit within the Cardholder's existing lounge visit allocation for which the Cardholder will, where applicable, be charged. For example, if a Cardholder registers 1 Guest they will be charged as 1
Cardholder visit + 1 Guest visit on their account. Only 1 card per visit per
Cardholder will be accepted and at point of registration. 2.Each Sleepod cabin is equipped with USB port, socket, disposable sheet, storage space for hand luggage and personal items. 3.Sleeping Kit (blanket, pillow and disposable pillow cases) is subject to payment directly to IGA. 4.Cardholder is responsible for all additional charges incurred. 5.Sleepod cabin usage is subject to availability.

Istanbul Sabiha Gokcen - SAW


Terminal: Domestic Terminal
Lounge: Plaza Premium Lounge
Location: Airside - after Security X-Ray Control, turn left. The lounge is located between
Gates 205 and 206.
Hours 24 hours daily.
Conditions: Maximum 3 hour stay - - Access may be restricted due to space constraints --
Children under 7 years are admitted free.
Additional information: Please note the lounge will provide pre-packed food.

Terminal: International Terminal
Lounge: Kepler Club
Location: Airside - after Passport Control, turn left. Take the escalator on the right hand side up to the Mezzanine Floor. International flights only. Passengers can combine their lounge visit with free use of personal resting units (subject to availability).
Hours 24 hours daily.
Conditions: Maximum 3 hour stay - Each resting unit is designed to create an ambience of tranquillity and equipped with a 220cm x 140cm ergonomic bed (maximum 1
person per resting unit), SmartTV with Netflix and YouTube, rotating worktable, universal charging station, speaker that emits relaxing ocean wave sounds and a personal tablet computer for flight information and shopping.
Special requests sent by personal tablet computers are delivered to the resting units through Kepler Club's autonomous delivery robot - Separate men and women resting units, smart toilets, shower and locker rooms with the exception of the lounge area - Children under 7 years are not admitted -
Cardholder is responsible for all additional charges incurred.

Terminal: International Terminal
Lounge: Plaza Premium Lounge
Location: Airside - after Passport Control, turn right. The lounge is located between
Gates 203 and 204.
Hours 24 hours daily.
Conditions: Maximum 3 hour stay - Access may be restricted due to space constraints -
Children under 7 years are admitted free - Smoking terrace available.
Additional information: Please note the lounge will provide pre-packed food.

Ivanovo Ivanovo Railway - XVK


Lounge: Business Lounge
Location: Ivanovo Railway Station. The main and closest entrance to the lounge is through the central entrance of the station, turn right and pass through the
'Red Hall'.
Hours 24 hours daily.
Conditions: Passengers are required to show a valid Card and Train Ticket for confirmed same day travel, for a maximum 3 hour stay, prior to scheduled departure -
Children under 2 years are admitted free - Complimentary alcoholic drinks are limited to beer only, all subsequent drinks are subject to payment - Separate children's play area available.
Additional information: Complimentary luggage storage and shoe shine. Train information monitor available. Conference and shower facilities are subject to payment.

Izhevsk Izhevsk - IJK


Lounge: Business Lounge
Location: Airside - after Security Checks, 2nd Floor. Domestic flights only.
Hours 24 hours daily.
Conditions: Maximum 3 hour stay - Children under 2 years are admitted free - Separate prayer room available.
Additional information: Conference facilities are subject to payment. Complimentary luggage storage available inside the lounge.

Izmir Adnan Menderes - ADB


Terminal: Domestic Terminal
Lounge: Primeclass Lounge
Location: Airside - after 2nd Security Checks, proceed up to the next floor of the
Domestic Departure Terminal where the lounge is located.
Hours 24 hours daily.
Conditions: Maximum 4 hours stay - Children under 7 years are admitted free.
Additional information: Please note the lounge will provide pre-packed food.

Terminal: International Terminal
Lounge: Primeclass Lounge
Location: Airside - the lounge is located after the 2nd Security Check on the left on the
2nd Floor.
Hours 24 hours daily.
Conditions: Maximum 4 hours stay - Children under 7 years are admitted free.

Jacksonville (FL) Jacksonville Intl - JAX


Terminal: Concourse A
Lounge: The Club JAX
Location: Airside - once you pass through Security walk directly ahead past the Food
Court and the lounge is located slightly to the right.
Hours 05:00 – 18:00 daily.
Conditions: Access is permitted 3 hours prior to scheduled flight departure - Children under 2 years are admitted free - All children must be accompanied by an adult - Children's play area with gaming tablets - Alcoholic drinks are only available to passengers 21 years of age or older - Computer workstation and printer available.
Additional information: Ready 2 Order available in lounge: A digital and contactless order solution of complimentary lounge refreshments. Due to local and regional restrictions,
some amenities and services may be temporarily unavailable.

Jaipur Jaipur International - JAI


Terminal: Terminal 2
Lounge: Primus Lounge
Location: Airside - Domestic Departures. After the Security Hold Area. The lounge is located on the 1st Floor.
Hours 24 hours daily.
Conditions: Maximum 3 hour stay - Children under 12 years are admitted free - Separate smoking room available.
Additional information: Complimentary luggage storage available. Snacks and À la carte menu are subject to payment.

Jakarta Halim Perdanakusuma - HLP


Lounge: Saphire PremiAir Executive Lounge
Location: Airside - Check-in Area,1st Floor. Departures Hall.
Hours 24 hours daily.
Conditions: Maximum 3 hour stay - Children under 10 years are admitted free - Soft drinks limited to tea, coffee and water - Separate prayer room available - Separate smoking room available.
Additional information: Please note standard buffet service has been suspended until further notice and food will be served upon request.

Jakarta Soekarno-Hatta Intl - CGK


Terminal: Terminal 2D
Lounge: BlueSky Premium Lounge
Location: Landside - the lounge is located on the right hand side of Check-in counters
1-24.
Hours 03:00 - 14:00 daily.
Conditions: Children under 4 years are admitted free - Soft drinks limited to water and juices - Separate prayer room available - Complimentary use of iPad -
Separate smoking room available.
Additional information: Conference facilities and massage chairs are subject to payment. Please note standard buffet service has been suspended until further notice and food will be served upon request.

Terminal: Terminal 2F
Lounge: Saphire Lounge
Location: Airside - International Departures, enter the terminal building through Entrance
No.5 on the 2nd Floor and go through immigration to access the lounge.
Hours 07:00 - 18:30 daily.
Due to current travel restrictions impacting the area this lounge is temporarily closed.
Conditions: Maximum 3 hour stay - Children under 10 years are admitted free - Separate prayer room available - Separate smoking room available.
Additional information: Telephone calls are subject to payment.

Terminal: Terminal 3
Lounge: Saphire APS Blue Sky Lounge
Location: Airside - Domestic Departures. After the second Security Checks, take the escalator to the 1st Floor. The lounge is located next to Gate 18.
Hours 04:00 - 18:00 daily.
Conditions: Maximum 3 hour stay - Children under 3 years are admitted free - Separate smoking room available outside the lounge.
Additional information: Spa facilities are subject to payment.

Terminal: Terminal 3
Lounge: Saphire Blue Sky Lounge
Location: Airside - Domestic Departures. The lounge is located on the 1st Floor,
opposite Gate 13.
Hours 04:00 - 22:00 daily.
Conditions: Maximum 3 hour stay - Children under 3 years are admitted free - Soft drinks limited to tea, coffee and water - Separate smoking room available outside the lounge.
Additional information: Please note standard buffet service has been suspended until further notice and food will be served upon request.

Terminal: Terminal 3
Lounge: Saphire Lounge
Location: Airside - International Departures. After Security Checks and Immigration, take the escalator to the 1st Floor. The lounge is located opposite Gates 7 & 8.
Hours 04:00 - 00:00 daily.
Due to current travel restrictions impacting the area this lounge is temporarily closed.
Conditions: Maximum 3 hour stay - Children under 3 years are admitted free - Separate smoking room available outside the lounge.
Additional information: Alcoholic drinks, massage chairs and Spa facilities are subject to payment.

Jambi Sultan Thaha - DJB


Lounge: Saphire Lounge
Location: Landside - Domestic Departures. After the first Security Checks take the escalator to the 2nd Floor. The lounge is located on the right hand side.
Hours 04:30 - 18:00 daily.
Due to current travel restrictions impacting the area this lounge is temporarily closed.
Conditions: Access is permitted 3 hours prior to scheduled flight departure - Children under 6 years are admitted free - Separate prayer room available - Separate smoking room available.
Additional information: Complimentary luggage storage available inside the lounge.

Jeddah King Abdulaziz Intl - JED


Terminal: North Terminal
Lounge: First Class Lounge
Location: Airside - after Security Checks and Passport Control, the lounge is located immediately after the Immigration counters on the left. North Terminal international flights only (no access for Saudia Airlines flights).
Hours 24 hours daily.
Conditions: Children under 2 years are admitted free - Children must be accompanied by an adult at all times - Separate smoking area available.

Jeju Island Jeju Intl - CJU


Lounge: Asiana Lounge
Location: Landside - 3rd Floor, Departure Level. The lounge is located next to the
Asiana Check-in counter. Asiana Airlines' lounge is only accessible when flying with Asiana Airlines operated flights.
Hours 06:00 to last scheduled flight departure (21:00).
Conditions: Access may be restricted due to space constraints - Children under 2 years are admitted free.

Lounge: KAL Lounge
Location: Landside - the lounge is located 50 metres from the Check-in counters on the
3rd Floor.
Hours 06:00 - 21.00 daily.
Conditions: Access may be restricted due to space constraints - Children under 2 years are admitted free - All children must be accompanied by an adult.

Jersey Jersey - JER


Lounge: The Executive Lounge Jersey Airport
Location: Airside - after Security Checks and Passport Control proceed to the main departures hall. Follow signs to the lounge located near to Gate 3.
Hours 05:45 – 19:45 Monday & Friday.
05:45 – 18:30 Tuesday – Thursday.
05:45 – 16:30 Saturday.
05:45 – 19:00 Sunday.
Hours may vary according to flight schedules.
Closed: Dec 25.
Conditions: Access may be restricted due to space constraints - Children under 2 years are admitted free - All children must be accompanied by an adult - Dress code applicable.
Additional information: Please note hot food has been suspended until further notice and pre-packed food is provided. The washrooms inside the lounge are not available only the airport facilities.

Jiayuguan Jiayuguan Airport - JGN


Lounge: First Class Lounge
Location: Airside - Domestic Departures. After Security Checks, take the lift to the 2nd
Floor, the lounge is located approximately 30 metres straight ahead.
Hours Lounge opens 90 minutes prior to first flight departure and closes after last scheduled flight departure.
Conditions: Children under 2 years are admitted free.

Lounge: First Class Lounge
Location: Airside - Domestic Departures, 2nd Floor, opposite the lift.
Hours 08:30 - 21:50 daily.
Conditions: Children under 2 years are admitted free.

Jinan Yaoqiang International - TNA


Terminal: Domestic Terminal
Lounge: First Class Lounge 1
Location: Airside - Domestic Departures. The lounge is located on the 2nd Floor, near
Gate 3.
Hours 06:00 - 21:00 daily.
Conditions: Children under 2 years are admitted free.

Terminal: Domestic Terminal
Lounge: First Class Lounge 2
Location: Airside - Domestic Departures. The lounge is located on the 2nd Floor, near
Gate 3.
Hours 06:00 - 21:00 daily.
Conditions: Children under 2 years are admitted free.

Terminal: Domestic Terminal
Lounge: First Class Lounge 4
Location: Airside - Domestic Departures. 2nd Floor, lounge is located between Main
Terminal: and South Wing.
Hours 06:00 - 21:00 daily.
Conditions: Children under 2 years are admitted free.

Terminal: Domestic Terminal
Lounge: First Class Lounge 5
Location: Airside - Domestic Departures. The lounge is located on the 2nd Floor, near
Gate 16.
Hours 06:00 - 21:00 daily.
Conditions: Children under 2 years are admitted free - Smart casual dress at all times.

Terminal: Domestic Terminal
Lounge: First Class Lounge 7
Location: Airside - Domestic Departures. After Security Checks, take the lift on the right hand side to the 1st Floor where the lounge is located.
Hours 06:00 - 21:00 daily.
Conditions: Children under 2 years are admitted free.

Terminal: Domestic Terminal
Lounge: VIP Hall Zone C
Location: Landside - Domestic Departures. The lounge is located on the 2nd Floor, near the Fast Track Lane.
Hours 06:00 - 21:00 daily.
Conditions: Children under 2 years are admitted free - Smart casual dress at all times.

Terminal: International Terminal
Lounge: First Class Lounge
Location: Airside - International Departures. The lounge is located near Gate 23.
Hours Lounge opens 90 minutes prior to first flight and closes after last scheduled international flight departure.
Conditions: Children under 2 years are admitted free - Smart casual dress at all times.

Jinghong Xishuangbanna Gasa Intl - JHG


Lounge: Best Business VIP Lounge
Location: Airside - Domestic Departures. It is essential that cardholders do not proceed to the lounge directly, but first register as a cardholder at the Information desk located on the right hand side of the Domestic Departure Hall. Proceed through the VIP channel and follow the signs to the lounge.
Hours 07:00 to last scheduled flight departure.
Hours may vary according to flight schedules.
Conditions: Children under 2 years are admitted free - Separate smoking room available.

Jining Qufu - JNG


Lounge: First Class Lounge
Location: Airside - Domestic Departures, opposite Gate 3.
Hours Lounge opens 1.5 hours prior to first flight departure and closes after last scheduled departure.
Conditions: Children under 6 years are admitted free.

Jizan Jizan Regional - GIZ


Lounge: TasHeel Lounge
Location: Airside - the lounge is located after Security Checks, adjacent to the
Departure Gate. Domestic flights only.
Hours 06:00 - 00:00 daily.
Due to current travel restrictions impacting the area this lounge is temporarily closed.
Conditions: Children under 2 years are admitted free - Children must be accompanied by an adult at all times.

Johannesburg Johannesburg Intl - JNB


Terminal: Domestic Terminal B
Lounge: Bidvest Premier Lounge
Location: Airside - after Security Checks, take the escalators located behind the Sweet
Shop down to the next level, into the lounge. The lounge is accessible to
Domestic passengers only. International passengers must use lounges located in Terminal A.
Hours 05:00 - 19:00 daily.
Conditions: Access is restricted to a maximum of 2 hours prior to scheduled flight departure - Early check-in fees are applicable and payable directly if arriving outside these times - Access may be restricted due to space constraints -
Children under 2 years are admitted free - Alcoholic drinks are available from
10:00 daily - Separate smoking room available.

Terminal: Domestic Terminal B
Lounge: Bidvest Sky Lounge
Location: Airside - after Security Checks turn right. Take the lift to the 4th Floor and the lounge is located on the left hand side. The lounge is accessible to Domestic passengers only. International passengers must use lounges located in
Terminal: A.
Hours 05:00 - 21:00 Monday - Friday.
06:00 - 21:00 Saturday & Sunday.
Due to current travel restrictions impacting the area this lounge is temporarily closed.
Conditions: Access is restricted to a maximum of 2 hours prior to scheduled flight departure - Early check-in fees are applicable and payable directly if arriving outside these times - Access may be restricted due to space constraints -
Children under 2 years are admitted free - Alcoholic drinks are available from
10:00 daily.

Terminal: International Terminal A
Lounge: Bidvest Premier Lounge
Location: Airside - after Security Checks,turn right and proceed straight to the end of the
Duty Free Area. Take the escalator just before the 'Out of Africa' Shop up to the Mezzanine Level where the lounge is located in the right hand corner.
International flights only.
Hours 24 hours daily.
Due to current travel restrictions impacting the area this lounge is temporarily closed.
Conditions: Access is restricted to a maximum of 4 hours prior to scheduled flight departure - Early check-in fees are applicable and payable directly if arriving outside these times - Access may be restricted due to space constraints -
Children under 2 years are admitted free - Separate smoking room available.

Terminal: International Terminal A
Lounge: Mashonzha Lounge
Location: Airside -after Immigration, follow the overhead airport signage to the Emirates
Business Lounge via the Duty Free Shop Area. At the top of the stairs/escalators, turn left and the lounge is located on the right hand side.
International flights only.
Hours 10:30 - 21:20 Monday - Saturday.
10:30 - 19:30 Sunday.
Conditions: Maximum 4 hour stay - Access may be restricted due to space constraints -
Children under 2 years are admitted free - Alcoholic drinks are available from
11:00 daily - Separate smoking area available.
Additional information: Please note the lounge will provide pre-packed food.

Terminal: International Terminal A
Lounge: Shongololo Lounge
Location: Airside - after Immigration turn left and walk towards Gates A7-A18. Pass the
Air France Lounge and take the escalator to where the lounge is located on the left hand side. International flights only.
Hours 10:30 - 21:30 Monday - Saturday.
Closed: Sunday.
Conditions: Maximum 4 hour stay - Access may be restricted due to space constraints -
Children under 2 years are admitted free - Alcoholic drinks are available from
11:00 daily.
Additional information: Please note the lounge will provide pre-packed food.

Johannesburg Lanseria International - HLA


Lounge: Bidvest Premier Lounge
Location: Landside - 1st Floor, located in the main building.
Hours 06:30 - 14:30 Monday - Saturday.
06:30 - 20:00 Sunday.
Conditions: Access is restricted to a maximum of 2 hours prior to scheduled flight departure - Early check-in fees are applicable and payable directly if arriving outside these times - Children under 2 years admitted free - Alcoholic drinks are available from 10:00 daily - Separate smoking room available.

Juliaca Juliaca - JUL


Lounge: Andes Salon VIP
Location: Airside - the lounge is located on the 1st Floor. After Security Checks, follow the sign for the Domestic Departure Lounge, turn right where the lounge is located.
Hours Hours may vary according to flight schedules.
Closed: Sunday.
Conditions: Children under 5 years are admitted free.
Additional information: Alcoholic drinks are subject to payment. Face masks must be worn. Please note the lounge will provide pre-packed food.

Kahului (HI) Kahului - OGG


Lounge: Premier Lounge
Location: Airside - 2nd Floor, opposite Gate 17.
Hours 05:30 - 19:30 daily.
Conditions: Children under 2 years are admitted free - Access may be restricted due to space constraints - All food and beverages must be consumed inside the lounge.
Additional information: If access is restricted, the lounge uses a waiting list. The waiting list does not guarantee access. Face masks must be worn. Please note the lounge will provide pre-packed food.

Kaliningrad Khrabrovo - KGD


Lounge: Business Lounge Dune
Location: Airside - take the escalator in Sector C to the 2nd Floor and turn left.
International flight departures only.
Hours 24 hours daily.
Conditions: Maximum 3 hour stay - Children under 2 years are admitted free -
Complimentary Cinema, gym, massage chairs and iPad usage available.
Additional information: Alcoholic drinks, computer workstations and printers are subject to payment.

Lounge: Business Lounge 'Mayak'
Location: Airside - take the escalator in Sector A to the 2nd Floor and turn right.
Domestic & transit flights only.
Hours 24 hours daily.
Conditions: Maximum 3 hour stay - Children under 2 years are admitted free -
Complimentary massage chairs available.
Additional information: Local telephone calls and fax facilities only. Alcoholic drinks, showers facilities,
computer workstations and printers are subject to payment.

Kannur Kannur International - CNN


Terminal: Domestic Terminal
Lounge: Pearl Lounge Domestic
Location: Airside - after Security Hold Area 108, near Gate 1A.
Hours 10:00 - 22:00 daily.
Conditions: Maximum 3 hour stay - Children under 3 years are admitted free - Quiet area,
games room and separate children's play area available - Separate smoking cabin available.
Additional information: Complimentary shoe shine available inside the lounge.

Terminal: International Terminal
Lounge: Pearl Lounge International
Location: Airside - Security Hold Area 113, near Gate 7. International flights only.
Hours 10:00 - 22:00 daily.
Conditions: Maximum 3 hour stay - Children under 3 years are admitted free - Quiet area,
games room and separate children's play area available - Separate smoking cabin available.
Additional information: Complimentary shoe shine available inside the lounge.

Karachi Jinnah Intl - KHI


Terminal: Jinnah Terminal Complex
Lounge: CIP Lounge
Location: Airside - International Departures, after Passport Control, proceed past Duty
Free Shop and the PIA Business Plus Lounge. Follow signs to where the lounge is located.
Hours 24 hours daily.
Conditions: Access is permitted 3 hours prior to scheduled flight departure - Children under 2 years are admitted free - Separate prayer room available.
Additional information: Local telephone calls and fax facilities only.

Karlovy Vary Karlovy Vary Intl - KLV


Lounge: Business Lounge
Location: Airside - the lounge is located next to the bar, past the Duty Free Shops.
Follow signs to the 'Business Lounge'. Non-Schengen flights only.
Hours Lounge opens 2 hours prior to first flight departure and closes after last scheduled departure.
Conditions: Access may be restricted due to space constraints - Children under 2 years are admitted free.

Kasane Kasane - BBK


Lounge: Nthula Lounge
Location: Airside - after Security clearance take the stairs on the right hand side to the
1st Floor. Domestic flights only.
Hours Lounge opening times vary in accordance with flight schedules.
Conditions: Maximum 2 hour stay - Children under 2 years are admitted free - Smart casual dress at all times.
Additional information: Premium alcoholic drinks and telephone calls are subject to payment.

Lounge: Nthula Lounge
Location: Airside - after Security and Passport control, pass the Duty Free shops and take the lift or stairs on the left hand side to the 1st Floor. International flights only.
Hours Hours may vary according to flight schedules.
Conditions: Maximum 2 hour stay - Children under 2 years are admitted free - Smart casual dress at all times.
Additional information: Premium alcoholic drinks are subject to payment.

Kathmandu Tribhuvan Intl - KTM


Terminal: International Terminal
Lounge: Executive Lounge
Location: Landside - International Departures, after Immigration (Passport Control) and before Security Checks, take the stairway or escalator on the right to the 2nd
Floor where the lounge is located.
Hours 06:00 - 23:00 daily.
Conditions: Limited to two guests per cardholder, subject to a per person charge, where applicable - Children under 2 years are admitted free - Separate smoking room available.
Additional information: Wi-Fi, internet access, telephone calls and fax facilities are all subject to payment. Please note standard buffet service has been suspended and pre-packed food is provided.

Katowice Pyrzowice - KTW


Terminal: Terminal A
Lounge: Business Lounge
Location: Airside - after Security Checks, the lounge is located near Gate 1.
Non-Schengen flights only.
Hours 04:00 - 22:00 daily.
Conditions: Children under 12 are admitted free.
Additional information: Wi-Fi access is subject to payment.

Terminal: Terminal B
Lounge: Business Lounge
Location: Airside - the lounge is located on the 1st Floor behind Security Control.
International Schengen and Non-Schengen flights only.
Hours 04:00 - 22:00 daily.
Conditions: Children under 12 years are admitted free.
Additional information: Conference facilities must be reserved in advance and are subject to availability and payment.

Kazan Kazan Intl - KZN


Terminal: Terminal 1
Lounge: Air Lounge
Location: Landside - Central Area of the Terminal 1.
Hours 24 hours daily.
Conditions: Maximum 3 hour stay - Children under 2 years are admitted free - Separate smoking area available outside the lounge.
Additional information: Complimentary luggage storage available inside the lounge.

Terminal: Terminal 1
Lounge: Sky Lounge
Location: Airside - Ground Floor. International flights only.
Hours 24 hours daily.
Conditions: Maximum 3 hour stay - Children under 2 years are admitted free -
Complimentary massage chairs available.
Additional information: Complimentary luggage storage available inside the lounge. International adapters/ports available.

Terminal: Terminal 1A
Lounge: Business Lounge
Location: Airside - Ground Floor. International flights only.
Hours 24 hours daily.
Conditions: Maximum 3 hour stay - Children under 2 years are admitted free -
Complimentary massage chairs available - Separate children's play area available.
Additional information: Local telephone calls and faxes only. International adapters/ports are subject to payment.

Terminal: Terminal 2
Lounge: Business Lounge
Location: Airside - 1st Floor. Domestic flights only.
Hours 24 hours daily.
Conditions: Maximum 3 hour stay - Children under 2 years are admitted free -
Complimentary massage chairs available.
Additional information: Complimentary shoe shine available inside the lounge. Alcoholic drinks, soft drinks including bottled water, selection of food ((please check with staff), À la carte menu and meeting rooms are subject to payment.

Kemerovo Kemerovo - KEJ


Lounge: Business Lounge
Location: Landside - 1st Floor, on the left hand side of the terminal. Domestic flights only.
Hours 24 hours daily.
Conditions: Maximum 3 hour stay - Children under 2 years are admitted free -
Complimentary alcoholic drinks are limited to beer only.
Additional information: Premium alcoholic drinks are subject to payment.

Khabarovsk Novy - KHV


Lounge: Domestic Business Lounge
Location: Airside - after Security Control, proceed to the 3rd Floor and the lounge is located on the right hand side. Domestic flights only.
Hours 24 hours daily.
Conditions: Access may be restricted due to space constraints - Maximum 4 hour stay -
Children under 2 years are admitted free.
Additional information: Alcoholic drinks are subject to payment.

Lounge: International Business Lounge
Location: Airside - 2nd Floor, near the Duty Free Shop. International flights only.
Hours 24 hours daily.
Conditions: Maximum 4 hour stay - Children under 2 years are admitted free.
Additional information: Alcoholic drinks are subject to payment.

Kharkiv Osnova Intl - HRK
Kharkiv Osnova Intl - HRK


Lounge: Business Lounge
Location: Airside - in the Departure Hall, after Security Checks and Passport Control,
close to the Duty Free Shop. International flights only.
Hours 24 hours daily.
Conditions: Maximum 3 hour stay - Children under 5 years are admitted free - Alcoholic drinks are limited to beer only, all other alcoholic drinks are subject to payment
- Separate smoking room available.
Additional information: Local telephone calls only.

Kiev Boryspil Intl - KBP


Terminal: Terminal D
Lounge: Business Lounge
Location: Airside - after Security Control, the lounge is located on the 2nd Floor, on the left hand side. Domestic flights only.
Hours 24 hours daily.
Conditions: Maximum 3 hour stay - Limited to two guests per cardholder, subject to a per person charge, where applicable - Children 4 years and under are admitted free - Separate smoking area available.

Terminal: Terminal D
Lounge: Business Lounge
Location: Airside after Passport Control turn left or right and proceed upstairs, the lounge is located on the 4th Floor. International flights only.
Hours 24 hours daily.
Conditions: Maximum 3 hour stay - Limited to two guests per cardholder, subject to a per person charge, where applicable - Children 4 years and under are admitted free.

Kiev Zhulyany Intl - IEV


Terminal: Terminal A
Lounge: East Lounge
Location: Airside - after Security Checks and Passport Control, proceed to the 2nd
Floor. The lounge is located on the left hand side, near the Duty Free Shops.
Follow signs to the lounge. International flights only.
Hours 24 hours daily.
Conditions: Maximum 3 hour stay - Limited to two guests per cardholder, subject to a per person charge, where applicable - Children under 2 years are admitted free -
Separate smoking room available.

Terminal: Terminal A
Lounge: West Lounge
Location: Airside - after Passport Control, the lounge is located on the 2nd Floor.
International flights only.
Hours 24 hours daily.
Conditions: Maximum 3 hour stay - Limited to two guests per cardholder, subject to a per person charge, where applicable - Children under 2 years are admitted free -
Separate smoking room available.
Additional information: Conference facilities are subject to payment.

Terminal: Terminal D
Lounge: Domestic Lounge
Location: Airside - after Security Checks and Passport Control, Ground Floor. Domestic flights only.
Hours 24 hours daily.
Conditions: Maximum 3 hour stay - Limited to two guests per cardholder, subject to a per person charge, where applicable - Children under 2 years are admitted free.

Kigali Kigali Intl - KGL


Lounge: Pearl Lounge
Location: Airside - the lounge is located after the Duty Free shops.
Hours 24 hours daily.
Conditions: Maximum 4 hour stay - Children under 2 years are admitted free - Smart casual dress at all times.
Additional information: Wine and spirits are subject to payment. Please note hot food is temporarily suspended until further notice.

Kingston Norman Manley Intl - KIN


Lounge: Club Kingston
Location: Airside - after Security Control go upstairs to the main departure lounge and proceed to the west end, passing the Food Court. Take the lift or escalator down to the Mezzanine Level where the lounge is located. Follow signs.
Hours 04:00 - 21:00 daily.
Hours may vary according to flight schedules.
Conditions: Children under 2 years are admitted free - Spa services available inside the lounge - Smart casual dress at all times.
Additional information: Interstate/international telephone calls, fax facilities and Spa services are subject to payment.

Lounge: Club Kingston Arrivals
Location: Airside - across from the Arrival Hall exit.
Hours 08:00 - 19:00 daily.
Hours may vary according to flight schedules.
Conditions: Children under 2 years are admitted free - Alcoholic drinks are limited to beer only.

Kirov Pobedilovo - KVX


Lounge: Business Lounge
Location: Landside - the lounge is located on the 1st Floor of the right wing after the inspection point. Domestic flights only.
Hours 24 hours daily.
Conditions: Maximum 3 hour stay - Children under 2 years are admitted free - Separate prayer room available.
Additional information: Complimentary luggage storage available inside the lounge. Conference facilities are subject to payment.

Knock Ireland West - NOC
Knock Ireland West - NOC


Lounge: Ireland West Executive Lounge
Location: Airside - do not proceed directly to lounge. First register landside at Info desk,
where staff will provide a door code to enter on the lounge door keypad for access. The lounge is located in departures area. Proceed to boarding gate.
Lounge: is located at entrance to Boarding Gate 3, right hand side
Hours 08:00 - 18:00 daily.
Hours may be subject to change and will vary during the winter schedules.
Closed: Dec 25.
Due to current travel restrictions impacting the area this lounge is temporarily closed.
Conditions: Children under 2 years are not admitted - All children must be accompanied by an adult - Alcoholic drinks are limited to three per adult.

Kolkata Netaji Subhash Chandra Bose Intl - CCU


Terminal: Terminal 1
Lounge: Travel Club
Location: Airside - Domestic Departures. Mezzanine Level. After Security Checks, when still inside the Security Area, turn left where the lounge is located.
Hours 04:00 - 01:30 daily.
Conditions: Maximum 3 hour stay - Children under 4 years are admitted free.
Additional information: Please note the lounge will provide one takeaway food box per person which can be consumed inside the lounge.

Terminal: Terminal 1
Lounge: Travel Club Lounge Anex
Location: Airside - Domestic Departures, Mezzanine Level, after Security Checks turn left.
Hours 03:30 to last scheduled flight departure.
Due to current travel restrictions impacting the area this lounge is temporarily closed.
Conditions: Maximum 3 hour stay - Children under 4 years are admitted free.
Additional information: Alcoholic drinks are subject to payment.

Terminal: Terminal 2
Lounge: Travel Club
Location: Airside - International Departures. After Security Checks, the lounge is located opposite Gate 10.
Hours 24 hours daily.
Hours may vary according to flight schedules.
Conditions: Maximum 3 hour stay - Children under 4 years are admitted free - Separate smoking room available outside the lounge.
Additional information: Please note standard buffet service has been suspended and pre-packed food is provided.

Terminal: Terminal 2
Lounge: Travel Club
Location: Airside -International Departures. Mezzanine Level. After Security Checks, the lounge is located on the right hand side.
Hours 24 hours daily.
Due to current travel restrictions impacting the area this lounge is temporarily closed.
Conditions: Maximum 3 hour stay - Children under 4 years are admitted free.

Kosice Kosice - KSC


Lounge: Airport Lounge
Location: Airside - behind the Security Control Point on the 1st Floor. Follow signs.
Hours 05:00 - 20:00 daily.
Conditions: Dress code applicable (no sandals, shorts or vests allowed).

Kozhikode Calicut International - CCJ


Terminal: Terminal 2
Lounge: Bird Lounge
Location: Airside - International Departures, inside the Security Hold Area. The lounge is located on Level 1, near Gate 1.
Hours 24 hours daily.
Due to current travel restrictions impacting the area this lounge is temporarily closed.
Conditions: Maximum 3 hour stay - Children under 5 years are admitted free - Separate smoking area available.
Additional information: Alcoholic drinks are subject to payment.

Krakow John Paul II - Balice - KRK


Terminal: International Terminal
Lounge: Business Lounge Non-Schengen
Location: Airside - after Passport Control, turn right and follow the signs for the
'Business Lounge'. Non-Schengen flights only.
Hours 09:30 - 22:00 daily.
Non-Schengen passengers have access to the 'Business Lounge Schengen'
between the hours of 04:30 - 09:30 daily. Please allow sufficient time to return to the departure gate as when leaving the lounge you have to pass through
Passport Control.
Due to current travel restrictions impacting the area this lounge is temporarily closed.
Conditions: Children under 3 years are admitted free - Children under 18 years must be accompanied by an adult - Separate children's play area available.
Additional information: Telephone calls are subject to payment.

Terminal: International Terminal
Lounge: Business Lounge Schengen
Location: Airside - after Security Control, turn left and the lounge is located between
Gates 9 and 10. Schengen flights only.
Hours 04:30 - 21:30 Monday, Wednesday & Sunday.
04:30 - 20:00 Tuesday.
04:30 - 19:00 Thursday.
04:30 - 22:00 Friday.
04:30 -20:30 Saturday.
Hours are subject to change.
Non-Schengen passengers have access to this lounge until further notice.
Conditions: Children under 3 years are admitted free - Children under 18 years must be accompanied by an adult.
Additional information: Telephone calls are subject to payment. Please note the lounge will provide pre-packed meals.

Krasnodar Krasnodar International - KRR


Lounge: Domestic Business Lounge
Location: Airside - after Security Checks and Passport Control, 2nd Floor. Domestic flights only.
Hours 24 hours daily.
Conditions: Maximum 3 hour stay - Children under 2 years are admitted free - Alcoholic drinks are limited to one can of beer per adult, subsequent drinks are subject to payment including soft drinks and herbal teas - Complimentary massage chairs available.
Additional information: À la carte menu available, subject to payment.

Lounge: International Business Lounge
Location: Airside - after Passport Control and Security Checks, 1st Floor, near Gate A.
International flights only.
Hours 24 hours daily.
Conditions: Maximum 3 hour stay - Children under 2 years are admitted free - Alcoholic drinks are limited to one can of beer per adult, subsequent drinks are subject to payment.

Krasnoyarsk Yemelyanovo Intl - KJA


Terminal: Terminal 1
Lounge: Grey Wall International
Location: Airside - located on the 3rd Floor in the left wing of the main terminal.
International flights only.
Hours 24 hours daily.
Conditions: Maximum 3 hour stay - Children under 5 years are admitted free.
Additional information: À la carte menu and premium alcoholic drinks are subject to payment.

Terminal: Terminal 1
Lounge: Lounge Grey Wall
Location: Airside - located on the 3rd Floor in the right wing of the main terminal.
Domestic flights only.
Hours 24 hours daily.
Conditions: Maximum 3 hour stay - Children under 6 years are admitted free.
Additional information: À la carte menu and premium alcoholic drinks are subject to payment.

Kuala Lumpur Kuala Lumpur Intl - KUL


Terminal: KLIA1 (Satellite)
Lounge: Plaza Premium Lounge
Location: Airside - International Departures. After Check-in and Immigration, take the
Aerotrain to the Satellite Building. Keep left and take lift '2' up to the
Mezzanine Level. The lounge is located on the right hand side.
Hours 10:00 - 02:00 Tuesday - Sunday.
Closed: Monday.
Due to current travel restrictions impacting the area this lounge is temporarily closed.
Conditions: Maximum 3 hour stay - Children under 2 years are admitted free - All children must be accompanied by an adult - Smart casual dress at all times.
Additional information: Alcoholic drinks are subject to payment. Please note buffet service has been suspended until further notice and À la carte menu will be provided.

Terminal: KLIA2
Lounge: Plaza Premium Lounge
Location: Airside - International Departures. Level 2. The lounge is located next to Gate
L8.
Hours 09:00 - 16:00 Tuesday & Sunday.
11:00 - 19:00 Wednesday.
10:00 - 18:00 Thursday & Friday.
Closed: Monday & Saturday.
Due to current travel restrictions impacting the area this lounge is temporarily closed. Alternate lounge: First Class Lounge. KLIA2. Landside - Level 2M. The lounge is located on the right hand side of the moving walkway next to the KK
Super Mart.
Conditions: Maximum 3 hour stay - Children under 2 years are admitted free - All children must be accompanied by an adult - Complimentary alcoholic drinks are limited to beer only.
Additional information: Telephone calls are subject to payment. Please note standard buffet service has been suspended and set meals are provided.

Terminal: KLIA2
Lounge: Plaza Premium Lounge
Location: Airside - International Departures. Level 3. The lounge is located after the
Skybridge and behind 'TheBar'.
Hours 04:00 - 00:00 daily.
Due to current travel restrictions impacting the area this lounge is temporarily closed.
Conditions: Maximum 3 hour stay - Children under 2 years are admitted free - All children must be accompanied by an adult.
Additional information: Telephone calls are subject to payment.

Terminal: KLIA2
Lounge: Plaza Premium Lounge
Location: Landside - Level 2M. The lounge is located on the right hand side of the moving walkway next to the KK Super Mart.
Hours 10:00 - 14:00 daily.
Conditions: Maximum 3 hour stay - Children under 2 years are admitted free - All children must be accompanied by an adult - Complimentary alcoholic drinks are limited to beer only - Smart casual dress at all times.
Additional information: Premium alcoholic drinks, fax, telephone and conference facilities are subject to payment. Please note buffet service has been suspended until further notice and À la carte menu will be provided.

Kuching Kuching Intl - KCH


Lounge: Plaza Premium Lounge
Location: Airside - Domestic Departures. Level 2, opposite Gate B6.
Hours 10:00 – 18:00 daily.
Due to current travel restrictions impacting the area this lounge is temporarily closed.
Conditions: Children under 2 years are admitted free - All children must be accompanied by an adult - Smart casual dress at all times.
Additional information: Alcoholic drinks, telephone calls and fax facilities are all subject to payment.
Please note hot food will only be provided through their take away service and not consumed inside the lounge.

Kunming Changshui International - KMG


Lounge: Lucky Air VIP Lounge
Location: Airside - Domestic Departures,after Security turn left and take the escalator to the 1st Floor.
Hours 05:30 - 23:00 daily.
Conditions: Maximum 3 hour stay - Children under 2 years are admitted free.
Additional information: Due to precautionary measures this lounge may have interrupted services.

Kupang El Tari International - KOE


Lounge: Concordia Lounge
Location: Airside - Domestic Departure Area. The lounge is located near the Angkasa
Pura Airport Branch Office and ATM Center on the 1st Floor. The lounge is also accessible to International passengers.
Hours 05:00 - 15:00 daily.
Conditions: Children under 2 years are admitted free - Separate prayer room available -
Separate smoking area available.
Additional information: Please note buffet service has been suspended until further notice. Items on the À la carte menu are free of charge until further notice.

Kuwait Kuwait Intl - KWI


Terminal: Terminal 5
Lounge: Pearl Lounge
Location: Airside - after Immigration, Departure Level, 1st Floor.
Hours 24 hours daily.
Conditions: Maximum 4 hour stay - Children under 2 years are admitted.

Terminal: Terminal 1
Lounge: Dasman Premier Lounge
Location: Airside - after Gate 26.
Hours 24 hours daily.
Conditions: Maximum 3 hour stay - Access may be restricted due to space constraints -
Children under 2 years are admitted free - Separate smoking room available.

Terminal: Terminal 1
Lounge: Kuwait Airways - Dasman Lounge
Location: Airside - after Immigration turn right. The lounge is located opposite Gates 22
and 23.
Hours 24 hours daily.
Conditions: Maximum 3 hour stay - Access may be restricted due to space constraints -
Children under 2 years are admitted free - Separate children's play area available - Separate smoking room available.
Additional information: Please note standard buffet service has been suspended until further notice and boxed meals will be provided.

Terminal: Terminal 1
Lounge: Pearl Lounge
Location: Airside - pass through Immigration Departure Point and turn left. The lounge is located on the 2nd Floor opposite Gate 2.
Hours 24 hours daily.
Conditions: Maximum 4 hour stay - Children under 2 years are admitted free - Separate smoking room available.

Terminal: Terminal 3
Lounge: Pearl Lounge Sheikh Saad
Location: Airside - the lounge is located on the Ground Floor. From the main entrance turn left into the Business Check-in area where the lounge reception desk is located.
Hours 24 hours daily.
Due to current travel restrictions impacting the area this lounge is temporarily closed.
Conditions: Maximum 4 hour stay - Children under 2 years are admitted free - Smart casual dress at all times - Separate prayer rooms available - Separate smoking area available.
Additional information: Local calls only.

Terminal: Terminal 4
Lounge: Al Mubarakiya Lounge
Location: Airside - after Passport Control, turn right and the lounge is located near Gate
B5. International and transit passengers.
Hours 24 hours daily.
Conditions: Maximum 3 hour stay - Access may be restricted due to space constraints -
Children under 2 years are admitted free - Computer work stations available -
Smart casual dress at all times.
Additional information: Complimentary luggage storage available inside the lounge. Please note standard buffet service has been suspended until further notice and boxed meals will be provided.

La Paz El Alto Intl - LPB


Lounge: The Lounge VIP
Location: Airside - the lounge is located at the end of the International Boarding Hall.
Hours Hours may vary according to flight schedules.
Conditions: Maximum 4 hour stay - Children 12 years and under are admitted free -
Complimentary use of iPad.
Additional information: Local calls only. Premium selection of alcoholic drinks are subject to payment.
Face masks must be worn. Please note standard buffet service has been suspended but the lounge will instead offer table service.

Lounge: The Lounge VIP
Location: Airside - Domestic Pre-Boarding Area, 2nd Floor in front of Gate 9. Domestic flights only.
Hours 06:30 - 21:00 daily.
Conditions: Maximum 4 hour stay - Children 12 years and under are admitted free -
Alcoholic drinks are limited to beer and wine only.
Additional information: Face masks must be worn. Please note standard buffet service has been suspended but the lounge will instead offer table service.

La Paz Manuel Marquez de Leon Intl - LAP


Lounge: VIP Lounge La Paz
Location: Airside - after Security Control on the left hand side.
Hours 06:00 - 20:00 Monday & Wednesday.
06:00 - 17:30 Tuesday.
06:00 - 18:00 Thursday - Sunday.
Conditions: Maximum 8 hour stay - Children under 7 years are admitted free -
Complimentary use of iPad.
Additional information: Local telephone calls only. Please note standard buffet service has been suspended until further notice. Hot food available upon request.

La Serena La Florida - LSC


Lounge: Salones VIP Pacific Club
Location: Airside - after Security, turn right and take the stairs to the 2nd Floor. The lounge is in front of Gate 2.
Hours 07:00 -22:00 daily.
Due to current travel restrictions impacting the area this lounge is temporarily closed.
Conditions: Maximum 2 hour stay - Children under 2 years are admitted free - Smart casual dress at all times.

Laayoune Hassan I - EUN


Lounge: Pearl Lounge
Location: Airside - the lounge is located in the Boarding Area just after Passport Control on the right hand side.
Hours 07:00 - 17:00 daily.
Conditions: Maximum 3 hour stay - Children under 2 years are admitted free.
Additional information: Please note standard buffet service has been suspended until further notice and boxed meals will be provided.

Lagos Murtala Muhammed - LOS


Terminal: Domestic Terminal
Lounge: The Gabfol Lounge
Location: Airside - Arik Air Wing, after Security Checks and Passport Control. Turn immediately to the left hand side where the lounge is located. Access is only available to domestic passengers departing from the General Aviation
Terminal: 1.
Hours 07:00 - 17:00 daily.
Conditions: Domestic flights only - Children under 2 years are admitted free - Alcoholic drinks are only available to passengers 18 years of age or older -
Complimentary alcoholic drinks are limited to beer only, all other drinks are subject to payment.
Additional information: Hot drinks and shower facilities are subject to payment. Face masks must be worn.

Terminal: Domestic Terminal
Lounge: VIP Lounge
Location: Airside - after Security Checks on the 2nd Floor, turn right into the main departure hall. Take the lift or stairs to the 3rd Floor where the lounge is located.
Hours 06:30 to last scheduled flight departure (approx. 20:45).
Conditions: Complimentary drinks are limited to two per person, subsequent drinks are subject to payment - Children under 2 years are admitted free - Separate prayer room available.
Additional information: Face masks must be worn.

Terminal: International Terminal
Lounge: Air France Lounge
Location: Airside - after Immigration, near Wing D. International flights only.
Hours 09:00 - 23:00 Monday, Wednesday & Sunday.
17:00 - 23:00 Tuesday & Thursday - Saturday.
Conditions: Children under 2 years are admitted free.
Additional information: Complimentary luggage storage available inside the lounge.

Terminal: International Terminal
Lounge: First Lounge
Location: Landside - Departure Area. The lounge is located between the South African
Airways and African World Airlines Check-in counters.
Hours 07:00 - 21:00 daily.
Conditions: Maximum 4 hour stay - Children under 6 years are admitted free -
Complimentary use of tablet - Separate children's play area and games room available.
Additional information: Complimentary luggage storage available inside the lounge. Premium alcoholic drinks are subject to payment.

Terminal: International Terminal
Lounge: Llegada Arrival Lounge
Location: Landside - Wing D, proceed through the Interline Pass and Immigration. The lounge is located opposite the Baggage Hall. International Arrivals only.
Hours 24 hours daily.
Conditions: Maximum 3 hour stay - Children under 6 years are admitted free.
Additional information: Telephone calls are subject to payment. Porter and Fast Track services are available at the lounge for an additional fee payable directly to the lounge.

Terminal: International Terminal
Lounge: Llegada Arrival Lounge
Location: Landside - Wing E, proceed through the Interline Pass and Immigration. The lounge is located on the right of the Arrival Hall. International Arrivals only.
Hours 24 hours daily.
Conditions: Maximum 3 hour stay - Children under 6 years are admitted free.
Additional information: Telephone calls are subject to payment. Porter and Fast Track services are available at the lounge for an additional fee payable directly to the lounge.

Terminal: International Terminal
Lounge: Premium Lounge
Location: Airside - proceed towards the E-Wing and go up the wooden spiral staircase to the Mezzanine Floor. The lounge is located at the top of the stairs on the left hand side.
Hours 06:00 - 00:00 daily.
Conditions: Maximum 4 hour stay - Access may be restricted due to space constraints -
Children under 12 years are admitted free - Separate smoking room available.

Terminal: International Terminal
Lounge: SDS Lounge Services
Location: Airside - E-Wing, Departure Level. After Security Checks (screening point) and
Passport Control turn right and the lounge is located after the arts and crafts shops opposite the 'Business Mart' Duty Free Shop. International flights only.
Hours 24 hours daily.
Conditions: Children under 6 years are admitted free - Smart casual dress at all times -
Spa services are subject to payment. Subject to availability, cardholders and guests will be entitled to a 50% discount on Spa services upon presentation of a valid membership card and payments must be made direct to the lounge.
Additional information: Check-in facilities are available upon request and are subject to payment.
Long distance telephone calls are subject to payment. Complimentary Sleep beds available.

Terminal: International Terminal
Lounge: Skyway Premium Lounge
Location: Airside - after Security Screening from 'Entrance D', turn left and proceed 100
metres towards the E-Wing where the lounge is located. Passengers clearing
Security at the 'Central Entrance' turn right and then the lounge is located straight ahead. Follow signs.
Hours 24 hours daily.
Conditions: Maximum 3 hour stay - Children under 3 years are admitted free.

Terminal: International Terminal
Lounge: The Gabfol Lounge
Location: Airside - after Security Screening from 'Entrance D', turn left and proceed 100
metres towards the E-Wing where the lounge is located. Passengers clearing
Security Checks at the 'Central Entrance' turn right and the lounge is located straight ahead. Follow signs.
Hours 06:00 - 23:00 daily.
Conditions: Children under 12 years are admitted free - Complimentary soft drinks are limited to one per person, subsequent consumption is subject to payment -
Smart casual dress at all times - Separate smoking area available.
Additional information: Alcoholic drinks, meals, telephone calls, shower and conference facilities are all subject to payment.

Terminal: International Terminal
Lounge: The Oasis Lounge
Location: Airside - D-Wing, Departure Level. After Security Checks and Passport
Control the lounge is located on the 1st Floor next to the Air France/KLM
Lounge:.
Hours 06:30 - 23:00 daily.
Conditions: Children under 2 years are admitted free.

Lahore Allama Iqbal Intl - LHE


Terminal: Allama Iqbal Terminal
Lounge: CIP Lounge
Location: Airside - right after Immigration Control, the lounge is located upstairs on the left hand side above the Immigration Control counter.
Hours 24 hours daily.
Hours may vary according to flight schedules.
Conditions: Access is permitted 3 hours prior to scheduled flight departure - Children under 2 years are admitted free - Separate prayer room available.

Langkawi Langkawi Intl - LGK


Lounge: Plaza Premium Lounge
Location: Landside - the lounge is located on the 1st Floor in the Departure Hall next to the Prayer room.
Hours 12:00 - 16:00 Thursday - Monday.
Closed: Tuesday & Wednesday.
Due to current travel restrictions impacting the area this lounge is temporarily closed.
Conditions: Maximum 3 hour stay - Children under 2 years are admitted free - All children must be accompanied by an adult - Complimentary alcoholic drinks are limited to canned beer only - Smart casual dress at all times.
Additional information: Shower facilities are subject to payment. Complimentary luggage storage available inside the lounge. Please note buffet service has been suspended until further notice and À la carte menu will be provided.

Lanzarote Lanzarote - ACE


Terminal: Terminal 1
Lounge: Sala Guacimeta
Location: Airside - after Passport Control and Security Checks, 2nd Floor near Gates
1-2.
Hours 06:00 - last scheduled flight departure daily.
Due to current travel restrictions impacting the area this lounge is temporarily closed.
Conditions: Access is permitted 4 hours prior to scheduled flight departure - All
Cardholders and guests are required to show a Boarding Pass with confirmed same-day travel for access to the lounge - Children 5 years and under are admitted free - Children under 18 years must be accompanied by an adult -
Separate smoking area available.

Lanzhou Zhongchuan - LHW


Terminal: Terminal 1
Lounge: Easy Business VIP Hall
Location: Airside - Domestic Departures, 2nd Floor. After Security Checks, turn left and go straight about 50 metres.
Hours 08:00 - 21:30 daily.
Conditions: Children under 2 years are admitted free.
Additional information: Massage chairs are subject to payment.

Terminal: Terminal 1
Lounge: First Class Lounge
Location: Airside - Domestic Departures. The lounge is located on the 2nd Floor, next to
Security Checks.
Hours Lounge opens from 06:00 and closes after last scheduled flight departure.
Conditions: Maximum 3 hour stay - Children under 12 years are admitted free -
Complimentary use of iPad and shoe shine.

Larnaca Larnaca International - LCA


Lounge: Aspire Aphrodite Lounge
Location: Airside - after Immigration, take the lift or stairs on the left hand side of the main departure area up to the next level (3rd Floor) where the lounge is located.
Hours 24 hours daily.
Conditions: Children under 2 years are admitted free - All children must be accompanied by an adult - TV room - Quiet room (no children allowed) - Smart casual dress at all times (no shorts or vests allowed) - Terrace with separate smoking area available.
Additional information: Telephone calls are subject to payment. All passengers and guests must wear a mask with the exception of the outdoor terrace. Please note the bar is temporarily closed and spirits (whisky, Vodka,Cognac etc) are not available.
Complimentary beer and wine only.

Las Vegas (NV) McCarran Intl - LAS


Terminal: Terminal 1
Lounge: The Club LAS
Location: Airside - Level 2. After passing through Security Checkpoint D, take the Blue
Line train to D Gates - Level 0. Take the escalator and head West or right towards Gate D33. The lounge is located between Brooks Brothers & Tumi. It takes approximately 15 minutes. Access from Terminal 3 - Level 0. After passing through Security Checkpoint D and E, take the Red Line train to the D
Gates-Level 0 and follow the same directions as above. It takes approximately
18 minutes.
Hours 05:00 - 20:00 daily.
Conditions: Access is permitted 3 hours prior to scheduled flight departure - Children under 2 years are admitted free - All children must be accompanied by an adult - Alcoholic drinks are only available to passengers 21 years of age or older - Computer workstation and printer available.
Additional information: Due to local and regional restrictions, some amenities and services may be temporarily unavailable.

Terminal: Terminal 3
Lounge: The Club LAS
Location: Airside - the lounge is located across from Gate E2.
Hours 11:00 – 22:00 daily.
Due to current travel restrictions impacting the area this lounge is temporarily closed.
Conditions: Access is permitted 3 hours prior to scheduled flight departure - Children under 2 years are admitted free - All children must be accompanied by an adult - Alcoholic drinks are only available to passengers 21 years of age or older - Computer workstation and printer available.
Additional information: Due to local and regional restrictions, some amenities and services may be temporarily unavailable.

Leeds Bradford Leeds Bradford Intl - LBA


Lounge: The Yorkshire Lounge
Location: Airside - proceed through Security and Duty Free and pass the 'Saltaire Bar'.
The lounge entrance is next to the glass lifts, near Gates 4 & 5.
Hours 06:00 - 17:00 Monday.
05:00 - 12:30 Tuesday.
05:00 - 12:00 Wednesday & Thursday.
05:00 - 16:30 Friday - Sunday.
Hours may vary according to flight schedules.
Closed: Dec 25.
Due to current travel restrictions impacting the area this lounge is temporarily closed and is scheduled to re-open 14JUN21.
Conditions: Access is permitted 3 hours prior to scheduled flight departure - Children under 3 years are admitted free - Smart casual dress at all times (no shorts,
baseball caps or football shirts allowed) - Separate smoking area available outside the lounge.

Leon/Guanajuato Del Bajio Intl - BJX


Lounge: VIP Lounge Bajio
Location: Airside - after Security Checks, take the escalator to the 2nd Floor and the lounge is located opposite Gate 3.
Hours 04:00 - 23:00 daily.
Conditions: Children under 7 years are admitted free - Complimentary use of iPad -
Maximum 8 hour stay.
Additional information: Local calls only. Please note standard buffet service has been suspended until further notice. Hot food available upon request.

Lexington (KY) Blue Grass - LEX


Lounge: Kentucky Ale Taproom
Location: Airside - after Security, the Kentucky Ale Taproom is located on the right, next to Concourse B entrance. Domestic flights only. Please note that the restaurant may exceed their seating limit at certain times of the day & access to the restaurant is at their sole discretion.
Hours 05:00 to last scheduled flight departure.
Due to current travel restrictions impacting the area this lounge is temporarily closed.
The Kentucky Ale Taproom offers a variety of food, cocktails and non-alcoholic beverages. Enjoy all-American favourites such as burgers and salads. Now featuring Crank & Boom ice cream.
Conditions: 1. Cardholders can use their lounge visit entitlement to receive US$28 off the bill. Each US$28 deduction represents a single lounge visit within the
Cardholder's existing lounge visit allocation for which the Cardholder will,
where applicable, be charged. E.g. if a Cardholder registers 1 Guest they will receive US$56 off their bill which will be charged as 1 Cardholder visit + 1
Guest visit on their account. Only 1 card per visit per Cardholder will be accepted and at point of registration. 2. The US$28 is valid for the purchase of any meal and/or drinks. To be eligible, Cardholders must present a valid Card and Boarding Pass with confirmed same-day travel before placing an order. 3.
US$28 is non-transferable & cannot be exchanged for cash substitute or refund if the final bill is lower than US$28 per person. 4. Cardholder is responsible for the balance if total final bill exceeds US$28 per person. Any remaining balance cannot be used towards gratuity. 5. Priority Pass and its
Affiliates Companies shall not be liable should the offer value be less than
Customers lounge visit entitlement. Customers who pay for lounge and guest visits are advised to review programme Conditions of Use prior to accessing the offer.

Liberia Daniel Oduber Quiros Intl - LIR


Lounge: VIP Lounge Liberia
Location: Airside - after Passport and Security Checks, take the escalator to the 2nd
Floor and the lounge is located on the left hand side.
Hours 05:30 - 15:00 Monday.
06:00 - 21:00 Tuesday.
09:30 - 15:00 Wednesday.
09:00 - 21:00 Thursday & Friday.
05:30 - 18:30 Saturday.
05:00 - 21:00 Sunday.
Conditions: Children under 12 years are admitted free - Alcoholic drinks are only available for passengers 18 years of age or older.
Additional information: Due to precautionary measures this lounge may have interrupted services.

Libreville Leon Mba International - LBV


Terminal: Terminal 1
Lounge: Samba Lounge
Location: Airside - Level 1. After Security Checks, turn right and the lounge is located at the start of the corridor. International flights only.
Hours 24 hours daily.
Conditions: Maximum 3 hour stay - All cardholders and guests are required to show a
Boarding Pass with confirmed same-day travel for access to the lounge -
Children under 10 years are admitted free.
Additional information: Scanning and photocopying are subject to payment.

Lijiang Sanyi - LJG


Terminal: Domestic Terminal
Lounge: Best Business VIP Lounge
Location: Airside - Domestic Departures. After Security Checks, the lounge is located next to the lift in Departure Hall A. Cardholders & their guests will have complimentary Fast Track Service (Check-in, Baggage Check-in and Fast
Track Lane) at the VIP counter located landside, next to NO.12 Check-in
Counter 2 hours prior to flight departure. Staff will assist with check-in and fast track lane upon presentation of valid physical or digital card and Passport.
Hours Lounge opens 90 minutes prior to the first scheduled flight departure and closes after last departure.
Conditions: Children under 2 years are admitted free.
Additional information: Local fax and telephone calls only.

Terminal: Domestic Terminal
Lounge: First Class Lounge
Location: Airside - Domestic Departures. After Security Checks, turn right, the lounge is located approximately 10 metres ahead. Cardholders & their guests will have complimentary Fast Track Service (Check-in, Baggage Check-in and Fast
Track Lane) at the VIP counter located landside, next to NO.12 Check-in
Counter 2 hours prior to flight departure. Staff will assist with check-in and fast track lane upon presentation of valid physical or digital card and Passport.
Hours Lounge opens 90 minutes prior to the first scheduled flight departure and closes after last departure.
Conditions: Children under 2 years are admitted free.
Additional information: Local fax and telephone calls only.

Terminal: International Terminal
Lounge: International Lounge No.1
Location: Airside - International Departures. After Security Checks, the lounge is located next to the Departure Hall.
Hours Lounge opens 90 minutes prior to the first scheduled flight departure and closes after last departure.
Due to current travel restrictions impacting the area this lounge is temporarily closed.
Conditions: Children under 2 years are admitted free.
Additional information: Local fax and telephone calls only.

Terminal: International Terminal
Lounge: International Lounge No.2
Location: Airside - International Departures. After Security Checks, the lounge is located next to the Departure Hall.
Hours Lounge opens 90 minutes prior to the first scheduled flight departure and closes after last departure.
Due to current travel restrictions impacting the area this lounge is temporarily closed.
Conditions: Children under 2 years are admitted free.
Additional information: Local fax and telephone calls only.

Lima Jorge Chavez Intl - LIM


Lounge: Bleriot Bar & Lounge
Location: Airside - after Passport Control, turn left towards Duty Free. The bar is located on the right, by Gate 24. International flights only. Please note that the bar may exceed their seating limit at certain times of the day & access to the bar is at their sole discretion.
Hours 24 hours daily.
Due to current travel restrictions impacting the area Bleriot Bar is temporarily closed.
IMPORTANT NOTE: For Cardholders who pay for individual visits or guest visits, please check this particular offer against your visit fee to ensure it represents value for you. We advise Cardholders to review full Conditions of access below before visiting.
Conditions: 1. Cardholders can use their lounge visit entitlement to receive US$27 off the bill. Each US$27 deduction represents a single lounge visit within the
Cardholder's existing lounge visit allocation for which the Cardholder will,
where applicable, be charged. E.g. if a Cardholder registers 1 Guest they will receive US$54 off their bill which will be charged as 1 Cardholder visit + 1
Guest visit on their account. Only 1 card per visit per Cardholder will be accepted and at point of registration. 2. The US$27 is valid for the purchase of any meal and/or drinks. To be eligible, Cardholders must present a valid Card and Boarding Pass with same-day travel before placing an order. 3. US$27 is non-transferable & cannot be exchanged for cash substitute or refund if the final bill is lower than US$27 per person. 4. Cardholder is responsible for the balance if total final bill exceeds US$27 per person. Any remaining balance cannot be used towards gratuity. 5. Priority Pass and its Affiliates Companies shall not be liable should the offer value be less than Customers lounge visit entitlement. Customers who pay for lounge and guest visits are advised to review programme Conditions of Use prior to accessing the offer.

Lounge: El Salon by Newrest
Location: Airside - after Security Control, turn right towards the Boarding Gates and the lounge entrance is located just before the TANTA Restaurant, opposite Gate
13. Domestic and in transit Domestic flights only.
Hours 05:00 - 16:00 daily.
Conditions: Maximum 4 hour stay - Children under 5 years are admitted free - Separate children's play area available - Workstations, business and quiet area available.
Additional information: Complimentary luggage storage available inside the lounge. Please note hot meals are temporarily suspended (snacks only) until further notice.

Lounge: Hanaq VIP Lounge
Location: Airside - after Security, pass Gate 17, turn left and walk 20 metres through the corridor to the lounge entrance. International flights only.
Hours 24 hours daily.
Due to current travel restrictions impacting the area this lounge is temporarily closed.
Conditions: Access is permitted 3 hours prior to scheduled flight departure - Children under 2 years are admitted free - Limited to four guests per cardholder,
subject to a per person charge, where applicable - Complimentary alcoholic drinks are limited to one per adult - Separate children's play area available.
Additional information: Due to local and regional restrictions, some services may be temporarily unavailable.

Lounge: La Bonbonniere
Location: Airside - after Passport Control, turn left towards Duty Free. The restaurant is located on the right, by Gate 24. International flights only. Please note that the restaurant may exceed their seating limit at certain times of the day & access to the restaurant is at their sole discretion.
Hours Restaurant opens from first scheduled flight departure and closes after last scheduled flight departure.
IMPORTANT NOTE: For Cardholders who pay for individual visits or guest visits, please check this particular offer against your visit fee to ensure it represents value for you. We advise Cardholders to review full Conditions of access below before visiting.
Conditions: 1. Cardholders can use their lounge visit entitlement to receive US$27 off the bill. Each US$27 deduction represents a single lounge visit within the
Cardholder's existing lounge visit allocation for which the Cardholder will,
where applicable, be charged. E.g. if a Cardholder registers 1 Guest they will receive US$54 off their bill which will be charged as 1 Cardholder visit + 1
Guest visit on their account. Only 1 card per visit per Cardholder will be accepted and at point of registration. 2. The US$27 is valid for the purchase of accepted and at point of registration. 2. The US$27 is valid for the purchase of any meal and/or drinks. To be eligible, Cardholders must present a valid Card and Boarding Pass with confirmed same-day travel before placing an order. 3.
US$27 is non-transferable & cannot be exchanged for cash substitute or refund if the final bill is lower than US$27 per person. 4. Cardholder is responsible for the balance if total final bill exceeds US$27 per person. Any remaining balance cannot be used towards gratuity. 5. Priority Pass and its
Affiliates Companies shall not be liable should the offer value be less than
Customers lounge visit entitlement. Customers who pay for lounge and guest visits are advised to review programme Conditions of Use prior to accessing the offer.

Lounge: Sumaq Lounge
Location: Airside - after Security, pass Gate 17, turn left and walk 20 metres down the corridor to the lounge entrance located on the left hand side. International flights only.
Hours 24 hours daily.
Conditions: Access is permitted 3 hours prior to scheduled flight departure - Children under 2 years are admitted free - Complimentary alcoholic drinks are limited to one per adult.
Additional information: Due to local and regional restrictions, some services may be temporarily unavailable.

Linyi Qiyang - LYI


Terminal: Terminal 1
Lounge: Easy Business VIP Hall
Location: Landside - Domestic Departures, 1st Floor.
Hours 07:20 - 21:30 daily.
Conditions: All Cardholders and guests are required to show a Boarding Pass with confirmed same-day travel for access to the lounge - Children under 2 years are admitted free.
Additional information: Complimentary luggage storage available inside the lounge.

Terminal: Terminal 1
Lounge: First Class Lounge
Location: Airside - Domestic Departures, 2nd Floor, near Boarding Gate 1.
Hours 07:20 - 21:30 daily.
Conditions: Children under 2 years are admitted free.
Additional information: Complimentary luggage storage available inside the lounge.

Lipetsk Lipetsk - LPK


Lounge: Business Lounge
Location: Airside - after Security Checks and before Passport Control. The lounge is located on the 1st Floor, left wing of the terminal.
Hours 24 hours daily.
Conditions: Maximum 3 hour stay - Children under 2 years are admitted free
Additional information: Complimentary shoe shine, printers and scanning available.

Lisbon Lisboa - LIS


Terminal: Terminal 1
Lounge: ABC - Airport Business Center
Location: Landside - before Security Checks and Passport Control proceed towards
Check-in desks 14-36. The lounge is located on the Mezzanine Level above the Check-in desks.
Hours 09:00 - 17:00 Monday - Friday.
Closed: Saturday & Sunday.
Due to current travel restrictions impacting the area this lounge is temporarily closed.
Conditions: Children under 2 years are admitted free.
Additional information: Telephone calls, fax, shower & conference facilities are all subject to payment.
Alcoholic drinks are only available upon request & are also subject to payment. Conference facilities must be reserved in advance.
Tel:+351211503922 to make a booking.

Terminal: Terminal 1
Lounge: ANA Lounge
Location: Airside - Schengen Area. After Security Checks, the lounge is located above
Praça Lisboa ("Lisbon Square") on the 6th Floor, near Gate 22. Schengen and
Non-Schengen flights.
Hours 06:00 – 22:00 daily.
Due to current travel restrictions impacting the area this lounge is temporarily closed.
Conditions: Maximum 3 hour stay - Children under 2 years are admitted free - Alcoholic drinks are limited to three per adult - Dress code applicable - Separate smoking room available.
Additional information: Business Center and shower facilities are subject to payment. Face masks must be worn. Please note buffet service has been suspended until further notice.

Terminal: Terminal 1
Lounge: Blue Lounge
Location: Airside - after Security Check Area, proceed to the International Area on the
5th Floor. Pass the 'Harrods Bar' and Transfer Check-in desks to where the lounge is located on the left hand side towards Gates 7-13.
Hours 05:00 - 23:00 daily.
Hours may be subject to change.
Due to current travel restrictions impacting the area this lounge is temporarily closed.
Conditions: Children under 2 years are admitted free.
Additional information: Wi-Fi access, telephone calls, fax and conference facilities are all subject to payment. Conference facilities must be reserved in advance. Tel:
+351218413963 to make a booking.

Liupanshui Yuezhao - LPF


Lounge: First Class Lounge
Location: Airside - Domestic Departures, 2nd Floor, near Gate 2.
Hours Lounge opens from first flight departure and closes after last flight departure.
Conditions: Children under 2 years are admitted free.
Additional information: Complimentary luggage storage available inside the lounge. Massage chairs are subject to payment.

Liverpool John Lennon - LPL


Lounge: Aspire Lounge
Location: Airside - after Security proceed through the Duty Free and take the escalator down to the Lower Level. The lounge is located on the right.
Hours 05:00 – 12:00 Monday.
05:00 – 17:00 Thursday.
08:00 – 16:00 Friday.
07:00 – 16:00 Saturday.
Closed: Tuesday, Wednesday, Sunday & Dec 25.
Due to current travel restrictions impacting the area this lounge is temporarily closed until 21JUN21.
Conditions: Children under 2 years are admitted free - Alcoholic drinks are only available for passengers 18 years of age or older - Smart casual dress at all times (no football shirts allowed).
Additional information: Telephone calls are subject to payment. The lounge will only accept group walk-ups from the same household and or support bubble. Please note standard buffet service has been suspended but the lounge will instead offer table service.

Livingstone Livingstone International - LVI


Terminal: International Terminal
Lounge: IAPCO Club Lounge
Location: Airside - after Security Checks and Passport Control in the main departure hall, follow signs to the 'IAPCO Club Lounge'.
Hours 09:00 - 18:00 daily.
Conditions: Children under 2 years are admitted free - Telephone calls, fax, Wi-Fi and internet access facilities are all subject to payment.
Additional information: Please note: Due to airport renovation works the lounge is closed until further notice. A temporary signposted lounge facility is available to Cardholders. NB:
The temporary lounge does not offer: fax, television or dataport facilities.

Terminal: International Terminal
Lounge: Livingstone Lounge
Location: Airside - lounge is located on the 1st Floor.
Hours 09:00 - 18:00 daily.
Conditions: Maximum 3 hour stay - Children under 3 years are admitted free -
Complimentary massage chairs - Separate children's play area available -
Separate smoking room available.
Additional information: Telephone calls and fax facilities are subject to payment.

Ljubliana Ljubljana - LJU


Lounge: Business Lounge
Location: Airside – please register at the Information Desk. Once registered, proceed to the 1st Floor where the lounge is located.
Hours 05:00 - 20:00 daily.
Hours may vary according to flight schedules.
Due to current travel restrictions impacting the area this lounge is temporarily closed.

Lombok Lombok International - LOP


Lounge: Concordia Lounge
Location: Airside - Domestic Departure Area. The lounge is located on the 3rd Floor,
near Gate Garuda Indonesia. The lounge is also accessible to International passengers.
Hours 08:00 - 16:00 daily.
Conditions: The lounge is only accessible upon presentation of a valid Boarding Pass -
Children under 2 years are admitted free - Separate prayer room available -
Separate smoking room available.
Additional information: Please note buffet service has been suspended until further notice. Items on the À la carte menu are free of charge until further notice.

London Gatwick - LGW


Terminal: North Terminal
Lounge: Club Aspire Lounge
Location: Airside - pass through Passport Control, turn left into the main departure lounge and follow the signs to 'Lounges'. Turn right into the Lounge Pavilion and take the lift or stairs down to Level 1. The lounge is located on the right hand side.
Hours 05:00 - 14:00 daily.
Hours may be subject to change and will vary during the winter schedules.
Closed. Dec 25.
Please note opening times/closure for the following dates:-
7JUN21 - 08:45 - 11:00.
06, 08, 10, & 13JUN21 - 07:30 - 10:00.
05 & 12JUN21 07:15 - 10:00.
09JUN21 07:30 - 13:00.
11JUN21 08:45 - 13:00.
Conditions: Maximum 3 hour stay - Children under 2 years are admitted free - Alcoholic drinks are only available for passengers 18 years of age or older - All children must be accompanied by an adult -Smart casual dress at all times (no sportswear allowed).
Additional information: Please note standard buffet service has been suspended but the lounge will instead offer table service. Due to local restrictions, alcohol can only be served at this lounge with a substantial meal.

Terminal: South Terminal
Lounge: Club Aspire Lounge
Location: Airside - after Security Checks and Passport Control, take the escalators or stairs located in the middle of the terminal to Level 1 and turn right. Follow signs for 'Lounges' and the lounge is located between 'WHSmith' and
'Sunglasses Boutique'.
Hours 05:00 - 21:00 daily.
Due to current travel restrictions impacting the area this lounge is temporarily closed and scheduled to re-open 07JUN21.
Conditions: Maximum 3 hour stay - Access may be restricted due to space constraints -
Children under 2 years are admitted free - All children must be accompanied by an adult - Alcoholic drinks are only available for passengers 18 years of age or older - Workstations available - Smart casual dress at all times (no sportswear allowed).
Additional information: Champagne and Prosecco are subject to payment.

Terminal: South Terminal
Lounge: Grain Store Cafe & Bar
Location: Airside - take the lift up one level from the main shopping concourse. Only 1
card per visit per Cardholder will be accepted and at point of registration.
Hours 04:00 - 21:00 daily.
Closed: Dec 25.
Due to current travel restrictions impacting the area this lounge is temporarily closed.
The Grain Store Café & Bar, the first offshoot of Bruno Loubet's award-winning London restaurant, is located opposite the lift.
Conditions: 1. Cardholders can use their lounge visit entitlement to receive £15 off the bill.
£15 will also be deducted from the bill for each registered Guest. 2. Each £15
deduction represents a single lounge visit within the Cardholder's existing lounge visit allocation for which the Cardholder will, where applicable, be charged. For example, if a Cardholder registers 1 Guest they will receive £30
off their bill, which will be charged as 1 Cardholder visit + 1 Guest visit on their account. 3. The £15 is valid for the purchase of any meal and/or drinks in a single transaction. To be eligible, Cardholders must present a valid Card and
Boarding Pass with confirmed same-day travel before placing an order. 4. The
£15 is non-transferable and cannot be exchanged for a cash substitute or refund if the final bill is lower than £15 per person. 5. The Cardholder is responsible for the remaining balance if total bill exceeds £15 per registered person. Any remaining balance cannot be used towards gratuity. 6. Priority
Pass and its Affiliates Companies shall not be liable should the offer value be less than Customers lounge visit entitlement. Customers who pay for lounge and guest visits are advised to review programme Conditions of Use prior to accessing the offer.

London Heathrow - LHR


Terminal: Terminal 2
Lounge: Plaza Premium Lounge
Location: Airside - Lounge A3, Level 4, Terminal 2A (Departure Level) - The Queen's
Terminal:, next to Terminal Transfers area. Departure/transit passengers departing from Terminal 2 only.
Hours 05:00 - 21:00 daily.
Conditions: Maximum 3 hour stay - Children under 2 years are admitted free - All children must be accompanied by an adult - Smart casual dress at all times.
Additional information: Fax facilities are subject to payment. Please note standard buffet service has been suspended and set meals are provided.

Terminal: Terminal 2
Lounge: Plaza Premium Lounge (Arrivals)
Location: Landside - Level 1, Arrivals Hall
Hours 06:00 - 21:30 daily.
Due to current travel restrictions impacting the area this lounge is temporarily closed.
Conditions: Maximum 3 hour stay - Children under 2 years are admitted free.
Additional information: Shower, telephone and fax facilities are subject to payment.

Terminal: Terminal 3
Lounge: Club Aspire Lounge
Location: Airside - after Security, follow signs to Gates 1 - 42 and 'All Airline Lounges'
and bear left. Turn left again and follow signs to Gates 1-22 and 'Airline
Lounge:s B-J'. Turn left towards Gate 9 and the lounge is signposted as
'Lounge D' on the right.
Hours 05:30 - 22:30 daily.
Hours may be subject to seasonal changes.
Due to current travel restrictions impacting the area this lounge is temporarily closed and scheduled to re-open 07JUN21.
Conditions: Maximum 3 hour stay - Children under 2 years are admitted free - All children must be accompanied by an adult - Alcoholic drinks are only available for passengers 18 years of age or older - Complimentary food and drinks available - Supplement for premium menu, Champagne, Prosecco and
Cocktails – Smart casual dress at all times (no football shirts allowed).
Additional information: Shower facilities are subject to payment.

Terminal: Terminal 3
Lounge: Plaza Premium Lounge
Location: Landside - the lounge is located on the Ground Floor, next to bus stop 17 and
18.
Hours 05:30 - 14:00 daily.
Due to current travel restrictions impacting the area this lounge is temporarily closed.
Conditions: Maximum 3 hour stay - Children under 2 years are admitted free - All children must be accompanied by an adult - Smart casual dress at all times.
Additional information: Shower facilities are subject to payment.

Terminal: Terminal 4
Lounge: Plaza Premium Lounge
Location: Airside - 1st Floor, near Gate 1. T4 Departure/transit passengers only.
Hours 05:00 - 22:00 daily.
Due to current travel restrictions impacting the area this lounge is temporarily closed.
Conditions: Maximum 3 hour stay - Children under 2 years are admitted free - All children must be accompanied by an adult - Smart casual dress at all times.
Additional information: Shower and fax facilities are subject to payment.

Terminal: Terminal 4
Lounge: Plaza Premium Lounge (Arrivals)
Location: Landside - Arrivals Hall, take the escalator or lift to the Mezzanine Level.
Hours 05:00 - 22:00 daily.
Due to current travel restrictions impacting the area this lounge is temporarily closed.
Conditions: Maximum 3 hour stay - Children under 2 years are admitted free - All children must be accompanied by an adult - Smart casual dress at all times.
Additional information: Premium alcoholic drinks and shower facilities are subject to payment.

Terminal: Terminal 4
Lounge: SkyTeam Lounge
Location: Airside - after Security Checks proceed into the main Departure Hall. Turn right and follow signs to the Skyteam Lounge located opposite Gate 10. T4
Departure/ transit passengers only.
Hours 05:00 - 22:00 daily.
Due to current travel restrictions impacting the area this lounge is temporarily closed.
Conditions: Maximum 3 hour stay - Children under 2 years are admitted free - Alcoholic drinks before 10:30 daily are available upon request - PlayStation room and quiet area complete with day beds - Clarins Wellness area (opening days and times may vary) - Business area - Smart casual dress at all times.

Terminal: Terminal 5
Lounge: Club Aspire Lounge
Location: Airside - after Passport Control and Immigration, the lounge is located to the left of Gate A18 in the Main Departure Terminal. Passengers departing from the Satellites will need to access the lounge before proceeding to the Satellite
Gates.
Hours 06:00 - 17:00 daily.
Closed. Dec 25.
Conditions: Maximum 3 hour stay - Access may be restricted due to space constraints -
Children under 2 years are admitted free - All children must be accompanied by an adult - Alcoholic drinks are only available for passengers 18 years of age or older - Food & Beverages (including Champagne) from the Premium menu are subject to payment - Smart casual dress at all times (no football shirts allowed) - Washroom facilities available outside the lounge.
Additional information: Please note standard buffet service has been suspended but the lounge will instead offer table service. Due to local restrictions, alcohol can only be served at this lounge with a substantial meal.

London Luton - LTN


Lounge: Aspire Lounge
Location: Airside - proceed through Security and turn left. Entrance to the lounge is next to Accessorize on the 1st Floor of the departure area.
Hours 05:00 - 12:30 Monday - Wednesday & Saturday.
05:00 - 17:00 Friday & Sunday.
Closed: Thursday.
Hours may be subject to seasonal changes.
Closed: Dec 25.
Due to current travel restrictions impacting the area the lounge is temporarily closed and is scheduled to re-open 07JUN21.
Conditions: Access is permitted 3 hours prior to scheduled flight departure - Children under 2 years are admitted free - Alcoholic drinks are only available for passengers 18 years of age or older - Premium selection of food and alcoholic drinks are subject to payment - Rest pods available - Smart casual dress at all times (no football shirts allowed.
Additional information: The lounge will only accept group walk-ups from the same household and or support bubble. A la carte menu and shower facilities are subject to payment.
Please note standard buffet service has been suspended but the lounge will instead offer table service.

London Southend - SEN


Lounge: Skylife Lounge
Location: Airside - after Security Checks, pass the escalators and proceed through the glass doors where the lounge is located.
Hours 04:15 - 19:00 Sunday - Friday.
04:15 - 15:00 Saturday.
Due to current travel restrictions impacting the area this lounge is temporarily closed.
Conditions: Maximum 3 hour stay - Limited to four guests per cardholder, subject to a per person charge, where applicable - Children under 2 years are admitted free -
Children under 12 years must be supervised by an adult at all times - Access may be restricted due to space constraints - Complimentary alcoholic and soft drinks; Champagne is subject to payment - Smart casual dress at all times.

London Stansted - STN


Lounge: The Escape Lounge
Location: Airside - International Departure Terminal. Proceed through Security Checks and the Duty Free area. The entrance to the lounge is located between 'Coast to Coast' and 'Pret A Manger'.
Hours 04:00 - 20:00 daily.
Hours are subject to seasonal changes.
Closed: Dec 25.
Due to current travel restrictions impacting the area this lounge is temporarily closed and is scheduled to re-open on 14JUN21.
Conditions: Maximum 3 hour stay - Limited to three guests per cardholder - Children under
2 years are admitted free - Children under 12 years must be accompanied by an adult - Alcoholic drinks are only available to persons 18 years of age or above - Smart casual dress at all times (shorts must be tailored and of a reasonable length. Vests, fancy dress or sports attire is not allowed).
Additional information: Face masks must be worn. Please note standard buffet service has been suspended but the lounge will instead offer table service. The lounge cannot guarantee that all passengers will always be able to sit together due to social distancing within the lounge.

Londrina Jose Richa - LDB


Lounge: W Lounge Londrina
Location: Airside - the lounge is located after Security Control (X-rays) on the right hand side.
Hours 05:00 - 21:00 daily.
Hours may vary according to flight schedules.
Conditions: Maximum 3 hour stay - Children under 2 years are admitted free - Smart casual dress at all times (no shorts, baseball caps or football shirts allowed).
Additional information: Printers are subject to payment.

Los Angeles (CA) Los Angeles Intl - LAX


Terminal: Terminal 2
Lounge: Virgin Atlantic Clubhouse
Location: Airside - Level 4, above the departure gates.
Hours 5am - 11:50am daily.
Cardholders will not be admitted into the lounge outside these hours.
Due to current travel restrictions impacting the area this lounge is temporarily closed.
Conditions: Maximum 3 hour stay - Children under 5 years are admitted free -
Complimentary alcoholic drinks are limited to beer and wine only.

Terminal: Terminal 6
Lounge: Alaska Lounge
Location: Airside - the lounge is located on the Mezzanine Level, near Gate 64.
Hours 05:00 - 20:00 daily.
Closed: Dec 25.
Conditions: Lounge access is permitted 3 hours prior to a scheduled flight departure - All
Cardholders are required to show a physical or digital Priority Pass Card - All
Cardholders and guests are required to present a valid boarding pass for same day travel - Cardholder name must match the passenger name on the boarding pass - Limited to two guests per cardholder or immediate family
(spouse and children under 21 years of age), subject to a per person charge,
where applicable - Cardholder must be 18 years of age or older - Lounge access may be restricted due to Lounge capacity constraints and the Lounge reserves the right to reserve seating as necessary - Children under 2 years are admitted free - Alcoholic drinks are limited to three per adult.
Additional information: Premium alcoholic drinks are subject to payment. Access is limited due to space capacity. If the lounge is at capacity, a waiting list will be available upon arrival. The waiting list does not guarantee access. Face masks must be worn.
Food offerings are limited to pre-packaged snacks and small meals until further notice.

Terminal: Tom Bradley International Terminal
Lounge: KAL Lounge
Location: Airside - after Security Checks follow the signs to 'ALL GATES'. Before passing the Duty Free Store, turn left and take the lift to the 5th Floor where the lounge is located.
Hours 11:00 - 17:00 daily.
Cardholders will not be admitted to the lounge outside these hours.
Due to current travel restrictions impacting the area this lounge is temporarily closed.
Conditions: Access is permitted 3 hours prior to scheduled flight departure - Limited to two guests per cardholder, subject to a per person charge, where applicable -
Access may be restricted due to space constraints - Children under 2 years are admitted free - All children must be accompanied by an adult.

Los Cabos Los Cabos Intl - SJD


Terminal: Terminal 1
Lounge: VIP Lounge
Location: Airside - after Passport Control and Security Checks. The lounge is located on the Mezzanine Level above the Food Court.
Hours 09:00 – 21:00 daily.
Conditions: Maximum 8 hour stay - Children under 7 years are admitted free -
Complimentary use of iPad.
Additional information: Local telephone calls only. Please note standard buffet service has been suspended until further notice. Hot food available upon request.

Terminal: Terminal 2
Lounge: VIP Lounge
Location: Airside, after Security, the lounge is located in the Food Court area.
Hours 09:00 - 17:00 daily.
Please note new opening times effective 17JUN21: 09:00 - 19:00 daily.
Conditions: Maximum 8 hour stay - Children under 7 years are admitted free -
Additional information: Local telephone calls only. Please note standard buffet service has been suspended until further notice. Hot food available upon request.

Luanda Luanda 4 De Fevereiro - LAD


Lounge: Pall Lounge
Location: Airside - after Security Checks, 1st Floor. International flights only.
Hours Lounge opens from the first international scheduled flight departure and closes after last scheduled flight departure.
Conditions: Children under 2 years are admitted free - Complimentary soft drinks are limited to two per adult, subsequent drinks are subject to payment.
Additional information: Alcoholic drinks are subject to payment.

Luang Prabang Luang Prabang Intl - LPQ


Lounge: Bangkok Airways Luang Prabang Lounge
Location: Airside - 2nd Floor, Departure Hall, near Gate 3.
Hours 09:00 - 13:00 & 14:00 - 17:00 daily.
Due to current travel restrictions impacting the area this lounge is temporarily closed.
Conditions: Maximum 3 hour stay - Children under 2 years are admitted free.

Lublin Lublin Swidnik - LUZ


Lounge: Business Executive Lounge
Location: Airside - after Security Checks and Passport Control. The lounge is located at
Gate 1 on the left hand side.
Hours 08:00 - 22:00 daily.
Closed: Dec 25 & Public Holidays.
Due to current travel restrictions impacting the area this lounge is temporarily closed.
Conditions: Children under 3 years are admitted free - All children must be accompanied by an adult - Alcoholic drinks are only available to passengers 18 years of age or older - Separate smoking area available.

Lounge: Business Executive Lounge Schengen
Location: Airside - Schengen Area. After Security Checks and Duty Free, near 'So!
Coffee'. Schengen passengers. The lounge is also accessible to
Non-Schengen passengers prior to passing through Passport Control.
Hours 11:00 - 00:50 Monday.
01:00 - 00:00 Tuesday.
01:00 - 22:40 Wednesday.
08:00 - 22:40 Thursday.
11:00 - 23:00 Friday.
08:00 - 21:30 Saturday.
09:00 - 22:30 Sunday.
Due to current travel restrictions impacting the area this lounge is temporarily closed.
Conditions: Access is permitted 3 hours prior to scheduled flight departure - Children under 3 years are admitted free - Computer workstations and printers available - Separate smoking room available outside the lounge.

Lubumbashi Luano International - FBM


Lounge: Malabar Business Travel Lounge
Location: Entrance is via the 'Malabar Business Travel' office, accessible from the outside car park. Check-in service provided upon entry and a member of staff will provide an escort to the lounge. Accessible to both departing and arriving passengers.
Hours 24 hours daily.
Conditions: Children under 2 years are admitted free - Complimentary massage chairs available - Separate smoking area available.
Additional information: Conference facilities are subject to payment. Please note hot food is temporarily suspended (snacks only) until further notice.

Lugano Lugano - LUG


Lounge: E-Aviation VIP Lounge
Location: Landside - the lounge is located on the left hand side, 30 metres before entering the main terminal.
Hours 07:00 - 20:00 daily.
Conditions: Children under 12 years are admitted free - A la carte menu available, subject to payment.
Additional information: Conference facilities are subject to payment.

Lusaka Lusaka Kenneth Kaunda Intl - LUN


Lounge: IAPCO Club Lounge
Location: Airside - proceed into the main departure hall where the lounge is located on the immediate left hand side.
Hours Open daily - hours vary according to international flight schedules (please note this lounge may not open for certain departing flights - please check upon arrival).
Conditions: Limited to one guest per cardholder, subject to a per person charge, where applicable - All children must be accompanied by an adult.

Luxemburg Findel Intl - LUX


Terminal: Terminal A
Lounge: The Lounge
Location: Airside - behind the Security Screening Point.
Hours 04:00 to last scheduled flight departure.
Conditions: Maximum 4 hour stay - Children under 2 years are admitted free.

Lviv Lviv Intl - LWO


Terminal: Terminal A
Lounge: Business Lounge - Domestic flights
Location: Airside - the lounge is located on the 3rd Floor. Domestic flights only.
Hours 24 hours daily.
Conditions: Maximum 2 hour stay - Children under 5 years are admitted free.
Additional information: Due to precautionary measures this lounge may have interrupted services.

Terminal: Terminal A
Lounge: Business Lounge - International flights
Location: Airside - the lounge is located on the 3rd Floor, above the Duty Free Shop
'Baltona'. International flights only.
Hours 24 hours daily.
Conditions: Maximum 2 hour stay - Children under 5 years are admitted free - Separate smoking room available outside the lounge.
Additional information: Due to precautionary measures this lounge may have interrupted services.

Macau SAR Macau Intl - MFM


Lounge: Plaza Premium Lounge
Location: Airside - International Departures. Turn right after Security Checks and
Passport Control. Take the escalator up one level and the lounge is located near Gates 9/9A.
Hours 06:00 - 22:00 daily.
Conditions: Children under 2 years are admitted free - All children must be accompanied by an adult.
Additional information: Telephone calls and fax facilities are subject to payment. Due to precautionary measures this lounge may have interrupted services.

Madinah Prince Mohammad bin Abdulaziz Airport - MED


Lounge: Primeclass CIP Lounge
Location: Airside - Ground Floor, near Gate 112. International flights only.
Hours 24 hours daily.
Due to current travel restrictions impacting the area this lounge is temporarily closed.
Conditions: Maximum 3 hour stay - Children under 7 years are admitted free - Family,
Children's and Games rooms available - Separate prayer rooms and ablution areas available - Separate smoking room available.

Lounge: Wellcome Lounge
Location: Airside - Domestic Departure Level, 1st Floor.
Hours Lounge opens 3 hours prior to first flight departure and closes after last scheduled flight departure.
Conditions: Maximum 6 hour stay - Two children under 12 years are admitted free per cardholder - Separate prayer room available - Separate children's play area available - Dress code applicable.
Additional information: Please note hot food is temporarily suspended until further notice.

Madrid Adolfo Suarez-Barajas - MAD


Terminal: Terminal 1
Lounge: Cibeles
Location: Airside - after Passport Control, proceed to the 2nd Floor. The lounge is located between Gates B26 and B29 on the right hand side. Follow signs to
'Sala VIP'. Non-Schengen flights.
Hours 24 hours daily.
Due to current travel restrictions impacting the area this lounge is temporarily closed.
Conditions: Lounge access is permitted 3 hours prior to a scheduled flight departure - All
Cardholders and guests are required to present a valid boarding pass for same day travel - Cardholder name must match the passenger name on the boarding pass - Guests are limited to one per Cardholder and Lounge access may be restricted due to Lounge capacity constraints and the Lounge reserves the right to reserve seating as necessary - Children 5 years and under are admitted free - Children under 18 years must be accompanied by an adult -
Outside smoking terrace available.

Terminal: Terminal 2
Lounge: Puerta de Alcala
Location: Airside - 2nd Floor, near Boarding Gate D62. Domestic departures from
Terminal: 2 and Terminal 3, Zones C and D only. Schengen flights only.
Hours 05:00 - 23:00 daily.
Due to current travel restrictions impacting the area this lounge is temporarily closed.
Conditions: Lounge access is permitted 3 hours prior to a scheduled flight departure - All
Cardholders and guests are required to present a valid boarding pass for same day travel - Cardholder name must match the passenger name on the boarding pass - Guests are limited to one per Cardholder and Lounge access may be restricted due to Lounge capacity constraints and the Lounge reserves the right to reserve seating as necessary - Children 5 years and under are admitted free - Children under 18 years must be accompanied by an adult -
Separate children's play area available.

Terminal: Terminal 3
Lounge: Puerta Del Sol
Location: Airside - after Security Control, proceed to the Boarding Area and take the stairs next to Gate E69 up to the 1st Floor where the lounge is located.
Schengen flights only.
Hours 05:00 - 23:00 daily.
Due to current travel restrictions impacting the area this lounge is temporarily closed.
Conditions: Lounge access is permitted 3 hours prior to a scheduled flight departure - All
Cardholders and guests are required to present a valid boarding pass for same day travel - Cardholder name must match the passenger name on the boarding pass - Guests are limited to one per Cardholder and Lounge access may be restricted due to Lounge capacity constraints and the Lounge reserves the right to reserve seating as necessary - Children 5 years and under are admitted free - Children under 18 years must be accompanied by an adult.

Terminal: Terminal 4
Lounge: Plaza Mayor
Location: Airside - the lounge is located on the 1st Floor, adjacent to the AENA
Exhibition Room. Schengen flights only.
Hours 05:00 - 22:00 daily.
Conditions: Lounge access is permitted 3 hours prior to a scheduled flight departure - All
Cardholders and guests are required to present a valid boarding pass for same day travel - Cardholder name must match the passenger name on the boarding pass - Guests are limited to one per Cardholder and Lounge access may be restricted due to Lounge capacity constraints and the Lounge reserves the right to reserve seating as necessary - Children 5 years and under are admitted free - Children under 18 years must be accompanied by an adult.
Additional information: Please note standard buffet service has been suspended but the lounge will instead offer table service.

Terminal: Terminal 4 (Satellite)
Lounge: Neptuno Lounge
Location: Airside - the lounge is located on the 2nd Floor (yellow sector). The glass door indicates the entrance to the lounge. Non-Schengen flights only.
Hours 24 hours daily.
Conditions: Lounge access is permitted 3 hours prior to a scheduled flight departure - All
Cardholders and guests are required to present a valid boarding pass for same day travel - Cardholder name must match the passenger name on the boarding pass - Guests are limited to one per Cardholder and Lounge access may be restricted due to Lounge capacity constraints and the Lounge reserves the right to reserve seating as necessary - Children 5 years and under are admitted free - Children under 18 years must be accompanied by an adult -
Separate games room available.

Madurai Madurai International - IXM


Lounge: Primus Lounge
Location: Airside - after Security Hold Area, 1st Floor, near the escalator.
Hours 24 hours daily.
Conditions: Maximum 3 hour stay - Children under 12 years are admitted - Complimentary use of iPad - Separate smoking room available outside the lounge.
Additional information: Complimentary luggage storage available. Snacks and À la carte menu are subject to payment.

Mahe Seychelles Intl - SEZ


Terminal: International Terminal
Lounge: Salon Vallee de Mai
Location: Airside - after Security, turn left and walk towards the Departure Gates. The lounge is located on the 1st Floor.
Hours Lounge opens 3 hours prior to first flight departure and closes after last flight departure.
Conditions: Maximum 3 hour stay - Access may be restricted due to space constraints -
Children under 2 years are admitted free.
Additional information: Complimentary luggage storage available inside the lounge. Face masks must be worn.

Makassar Sultan Hasanuddin - UPG


Lounge: Concordia Lounge
Location: Airside - Domestic Departure Area. The lounge is located on the 2nd Floor after Security Checks, in front of Gate 1. The lounge is also accessible to
International passengers.
Hours 06:00 - 18:00 daily.
Conditions: Children under 2 years are admitted free - Complimentary soft drinks are limited to coffee, tea, water and juice - Separate smoking room available.
Additional information: Conference facilities and massage chairs are subject to payment. Please note buffet service has been suspended until further notice. Items on the À la carte menu are free of charge until further notice.

Lounge: T/G Lounge
Location: Airside - Domestic Departures, 2nd Floor, near Gate 6. The lounge is also accessible to International passengers.
Hours 24 hours daily.
Due to current travel restrictions impacting the area this lounge is temporarily closed.
Conditions: Access is permitted 3 hours prior to scheduled flight departure - Children under 5 years are admitted free - Separate smoking room available.

Malabo Malabo International - SSG


Lounge: Kolibri Lounge
Location: Airside - 1st Floor, near Gate B4. International flights only.
Hours 17:00 - 22:00 daily.
Conditions: Maximum 5 hour stay - Children under 2 years are admitted free.

Malaga Malaga - AGP


Terminal: Terminal 3
Lounge: Sala VIP T3
Location: Airside - after Security Checks, take the lift or stairs behind 'Málaga Duty Free'
and near to Gate D on the right hand side up to the 2nd Floor where the lounge is located. Passengers departing from Terminal 2 can also access the lounge since the two terminals are connected without restrictions.
Hours 07:30 - 21:30 daily.
Conditions: Access is permitted 4 hours prior to scheduled flight departure - All
Cardholders and guests are required to show a Boarding Pass with confirmed same-day travel for access to the lounge - Children 5 years and under are admitted free - Children under 18 years must be accompanied by an adult -
Smart casual dress at all times.
Additional information: Conference facilities must be reserved in advance and are subject to payment. Tel: +34952048771 to make a booking.

Male Male Intl - MLE


Terminal: Domestic Terminal
Lounge: Moonimaa Lounge
Location: Landside - the lounge is located outside and to the right of the main entrance to the terminal building, before Check-in and Security Control. The lounge is accessible for both International and Domestic flights. Please note
International passengers must visit the lounge prior to check-in and should allow sufficient time to go to the International Terminal and check-in for their flight.
Hours Lounge opens 1 hour prior to the first scheduled flight departure (approx.
05:30) and closes after the last scheduled departure (approx. 00:30).
Conditions: Maximum 2 hour stay - Children under 3 years are admitted free - Dress code applicable - Spa facilities are available subject to availability and payment.
Additional information: Telephone calls and fax facilities are subject to payment.

Malta Luqa - MLA


Lounge: La Valette Club
Location: Airside - after Security Checks, proceed through the Duty Free Shop and at the exit take the lift to the 3rd Floor.
Hours 24 hours daily.
PLEASE NOTE to access the lounge, Cardholders must book at least 24
hours in advance via email:info@lavaletteclub.com or call on +356 2369 6464
with name (including guests) and flight number details. An email confirming availability will be sent by the lounge.
Conditions: Maximum 3 hour stay - Access may be restricted due to space constraints -
Children under 12 years are admitted free - Terrace with separate smoking area available.
Additional information: Please note standard buffet service has been suspended until further notice.

Lounge: VIP Lounge (Arrivals)
Location: Airside - Arrivals, near to the Baggage Reclaim Hall.
Hours 24 hours daily.
PLEASE NOTE to access the lounge, Cardholders must book at least 24
hours in advance via email:info@lavaletteclub.com or call on +356 2369 6464
with name (including guests) and flight number details. An email confirming availability will be sent by the lounge.
Conditions: Maximum 3 hour stay - Access may be restricted due to space constraints -
Children under 12 years are admitted free - Alcoholic drinks are limited to beer only.
Additional information: Please note standard buffet service has been suspended until further notice.

Manado Sam Ratulangi - MDC


Lounge: Concordia Lounge
Location: Airside - Domestic Departure Area. After Security Checks take the escalator to the 2nd Floor and then the lift to the 3rd Floor where the lounge is located.
The lounge is also accessible to International passengers.
Hours 05:00 - 20:00 daily.
Due to current travel restrictions impacting the area this lounge is temporarily closed.
Conditions: Children under 2 years are admitted free - Soft drinks limited to tea and juice only - Separate prayer room available - Separate smoking area outside the lounge.

Manaus Eduardo Gomes Intl - MAO


Lounge: Harmony Lounge
Location: Airside - located to the left of the boarding area. Proceed through Security
Checks and turn left.
Hours 09:00 - 16:00 & 22:00 - 06:00 daily.
Conditions: Maximum 3 hour stay - Children under 3 years are admitted free -
Complimentary alcoholic drinks are limited to beer and wine only.
Additional information: Premium alcoholic drinks and luggage storage are subject to payment.

Manchester Manchester - MAN


Terminal: Terminal 1
Lounge: Aspire Lounge
Location: Airside - proceed through Passport Control, turn left and take the stairs to the floor above. Turn right and the lounge is located straight ahead.
Hours 07:00 - 14:00 daily.
Due to current travel restrictions impacting the area this lounge is temporarily closed and is scheduled to re-open 07JUN21.
Conditions: Children under 2 years are admitted free - Alcoholic drinks are only available for passengers 18 years of age or older - Smart casual dress at all times (no football shirts allowed).
Additional information: The lounge will only accept group walk-ups from the same household and or support bubble. Please note standard buffet service has been suspended but the lounge will instead offer table service.

Terminal: Terminal 1
Lounge: The Escape Lounge
Location: Airside - proceed through Security Checks and the Duty Free Area. Follow signs 'Premium Lounges' along the walkway past 'Dixons' and take the lift or stairs to the Executive Lounge Level where the lounge is located.
Hours 04:30 - 20:00 daily.
Hours are subject to seasonal changes.
Due to current travel restrictions impacting the area this lounge is temporarily closed and is scheduled to re-open on 17JUN21.
Conditions: Maximum 3 hour stay - Limited to three guests per cardholder - Access may be restricted due to space constraints - Children under 2 years are admitted free - Children under 12 years must be accompanied by an adult - Alcoholic drinks are only available to persons 18 years of age or above - Smart casual dress at all times (shorts must be tailored and of a reasonable length. Vests,
fancy dress or sports attire are not allowed).
Additional information: Telephone calls are subject to payment. Face masks must be worn. Please note standard buffet service has been suspended but the lounge will instead offer table service. The lounge cannot guarantee that all passengers will always be able to sit together due to social distancing within the lounge.

Terminal: Terminal 2
Lounge: Aspire Lounge
Location: Airside – proceed through Security and the Duty Free Area, turn left and take the stairs/lift opposite Gate 209 to the next level and turn right.
Hours 04:00 - 20:00 daily.
Closed: Dec 25.
Hours are subject to seasonal changes.
Due to peak seasonal activity it is expected this lounge will see an increase in the number of guests. Therefore, access may be periodically restricted due to space constraints, in particular during the hours of 06:00 - 13:00 daily.
Due to current travel restrictions impacting the area this lounge is temporarily closed and is scheduled to re-open 07JUN21.
Conditions: Children under 2 years are admitted free - Alcoholic drinks are only available for passengers 18 years of age or older - Smart casual dress at all times (no football shirts allowed).
Additional information: The lounge will only accept group walk-ups from the same household and or support bubble. Please note standard buffet service has been suspended but the lounge will instead offer table service.

Terminal: Terminal 2
Lounge: The Escape Lounge
Location: Airside - Mezzanine Level. Proceed through Security Checks and the Duty
Free Area and follow signs to the lounge. International and in-transit flights only.
Hours 04:15 - 20:00 daily.
Hours are subject to seasonal changes.
Due to current travel restrictions impacting the area this lounge is temporarily closed and is scheduled to re-open 21JUN21.
Conditions: Maximum 3 hour stay - Limited to three guests per cardholder - Children under
2 years are admitted free - Children under 12 years must be accompanied by an adult - Alcoholic drinks are only available to persons 18 years of age or above - Smart casual dress at all times (shorts must be tailored and of a reasonable length. Vests, fancy dress or sports attire is not allowed).
Additional information: Face masks must be worn. Please note standard buffet service has been suspended but the lounge will instead offer table service. The lounge cannot guarantee that all passengers will always be able to sit together due to social distancing within the lounge.

Terminal: Terminal 3
Lounge: The Escape Lounge
Location: Airside - proceed through Security and turn right towards the shops. Turn left,
pass 'Dixons' and take the lift or stairs on the left hand side to Level 3. The lounge is located before the main Duty Free Shops adjacent to the 'BA
Executive Lounge'. Flights departing from Terminal 3 only.
Hours 05:00 - 17:00 daily.
Hours are subject to seasonal changes.
Closed: Dec 25.
Due to current travel restrictions impacting the area this lounge is temporarily closed until further notice as all flights are now departing from Terminal 1 until further notice.
Conditions: Limited to three guests per cardholder - Access may be restricted due to space constraints - Children under 2 years are admitted free - Children under
12 years must be accompanied by an adult - Alcoholic drinks are only available to persons 18 years of age or above - Smart casual dress at all times
(shorts must be tailored and of a reasonable length. Vests, fancy dress or sports attire is not allowed).
Additional information: Face masks must be worn. Please note standard buffet service has been suspended but the lounge will instead offer table service. The lounge cannot guarantee that all passengers will always be able to sit together due to social distancing within the lounge.

Mandalay Mandalay International - MDL


Lounge: CIP Lounge
Location: Airside - 2nd Floor between Gates 7 and 8.
Hours 08:00 - 03:00 Monday - Saturday.
08:00 - 22:00 Sunday.
Conditions: Maximum 2 hour stay - Children under 2 years are admitted free -
Complimentary alcoholic drinks are limited to beer only - Separate smoking room available outside the lounge.

Mangshi Dehong Mangshi - LUM


Lounge: Best Business VIP Lounge
Location: Landside - Domestic Arrivals. Follow signs to the 'Best Business VIP' lounge.
Hours Lounge opens 2 hours prior to first flight departure and closes at the last scheduled flight departure.
Conditions: Children under 2 years are admitted free - Separate smoking room available.

Manila Ninoy Aquino Intl - MNL


Terminal: Terminal 1
Lounge: Marhaba Lounge
Location: Airside - International Departures, near Gate 9.
Hours 24 hours daily.
Conditions: Maximum 3 hour stay - Children under 2 years are admitted free - Quiet area and prayer room available.

Terminal: Terminal 1
Lounge: PAGSS Premium Lounge
Location: Airside - East Concourse, next to Gate 7.
Hours 06:30 - 13:30 Monday, Wednesday & Friday.
06:30 - 01:00 Tuesday & Thursday.
06:00 - 10:00 & 17:00 - 01:00 Saturday.
09:30 - 17:00 Sunday.
Conditions: Maximum 3 hour stay - Limited to two guests per cardholder, subject to a per person charge, where applicable - Children under 8 years are admitted free.
Additional information: Please note buffet service has been suspended and the lounge will provide packed meals instead.

Terminal: Terminal 3
Lounge: Marhaba Lounge
Location: Airside - International Departures. After Security Checks, the lounge is located in the International Departure Area. Take the lift near Gate 115 to the 4th
Level 'Airline Lounges'. The lounge is located on the right hand side.
Hours 15:30 - 00:00 daily.
Conditions: Maximum 3 hour stay - Access may be restricted due to space constraints -
Children under 6 years are admitted free - Smart casual dress at all times -
Separate prayer room available.
Additional information: Local calls only. Please note standard buffet service has been suspended and set meals are provided.

Terminal: Terminal 3
Lounge: Pacific Club Lounge
Location: Airside - the lounge is located in the International Departure Area, Level 4.
Hours 15:30 - 23:30 Monday, Wednesday, Friday & Saturday.
06:00 - 14:00 & 15:30 - 23:30 Tuesday, Thursday & Sunday.
Due to current travel restrictions impacting the area this lounge is temporarily closed.
Conditions: Maximum 3 hour stay - Children under 2 years are admitted free - Alcoholic drinks are only available to persons 18 years of age or above - Smart casual dress code applicable.
Additional information: Please note hot food is temporarily suspended (snacks only) until further notice.

Terminal: Terminal 3
Lounge: PAGSS Premium Lounge
Location: Airside - the lounge is located in the International Departure Area, Level 4.
Hours 06:30 - 00:00 daily.
Conditions: Maximum 3 hour stay - Limited to two guests per cardholder, subject to a per person charge, where applicable - Children under 8 years are admitted free.
Additional information: Please note standard buffet service has been suspended and pre-packed food is provided.

Maputo Maputo - MPM


Terminal: International Terminal
Lounge: Executivo 2000 Lounge
Location: Airside - after Security Checks and Passport Control, turn left onto the first corridor and then left again to the end. Follow signs to the lounge located opposite Gate 1 in the main departure hall.
Hours Open daily - hours vary according to flight schedules.
Conditions: Children under 12 years are admitted free - Access may be restricted due to space constraints - Separate smoking area available.
Additional information: Check-in facilities available inside the lounge are subject to payment. Long distance telephone calls are also subject to payment. Please note hot food is temporarily suspended (snacks & sandwiches only) until further notice.

Mar Del Plata Astor Piazzolla Intl - MDQ


Lounge: Aeropuertos VIP Club
Location: Landside, Ground Floor, before Security Control, to the right of the main hall.
Hours 06:30 - 22:00 daily.
Due to current travel restrictions impacting the area this lounge is temporarily closed.
Conditions: Maximum 3 hour stay - Children under 2 years are admitted free.

Marrakech Menara Intl - RAK


Terminal: Terminal 1
Lounge: Pearl Lounge (Arrivals)
Location: Airside - Ground Floor, before Passport Control Area. Follow signs to the lounge.
Hours 07:00 - 17:00 daily.
Conditions: Maximum 3 hour stay - Children under 2 years are admitted free - Separate children's play area - Separate smoking room available.

Terminal: Terminal 1
Lounge: Pearl Lounge (Departures)
Location: Airside - after Security Checks and Passport Control on the 1st Floor, next to
Duty Free.
Hours 07:00 - 17:00 daily.
Conditions: Maximum 3 hour stay - Children under 2 years are admitted free - Games room - Children's play area available - Separate prayer room available -
Separate smoking room available.

Marsa Alam Marsa Alam Intl - RMF


Lounge: Pearl Assist
Location: Landside - after Check-in, the lounge is located on the left hand side before the Immigration counters. Follow signs to the lounge.
Hours Lounge opening times vary in accordance with flight schedules.
Conditions: Maximum 3 hour stay - Children under 2 years are admitted free - Separate smoking area available.

Lounge: Pearl Assist
Location: Airside - after Passport Control pass through Duty Free and the lounge is located on the right hand side. International flights only.
Hours Lounge opening times vary in accordance with flight schedules.
Conditions: Maximum 3 hour stay - Children under 2 years are admitted free - Separate smoking area available.

Marseille Provence - MRS


Terminal: Terminal 1
Lounge: Cezanne Lounge
Location: Schengen and Hall 1 International flights only. Access to the lounge is permitted by first registering at the Information Desk in Arrivals Hall 1 located
LANDSIDE, before going through Security. Staff will provide a barcode to access the lounge located after Security on 1st Floor. Follow signs.
Hours Open daily - hours vary according to flight schedules.
Due to current travel restrictions impacting the area this lounge is temporarily closed.
Conditions: Maximum 4 hour stay - One child aged 2-12 years admitted free per adult -
Children under 2 years are admitted free - Dress code applicable.
Additional information: Telephone calls are subject to payment.

Terminal: Terminal 3
Lounge: Luberon Lounge
Location: Access is permitted by registering at the Information Desk in Arrivals Hall 1
located LANDSIDE, before going through Security. Staff will provide a barcode to access the lounge located on the 1st Floor. Passengers departing from Halls 3 & 4 must allow time to reach the gates. Domestic flights only.
Hours Open daily - hours vary according to flight schedules.
Due to current travel restrictions impacting the area this lounge is temporarily closed.
Conditions: Maximum 4 hour stay - One child aged 2-12 years admitted free per adult -
Children under 2 years are admitted free - Dress code applicable.

Marsh Harbor Marsh Harbour - MHH


Lounge: Skyview Airport Lounge
Location: Airside - the lounge is located on the Upper Floor of the Main Departure Hall.
Hours Lounge opens from first scheduled flight departure and closes after last scheduled flight departure.
Conditions: Maximum 3 hour stay - Children under 2 years are admitted free - All children must be accompanied by an adult - Complimentary massage chairs available -
Smart casual dress at all times.
Additional information: Premium alcoholic drinks and fax facilities are subject to payment. Please note the lounge has removed snacks until further notice but still provides hot/cold food.

Mauritius Sir Seewoosagur Ramgoolam Intl - MRU


Lounge: Amedee Maingard Lounge
Location: Airside - after Security, proceed past the MDFP Duty Free Shop, turn right and the lounge is located straight ahead. International flights only.
Hours 06:00 - 22:30 daily.
Due to current travel restrictions impacting the area this lounge is temporarily closed.
Conditions: Maximum 3 hour stay - Limited to two children per cardholder - Children under
12 years are admitted free.

Lounge: Salon Nenuphar
Location: Airside - turn left after Security Screening, opposite Boarding Gate 19.
International flights only.
Hours 05:00 - 23:30 daily.
Hours are subject to change.
Due to current travel restrictions impacting the area this lounge is temporarily closed.
Conditions: Maximum 3 hour stay - Children under 2 years are admitted free.
Additional information: Local calls only.

Mazatlan Rafael Buelna Intl - MZT


Lounge: Oma Airport Lounge
Location: Landside - in the Boarding Area take the escalators upstairs; turn left towards the Domestic Terminal and Gates 6-10. The lounge is located next to the
Carl's Jr Restaurant.
Hours 08:00 - 19:00 daily.
Access may be restricted due to space constraints.
Conditions: Maximum 3 hour stay - Children under 5 years are admitted free -
Complimentary alcoholic drinks are limited to three per adult - All food and beverages must be consumed inside the lounge.
Additional information: Please note hot food is temporarily suspended (snacks only) until further notice.

Medan Kuala Namu Intl - KNO


Terminal: Domestic Terminal
Lounge: Saphire BlueSky Executive Lounge
Location: Airside - Domestic Departures, 1st Floor, opposite Gate 12.
Hours 08:00 - 17:00 daily.
Conditions: Maximum 3 hour stay - Children under 10 years are admitted free - Soft drinks limited to tea, coffee and water - Separate prayer room available.

Terminal: International Terminal
Lounge: Saphire Mandai Executive Lounge
Location: Airside - International Boarding Area, 1st Floor. International flights only.
Hours 05:00 - 22:00 daily.
Due to current travel restrictions impacting the area this lounge is temporarily closed.
Conditions: Maximum 3 hour stay - Children under 10 years are admitted free - Soft drinks limited to tea, coffee and water - Separate prayer room available - Separate smoking room available.

Medellin Enrique Olaya Herrera - EOH
Medellin Enrique Olaya Herrera - EOH


Lounge: The Lounge Medellin Regional
Location: Airside - after Security Checks proceed towards the departure gates and the lounge is located at the end of the hallway. Domestic flights only.
Hours 05:00 - 17:00 Monday - Saturday.
06:00 - 17:00 Sunday.
Hours may vary according to flight schedules.
Conditions: One child under 12 years admitted free per cardholder - Dress code applicable (shoes and shirts required for entry).
Additional information: Please note standard buffet service has been suspended until further notice and pre-packed meals will be provided.

Medellin (Rionegro) Jose Maria Cordova - MDE


Lounge: Avianca Sala VIP
Location: Airside - after Security Checks, proceed straight just before the lifts and the lounge is located on the left hand side. Domestic flights only.
Hours 04:30 - 21:30 daily.
Access may be restricted due to space constraints.
Due to current travel restrictions impacting the area this lounge is temporarily closed.
Conditions: Limited to seven guests per cardholder, subject to a per person charge, where applicable - Children under 2 years are admitted free - Alcoholic drinks are only available from 16:00 daily - All food and beverages must be consumed inside the lounge.

Lounge: Copa Club
Location: Airside - take the escalators and turn left. International flights only.
Hours 04:00 - 23:00 daily.
Due to current travel restrictions impacting the area this lounge is temporarily closed.
Conditions: Children under 2 years are admitted free - All children must be accompanied by an adult - Alcoholic drinks are only available to passengers 21 years of age or older - Dress code applicable (no shorts or sandals allowed).
Additional information: Telephone calls are subject to payment.

Lounge: The Lounge Medellin by Global Lounge Network
Location: Airside - after Security Control turn left and walk towards Gate 1. Take the lift on the left hand side to the 3rd Floor. Domestic flights only.
Hours 05:00 - 19:00 daily.
Conditions: One child under 12 years admitted free per cardholder.
Additional information: Complimentary use of day beds. Local calls only. Please note standard buffet service has been suspended until further notice and pre-packed meals will be provided.

Lounge: The Lounge Medellin International
Location: Airside - after Customs and Duty Free, turn right and proceed to Gate 10.
Take the lift on the right between Gates 10 - 11 to the 2nd Floor. International and transit passengers only.
Hours Open daily - hours vary according to international flight schedules.
Conditions: Maximum 4 hour stay - One child under 12 years admitted free per cardholder
- Separate children's play area available - Complimentary use of day beds -
Dress code applicable (shoes and shirts required for entry).
Additional information: Please note standard buffet service has been suspended until further notice and pre-packed meals will be provided.

Melbourne Melbourne - MEL


Terminal: Terminal 2
Lounge: Bar Pulpo by MoVida
Location: Airside - after Security Checks and Immigration, Level 1 departures, opposite
Gate 4. International flights only. Please note that the restaurant may exceed their seating limit at certain times of the day & access to the restaurant is at their sole discretion.
Hours 05:30 - 23:30 daily.
IMPORTANT NOTE: For Cardholders who pay for individual visits or guest visits, please check this particular offer against your visit fee to ensure it represents value for you. We advise Cardholders to review full Conditions of access below before visiting.
Bar Pulpo by MoVida is the ideal airport dining experience serving traditional
Spanish tapas plates and a selection of local and imported wines and beers.
Conditions: 1. Cardholders can use their lounge visit entitlement to receive AUD$36 off the bill. Each AUD$36 deduction represents a single lounge visit within the
Cardholder's existing lounge visit allocation for which the Cardholder will,
where applicable, be charged. E.g. if a Cardholder registers 1 Guest they will receive AUD$72 off their bill which will be charged as 1 Cardholder visit + 1
Guest visit on their account. Only 1 card per visit per Cardholder will be accepted and at point of registration. 2. The AUD$36 is valid for the purchase of any meal and/or drinks. To be eligible, Cardholders must present a valid
Card and Boarding Pass with confirmed same-day travel before placing an order. 3. AUD$36 is non-transferable & cannot be exchanged for cash substitute or refund if the final bill is lower than AUD$36 per person. 4.
Cardholder is responsible for the balance if total final bill exceeds AUD$36 per person. Any remaining balance cannot be used towards gratuity. 5. Priority
Pass and its Affiliates Companies shall not be liable should the offer value be less than Customers lounge visit entitlement. Customers who pay for lounge and guest visits are advised to review programme Conditions of Use prior to accessing the offer.

Terminal: Terminal 2
Lounge: Cafe Vue
Location: Airside - after Passport Control and Duty Free, Level 1. Café Vue is located on the right hand side at the end of the luxury retail area. International flights only.
Please note that the restaurant may exceed their seating limit at certain times of the day & access to the restaurant is at their sole discretion.
Hours 06:00 to last schedule flight departure.
Hours may vary according to flight schedules.
IMPORTANT NOTE: For Cardholders who pay for individual visits or guest visits, please check this particular offer against your visit fee to ensure it represents value for you. We advise Cardholders to review full Conditions of access below before visiting.
Café Vue caters to a hectic city crowd with ease and speed.Enjoy delicious
French fare for breakfast and lunch and later in the day enjoy a burger.
Conditions: 1. Cardholders can use their lounge visit entitlement to receive AUD$36 off the bill. Each AUD$36 deduction represents a single lounge visit within the
Cardholder's existing lounge visit allocation for which the Cardholder will,
where applicable, be charged. E.g. if a Cardholder registers 1 Guest they will receive AUD$72 off their bill which will be charged as 1 Cardholder visit + 1
Guest visit on their account. Only 1 card per visit per Cardholder will be accepted and at point of registration. 2. The AUD$36 is valid for the purchase of any meal and/or drinks. To be eligible, Cardholders must present a valid
Card and Boarding Pass with confirmed same-day travel before placing an order. 3. AUD$36 is non-transferable & cannot be exchanged for cash substitute or refund if the final bill is lower than AUD$36 per person. 4.
Cardholder is responsible for the balance if total final bill exceeds AUD$36 per person. Any remaining balance cannot be used towards gratuity. 5. Priority
Pass and its Affiliates Companies shall not be liable should the offer value be less than Customers lounge visit entitlement. Customers who pay for lounge less than Customers lounge visit entitlement. Customers who pay for lounge and guest visits are advised to review programme Conditions of Use prior to accessing the offer.

Terminal: Terminal 2
Lounge: Marhaba Lounge
Location: Airside - Level 3, between Gates 9 and 11. International flights only.
Hours 06:30 - 10:30 & 18:30 - 23:00 Wednesday.
18:30 - 23:00 Friday & Saturday.
Hours are subject to change.
Closed: Monday, Tuesday, Thursday & Sunday.
Due to current travel restrictions impacting the area this lounge is temporarily closed.
Conditions: Maximum 3 hour stay - Children under 2 years are admitted free.
Additional information: Complimentary luggage storage available inside the lounge.

Terminal: Terminal 2
Lounge: Plaza Premium Lounge
Location: Airside - International Departures, the lounge is located near Gate 9 in the
Airline Lounges area.
Hours 06:00 - 10:00 & 20:00 - 23:00 daily.
Due to current travel restrictions impacting the area this lounge is temporarily closed.
Conditions: Maximum 3 hour stay - Children under 2 years are admitted free - All children must be accompanied by an adult - Smart casual dress at all times.

Terminal: Terminal 2
Lounge: Urban Provodore
Location: Airside - after Security Checks and Immigration, Level 1 departures, opposite
Gates 10 and 15. International flights only. Please note that the restaurant may exceed their seating limit at certain times of the day & access to the restaurant is at their sole discretion.
Hours 06:00 - 23:30 daily.
Due to current travel restrictions impacting the area Urban Provodore is temporarily closed.
The Urban Provodore is devoted to exploring creative gourmet Australian flavours. The restaurant focuses on cooking healthy meals from locally sourced fresh produce.
Conditions: 1. Cardholders can use their lounge visit entitlement to receive AUD$36 off the bill. Each AUD$36 deduction represents a single lounge visit within the
Cardholder's existing lounge visit allocation for which the Cardholder will,
where applicable, be charged. E.g. if a Cardholder registers 1 Guest they will receive AUD$72 off their bill which will be charged as 1 Cardholder visit + 1
Guest visit on their account. Only 1 card per visit per Cardholder will be accepted and at point of registration. 2. The AUD$36 is valid for the purchase of any meal and/or drinks. To be eligible, Cardholders must present a valid
Card and Boarding Pass with confirmed same-day travel before placing an order. 3. AUD$36 is non-transferable & cannot be exchanged for cash substitute or refund if the final bill is lower than AUD$36 per person. 4.
Cardholder is responsible for the balance if total final bill exceeds AUD$36 per person. Any remaining balance cannot be used towards gratuity. 5. Priority
Pass and its Affiliates Companies shall not be liable should the offer value be less than Customers lounge visit entitlement. Customers who pay for lounge and guest visits are advised to review programme Conditions of Use prior to accessing the offer.

Terminal: Terminal 4
Lounge: REX Lounge
Location: Airside - Domestic Departures. The lounge is located near Gate 30.
Hours 05:30 - 19:30 daily.
Conditions: Two children under 12 years are admitted free per adult - Alcoholic drinks are available from 15:00 daily - Complimentary massage chairs available.
Additional information: Conference facilities must be reserved in advance and are subject to payment. Tel: +61393308002 to make a booking. Due to precautionary measures this lounge may have interrupted services.

Mendoza El Plumerillo - MDZ


Lounge: Aeropuertos VIP Club
Location: Airside - after Security Control, turn right into the Domestic Boarding Area and the lounge is close to Gates 3 and 4.
Hours 07:00 - 22:30 daily.
Due to current travel restrictions impacting the area this lounge is temporarily closed.
Conditions: Maximum 3 hour stay - Children under 2 years are admitted free.

Menorca Menorca - MAH


Lounge: Tramuntana
Location: Airside - after Passport Control, pass through the Duty Free Shop and turn left. The lounge is located on the 3rd Floor, near Gate 9. Schengen and
Non-Schengen flights.
Hours 06:00 - 22:00 daily (Nov - Mar).
06:00 - 00:30 daily (Apr - Oct).
Due to current travel restrictions impacting the area this lounge is temporarily closed.
Conditions: Access is permitted 4 hours prior to scheduled flight departure - Access may be restricted due to space constraints - All Cardholders and guests are required to show a Boarding Pass with confirmed same-day travel for access to the lounge - Children 5 years and under are admitted free - Children under
18 years must be accompanied by an adult - Separate children's play area available - Complimentary use of iPad and printers.

Merida M.Crescencio Rejon Intl - MID


Lounge: Caral VIP Lounge
Location: Landside - proceed up the stairs towards the Boarding Area, before Security
Checks at Area B. The lounge is located on the left hand side.
Hours 04:30 - 23:00 daily.
Hours may vary according to flight schedules.
Conditions: Maximum 4 hour stay - Children under 5 years are admitted free -
Complimentary alcoholic drinks (beer and wine only) are limited to three per person and all subsequent drinks including premium are subject to payment.

Mexicali R Sanchez Taboada Intl - MXL


Lounge: VIP Lounge Mexicali
Location: Airside - the lounge is located after Security Control on the right hand side,
near Gate 4.
Hours 05:30 - 13:30 & 16:30 - 00:20 daily.
Conditions: Maximum 8 hour stay - Children under 7 years are admitted free -
Complimentary use of iPad - Local telephone calls only.
Additional information: Please note standard buffet service has been suspended until further notice.
Hot food available upon request.

Mexico City Benito Juarez Intl - MEX


Terminal: Terminal 1
Lounge: Lounge 19
Location: Airside - Ground Level, Gate 19.
Hours 24 hours daily.
Conditions: Maximum 3 hour stay - Two children under 12 years are admitted free per cardholder - Alcoholic drinks are only available to passengers 21 years of age or older - Dress code applicable.
Additional information: Ready 2 Order available in lounge: A contactless ordering solution for complimentary lounge refreshments. Telephone calls are subject to payment.
Complimentary services available inside the lounge: shoe shine, hand and foot massage, nail (Gel) service, speciality coffee and golf car service (subject to availability).

Terminal: Terminal 1
Lounge: Terraza by The Grand Lounge Elite
Location: Airside - after Security Check at entrance G, proceed through Duty Free and take the escalators down to Boarding Zone H. The lounge is located on the left hand side, near Gate 19.
Hours 13:00 - 21:00 daily.
Due to current travel restrictions impacting the area this lounge is temporarily closed.
Conditions: Maximum 3 hour stay - Two children under 12 years are admitted free per cardholder - Alcoholic drinks are only available to passengers 21 years of age or older - Complimentary use of iPad - Smart casual dress at all times.
Additional information: Complimentary services available inside the lounge: shoe shine, hand and foot massage, nail (Gel) service, speciality coffee, luggage storage and golf car service (subject to availability).

Terminal: Terminal 1
Lounge: The Grand Lounge Elite
Location: Airside - after Security Checks through entrance G and turn right through the
Duty Free corridor. Take the escalators down to Gate H. Keep walking straight for approx. 15 metres where the lounge is located on the left.
Hours 24 hours daily.
Conditions: Maximum 3 hour stay - Two children under 12 years are admitted free per cardholder - Alcoholic drinks are only available to passengers 21 years of age or older - Dress code applicable.
Additional information: Ready 2 Order available in lounge: A contactless ordering solution for complimentary lounge refreshments. Complimentary services available inside the lounge: shoe shine, hand and foot massage, nail (Gel) service, speciality coffee and golf car service (subject to availability).

Terminal: Terminal 1
Lounge: The Lounge Mexico by Global Lounge Network
Location: Airside - after Security Checks pass through entrance J and the Duty Free.
The lounge is located next to Gate 31. Flights departing from Terminal 1 only.
Hours 24 hours daily.
Please note the lounge opening times are subject to change and are open in accordance to the airport opening hours and this is subject to change.
Conditions: One child under 12 years admitted free per cardholder.
Additional information: Local telephone calls only.

Terminal: Terminal 1
Lounge: VIPort Lounge
Location: Airside - after Security Checks, opposite Gate 9 and to the right of Gate 1.
Hours 24 hours daily.
Conditions: Maximum 3 hour stay - Children under 5 years are admitted free - Separate children's play area available - Alcoholic drinks are limited to three per adult -
Only guide dogs allowed inside the lounge - All food and beverages must be consumed inside the lounge.
Additional information: À la carte menu and printers available, subject to payment.

Terminal: Terminal 2
Lounge: Aeromexico - Salon Premier Ciudad de Mexico (Domestic)
Location: Airside - after Security Checks, on the right hand side, proceed to the
Mezzanine Level via escalators or lift.
Hours 06:00 - 00:00 daily
Hours may vary according to flight schedules.
Conditions: Children under 2 years are admitted free.
Additional information: Spa room is subject to payment. Please note hot food is temporarily suspended (snacks only) until further notice.

Terminal: Terminal 2
Lounge: Aeromexico - Salon Premier Ciudad de Mexico (International)
Location: Airside - after Security Checks, on the left hand side, proceed to the
Mezzanine Level via escalators or lift.
Hours 06:00 – 12:00 daily.
Hours may vary according to flight schedules.
Conditions: Children under 2 years are admitted free.
Additional information: Spa room is subject to payment. Please note hot food is temporarily suspended (snacks only) until further notice.

Terminal: Terminal 2
Lounge: Salon Aeromar
Location: Airside - after Security Checks, turn right and take the escalator or lift to the
Mezzanine Level.
Hours 05:00 - 20:00 Monday - Saturday.
05:00 - 21:00 Sunday.
Conditions: Maximum 3 hour stay - Children under 2 years are admitted free.

Terminal: Terminal 2
Lounge: Terraza Premier Aeromexico by Heineken
Location: Airside - after passing Security, on the left hand side, proceed to the next level and the lounge is located at the end of the hall by Gate 75.
Hours 05:00 - 21:00 daily.
Conditions: Children under 2 years are admitted free.

Miami (FL) Miami Intl - MIA


Terminal: Central Terminal Concourse E
Lounge: Turkish Airlines Lounge
Location: Airside - after TSA Check Point in Concourse E. The lounge is located on
Level 2, past the escalator on the left hand side. Access from Terminal D -
pass through the connector to the Central Terminal (E Gates Concourse) and the lounge is located directly ahead.
Hours 05:00 - 22:00 daily.
Conditions: Maximum 4 hour stay - Access may be restricted due to space constraints -
Children under 2 years are admitted free - Separate prayer room available -
Computer workstations and printers available - Dress code applicable (shirts and shoes required for entry).

Terminal: Central Terminal Concourse F
Lounge: Club America F
Location: Airside - after Security Checkpoint, follow signs to the lounge which is located on the 3rd Floor. International flights only.
Hours 07:00 - 21:00 daily.
Hours may vary according to flight schedules.
Cardholders will not be admitted into the lounge outside these hours.
Due to current travel restrictions impacting the area this lounge is temporarily closed.
Conditions: Children under 2 years are admitted free - Alcoholic drinks are available upon request and only for passengers over 21 years of age.

Terminal: North Terminal Concourse D
Lounge: Corona Beach House
Location: Airside - between Gates D23 and D24. Please note that the restaurant may exceed their seating limit at certain times of the day & access to the restaurant is at their sole discretion.
Hours 06:30 - 21:00 daily.
IMPORTANT NOTE: For Cardholders who pay for individual visits or guest visits, please check this particular offer against your visit fee to ensure it represents value for you. We advise Cardholders to review full Conditions of access below before visiting.
Corona Beach House is the perfect relaxation destination before your flight.
You can order some delicious food and enjoy a cold Corona Extra.
Conditions: 1. Cardholders can use their lounge visit entitlement to receive US$30 off the bill. Each US$30 deduction represents a single lounge visit within the
Cardholder's existing lounge visit allocation for which the Cardholder will,
where applicable, be charged. E.g. if a Cardholder registers 1 Guest they will receive US$60 off their bill which will be charged as 1 Cardholder visit + 1
Guest visit on their account. Only 1 card per visit per Cardholder will be accepted and at point of registration. 2. The US$30 is valid for the purchase of any meal and/or drinks excluding 'To-Go Orders' and 'Grab and Go'. To be eligible, all Cardholders and guests are required to show a valid Card and and a MIA Outbound Departure Boarding Pass with confirmed same-day travel before placing an order. 3. US$30 is non-transferable & cannot be exchanged for cash substitute or refund if the final bill is lower than US$30 per person. 4.
Cardholder is responsible for the balance if total final bill exceeds US$30 per person. 18% gratuity is automatically added to the final bill. 5. Free Wi-Fi is limited to 45 minutes and subsequent usage is subject to payment. 6. Priority
Pass and its Affiliates Companies shall not be liable should the offer value be less than Customers lounge visit entitlement. Customers who pay for lounge and guest visits are advised to review programme Conditions of Use prior to accessing the offer.

Terminal: South Terminal Concourse H
Lounge: Turkish Airlines Lounge
Location: Airside - the lounge lift lobby is located midway between Concourses H and J.
Take the lift to the 3rd Floor, keep to the left until you reach the lounge entrance.
Hours Hours may vary according to flight schedules.
Conditions: Maximum 4 hour stay - Children under 2 years are admitted free - Separate children's play area and prayer room available - Computer workstations and printers available - Smart casual dress at all times (shoes and shirts required for entry).
Additional information: Complimentary luggage storage and use of day beds available inside the lounge.

Milan Bergamo Orio Al Serio - BGY


Lounge: Landside VIP Lounge
Location: Landside - before Security Checks, opposite the ticket desk. The lounge is located next to the new shopping area.
Hours 04:30 - 20:00 Monday, Wednesday, Friday & Sunday.
09:00 - 17:00 Tuesday, Thursday & Saturday.
Hours vary according to flight schedules.
Please note opening times from 01 - 30JUN21:-
04:30 - 20:00 daily.
04:30 - 20:00 daily.
Conditions: Maximum 3 hour stay - Access may be restricted due to space constraints -
Children under 2 years are admitted free - Complimentary check-in services available - Work stations available.
Additional information: Fax facilities are subject to payment at the ticket office opposite the lounge.
Please note hot food is temporarily suspended (snacks only) until further notice.

Milan Linate - LIN


Lounge: Club S.E.A. - Sala Leonardo
Location: Airside - after Security, next to Gates 17 & 18.
Hours 05:30 - 21:30 daily.
Hours may vary according to flight schedules.
Due to current travel restrictions impacting the area this lounge is temporarily closed and is scheduled to re-open 01JUL21.
Conditions: Children under 2 years are admitted free - Separate smoking area available.

Lounge: Club S.E.A. - Sala Piranesi
Location: Landside - the lounge is located in Departure Area AB, through the first entrance on the right hand side.
Hours 06:00 - 21:30 Monday - Friday.
06:00 - 21:00 Saturday - Sunday & Public Holidays.
Hours may vary according to flight schedules.
Due to current travel restrictions impacting the area this lounge is temporarily closed.
Conditions: Maximum 2 hour stay - Children under 2 years are admitted free.

Milan Malpensa - MXP


Terminal: Terminal 1
Lounge: Club S.E.A. - Sala Monteverdi
Location: Airside - South Satellite, Departure Lounge (Schengen Area), close to
Boarding Gate A.
Hours 06:00 - 21:30 daily.
Hours may vary according to flight schedules.
Due to current travel restrictions impacting the area this lounge is temporarily closed.
Conditions: Children under 2 years are admitted free.
Additional information: Shower facilities are subject to payment.

Terminal: Terminal 1
Lounge: Club S.E.A. - Sala Pergolesi
Location: Airside - Central Satellite, Departure Lounge (Non-Schengen Area), close to
Boarding Gate B.
Hours 06:00 - 22:00 daily.
Hours may vary according to flight schedules.
Due to current travel restrictions impacting the area this lounge is temporarily closed.
Conditions: Children under 2 years are admitted free.
Additional information: Shower facilities are subject to payment.

Terminal: Terminal 1
Lounge: Club S.E.A. - Sala Respighi
Location: Landside - proceed to the 2nd Floor. The lounge is located in the main departures area, on the right hand side close to Check-in.
Hours 06:00 - 21:30 daily.
Hours may vary according to flight schedules.
Due to current travel restrictions impacting the area this lounge is temporarily closed.
Conditions: Maximum 2 hour stay - Children under 2 years are admitted free.

Minatitlan Minatitlan International - MTT


Lounge: Caral VIP Lounge
Location: Airside - after Security Checks next to Gate 1.
Hours Open daily - hours vary according to flight schedules.
Conditions: Maximum 4 hour stay - Children under 5 years are admitted free -
Complimentary alcoholic drinks (beer and wine only) are limited to three per person and all subsequent drinks including premium are subject to payment.

Mineralnye Vody Mineralnye Vody - MRV


Lounge: Business Lounge
Location: Airside - after Check-in, pass the Business Class Check-in counter on the left and take the stairs to the 1st Floor, turn right. Domestic flights only.
Hours 24 hours daily.
Conditions: Maximum 2 hour stay - Access may be restricted due to space constraints -
Children under 2 years are admitted free - Complimentary massage chairs available.
Additional information: Alcoholic drinks are subject to payment.

Minneapolis/St. Paul (MN) Minneapolis St Paul Intl - MSP


Terminal: Terminal 1
Lounge: PGA MSP Lounge
Location: Airside - proceed to the north end of the Airport Mall (towards Concourses
D/E). Take the lift or stairs located between Concourses D and E (corner) up to the Upper Level. Check-in at the Golf Shop Counter.
Hours Please note that the lounge may exceed their seating limit at certain times of the day & access to the lounge is at their sole discretion.
11:00 - 20:00 daily.
Children under 3 years are admitted free - Only 1 card per visit per
Cardholder will be accepted and at point of registration.
Conditions: 1. Cardholders can use their lounge visit entitlement to access the PGA MSP
Lounge:. Each visit represents a single lounge visit within the Cardholder's existing lounge visit allocation for which the Cardholder will, where applicable,
be charged. In addition, Cardholders and any registered guests will receive
US$15 per person off their food OR golf experience bill, which cannot be combined across both. 2. US$15 is valid for the purchase of any meal and/or drinks or a golf experience. To be eligible, Cardholders must present a valid card before placing an order or selecting their golf experience. 3. US$15 is non-transferable and cannot be exchanged for a cash substitute or refund if the final bill is lower than US$15 per person. 4. The Cardholder is responsible for the remaining balance if total bill exceeds US$15 per registered person.
Any remaining balance cannot be used towards gratuity.

Minsk Minsk National Airport - MSQ


Lounge: Domestic Lounge
Location: Airside - after Security Control, take the stairs to the next level and turn left.
Domestic flights only.
Hours 24 hours daily.
Conditions: Maximum 2 hour stay - Children under 2 years are admitted free - Separate prayer room - Separate smoking room available.
Additional information: Premium alcoholic drinks are subject to payment.

Lounge: International Lounge
Location: Airside - after Security Control, take the stairs to the next level. International flights only.
Hours 24 hours daily.
Conditions: Maximum 2 hour stay - Children under 2 years are admitted free - Separate prayer room - Separate smoking room available.
Additional information: Premium alcoholic drinks are subject to payment.

Mombasa Moi International - MBA


Terminal: Terminal 1
Lounge: Safari Comfort Lounge
Location: Airside - Domestic flights only. Pass the Check-in counters and take the lift or escalator to the 1st Floor. Proceed past the Security Check and Passport
Control, turn left and follow signs to the lounge.
Hours 07:00 - 18:00 daily.
Conditions: Children under 6 years are admitted free - Separate smoking area available.
Additional information: Alcoholic drinks are subject to payment.

Terminal: Terminal 1
Lounge: Safari VIP Lounge
Location: Airside - International flights only. Past the Check-in counters and take the lift or escalator to the 1st Floor. Proceed past the Security Check and Passport
Control, turn right and follow signs. Take the stairs next to the cafe up to where the lounge is located.
Hours 07:00 - 18:00 daily.
Conditions: Children under 6 years are admitted free.

Monastir Habib Bourguiba Intl - MIR


Lounge: Primeclass CIP Lounge
Location: Airside - the lounge is located in the Boarding Area, next to Gate 12.
Hours 08:00 - 20:00 daily.
Conditions: Maximum 4 hour stay - Children under 2 years are admitted free - Separate prayer room available - Dress code applicable.
Additional information: Telephone and printing facilities are subject to payment. Please note the lounge will provide pre-packed food.

Montego Bay Sangster Intl - MBJ


Lounge: Club Mobay
Location: Airside - after Security Control in the main departure lounge, go up to the
Mezzanine Level and take the lift between Gates 9 and 13 up to the lounge.
Follow signs.
Hours 06:00 - 22:00 daily.
Hours may vary according to flight schedules.
Conditions: Children under 2 years are admitted free - Spa services available subject to additional payment inside the Lounge - Separate children's play area available
- Smart casual dress at all times.
Additional information: Interstate/international telephone calls, fax facilities and Spa services are subject to payment. Passengers and their guests have complimentary access to the Fast Track service located at general Security Controls on the 1st Floor of the Departure Terminal (subject to space availability in the lounge) upon presentation of a valid card and Boarding Pass. Please note the lounge will provide pre-packed food.

Lounge: Club Mobay
Location: Airside - after Security Control in the main departure lounge, go up to the
Mezzanine Level, turn right towards Gates 8 - 9. Turn left at 'Harley Davidson'
and the lounge is just opposite Gate 12. International flights only.
Hours 06:00 - 22:00 daily.
Hours may vary according to flight schedules.
Conditions: Maximum 3 hour stay - Children under 2 years are admitted free - Separate children's play area available - Smart casual dress at all times.
Additional information: Fax facilities are subject to payment. Passengers and their guests have complimentary access to the Fast Track service located at general Security
Controls on the 1st Floor of the Departure Terminal (subject to space availability in the lounge) upon presentation of a valid card and boarding pass.
Please note the lounge will provide pre-packed food.

Lounge: Club Mobay Arrivals Lounge
Location: Airside - after clearing customs, proceed straight ahead. The lounge is located opposite the Global Exchange Cambio and beside the Thrifty Car Rental Desk.
Hours 08:00 - 19:00 daily.
Hours may vary according to flight schedules.
Conditions: Children under 2 years are admitted free - Smart casual dress at all times.
Additional information: Please note the lounge will provide pre-packed food.

Lounge: Club Mobay Arrivals Lounge
Location: Airside - after Customs proceed to the Ground Transportation Hall, the lounge is located straight ahead.
Hours 08:00 - 19:00 daily.
Hours may vary according to flight schedules.
Conditions: Access may be restricted due to space constraints - Children under 2 years are admitted free - Smart casual dress at all times.
Additional information: Please note the lounge will provide pre-packed food.

Monteria Los Garzones - MTR


Lounge: The Lounge Monteria by Global Lounge Network
Location: Airside - after Security Checks take the lift or escalator on the right hand side to the 2nd Floor. Domestic flights only.
Hours 06:00 - 17:30 daily.
Hours may vary according to flight schedules.
Conditions: One child under 12 years admitted free per cardholder - Separate children's play area available.
Additional information: Please note standard buffet service has been suspended until further notice and pre-packed meals will be provided.

Monterrey Mariano Escobedo Intl - MTY


Terminal: Terminal A
Lounge: Oma Premium Lounge
Location: Airside - after Security Controls, take the escalator to the next Level and turn right. Proceed down a separate escalator towards Gate 12 where the lounge is located.
Hours 05:00 – 22:00 daily.
Access may be restricted due to space constraints.
Conditions: Maximum 3 hour stay - Children under 5 years are admitted free -
Complimentary alcoholic drinks are limited to three per adult - All food and beverages must be consumed inside the lounge.
Additional information: Please note hot food is temporarily suspended (snacks only) until further notice.

Terminal: Terminal B
Lounge: Aeromexico - Salon Premier
Location: Airside - 2nd Floor, in front of Gate B10.
Hours 05:00 – 20:00 daily.
Hours may vary according to flight schedules.
Conditions: Children under 2 years are admitted free.
Additional information: Please note hot food is temporarily suspended (snacks only) until further notice.

Terminal: Terminal B
Lounge: Oma Premium Lounge
Location: Airside - after Security, turn left and proceed approximately 50 metres. The lounge is located on the left hand side, opposite the 2nd Floor stairs.
Hours 05:00 - 21:00 Monday, Wednesday - Friday & Sunday.
05:00 - 18:30 Tuesday & Saturday.
Access may be restricted due to space constraints.
Conditions: Maximum 3 hour stay - Children under 5 years are admitted free -
Complimentary alcoholic drinks are limited to three per adult - All food and beverages must be consumed inside the lounge.
Additional information: Please note hot food is temporarily suspended (snacks only) until further notice.

Terminal: Terminal B
Lounge: Terraza Premier Aeromexico by Heineken
Location: Airside - after Security Checks, take the stairs to the 2nd Floor. Follow the hall and take the stairs down to the next Floor.
Hours 05:30 - 22:30 daily.
Due to current travel restrictions impacting the area this lounge is temporarily closed.
Conditions: Children under 2 years are admitted free.

Terminal: Terminal C
Lounge: Oma Premium Lounge
Location: Airside - after Security Controls, turn right and the lounge is located in the general Boarding Area. Domestic flights only.
Hours 05:00 - 22:00 daily.
Access may be restricted due to space constraints.
Conditions: Maximum 3 hour stay - Children under 5 years are admitted free -
Complimentary alcoholic drinks are limited to three per adult - All food and beverages must be consumed inside the lounge.
Additional information: Please note hot food is temporarily suspended (snacks only) until further notice.

Montevideo Carrasco Intl - MVD


Lounge: Aeropuertos VIP Club Partidas
Location: Airside - the lounge is located inside the Boarding Area on the East Side of the
Terminal:.
Hours 24 hours daily.
Hours may vary according to flight schedules.
Conditions: Children under 2 years are admitted free - Separate children's play area available - Business Center available.
Additional information: Face masks must be worn. Please note hot food is temporarily suspended
(snacks and cold food only) until further notice.

Montreal Pierre Elliott Trudeau Intl - YUL


Lounge: Bistrot Montreal-Trudeau
Location: Airside - after Security Checks, the Bistrot Montreal-Trudeau is located near
Gate 48. Domestic flights only. Please note that the restaurant may exceed their seating limit at certain times of the day & access to the restaurant is at their sole discretion.
Hours 04:00 - 19:00 daily.
IMPORTANT NOTE: For Cardholders who pay for individual visits or guest visits, please check this particular offer against your visit fee to ensure it represents value for you. We advise Cardholders to review full Conditions of access below before visiting.
Bistrot Montréal-Trudeau is a welcoming modern urban marketplace with an eclectic assortment of specialised offerings all carefully crafted from fresh locally sourced ingredients.
Conditions: 1. Cardholders can use their lounge visit entitlement to receive CAD$37 off the bill. Each CAD$37 deduction represents a single lounge visit within the
Cardholder's existing lounge visit allocation for which the Cardholder will,
where applicable, be charged. E.g. if a Cardholder registers 1 Guest they will receive CAD$74 off their bill which will be charged as 1 Cardholder visit + 1
Guest visit on their account. Only 1 Card per visit per Cardholder will be accepted and at point of registration. 2. The CAD$37 is valid for the purchase of any meal and/or drinks excluding 'To-Go Orders'. To be eligible,
Cardholders must present a valid Card and Boarding Pass with confirmed same-day travel before placing an order. 3. Cardholder may only register 1
Guest per visit to receive CAD$37 deduction. Any additional guests will not be eligible for CAD$37 deduction. 4. CAD$37 is non-transferable & cannot be exchanged for cash substitute or refund if the final bill is lower than CAD$37
per person. 5. Cardholder is responsible for the balance if total final bill exceeds CAD$37 per person. Any remaining balance cannot be used towards gratuity. 6. Priority Pass and its Affiliates Companies shall not be liable should the offer value be less than Customers lounge visit entitlement. Customers who pay for lounge and visits are advised to review programme Conditions of
Use prior to accessing the offer.

Lounge: Houston Avenue Bar & Grill
Location: Airside - after Security Checks, the Houston Avenue Bar & Grill is located near
Gate 77. The restaurant is not accessible to passengers departing on
Canadian domestic or international flights. US Transborder flights only.
Please note that the restaurant may exceed their seating limit at certain times of the day & access to the restaurant is at their sole discretion.
Hours 06:00 - 20:00 daily.
Due to current travel restrictions impacting the area Houston Avenue Bar &
Grill is temporarily closed.
IMPORTANT NOTE: For Cardholders who pay for individual visits or guest visits, please check this particular offer against your visit fee to ensure it represents value for you. We advise Cardholders to review full Conditions of access below before visiting.
Euro-style resto-lounge offering a contemporary Texan-inspired menu.
Conditions: 1. Cardholders can use their lounge visit entitlement to receive CAD$37 off the bill. Each CAD$37 deduction represents a single lounge visit within the
Cardholder's existing lounge visit allocation for which the Cardholder will,
where applicable, be charged. E.g. if a Cardholder registers 1 Guest they will receive CAD$74 off their bill which will be charged as 1 Cardholder visit + 1
Guest visit on their account. Only 1 Card per visit per Cardholder will be accepted and at point of registration. 2. The CAD$37 is valid for the purchase of any meal and/or drinks excluding 'To-Go Orders'. To be eligible,
Cardholders must present a valid Card and Boarding Pass with confirmed same-day travel before placing an order. 3. Cardholder may only register 1
Guest per visit to receive CAD$37 deduction. Any additional guests will not be eligible for CAD$37 deduction. 4. CAD$37 is non-transferable & cannot be exchanged for cash substitute or refund if the final bill is lower than CAD$37
per person. 5. Cardholder is responsible for the balance if total final bill exceeds CAD$37 per person. Any remaining balance cannot be used towards gratuity. 6. Priority Pass and its Affiliates Companies shall not be liable should the offer value be less than Customers lounge visit entitlement. Customers who pay for lounge and visits are advised to review programme Conditions of
Use prior to accessing the offer.

Lounge: National Bank Lounge
Location: Airside - after Security Checks, the lounge is located near Gate 53. The lounge is not accessible to passengers departing on Canadian domestic or US
Transborder flights and must hold a Boarding Pass with gates numbered 52 or up.
Hours 04:00 - 00:00 daily.
Due to current travel restrictions impacting the area this lounge is temporarily closed.
Conditions: Access is permitted 3 hours prior to scheduled flight departure - All cardholders and guests are required to show an Outbound Boarding Pass with confirmed same-day travel - Limited to seven guests per cardholder, subject to a per person charge, where applicable - Children under 2 years are admitted free.

Lounge: Pork & Pickle
Location: Airside - after Security Checks, the Pork & Pickle is located near Gate 3. The restaurant is not accessible to passengers departing on International and US
Transborder flights. Canadian Domestic flights only. Please note that the restaurant may exceed their seating limit at certain times of the day & access to the restaurant is at their sole discretion.
Hours 06:00 - 22:00 daily.
Hours may vary according to flight schedules.
IMPORTANT NOTE: For Cardholders who pay for individual visits or guest visits, please check this particular offer against your visit fee to ensure it represents value for you. We advise Cardholders to review full Conditions of access below before visiting.
With its impressive real-wood smokehouse, and choice of original & comfort meals for breakfast, lunch and dinner, Pork & Pickle offers a warm and cosy food experience.
Conditions: 1. Cardholders can use their lounge visit entitlement to receive CAD$37 off the bill. Each CAD$37 deduction represents a single lounge visit within the
Cardholder's existing lounge visit allocation for which the Cardholder will,
where applicable, be charged. E.g. if a Cardholder registers 1 Guest they will receive CAD$74 off their bill which will be charged as 1 Cardholder visit + 1
Guest visit on their account. Only 1 Card per visit per Cardholder will be accepted and at point of registration. 2. The CAD$37 is valid for the purchase of any meal and/or drinks excluding 'To-Go Orders'. To be eligible,
Cardholders must present a valid Card and Boarding Pass with confirmed same-day travel before placing an order. 3. Cardholder may only register 1
Guest per visit to receive CAD$37 deduction. Any additional guests will not be eligible for CAD$37 deduction. 4. CAD$37 is non-transferable & cannot be exchanged for cash substitute or refund if the final bill is lower than CAD$37
per person. 5. Cardholder is responsible for the balance if total final bill exceeds CAD$37 per person. Any remaining balance cannot be used towards gratuity. 6. Priority Pass and its Affiliates Companies shall not be liable should the offer value be less than Customers lounge visit entitlement. Customers who pay for lounge and visits are advised to review programme Conditions of
Use prior to accessing the offer.

Moscow Domododevo - DME


Lounge: Airport Business Lounge
Location: Airside - the lounge is accessible via Sector C after Check-in and second
Security Control. Proceed pass the shops and cafes and take the escalator to the 2nd Floor. Turn right and the lounge is located near the children's play room. Domestic flights only.
Hours 08:00 – 20:00 Sunday – Thursday.
24 hours Friday – Saturday.
Conditions: Maximum 3 hour stay - Access may be restricted due to space constraints -
Children under 2 years are admitted free - Separate children's play area available.

Lounge: Airport Business Lounge
Location: Airside - the lounge is accessible via Sectors A or B. From Sector A (2nd
Floor) the lounge is on the left after Security Checks and Passport Control.
From Sector B (2nd Floor) the lounge is on the right after Security Checks,
Passport Control and Duty Free. International flights only.
Hours 05:00 - 15:00 & 19:00 - 23:00 Monday & Sunday.
05.00 - 17:00 & 19:00 - 23:00 Tuesday, Thursday & Saturday.
05:00 - 17:00 Wednesday & Friday.
Conditions: Maximum 3 hour stay - Access may be restricted due to space constraints -
Children under 2 years are admitted free - Separate children's play area available.
Additional information: Local telephone calls and fax facilities only.

Lounge: Airport Business Lounge
Location: Airside - accessible via Sectors A or B, after Security Checks and Passport
Control. From Sector A (2nd Floor) the lounge is at the end of the corridor on the left. From Sector B (2nd Floor), take the stairs, turn right and proceed to the end of the corridor and turn left. International flights only
Hours 24 hours daily.
Conditions: Maximum 3 hour stay - Access may be restricted due to space constraints -
Children under 2 years are admitted free.
Additional information: Local telephone calls and fax facilities only.

Lounge: Comfort Lounge
Location: Airside - after Check-in and second Security Control proceed straight ahead and the lounge is located on the right hand side, near Gate 37. Domestic flights only.
Hours 24 hours daily.
Conditions: Maximum 3 hour stay - Access may be restricted due to space constraints -
Children under 2 years are admitted free - Complimentary alcoholic drinks are restricted to one bottle of local beer per adult; all other alcoholic drinks are subject to payment.
Additional information: Local telephone calls and fax facilities only.

Lounge: S7 Business Lounge
Location: Airside - accessible via Sectors A/B, after Security Checks and Passport
Control. From Sector A (2nd Flr), proceed straight ahead. From Sector
B,proceed straight ahead and take the escalator to Sector A. Turn right,
lounge is located near the Vienna Café and Avialine Shop. International flights only
Hours 24 hours daily.
Conditions: Maximum 3 hour stay - Children under 2 years are admitted free - Due to the size of the lounge access may be restricted due to space constraints -
Complimentary alcoholic drinks are restricted to one bottle of local beer per adult; all other alcoholic drinks are subject to payment.
Additional information: Local telephone calls and fax facilities only.

Lounge: Shostakovich Lounge by UTG Aviation Services
Location: Airside - Domestic Departure Area, 2nd Floor, Gate 42.
Hours 24 hours daily.
Conditions: Maximum 3 hour stay - Children under 2 years are admitted free.

Moscow Leningradsky Railway - ZKD


Lounge: Business Lounge
Location: Leningradsky Railway Station. The lounge is located on the 1st Floor, before the entrance to the platforms on the right hand side. Access to the Business
Lounge: is only available to passengers departing from Moscow Leningradsky
Railway Station.
Hours 24 hours daily.
Conditions: Passengers and guests are required to show a valid Card and Train Ticket with confirmed same day travel for a maximum 3 hour stay prior to scheduled departure - Children under 2 years are admitted free - Separate children's play area and games room - Train information monitor available - Separate smoking room available outside the lounge.
Additional information: Complimentary shoe shine available inside the lounge. Conference facilities and printers are subject to payment.

Moscow Paveletsky Railway - XRK


Lounge: Business Lounge
Location: Paveletsky Railway Station. From the main entrance station (2 or 3), turn left and go straight through the station building, passing ATM's and suburban ticket offices. The lounge is located on the right hand side.
Hours 24 hours daily.
Conditions: Passengers are required to show a valid Card and Train Ticket for confirmed same day travel, for a maximum 3 hour stay, prior to scheduled departure -
Children under 2 years are admitted free - Separate children's play area available.
Additional information: Complimentary luggage storage and train information monitor available.

Moscow Sheremetyevo International - SVO


Terminal: Terminal B
Lounge: Kandinsky Lounge
Location: Airside – after Passport Control, 3rd Floor, near Gates 113 – 114. Domestic flights only.
Hours 24 hours daily.
Conditions: Maximum 3 hour stay - Children under 2 years are admitted free - Separate children's play area available.
Additional information: Complimentary luggage storage available inside the lounge. Bedrooms,
conference facilities and premium alcoholic drinks are subject to payment.

Terminal: Terminal C
Lounge: Malevich Lounge
Location: Airside - after Passport Control and Security Checks, turn left, proceed through the Duty Free Area and take the lift or escalator located near Gate
143 to the 3rd Floor. International flights only.
Hours 24 hours daily.
Due to current travel restrictions impacting the area this lounge is temporarily closed.
Conditions: Maximum 3 hour stay - Children under 2 years are admitted free - Separate prayer room available, Cinema, workstations and printers available.
Additional information: Complimentary luggage storage and shoe shine available inside the lounge.
Premium alcoholic drinks, A la carte menu, bedrooms, spa facilities, games and meeting rooms are subject to payment.

Terminal: Terminal D
Lounge: Gallery Lounge
Location: Airside - 3rd Floor, opposite Gate 32. International flights only.
Hours 24 hours daily.
Due to current travel restrictions impacting the area this lounge is temporarily closed.
Conditions: Maximum 3 hour stay - Children under 2 years are admitted free.

Terminal: Terminal D
Lounge: GettSleep Capsule Hotel
Location: Airside - located opposed Gate 31. International and transit flights only.
Passengers arriving on an International Transit flight must not go through
Passport Control but need to proceed to International Transfer Security. In case of an annoying transit, layover, a very early/late flight or if your flight has been delayed/cancelled, GettSleep is just what you need to rest and refresh without leaving the airport.
Hours 24 hours daily.
3 hour stay for single capsule stay (1 adult plus 1 child under 6 years of age without an extra bed).
Conditions: 1. Cardholders can use their lounge visit entitlement to take advantage of a 3
hour stay in a single capsule (max.1 adult plus 1 child under 6 years of age without an extra bed). Each capsule usage represents a single lounge visit within the Cardholder's existing lounge visit allocation for which the
Cardholder will, where applicable, be charged. For example, if a Cardholder registers 1 Guest they will be charged as 1 Cardholder visit + 1 Guest visit on their account. Only 1 card per visit per Cardholder will be accepted and at point of registration. To be eligible, Cardholders and guests must present a valid Card and Boarding Pass. 2. Each capsule is equipped with an adjustable individual air ventilation system, locker for storing hand luggage, 220V power individual air ventilation system, locker for storing hand luggage, 220V power outlet and USB for recharging devices, ergonomic mattress, high-quality satin bed linen, terry towel, fleece blanket, lighting and a clothes bar. 3.
Complimentary slippers, bathrobe (for duration of stay), shampoo, shower gel and unlimited tea or coffee only, all subsequent soft drinks are subject to payment. 4. Cardholder is responsible for all additional charges incurred. 5.
Capsule usage is subject to availability.

Terminal: Terminal D
Lounge: Matryoshka Lounge
Location: Airside - 1st Floor, opposite Gate 17. Domestic flights only.
Hours 24 hours daily.
Due to current travel restrictions impacting the area this lounge is temporarily closed.
Conditions: Maximum 3 hour stay - Children under 2 years are admitted free.

Terminal: Terminal D
Lounge: Moscow lounge
Location: Airside - after Passport Control and Customs, take the lift to the 3rd Floor. The lounge is located by Gate 30. International flights only.
Hours 24 hours daily.
Conditions: Maximum 3 hour stay - Access may be restricted due to space constraints -
Children under 2 years are admitted free - Separate children's play area available.
Additional information: Complimentary use of shower facilities, massage chairs and luggage storage available inside the lounge. Conference facilities are subject to payment.

Terminal: Terminal D
Lounge: Saint - Petersburg Lounge
Location: Airside - take the lift situated on the left hand side of the Security Checks to the 4th Floor. The lounge is located near Gate 29. International flights only.
Hours 24 hours daily.
Conditions: Maximum 3 hour stay - Children under 2 years are admitted free - Separate children's play area available.
Additional information: Complimentary luggage storage available inside the lounge. Premium alcoholic drinks, À la carte menu and bedrooms are subject to payment.

Terminal: Terminal D
Lounge: Sochi Lounge
Location: Airside - the lounge is located on the 1st Floor, near Gate 1. Domestic flights only.
Hours 24 hours daily.
Conditions: Maximum 3 hour stay - Children under 2 years are admitted free - Separate children's play area available.
Additional information: Complimentary massage chairs available. Premium alcoholic drinks are subject to payment.

Terminal: Terminal E
Lounge: Galaxy Lounge
Location: Airside - 2nd Floor, opposite Gate 39. International passengers departing from
Terminal:s D & F can access the lounge but please allow sufficient time
(approx. 10-15 minutes) to reach the Gates.
Hours 24 hours daily.
Due to current travel restrictions impacting the area this lounge is temporarily closed.
Conditions: Maximum 3 hour stay - Children under 2 years are admitted free - Separate children's play room available - Separate games and baby care rooms available.
Additional information: Local telephone calls only. Conference facilities are subject to availability and payment.

Terminal: Terminal E
Lounge: Space Lounge
Location: Airside - 2nd Floor, opposite Gate 39. International passengers departing from
Terminal:s D & F can access the lounge but please allow sufficient time
(approx. 10-15 minutes) to reach the Gates.
Hours 24 hours daily.
Due to current travel restrictions impacting the area this lounge is temporarily closed.
Conditions: Maximum 3 hour stay - Children under 2 years are admitted free - Separate children's play room available - Games room available.
Additional information: Conference facilities are subject to payment.

Terminal: Terminal F
Lounge: All Star Lounge
Location: Airside - 3rd Floor, opposite Gate 52. International passengers departing from
Terminal:s D & E can access the lounge but please allow sufficient time
(approx. 10-15 minutes) to reach the Gates.
Hours 24 hours daily.
Due to current travel restrictions impacting the area this lounge is temporarily closed.
Conditions: Maximum 3 hour stay - Children under 2 years are admitted free - Separate children's play room available - Games room available.
Additional information: Conference facilities are subject to payment.

Terminal: Terminal F
Lounge: Amber Lounge
Location: Airside - 2nd Floor, opposite Gate 48. International flights only.
Hours 24 hours daily.
Due to current travel restrictions impacting the area this lounge is temporarily closed. Alternative lounge: All Star Lounge. Terminal F. Airside - 3rd Floor,
opposite Gate 52. Also accessible to international passengers departing from
Terminal:s D & E in approx. 10-15 minutes time.
Conditions: Maximum 3 hour stay - Children under 2 years are admitted free - Separate children's play and games area available.

Terminal: Terminal F
Lounge: Classic Lounge
Location: Airside - 2nd Floor, near Gate 42. International passengers departing from
Terminal:s D & E can access the lounge but please allow sufficient time
(approx. 10-15 minutes) to reach the Gates.
Hours 24 hours daily.
Due to current travel restrictions impacting the area this lounge is temporarily closed. Alternate lounge: All Star Lounge. Terminal F. Airside - 3rd Floor,
opposite Gate 52. Also accessible to international passengers departing from
Terminal:s D & E in approx. 10-15 minutes time.
Conditions: Maximum 3 hour stay - Children under 2 years are admitted free - Separate children's play room available - Separate games and baby care rooms available.
Additional information: Local telephone calls only.

Moscow Vnukovo - VKO


Terminal: Terminal A
Lounge: Art Lounge
Location: Airside - 2nd Floor, near Gate 23. International and in-transit flights only.
Hours 24 hours daily.
Conditions: Maximum 3 hour stay - Children under 2 years are admitted free - Separate children's play area and prayer room available - Quiet area.
Additional information: Complimentary luggage storage available inside the lounge. Golf car service,
premium alcoholic drinks, nap rooms and shower products are subject to payment.

Terminal: Terminal A
Lounge: Business Lounge (International and Domestic)
Location: Landside - proceed to the 2nd Floor for baggage check-in and registration.
After registration do not pass through Passport Control but take the lift or escalator to the 3rd Floor & follow signs to the 'VIP/Business Lounges'. For
International passengers please allow approx. 60 minutes prior to departure as when leaving the lounge you will need to pass through Passport and
Customs Control and for Domestic flights at least 15 minutes.
Hours 24 hours daily.
Conditions: Maximum 3 hour stay - Children under 2 years are admitted free -
Complimentary alcoholic drinks are limited to beer (dark and light), wine and
Champagne (Bruit/semi-sweet) and all other drinks are subject to payment.
Additional information: Alcoholic drinks (spirits only) are subject to payment.

Terminal: Terminal A
Lounge: Fountain Lounge
Location: Airside - the lounge is located on the 2nd Floor in the Food Court Area.
International and transit flights only.
Hours 24 hours daily.
Conditions: Maximum 3 hour stay - Children under 2 years are admitted free -
Complimentary alcoholic drinks are limited to beer (light), wine and
Champagne (Bruit/semi-sweet) and all other drinks are subject to payment
Additional information: Complimentary luggage storage available inside the lounge.

Terminal: Terminal A
Lounge: Prokofiev Premier Lounge
Location: Airside - after Passport Control proceed towards the end of the Terminal and take the escalator to the 2nd Floor. The lounge is located near Gate 13.
Domestic flights only.
Hours 24 hours daily.
Conditions: Maximum 3 hour stay - Children under 2 years are admitted free - Alcoholic drinks are limited to beer only.
Additional information: Complimentary massage chairs, luggage storage and shoe shine available.
Conference facilities are subject to payment.

Mudanjiang Hailang - MDG


Lounge: First Class Lounge
Location: Airside - Domestic Departures. After Security Checks, turn right. The lounge is located on the 2nd Floor of the Domestic Departure Hall.
Hours Lounge opens 2 hours prior to first flight departure and closes after last scheduled departure.
Conditions: Children under 2 years are admitted free - All children must be accompanied by an adult - Complimentary alcoholic drinks are limited to one beer per person, all subsequent drinks are subject to cash payment only - Separate smoking room available.
Additional information: Please note hot food is temporarily suspended (snacks only) until further notice.

Lounge: International First Class Lounge
Location: Airside - International Departures. After Security Checks, turn right. The lounge is located on the 2nd Floor of the International Departure Hall.
Hours Lounge opens 1.5 hours prior to first flight departure and closes after last scheduled departure.
Due to current travel restrictions impacting the area this lounge is temporarily closed.
Conditions: Children under 2 years are admitted free - All children must be accompanied by an adult - Complimentary alcoholic drinks are limited to one beer per person, all subsequent drinks are subject to cash payment only - Separate smoking room available.

Muenster-Osnabrueck Muenster-Osnabrueck Intl - FMO


Lounge: Relax Lounge
Location: Airside - after Security Checks, approximately 20 metres on the left hand side.
Hours 05:00 - 20:00 Monday - Saturday.
05:00 - 20:45 Sunday.
Closed: Dec 25.
Due to current travel restrictions impacting the area this lounge is temporarily closed.
Conditions: Limited to one guest per cardholder, subject to a per person charge, where applicable - Children under 2 years are not admitted.

Multan Multan International - MUX


Lounge: CIP Lounge
Location: Airside - International Departures. The lounge is located on the 1st Floor,
opposite the Immigration counter.
Hours 24 hours daily.
Conditions: Access is permitted 3 hours prior to scheduled flight departure - Children under 2 years are admitted free - Prayer room available.

Lounge: CIP Lounge
Location: Airside - Domestic Departures. The lounge is located on the 1st Floor,
opposite the Security Check counters.
Hours 24 hours daily.
Conditions: Access is permitted 3 hours prior to scheduled flight departure - Children under 2 years are admitted free - Prayer room available.

Mumbai Chhatrapati Shivaji International - BOM


Terminal: Terminal 1
Lounge: Oasis Lounge
Location: Airside - Domestic Departures. Proceed through the Security Hold Area and take the lift next to Security Check counter No.9 up to the next floor.
Hours 24 hours daily.
Due to current travel restrictions impacting the area this lounge is temporarily closed.
Conditions: Access is permitted 3 hours prior to scheduled flight departure - Children under 5 years are admitted free.
Additional information: Alcoholic drinks and à la carte menu are subject to payment. Complimentary shoe shine available inside the lounge.

Terminal: Terminal 1
Lounge: Travel Club
Location: Airside - Domestic Departures. The lounge is located on the 3rd Floor opposite Gate 44.
Hours 24 hours daily.
Due to current travel restrictions impacting the area this lounge is temporarily closed.
Conditions: Maximum 3 hour stay - Children under 4 years are admitted free.
Additional information: Spa facilities, massage chairs and alcoholic drinks are subject to payment.

Terminal: Terminal 2
Lounge: Aviserv Lounge
Location: Landside - located on Level 2 (Arrivals Level), proceed through Customs and
Baggage Claim and turn left. The lounge is located next to Gate A.
Hours 24 hours daily.
Conditions: Maximum 3 hour stay - Children under 6 years are admitted free.
Additional information: Spa, shower, sleeping pods, conference and fax facilities are subject to payment.

Terminal: Terminal 2
Lounge: Loyalty Lounge
Location: Airside - International Departures. After Security Checks, turn right and proceed through the Lotus House. Take the lift in Pranaam Lounge to the 3rd
Floor.
Hours 17:00 - 04:00 daily.
Conditions: Children under 2 years are admitted free - Access may be restricted due to space constraints - Smart casual dress at all times.
Additional information: Local telephone calls only. Please note standard buffet service has been suspended and pre-plated meals are provided.

Terminal: Terminal 2
Lounge: Travel Club
Location: Airside - Domestic transit and Domestic departures only. The lounge is located opposite Gate 44.
Hours 24 hours daily.
Conditions: Maximum 3 hour stay - Children under 4 years are admitted free.
Additional information: Spa facilities and massage chairs are subject to payment. Please note the lounge will provide one takeaway food box per person which can be consumed inside the lounge.

Munich Franz Josef Strauss - MUC


Terminal: Terminal 1
Lounge: Air France Lounge
Location: Airside - Module D, Level 5 (Schengen Area). The lounge is located next to
Gate D12. Schengen flights only.
Hours 05:30 - 20:15 daily.
Due to current travel restrictions impacting the area this lounge is temporarily closed.
Conditions: Access is permitted 3 hours prior to scheduled flight departure - Children under 2 years are admitted free.

Terminal: Terminal 1
Lounge: Airport Lounge Europe
Location: Airside - Module D, Level 5 (Schengen Area). Take the lift or stairs to the transfer corridor and follow signs to where the lounge is located.
Hours 10:00 - 18:30 Monday, Tuesday, Friday & Sunday.
10:00 - 19:30 Wednesday.
07:00 - 18:30 Thursday.
07:00 - 17:00 Saturday.
Due to current travel restrictions impacting the area this lounge is temporarily closed and will re-open Summer 2021.
Conditions: Children under 2 years are admitted free.
Additional information: Please note all passengers must provide name and contact telephone number when accessing the lounge. Standard buffet service has been suspended and the lounge will instead offer table service.

Murmansk Murmansk - MMK


Lounge: Murmansk Airport Business Lounge
Location: Airside - after Check-in and Security Control, 2nd Floor. Domestic flights only.
Hours 24 hours daily.
Conditions: Maximum 4 hour stay - Children under 2 years are admitted free - Separate children's play area available - Smart casual dress at all times.
Additional information: Alcoholic drinks and conference facilities are subject to payment.

Muscat Muscat - MCT


Lounge: Primeclass Lounge
Location: Airside - International Departure Area, after Passport Control proceed to the
5th Floor.
Hours 24 hours daily.
Conditions: Maximum 3 hour stay - Children under 6 years are admitted free - Separate children's play area, cinema, relaxing zone, family room and games zone available - Separate smoking area available.
Additional information: Complimentary luggage storage available inside the lounge. Complimentary bedrooms available, subject to availability. Conference facilities are subject to payment.

Nadi Nadi Intl - NAN


Lounge: Fiji Airways Premier Lounge
Location: Airside - International Departures. The lounge is located past the Duty Free
Shops on the Ground Level, past the escalators towards the Departure Level on the left hand side.
Hours 05:00 - 23:00 daily.
Hours may vary according to flight schedules.
Due to current travel restrictions impacting the area this lounge is temporarily closed.
Conditions: Children under 3 years are admitted free - Separate Children's play area available.
Additional information: Local telephone calls only.

Nagoya Chubu Centrair Intl - NGO


Lounge: Centrair Global Lounge
Location: Airside - International Departures. After Immigration on the 3rd Floor, take the lift near Gate 19 down to the 2nd Floor and follow signs to the lounge.
Hours 07:30 - 11:20 & 17:45 - 21:00 daily.
Cardholders will not be admitted into the lounge outside these hours.
Due to current travel restrictions impacting the area this lounge is temporarily closed.
Conditions: Access may be restricted due to space constraints - Children under 2 years are admitted free - Separate smoking room available.

Lounge: KAL Lounge
Location: Airside - International Departures. After Immigration on the 3rd Floor, take the lift near Gate 19 down to the 2nd Floor and follow signs to the lounge.
Hours 07:30 - 17:15 daily.
Due to current travel restrictions impacting the area this lounge is temporarily closed.
Conditions: Limited to two guests per cardholder, subject to a per person charge, where applicable - Access may be restricted due to space constraints - Children under 2 years are admitted free - All children must be accompanied by an adult.
Additional information: Interstate/international fax facilities are subject to payment.

Lounge: Star Alliance Lounge
Location: Airside - International Departures. After Immigration on the 3rd Floor turn right and take the lift on the left hand side down to the 2nd Floor. Follow signs to the lounge.
Hours 07:00 - 18:30 daily.
Due to current travel restrictions impacting the area this lounge is temporarily closed.
Conditions: The First Class section is not available to cardholders - Access may be restricted due to space constraints - Separate smoking room available.

Nagpur Dr. Babasaheb Ambedkar Intl - NAG


Lounge: Cinnamon Lounge
Location: Landside - Domestic Departures, before Security Checks, 1st Floor.
Hours 06:00 - 18:00 daily.
Conditions: Children under 12 years are admitted free.
Additional information: Complimentary luggage storage and shoe shine available inside the lounge. A
la carte menu subject to payment. Please note standard buffet service has been suspended and set meals are provided.

Nairobi Jomo Kenyatta International - NBO


Terminal: Terminal 1A
Lounge: Turkish Airlines Star Alliance Lounge
Location: Airside - Departures Level. After Security Control, next to Gate 13.
Hours 24 hours daily.
Conditions: Maximum 3 hour stay - Children under 3 years are admitted free - Separate prayer room available - Separate children's play area available.

Terminal: Terminal 2
Lounge: Mara Lounge
Location: Airside - after Passport Control, Level 1. Only accessible to International flights from Terminal 2; passengers departing from Terminal 1 cannot access the lounge.
Hours 24 hours daily.
Conditions: Maximum 3 hour stay - Children under 12 years are admitted free - Maximum one child permitted per cardholder.
Additional information: Premium alcoholic drinks are subject to payment.

Terminal: Terminal 2
Lounge: Mount Kenya Lounge
Location: Airside - Level 1. Domestic departure. Only accessible to Domestic flights from
Terminal: 2; passengers departing from Terminal 1 cannot access the lounge.
Hours 24 hours daily.
Conditions: Maximum 3 hour stay - Children under 12 years are admitted free - Maximum one child permitted per cardholder.
Additional information: Premium alcoholic drinks are subject to payment.

Nanchang Changbei Intl - KHN


Terminal: Terminal 1
Lounge: First Class Lounge
Location: Airside - International Departures. After Security Checks, the lounge is located to the left of the Departure Hall on the 2nd Floor.
Hours Lounge opens 1.5 hours prior to first flight departure and closes after last scheduled departure.
Due to current travel restrictions impacting the area this lounge is temporarily closed.
Conditions: Maximum 2 hour stay - Children under 2 years are admitted free.

Terminal: Terminal 2
Lounge: CIP Lounge
Location: Landside - Domestic Departures, enter the terminal building through Entrance
No. 2 on the 2nd Floor and proceed 30 metres straight ahead. The lounge is located opposite Check-in counter C17.
Hours Lounge opens 1.5 hours prior to first flight departure and closes after last scheduled departure.
Conditions: Maximum 2 hour stay - Children under 2 years are admitted free.

Terminal: Terminal 2
Lounge: First Class Lounge
Location: Airside - Domestic Departures. After Security Checks, the lounge is located to the left of the Departure Hall on the 2nd Floor.
Hours Lounge opens 1.5 hours prior to first flight departure and closes after last scheduled departure.
Conditions: Maximum 2 hour stay - Children under 2 years are admitted free.

Terminal: Terminal 2
Lounge: Jiangxi Air VIP Lounge
Location: Airside - Domestic Departures, 2nd Floor, near Gate 201.
Hours 06:30 - 19:30 daily.
Conditions: Maximum 3 hour stay - Children under 2 years are admitted free.

Nanjing Lukou Intl - NKG


Terminal: Terminal 2
Lounge: Domestic VIP Lounge
Location: Airside - Domestic Departures. After Security Checks at the end of the
Departure Hall near Gate 12. The lounge is also accessible from landside at the B17-B19 Check-In Counter.
Hours Lounge opens 1.5 hour prior to the first scheduled flight departure and closes
30 minutes prior to the last scheduled flight departure.
Conditions: Maximum 4 hour stay - Children under 2 years are admitted free.

Terminal: Terminal 2
Lounge: First Class Lounge V7
Location: Airside - International Departures. After Security Checks and Immigration, turn left and proceed 20 metres straight ahead. Take the lift on the left up to the next floor.
Hours 06:00 - 22:00 daily.
Conditions: Maximum 4 hour stay - Children under 2 years are admitted free.

Nanning Wuxu - NNG


Terminal: Terminal 2
Lounge: First Class Lounge
Location: Airside - International Departures. After Immigration and Security Checks,
proceed approximately 25 metres towards to Duty Free where the lounge is located.
Hours Lounge opens 90 minutes prior to the scheduled flight departure and closes after scheduled flight departure.
Conditions: Children under 12 years are admitted free.
Additional information: Local fax facilities only.

Terminal: Terminal 2
Lounge: First Class Lounge
Location: Airside - Domestic Departures. After Security Checks, 3rd Floor, turn left and proceed approximately 70 metres, next to the airport restaurant.
Hours 06:30 to last scheduled flight departure.
Conditions: Children under 12 years are admitted free.
Additional information: Local fax facilities only.

Terminal: Terminal 2
Lounge: First Class Lounge
Location: Landside - Domestic Arrivals. The lounge is located next to the Security
Checkpoint at Check-in counter E.
Hours 06:30 to last scheduled flight departure.
Conditions: Children under 12 years are admitted free.
Additional information: Local fax facilities only.

Terminal: Terminal 2
Lounge: First Class Lounge
Location: Airside - Domestic Departures. After Security Checks, 3rd Floor, turn left and proceed approximately 70 metres, next to the airport restaurant
Hours 06:30 to last scheduled flight departure.
Conditions: Children under 12 years are admitted free.
Additional information: Local fax facilities only.

Nantong Nantong Airport - NTG


Terminal: Terminal 3
Lounge: VIP Lounge
Location: Airside - Domestic Departures, after Security Checks, turn right and take the lift to the 3rd Floor where the lounge is located.
Hours 08:00 - 22:00 daily.
Conditions: Maximum 4 hour stay - Children under 2 years are admitted free.

Nashville (TN) Nashville Intl - BNA


Terminal: Concourse D
Lounge: Minute Suites
Location: Airside - near Gate D3.
Hours 24 hours daily.
Only 1 card per visit per Cardholder will be accepted and at point of registration.
Conditions: 1. Cardholders can use their lounge visit entitlement to use a Minute Suite for a 1 hour stay. 1 Minute Suite usage represents a single lounge visit within the
Cardholder's existing lounge visit allocation for which the Cardholder will,
where applicable, be charged. Each subsequent hour of Minute Suite usage will be charged at a discounted rate of US$28 and payable directly to Minute
Suites. Complimentary luggage storage available. 2. Up to 3 guests accompanying the Cardholder in the same Minute Suite may use it at no extra charge. 3. Shower facilities are subject to payment. 4. The Cardholder is responsible for any additional charges incurred. Minute Suites may ask
Cardholders to present a payment card for incidentals at the time of check-in.
5. Each Minute Suite is equipped with a comfortable daybed sofa (sleeps two), pillows, fresh blankets, a workstation, a sound masking system that helps to neutralise noise and Nap26 audio programme to help deliver a refreshing powernap. 6. Minute Suite usage is subject to availability.

Nassau Lynden Pindling Intl - NAS


Terminal: Intl & Domestic Departure Terminal
Lounge: The Lignum Club at LPIA
Location: Airside - 2nd Floor, the lounge is located between the escalators and the Food
Court. Domestic and Non-US International Departures only.
Hours 09:00 – 22:00 Monday & Thursday – Saturday.
09:00 – 18:00 Tuesday & Wednesday.
09:00 – 21:00 Sunday.
Due to current travel restrictions impacting the area this lounge is temporarily closed.
Conditions: Maximum 3 hour stay - Cardholder must be 18 years of age or older - Children under 2 years are admitted free - All children must be accompanied by an adult - Complimentary alcoholic drinks are limited to two per adult - Smart casual dress at all times (no shorts or swimwear allowed).
Additional information: Conference, International telephone calls and fax facilities are subject to payment.

Terminal: U.S. Departure Terminal
Lounge: Graycliff Divans
Location: Airside - after Passport Control and Security Checks, the lounge is located near Gate C-41. US flight departures only.
Hours 10:00 - 18:00 daily.
Closed: Dec 25.
Conditions: One child under 12 years is admitted free per adult (non-smoking room only) -
Separate smoking room available.
Additional information: Alcoholic beverages are subject to payment.

Navegantes Victor Konder Intl - NVT


Lounge: W Lounge Navegantes
Location: Airside - after Security Checks and X-ray, near Gate 1.
Hours 05:00 - 21:00 daily.
Conditions: Maximum 3 hour stay - Children under 2 years are admitted free - Smart casual dress at all times (smart shorts only, no sportswear, trainers, sandals or flipflops allowed).
Additional information: Complimentary meeting rooms available inside the lounge. Printing facilities are subject to payment.

Nelspruit Kruger Mpumalanga Intl - MQP


Lounge: KMI Airport VIP Lounge
Location: Landside - turn left at the main terminal concourse and the lounge is located on the right.
Hours 07:00 - 19:00 daily.
Conditions: Children under 6 years are admitted free - All children must be accompanied by an adult - Separate smoking area available (children under 16 years are not permitted in the smoking area).

Neuquen Presidente Peron - NQN


Lounge: Aeropuertos VIP Club
Location: Landside - before Security Control, Ground Floor.
Hours 07:30 - 21:00 daily.
Due to current travel restrictions impacting the area this lounge is temporarily closed.
Conditions: Maximum 3 hour stay - Children under 2 years are admitted free.

New Delhi Indira Gandhi Intl - DEL


Terminal: Terminal 1D
Lounge: Plaza Premium Lounge (Domestic Departures)
Location: Airside - Domestic Departures. Proceed through the Security Checkpoint and the lounge is located on the left hand side of the Mezzanine Level.
Hours 24 hours daily.
Due to current travel restrictions impacting the area this lounge is temporarily closed.
Conditions: Children under 2 years are admitted free - All children must be accompanied by an adult - Smart casual dress at all times.
Additional information: Alcoholic drinks are subject to payment. Complimentary Wi-Fi access is limited to 45 minutes and subsequent use is subject to payment.

Terminal: Terminal 2
Lounge: Plaza Premium Lounge (Domestic Departures)
Location: Airside - Domestic Departures, near Gate 25.
Hours 24 hours daily.
Due to current travel restrictions impacting the area this lounge is temporarily closed.
Conditions: Children under 2 years are admitted free - All children must be accompanied by an adult - Smart casual dress at all times.
Additional information: Please note the lounge will provide one takeaway food box per person which cannot be consumed inside the lounge.

Terminal: Terminal 3
Lounge: Plaza Premium Lounge
Location: Landside - International and Domestic Arrivals. The lounge is located near the
Meet and Greet Area.
Hours 24 hours daily.
Due to current travel restrictions impacting the area this lounge is temporarily closed.
Conditions: Maximum 3 hour stay - Children under 2 years are admitted free - All children must be accompanied by an adult - Smart casual dress at all times.
Additional information: Complimentary luggage storage available inside the lounge. Please note standard buffet service has been suspended and set meals are provided.

Terminal: Terminal 3
Lounge: Plaza Premium Lounge (Domestic Arrivals)
Location: Landside - Domestic Arrivals. The lounge is located near Gate 1.
Hours 24 hours daily.
Conditions: Children under 2 years are admitted free - All children must be accompanied by an adult - Smart casual dress at all times.
Additional information: Shower facilities are subject to payment. Please note standard buffet service has been suspended and set meals are provided.

Terminal: Terminal 3
Lounge: Plaza Premium Lounge (Domestic Departures)
Location: Airside - Domestic Departures. Follow signs 'Lounge A' from the F/G Gates and take the escalator on your right hand side down to where the lounge is located.
Hours 08:00 - 17:00 daily.
Conditions: Children under 2 years are admitted free - All children must be accompanied by an adult - Smart casual dress at all times.
Additional information: Local telephone calls only. Alcoholic drinks, shower and fax facilities are subject to payment. Please note the lounge will provide one takeaway food box per person which cannot be consumed inside the lounge.

Terminal: Terminal 3
Lounge: Plaza Premium Lounge (International Arrivals)
Location: Landside - International Arrivals Hall. The lounge is located opposite to exit
Gate No. 6.
Hours 24 hours daily.
Conditions: Children under 2 years are admitted free - All children must be accompanied by an adult - Smart casual dress at all times.
Additional information: Please note standard buffet service has been suspended and set meals are provided.

Terminal: Terminal 3
Lounge: Plaza Premium Lounge (International Departures)
Location: Airside - International Departures, in the main departure lounge on Level 3.
Follow signs 'Lounges A' and take the escalators up to where the lounge is located.
Hours 24 hours daily.
Due to current travel restrictions impacting the area this lounge is temporarily closed.
Conditions: Children under 2 years are admitted free - All children must be accompanied by an adult - Smart casual dress at all times.
Additional information: Local telephone calls only. Alcoholic drinks and fax facilities are both subject to payment.

Terminal: Terminal 3
Lounge: Plaza Premium Lounge (International Departures)
Location: Airside - International Departures, in the main departure lounge, follow signs
'Lounges B'. Turn right after 'Guardian' Pharmacy and take the lift to Level 4
where the lounge is located.
Hours 24 hours daily.
Conditions: Children under 2 years are admitted free - All children must be accompanied by an adult - Smart casual dress at all times.
Additional information: Local telephone calls only. Alcoholic drinks, shower and fax facilities are subject to payment. Conference facilities must be reserved in advance and are also subject to payment. Tel: +85239601300 to make a booking. Please note buffet service has been suspended until further notice. Food items on the
À la carte menu are free of charge until further notice.

New Orleans Louis Armstrong New Orleans Intl - MSY


Terminal: Concourse A
Lounge: The Club MSY
Location: Airside - after Security Checks, follow the signs for Concourse A and pass
Cafe Du Mondé. Take the lift located on the right hand side to the 3rd Floor.
Hours 05:00 - 18:00 daily.
Conditions: Access is permitted 3 hours prior to scheduled flight departure - Children under 2 years are admitted free - All children must be accompanied by an adult - Alcoholic drinks are only available for passengers 21 years of age or older - Computer workstation and printer available.
Additional information: Due to local and regional restrictions, some amenities and services may be temporarily unavailable.

New York (NJ) Newark Liberty Intl - EWR


Terminal: Terminal B
Lounge: Lufthansa Business Lounge
Location: Airside - the lounge is located before Gates 60 - 68.
Hours 14:30 - 17:30 Monday & Wednesday.
14:30 - 21:00 Tuesday & Thursday - Sunday.
Hours may vary according to flight schedules.
Closed: Dec 24, 25 & 31.
Conditions: Maximum 3 hour stay - Children under 2 years are admitted.
Additional information: Complimentary water and snacks are available until further notice. Face masks must be worn. The lounge cannot guarantee that all passengers will always be able to sit together due to social distancing within the lounge.

Terminal: Terminal B
Lounge: Virgin Atlantic Clubhouse
Location: Airside - after clearing TSA Security Checkpoint at Gates B51 - B57, take the lift on the right and select 'Airline Lounges'. The lounge is located straight ahead.
Hours 12:00 - 17:00 daily.
Cardholders will not be admitted into the lounge outside these hours.
Due to current travel restrictions impacting the area this lounge is temporarily closed.
Conditions: Maximum 3 hour stay - Children under 5 years are admitted free -
Complimentary alcoholic drinks are limited to beer and wine only.
Additional information: Complimentary luggage storage available inside the lounge. Cardholders do not have access to the lounge shower facilities.

New York (NY) John F Kennedy Intl - JFK


Terminal: Terminal 1
Lounge: Air France Lounge
Location: Airside - near the Air France Boarding Area by Gate 1.
Hours 14:00 - 19:30 daily.
Conditions: Maximum 3 hour stay - The lounge is only accessible upon presentation of a valid Boarding Pass - Access may be restricted due to space constraints -
Cardholder must be 21 years of age or older - Children under 2 years are admitted free - All children must be accompanied by an adult.
Additional information: Face masks must be worn. Please note the lounge will provide pre-packed meals.

Terminal: Terminal 1
Lounge: KAL Business Class Lounge
Location: Airside - after Security Checkpoint, the lounge is located on the right hand side, across Gate 3. All passengers must hold a boarding pass departing from
Terminal: 1.
Hours 08:30 - 12:00 daily.
Cardholders will not be admitted into the lounge outside these hours.
Conditions: Limited to two guests per cardholder, subject to a per person charge, where applicable - Ticketed (Checked-in) passengers only - Access may be restricted due to space constraints - Children under 2 years are admitted free -
All children must be accompanied by an adult.
Additional information: Interstate/international telephone calls and fax facilities are subject to payment. Please note hot food/buffet has been suspended until further notice and pre-packed food is provided.

Terminal: Terminal 1
Lounge: Lufthansa Business Lounge
Location: Airside - after Security Checkpoint on the left hand side. International and in-transit flights only.
Hours 12:30 - 15:30 Monday, Wednesday, Friday & Sunday.
12:30 - 17:30 Tuesday, Thursday & Saturday.
Conditions: Maximum 3 hour stay - Children under 2 years are admitted free.
Additional information: Complimentary luggage storage available inside the lounge. Complimentary snacks available only until further notice. Face masks must be worn. The lounge cannot guarantee that all passengers will always be able to sit together due to social distancing within the lounge.

Terminal: Terminal 1
Lounge: Primeclass Lounge
Location: Airside - after Security, next to Gates 8 and 9. International flights only.
Hours 11:00 - 22:30 daily.
Conditions: Maximum 3 hour stay - Lounge access may be restricted due to Lounge capacity constraints and the lounge reserves the right to reserve seating as necessary - Children under 7 years are admitted free - Complimentary drinks are limited to two per person - Computer workstations and printers available.
Additional information: Face masks must be worn. Due to local and regional restrictions, some services may be temporarily unavailable. Premium alcoholic drinks and
Cocktails are subject to payment.

Terminal: Terminal 4
Lounge: Air India Maharaja Lounge
Location: Airside - after Security, next to Gate 5.
Hours 11:00 - 22:30 daily.
Please note opening times for the following dates:-
20, 21, 24, 25, 27, 28JUN21: 09:30 - 22:30.
Conditions: Maximum 4 hour stay - Lounge access may be restricted due to lounge capacity constraints and the lounge reserves the right to reserve seating as necessary - Children under 7 years are admitted free.
Additional information: Face masks must be worn. Please note hot food is temporarily suspended until further notice.

Terminal: Terminal 4
Lounge: Wingtips Lounge
Location: Airside - after proceeding through TSA/Security Checkpoint, turn right and proceed approximately 100 metres where the lounge is located on the left.
Hours 08:00 - 20:00 daily.
Conditions: Maximum 4 hour stay - Limited to six guests per Cardholder, subject to a per person charge, where applicable - Children under 3 years are admitted free -
Dress code applicable (shoes and shirts required for entry - no baseball caps allowed).
Additional information: Face masks must be worn. Please note buffet service remains open and all food items are individually wrapped. Complimentary food includes snacks,
soups and cold food items.

Terminal: Terminal 7
Lounge: Alaska Lounge
Location: Airside - after Security Checks, proceed to the Mezzanine Level above
Security.
Hours 05:00 - 21:00 Sunday - Friday.
05:00 - 17:00 Saturday.
Closed: Dec 25.
Due to current travel restrictions impacting the area this lounge is temporarily closed.
Conditions: Lounge access is permitted 3 hours prior to a scheduled flight departure - All
Cardholders are required to show a physical or digital Priority Pass Card - All
Cardholders and guests are required to present a valid boarding pass for same day travel - Cardholder name must match the passenger name on the boarding pass - Limited to two guests per cardholder or immediate family
(spouse and children under 21 years of age), subject to a per person charge,
where applicable - Cardholder must be 18 years of age or older - Lounge access may be restricted due to Lounge capacity constraints and the Lounge reserves the right to reserve seating as necessary - Children under 2 years are admitted free - Alcoholic drinks are limited to three per adult.
Additional information: Premium alcoholic drinks are subject to payment. Access is limited due to space capacity. If the lounge is at capacity, a waiting list will be available upon arrival. The waiting list does not guarantee access. Face masks must be worn.
Food offerings are limited to pre-packaged snacks and small meals until further notice.

Terminal: Terminal 8
Lounge: Bobby Van's Steakhouse
Location: Airside - after Security, turn right and Bobby Van's Steakhouse is located opposite Gate 14. Please note that the restaurant may exceed their seating limit at certain times of the day & access to the restaurant is at their sole discretion.
Hours 06:00 - 22:00 daily.
Due to current travel restrictions impacting the area Bobby Van's Steakhouse is temporarily closed.
Bobby Van's Grill brings the same high-quality steakhouse and grill fare of other Bobby Van's establishments featuring Dry Aged Steaks, a well-stocked bar.
Conditions: 1. Cardholders can use their lounge visit entitlement to receive US$28 off the bill. Each US$28 deduction represents a single lounge visit within the
Cardholder's existing lounge visit allocation for which the Cardholder will,
where applicable, be charged. E.g. if a Cardholder registers 1 Guest they will receive US$56 off their bill which will be charged as 1 Cardholder visit + 1
Guest visit on their account. Only 1 membership card per visit per Cardholder will be accepted at point of entry. 2. The US$28 is valid for purchase of any meal and/or drinks. To be eligible, Cardholders must present a valid Card and
Boarding Pass with confirmed same-day travel before placing an order. 3.
Cardholder may only register 1 Guest per visit to receive US$28 deduction.
Any additional guests will not be eligible for US$28 deduction. 4. US$28 is non-transferable & cannot be exchanged for cash substitute or refund if the final bill is lower than US$28 per person. 5. Cardholder is responsible for balance if total final bill exceeds US$28 per person. Any remaining balance cannot be used towards gratuity. 6. Priority Pass and its Affiliates Companies shall not be liable should the offer value be less than Customers lounge visit entitlement. Customers who pay for lounge and guest visits are advised to review programme Conditions of Use prior to accessing the offer.

Newcastle Newcastle - NCL


Lounge: Aspire Lounge
Location: Airside - proceed through the Security Point at Level 2, turn left and pass the
Duty Free Shops. Take the escalator next to Dixons down one level and the lounge is located on the right.
Hours 05:00 - 11:15 Monday, Wednesday & Friday.
05:00 - 15:00 Saturday.
08:00 - 14:30 Sunday.
Closed: Tuesday, Thursday & Dec 25.
Lounge: closure may vary and is dependent on the last daily scheduled departure. The lounge doors close half an hour before the lounge closes.
Due to current travel restrictions impacting the area this lounge is temporarily closed and is scheduled to re-open 07JUN21.
Conditions: Children under 2 years are admitted free - Alcoholic drinks are only available for passengers 18 years of age or older - Smart casual dress at all times (no football shirts allowed).
Additional information: The lounge will only accept group walk-ups from the same household and or support bubble. Please note standard buffet service has been suspended but the lounge will instead offer table service.

Newquay Cornwall - NQY


Lounge: Executive Lounge
Location: Airside - do not proceed past Security Control to the lounge directly, but first register as a cardholder at the airport information desk, located landside, near to Check-in counter No.1. Info desk staff will provide door code to enter on lounge door keypad for access. After Security Checks & Passport Control the lounge is located in the main departure lounge, East Wing. Follow signs.
Hours 05:30 - 22:00 daily.
Due to current travel restrictions impacting the area this lounge is temporarily closed.
Conditions: Limited to one guest per cardholder, subject to a per person charge, where applicable - Children under 12 years are not admitted.

Nha Trang Cam Ranh International - CXR


Terminal: Terminal 1
Lounge: The Champ Lounge
Location: Airside - Domestic Departures. After Security Checks, near Gate 8.
Hours Lounge opens 2 hours prior to first flight and closes after last scheduled domestic flight departure.
Conditions: Maximum 3 hour stay - Children under 2 years are admitted free – Separate smoking room available outside the lounge.
Additional information: Complimentary shoe shine available inside the lounge.

Terminal: Terminal 2
Lounge: Lotus Lounge
Location: Airside - International Departures. After Security Checks, turn right and proceed straight ahead. Entrance to the lounge is located opposite Gates 8 -
10.
Hours 07:30 - 02:00 daily.
Due to current travel restrictions impacting the area this lounge is temporarily closed.
Conditions: Maximum 3 hour stay - Two children under 5 years are admitted free per adult
- Separate smoking room located opposite the lounge.
Additional information: Complimentary luggage storage and shoe shine available inside the lounge.

Terminal: Terminal 2
Lounge: Sun Coast Lounge
Location: Airside - International Departures. After Security Checks, turn left and proceed straight ahead. Entrance to the lounge is located opposite Gates 1 - 3.
Hours 06:00 - 02:00 daily.
Due to current travel restrictions impacting the area this lounge is temporarily closed.
Conditions: Maximum 3 hour stay - Two children under 5 years are admitted free per adult.
Additional information: Complimentary luggage storage and shoe shine available inside the lounge.

Nice Cote d Azur - NCE


Terminal: Terminal 1
Lounge: The Canopy Lounge
Location: Airside - Non-Schengen Area, after the Duty Free Shops, turn right (Zone B).
The lounge is located on the Mezzanine Floor on the right hand side of the main departure lounge. Accessible to passengers travelling to Belgium,
Greece and Netherlands and all other Non-Schengen flights.
Hours 05:45 - 21:45 daily.
Hours may vary according to flight schedules.
Due to current travel restrictions impacting the area this lounge is temporarily closed.
Conditions: Children under 3 years admitted free - Dress code applicable.

Terminal: Terminal 1
Lounge: The Library Lounge
Location: Airside - Schengen Area, excluding flights to Belgium, Greece and
Netherlands. After Duty Free, turn left (Zone A) and take the lift to the 2nd
Floor where the lounge is located. Schengen flights only.
Hours 05:45 - 21:50 daily.
Hours may vary according to flight schedules
Due to current travel restrictions impacting the area this lounge is temporarily closed.
Conditions: Children under 3 years are admitted free - Library available - Dress code applicable.

Terminal: Terminal 2
Lounge: The Infinity Lounge
Location: Airside - Schengen Area, excluding Belgium, Greece and Netherlands. After
Duty Free, turn left (Zone A) and the lounge is located on the 2nd Floor.
Schengen flights only.
Hours 05:30 - 20:30 daily.
Hours may vary according to flight schedules.
Conditions: Children under 3 years are admitted free - American pool table available -
Dress code applicable.
Additional information: Face masks must be worn. Please note buffet service has been suspended until further notice.

Terminal: Terminal 2
Lounge: The Levity Lounge
Location: Airside - Non-Schengen Area, after Duty Free, turn right (Zone B) and pass through Passport Control. The lounge is located straight ahead on the right hand side. Accessible to passengers travelling to Belgium, Greece,
Netherlands and all other Non-Schengen flights.
Hours 05:45 - 21:50 daily.
Hours may vary according to flight schedules.
Due to current travel restrictions impacting the area this lounge is temporarily closed.
Conditions: Children under 3 years are admitted free.

Nicosia Ercan International - ECN


Lounge: Bosphore CIP Lounge
Location: Airside - proceed to Passport Control on the 2nd Floor continue past the Duty
Free shops and the lounge is located 50 metres on the left.
Hours 24 hours daily.
Conditions: Children under 6 years are admitted free.
Additional information: Please note salad bar and soup are not available until further notice.

Ningbo Lishe Intl - NGB


Terminal: Terminal 2
Lounge: First Class Lounge
Location: Airside - International Departures. After Security Checks, the lounge is located approximately 30 metres straight ahead.
Hours Lounge opens 90 minutes prior to the first scheduled flight departure from
Gate 1.
Conditions: Maximum 3 hour stay - Limited to two guests per cardholder, subject to a per person charge, where applicable - Children under 2 years are admitted free.

Terminal: Terminal 2
Lounge: VIP Lounge
Location: Landside - Domestic Departures. The lounge is located near E01 Security
Check entrance.
Hours 06:30 – 22:00 daily.
Conditions: Limited to two guests per cardholder, subject to a per person charge, where applicable - Children under 2 years are admitted free.

Nizhnekamsk Begishevo - NBC


Lounge: Business Lounge
Location: Airside - 2nd Floor. Domestic flights only.
Hours 24 hours daily.
Conditions: Children under 2 years are admitted free - Alcoholic drinks are limited to beer and wine only.

Nizhnevartovsk Nizhnevartovsk - NJC


Lounge: SkyPriority Comfort Lounge
Location: Landside - after check-in on the Ground Floor, take the stairs on the right to the 2nd Floor. The lounge is located on the right hand side, before Security
Control. Domestic flights only.
Hours 24 hours daily.
Conditions: Maximum 2 hour stay - Children under 2 years are admitted free -
Complimentary food is limited to snacks only.

Nizhny Novgorod Nizhny Novgorod Railway - XUK


Lounge: Business Lounge
Location: After the inspection zone in the main building of the station, you will find the lobby of the station. Proceed straight to the inspection zone located at the exit to the platform and turn left. The entrance to the hall is located under the stairs.
Hours 24 hours daily.
Conditions: Passengers are required to show a valid Card and Train Ticket for confirmed same day travel, for a maximum 3 hour stay, prior to scheduled departure -
Children under 2 years are admitted free - Complimentary alcoholic drinks are limited to beer only, all subsequent drinks are subject to payment - Separate children's play area available.
Additional information: Complimentary luggage storage, shoe shine, computer work stations and printers. Train information monitor available. Conference facilities are subject to payment.

Nizhny Novgorod Strigino - GOJ


Lounge: Business Lounge
Location: Airside - after Security Control proceed straight ahead and the lounge is located on the 2nd Floor, to the right after the retail gallery. Domestic flights only.
Hours 24 hours daily.
Conditions: Maximum 3 hour stay - Access may be restricted due to space constraints -
Children under 2 years are admitted free.
Additional information: Alcoholic drinks and massage chairs are subject to payment.

Lounge: Business Lounge
Location: Airside - after Passport Control and Security Checks. Follow signs to the lounge. International flights only.
Hours 08:00 – 20:00 daily.
Conditions: Maximum 3 hour stay - Access may be restricted due to space constraints -
Children under 2 years are admitted free.
Additional information: Alcoholic drinks are subject to payment. Please note hot food is temporarily suspended (snacks and sandwiches available only) until further notice.

Norwich Norwich - NWI


Lounge: Norwich Airport Executive Lounge
Location: Airside - located on the Ground Floor, on the left hand side of the departure lounge adjacent to Gate 1.
Hours 04:00 - until last scheduled flight departure daily.
Due to current travel restrictions impacting the area this lounge is temporarily closed.
Conditions: Maximum 3 hour stay - Children under 12 years are not admitted - Limited to five guests per cardholder, subject to a per person charge, where applicable -
Complimentary alcoholic drinks are limited to two per adult, subsequent drinks are subject to payment - Smart casual dress at all times.

Novosibirsk Tolmachevo Intl - OVB


Terminal: Sector A
Lounge: Business Lounge
Location: Airside - after Security Checks, 2nd Floor, pass the escalator, turn right. The lounge is located on the left hand side. Domestic flights only.
Hours 24 hours daily.
Conditions: Maximum 2 hour stay - Children under 2 years are admitted free -
Complimentary snacks only and soft drinks limited to tea and coffee, all other food, soft and alcoholic drinks are subject to payment.
Additional information: Female showers only.

Terminal: Sector A
Lounge: Movie Hour
Location: Landside - before Passport Control, 2nd Floor. Domestic flights only.
Hours 24 hours daily.
Conditions: Maximum 3 hour stay - Children under 6 years are admitted free - Drinks and snacks included - Complimentary alcoholic drinks are limited to beer only -
Buffet menu available subject to payment.

Terminal: Sector B
Lounge: Business Lounge
Location: Airside - 2nd Floor, the lounge is located on the left hand side after Duty Free.
International flights only.
Hours 24 hours daily.
Conditions: Maximum 3 hour stay - Access may be restricted due to space constraints -
Children under 2 years are admitted free - Complimentary alcoholic drinks are limited to beer only and soft drinks to tea, coffee and water, all other drinks are subject to payment - Separate smoking area outside the lounge.
Additional information: Local calls only. Complimentary luggage storage and shoe shine available inside the lounge. À la icarte menu, subject to payment.

Novy Urengoy Novy Urengoy - NUX


Lounge: Business Lounge
Location: Airside - after Security Control, take the stairs down to the next level and the lounge is located to the left hand side after the retail gallery. Domestic and in-transit flights only.
Hours 06:00 - 19:00 daily.
Conditions: Maximum 3 hour stay - Children under 2 years are admitted free.
Additional information: Herbal teas and alcoholic drinks are subject to payment as well as à la carte menu (a selection of food may also be subject to a fee, please ask staff).

Nur-Sultan Nursultan Nazarbayev Intl - NQZ


Lounge: The Shanyrak Lounge
Location: Airside - after Security Checks, near Gate D04. Domestic and transit flights only.
Hours 04:00 - 00:00 daily.
Conditions: Maximum 3 hour stay - Access may be restricted due to space constraints -
Children under 2 years are admitted free - Complimentary alcoholic drinks are limited to beer only - Smart casual dress at all times.

Terminal: Terminal 1
Lounge: Sapar Lounge
Location: Airside - after Security Checks, Immigration and Customs Control, next to the main Duty Free shop. International flights only.
Hours 24 hours daily.
Conditions: Maximum 2 hour stay - Children under 2 years are admitted free - Separate children's play area available.
Additional information: Complimentary printing, scanning and photocopying.

Nuremberg Nuremberg - NUE


Lounge: Duerer Lounge
Location: Airside - the lounge is located on the 1st Floor between Duty Free and the
Nurnberg Store in the passenger holding area.
Hours 24 hours daily.
Passengers arriving between 04:30 - 08:30 Monday - Friday and 05:00 - 11:30
& 01:00 - 18:00 Saturday - Sunday can go direct to the lounge. Outside these hours passengers must register at the 'Sandwich Manufaktur' restaurant located on the First Floor to gain access to the lounge.
Due to current travel restrictions impacting the area this lounge is temporarily closed.
Conditions: Children under 12 years are admitted free.

Oaxaca Xoxocotlan Intl - OAX


Lounge: The Lounge by Global Lounge Network
Location: Landside - proceed left towards the arrivals area and staff at the Lounge
Information Desk which is located across the car rental counters will direct passengers to the lounge on the 2nd Floor.
Hours 05:00 - 22:00 daily.
Please note the lounge opening times are subject to change and are open in accordance to the airport opening hours and this is subject to change.
Conditions: One child under 12 years admitted free per cardholder.

Ohrid St. Paul the Apostle - OHD


Lounge: Primeclass CIP Lounge
Location: Airside - located in the VIP area outside the Terminal Building.
Hours Lounge opens 1 hour prior to the first scheduled international flight departure and closes after the last scheduled international departure.
Conditions: Children under 6 years are admitted free - Access may be restricted due to space constraints.
Additional information: Conference facilities are subject to payment. Please note the lounge will provide pre-packed food.

Olbia Costa Smeralda - OLB


Lounge: Olbia Airport Club Lounge
Location: Airside - immediately after Security Checks in the departures area.
Hours 04:00 - 20:00 daily.
Hours are subject to change.
Closed: Winter Season (OCT - MAR).
Conditions: Maximum 2 hour stay - Access may be restricted due to space constraints -
Children under 3 years are admitted free.
Additional information: Courtesy iPad (with online newspaper selection). Face masks must be worn.
Please note hot food is temporarily suspended until further notice.

Omsk Tsentralny - OMS


Lounge: Business Lounge
Location: Airside - after Security Control, 2nd Floor. The lounge is located at the end of the waiting area. Domestic flights only.
Hours 24 hours daily.
Conditions: Maximum 2 hour stay - Access may be restricted due to space constraints -
Children under 2 years are admitted free - Smart casual dress at all times.
Additional information: Alcoholic drinks are subject to payment.

Oranjestad Reina Beatrix Intl - AUA
Oranjestad Reina Beatrix Intl - AUA


Lounge: International VIP Lounge
Location: Airside - after Passport Control, follow signs to Gate 2. Pass Immigration &
turn right, then turn left at the next corner & follow signs for int'l departure gates. After Security, take escalator or lift to 1st Floor. Turn left & proceed to
Gate 2. The signboard on the left indicates entrance.
Hours 11:00 - 19:00 daily.
On Saturdays, the lounge is only accessible for passengers travelling to the
USA.
Conditions: Children under 12 years are not admitted - Complimentary alcoholic drinks
(beer and wine only) are limited to three per adult, subsequent drinks are subject to payment.

Lounge: International VIP Lounge
Location: Airside - after Passport Control, proceed through Immigration and follow signs to Gate 8. Follow signs. The lounge is only accessible for passengers travelling to the USA.
Hours 10:00 - 17:00 daily.
Hours may vary according to flight schedules.
Conditions: Children under 12 years are not admitted - Complimentary alcoholic drinks
(beer and wine only) are limited to three per adult, subsequent drinks are subject to payment.
Additional information: Please note the lounge will provide pre-packed snacks, soup and cold food.

Orenburg Orenburg International - REN


Lounge: Prestige Lounge
Location: Airside - 2nd Floor. The entrance to the lounge is located on the left-hand side of cafe 'Biscuit'. There is also a separate entrance located on the right-hand side of the main airport entrance.
Hours 24 hours daily.
Conditions: Maximum 5 hour stay - Children under 2 years are admitted free - Cinema available - Complimentary massage chairs, workstations and printers available - Separate smoking room available.
Additional information: Complimentary luggage storage available inside the lounge. Meeting rooms,
soft drinks including bottled water, alcoholic drinks, À la carte menu as well as a selection of food (please check with staff) are subject to payment.

Orlando (FL) Orlando Intl - MCO


Terminal: Terminal A Concourse 1
Lounge: The Club MCO (Gates 1-29)
Location: Airside - Gates 1-29, adjacent to XpresSpa. All passengers with a Boarding
Pass can gain access to the lounge but passengers not departing from Gates
1-29 will be required to pass through Security. Please allow sufficient time to reach the departure gates.
Hours 05:00 - 19:00 daily.
Conditions: Access is permitted 3 hours prior to scheduled flight departure - Children under 2 years are admitted free - All children must be accompanied by an adult - Alcoholic drinks are only available to passengers 21 years of age or older - Separate children's play area available - Computer workstation and printer available.
Additional information: Due to local and regional restrictions, some amenities and services may be temporarily unavailable.

Terminal: Terminal B Concourse 4
Lounge: The Club MCO (Gates 70-99)
Location: Airside - accessible from Gates 70-99, next to the 'InMotion' Store, near Gate
91. All passengers with a Boarding Pass can gain access to the lounge but passengers not departing from Gates 70-99 will be required to pass through
Security. Please allow sufficient time to reach the departure gates.
Hours 05:00 - 19:00 daily.
Conditions: Access is permitted 3 hours prior to scheduled flight departure - Children under 2 years are admitted free - All children must be accompanied by an adult - Alcoholic drinks are only available to passengers 21 years of age or older - Separate children's play area available - Computer workstation and printer available.
Additional information: Due to local and regional restrictions, some amenities and services may be temporarily unavailable.

Orlando (FL) Orlando Sanford Intl - SFB


Terminal: Terminal A
Lounge: The Royal Palm Lounge
Location: Airside - the lounge is located in the international departure lounge, adjacent to Budweiser Tap Room.
Hours Lounge opens 3 hours prior to the first international scheduled flight departure and closes after last scheduled international departure or 23:00, whichever comes first.
Due to current travel restrictions impacting the area this lounge is temporarily closed.
Conditions: Children under 4 years are admitted free - Complimentary alcoholic drinks are limited to two per adult (beer and wine only) - Alcoholic drinks are only available to passengers 21 years of age or older - À la carte menu available,
subject to payment - Separate smoking room available.

Osaka Kansai - KIX


Terminal: Terminal 1
Lounge: Botejyu
Location: Landside - Departure flights only. Take the escalator on the 2nd Floor opposite 'Domestic Arrivals' to 3rd Floor. Botejyu is located on the right hand side. Please note that the restaurant may exceed their seating limit at certain times of the day & access to the restaurant is at their sole discretion.
Hours 11:00 - 15:00 & 17:00 - 20:00 daily.
Due to current travel restrictions impacting the area this lounge is temporarily closed.
Boteyu utilises techniques and skills cultivated over 70 years whilst collaborating with local regions and major manufacturers to deliver 'the authentic taste of Japanese cuisine'.
Conditions: 1. Cardholders can use their lounge visit entitlement to receive JPY3,400 off the bill. Each JPY3,400 deduction represents a single lounge visit within the
Cardholder's existing lounge visit allocation for which the Cardholder will,
where applicable, be charged. E.g. if a Cardholder registers 1 Guest they will receive JPY6,800 off their bill which will be charged as 1 Cardholder visit + 1
Guest visit on their account. Only 1 Card per visit per Cardholder will be accepted and at point of registration. 2. The JPY3,400 is valid for the purchase of any meal and/or drinks. To be eligible, Cardholders must present a valid
Card and Boarding Pass with confirmed same-day travel before placing an order. 3. JPY3,400 is non-transferable & cannot be exchanged for cash substitute or refund if the final bill is lower than JPY3,400 per person. 4.
Cardholder is responsible for the balance if total final bill exceeds JPY3,400
per person. Any remaining balance cannot be used towards gratuity. 5. Priority
Pass and its Affiliates Companies shall not be liable should the offer value be less than Customers lounge visit entitlement. Customers who pay for lounge and guest visits are advised to review programme Conditions of Use prior to accessing the offer.

Ostrava Leos Janacek - OSR


Lounge: Business Lounge
Location: Airside - after Security Checks take the escalator to the 1st floor. The lounge is located on the left hand side (follow signs).
Hours The lounge is open daily accordingly to the flight schedules.
Conditions: Children under 2 years are admitted free - Smart casual dress at all times.

Ottawa Ottawa Macdonald Cartier Intl - YOW


Lounge: Aspire Salon Lounge
Location: Airside - after Security, turn left and follow the signs leading to Gate 20. The lounge entrance is on the right hand side just after Gate 18. The lounge is not accessible to passengers departing on US Transborder flights.
Hours 04:00 - 21:00 daily.
Due to current travel restrictions impacting the area this lounge is temporarily closed.
Conditions: Access is permitted 3 hours prior to scheduled flight departure - All
Cardholders and guests are required to show an Outbound Boarding Pass with confirmed same-day travel - Children under 2 years are admitted free -
All children must be accompanied by an adult - Smart casual dress at all times
(no sportswear allowed).
Additional information: Complimentary luggage storage available inside the lounge. Conference facilities and printers are subject to payment.

Oujda Angads - OUD


Lounge: Pearl Lounge (Arrivals)
Location: Airside - Mezzanine Level. Follow signs to the lounge.
Hours 07:00 - 17:00 daily.
Conditions: Maximum 3 hour stay - Children under 2 years are admitted free - Separate smoking room available.
Additional information: Please note standard buffet service has been suspended until further notice and boxed meals will be provided.

Lounge: Pearl Lounge (Departures)
Location: Airside - after Passport Control, Mezzanine Level. Follow signs to the lounge.
Hours 07:00 - 17:00 daily.
Conditions: Maximum 3 hour stay - Children under 2 years are admitted free - Children's play area available - Separate smoking room available.
Additional information: Please note standard buffet service has been suspended until further notice and boxed meals will be provided.

Palangkaraya Tjilik Riwut - PKY


Lounge: Isen Mulang Lounge
Location: Airside - Domestic Departures. After Security Checks and Passport Control in the VIP Pemda Building.
Hours 08:00 to last scheduled departure (approx. 16:00).
Hours may vary according to flight schedules.
Conditions: Children under 6 years are admitted free - Check-in services available inside the lounge - Separate prayer room available - Separate smoking area available.
Additional information: Fax facilities are subject to payment.

Palermo Falcone Borsellino - PMO


Lounge: Gesap VIP Lounge
Location: Landside - the lounge is located on the 1st Floor next to the Check-in desks in
Departure Area A.
Hours 05:30 - 21:30 daily.
Due to current travel restrictions impacting the area this lounge is temporarily closed.
Conditions: Children under 6 years are admitted free.

Palma de Mallorca Palma de Mallorca - PMI


Lounge: Sala VIP Formentor
Location: Airside – after Check-in, the lounge is located in the Boarding Area of Module
D, Floor 0.
Hours 06:00 - 23:00 daily.
Due to current travel restrictions impacting the area this lounge is temporarily closed.
Conditions: Access is permitted 4 hours prior to scheduled flight departure - The lounge is only accessible upon presentation of a valid Boarding Pass - Children 5 years and under are admitted free - Children under 18 years must be accompanied by an adult - Separate children's play area available.

Lounge: Sala VIP Mediterraneo
Location: Airside – pass through Security Control and follow signs to Module C where the lounge is located.
Hours 05:30 - 23:30 daily.
Due to current travel restrictions impacting the area this lounge is temporarily closed.
Conditions: Access is permitted 4 hours prior to scheduled flight departure - The lounge is only accessible upon presentation of a valid Boarding Pass - Children 5 years and under are admitted free - Children under 18 years must be accompanied by an adult.

Lounge: Sala VIP Valldemossa
Location: Airside - pass through Security Control and take the escalators to the floor below. The lounge is located in the Boarding Area, in front of B Gates.
Hours 05:30 - 22:30 (Nov - Mar).
05:30 - 23:30 (Apr - Oct).
Conditions: Access is permitted 4 hours prior to scheduled flight departure - The lounge is only accessible upon presentation of a valid Boarding Pass - Children 5 years and under are admitted free - Children under 18 years must be accompanied by an adult.
Additional information: Please note standard buffet service has been suspended but the lounge will instead offer table service.

Panama Tocumen Intl - PTY


Lounge: Copa Club
Location: Airside - 2nd Floor, above Gates 130 and 133. International flights only.
Hours 06:00 - 21:00 daily.
Conditions: Cardholder must be 18 years of age or older - Limited to one guest per cardholder, subject to a per person charge, where applicable - Children under
2 years are admitted free - All children must be accompanied by an adult -
Alcoholic drinks are only available to passengers 21 years of age or older -
Smart casual dress at all times.
Additional information: Face masks must be worn. Due to local and regional restrictions, some services may be temporarily unavailable. The lounge cannot guarantee that all passengers will always be able to sit together due to social distancing within the lounge. Please note standard buffet service has been suspended until further notice and pre-packaged snacks will be provided.

Lounge: The Lounge Panama by Global Lounge Network
Location: Airside - after Security Checkpoint, walk towards Gates 101-115 and the lounge is located opposite the 'Panama Store'. International and transit flights only.
Hours 05:00 - 21:00 daily.
Conditions: Maximum 2 hour stay - One child under 12 years admitted free per cardholder
- Quiet room - Computer workstations and printers available - Separate children's play area available - Dress code applicable (shirts and shoes required for entry).
Additional information: Face masks must be worn. Please note standard buffet service has been suspended until further notice and pre-packed meals will be provided. Due to local and regional restrictions, some services may be temporarily unavailable.

Lounge: Tocumen Royal Saloon
Location: Landside - take the escalators to the 3rd Level. The lounge is located on the right hand side, next to 'Irene's Boutique'.
Hours 06:00 - 21:00 daily.
Conditions: Maximum 4 hour stay - Children under 5 years are admitted free - Smart casual dress at all times.
Additional information: Local telephone calls only. Complimentary printers available. Face masks must be worn. Please note standard buffet service has been suspended until further notice and pre-packed snacks are provided.

Pangkalpinang Depati Amir - PGK


Lounge: Saphire Lounge
Location: Landside - Domestic Departures. After the first Security Checks, take the escalator to the 2nd Floor. The lounge is located opposite the second Security
Checks.
Hours Lounge opens 2 hours prior to first flight and closes after last scheduled domestic flight departure.
Conditions: Children under 6 years are admitted free - Separate prayer room available -
Separate smoking room available.
Additional information: Complimentary luggage storage available inside the lounge. Please note standard buffet service has been suspended until further notice and food will be served upon request.

Papeete Faaa International - PPT


Terminal: Terminal 1
Lounge: Air Tahiti Nui Lounge
Location: Airside - International Departures. After Security Checks and Passport
Control, the lounge is located upstairs of the International Boarding Area.
Hours 19:00 - 00:00 daily.
Scheduled flight times exclude Hawaiian and Lan Airlines.
Conditions: Access may be restricted due to space constraints - Children under 2 years are admitted free - Separate smoking room available.
Additional information: Please note standard buffet service has been suspended and pre-packed food is provided.

Paphos Paphos Intl - PFO


Lounge: Premium Lounge
Location: Airside - the lounge is located across from Gate 7.
Hours 05:00 - 00:00 daily.
Hours may vary according to flight schedules.
Due to current travel restrictions impacting the area this lounge is temporarily closed.
Conditions: Children under 2 years are admitted free - Alcoholic drinks are only available to passengers 18 years of age or older.

Paris Charles De Gaulle - CDG


Terminal: Terminal 1
Lounge: Icare Lounge
Location: Airside - after Passport Control but before Security Check points, International
Area, Level 10. Passengers travelling within Schengen countries are required to show a Boarding Pass with confirmed same day travel (access remains subject to the discretion of the French Border Police).
Hours 06:00 - 22:00 daily.
Hours may vary according to flight schedules.
Due to current travel restrictions impacting the area this lounge is temporarily closed.
Conditions: Children under 3 years are admitted free - Outside smoking terrace available.

Terminal: Terminal 1
Lounge: Star Alliance Lounge
Location: Airside - after Passport Control but before Security Check points, Level 11.
Passengers travelling within Schengen countries are required to show a
Boarding Pass with confirmed same day travel as well as a valid membership card (access remains subject to the discretion of the French Border Police).
Hours 05:30 - 21:00 daily.
Hours may vary according to flight schedules.
Due to peak seasonal activity it is expected this lounge will see an increase in the number of guests. Therefore, access may be periodically restricted due to space constraints, in particular during the hours of 05:30 - 11:00 daily.
Due to current travel restrictions impacting the area this lounge is temporarily closed.
Conditions: Access to the Business Lounge only - Maximum 3 hour stay - Children under 2
years are admitted free - All Children must be supervised by an adult at all times - Alcoholic drinks are only available to passengers 18 years of age or older - Dress code applicable - Terrace with separate smoking area available.

Terminal: Terminal 2D
Lounge: Sheltair Lounge
Location: Airside - Level 1, before Passport Control, turn right and the lounge is located in front of Gate D56. Schengen Terminal 2D flights only.
Hours 05:30 - 21:00 daily.
Due to current travel restrictions impacting the area this lounge is temporarily closed.
Conditions: Children under 2 years are admitted free.

Terminal: Terminal 2E
Lounge: YotelAir Paris Charles de Gaulle
Location: Airside - Non-Schengen departing and transit passengers only. Take the
Shuttle train to Gate L. Follow signs for Instant Paris/YOTEL. Passengers travelling from Gates K and M can access the lounge via the Shuttle train but must allow time to return to the gates.
Hours 24 hours daily.
Conditions: Maximum 3 hour stay - Children under 2 years are admitted free - A €10 credit allowance per person per visit recorded will be issued for purchase of light refreshments, snacks, soft and alcoholic drinks at the lounge (limited to beer and wine). Credit is not issued to children under 2 years - Smart casual dress at all times - Separate smoking room available.

Paris Orly - ORY


Terminal: Orly 4
Lounge: Icare Lounge
Location: Airside - International Departures Area (Non-Schengen), 1st Floor, after Police and Customs Control. Proceed towards Hall A and the lounge is located on the left between Gates A08 and A10. International and Non-Schengen passengers only.
Hours 06:00 - 21:30 daily.
Conditions: Children under 3 years are admitted free - Terrace with separate smoking area available.

Pekanbaru Sultan Syarif Kasim II - PKU


Lounge: Blue Sky Premier Lounge
Location: Landside - Domestic Departures. The lounge is located before Security
Checks and Passport Control, near the ATM Center on the Ground Floor.
Hours 05:00 - 19:00 daily.
Conditions: All Cardholders and guests are required to show a Boarding Pass with confirmed same-day travel for access to the lounge - Children under 6 years are admitted free - Separate smoking room available outside the lounge.
Additional information: Complimentary check-in facilities (hold luggage only). Please note standard buffet service has been suspended until further notice and food will be served upon request.

Lounge: Lembayung Executive Lounge
Location: Airside - Domestic Departures, 2nd Floor, near Gate 3.
Hours 05:00 - 22:00 daily.
Due to current travel restrictions impacting the area this lounge is temporarily closed.
Conditions: Access is permitted 3 hours prior to scheduled flight departure - Children under 5 years are admitted free - Separate smoking room available.

Penang Penang Intl - PEN


Lounge: Plaza Premium Lounge
Location: Airside - the lounge is located in the Domestic Departure Boarding Area opposite Security Screening.
Hours 12:00 - 16:00 Monday - Friday.
Closed: Saturday & Sunday.
Due to current travel restrictions impacting the area this lounge is temporarily closed.
Conditions: Children under 2 years are admitted free - All children must be accompanied by an adult - Smart casual dress at all times.
Additional information: Telephone, fax and shower facilities are all subject to payment. Please note standard buffet service has been suspended until further notice. The lounge will provide À la carte menu instead of buffet.

Lounge: Plaza Premium Lounge
Location: Airside - International Departures. The lounge is located in the International
Departure Hall on the Mezzanine Floor.
Hours 05:00 - 23:00 daily.
Due to current travel restrictions impacting the area this lounge is temporarily closed.
Conditions: Children under 2 years are admitted free - All children must be accompanied by an adult - Smart casual dress at all times.
Additional information: Alcoholic drinks, telephone calls and fax facilities are all subject to payment.

Perm Perm Intl Bolshoye Savino - PEE


Lounge: VIP Lounge
Location: Airside - 2nd Floor, turn left and follow signs to the lounge.
Hours 24 hours daily.
Conditions: Maximum 2 hour stay - Access may be restricted due to space constraints -
Children under 2 years are admitted free - Separate children's play area available - Smart casual dress at all times.
Additional information: Local telephone calls and faxes only.

Petropavlovsk Yelizovo - PKC


Lounge: Business Lounge
Location: Airside - Ground Floor, near Gate 1. Domestic and transit flights only.
Hours 08:00 - 20:00 daily.
Conditions: Maximum 3 hour stay - Children under 2 years are admitted free.
Additional information: Alcoholic, soft drinks (excluding water, coffee and teas) and À la carte menu are subject to payment.

Petrozavodsk Petrozavodsk Railway Station - XQK


Lounge: Business Lounge
Location: Petrozavodsk Railway Station. From Platform 1, proceed to the train station,
turn right for the entrance to the business hall. The lounge is located on the
2nd Floor.
Hours 24 hours daily.
Conditions: Passengers are required to show a valid Card and Train Ticket for confirmed same day travel, for a maximum 3 hour stay, prior to scheduled departure -
Children under 2 years are admitted free - Separate children's play area available.
Additional information: Complimentary luggage storage and shoe shine available. Train information monitor available. Shower facilities and alcoholic drinks are subject to payment.

Philadelphia (PA) Philadelphia Intl - PHL


Terminal: Terminal B
Lounge: Minute Suites
Location: Airside - located between Concourses A and B in the AB Connector.
Hours 24 hours daily.
Only 1 card per visit per Cardholder will be accepted at point of registration.
Conditions: 1. Cardholders can use their lounge visit entitlement to use a Minute Suite for a 1 hour stay. 1 Minute Suite usage represents a single lounge visit within the
Cardholder's existing lounge visit allocation for which the Cardholder will,
where applicable, be charged. Each subsequent hour of Minute Suite usage will be charged at a discounted rate of US$28 and payable directly to Minute
Suites. 2. Up to 3 guests accompanying the Cardholder in the same Minute
Suite may use it at no extra charge. 3. The Cardholder is responsible for any additional charges incurred. Minute Suites may ask Cardholders to present a payment card for incidentals at the time of check-in. 4. Each Minute Suite is equipped with a comfortable daybed sofa (sleeps two), pillows, fresh blankets,
a workstation, a sound masking system that helps to neutralise noise and
Nap26 audio programme to help deliver a refreshing powernap. 5. Minute
Suite usage is subject to availability.

Phnom Penh Phnom Penh Intl - PNH


Terminal: International Terminal
Lounge: Plaza Premium Lounge
Location: Airside - International Departures. Mezzanine Floor.
Hours 08:00 - 00:00 Sunday - Friday.
13:00 - 21:00 Saturday.
Due to current travel restrictions impacting the area this lounge is temporarily closed.
Conditions: Maximum 3 hour stay - Children under 2 years are admitted free - All children must be accompanied by an adult - Alcoholic drinks are limited to canned beer only, all other alcoholic drinks are subject to payment - Smart casual dress at all times.

Phuket Phuket Intl - HKT


Terminal: Domestic Terminal
Lounge: Bangkok Airways Blue Ribbon Lounge
Location: Airside - Domestic Departures, 2nd Floor, near Gate 4.
Hours 07:00 - 10:00 & 12:30 - 14:30 & 17:00 - 18:30 daily.
Due to current travel restrictions impacting the area this lounge is temporarily closed.
Conditions: Maximum 3 hour stay - Children under 2 years are admitted free.

Terminal: Terminal 1
Lounge: Coral Beach (Coral Executive Lounge)
Location: Airside - Domestic Departures. The lounge is located next to Gate 6.
Hours 09:00 - 20:00 daily.
Conditions: Maximum 3 hour stay - Children under 2 years are admitted free - All children must be accompanied by an adult - Complimentary alcoholic drinks limited to beer only - Smart casual dress at all times.
Additional information: Alcoholic drinks are subject to payment. Face masks must be worn.

Terminal: Terminal 1
Lounge: The Coral Executive Lounge
Location: Airside - Domestic Departures. The lounge is located on the 3rd Floor, near
Gate 8.
Hours 06:00 - 00:00 daily.
Due to current travel restrictions impacting the area this lounge is temporarily closed.
Conditions: Maximum 3 hour stay - Children under 2 years are admitted free - All children must be accompanied by an adult - Complimentary neck and shoulder massage.

Terminal: Terminal 2
Lounge: Coral Premium Departure Lounge
Location: Airside - International Departures, 3rd Floor, near Gate 11.
Hours 06:00 - 00:00 daily.
Due to current travel restrictions impacting the area this lounge is temporarily closed.
Conditions: Maximum 3 hour stay - Children under 2 years are admitted free - All children must be accompanied by an adult.
Additional information: Premium alcoholic drinks are subject to payment.

Terminal: Terminal 2
Lounge: The Coral Executive Lounge
Location: Airside - International Departures, 4th Floor.
Hours 06:00 - 00:00 daily.
Due to current travel restrictions impacting the area this lounge is temporarily closed.
Conditions: Maximum 3 hour stay - Children under 2 years are admitted free - All children must be accompanied by an adult - One complimentary 15 minute neck and shoulder massage per adult - Complimentary alcoholic drinks limited to beer only.

Pisa Pisa - PSA


Lounge: Galilei VIP Lounge
Location: Airside - after Security Control, the lounge is located on the 1st Floor of
Departures.
Hours 06:00 - 21:00 daily (Winter).
06:00 - 22:00 daily (Summer).
Lounge: may close 40 minutes prior to scheduled flight departure.
Due to current travel restrictions impacting the area this lounge is temporarily closed.
Conditions: Children under 4 years are admitted free.

Pittsburgh (PA) Pittsburgh Intl - PIT


Terminal: Concourse C
Lounge: The Club
Location: Airside - take the tram from landside to airside, go up the two sets of escalators and turn right towards Concourse C. The lounge is located 50
yards away on the left between Bar Symon and Gate C51.
Hours 04:30 - 18:00 daily.
Conditions: Access is permitted 3 hours prior to scheduled flight departure - Children under 2 years are admitted free - All children must be accompanied by an adult - Alcoholic drinks are only available to passengers 21 years of age or older - Computer workstation and printer available.
Additional information: Local faxes only. Due to local and regional restrictions, some amenities and services may be temporarily unavailable.

Piura G. Concha Iberico Intl - PIU


Lounge: Caral VIP Lounge
Location: Airside - after Security Checks. The lounge is located on the left hand side of the Gate Area. Domestic flights only.
Hours 07:00 - 18:00 daily.
Conditions: Maximum 4 hour stay - Children under 5 years are admitted free -
Complimentary alcoholic drinks are limited to liquor, local beer, wine and
Pisco Sour cocktail.
Additional information: Flight departures are announced.

Pointe-a-Pitre Le Raizet - PTP


Terminal: Terminal 1
Lounge: Bessie Coleman VIP Lounge
Location: Airside - located on the 2nd Floor in the International Boarding Hall, next to
Gate 6. Go through the last door and the lounge is on the right. International flights only.
Hours 13:30 - 20:30 daily.
Conditions: Children under 6 years are admitted free.

Ponta Delgada Joao Paulo II - PDL


Lounge: Sata Lounge
Location: Airside - after Security Checks, on the left hand side of the main departure lounge. Follow signs 'SATA PLUS'.
Hours 06:00 - 22:00 daily.
Conditions: Children under 12 years are admitted free.

Pontianak Supadio - PNK


Lounge: Blue Sky Premier Lounge
Location: Landside - Domestic Departures. After the first Security Checks, take the escalator to the 2nd Floor and the lounge is located on the right hand side.
Hours 06:00 - 18:00 daily.
Conditions: Access is permitted 3 hours prior to scheduled flight departure - All
Cardholders and guests are required to show a Boarding Pass with confirmed same-day travel for access to the lounge - Children under 6 years are admitted free - Separate prayer room available - Separate smoking room available.
Additional information: Please note standard buffet service has been suspended until further notice and food will be served upon request.

Port Elizabeth Port Elizabeth Intl - PLZ


Lounge: Bidvest Premier Lounge
Location: Airside - after Security Checks, follow signs up to the 1st Level where the lounge is located. Domestic flights only.
Hours 07:00 - 19:00 daily.
Conditions: Access is restricted to a maximum of 2 hours prior to scheduled flight departure - Early check-in fees are applicable and payable directly if arriving outside these times - Access may be restricted due to space constraints -
Children under 2 years are admitted free - Alcoholic drinks are available from
10:00 daily - Separate smoking room available.

Port Vila Bauerfield Intl - VLI


Terminal: International Terminal
Lounge: Harry Bauer Club Lounge
Location: Airside - after Security Checks proceed to the Departure Hall. Follow signs to the lounge.
Hours 05:00 - 21:00 Monday.
06:00 - 17:00 Tuesday.
05:00 - 17:00 Wednesday & Thursday.
05:00 - 20:00 Friday.
05:00 - 16:00 Saturday.
05:00 - 18:30 Sunday.
Hours may vary according to flight schedules.
Due to current travel restrictions impacting the area this lounge is temporarily closed.
Conditions: Children under 12 years are admitted free - Children under 16 years must be accompanied by an adult.
Additional information: Local calls only.

Port of Spain Piarco - POS


Lounge: V.I.P. Flyers' Club
Location: Airside - after the Duty Free Area on the Ground Level, take the stairs on the right side of the Security Check.
Hours 04:30 - 22:00 daily.
Closed: Dec 25.
Due to current travel restrictions impacting the area this lounge is temporarily closed.
Conditions: Maximum 3 hour stay - Children under 2 years are admitted free.
Additional information: Due to precautionary measures this lounge may have interrupted services.

Portland (OR) Portland Intl - PDX


Terminal: Concourse C
Lounge: Capers Cafe Le Bar
Location: Airside - immediately after Security on the left hand side. Please note that the restaurant may exceed their seating limit at certain times of the day & access to the restaurant is at their sole discretion.
Hours 04:00 - 22:30 daily.
IMPORTANT NOTE: For Cardholders who pay for individual visits or guest visits, please check this particular offer against your visit fee to ensure it represents value for you. We advise Cardholders to review full Conditions of access below before visiting.
Capers Café Le Bar has a charming space to dine in and also offers food conveniently packaged to take on the flight.
Conditions: 1. Cardholders can use their lounge visit entitlement to receive US$28 off the bill. Each US$28 deduction represents a single lounge visit within the
Cardholder's existing lounge visit allocation for which the Cardholder will,
where applicable, be charged. E.g. if a Cardholder registers 1 Guest they will receive US$56 off their bill which will be charged as 1 Cardholder visit + 1
Guest visit on their account. Only 1 card per visit per Cardholder will be accepted and at point of registration. 2. The US$28 is valid for the purchase of any meal and/or drinks excluding bottle sales & merchandise,'To-Go Orders'
and 'Grab and Go'. To be eligible, Cardholders must present a valid Card and
Boarding Pass with confirmed same-day travel before placing an order. 3.
US$28 is non-transferable & cannot be exchanged for cash substitute or refund if the final bill is lower than US$28 per person. 4. Cardholder is responsible for the balance if total final bill exceeds US$28 per person. Any remaining balance cannot be used towards gratuity. 5. Priority Pass and its
Affiliates Companies shall not be liable should the offer value be less than
Customers lounge visit entitlement. Customers who pay for lounge and guest visits are advised to review programme Conditions of Use prior to accessing the offer.

Terminal: Concourse C
Lounge: Westward Whiskey
Location: Airside - near Gate C6. Please note that the Westward Whiskey may exceed its seating limit at certain times of the day & access to the distillery is at its sole discretion.
Hours 09:00 - 17:00 daily.
IMPORTANT NOTE: For Cardholders who pay for individual visits or guest visits, please check this particular offer against your visit fee to ensure it represents value for you. We advise Cardholders to review full Conditions of access below before visiting.
Explore the home of America's highest-rated single malt whiskey. Each and every drop of Westward American Single Malt whiskey is brewed, distilled,
matured, and bottled at the Westward distillery in Portland, Oregon.
Conditions: 1. Cardholders can use their lounge visit entitlement to receive US$28 off the bill. Each US$28 deduction represents a single lounge visit within the
Cardholder's existing lounge visit allocation for which the Cardholder will,
where applicable, be charged. E.g. if a Cardholder registers 1 Guest they will receive US$56 off their bill which will be charged as 1 Cardholder visit + 1
Guest visit on their account. Only 1 card per visit per Cardholder will be accepted and at point of registration. 2. The US$28 is valid for the purchase of any drink excluding bottle sales & merchandise. To be eligible, Cardholders must present a valid Card and Boarding Pass with confirmed same-day travel before placing an order and must be 21 years or older. 3. US$28 is non-transferable & cannot be exchanged for cash substitute or refund if the final bill is lower than US$28 per person. 4. Cardholder is responsible for the final bill is lower than US$28 per person. 4. Cardholder is responsible for the balance if total final bill exceeds US$28 per person. Any remaining balance cannot be used towards gratuity.

Terminal: Concourse D
Lounge: Capers Market
Location: Airside - immediately after Security. Please note that the restaurant may exceed their seating limit at certain times of the day & access to the restaurant is at their sole discretion.
Hours 04:00 - 22:30 daily.
IMPORTANT NOTE: For Cardholders who pay for individual visits or guest visits, please check this particular offer against your visit fee to ensure it represents value for you. We advise Cardholders to review full Conditions of access below before visiting.
Capers Market offers market fresh seafood, pastries, beer, wine and spirits.
Conditions: 1. Cardholders can use their lounge visit entitlement to receive 1 "Meal-Kit"
valued at US$28. Each "Meal-Kit" represents a single lounge visit within the
Cardholder's existing lounge visit allocation for which the Cardholder will,
where applicable, be charged. E.g. If a Cardholder registers 1 Guest they will receive 2 "Meal-Kits" and will be charged as 1 Cardholder visit +1 Guest visit on their account. Only 1 card per visit per Cardholder will be accepted and at the point of registration. 2. Redemption is only valid for the purchase of a
"Meal-Kit" and excludes bottle sales, merchandise, and menu items. To be eligible, Cardholders must present a valid Card and Boarding Pass with confirmed same-day travel be