AIM shares: Best AIM shares to buy and AIM ETFs explained
Want to invest in the Alternative Investment Market (AIM)? Our guide shows you the biggest AIM stocks and how to buy them.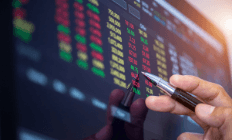 What is AIM?
AIM stands for Alternative Investment Market. It's a separate market on the London Stock Exchange and is aimed at helping smaller companies grow. AIM was started to help smaller companies who wanted to raise capital but couldn't afford the costs required or didn't meet the requirements necessary to list on the London Stock Exchange's Main Market.
Some companies choose to list on AIM as a gateway to getting on the Main Market, like Domino's Pizza group and Hiscox, but there are some recognisably larger brands on AIM, such as ASOS, boohoo.com and Fevertree. AIM comprises over 800 stocks.
How to invest in AIM
Investing in AIM can be as easy as other investments. If you want to invest in a representation of all AIM stocks, then you can invest in a fund that lists AIM companies. You can find funds that suit you on a share trading platform.
Another way is to buy individual stocks. You'll want to research into which companies you want to invest in and search for them on your chosen share trading platform.
What are the largest AIM stocks?
The 20 largest AIM stocks by market capitalisation are:
Hutchison China MediTech
Globaldata
RWS Holdings
Keywords Studios
Breedon Group
Dart Group
GB Group
Globalworth Real Estate
James Halstead
Clinigen Group
Learning Technologies Group
Compare AIM trading platforms
Table: sorted by promoted deals first
All investing should be regarded as longer term. The value of your investments can go up and down, and you may get back less than you invest. Capital is at risk.
Are there AIM ETFs?
There aren't any AIM tracker funds or ETFs, mainly because it'd be quite difficult to do so due to the size of the companies in the index.
Why should I invest in AIM?
As you'd be investing in companies very early on, there's more chance that they'll fail and therefore there's more risk associated with your investments. This added risk of volatility or associated tax incentives is what attracts some investors to AIM companies.
What are the tax benefits of investing in AIM?
By investing in AIM companies, you might be able to take advantage of tax relief such as inheritance tax relief, capital gains tax relief and tax relief on shares that qualify for the Enterprise Investment Scheme (EIS). As always, you can get tax relief from holding your stocks in a stocks and shares ISA.
What are the risks of investing in AIM?
A lot of the companies listed on AIM are still young which means that they aren't as liquid (meaning it's harder to sell shares). There is generally more risk associated with these stocks compared with the London Stock Exchange's Main Market, which is made up of established companies.
Is now a good time to invest in AIM?
The coronavirus pandemic shook up all industries and stock indices, AIM included. It lost 38% in value between January and mid March, it's lowest point during the pandemic but it has bounced back a little since then and recovered most of its losses.
AIM still isn't trading at the same levels that it was pre-pandemic, so it's up to you to decide whether you think it will continue to grow further.
All investing should be regarded as longer term. The value of your investments can go up and down, and you may get back less than you invest. Capital is at risk.
More guides on Finder
Biggest stock exchanges

We've put together a list of the largest stock exchanges on this cute little place we call, Earth.

Artificial intelligence stocks

You might think that AI is just something you've seen in Black Mirror or Westworld, but it's slowly working its way into our day to day lives. Find out how you can invest in it.

Buy Saudi Aramco shares

Saudi Aramco is an oil company in Saudi Arabia. Find out if you can buy shares in Saudi Aramco and alternative ways to invest.

What are annuities?

We've compiled all of the information you need to know about annuities – what they are, the different types available and whether they're taxed.

Best private pension

We've compared some of the best private pensions to find the best for fees, charges, mobile access and consolidating old pensions.

What is a private pension?

Private pensions are set up separately from, and often in addition to, workplace and state pensions. Paying into a private pension has some great tax benefits and can boost your income in retirement.