Finder is committed to editorial independence. While we receive compensation when you click links to partners, they do not influence our opinions or reviews. Learn how we make money.
Placid Express Review
It's not a big-name service, but users like its quick, easy transfers to India and 25+ other countries.
Technology has overwhelmingly improved how we stay connected to loved ones. It's also made it easier for us to support those friends and family financially across the world.
Placid Express is among the many online money transfer providers offering easy transfers at fixed rates to Asia and select European countries. Here's what you need to know before you sign up.
$2,400
Max. Transfer Amount
Details
| | |
| --- | --- |
| Product Name | Placid Express |
| Min. Transfer Amount | $0 |
| Max. Transfer Amount | $2,400 |
| Transfer Methods | Online, Bank Account to Bank Account, Cash Transfer |
| Transfer Options | One off payments |
| Customer Service | Phone, Email |
| Available Currencies | BDT, EUR, IDR, INR, NPR, PHP, PKR, USD, VND |
| | |
| --- | --- |
| Exchange Rate Updates | Daily |
What is Placid Express?
Founded in 1996, Placid Express is an online money transfer provider with services from the US to Bangladesh, the Philippines, Nepal, Sri Lanka and Pakistan. It supports about 26 or so other countries through its agent network of direct bank partners that makes for speedier transactions.
With Placid Express, you can send bank-to-bank transfers and instant SpotCash pickups at authorized payout locations with only a tracking number and government-issued ID.
If you pay with a credit or debit card, your transfers are typically completed in an hour. Otherwise, your recipient could wait up to three business days to see your funds.
How much will I pay to send money with Placid Express?
How much you'll pay varies by transfer amount, destination country, transfer method and how you're paying — making it hard to pin down your exact fees ahead of time.
For example, you can send $5,000 to India from your bank account with a $1 transfer fee. If you send the same amount to India with a debit card, you'll pay $1, and credit card payments jump to $201 in fees. Note that each method also comes with a slightly different exchange rate on your currency.
How are Placid Express's exchange rates?
Placid Express boasts competitive exchange rates — especially to India. Exchange rates vary slightly by transfer method, with bank account payments tending to come with stronger exchange rates than debit or credit card payments.
You can confirm exchange rates for each country Placid Express sends to through its easy Rates & Fees calculator. If there's any change in the rate up to the time you finalize your transfer, you're notified right away.
Minimum transfer amounts and available countries
Placid Express accepts transfers of $10 or more to:
Austria
Bangladesh
Belgium
Estonia
Finland
France
Germany
Greece
India
Indonesia
Ireland
Italy
Latvia
Lithuania
Luxembourg
Malta
Nepal
Netherlands
Pakistan
Philippines
Portugal
Slovakia
Slovenia
Spain
Sri Lanka
Vietnam
While it processes transfers to Bangladesh, Nepal, Pakistan, Philippines and Sri Lanka on its own, transfers to other countries are carried out through its worldwide agent network.
What types of transfers does Placid Express support?
With Placid Express, you can pay for your transfer by:
Bank account withdrawal. You provide your bank's routing number and your account number for transfers delivered in three to five days.
Major credit card. Use your Visa, Mastercard or Discover card to fund transfers delivered in under 24 hours.
Depending on where your recipient lives, you can deliver your money as a:
Local bank deposit. Bank to bank transfers aren't only convenient, but they're also your cheaper option.
SpotCash pickups at any participating agent. Unlike other services that require you to select a specific location for pickup, your recipient can use your tracking number to collect money at any participating agent in Placid Express's network.
What to look out for
When sending money from the US, you can transfer up to $2,400 weekly — which might not cover all of your transfer needs.
Placid Express also doesn't support all countries worldwide, which means you'll want to first confirm that your recipient's country of residence is included in its network.
Benefits
Cash pickups. Placid Express offers cash pickups to most countries it supports.
No hidden fees. You'll know your fees in advance, before you confirm your transfer.
No intermediaries. Placid Express processes your transfers among partners only for direct and quick transactions.
Drawbacks
Not available in all states. To use Placid Express, you need to live in one of the 25 or so states it supports.
Limited countries. From the US, you can send money to select European and Asian countries only.
Low weekly maximums. If you're looking to send more than $2,400 a week, you'll need to find a different provider to fit your needs.
How does Placid Express compare to other services?
Disclaimer: Exchange rates change often. Confirm the total cost with the provider before transferring money.
How safe is Placid Express?
Placid Express is a safe, legitimate company that's registered with US regulatory bodies and those in Canada, Italy, the European Union and Malaysia. Its site encrypts all personal and financial details sent through its site, and it rejects payments from bank accounts or cards that aren't in the name of the sender.
How do I track my Placid Express transfer?
Placid Express assigns a unique tracking number to each transfer it completes. Use this number to track the progress of your transfer online. If your recipient is picking up your transfer as cash, they'll need to provide this number to the agent, who'll then release your funds.
Placid Express reviews and complaints
Placid Express rates well in the online world. It's received more than 1,422 reviews on Trustpilot and averages at robust 4 out of 5 as of October 2020. Many customers like its strong exchange rates, quick turnaround and customer service.
How do I send money through Placid Express?
To initiate a transfer with Placid Express, you'll need to first register as a customer.
1. Go to Placid Express's site and click the orange Send money now button.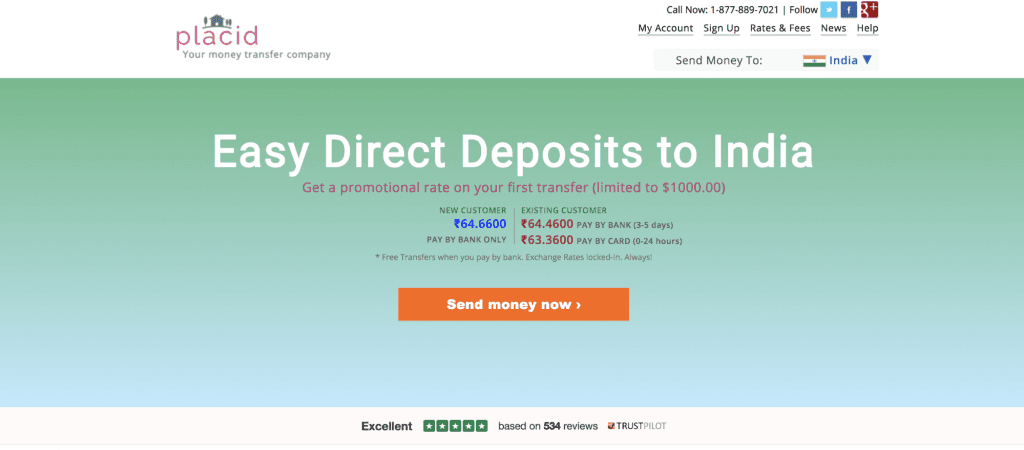 2. Enter your name, email address, phone number and state of residence, indicating a password for future login.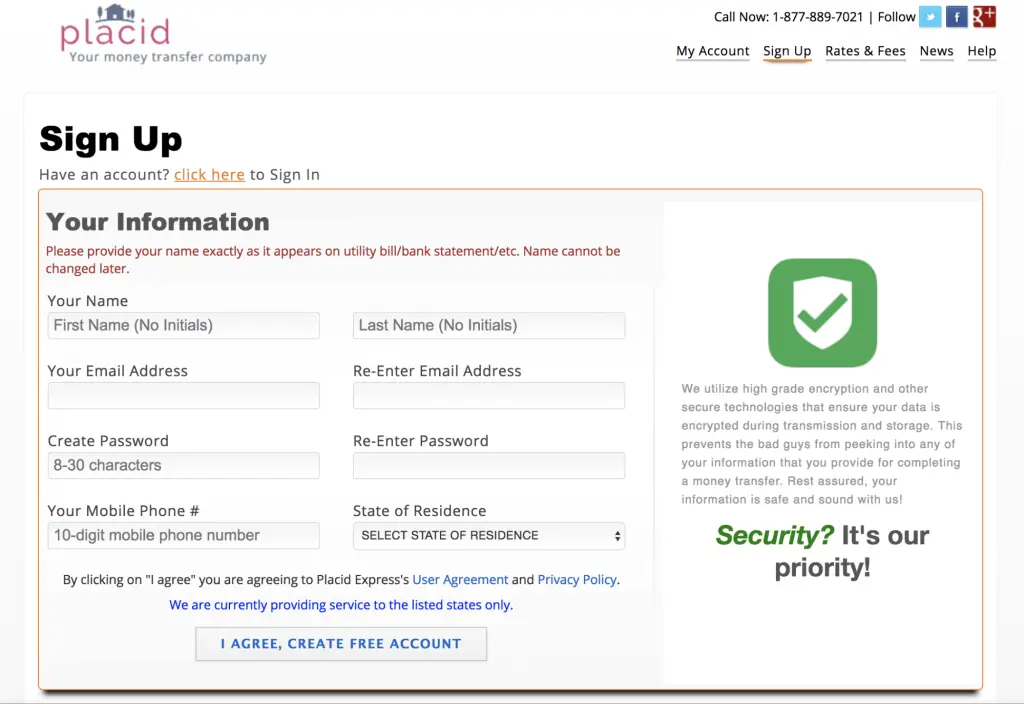 3. Once you've received your confirmation email, log in with your email address and password to complete your registration.
You'll set up your transfer by indicating your recipient's banking details or a cash pickup location near their place of residence. For cash pickups, you're provided a tracking number that your recipient will use, along with a government ID, for a direct pickup at any agent in Placid Express's network.
Bottom line
If you live in a state it services, Placid Express could be a quick, cheap way to send money to friends and family in 25 or so countries. You can send money for bank deposit or a cash pickup at any agent in its network without having to specify the exact one ahead of time.
Frequently asked questions