Finder is committed to editorial independence. While we receive compensation when you click links to partners, they do not influence our opinions or reviews. Learn how we make money.
Consumers Credit Union loans
Secured and unsecured personal loans, business loans and more from this nationwide credit union.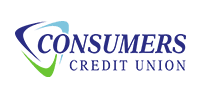 Consumers Credit Union (CCU) might be based in Illinois and Wisconsin, but you don't have to live near a branch to become a member. While it specializes in personal financial services, it's one of a handful of credit unions that works with businesses as well.
Applying for a loan with CCU can be as simple as going through an online lender. But its website can be difficult to navigate and customer service isn't always easy to reach.
What types of loans does Consumers Credit Union offer?
Consumers Credit Union offers secured and unsecured personal loans, auto loans, consumer mortgages and business loans.
Personal loans
Use one of Consumers Credit Union's personal loans to go on vacation, buy that Harley you've always wanted, consolidate your debt and more:
Signature loans. These unsecured term loans run from $500 to $40,000 with fixed rates starting at 11.49% with an autopay discount and terms up to six years.
Motorcycle loans. Financing for a new or used motorcycle with terms up to five years and APRs starting at 5.74% with autopay.
Recreational vehicle loans. Buy a new or used RV with rates starting a 4.4% with autopay and terms as long as 15 years.
Secured Collateralized loans. Back your loan with a personal item for rates starting at 7.49% with autopay and terms up to seven years.
Share Secured loans. Loans backed by your share account — the credit union equivalent of a savings account — with competitive variable rates.
Read Consumers Credit Union personal loan review
Auto loans
CCU offers up to 100% financing with terms up to seven years for new and used cars. Rates depend on the age of the car:
2016 or newer: Starting at 2.24% APR with autopay.
2012 to 2015: Starting at 2.74% APR with autopay.
2011 or older: Starting at 7.49% APR with autopay.
Read Consumers Credit Union auto loan review
Business loans
Consumers Credit Union offers three different types of business loans to cover gaps in cash flow, finance a new storefront or purchase equipment:
Business lines of credit. Credit limits start at $50,000 with these revolving lines of credit with rates as low as 1.5%.
Commercial mortgages. Finance up to 80% of the cost of real estate with terms as long as 25 years.
Equipment loans. Fixed term loans to purchase equipment for your business.
These loans are only available to companies located in Illinois and Wisconsin. You can't apply online and your business needs to become a member before you can begin the process. The application itself is much more detailed than CCU's personal loan application, so it might not be ideal for covering an emergency expense.
Read Consumers Credit Union business loan review
Consumer mortgages
Buying your first house? Looking to borrow against your current one? CCU has options:
First mortgages. Both fixed- and adjustable-rate loans to buy a new home with terms as long as 30 years and APRs as low as 4.727%.
Home equity loans. Borrow up to 100% of the equity in your home with terms as long as 20 years and fixed APRs starting at 4.75%.
Home equity lines of credit. A line of credit using up to 100% of the equity in your home as collateral with rates staring at prime minus 0.5%.
Why should I consider taking out a loan with Consumers Credit Union?
With its nationwide availability and online application for many of its products, there are plenty of reasons to borrow from CCU.
Rate discount. CCU offers an interest rate discount of up to 0.5% on its personal and auto loans when you sign up for autopay through a CCU account.
Don't have to join to apply. For most loans, you can become a member and apply for a loan at the same time — all online.
Available nationwide. With the exception of business financing, you don't have to live near a branch to get a loan from Consumers Credit Union.
Allows co-applicants. Bringing on a co-applicant allows you to share the responsibility of paying back the loan. Plus, CCU looks at your combined income.
Several secured options. Consumers Credit Union allows you to qualify for more favorable rates and terms by backing your loan with collateral.
Where does Consumers Credit Union fall short?
Though CCU offers a range of benefits, consider these potential drawbacks before taking out a loan.
Not many unsecured options. Consumers Credit Union only offers one unsecured personal loan and doesn't have an unsecured business term loan — just a line of credit.
Business loans are limited. There's no online application for CCU's business loans, plus your business must be at least two years old and located in Wisconsin or Illinois to qualify.
Difficult to reach. It's not always easy getting through to customer service.
Poor reviews. The majority of Consumers Credit Union's online reviews are complaints.
Compare other loan options
How much will it cost me to borrow with Consumers Credit Union?
How much your CCU loan costs depends on the type of financing you get and whether your loan is backed by collateral. It also offers different rates depending on your loan term — with lower rates going to the shortest terms. If you sign up for autopay, you can get a rate discount of 0.5% for payments made from a Consumers bank account, or 0.25% from an outside bank account.
CCU doesn't advertise any application or origination fees. Its personal loans don't come with a prepayment penalty, so you can save on interest by paying off your loan early. And the only fee associated with the business line of credit is an annual fee of $250.
How much does it cost to join?
You need to either be a member or willing to join Consumers Credit Union to be eligible for a loan. Before you can become a member of CCU, you must first join the Consumers Cooperative Association, which comes with a $5 membership fee. Joining the credit union also involves opening a share savings account with a minimum $5 deposit.
What do borrowers say about Consumers Credit Union?
Borrowers give Consumers Credit Union consistently low ratings as of November 2018. It's accredited with the Better Business Bureau and gets an A- rating based on factors like its business practices. But it gets less than 2 out of 5 stars based on 18 customer reviews and has had 22 customer complaints filed against it. It also does poorly on Yelp, typically scoring around 2 out of 5 stars.
While customers were mostly pleased with their rates, many complained about the poor quality of customer service. Some also complained about employees making clerical errors that affected their repayments. Still, it wasn't all bad. One customer said he had the "the best loan experience ever" with CCU.
Are Consumers Credit Union loans safe?
Generally, yes. While there's no way to guarantee all of the information you enter online is safe, Consumers Credit Union encrypts all of its pages with SSL technology to make it difficult for hackers to intercept. It also regularly runs tests on its systems to ensure everything is up to date.
If you choose to bank with CCU, your account is federally insured by the National Credit Union Administration for up to $250,000.
How to apply for a loan with Consumers Credit Union
With the exception of business loans, you can apply online. If you're not already a member, you can apply for membership during the application process. Here's how it generally works:
Go to the Consumers Credit Union website and click Loans in the main navigation bar.
Select the type of loan you'd like to apply for.
Click the button inviting you to start your application.
Complete the form with your name and contact information. Click Next.
Select the type of financing you'd like to apply for. Complete any additional fields and click Next.
Follow the directions to complete the application for your specific loan type.
Review your answers and read the terms and conditions before clicking Submit.
A CCU representative will reach out to you and walk you through the rest of the application process. You'll typically need to provide the following documents at a minimum to become a member and apply for a loan:
Government-issued photo ID
Two recent pay stubs
Five references with contact information
Two utility bills sent to your current address
Eligibility requirements
Aside from being over 18 years old and having a valid government-issued ID, Consumers Credit Union doesn't advertise any fixed eligibility requirements. However, you'll have more luck getting approved for a loan with favorable rates and terms if you have good to excellent credit. Most lenders also require you to have a debt-to-income (DTI) ratio below 43% to qualify.
More about Consumers Credit Union
Consumers Credit Union is a nonprofit lender headquartered in Lake County, Illinois. It's been around since 1930 and has over 100,000 members and $1.2 billion in assets. Like any other credit union, it's owned by its members who elect an unpaid board of directors. It offers a wide range of financial services beyond loans, including checking and savings accounts, certificates, credit cards and more.
Bottom line
Consumers Credit Union is a solid choice if you're looking for a one-stop shop for all your financing needs — most of which you can easily apply for online. It also offers a wide variety of secured loans, which can help you qualify for more favorable rates and terms.
However, its customer service doesn't have a strong reputation and its business loans aren't as streamlined as other products out there.
Want to see how CCU stacks up to the competition? Read our guide to personal loans to compare other lenders and learn more about how they work.
Frequently asked questions
More guides on Finder