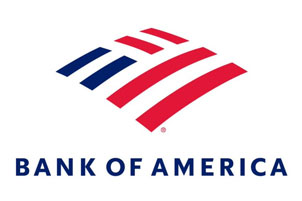 Finder makes money from featured partners, but editorial opinions are our own.

Advertiser disclosure
Bank of America loans
Financing for homebuyers, small business owners and more.
One of America's biggest financial service providers, Bank of America (BofA) offers a variety of loans with a simple application process and additional financial resources. It's one of the top banks in the US and a reputable financial product provider for many Americans.
What types of loans does Bank of America offer?
Bank of America extends loans to homebuyers, car buyers and small business owners.
Auto loans
BofA provides auto loans for new and used cars as well as lease buyouts and refinancing. Interest rates start at 3.59% for new cars and 3.79% for used models.
In as little as 24 hours, you can receive the funds needed to pay for your car — and you may even get a discounted rate if you have a BofA checking account. BofA also works with dealer networks and can recommend one that uses it to finance its auto loans.
Business loans
Need a business loan to purchase inventory or cover day-to-day expenses? Bank of America's business loans may be what you need. It offers competitive rates and loan amounts starting at $25,000 and going up to $2 million.
Home mortgages
Bank of America offers mortgages for a wide range of borrowing needs, with two types to choose from.
Fixed-rate mortgage. Your interest rate remains consistent throughout the term of the loan, allowing for predictable monthly payments over 15, 20 or 30 years. Interest rates are competitive, and you won't have to worry about them increasing over the course of your loan.
Adjustable-rate mortgages (ARM). You'll initially have a lower fixed interest rate, usually lasting up to 10 years. After the fixed-rate period, the interest rate adjusts to the going interest rate for the remainder of the loan.
Mortgage refinancing and home equity lines of credit
As part of its home loan products, Bank of America also offers several types of refinancing and home equity lines of credit.
The line of credit is quite simple: You borrow against the value you own in your home at a variable rate. Like all of BofA's products, the APR is competitive. You'll have a lower rate during your 12-month introductory period, then switch to a slightly higher APR for the remainder of your loan.
BofA's mortgage refinancing is a little more complex. You can choose between a fixed-rate, adjustable-rate, cash-out, FHA or VA refinancing option. Each has different terms and eligibility criteria, so contact a BoA representative or visit your local branch to learn more.
Compare Bank of America to other lenders
Explore your options by APR, minimum credit score and loan amount. Select the Go to site button for more information on a particular lender.
Why should I consider taking out a Bank of America loan?
Bank of America works to make taking out a loan easy. Here are some reasons people choose it:
Coborrowers welcome. You can typically list a spouse or partner on your loan, which could possibly get you a larger loan amount or lower interest rate — or both.
Potential discounts for current members. For example, you can get a 15% discount on an auto loan if you have a BofA checking account. Check with Bank of America to see if you qualify for any other discounts.
Convenient online application. For its auto and home loans, you can complete a convenient online application. And for its small business loans, you can schedule an appointment online for phone or in-person consultations. Then, you can create an account and upload documents, download loan disclosures, track the progress of your loan and e-sign your paperwork all online.
Low rates. Home mortgages and auto loans offer low interest rates for borrowers with good to excellent credit. And you'll have the option of making online payments.
Fast approvals. You may be approved in minutes for an auto loan. Other loans come with turnaround times of a few days.
Where does Bank of America fall short?
Not sure Bank of America is right for you? Consider these potential drawbacks first:
Limited options available. If you're looking to take out a personal loan, personal line of credit or student loan, you'll need to look elsewhere.
Requires a lot of paperwork. As with many bank loans, you'll need to provide a lot of documentation for approval. The good news: You may be able to upload most of it online and avoid a long office visit.
You must apply to see your exact APR. Because so much goes into the APR you're ultimately offered, you'll need to submit an application to learn what you qualify for.
Strong credit recommended. If your creditworthiness isn't good to excellent, you may not be approved for a loan.
How much does it cost to borrow with Bank of America?
The exact cost depends on the type of loan you apply for, your finances and your creditworthiness. Here are some common fees you can expect with each of its different loan products:
Home mortgages
Bank of America's home mortgages come with the most fees, including:
PayPlan fees. These range from $0 to $4 per transaction if you sign up for autopay from your BoA checking or savings account.
Check by phone. Making mortgage payments over the telephone can cost you $15 through BofA's automated phone system and up to $20 when collected by a representative.
Release fees. You can expect to pay up to $100 for BoA to prepare and mail secure documents regarding your mortgage.
APR. Your exact APR depends on a variety of factors, but you can use Bank of America's online mortgage calculator to get an idea of what you might qualify for.
Auto loans
Bank of America doesn't charge any fees to apply for an auto loan or prepare your loan documents. But depending on your state of residence, you may need to pay a title or state fee.
APRs vary depending on your creditworthiness, current financial situation and whether you purchase a new or used vehicle. There may be other fees, which you can explore in our guide to car loans.
Business loans
Bank of America offers a variety of business loans, so the exact cost depends on which type you choose, your personal credit history and your business's revenue — among other factors. You can find a common list of costs in our business loans guide, but you'll need to speak to your contact at Bank of America for specifics.
The closing costs for a BoA business loan or line of credit vary by the type and size of your credit request. When approved, a BofA representative will contact you within one business day to inform you of your credit terms and conditions.
What does the Internet say about Bank of America loans?
Bank of America doesn't fare well when it comes to online ratings. While it's been accredited with the Better Business Bureau (BBB) since 1949 and earns an A+ rating, over 200 customers have given it an average of 1 star. It does even worse on Trustpilot, earning a 4.5 out of 10 based on nearly 40 reviews, with over half of customers rating it as "poor" or "bad."
Complaints center around poor customer service — both online and in person. Staff across all divisions was called incompetent, undertrained and unresponsive. It's made a half-hearted effort to respond to customer complaints on the BBB site with a formulaic response that only seemed to infuriate people.
Reviews were marginally better when it came to loans — particularly mortgages — but there were still complaints. One customer said it took multiple appointments to sign just one form because their loan specialist was so disorganized.
Are Bank of America loans safe?
Bank of America is the second-largest bank in the US with a longstanding history of providing financial service. Its website is easy to use, offering customer support and encryption to safeguard information. It's also consistently won an award for Best Overall Identity Safety by Javelin Strategy & Research for the past nine years. Beyond this, it offers resources to help customers further protect their information such as free online security tools and educational videos about how to keep your identity safe
If you're having trouble or have questions, contact BofA customer service by phone or visit a branch in person.
How to apply for a loan with Bank of America
You can apply for a home mortgage or auto loan on Bank of America's website. For a business loan, you'll need to contact Bank of America by phone or in person.
Generally, you'll need to submit the following information when you apply:
Full name.
Contact information.
Social Security number.
Date of birth.
Financial details.
Depending on the loan you're requesting, these financial details can include W-2s and pay stubs, bank statements, tax returns and your business's profit and loss statements.
You can read the specific requirements for the loan you're interested in by checking out our reviews of each Bank of America loan product.
Eligibility requirements
Bank of America loans are available in all 50 states and Washington, DC. To be eligible, you must:
Live in the US.
Be a US citizen, resident or non-resident alien.
Be at least 18 years old — or 19 in Alabama and Nebraska.
To qualify for a business loan, your business must also:
Be at least two years old.
Generate at least $250,000 in annual revenue.
However, startups might be able to qualify for an SBA loan through Bank of America.
I got a Bank of America loan. Now what?
Auto loans and mortgages tend to come with a more involved process after you're approved since you'll have to purchase a car or a house. Your BoA loan specialist should be able to walk you through the process.
Once your funds are disbursed, it's time to start thinking about repayment. Online Bill Pay is the easiest option — you don't have to worry about keeping track of when your payment is due. But don't forget to keep an eye on your account to look out for irregularities. If you notice anything strange — or have any other questions — contact customer service as soon as possible.
You also can pay by phone by calling 800-215-6195, in person at your local BoA branch or mail a check to:
Bank of America, N.A.
PO Box 15220
Wilmington, DE 19886-5220
I didn't get the loan. Now what?
First, find out why you were rejected. Once you find out, take steps to make improvements to your personal finances, such as increasing your credit score.
Banks tend to have tougher eligibility requirements than other lenders. If you've been rejected by Bank of America, you might be able to qualify for less-traditional financing from online lenders or credit unions without making any changes to your personal finances. Just wait for your credit score to recover from the hit it took when Bank of America pulled a hard credit check.
More about the bank
Originally the Bank of Italy, Bank of America has been in operation for well over 100 years. And as one of the largest companies in the world, it's got a lot to offer its borrowers, including checking and savings accounts, credit cards and resources for people who want to invest.
With over 67 million clients — both individuals and small businesses — Bank of America is a household name in the banking industry.
Bottom line
Bank of America is a good place to start when you want an auto loan, mortgage or small business loan with an affordable rate. It keeps itself competitive by staying up-to-date with technology, but its more stringent requirements might make some borrowers ineligible for a loan. And you won't be able to apply for a personal loan or student loan with this big bank.
If you're interested in taking out a personal loan, you can compare other banks that offer this type of financing.
Frequently asked questions
Does Bank of America charge a prepayment penalty?
In most states, Bank of America doesn't charge a prepayment penalty for its home mortgage loans and auto loans. However, there may be a penalty for borrowers in Florida, Louisiana and Ohio.
Business loans allow for prepayments but may come with a fee that depends on your specific financing.
If I get an auto loan from Bank of America, can I use it to buy a car from anyone?
Generally, yes. Bank of America allows you to buy a car from a franchise dealer, approved independent dealer or private party.
Can I pay my BofA mortgage online?
Yes. If you have an eligible Bank of America account, you can make your mortgage payment using the Bill Pay or Transfers tab on your online account. You can also use PayPlan, which sets up automatic payments from your BofA checking or savings account.
More guides on Finder
Bank of America auto loans review

A comprehensive overview of Bank of America's auto loan, including terms, application requirements and vehicle restrictions. Compare your auto loan options.