Finder is committed to editorial independence. While we receive compensation when you click links to partners, they do not influence our opinions or reviews. Learn how we make money.
Compare fast business loans
Find a lender that can get you money in as little as 1 business day.
Editor's choice: First Down Funding business loans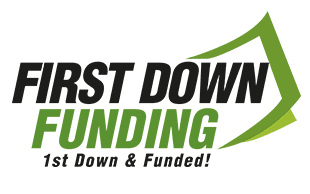 No prepayment penalties
Competitive rates
Works with bad credit and most industries
Check eligibility
You can get a business loan as soon as the day you apply, mainly through online lenders. That's because they can process your application without physical paperwork. But businesses that prioritize speed sometimes pay more in interest and fees. Save these loans for emergencies or when you have no other option.
7 business loans with a fast turnaround
These providers can get you money faster than your average lender — for the type of financing they offer.
| | | | | |
| --- | --- | --- | --- | --- |
| | As soon as 1 business day | | Few paperwork requirements and an algorithm that looks beyond your. credit score. | |
| | As soon as 1 business day | Quickly comparing multiple offers | A quick online application that lets you access its network of over 300 lenders to cut down on research time. | |
| | As soon as 1 business day | | Up to 100% financing on unpaid invoices with minimal documents. | |
| | | Alternative business loans | Relatively low rates for a lender with no credit check and high-risk industry lenders. | |
| | As fast as 1 business day | Merchant cash advances (MCA) | Low cost compared to other MCA providers and an offer within hours. | |
| | As soon as 5 business days | | Faster financing than a bank that excepts fair credit and revenue as low as $50,000. | |
| | As soon as 7 business days | | Broker and packaging services that help you find a bank and get funded in a matter of weeks instead of months. | |
How to get a fast business loan during COVID-19
Online lenders are still your best bet when it comes to fast business financing. While many put their regular loan programs on hold to offer Paycheck Protection Program (PPP) loans, most have restarted operations again. But they might not be the best option. Some fast lenders can be inflexible about repayments if your business sees an unexpected dip in revenue.
While it might be slower than you'd like, low-interest or interest-free loan from your state or local government could be your best option while you try to keep your doors open. Read our guide to coronavirus business loans for more options.
How much can I borrow with a fast small business loan?
For quick funding, you can usually borrow between $2,000 and $500,000. Anything more than that could take some time. The amount you can borrow depends on a variety of factors, including:
The amount of cash flow your business has
The reason your business needs the funds
How long your business has been around
The business owner's credit history
What types of business loans can I get quickly?
You have several loan options if you need fast cash for your business, including:
| | | |
| --- | --- | --- |
| | Borrow an amount of money and repay it plus interest over a fixed period of time. | |
| | | |
| | Ongoing access to funds up to a specified credit limit — you can draw up to this limit when you need to and only repay the funds you use. | A few hours to a few days |
| | Similar to a personal credit card, except the funds are used for business expenses only. Business credit card accounts can also come with extra features such as additional cardholders or rewards points for the business. | |
| | | |
| | | A few days to a few weeks |
| | Get an advance on future sales with this type of business financing that you repay with a percentage of your sales revenue. | |
Want a term loan fast? Consider a personal loan
If you're looking for a business term loan, you might get a quicker response if you apply for a personal loan instead. Lenders tend to process personal loans faster because they have fewer factors to consider — they don't have to go over business plans or long financial records.
To qualify for most competitive personal loans, you'll need to have good personal credit and a low debt-to-income ratio.
What should I look for in a business loan besides speed?
When comparing business loans, you might want to look into a few other factors besides turnaround time. These include:
Loan term. Terms for business loans differ and can be for as little as three months to up to 25 years. Other products such as line of credit products offer ongoing terms.
Upfront and ongoing fees. These can include application fees, loan origination fees, monthly fees and annual fees, which could greatly affect the total cost of the loan.
Interest rates. Interest rates may be standard annual rates or factor rates that are calculated monthly.
Secured or unsecured loans. If you have business or personal assets to attach to the loan, you may want to consider a secured business loan, which typically come with more competitive rates.
How can I make sure I get my funds quickly?
The first way to do this is choose a lender that has a quick turnaround time. Then it's up to you to make sure you have everything in order before you start your application.
Go over your finances to figure out what type of funding you need and how much. Have all documents and information you might need on hand. These can include:
Bank statements. It's common for lenders to ask for three months of statements from your business's bank account.
Your business tax ID. Some lenders ask applicants to provide their tax ID. Also known as an employer identification number (EIN), you can usually find this on your business tax forms.
Driver's license. There's a chance you'll be asked to provide your driver's license number when applying for a business loan.
Login credentials for accounting software or bank accounts. Many speedier lenders use underwriting software, which sometimes requires access to your business's accounting software or bank account to assess your eligibility.
Frequently asked questions
More guides on Finder