Finder is committed to editorial independence. While we receive compensation when you click links to partners, they do not influence our opinions or reviews. Learn how we make money.
Using a credit card in Spain
Planning a trip to Spain? Here's what you need to know.
Spain, where you'll find cultures as diverse as its geography, continues to depend on tourism as a major source of revenue. This is good news for travelers because local businesses have adopted new technologies to keep with changing times. What this basically means is you'll have no significant problems in using your credit card when you're in Spain.
Visa and Mastercard branded cards find widespread acceptance and you might be able to use your American Express or Diners Club card too. Don't bother taking a Discover card along because you'll be hard pressed in finding anyone who accepts it.
Several businesses require that you show them a valid ID when you use your credit or debit card and some might insist on looking at your passport.
Our pick for use in Spain
Compare cards for use in Spain
When you travel to Spain or anywhere abroad, look into whether your credit card charges foreign transaction fees. If it does, consider these picks that won't have you paying extra when you use your card on vacation.
Potential credit card fees
Credit card fees can leave a noticeable dent in your pocket when you're travelling overseas, so know what you're up against well in advance.
Foreign transaction fees
A typical American credit card comes with 2% to 3% foreign transaction fees, but you can also find cards that come with no foreign transaction fees. Some examples include the Delta SkyMiles® Platinum American Express Card (see rates & fees) and the USAA® Rate Advantage Visa Platinum® Card.
Currency conversion fees
Don't accept an offer by a hotel, a shopkeeper or any other business to charge your card in US dollars. If you end up paying for a purchase in US dollar, the transaction will be subject to dynamic currency conversion. This way, you might receive a less-than-favorable exchange rate and may also need to pay a currency conversion fee.
Which credit card issuers are accepted in Spain?
Visa and Mastercard are most popular in Spain, with American Express closely behind. But if you have a Discover card, you may find it hard to pay with it.
| | Merchant acceptance | ATM acceptance |
| --- | --- | --- |
| Visa | High | High |
| Mastercard | High | High |
| American Express | Medium | High |
| Discover | Low | Low |
Should I use my card to get cash?
Unless faced with an emergency, think carefully about using your credit card to withdraw money from an ATM. You'll end up paying a higher APR than you do for purchases and the transaction will start attracting interest straightaway. Besides, you'll need to pay a cash advance fee too. Check the table below to get an idea of how expensive an overseas cash advance can become.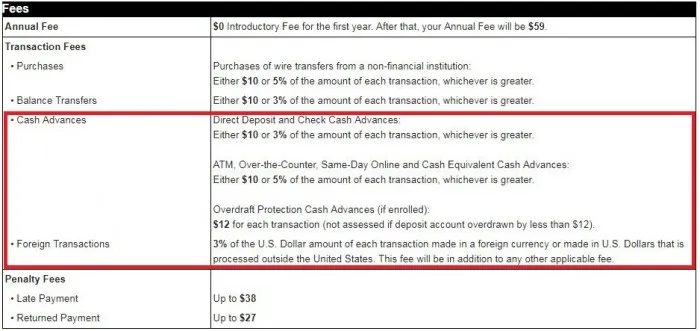 ATMs in Spain
You'll find ATMs linked to the Plus or Cirrus systems so using your Visa or Mastercard branded card will be easy. ATMs are present in all Spanish cities and towns, at train and bus stations, gas stations, shopping centers and popular tourist destinations. Bank affiliated ATMs don't usually impose additional fees, although there are exceptions such as the Catalunya Caixa Bank. You can use most ATMs in cities and large towns in English.
Magstripe and chip credit cards
Spain has moved from magnetic-stripe to chip cards and all banks in Spain now issue the latter. This does not mean you cannot use your magnetic-stripe card in Spain, although you can expect some confusion. In the switching of technology, some retailers falsely believe that they can no longer accept magnetic-stripe cards while some others will not let you use them to do their bit in reducing credit card fraud. All they basically need you to do is swipe your card instead of inserting it into the machine, and then get you to sign for the purchase. Using a chip card will not only find wider acceptability, it comes with enhanced protection as well.
Can I use my chip-and-signature card in Spain?
You may use a chip-and-signature card in Spain just about everywhere you find a manned credit card machine. However, some businesses are hesitant in accepting them because they're not sure if it's allowed and some others don't accept them to cut down on credit card fraud. If you're getting tickets from a machine, you'll need to enter a PIN, in which case your chip-and-signature card won't work.
Is it safe to use my card in Spain?
By exercising some caution when using your credit card in Spain you'll have a relatively trouble-free experience.
Keep your PIN safe. Use one hand to enter the PIN and the other to shield it from prying eyes and hidden cameras.
Select ATMs with care. Try and stick to ATMs in banks and avoid using ones on sidewalks.
Watch out for skimmers. When installed in an ATM, a card skimmer works in stealing information from credit and debit cards. If you feel the card slot is not as smooth as it should be or if there's a problem with the keypad, cancel your transaction and look for another ATM.
Keeping your credit card (physically) safe
Remain alert to street crime, especially where two or more people work in distracting victims before decamping with their valuables. Instances of theft at airports are not uncommon, so stay vigilant while arriving and departing. There have been numerous instances of thefts from hired cars so don't leave your wallet or purse in a parked car. In some cases, thieves pose as cops and ask to see wallets for identification purposes. In such a scenario, make sure you're speaking with genuine police officers. It is very unlikely that a real cop will want to sift through your wallet.
Cash in Spain
You'll need to pay for most small purchases of around €10 to €20 in cash. Keep around €100 to €150 in cash to pay newspaper vendors, cafes, restaurants, bars and small souvenir shops. Don't be surprised if you're looked at strangely when you ask to pay by card at a local bar when your bill's under €20. You may also come by shopkeepers who aren't particularly comfortable in using the card machines they have.
How to prepare before traveling to Spain
Choose a Visa or Mastercard. Carry at least two credit cards on your trip to Spain, preferably connected with Visa or Mastercard. You may take your American Express too, but you won't get to use it in many places.
Travel with at least one no foreign transaction fee credit card. When you can find cards that come with no foreign transaction fees, using ones that charge 2% or 3% of each overseas transaction does not make sense. Some of these cards come with no annual fees as well.
Keep your bank posted. Banks, in their efforts to thwart fraudulent transactions, block credit cards if they detect suspicious activity such as unexpected overseas transactions. To make sure this does not happen to your card, let your bank know about your travel plans before you leave the country.
Keep emergency number handy. Know which numbers you'll need to call if you end up losing your card or if you need an emergency replacement.
Know where you'll get cash from. Consider using your American debit card to withdraw cash from ATMs. If you need to exchange money, stick to banks or official money exchange offices because possessing counterfeit money in Spain is a serious crime. Try to avoid exchanging money at airports and popular tourist destinations because of typically poor exchange rates.
Credit cards in a tropical paradise
Next steps
Ask yourself these simple questions before you leave so your spending in Spain does not hit any roadblocks.
Which cards will I take? Visa and Mastercard are the favorites. If you want to earn rewards, consider taking a rewards card.
Have I let my bank know? If you don't inform your bank about your travel plans, you may end up with a temporarily suspended card.
What fees do I need to pay? If your existing cards come with foreign transaction fees, look for one that does not. Paying in US dollars outside of the US might come with currency conversion fees.
How will I get cash? Using your debit card at an ATM is the simplest way to access your own money. You can carry cash and traveler's checks with you. Exchanging US dollars to euros is easy and you'll get several options.
When you're in Spain, you don't have to worry about where and when you can use your credit card. Just keep some cash handy to pay for small purchases.
See more guides on using a credit card in other countries.
Bottom line
Visa and Mastercard are widely accepted in Spain. You can also pay with an American Express credit card at most large establishments, while you may struggle to pay with your Discover card.
To avoid foreign transaction fees, consider applying for a travel credit card.
Frequently asked questions
Images: Shutterstock