Using a credit card in New Zealand
New Zealand isn't the easiest place to reach, but once you get there, you can travel around and shop easily - here's how to make the best out of your plastic and cash.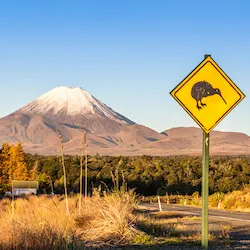 If you survive the 24-hour (or more) plane trip from the UK to New Zealand, enjoying the country will be a piece of cake. The North Island is more for travellers who want to enjoy the cities and discover the Maori cultural heritage, while trips to the South Island tend to be more nature-focused, but in both cases you don't need to worry about payments and cash too much.
All credit cards are widely accepted, including Amex (but as usual not all retailers will take it). You can probably go a whole holiday without needing a single note of the local currency, although carrying some of it around in case of emergency certainly can't hurt.
The New Zealand dollar, which is sometimes affectionately referred to as the "kiwi dollar", can be exchanged before travelling to the country – but general card acceptance and a good network of ATMs make it unnecessary.
The best thing you can do for yourself before leaving for New Zealand is getting a solid credit card or debit card that doesn't charge any foreign transaction fees, so that you can spend all your budget in excursions, souvenirs and good food – down to the last penny.
Cash machines in New Zealand
You shouldn't have any issues finding ATMs in New Zealand, as there's a widespread network of them both in the main cities and in the smaller towns.
Just keep in mind that if you're in for a holiday in nature, for example, a road trip enjoying the beautiful landscape of the South Island, you may have to drive for a while to go from one town to the other and enjoy the comforts of civilisation, including ATMs.
Most of them won't charge any fees to let you withdraw money, although very local ones may sometimes be an exception to the rule.
Chip and PIN, contactless, or magnetic strip and signature
Cards usually have chip and PIN in New Zealand, and contactless is also commonly used.
If your card only has the magnetic strip and no chip, you may find it difficult to have it accepted.
Is it safe to use my card in New Zealand?
New Zealand isn't known to be an especially risky place to use your credit card, but it's still worth following some basic safety rules:
Keep your card physically safe. The best way to do it is to keep it on you, preferably in a closed pocket.
Don't keep your PIN and card in the same place. Not in New Zealand, not in London and not in your hometown.
Choose your ATM wisely. Be aware of your surroundings while withdrawing cash. ATMs inside the banks are generally safer than those on the street, and you should always shield your PIN with your hand and make sure no one's watching you while you type it in.
Credit card fees in New Zealand
New Zealand is a convenient place to shop using your credit card, but you should still watch out for fees:
Foreign transaction fees. With most credit cards, you'll be charged somewhere between 1% and 3% for every non-sterling transaction, which means that the equivalent of a £200 purchase could cost you up to £6. Read the small print of your credit card's Terms and Conditions and consider getting a card that doesn't charge foreign transaction fees – there's a good range of them available on the market.
Currency conversion fees. While carrying out a transaction, you may sometimes be asked if you want it in the local currency or in pounds. The local currency is the smart choice to get a better rate, especially if you have carefully selected a card that comes with fee-free spending abroad.
Cash advance fees. Most credit card issuers will charge a fee on cash withdrawals in addition to the foreign transaction fee. Considering that, with most credit cards, cash advances start generating interest from day one, as a rule of thumb you shouldn't use your credit card to withdraw cash as it can turn out unbelievably expensive.
Merchant fees. Unlike in Europe, it isn't illegal for retailers to charge an extra fee for card payments in New Zealand. However, most don't do it, and those who do must display a sign that warns customers about it.
Here's a fairly typical section from a credit card's Terms and Conditions showing non-sterling usage fees that are pretty standard.

Additionally, you can get an idea of costs by using these online currency conversion tools from Mastercard and Visa.
What is a cash advance fee?
A cash advance fee is calculated (and charged) when you withdraw cash from your credit card. It's usually the greater of a flat fee or a percentage of the transaction. For example, "2.5% of the transaction, minimum £3.00".
Compare cards with fee-free currency conversion in New Zealand
Table: sorted by representative APR, promoted deals first
How to prepare before travelling to New Zealand
In terms of money management, your holiday to New Zealand won't require a whole lot of preparation, but there's still a couple of things worth considering in advance:
Consider travelling with more than one card. Amex is widely accepted in New Zealand, but just like in the UK, not all retailers will take it. If you want to take advantage of the rewards but also make sure you can pay by card anywhere, you may want to carry both an Amex and either a Visa or a Mastercard. You can also leave one of them in the hotel as a backup should you somehow lose the other.
Think no foreign transaction fees. Considering how expensive they can quickly turn out, it's always worth browsing for a

card that comes with no foreign transaction fees, even if you just use it for travelling.
Keep your bank informed. Some banks may block your card if they detect a transaction made very far away from home such as in New Zealand. It's worth making your card issuer aware of your travel plans, just in case.
Keep the emergency number handy. Look up which number you need to call if your card is lost or stolen and you need to have it blocked or replaced.
Also carry a bit of cash. You may not be a fan of cash, and you won't need to use loads of it in New Zealand, but it's a good idea to have some ready in case of emergency.
How to use a credit card in…
Frequently asked questions
We show offers we can track - that's not every product on the market...yet. Unless we've said otherwise, products are in no particular order. The terms "best", "top", "cheap" (and variations of these) aren't ratings, though we always explain what's great about a product when we highlight it. This is subject to our terms of use. When you make major financial decisions, consider getting independent financial advice. Always consider your own circumstances when you compare products so you get what's right for you.
More guides on Finder