Using a credit card in Malaysia
Exploring Malaysia can be incredibly cheap - more so if you carry some cash and a credit card designed for travel. Here are some tips to organise your spending money while in the country.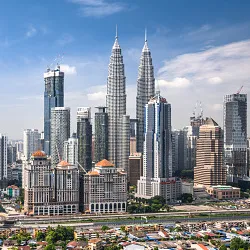 From the dizzying heights of skyscrapers in Kuala Lumpur to the idyllic beaches on the Perhentian Islands, Malaysia has a wide variety of landscapes and adventures to offer.
With more than 20 million people visiting it every year, the country is well-equipped to deal with tourists and their needs. However, when it comes to credit cards and cash, much depends on the area you find yourself in and the kind of holiday you're planning.
While main hotels and restaurants, especially in the cities, accept card payments, be prepared to use cash when paying for a taxi, getting street food or shopping for souvenirs.
The local currency is the Malaysian ringgit (it was the Malaysian dollar until 1975 and occasionally you can still hear it referred to as that). It's a non-internationalised currency – which means it cannot be traded outside Malaysia. It's thus impossible to exchange it in advance so you'll have to change your pounds once you get there.
Relying on local food stalls, shops and accommodation is an excellent way to enjoy Malaysia to the fullest and to the cheapest. However, they often don't accept credit cards, so if you're planning a trip on a budget, you'll want to carry cash pretty much everywhere.
Cash machines in Malaysia
The good news is, Malaysia has a decent network of ATMs across its territory, especially in the cities and in most tourist destinations. Plus, unlike those in other South Asian countries, they normally don't charge any fees for withdrawing money with a foreign card.
Maybank is the largest bank in the country, but If you bank with HSBC, you'll be happy to hear that it has some ATMs and branches in Malaysia too – you can find a list here.
However, ATMs aren't everywhere and don't always work. For example, Taman Negara, a vast national park in the middle of Malaysia, is a major tourist attraction but has no ATMs – perhaps unsurprisingly, considering that it's basically a huge tropical rainforest.
All in all, to avoid any nasty surprises it's best not to wait until you've spent all your cash before exchanging or withdrawing some more, and not to go anywhere without notes.
ATMs will give you the choice of who you want it to handle the currency conversion, whether the ATM's bank or yours. It's generally a good idea to refuse any currency conversion offered by the ATM as your bank at home will offer a better rate, especially if you're using a card that comes with fee-free spending abroad.
Is it safe to use my card in Malaysia?
Using your credit card at main hotels and restaurants in Malaysia is generally safe. You should be more cautious with local shops, although many of them won't accept cards anyway.
Following some basic common sense rules should be enough to grant you a worry-free vacation:
Keep your card physically safe. And your mobile phone and your wallet. Petty theft isn't unheard of in Malaysia, and local criminals know that sometimes tourists aren't especially vigilant with their possessions.
Don't keep your card and your PIN in the same place. Especially not when you're travelling in a country you don't know well. But honestly, neither should you do it while walking to your granny's house in your hometown.
Choose your ATMs wisely. It's better to get cash from those inside the banks than from those on the street. If you can't avoid them, a hand shielding your PIN while you type it in can go a long way in ensuring your card's safety.
Consider bringing two different cards. For example, you can use your debit card for your daily expenses and carry it anywhere, and leave a credit card safe in the hotel. If something happens to one of them, you'll still have the other.
Contactless and chip-and-PIN payments
In 2017, Malaysia completed the transition to chip-and-PIN payments, so transactions with the old magnetic stripe aren't really a thing anymore – which has significantly reduced the amount of credit card fraud occurring in the country.
Malaysia is also starting to offer and accept contactless payments.
Credit card fees in Malaysia
If you do decide to use your credit card during your trip to Malaysia, you may come across any of these fees:
Foreign transaction fees. Many credit cards charge a fee (between 1% and 3%) on all transactions made in any currency other than sterling. If you're planning on using your credit card quite a lot, it's worth checking whether you can get one that allows fee-free spending abroad.
Currency conversion fees. Just like with ATMs, some merchants may ask you if you want the transaction to be carried out in pounds instead of in the local currency. Even if your card does charge a foreign transaction fee, it's probably best to refuse as there could be additional fees or the currency exchange rate you'll be offered could be especially bad.
Cash advance fees. At home or abroad, you should only use your credit card to withdraw cash as a last resort. Cash advances are often charged a percentage of the transaction and usually won't enjoy any interest-free period, thus immediately starting to accrue interest at the card's standard rate.
Merchant fees. In 2018, the Malaysian central bank released a statement saying that retailers cannot surcharge customers who pay by credit or debit card. However, adding an extra 2% to the bill for card payments was somewhat of a common practice and you may still encounter it in some places.
Here's a fairly typical section from a credit card's Terms and Conditions showing non-sterling usage fees that are pretty standard.

Additionally you can get an idea of costs by using these online currency conversion tools from Mastercard and Visa.
What is a cash advance fee?
A cash advance fee is calculated (and charged) when you withdraw cash from your credit card. It's usually the greater of a flat fee or a percentage of the transaction. For example, "2.5% of the transaction, minimum £3.00".
Compare cards with fee-free currency conversion in Malaysia
Table: sorted by representative APR, promoted deals first
How to prepare before travelling to Malaysia
If you're travelling for leisure, you want to do your homework carefully so that you don't have to think about it while sunbathing on the beach. Some tips for you:
Go with Visa or Mastercard. Amex is great for rewards, but just like in the UK, not all Malaysian retailers will take it.
Think no foreign transaction fees. There are a bunch of both credit and debit cards that come with no foreign transaction fees. Most don't charge an annual fee either, so it may be worth getting one, even if just for travelling.
Keep your bank posted. Malaysia will be on many banks' lists of risky countries when it comes to fraud, so it's worth giving your bank a heads up before leaving.
Keep the emergency number handy. Know which numbers you'll need to call if you end up losing your card or if you need an emergency replacement.
Don't travel without cash. Especially if you're a Londoner, you'll be used to tapping your card everywhere, even to get £1 worth of tomatoes. But leaving with cash in your wallet is better when travelling to a country where cash is still the main payment method. You can exchange them when you arrive, although preferably not in the airport where exchange rates are typically worse.
How to use a credit card in …
Frequently asked questions
We show offers we can track - that's not every product on the market...yet. Unless we've said otherwise, products are in no particular order. The terms "best", "top", "cheap" (and variations of these) aren't ratings, though we always explain what's great about a product when we highlight it. This is subject to our terms of use. When you make major financial decisions, consider getting independent financial advice. Always consider your own circumstances when you compare products so you get what's right for you.
Related Posts