A brokerage account lets you buy and sell shares in publicly listed companies from your phone, laptop or tablet. Previously, you'd have needed a broker in order to access markets, but these days investors trade directly by opening a share trading account with an online share-trading platform. We've compiled some of the key information you need to know about trading stocks and shares, the steps involved when choosing a platform, and pulled together a list of UK brokerage accounts for you to easily compare online share-trading accounts.
All investing should be regarded as longer term. The value of your investments can go up and down, and you may get back less than you invest. Past performance is no guarantee of future results. If you're not sure which investments are right for you, please seek out a financial adviser. Capital at risk.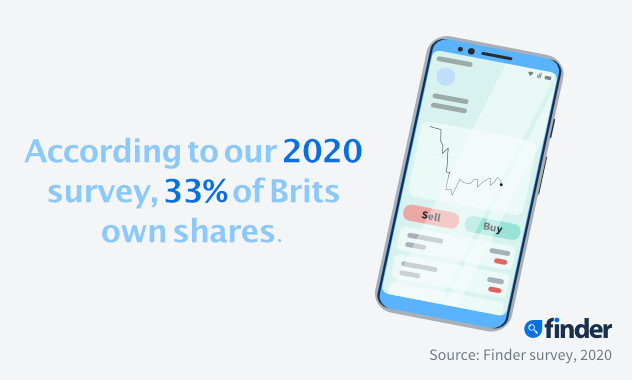 What do I need to know about online share trading?
There are some key things that you ought to know about share trading.
The difference between shares and funds. Shares are little pieces of a company, while funds are a collection of investments.
Think long term. Try to give yourself at least 5 years. This allows the market to have it's ups and downs and helps to mitigate risk.
Diversify. We go on about diversification like a broken record. You need to make sure you don't put all of your eggs in one basket and not all of your money is invested in one company.
Consider an ISA An individual savings account (ISA) is a tax wrapper for your investments and can help you invest up to £20,000 per year tax free (in the 2021/2022 tax year).
Will you receive dividends? Other than buying low and selling high, dividends are another way of making money from investing. Research the dividend yields to find out if you'll receive dividends.
Why you should consider a stocks and shares ISA
A stocks and shares ISA is a tax wrapper for investments. It makes use of your annual allowance, which means you can invest up to £20,000 in each tax year without paying a penny of capital gains tax.
It's a generous allowance, and it's unlikely that a casual investor is going to exceed it. Our research found that the average adult stocks and shares ISA has £9,331 in it.
If your investments aren't in an ISA, you'd have to pay capital gains tax on your profits over an allowance of £12,300. Of course, you might not even make profits that high, but you'd be pretty disappointed if you suddenly made a huge gain and you end up having to pay.
Most major platforms have stocks and shares ISAs, sometimes for an additional fee, but they're typically free. On our comparison table above you can look at platforms that have stocks and shares ISAs available.
How to open a share-trading account in the UK
The exact process for opening a share trading account varies depending on the trading platform you select. However, you'll generally need to complete the following steps when signing up:
Choose a broker. Research your options to find the online provider that offers all the features you want at an affordable price. Some providers also offer a choice of share trading platforms, for example a free web-based platform for casual investors and a more complicated software package with a monthly subscription fee for experienced traders.
Choose your membership level. Some providers offer a choice of membership tiers, each with a different level of features and a different ongoing fee.
Provide your details. You'll need to provide your full name and a valid form of photo ID, as well as your email address, phone number and national insurance number.
Link your bank account. You'll need to supply details of the bank account which will be used to pay for your trades and you may be required to deposit a minimum amount.
Submit your application. Your application to open a share trading account will usually be processed within 1-2 business days.
Start trading. Once your application has been approved you can login to your account and start trading.
Best trading platform for beginners: IG

Finder score
★★★★★
User survey
★★★★★
We chose the IG as our top pick because:
Invest in over 10,000 shares, funds and investment trusts.
Low costs – Zero commission on US shares, £3 on UK shares.
Support available 24 hours a day from Sunday to Friday.
Need to know: If your account is inactive for more than 24 months, you will be charged a rolling fee for account inactivity.
Read our review of IG.
Why trade shares online?
Trading shares online offers a secure and easy way to manage your investments. You can place trades at a time and place convenient to you, with the obvious benefits of dividend payments and investing for the future.
There are of course risks attached to trading shares, mainly that the value can go down as well as up, which means you can lose the money you invest. Vitally, with regular investing (that is buying stocks and shares), the value of the stocks can't go below zero, which means you can't lose more than you invest. It's important to make sure you're aware of the risks before you start trading.
There are instances where you can lose more than you invest, but these are with riskier types of trading like derivatives, which as a beginner, you'd generally want to steer clear of until you've got experience in investing and understand how they work.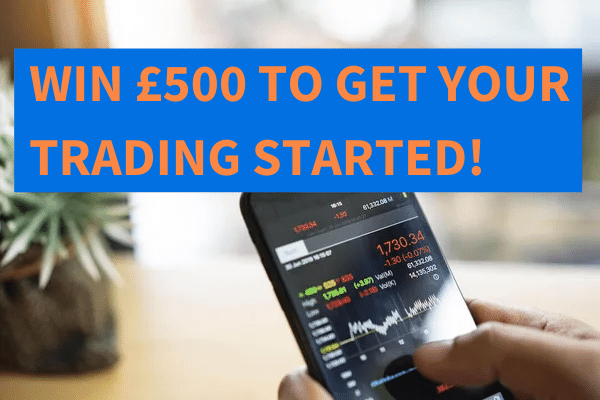 Win £500 to get your trading started
Subscribe to trending stock alerts for a chance to win
See the finder.com/uk share trading guide.
How do I choose an online share-dealing platform?
You'll need to carefully consider what you need before deciding on the right online trading platform, think about:
How much experience and knowledge have you got? Some online trading platforms are suited to beginners while others have features geared towards experienced traders, such as advanced charting tools, speedy execution of trades and live market data.
What markets do you want access to? Some share-dealing platforms only provide access to companies listed on specific exchanges, like the London Stock Exchange, or specific countries, such as all US stocks. Others will allow you to place trades on international markets.
What fees are involved?There are two main costs you need to consider when choosing a share trading platform: the brokerage fee and the platform fee. The brokerage fee applies each time you place a trade and is usually around £10-£25, but could be higher and is sometimes free. Platform fees are charged monthly and vary depending on the provider and the account features you select. They might be a percentage of the amount you have invested or be tiered flat fees. Before choosing a platform, make sure you understand the fees you're likely to pay. As Boring Money CEO Holly Mackay told Finder, "

transparency has improved a lot and some platforms are actually now quite good at being very clear on what investors will pay."

What tools do you need? From educational tutorials to research and investment advice, check what tools a platform offers to help you make informed trading decisions.
Customer service. If you ever have a problem or need help with a trade, check to make sure you will be able to access prompt and helpful customer support.
Tips for new investors when choosing a brokerage account
Hargreaves Lansdown's Sophie Lund-Yates shares her advice for new investors looking to join the stock market.
Bottom line
Opening a share trading account is easy, and it's the first step to investing in stocks and shares and making your savings work a little harder. It's worth taking the time to read up on the basics, such as how to buy a share, what dividend stocks are and what on earth an exchange traded fund (ETF) is.
If you're not quite sure that you want to be in control of choosing specific investments just yet, a lot of people start with a robo-advisor. These invest on your behalf with fully managed ready made portfolios for you to choose between. It's a nice way of getting your feet wet before diving in!
Compare the UK's leading trading platforms
Table: sorted by promoted deals first
Frequently asked questions