Fidelity International review
You can start investing from £50 with Fidelity in a stocks and shares ISA, pension or a general investment account.
Finder rating
★★★★★
Expert analysis
Customer rating
★★★★★
Satisfaction survey
Tools for account management and analysis
High fees
Fidelity is a popular investment platform that offers both share dealing and a range of ready-made portfolios. It has a simple and easy-to-use platform, which is why we named it as one of the best trading apps of 2021 for ease of use. Find out what we thought of Fidelity, what products it's got on offer and some pros and cons of Fidelity.
What is Fidelity?
Fidelity is an established investment platform with total client assets of US$584 million. It is one of the UK's largest money managers. You can invest in a huge number of funds, trusts and shares, which we detail below.
What products does Fidelity offer?
Individual savings accounts (ISAs)
General investment accounts
Self-invested personal pensions (SIPP)
Junior ISAs
Junior SIPPs
Fidelity ISAs
The Fidelity ISA lets you invest tax-free within your annual allowance. The ISA allowance for the 2022/2023 tax year is £20,000. This means that you can invest up to this amount without incurring any capital gains tax.
Features of the Fidelity ISA include:
Use your ISA allowance
Start from £50
Thousands of funds to choose from
Get expert guidance on your investments
General investment account
Fidelity's general investment account allows you to invest outside of your annual ISA allowance. People usually go for this option if they have used their ISA allowance already. You may need to pay capital gains tax on any profit you make from your investments.
What is capital gains tax?
Capital gains tax is a tax you pay on your profits. You have a capital gains tax allowance of £12,300 in each tax year. The tax is dependent on the gains you make, not the value of your investments.
Features of the Fidelity general investment account include:
Start from £50
Thousands of funds and shares to choose from
Expert guidance on your investments
Self-invested personal pension (SIPP)
The self-invested personal pension gives you the chance to save up for your retirement with tax benefits. You can choose what you want your pension invested in and can contribute in lump sums or with regular savings.
Features of the Fidelity SIPP include:
Start with £40
HMRC will add 25% to each payment
Thousands of funds to choose from
Get expert guidance on your investments
Flexible retirement options when you need to take your pension
Junior ISA (JISA)
With the junior ISA, you can kick-start your savings for your child's future, tax-free. The JISA works the same as the stocks and shares ISA, except the allowance for the 2022/2023 tax year is £9,000.
Features of the Fidelity JISA include:
Invest tax-free within the annual allowance
Control over the ISA automatically passes to the child when they turn 18
Start with £50
Friends and family can add money too
Thousands of funds and shares to invest in
Expert guidance on your investments
Junior SIPP
If you're super organised, you can start investing now for your child's retirement with the junior self-invested personal pension (SIPP). All contributions are tax-free up to the allowance for the 2022/2023 tax year.
Features include:
Start with £40
The government will add 25% to each payment
Friends and family can add money
Thousands of funds to choose from
Expert guidance on your investments
What can I invest in with Fidelity?
Types of investments with Fidelity
PathFinder
PathFinder is a collection of ready-made portfolios that might be suitable for you if you're not sure what you want to invest in. It will choose a fund for you based on your "risk preference". This is determined with a small quiz that asks you about your understanding of investments, how you feel about risk and your financial background.
There are two types of funds that you can invest in with PathFinder: "growth funds" and "income funds".
Growth funds
Growth funds use a risk calculator and a handy tool to work out how much your investments are likely to grow over time. You can play around with the calculator to work out how cautious or adventurous you want to be, and how this impacts your investments. Once you've decided which one you want, you have the option between an "Expert Focus" fund and a "Cost Focus" fund.
Income funds
Income funds aim to generate a steady income on your investment of between 4% and 6%.
There are three different income fund options: Defensive/Cautious Income, Balanced Income and Income and Growth.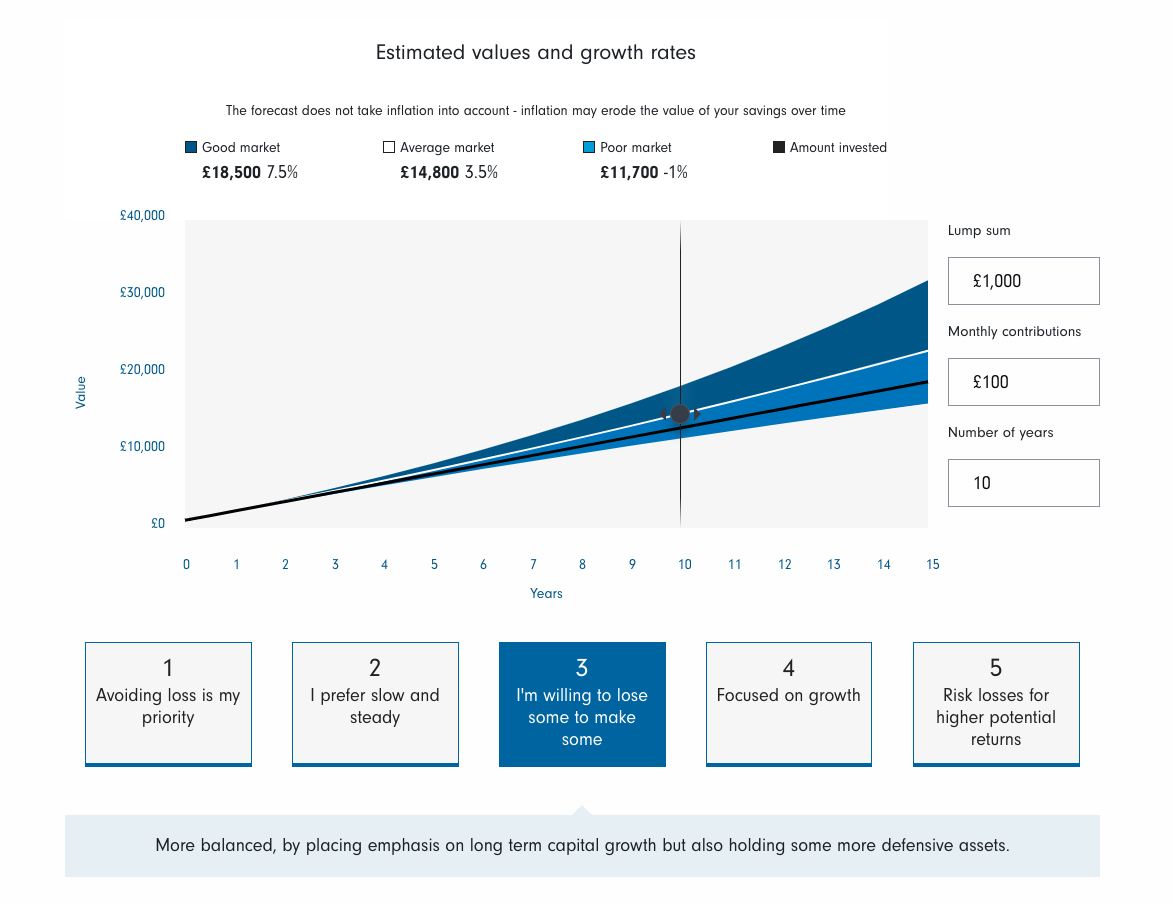 Select 50
Select 50 is a selection of, you guessed it, 50 of Fidelity's favourite funds. It aims to take some of the overwhelm out of choosing funds to invest in – as there are thousands to choose from – by showing you funds that have the most potential to outperform in the market area.
Fidelity has analysts that narrow down the funds and measure them based on a range of metrics to get to the select 50.
You can view them all in a list, along with yields, charges and ratings, on the Fidelity website.
Investment Finder
The Investment Finder lets you sort through the funds and shares that you can invest in with Fidelity. You can choose between funds, shares, exchange traded funds and investment trusts, and filter them based on your preferences.
Fidelity guidance and tools
Fidelity offers plenty of guidance to help you make investment decisions in the form of calculators, guides, videos and reviews. These aim to give you more insight into investing so that you make the right financial decisions for yourself. It's always a good idea to do a bit of research before trying anything risky – after all, you'd rather find out with a bit of research that you need a harness when bungee jumping rather than learn the hard way.
It's definitely worth taking a look at the calculators, as they can estimate the movements of your investments to see if you're likely to reach your goal within your estimated timeframe.
Is Fidelity safe?
Fidelity is authorised and regulated by the Financial Conduct Authority (FCA) which requires it to have appropriate systems and procedures when managing the business. It separates client money from its own money, so your investment will not be used to pay for Fidelity's business activities.
Your money is also protected by the Financial Services Compensation Scheme, which will cover up to £85,000 of investments if Fidelity were to become insolvent.
Pros and cons of Fidelity
Pros
The platform is clear and easy to use
Plenty of choices when it comes to where your money is invested
Guidance and tools available to help you
Fidelity customer reviews
Fidelity's customers find its platform really easy to use and that it has a range of products suitable for a variety of different needs. Customers praise its straightforward products and helpful and friendly customer service.
Some customers complain that its fees can be quite high.
Our verdict
On the whole, Fidelity has plenty of products and options available whether you are an experienced investor or are just starting out. PathFinder is a nice option for those who don't really know what they want to invest in.
Fidelity's guidance and tools allow you to learn more about investment instead of diving in at the deep end. This is great, as you get the chance to find out more about what investing is and what you can get out of it.
Get started by visiting Fidelity and opening an account. Still not sure? Compare all platforms with our comparison table.
Frequently asked questions
Share dealing platform ratings
Our customer satisfaction scores ("Customers say") are based on a survey of 753 customers carried out in December 2021.
All investing should be regarded as longer term. The value of your investments can go up and down, and you may get back less than you invest. Past performance is no guarantee of future results. If you're not sure which investments are right for you, please seek out a financial adviser. Capital at risk.