Finder is committed to editorial independence. While we receive compensation when you click links to partners, they do not influence our content.
TickledPet discount codes
TickledPet treats are simple because your dog doesn't need preservatives.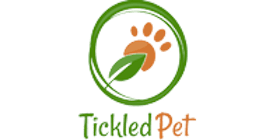 Your dog isn't just a pet, he's a member of the family. At TickledPet, your dog is treated with the love and consideration they deserve, with products designed with animals in mind, from start to finish.
TickledPet discount and coupon codes
It looks like we don't have any coupons at the moment.
How do I use my coupon code?
To use your TickledPet coupon code, follow these steps.
Visit the TickledPet website.
Add the items you'd like to buy to your cart.
Click Checkout to continue.
Enter your promo code in the Discount box.
Click Apply. Make sure your total is correct before completing your purchase.
Why is my code not working?
If the site doesn't accept your discount, your promo code could be expired, not available in your country or case-sensitive. If you have questions about your promo code, contact TickledPet directly.
What is TickledPet?
TickledPet is a pet care brand that was founded in 2014 with a goal to treat dogs right. Inspired by their grandmother who owned a pet store in the 1960s, grandsons decided to start an all natural dog-treat brand that gave a healthy option for dog owners.
Ticked Pet strives to provide high quality treats for your dogs, made of only the best ingredients. The company is committed to single ingredient recipes so you know exactly what you're getting. It even offers an empty-bag guarantee: if your pet won't eat the whole bag, TickledPet will refund your money.
What can I buy at TickledPet?
You can buy dog treats and care products at TickledPet. You'll find a variety of beef, fish and vegetarian treats along with supplements like Wild Alaskan Salmon oil for healthy fats in your dog's diet.
TickledPet also offers a treat box subscription for $49, delivered to your door monthly. When you sign up for a six-month subscription, your first box is free. TickledPet promises that each box contains at least $90 worth of delicious, high-quality treats.
You can also pick up natural flea and tick control spray and lavender scented doo-doo bags.
Delivery and shipping
Shipping
TickledPet offers three shipping speeds to all states but Alaska, Hawaii and the US territories — expect to pay from $5 to $75 for ground shipping only.
| Ground shipping | Expedited 2 day | Express overnight |
| --- | --- | --- |
| Less than $14 = $2.50 | Less than $19.99 = $20 | Less than $19.99 = $30 |
| $14.01–$24.99 = $5 | $20–$49.99 = $27 | $20–$49.99 = $45 |
| $25–$48.99 = $7.50 | $50-$110.99 = $32 | $50–$110.99 = $55 |
| $49+ Free | $111+ $40 | $111+ $65 |
Payment
Pay for your TickledPet order on its secure website using PayPal, Amazon Pay, Visa, Discover, Mastercard or American Express.
Returns and refunds
TickledPet has an empty bag guarantee: If your pet doesn't eat every treat in the bag, you'll get a full refund, except shipping costs.
It also accepts returns of all its products within 30 days. Contact the customer service team at info@tickledpet.com and TickledPet will send you a free return shipping label and process your return within two weeks.
Returns after 30 days are up to the discretion of TickledPet.
When's the next sale?
Sign up for emails from TickledPet to stay up-to-date on all the latest sales. You could also like them on Facebook.
You can always save money by signing up for its subscription service. If you subscribe to the monthly treat box for six months, your first month is free. Or set up subscription delivery of any tasty TickledPet treat and get 20% off your first order and 10% off future deliveries.
You can also save money by referring a friend! You'll get 10% off your next purchase the first time your friend buys something.
What sets this brand apart?
TickledPet cares about your pet and will treat them like a real part of the family. It strives to make only the highest quality products and to produce treats that are free of unnecessary fillers and preservatives.
Pros and cons
Pros
Empty bag guarantee. If your pet doesn't eat every treat in the bag, TickledPet will refund your money.
One ingredient treats. You'll know exactly what you're giving your pets.
Free returns. Return shipping is free if you're unsatisfied with any product.
Cons
Limited selection. Only a few choices are available for treats and pet supplies.
Complicated shipping costs. Shipping costs are convoluted and confusing.
Bottom line
TickledPet is the place to get simple, wholesome treats that your furry friend will love. The company is committed to your satisfaction and has a generous return policy, and it's committed to making high-quality treats for your pet.
Frequently asked questions
What kind of pets are the treats designed for?
These treats are designed for dogs.
Where are the treats made?
99% of TickledPet treats are made in the US.
How are the treats different than other brands?
TickledPet treats are made with the best grade-A ingredients.
More guides on Finder