Finder is committed to editorial independence. While we receive compensation when you click links to partners, they do not influence our opinions or reviews. Learn how we make money.
Manage your transactions abroad with a foreign currency account
Keep track of worldwide financial obligations from one place.
If you often make payments overseas, today's online money specialists can help you keep on top of your business overseas or take care of family members back home from one flexible account. These foreign currency accounts aren't just about helping you manage your finances — you'll also save time and money with streamlined transactions.
What is a foreign currency account?
A foreign currency account, also called multicurrency or borderless account, is a type of account that allows you to send and receive funds in multiple foreign currencies, potentially changing your current way of conducting international business. Through these borderless accounts, funds are either exchanged into US dollars or held in the currency of the transaction until you're ready to exchange them.
You can use a foreign currency account for business and personal needs. And depending on the account, your balance may even earn you interest.
An international bank like Citibank or HSBC may allow you to deposit and withdraw money from your foreign currency account at a branch or online. Some only offer major currencies — dollars, pounds and yen, for example — for withdrawal at a branch.
A foreign currency CDs is a specific type of investment product through which you can invest in foreign currencies from a US-based account. Experienced investors will also find forex trading tools that simplify buying and selling foreign currencies.
How does a foreign currency account work?
Your typical bank account generally converts money to and from US dollars for transactions in foreign currencies. A foreign currency account, however, allows you to send and receive funds in multiple currencies. You save time with a streamlined transaction and money by avoiding the high fees that come with conversions. And you won't need to worry about short-term currency fluctuations affecting your bottom line.
The ability to switch among currencies helps you to take advantage of strong exchange rates and send money overseas without the extra charges you'd typically pay for wire or bank-to-bank transfers.
Currencies typically accepted into a foreign currency account include:
US dollars (USD)
Australian dollars (AUD)
Great Britain pound sterling (GBP)
Euro (EUR)
Hong Kong dollars (HKD)
Canadian dollars (CAD)
Japanese yen (JPY)
New Zealand dollars (NZD)
Singapore dollars (SGD)
Renminbi (RMB), though currency restrictions often apply
Back to top
Case Study: Matt conducts business through his foreign currency account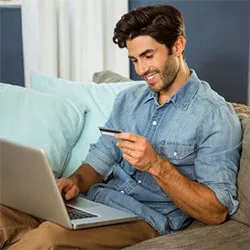 Matt buys products from China to sells to his customers in North America. Without a foreign currency account, he converted US dollars into Chinese renminbi when purchasing items from suppliers and then converted Canadian dollars or Mexican pesos to US dollars when receiving payments from customers.
The process not only took time for banks to move his money and fees per transaction, but also introduced the risk of losing his hard-earned profits to exchange rate fluctuations when converting across currencies.
Today, his foreign currency account integrates the ability to send and receive money in the currencies he frequently conducts business in. He can buy from suppliers using Chinese renminbi and receive payments from customers in their own currencies directly into his US-based bank account. When the exchange rate is strong, he converts the foreign currencies in his account to US dollars quickly and affordably.
Back to top
What are the pros and cons of a foreign currency account?
Convenient borderless accounts can save you time and money, but they aren't without risks. Protect yourself by watching out for these pros and cons:
Pros
Hold multiple currencies. Send and receive funds in different currencies while avoiding an exchange between them. If you deal in minor or exotic foreign currencies, look into international money transfer specialists that accept a wider range of less common transactions.
Leverage exchange rates. Most accounts let you switch among currencies to take advantage of strong exchange rates, which can keep a ton of money in your pocket if you conduct large business transactions.
Earn interest on your currencies. Many foreign currency accounts pay you interest on select currencies. Interest is typically offered in tiers, with better rates going to larger balances.
Avoidable monthly fees. Depending on your business, some institutions may waive maintenance and other fees on your foreign currency accounts.
Overdraft protection. If you're unsure of the timing of your foreign currency payments, many banks allow you to go into a temporary deficit on specific currencies. Although you may be on the hook for fees.
Cons
Miscellaneous fees. You can expect to be charged special cash handling and overdraft fees on some of your transactions. Find the lowest fees you're eligible for when deciding on an account.
High minimums. Your bank may require a daily minimum before hitting you with high fees. HSBC and other international banks don't require minimums, however.
Low interest. If your account offers interest, don't expect the rate to be as high as your standard savings account. Foreign currency accounts are notorious for low interest rates.
Currency value changes. The value of your money fluctuates constantly. A sudden rise or fall affects the total balance of your foreign currency account.
Editor's pick: TransferWise Borderless Account
Editor's pick: TransferWise Borderless Account
Send and receive 40+ currencies right from your phone, but with a better exchange rate and low fees.
Free ATM withdrawals up to $250 every 30 days
Hold multiple currencies in one account
Send money overseas
How do I compare foreign currency accounts?
Find a foreign currency account that's flexible enough for your needs by comparing accounts across multiple banks. Weigh factors among them that include:
Supported currencies. Many banks support at least a handful of major currencies, but make sure those you frequently conduct business in are accepted.
Account minimum. Some banks require a minimum monthly account balance. Find one that matches your cash flow to avoid high fees and penalties.
Account fees. Ask for a complete list of fees to avoid the surprise of a high maintenance fee each month on your account. Look also for processing or handling fees on specific currencies and transactions.
Currency conversion charges. In addition to exchange rate differences, your bank might charging a fee each time you convert your money into another currency.
Transfer amounts. Transaction limitations vary by bank, but you'll want to make sure your account can handle payment amounts typical for your business — minimums and maximums.
Turnaround speed. Before choosing an account, learn how long the typical transaction takes between your home bank and accounts overseas.
Flexibility and support. Select foreign currency accounts allow for transfers, deposits and withdrawals over the phone, online or at a branch. Ask about fees related to each option.
Back to top
What fees can I expect?
A borderless account can come with monthly, maintenance and transaction fees that can quickly eat into your balance. Shop around for a bank and account that minimizes such charges as:
Deposit or withdrawal fees. Many banks offer unlimited deposits or allow a set number of fee-free withdrawals monthly.
Monthly service charges. If you can't find an account with no service fees, look for one that waives fees with high balances. And make sure that balance meets your business's needs.
Transaction fees. Many international banks have worldwide partnerships that can minimize how much you're charged for each transaction.
Cash-handling fees. Some banks limit how much you can deposit to your account within a specified period. If you exceed this limit, you're charged a fee to process future deposits.
Overdraft fees. Like typical bank accounts, you could pay overdraft fees if your account balance dips below zero.
When comparing accounts, know roughly how many transactions you expect to conduct through your account. Many accounts offer free unlimited deposits for high numbers of transactions monthly.
Back to top
How do I open a foreign currency account?
Signing up for a foreign currency account isn't much different from opening any other type of bank account. You'll need your basic personal and financial information, along with the standard forms of government-issued ID.
Focus on banks that offer foreign currency accounts, like:
East West Bank
HSBC
First Republic Bank
Citizens Bank
Citibank
Union Bank
You may be able to start the process of opening an account online. If not, call a representative to get started.
Compare with money transfer services
Use the currency transfer calculator below by entering the amount you want to send and choose the currency you are sending to.
Bottom line
If you make transactions in other currencies on a regular basis, a borderless account can help save time and money. Whether it's for personal or business purposes, this type of account can allow you to manage multiple currencies, get better exchange rates and streamline the process of sending and receiving money. Foreign transaction accounts are available from many large banks; just make sure to be aware of any fees before you sign up.
Frequently asked questions
Picture: Shutterstock
Read more on this topic