Finder is committed to editorial independence. While we receive compensation when you click links to partners, they do not influence our opinions or reviews. Learn how we make money.
New York Life insurance review 2020
This secure provider boasts perfect ratings from all four major rating agencies.
finder.com's rating: 4.0 / 5.0
★★★★★
Get a quote if you want comprehensive coverage with many riders.
Choose a different provider if you want to get a quote online.
Yes
Medical Exam Required
Details
| | |
| --- | --- |
| Free quote | Phone |
| Policy options | Term, whole, universal, variable, long term care |
| Term lengths | 10, 15, 20 years |
| Monthly cost | N/A |
| Claim methods | Online, Phone |
| Ratings | A.M. Best: A++ |
| Available states | All 50 states and DC |
| Customer support | Phone, Email |
| Riders | Accidental death benefit, children, chronic care, disability waiver of premium, estate protection, guaranteed minimum accumulation benefit, guaranteed minimum death benefit, level first-to-die, living benefits, overloan protection, spouse's paid-up insurance purchase option |
Expert review
Review by
julia.cameron@findercrew.com
---
Julia Cameron is a writer and editor who has experience in finance, mergers and acquisitions, content marketing and immigration law. She has a passion for interior design and an affinity for Old Florida, where she lives with her family.
Expert review
New York Life is an industry giant with a strong lineup of life insurance policies. The prices are competitive and coverage is comprehensive, which makes it easy to find a policy that's tailored to your needs.
That being said, you can't apply for a policy online, and term life policies only stretch as far as 20 years.
What types of life insurance coverage does New York Life offer?
This company offers term, whole and universal life insurance policies, each with adjustable options and a selection of riders.
Term life insurance is New York Life's most simple and affordable policy option. These plans offer coverage for a set time and a fixed death benefit payout, making them ideal for covering expenses like a mortgage or the cost of education.
Yearly Convertible Term. These policies are renewable each year with terms of 10, 15 or 20 years and don't require health information, and they can be converted to permanent coverage. The premiums are not fixed, so each year the annual price increases a guaranteed amount for 10 years. After that, the policy can be renewed. Premiums on the renewed policy are higher because they're based on your age at the start of the renewal period.
Level Premium Convertible Term. These policies are available with terms of 10 to 20 years. There's a fixed premium for the length of the term. If you're on a fixed budget or need a fixed term, this could be a good option. The policy is convertible to whole life at any point during the first 10 years, without medical workup.
Whole life insurance is New York Life's most affordable permanent life insurance option, which offers level premiums for lifetime coverage and cash value accumulation. As long as your premiums are up to date, the benefit amount grows over time. As a whole life insurance policyholder, that qualifies you to receiver yearly dividends based on New York Life's annual profits.
Cash value growth and the death benefit payout are tax-deferred, meaning both the policyholder and beneficiary won't pay taxes. You can also borrow from the cash value of your policy, which doesn't affect the death benefit amount as long as the loan and interest are repaid.
New York Life's universal life insurance is a more flexible permanent life insurance policy that offers a greater potential for cash value accumulation. While rates are generally higher than whole life insurance, premium amounts and payment schedules are both adjustable.
The cash value of your policy grows tax-deferred and offers a tax-free death benefit payout to your beneficiaries. You also have the option to borrow from the value of your policy, and as long as your loan and interest payments are repaid, the death benefit amount is unaffected.
Variable universal life insurance is New York Life's option that puts the biggest emphasis on investments. These policies offer similar coverage to the standard universal life insurance policies, but with even greater flexibility.
Payment amounts and schedules are flexible, as are your investment options. Part of your premiums go toward a guaranteed minimum death benefit, and the rest is allocated to investment options that you choose. This flexibility creates an even greater potential for cash value growth, but increased risk from market fluctuations.
What riders can I add to my life insurance policy?
Standard policies typically don't extend into protection beyond the benefit you signed up for. To protect yourself in the event of a disability or long-term care, you will need to purchase a rider for additional coverage.
To expand your coverage, New York Life offers a handful of riders that vary by policy, but include:
Accidental death benefit rider. If you die as a result of an accidental injury, your beneficiaries can get a death benefit equal to the amount of the policy up to a maximum of $300,000 within 12 months of the accident.
Children's insurance rider. Extends your level term insurance to cover a child in your home. An upgrade to permanent life insurance is available when the child reaches age 25, the insurer reaches age 65 or when the child marries, whichever comes first.
Chronic care rider. A tax-free portion of your base policy benefits is paid out if you become terminally ill. Payment can be spread over a period of 25, 50 or 100 months.
Disability waiver of premium rider. Should you become completely disabled for six months or more, this rider waives your policy premiums through the maturity of the policy through age 100. This rider can be added later, but you'll have to go through underwriting again.
Estate protection. This rider pays an additional death benefit if both insureds die before the fourth anniversary of your policy.
Guaranteed minimum accumulation benefit (GMAB). Provides a minimum guaranteed return on the performance of GMAB Investment Divisions.
Guaranteed minimum death benefit. This rider guarantees death benefit no matter how the market is performing, as long as you meet the required premium and don't violate the loan requirements.
Level first-to-die term rider. Provides a level term face amount and pays a death benefit when one policy-holder dies.
Living benefits rider. Access a portion of your death benefit if you've been diagnosed with a terminal illness. You'll pay a fee once you use this rider.
Overloan protection rider.If you've taken a loan against your policy, this rider protects you from a lapse in your policy due to outstanding or significant loans.
Spouse's paid-up insurance purchase option (SPPO). This rider gives your spouse the right to purchase a new paid-up life insurance policy without providing evidence of insurability.
How can I get a low rate?
Like most providers, New York Life determines your rate based on your health and lifestyle. It's tough to estimate what your rate will be, but living a healthy lifestyle is the best way to get the lowest insurance premiums. Here are the requirements for New York Life's best rate class:
Cholesterol. Maximum of 250 with a maximum HDL of 4.5.
Blood pressure. Maximum of 130/80 for ages 18 to 59, and a maximum of 140/85 for ages 60 to 69.
Nicotine. No nicotine use of any kind within the last five years.
Driving record. Two or less moving violations in past two years; no DWI or DUI in last five years.
Family history. No cardiovascular disease in parents or siblings before age 60.
Pros and cons of New York Life
New York Life has a great reputation and an even better product lineup, but there are a few areas that could use improvement.
Pros
Financially sound. New York Life is one of the few life insurance providers to receive perfect financial ratings ensuring that it's able to fulfill its debt obligations.
Learning center. A variety of learning materials are available on the website to help you decide on the best policy to fit your needs and situation.
Vast selection of riders. Different riders to give more comprehensive coverage.
Flexible term lengths. Term life policies are based on one-year renewal periods rather than five-year. Although the premiums increase at time of renewal, they can be good for flexible planning.
Cons
Short term policies. Most providers offer term life insurance up to 30 or 35 years. Unfortunately, New York Life's term policies are only available for a maximum of 20 years.
Frustrating website. The website is not as straightforward as it could be, making it difficult to find its product lineup and individual policy features.
No online quote. You can input your information online, but have to contact a representative for pricing information.
No mobile app. Keeping up with your insurance details on the go isn't easy with New York Life.
Compare alternatives to New York Life
New York Life reviews and complaints
New York Life has the highest possible financial strength ratings from all four major ratings agencies. This means that you can be confident that this company is able to pay its claims.
| | |
| --- | --- |
| A.M. Best | A++ (superior) |
| S&P | AA+ |
| Moody's | Aaa |
| Fitch | AAA |
While New York Life is not accredited by the Better Business Bureau (BBB), it does hold an A- rating on the official BBB website and a 7.4 out of 10 rating on TrustPilot. Customers seem satisfied with its service, but as with any life insurance provider, there are a few negative reviews from customers. Most of these complaints express frustration with the claims process or having claims paid on time, but there are plenty of positive reviews as well.
How does New York Life protect my data?
New York Life collects your personal data in order to service your account or provide personalized services. It will never share your health information with third parties.
Your information is protected through physical, electronic and procedural safeguards. New York life also regularly updates and improves its security standards, procedures and technology.
How do I sign up?
You can't get a quote or apply online. You must speak with an agent.
To have an agent contact you, click Get started now on New York Life's homepage.
You'll be taken to a page where you can provide your contact information, including name, address, phone number, birthdate and email address. Enter your info and click Submit.
An agent will contact you with a couple business days to discuss options.
About New York Life
Providing insurance since 1845, New York Life is one of the largest mutual life insurance companies in the US, which means that it's owned entirely by its policyholders. Its savvy business practices cemented its place as a financially secure insurance provider, amplified by its outstanding ratings from Standard & Poor's, A.M. Best, Moody's and Fitch.
Ranked 65 on the Forbes Top 100 list, this provider aims to do right by its customers and policyholders, offering an extensive learning center to empower customers to make responsible financial decisions. More importantly, it offers a strong lineup of life insurance policies with adjustable options and riders.
New York Life specializes in life insurance, but also offers a selection of other financial products, including:
Survivorship life insurance
Annuities
Mutual funds
Retirement plans
Long-term care plans
While New York Life is an industry leader, it has its limitations. If you need a longer term life policy or would rather not pick up the phone to apply for coverage, compare life insurance providers.
How do I file an insurance claim with New York Life?
To file a claim with New York Life, you can call an agent at 800-695-9873 weekdays from 8 a.m. to 6 p.m. Eastern time.
You can also visit the claims page on the New York Life website to start the process by inputting information about the policyholder and your contact information.
1. Visit the New York Life website.
2. Click My Account at the top of the homepage.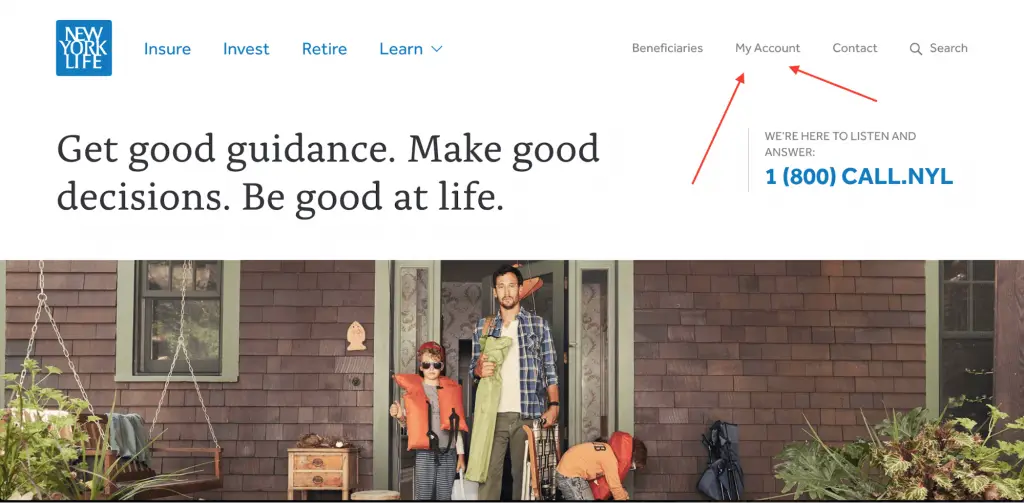 3. Click Report a Death under the "Quicklinks" section on the right.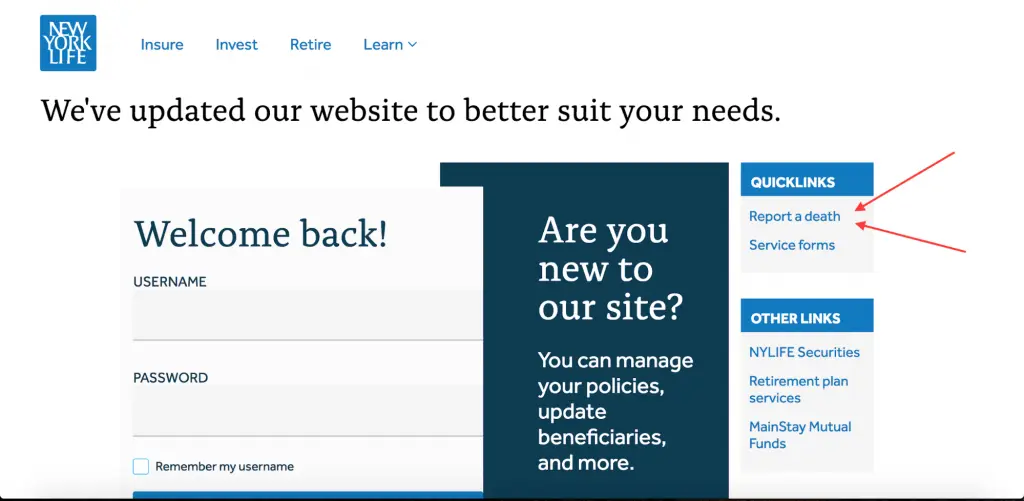 4. Fill out all of the required information, then click Submit. A New York Life agent will follow up within one business day.
Find a life insurance policy today
Use our magical comparison tool to find the best rates in your area.
Your information is secure.
Frequently asked questions about New York Life
Life insurance ratings
★★★★★ — Excellent
★★★★★ — Good
★★★★★ — Average
★★★★★ — Subpar
★★★★★ — Poor
Our experts analyze life insurance companies to help you to find the strongest possible policy and premium for your family's needs. We assess their financial strength, customer satisfaction, policy features and riders. We then give each insurer a score between one and five stars that reflects their offering and reputation in the industry.