Finder is committed to editorial independence. While we receive compensation when you click links to partners, they do not influence our opinions or reviews. Learn how we make money.
Midland National life insurance review 2020
It offers term and universal life policies, but you may want to read their privacy policy before getting a quote.
finder.com's rating: 3.5 / 5
★★★★★
Get a quote if… You want an agent's help finding a policy. Midland National's agents help find policies for retirement security and coverage for serious illness.
Pick something else if… You're hoping for a one-and-done digital experience. Its website isn't designed to provide you with all the necessary product info. If you want to pick up a policy quickly without the help of an agent, you may need to look elsewhere.
$100,000 to $5,000,000
Coverage
Depends on policy
Medical Exam Required
Details
| | |
| --- | --- |
| Free quote | Online, Phone |
| Policy options | Term, Universal, Guaranteed universal, Indexed universal |
| Term lengths | 10, 15, 20 or 30 years |
| Monthly cost | $18.04/$20.68 |
| Claim methods | Online, Phone |
| Available states | Nationwide |
| Customer support | Customer support number: 800-923-3223 Email: LifeCorrespondence@sfgmembers.com |
| Riders | Accelerated death benefit rider |
Expert review
Review by
amy.stoltenberg@findercrew.com
---
Amy Stoltenberg writes about lifestyle and money for Finder, researching the best options for shopping, banking, insurance and authentic travel experiences. After studying writing and fashion at Savannah College of Art and Design, she worked designing apparel at a corporate behemoth before opting for a career with unlimited travel time. When her laptop's closed, she can be found wandering the streets looking for happy hour and hole-in-the-wall eateries.
Expert review
Midland National's life insurance products are designed to fit into a solid financial plan. The insurer pairs you with a local agent for tailored service and offers online quotes for term life insurance. But if you're uncomfortable with your personal details — like your Social Security Number — being shared with affiliates, you might want to look to another provider.
What type of life insurance does Midland National offer?
Midland National's policies run the gamut of typical life insurance offerings and include:
Term
Coverage that has a set beginning and end. A predetermined benefit amount only pays out if you die before the policy ends. It's the most affordable option and you can choose the payout based on the financial needs of your beneficiaries.
Universal life
Protection lasts for life, and the cash you pay toward the policy can earn interest at a declared, fixed rate over time — after first clearing insurance and account maintenance fees.
Guaranteed universal life
Fixed premiums and a benefit amount that lasts for the long haul. But monthly payments tend to be more expensive than in term, and cash paid toward premiums doesn't earn interest.
Indexed universal life
Your long-term cash value is linked to a stock market index so it can grow over time. Plus, you can withdraw money along the way to help fund life expenses. Note that premiums are high for this type of coverage.
What riders can I add to my life insurance policy?
Midland National offers an accelerated death benefit rider, which gives you access to parts of the death benefit while you're still alive in case you're diagnosed with a terminal illness.
How much does Midland National life insurance cost?
The cost of a monthly premium from Midland National will be determined by your age, gender, health, location, policy type and other details. Here's an idea of what basic term coverage with Midland National could be:
Monthly cost of $500,000 term life insurance coverage
| Term length* | 34-year-old female, nonsmoker, living in Illinois | 34-year-old male, nonsmoker, living in Illinois |
| --- | --- | --- |
| 10 years | $18.04 | $20.68 |
| 15 years | $21.56 | $36.96 |
| 20 years | $25.96 | $45.32 |
| 30 years | $40.04 | $77.44 |
*Coverage will likely be more expensive for a universal or whole policy, and overall cost increases as you age.
Pros and cons of Midland National Life Insurance Company
Initially founded as Dakota Mutual Life Insurance Company, Midland National has been focused on selling life insurance since 1906 and has a solid reputation overall. That said, you'll still want to weigh the benefits and drawbacks before committing.
Pros
Rock solid reputation. Midland National's A+ Superior rating from A.M. Best and Fitch speaks to its financial security.
Solution-focused financial planning. Midland National targets four common quandaries: beneficiary protection, risk of serious illness, retirement planning and opportunity risk.
Personalized agent assistance. You'll be matched with an agent who'll walk you through the process to find a plan that matches your situation.
Cons
No online quotes for whole coverage. Its website only offers term life insurance quotes, so if you're shopping for lifelong protection, you'll need to dig deeper and talk to an agent to get an idea of cost.
Limited customer service. There's no online chat option and you can only talk to an agent during business hours.
Shares your personal info. Midland National shares details like your Social Security number and work history, so you could get solicitation emails, phone calls and mail from its affiliates.
Compare other life insurance companies
Midland National Life reviews and complaints
It's been accredited by the BBB since 2017, where it has an A+ rating. Only five customer reviews average out to 3 stars, but Midland National has responded to each complaint, offering assistance and answers where applicable.
It ranked 15th on J.D. Power's 2018 U.S. Life Insurance Study in overall customer satisfaction, beneath industry giants like State Farm and Prudential. Additionally, J.D. Power labeled its service as "the rest," its lowest rating.
Still, the National Association of Insurance Commissioners reports that Midland National has a 0.29 complaint ratio score. Compared to the national median of 1, it has less complaints overall.
How does Midland National protect my data?
Midland National follows federal law to guard your personal data and has physical and electronic safeguards in place to block unauthorized eyes. It's website is secured by a valid SSL certificate.
However, Midland National's privacy statement says that it shares your personal data like your Social Security number, employment and checking account details for everyday business transactions and managing your policy. It also uses your data for marketing purposes and shares your info with its affiliates, other companies and the credit bureaus.
This means that you can expect solicitation emails, phone calls and mail from other companies after you sign up with Midland National.
How do I sign up?
You can't initiate a policy online. Your first steps will be to get in touch with an agent who can help. Here's what to do:
Go to the Midland National website and click Life Insurance.
The landing page asks, "What keeps you up at night?" Answer the question by choosing either Life insurance gap, Serious illness risk, Retirement gap or Opportunity risk.
Next, you'll see which life insurance products Midland National suggests. Toggle to find the one you want, scroll to the bottom of the page and click Find a financial professional.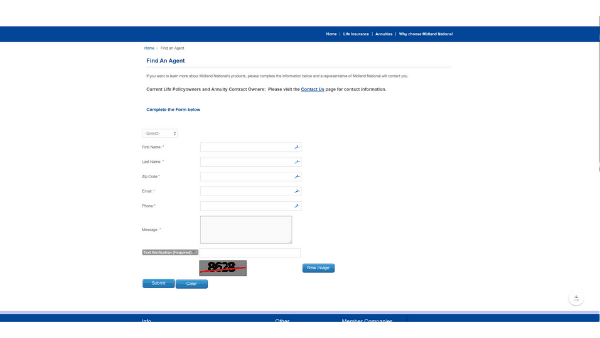 I've signed up. What happens next?
You'll send Midland National some personal information such as name, ZIP code and contact info. It will then match you with an agent who will contact you about moving forward with a policy.
More about Midland National
Headquartered in West Des Moines, IA, Midland National was founded in 1906 as Dakota Mutual Life Insurance Co. It offers insurance to residents of every state except New York and is owned by Sammons Financial Group. Midland National sells fixed annuities in addition to life insurance, which provide income streams for retired individuals in the sunset years.
If you want to apply for a whole life policy online or keep your personal information completely private, it's worth comparing life insurance providers.
Frequently asked questions
Life insurance ratings
★★★★★ — Excellent
★★★★★ — Good
★★★★★ — Average
★★★★★ — Subpar
★★★★★ — Poor
Our experts analyze life insurance companies to help you to find the strongest possible policy and premium for your family's needs. We assess their financial strength, customer satisfaction, policy features and riders. We then give each insurer a score between one and five stars that reflects their offering and reputation in the industry.