Finder is committed to editorial independence. While we receive compensation when you click links to partners, they do not influence our opinions or reviews. Learn how we make money.
MetLife life insurance review 2020
A large and recognizable life insurance provider offering workplace benefits and policies in a simplified manner.
finder.com's rating: 2.5 / 5
★★★★★
Get MetLife if… You like the ease of having your premium deducted from your paycheck.
Pick something else if… You're looking for insurance independent of your employer.
$50,000 to $100,000+
Coverage
Details
| | |
| --- | --- |
| Free quote | Live chat |
| Monthly cost | Not listed |
| Policies | Term, Permanent |
| Coverage maximum | $100,000+ |
| Term lengths | 10, 15, 20 or 30 years |
| Riders | Accelerated death benefit rider, Accidental death benefit rider, Waiver-of-premium rider |
| Medical exam required | No |
| Available states | All 50 states |
| Issue age | Not listed |
Expert review
Review by
julia.cameron@findercrew.com
---
Julia Cameron is a writer and editor who has experience in finance, mergers and acquisitions, content marketing and immigration law. She has a passion for interior design and an affinity for Old Florida, where she lives with her family.
Expert review
MetLife life insurance policies are only available through the workplace. If your employer offers policies as part of your benefits program, it's worth exploring this option. The rates are competitive, the application is simple, and MetLife also caters to high-risk applicants like seniors and smokers. But if you're in excellent health, you could find a cheaper rate elsewhere.
What types of life insurance coverage does MetLife offer?
MetLife focuses on delivering benefits through the workplace. Check with your employer's benefits administrator to see if it offers MetLife.
Standard policies offered by MetLife through the workplace include:
Term life. Affordable coverage offers guaranteed protection for 10, 15, 20 or 30 years. Basic, supplemental and dependent term life policies may be offered through your employer.
Permanent life. These flexible plans allow for permanent coverage with flexible payments based on your accrued account value. Benefits include tax-deferred accumulation and income to use during retirement.
If you're looking to find life insurance on your own, MetLife's spinoff company, Brighthouse Financial, now carries all the life insurance policies MetLife has been long known for.
Guaranteed Level Term. Available for ages 18 to 75, the policy is level and coverage stays the same until the term ends. It's available in 10, 15, 20 or 30 year terms. This is an affordable option for those looking for temporary coverage. A conversion option is available by the end of the term or age 70. You get to keep your same health rating, even if your health has changed. The policy offers disability waiver of premium and acceleration of death benefit riders.
Premiere Accumulator Universal Life. This universal life policy protects your death benefit. It's different from normal whole life because it allows you to have greater control over how the policy's cash value accumulation is invested.Use the cash value to provide yourself supplemental income in retirement. Your policy and the accumulated cash value is tax-free.In addition to the cash value accumulation, it offers three riders: acceleration of death benefit, waiver of specified premium and chronic and terminal care riders.
Hybrid life insurance. This hybrid policy is a combination of i

ndexed universal life insurance

and a long-term care (LTC) policy. It provides a death benefit to your loved ones, just like its PAUL policy, and offers you long-term care coverage should you need it. With this policy, you can elect to link it to an index or indices in order to potentially grow your LTC benefits and protect yourself against downturns in the market.
Read our MetLife disability insurance review
Does MetLife offer burial insurance?
No. MetLife only offers term and universal life insurance policies through the workplace — though your beneficiaries can use the payout to cover your funeral costs.
What riders can I add to my life insurance policy?
MetLife's term life policy offers an accelerated death benefit at no additional cost. With this, you can receive a portion of your death benefit if you've been diagnosed with a terminal illness and have 12 months or less to live. You can claim up to 100% of the policy's death benefit.
For those seeking additional coverage, MetLife and Brighthouse Financial policies have the opportunity to add additional riders.
Accelerated death benefit rider. Access a portion of your death benefit ahead of schedule if you're diagnosed as terminally ill.
Accidental death benefit rider. Pays an additional death benefit on top of your policy if you die in an accident.
Waiver-of-premium rider. You're not required to pay the premium if you're disabled because of a serious injury.
How much does MetLife cost?
MetLife's cost structure is not available online, but they do consider the following when determining the cost of life insurance:
Age, sex, height and weight.
Health status, including whether or not you smoke.
Participation in high-risk occupations.
As you age, life insurance becomes more expensive. The type of coverage also affects the cost. Permanent policies are typically more expensive, while the cost of term policies tend to be lower.
To get an idea of how much you might pay for your policy, check out some sample quotes below for a policy with a term of 20 years for an individual in perfect health.
How do I get a low rate?
There's coverage available for everyone ages 18 to 85, depending on your health status. Though, to get the best possible rate it helps to be in good health. Here are some of the key factors that will influence your rate:
Age. The younger you are, the less likely you are to file a claim, thus the lower your premium will generally be.
Drinking or smoking. Whether you have a history of substance abuse or have smoked cigarettes in recent years will have an impact on your rate.
Family health history. If you have a history of cancer or other qualifiable illnesses, you'll likely be seen as more of a risk to insurance companies.
Driving record. A history of DUIs will usually mean a higher premium, as you're considered more of a risk.
Occupation and lifestyle. Those with high-risk occupations, like pilots, or individuals who have adventurous hobbies like scuba diving or hang gliding are likely to see a higher premium for added risk to the insurer.
However, MetLife has been known to offer competitive rates for those with:
Type 1 or Type 2 diabetes
Seniors with high blood pressure
Active military personnel
Speak with a MetLife or Brighthouse Financial agent to learn more about how you can qualify for the lowest rates you're eligible for.
Pros and cons of MetLife
Pros
Simple application process. Many customers highlight the simple application process.
Group rate. Because you must purchase your policy through your employer, you get the advantage of competitive group rate.
Low rates for even those with health concerns. MetLife has been known to offer competitive rates to seniors with high blood pressure, those with diabetes and active military personnel.
Cons
Phone interview is necessary. You have to do a phone interview with an underwriter to be approved.
High rates for those with good health. If you're in good health, you may be able to find a more competitively priced premium elsewhere.
Rider selection limited. MetLife doesn't provide much information about their selection of available riders and add-ons.
Compare life insurance companies
MetLife reviews and complaints.
MetLife doesn't have many reviews on TrustPilot — only 20 as of this writing. But 80% of them fall into the "bad" category, with a TrustScore of 3.2 out of 10.
How does MetLife protect my data?
MetLife collects your personal information to provide you with products and services. Your data is not shared with unaffiliated third parties for marketing purposes.
MetLife takes technical, administrative and physical measures to safeguard your information. Encryption is used to transmit data, and security procedures are reviewed periodically.
How do I sign up?
You must sign up for life insurance with MetLife through your employer. Contact your HR representative to see if MetLife is available to you. Or you could consider Brighthouse Financial, an insurer established by MetLife that allows individuals to sign up through a financial professional.
More about MetLife
In business since 1868, MetLife is one of the oldest life insurance companies in the US. It's a global leader in the insurance market, offering a variety of life insurance products including term and universal life.
In 2017, it shifted the majority of its individual products to a separate company, Brighthouse Financial. MetLife shifted its focuses to benefits through the workplace. Its website provides support for insurance questions with answers, along with how-to articles to help you better understand your insurance, wellness and money.
In addition to life insurance, MetLife offers the following products:
Auto insurance. Offers comprehensive and collision coverage. You can get a quote, buy and manage your policy entirely online.
Home insurance. MetLife offers renter, condo and home insurance to protect your personal belongings and space against unexpected events.
Dental insurance. You may be eligible for dental insurance at a group rate through your employer. It even offers TakeAlong, a plan where you can purchase dental insurance and take it with you even when you change jobs.
Vision insurance. Available through the workplace, you can take care of your eyesight with a group plan. VisionAccess plans focus on savings specifically for glasses, frames and laser vision correction.
Disability insurance. Available through your employer, this type of insurance helps to cover expenses if you become unable to work due to illness or injury.
Accident and health insurance. This insurance obtained through your employer can help you pay for expenses that may not be covered by your health plan in the event of an accident or serious illness.
Annuities. Helps provide an income source during retirement.
If you're looking for an individual life insurance policy that can be customized to suit your needs, compare life insurance providers.
How do I file an insurance claim with MetLife?
Claims for both MetLife and Brighthouse Financial are managed through the MetLife brand and customers should head to MetLife's website to download the claim form.
1. Go to MetLife's website and click Menu in the top-left corner.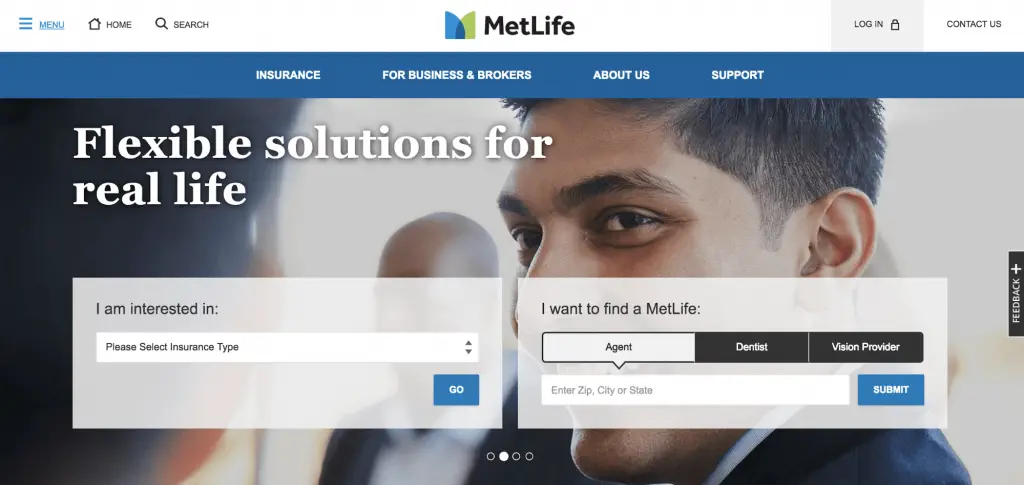 2. Click File a Claim under the "Support & Manage" header.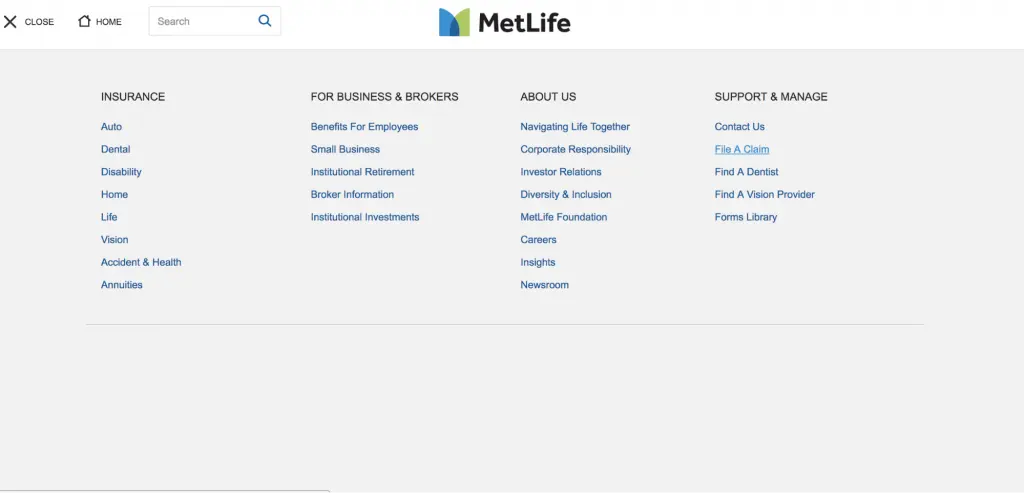 3. Click Start a Life Insurance Claim under the "Life Insurance Claims" header.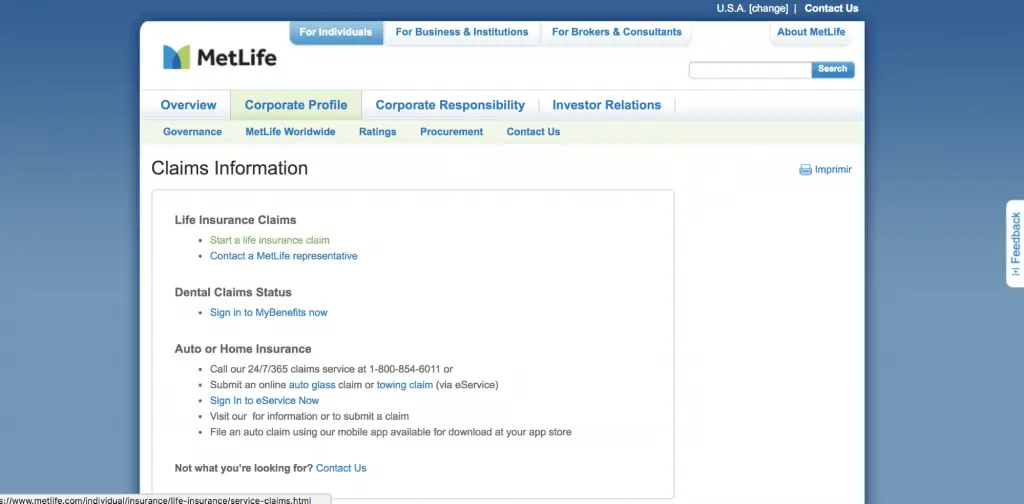 4. Under the "Need to File a Claim?" header, click Claim Form.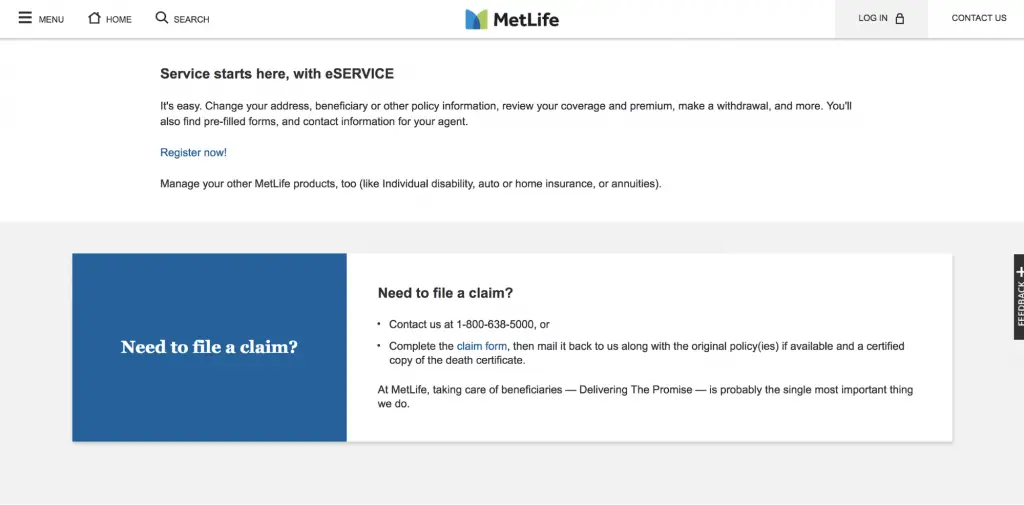 5. Fill out the form and mail it to the address listed along with the original policy and a certified copy of the death certificate. Once all information is received, claims are processed in five to seven business days.
For questions about the claim process, you can call 800-638-5000, Monday through Friday from 9:00 a.m. to 6:00 p.m. EST.
Frequently asked questions
Life insurance ratings
★★★★★ — Excellent
★★★★★ — Good
★★★★★ — Average
★★★★★ — Subpar
★★★★★ — Poor
Our experts analyze life insurance companies to help you to find the strongest possible policy and premium for your family's needs. We assess their financial strength, customer satisfaction, policy features and riders. We then give each insurer a score between one and five stars that reflects their offering and reputation in the industry.