How to invest in natural gas 2023
Here are 4 ways to invest in natural gas.
Natural gas has been a reliable source of energy since the mid-19th Century and currently makes up nearly a third of America's annual energy production. As a result of its availability and necessity, it has become a mainstream commodity on the financial markets.
There are plenty of ways to invest in natural gas, and we've pulled together the main ones here.
4 ways to invest in natural gas
1. Invest in natural gas ETFs
Exchange-traded funds are a way of investing your money in a wider selection of assets rather than trusting just a few firms. Most ETFs are simple and accessible, and trading them works in a similar way to regular stocks. As well as being relatively straightforward, ETFs are also seen as less risky. By investing in a basket of assets, you insulate yourself to some of the daily fluctuations of the market.
If you are new to the world of investing, then ETFs may be the best choice for you; natural gas is an incredibly popular commodity with a range of companies and ETFs to choose from. Here are some of the most popular:
Natural gas price ETFs
United States Natural Gas Fund (UNG) tracks the commodity price
VelocityShares 3x Long Natural Gas (UGAZ) is a leveraged ETF for short-term trading that aims to triple the daily movements of the natural gas price
VelocityShares 3x Inverse Natural Gas (DGAZ) is an inverse leveraged ETF for short-term trading that aims to triple the daily movements in the opposite direction of the natural gas price
Natural gas company ETFs
iShares U.S. Oil & Gas Exploration & Production ETF (IEO) tracks an index of about 50 oil and gas explorers and producers
SPDR S&P Oil & Gas Exploration & Production ETF (XOP) tracks an index of oil and gas explorers and producers
VanEckVectors Unconventional Oil & Gas ETF (FRAK) tracks an index of nearly 40 companies involved in fracking or other methods of extracting coal seam gas, shale gas and more
First Trust Natural Gas ETF (FCG) tracks more than 30 natural gas explorers and producers
Pros
ETFs give you widespread access to the natural gas industry at a competitive price.
In comparison to some of the other options, ETFs are seen as a safer, more reliable choice for investors.
Cons
There is less control over your investment due to the diverse range of assets in an ETF.
Our top picks for platforms to trade natural gas stocks & ETFs
SoFi Invest
---
Trade stocks for $0 and no annual fee
Start trading with a $0 minimum deposit
Get up to $1,000 when you fund a new account within 30 days
eToro
---
Easy to use platform with $0 stock trading & no annual fees
Social trading allows you to copy popular portfolios
FINDER EXCLUSIVE: Guaranteed $15 bonus when you sign up and deposit $100
2. Buy MLP stocks
Master limited partnerships (MLPs) offer tax advantages in that profits are only taxed when they are distributed to the general and limited partners of the company. Many MLPs are attractive to long-term investors because their business structure is designed in a way that requires them to return profits to investors quarterly through high dividend payments.
There are risks that come with MLPs, however; those include variations in demand, market volatility and the fluctuations of prices, new legislation, environmental disasters or hazards, and political and social shifts.
MLP ETFs
Alerian MLP ETF (AMLP) tracks an index of about 25 infrastructure MLP stocks
JPMorgan Alerian MLP Index ETN (AMJ) tracks a more general oil and gas MLP index
MLP stocks
Cheniere Energy Partners (CQP)
Pros
Some of the dividend payments offered can bring strong returns on your investment.
MLPs are easy to access through brokerage accounts and financial advisors.
Cons
As with shares, businesses with an interest in the manufacturing process can influence market value, meaning stock prices may not be in line with commodity prices.
Demand and market risk can have an impact on MLPs, and companies may choose to withdraw their dividends.
3. Buy stocks in natural gas companies
Stocks are one of the more conventional ways to invest in a commodity. Being as popular and necessary as it is, there are multiple natural gas companies to choose from. While many are big oil names you're familiar with, others are smaller names of specialty companies. Stocks are simple to buy through brokerage accounts and financial advisors. Here are a few to consider researching:
Smaller natural gas companies
Anadarko Petroleum (APC)
Chesapeake Energy (CHK)
Encana (ECA)
Buying stocks takes some knowledge of the market and its fluctuations but can be safer than investing in futures due to buying stock at the price displayed. While ETFs may be considered diluted in a sense, they're still generally considered a safer option as you aren't relying on the performance of one or two companies.
Pros
One of the most conventional and accessible ways of entering the market.
Choose from a variety of different companies.
Exit the market at any time.
Cons
Interference from businesses involved in the refining and distribution processes can curb a company's stock value, meaning value doesn't always grow at the same rate as the price of the commodity.
4. Buy natural gas futures
Futures are a direct but more advanced and risky investment that's subject to both the fluctuations of the market and the knowledge of the buyer. A high-risk, high-reward system, newcomers may want to gain some experience in the field before purchasing futures. To trade futures, you'll need one of the handful of popular brokerage accounts that support futures; not all mainstream brokerages do.
Futures, as the name suggests, are a way of buying natural gas directly at a later date and an agreed-upon price. They're a staple for big natural gas producers or utilities that buy vast amounts of natural gas, though seasoned investors and speculators can also trade them; depending on market movements, you may end up making a solid return on your investment or just as easily losing money.
Pros
With a good knowledge of the market and some good fortune, natural gas futures could bring you large returns on your investment.
A very direct way of owning a commodity.
Cons
The market is unpredictable and constantly fluctuating, and futures are vulnerable to these movements. Investing at the wrong time could lead to losses.
If you don't act on futures within the specified period, they expire and are worth nothing.
Compare more brokers to access natural gas stocks
*Signup bonus information updated weekly.
How much is natural gas worth now?
When is a good time to invest in natural gas?
Natural gas is one of the cyclical industries where it goes through times of boom and bust. To determine whether it's a good time to invest in gas, consider the following:
Inflation. In times of inflation, the price of natural gas is likely to rise.
Season. The price of natural gas is often impacted by seasonality — in winter, the demand for gas for heating is higher, which is likely to cause a price increase.
Geopolitics. Wars and sanctions could heavily impact the price of natural gas, especially if a gas-producing country like Russia is involved. This could lower the supply of natural gas and increase its demand, thus increasing its price.
Green energy policies. Natural gas is a fossil fuel but it produces less pollution and greenhouse gases than other fossil fuels. This could increase the demand for natural gas in countries that want to implement green energy policies.
Is natural gas a safe investment?
The world relies on natural gas for energy that's cleaner than coal, and its abundance makes it quite a reliable commodity on the stock market. However, the market is never completely safe, and natural gas is no exception:
Pipeline incidents: A risk for the environment as well as your profits, a burst pipeline can have disastrous effects on both your investments and the ecosystem at large.
Dividend cuts: Gas companies often distribute dividends which allow investments to generate regular income. If a company cannot make enough money, however, dividends can be cut. This can lead to stock prices plummeting.
Price volatility: Prices for natural gas have fluctuated violently over the years, usually as a result of shifts in supply. Gas is also seasonal, with people using more during the winter, which also affects prices.
Bottom line
There are several ways to invest in natural gas, including gas futures, shares, ETFs and MLPs. But keep an eye out for pipeline incidents and dividend cuts.
Not sure natural gas is the right addition to your portfolio? Review your investment options across additional trading platforms and commodities.
Frequently asked questions
More on investing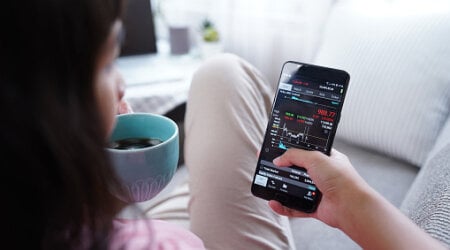 Here's what happens to your securities if your brokerage fails, and how your assets are protected by SIPC and FDIC.
Read more…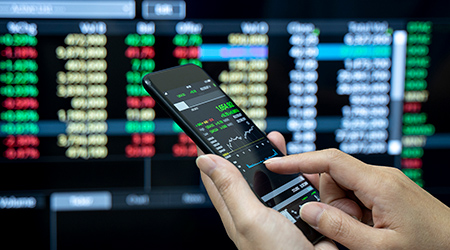 Several ETFs have exposure to Silicon Valley Bank, but it appears minimal.
Read more…
Treasury Bills are fixed-income assets with maturities of less than one year. Here's what to know before investing.
Read more…
Information on this page is for educational purposes only. Finder is not an advisor or brokerage service, and we don't recommend investors to trade specific stocks or other investments.
Finder is not a client of any featured partner. We may be paid a fee for referring prospective clients to a partner, though it is not a recommendation to invest in any one partner.