Ask an expert: How should I invest my $50,000?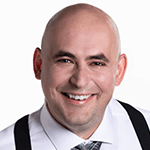 Dennis Shirshikov
Financial Analyst, Fit Small Business
Anyone with $50,000 to invest should consider low-risk investments and some degree of diversification.
The best illiquid investment vehicles are certificates of deposits, with varying maturity dates. Many individuals may select a single certificate of deposit, but distributing funds across multiple provides added flexibility and ensures that, in the event of an emergency, it isn't just one CD that needs to liquidate.
Mutual funds are also a good investment, but should not represent over 25% of an investor's portfolio. Although mutual funds are usually well-diversified, a macro downturn will lead to a reduction in savings and can create a perfect storm as job security vanishes and savings dry up.
Consequently, any investment tied to market fluctuations should be kept to a minimum and only considered if the money invested there can be lost without creating significant issues.