How to send money to Canada
Send money to Canada using an international money transfer service and you could beat the bank's rates.
Canada and Hong Kong are two nations with a strong global relationship and a long history of international ties. We're good friends and Canada is a favourite holiday destination and second home for many Hong Kongers.
Because of this, many people find themselves needing to send money from Hong Kong to Canada for one reason or another. It's quite quick and easy to send money to Canada, but it is important that you shop around for the best and most affordable transfer method.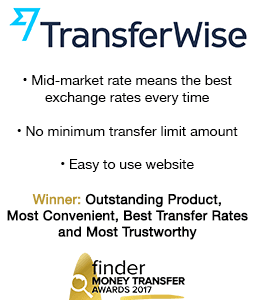 Send money to Canada with TransferWise
When you need to send money, benefit from competitive mid-market exchange rates and straightforward fees with TransferWise.
Fair service fees and mid-market rates — a major market differentiator.
Fast transfers.
Trusted the world over, with five-star ratings on Trustpilot.
Get more value for money by comparing options in the table below
Disclaimer: Exchange rates change often. Confirm the total cost with the provider before transferring money.
Pay lower fees and get a better rate with a dedicated transfer company
Due to the strong ties between our two countries and because the Canadian Dollar is commonly traded on global markets, the vast majority of Hong Kong financial institutions will be able to take care of your international money transfer.
However, banks regularly offer quite poor exchange rates and high fees on international money transfers, which can end up costing you quite a lot of money. In many cases you'll be much better off if you utilise the services of a specialist online money transfer company. These providers are experts at transferring funds abroad and offer better exchange rates and lower fees than banks.
For an idea of just how much you can save using a specialist provider, check out the case study below.
Robyn Sends Money to Canada
Robyn is living in Hong Kong on a working Visa and she wants to send $10,000 of the money she has earned back home to her parents in Canada. Always on the lookout for a bargain, Robyn is concerned that her bank doesn't offer a great deal on international money transfers and decides to compare the features of a dedicated money transfer company.
Bank
Money Transfer Company
Exchange rate
1 CAD =

6.0403

HKD
1 CAD =

6.0045

HKD
Transfer fee
HKD$65 per transfer
HKD$0
Transfer time
2-5 days
1-2 days
Transfer options
Online, in branch
Online
Amount received for HKD$10,000
CAD $1,644.79 (incl. fees)
CAD $1662.33
As you can see, Robyn does not save substantially when using a money transfer company, but she does save on transfer fee and transfer time, allowing her to send more at a faster speed each time.
Get a better deal when sending money to Canada with these tips
Exchange rates. An exchange rate just a couple of cents higher can make a substantial difference to the final amount of money you transfer. Look for the highest rates available but keep in mind that some companies' rates might be slightly lower because they don't charge any fees.
Fees. Most of the time, you'll have to pay a fee when transferring money overseas. However, some providers will waive their fees when you send more than a certain amount.
Transfer within the same bank. Some banks with branches in multiple countries, such as Citibank and HSBC, allow you to send international money transfers within the same bank. This makes the process quicker, easier and more affordable.
Transfer methods. Check to see which options are available for lodging a transfer: online, over the phone or by visiting an agent.
Transfer options. Some providers will offer flexible options to help make it easier and more cost-effective to lodge a transfer. These include forward contracts, market orders, and the ability to schedule regular payments.
Transfer time. If you need funds sent urgently, you may wish to use a service that allows your cash to be picked up within minutes.
Minimum transfer amounts. Keep an eye out for the fact that some companies have minimum transfer amounts which you must exceed. This can be inconvenient if you only wish to send a small amount of money.
Pickup options. Does the cash go direct to your recipient's bank account or can they pick up money in person from an agent?
Customer service. Finally, consider the customer service options offered by each company. If you need help with a transfer, will your chosen provider offer phone, email and live chat support?
Back to top
Choose the best way to send money to Canada by reviewing your options
You can choose from the following international money transfer options when you need to send money to Canada:
Bank transfers. As the Canadian Dollar is a commonly traded currency, almost all Hong Kong banks will allow you to transfer funds to Canada.
Online money transfer companies. Check the table and calculator above for a list of trusted online money transfer providers who allow you to send funds to Canada.
Cash pickup providers. Companies like Western Union and MoneyGram allow you to transfer funds which can then be picked up from thousands of agent locations across Canada.
PayPal. It's also possible to send funds to someone in Canada via PayPal, as long as both you and your recipient have your own PayPal accounts.
International money order. You can also opt to receive an international guaranteed cheque from your bank or post office which can then be mailed overseas.
Back to top
Emergency cash transfers in Canada
There are certain situations where you may have to send money to Canada as quickly as possible, such as if you need to transfer funds to a relative who is in desperate need of cash. Whenever you need to lodge a transfer as quickly as possible, don't forget to double check the exchange rate and fees that will be charged by your chosen provider. Although time may be crucial, taking a few extra steps to ensure you're fully aware of what sort of deal you're signing up for will prevent you getting any nasty surprises down the track.
Back to top
Find a convenient place to pickup cash sent to you in Canada
Western Union
Vancouver

Money Mart #0247
952 Granville St
Vancouver, BC V6Z 1L2
604-677-8278
Open 9am to 9pm Monday to Saturday, open 11am to 5pm Sunday
International News

110 550 Burrard Street
Vancouver, BC V6C 2B5
604-688-6663
Open 8:30am to 5:30pm Monday to Friday
Toronto

Money Mart #880
241 Yonge Street
Toronto, ON M5B 1N8
416-367-2927
Open 8am to 10pm Monday to Friday, 9am to 9pm Saturday and 10am to 6pm Sunday
Scotiabank #38356

600 Fleet St
Toronto, ON M5B 1B7
416-777-2505
Open 12pm to 7pm Monday to Friday, 9:30am to 3pm Saturday
MoneyGram
Vancouver

City Park Express – Canada Post
349 Georgia St W
Vancouver, BC V6B 4Z3
(604) 682-6063
Open 9:30am to 6pm Monday to Saturday
Carlton Cards – Canada Post

11 – 200 Burrard St
Vancouver, BC V6C 3L6
(604) 681-8699
Open 9am to 5pm Monday to Friday
Toronto

Shoppers Drug Mart 1402 – Canada Post
10 Dundas St E
Toronto, ON M5B 2G9
(416) 591-1733
Open 9am to 9pm Monday to Friday, 10am to 9pm Saturday, 12pm to 9pm Sunday
Toronto Adelaide PO

31 Adelaide St E
Toronto, ON M5C 1J4
(416) 214-2353
Open 8:30am to 5:30pm Monday to Friday
Back to top
Safely pickup cash in Canada with these tips
Unlike many other parts of the world, Canada is listed as a safe country by the Hong Kong Government, with travellers advised to 'exercise normal safety precautions'. So while crime is considered to be less of a problem than in other countries, you'll still need to be careful when picking up a cash transfer. Take a friend with you for extra security and make sure to keep your cash concealed from strangers. If possible, head straight to a bank to deposit the cash into your account.
Back to top
Make sure your money actually gets to Canada
As there are several options you can choose from when sending money to Canada, the exact process for lodging and completing a transfer will differ depending on the method you choose.
Typically, however, you will need to open an account with your provider of choice, which could include you providing the following information:
Your name
Your contact details
Your date of birth
Your driver's licence number
Once you have opened an account and placed your transfer, you will receive a receipt which will allow you to monitor the progress of your transaction until it is completed.
If you want to send money to Canada, you have plenty of international money transfer providers to choose from. Just make sure to do your research and shop around for the best possible deal.
Back to top