Remortgage with bad credit: It's possible
It is possible to remortgage with bad credit, you may need to apply through a specialist lender.
Remortgaging with bad credit isn't always simple, but there are usually ways to do it. In most cases, you'll have to use a lender who specialises in these types of deals. Below, we outline your typical options for remortgaging with bad credit.
Speak to a specialist lender
If you are struggling to get a mortgage via the traditional methods you could speak to a specialist lender. They can provide the expertise on a particular area of lending where you're looking for assistance.

Think carefully before securing debts against your home. Your home may be repossessed if you do not keep up repayments on your mortgage.
You'll need to make a conscious effort to improve your credit rating and take control of your debt. This may involve demonstrating to the lender that you have enough equity or savings to borrow less than an 80% loan-to-value ratio (LVR). This is the ratio of the loan amount to the value of the property. In other words, they want to see that you won't have to borrow more than 80% of the property's value.
If you're thinking of remortgaging to secure a better rate or better features or to consolidate debt, here are some steps to help you with the process.
What are my options if I've got bad credit?
The first step to take is to check your credit record for anything that can be done immediately to improve your credit. It's important to do this as it may turn out that your credit isn't quite as bad as you thought, and if this is the case a wider pool of remortgage deals will be available to you. If your credit really is as bad as you anticipated, though, there's three main courses of action available to you. The first:
Stay on your lender's variable rate: This is advantageous as you won't be credit checked. The disadvantage here is that you're likely to be stuck on a higher rate than you would've been otherwise.
Remortgage with your current lender: This may be a good option if you've been the perfect borrower, having not missed or been late with any payments, as you'll be more likely to be switched to a better deal.
Remortgage with a new lender: If you go with this option, make sure you only apply for mortgages that consider applicants with bad credit, otherwise your chances of rejection will increase.
How to remortgage if you have bad credit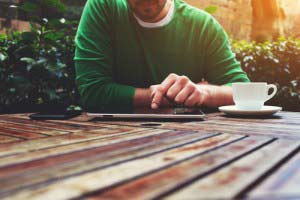 Remortgaging with bad credit can be difficult, so here are some tips to help you get started:
Get a copy of your credit report. Accessing your credit report will help you understand how you look from a lender's perspective. This will give you an idea of the things a lender will look for when considering you as a customer. You can see your current credit limits, the number of credit cards that you have and any late payments that have been reported.
Take control of your debt. The next step is to be proactive about trimming any existing debt that you have. If you're having trouble meeting your credit card or utility payments, consider contacting your provider to negotiate a new payment plan to ensure that you pay your bills and repayments in full and on time.
Visit a mortgage broker. A licensed mortgage broker can discuss your borrowing needs with you in detail and help you with the application process. They will be able to draw upon their panel of lenders to find one that's more likely to review your application given your impaired credit status.
Speak to a specialist lender. Specialist lenders evaluate borrowers not on the number of defaults they have or the value of these defaults, but how long ago the defaults were made. They recognise that your credit rating can suffer due to life events such as divorce, illness or the loss of a job, and they are willing to offer loans to help you own your home and pay off existing debts.
Have a large deposit. Having a larger deposit means that you may be able to qualify for a mortgage with an LVR lower than 80%. You'll be less of a risk to the lender and it may help you get approved with less hesitation.
How to manage your mortgage switch to avoid more bad credit
You need to learn how to manage the bad debt you already have in order to avoid getting into the same situation again. To manage your remortgage successfully:
Keep debt consolidation loans separate. It is possible to remortgage in order to consolidate bad debts from your credit card or personal loan so that they attract the same low interest rate as your mortgage. However, to successfully manage this sort of bad credit remortgage, you should keep your remortgaging loan split so that you make separate payments for your mortgage and for your consolidated debts. Otherwise, you'll be paying your credit cards and personal loans off over 20-30 years with your mortgage, which will drive the total cost with interest up much higher.
Don't keep relying on remortgaging. While you will be able to justify the entry and exit fees on remortgaging a loan to consolidate debt or to move to a better mortgage deal, these fees will add up if you continue to rely on remortgaging as a way to manage your bad debt. It is recommended that you review your mortgage regularly to ensure that you're getting a good deal, but remortgaging to manage bad credit is not always an effective option.
Don't choose features that will tempt you. If you know you have trouble with managing finances, then features such as a line of credit, which allows you to withdraw up to the value of the equity of your home, may tempt you to spend more.
There is no shame in asking for assistance if you have bad credit and you need to remortgage to better manage your finances. Just make sure remortgaging will benefit you financially.
How much will it cost me to remortgage?
While remortgaging has the potential to save you money, there are a number of fees involved that are worth considering before you begin the application process.
Exit fees. This is an administration fee charged when you've paid off your mortgage in full, regardless of whether you're remortgaging with a different lender or you've finished paying off your mortgage.
Arrangement fees. These fees cover the initial costs of setting up your mortgage. Generally speaking, this fee will be higher if your mortgage has a lower interest rate.
Valuation fees. Your new lender will want to have your property valued as it might have changed in value since you bought it. The amount you will pay depends on the value of your property but sometimes lenders offer valuations for free as part of the remortgaging deal.
Legal fees. You will need a lawyer to help you with the legal work involved in remortgaging. Luckily it shouldn't cost quite as much as it did when you first took out the mortgage, as there is less legal work involved. These fees also cover the cost of your lender's solicitors.
Early repayment charge (ERC). If you have a fixed rate mortgage you'll typically be locked in for a number of years. You can get out of the deal and remortgage, however, you will have to pay a penalty. It's usually better to wait until the end of the fixed interest period before remortgaging.
We show offers we can track - that's not every product on the market...yet. Unless we've said otherwise, products are in no particular order. The terms "best", "top", "cheap" (and variations of these) aren't ratings, though we always explain what's great about a product when we highlight it. This is subject to our
terms of use
. When you make major financial decisions, consider getting independent financial advice. Always consider your own circumstances when you compare products so you get what's right for you.