Koyo loans
The new kid on the online lending block, Koyo is a UK lender looking to provide loans to those with limited credit history.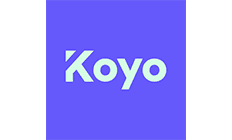 Late repayments can cause you serious money problems. See our
debt help
guides.
Koyo personal loans
Borrow from £1,000 to £5,000
Decision within 1 working day
Apply in just 3 minutes, without affecting your credit score
Representative example: Borrow £3,000 over 24 months at a rate of 20% p.a. (fixed). Representative APR 28% and total payable £3,840.74 in 23 monthly payments of £160.04 and a final payment of £159.82.

What is Koyo?
Koyo claims to be the UK's first Open Banking-based online consumer lender. It's targeting the more than six million borrowers with little to no credit history who are looking to take out a loan.
How does it work?
Most lenders require that you have good credit history before they'll approve you for a personal loan, which means it can be difficult to get finance if you've never had a chance to build your credit score. This may be because you've just moved to the UK, or because you're still young and have never taken out a credit product before.
Koyo aims to provide personal loans to those with limited credit history, but without the high fees and interest often charged by other traditional lenders. While it has yet to release rate details, Koyo expects its representative APR to be around 35%, and will not charge any late fees, early repayment fees or loan origination fees.
When you apply for a personal loan with Koyo, you'll need to complete an open banking application, and this data is then used to determine your risk level as a borrower. Where other lenders use your credit history to determine your risk as a borrower, Koyo will use your Open Banking data.
What is Open Banking?
Open Banking is the name given to changes to the financial services industry that makes it easier for you to share your banking and financial data with UK banks and providers. This includes your everyday spending and saving. Open Banking aims to improve competition and innovation in the banking sector, and help you get a better deal on financial products.
Is Koyo right for me?
Koyo offers personal loans for those who don't have a detailed credit history. This may include:
People who are new to the UK
Students or young people
Customers with no credit history
Pros and cons
Pros
Available to those with no credit history
Uses Open Banking to determine borrowing level
Apply and manage online
No fees
Cons
Still need banking history to apply
Rates and fees not yet available
What are my other options?
If you have little to no credit history, you're unlikely to be approved for a personal loan with a bank or other traditional lender. You could consider a short-term loan, though this is the most expensive form of borrowing and should only be used as a last resort.
If you're looking to build your credit history, you may want to consider the following:
LOQBOX. LOQBOX offers a unique financial product that lets you make regular direct debit payments into an account, but treats them like loan repayments. This means that each deposit helps build your credit score, which then means you may be more likely to be approved for a regular personal loan in future.
Credit builder credit card. This is a specific type of credit card that is designed to help customers build or improve their credit score. By showing that you can manage and repay a credit account, you can prove to other lenders that you're suitable for a loan.
Frequently asked questions
We show offers we can track - that's not every product on the market...yet. Unless we've said otherwise, products are in no particular order. The terms "best", "top", "cheap" (and variations of these) aren't ratings, though we always explain what's great about a product when we highlight it. This is subject to our terms of use. When you make major financial decisions, consider getting independent financial advice. Always consider your own circumstances when you compare products so you get what's right for you.
Read more on this topic