PayPal Working Capital review
With PayPal Working Capital, you can apply for a merchant cash advance for your business. There are no interest rates or APRs and you pay it back depending on how much money you're making, with great flexibility.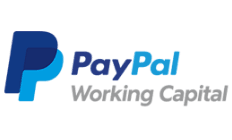 If you have a PayPal business account and use it to accept card payments online or in person, you may be able to also get funding for your business through it. PayPal Working Capital's business loans take the form of merchant cash advances, which means you pay the loan back as a percentage of your PayPal sales.
It isn't necessarily the cheapest type of business finance, but it allows great flexibility by avoiding fixed monthly payments. Instead, the repayment amount depends on how much you make, so if you have some difficult months during which your sales are a bit stagnant, you'll pay less. The cost of the loan is fixed and isn't influenced by how long it takes you to pay it back.
You can easily apply online and the application process is based on your past PayPal account activity, so you won't need to put together a huge folder full of documents. You can use the loan to consolidate your business, take it to the next level or face an unexpected expense, and it's more suitable to businesses whose cash flow is irregular or unpredictable.
Key features of a PayPal Working Capital merchant cash advance at a glance
Borrow up to 35% of your annual PayPal sales. The exact limit will also depend on your PayPal account history. The maximum anyone can borrow through PayPal Working Capital is £150,000.
Repay a percentage of your sales. You can set it yourself, starting from as low as 10%. Your repayment percentage options will also depend on how much you want to borrow. The higher the percentage you choose, the lower the total cost of the loan will be (because you'll repay it more quickly).
Simple and quick application. PayPal says it typically takes five minutes.
Unsecured. You don't need to provide business plans or security to be approved.
One all-inclusive cost. There are no interest rates or extra fees. The loan only has a fixed cost that will depend on how much you want to borrow, on your annual PayPal sales and account history, and on the repayment percentage you pick.
Am I eligible for a PayPal Working Capital merchant cash advance?
Eligibility criteria to be able to apply for Paypal Working Capital include the following:
Having had a PayPal Business or Premier account for at least three months.
Being registered in the UK.
Making at least £12,000 if you have a Premier account, or £9,000 if you have a Business account, in PayPal sales in one year.
How does a PayPal Working Capital merchant cash advance work?
Apply online by logging in to your PayPal business account.
Depending on how much you need to borrow and on your business account's history, you'll be able to choose different repayment percentage options (typically between 10-30%).
The fixed fee is added to your loan amount.
Once you're approved, the funds will normally reach your account within a few minutes.
As you sell to your customers on your card terminals or receive online card payments, the agreed percentage is automatically deducted.
This process is automated so it does not cause any delay to you receiving your money.
The daily amount deducted then reduces the balance outstanding on your business cash advance.
Collections stop automatically once your loan has been repaid in full.
Frequently asked questions
We show offers we can track - that's not every product on the market...yet. Unless we've said otherwise, products are in no particular order. The terms "best", "top", "cheap" (and variations of these) aren't ratings, though we always explain what's great about a product when we highlight it. This is subject to our terms of use. When you make major financial decisions, consider getting independent financial advice. Always consider your own circumstances when you compare products so you get what's right for you.
Read more on this topic