Finder is committed to editorial independence. While we receive compensation when you click links to partners, they do not influence our opinions or reviews. Learn how we make money.
The 5 Cs of credit
What lenders traditionally consider when you apply for a loan.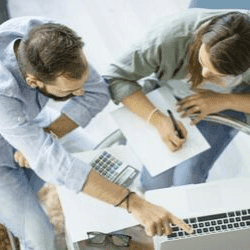 You may have heard of the five Cs of credit as the five main factors lenders consider when you apply for a personal loan — or any other type of financing. While some online lenders have gotten more creative about what they consider when assessing your creditworthiness, most still rely on these five fundamental factors. Understanding what the five Cs are and how they work can help you strengthen your next loan application.
What are the five Cs of credit?
The five Cs of credit are five main factors lenders consider when you take out a loan. They're used to determine whether you're eligible, as well as the rates and terms of your loan. The five Cs include:
Character: Your trustworthiness as a borrower
Capacity: Your ability to afford repayments
Capital: How much money you currently have
Collateral: Assets you can put up to back your loan
Conditions: The details of the loan, including the amount, terms and rates
1. Character
How it's typically measured: Credit score and credit history
Character shows how likely you are to honor the terms and conditions of your loan. Factors like your credit score, as well as the size and length of your credit report are the most common ways of measuring your character. That's why many lenders have minimum credit score requirements — and why some won't work with borrowers with a credit history less than three years long.
This is also why lenders often favor current customers over new clients. If you already have a good relationship with the lender or the bank, that reflects well on your character. That alone can sometimes make you eligible for larger loan amounts or discounts on interest.
2. Capacity
How it's typically measured: Income and debt-to-income (DTI) ratio
Also referred to as cash flow, capacity shows your ability to repay the loan based on the income you have regularly coming in. Legally, lenders are required to make sure you make enough money to afford loan repayments, which is why you typically need to provide a recent pay stub or bank statement when you apply for a loan — at a minimum.
In addition to income, lenders also look at your DTI ratio to measure how much you can afford to put toward loan repayments each month. Your DTI measures your monthly debt obligations — like bills, credit card payments and other loan repayments — against your income. Most personal loan providers don't accept borrowers with a DTI ratio above 43%, though a DTI around 20% is preferable.
3. Capital
How it's typically measured: Down payment or investment in your project
While not as common with unsecured personal loans, capital shows how much skin you have in the game. If you're using the loan to buy a motorcycle, boat or make another large purchase, putting a sizable down payment on it shows the lender you're serious about this purchase.
If you own a company and want a personal loan for business use, lenders might look at how much you've personally invested in your enterprise to measure capital. Borrowers who are less personally invested in their plans for using the funds might also get less competitive rates and terms.
4. Collateral
How it's typically measured: Assets you can put up to back your loan
This fourth C only applies to secured personal loans that are backed with collateral. Putting collateral down isn't necessary with an unsecured loan, which is why borrowers who are lacking in character, capacity and capital might want to look into secured options.
Like capital, collateral is another way of showing you and the lender are on the same team — you both stand to loose something if you default on the loan.
5. Conditions
How it's typically measured: The state of the economy, loan purpose and amount
This last C is not entirely in your control — it's partly based on the overall state of the economy. For example, when the economy takes a hit and the Federal Reserve lowers interest rates, lenders charge lower interest rates across the board. Changes to the laws that regulate lending can also have an effect on your ability to get a loan.
Other conditions that lenders consider are how you intend to use the loan and how much you want to borrow. Lenders are more likely to favor your application it you have a clear purpose, like home improvements. And larger amounts are generally more difficult to qualify for since they pose more risk to the lender.
Which of the five Cs are most important?
It depends on the lender and the type of loan you're interested in. However, character and capacity are essential to almost every loan application since they reflect the likelihood you'll repay the money you borrow. Conditions are also important — the economic environment can affect the lender's ability to take on risks.
Why do some lenders only talk about the four Cs of credit?
Since not all of the Cs are relevant to all types of loans, some lenders only consider four of the five Cs of credit. Which Cs they consider depends on the type of loan and lender.
For example, a lender won't consider collateral if you apply for an unsecured loan. Capital also might not apply if you can't make a personal investment in the item or project you want to fund.
When applying for a loan, consider all of the Cs that apply to your unique situation to make the most of your application.
What can I do to up my chances of approval?
Since character and capacity are the most important factors, making improvements in those areas can increase your chances of approval.
Review your credit report. You're entitled to three free copies of your credit report each year. Check to make sure there aren't any errors — and contact your lender if you notice anything off.
Pay off debts first. Lower your DTI by paying off your current loans and credit card balances before taking out another loan, if possible.
Increase your income. Consider taking on a side job or asking for a raise if your income isn't high enough to cover monthly repayments.
Build your credit. If your credit report is thin, consider taking out a smaller loan and paying it off on time to build a record of trustworthiness. You can do this even if you have bad credit by taking out a credit-builder loan or secured credit card.
Apply with a cosigner. A cosigner who has strong credit and a low DTI can help you meet credit requirements.
Don't have the time to improve your credit score? You might want to consider getting a secured personal loan that requires collateral.
Do lenders consider any other factors?
While the five Cs are important to all types of lenders, how they measure these factors is changing. Since the rise of online lending, financial companies have started to rely less on your credit score and more on other predictors of character. These can include:
Your level of education
How long you've been employed
Your spending habits
Whether you rent or own
Your marital status
10 surprising factors lenders consider when you apply for a loan
Bottom line
Understanding the five Cs of credit is the first step toward strengthening your application for a personal loan. Even with some tech companies redefining how lenders evaluate borrowers, their criteria are still rooted in these five factors. You can learn more about how it all works and compare lenders by checking out our guide to personal loans.
Frequently asked questions