Using social media to complete your loan application
The socialization of the financial industry: Why banks care what you "like"
Social media has come a long way from Six Degrees, Friendster and Myspace. With the online social world exploding in the early-to-mid 2000s, it wasn't long before social media went from occasional chats with friends to multi-faceted experiences encompassing all of your social worlds.
The introduction of Linkedin in 2003 incorporated your professional life, YouTube's inception in 2005 was the start of globalized media sharing and Facebook began in 2004 and soon encompassed every aspect of your online activity.
But what about the banks? They might have social accounts and they might be tweeting and posting, but they pale in comparison to companies of similar size in other global industries. As the world moves forward with technology it's starting to become apparent how far behind US banks really are.
A changing market
The American financial industry is one of the few global industries to fall behind when it comes to technological development. In a study conducted by Viacom Media Group of 10,000 US millennials (born between 1981 and 2000), it found the banking industry to be at the highest risk of disruption.
Out of those millennials surveyed, 53% didn't think their bank offered anything different than other banks, and one in three were open to switching institutions in the next 90 days. These numbers should scare banks. Millennials are shaking up every industry they encounter.
When it comes to banking, they believe the change will come from outside the industry. Startups offering small loans and credit products are entering the market and using more data than traditional banks to evaluate their applicants.
Lenddo, based in Hong Kong, offers credit and verification services across the Philippines, Colombia and Brazil, helping lenders score applicants using 12,000 data points including social media. Commonwealth Bank, which is among the top four banks in Australia, has also moved into the social media space by offering customers the ability to transfer funds to Facebook friends using its banking app.
What data is there?

There is a wealth of data at the financial industry's fingertips just waiting to be mined. The notion of "big data" is relatively new. For the financial industry, big data means any information available about their customers on the Internet that can be usefully analyzed — and that means anything.
Facebook friends, search history, how you interact with your social network, the expanse of that network and whether there is even a trace of you online — everything and anything that's available can be used to form a picture of who you are and whether you are a reliable borrower.
Some startup financial institutions are looking even further. Brett King, founder and chairman of MovenBank, says his organization looks at a "bunch of elements, and one is your ability to act as a referrer, or influencer, who can drive acquisition as a basis for connections".
While the data is there, hardly any banks are taking advantage of it. The few that are are mainly relying on it for customer service and marketing purposes. But looking at what some lenders have already done with Big Data, this is hardly scratching the surface.
A selection of loans you can apply for
Here are some loan providers that you can apply to. Note that the max loan amount is based on the lender's max amount and your state of residence. Check the websites of any providers you're interested in to confirm they operate in your state of residence.
A selection of lender matching services you can apply with
These lender matching services are not lenders, loan brokers or agents for any lender or loan broker. They also do not make credit decisions. They focus on trying to match you with a lender that might be able to provide you the funds you seek. Note that the max loan amount is based on the matching services max amount, but it will vary based on your state of residence. If you proceed with one of these services, confirm that the lender is reputable by checking with your local government.
The technology at the forefront
MovenBank is one of the banks pushing technological change. Here are some of the innovations we're seeing with social media analytics in the financial sector.
Facebook
There have been predictions of Facebook's demise since its launch, with commentators anticipating the fall much in the same way of its predecessors Myspace or Friendster. A key reason it has remained is diversification.
Examples include its incorporation of advertising, the focus on promoted posts and the ability to make purchases directly through Facebook.
In the finance sector, Facebook has secured a patent that would give creditors access to our social profiles in order to assess us for a loan.
The patent was acquired from Friendster, one of the first social networks in the early 2000s. It covers a tool that would allow lenders to reject an application based on your friends list. More specifically, your friends' credit scores will be examined, and if the average score doesn't meet the standard, your application will be rejected.
While this hasn't yet been implemented, this kind of approach might drastically alter your behavior. You might be more reluctant to "friend" that person you met in a nightclub if you know your ability to borrow money will be impacted.
Avoka
Avoka is hoping to change the way people apply for loans, credit cards, insurance and other financial products A key part of that strategy is to use data sources to make the process more reliable, and social media is a major element in that plan.
By giving users the option of auto-filling loan and other credit applications, financial institutions can decrease abandonment. The Avoca demonstration in the video below shows a credit card application that was completed in 90 seconds, with employment information pre-filled using Linkedin, and Yodlee automatically sending bank transactions through to the lender. If banks adopt this, application processes could be greatly improved.
Avoka's offerings are entering a ready market. Nearly half of the 10,000 millennials surveyed in Viacom Media Group's survey are relying on tech startups to change the way the financial industry operates and almost three quarters of them (73%) would be more excited about a new financial offering from Google, Amazon, Apple, PayPal or Square than their own bank.
Tencent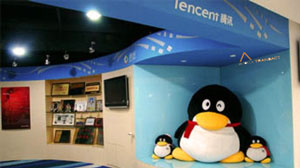 China is a market where cash remains king. Only about 20% of the Chinese population own a credit card, according to China Daily. This makes it difficult for the remaining 80% to access any form of credit as the banks often can't assess their creditworthiness.
Tech startup Tencent wants to change that. The company gathered social media data on approximately 50 million Chinese consumers. One key source of information? Payments made within mobile data and when playing games.
Lender China Rapid Finance has used that data to assess creditworthiness, and so far has written $3 million of peer-to-peer loans.
Mogo
Mogo was started by twin brothers David and Greg Feller in 2003 after David ran up $10,000 worth of credit card debt as a student. He took ten years to pay it off, but the experience showed him the potential for instant low rate loans.
Mogo relies on data analysis to analyze loan applications, using over 1,000 data points to get a detailed snapshot of the borrower and minimize defaults. The application software looks at information received from credit bureaus, what phone the user is connected to, IP addresses, sites they've visited and can assess links to social media.
User behavior while applying for the loan is also considered. The software can tell how long the applicant spends reading the disclosure form on the website, as a short read time may signal someone trying to defraud the system.
So is it good or bad?
The socialization of the financial industry is still in its early stages, and the implications remain to be seen. There have been early grumblings from both sides of the fence, with talk of prejudices relating to race or sexual orientation being unfairly used in credit decisions, More positively, the wealth of data that's available could give more deserving people access to credit.
In the past it has been about moving forward to avoid being left behind. Given the current pace of technological change, banks need to be at the forefront so they're not trampled by startups.
Are payday loans available in my state?
Compare payday loans in your state