Finder is committed to editorial independence. While we receive compensation when you click links to partners, they do not influence our opinions or reviews. Learn how we make money.
Debt Consolidation Finder
The tools you need to help you save money on interest and get out of debt faster.
Editor's choice: Credible personal loans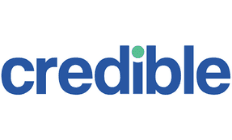 Loan range: $1,000-$100,000
Personalized rates in minutes
Funds as soon as 1 day
See your rate
Juggling multiple credit card payments, medical bills and other debts each month can get complicated. Especially if you're making each one manually. One solution is to consolidate your debt so it's all in one place. It can give you more manageable repayments and save you money on interest. But you likely won't qualify if your total debt load is more than 50% of your yearly take-home pay.
How does debt consolidation work?
Debt consolidation works by moving multiple debts into one, new account. You can consolidate your debt with a personal loan or balance transfer credit card.
How to consolidate debt in 5 steps
Figure out how much you owe and how much you can afford to pay each month.
Compare lenders and credit card providers.
Apply for a new loan or credit card.
Use those new funds to pay off all other accounts you'd like to consolidate.
Pay off your current loan or credit card according to the new terms and conditions.
Compare debt consolidation loan options
Should I consolidate my debt?
Debt consolidation loans and balance transfer credit cards are not for everyone. When done under the wrong circumstances, it could hurt your finances more than it helps.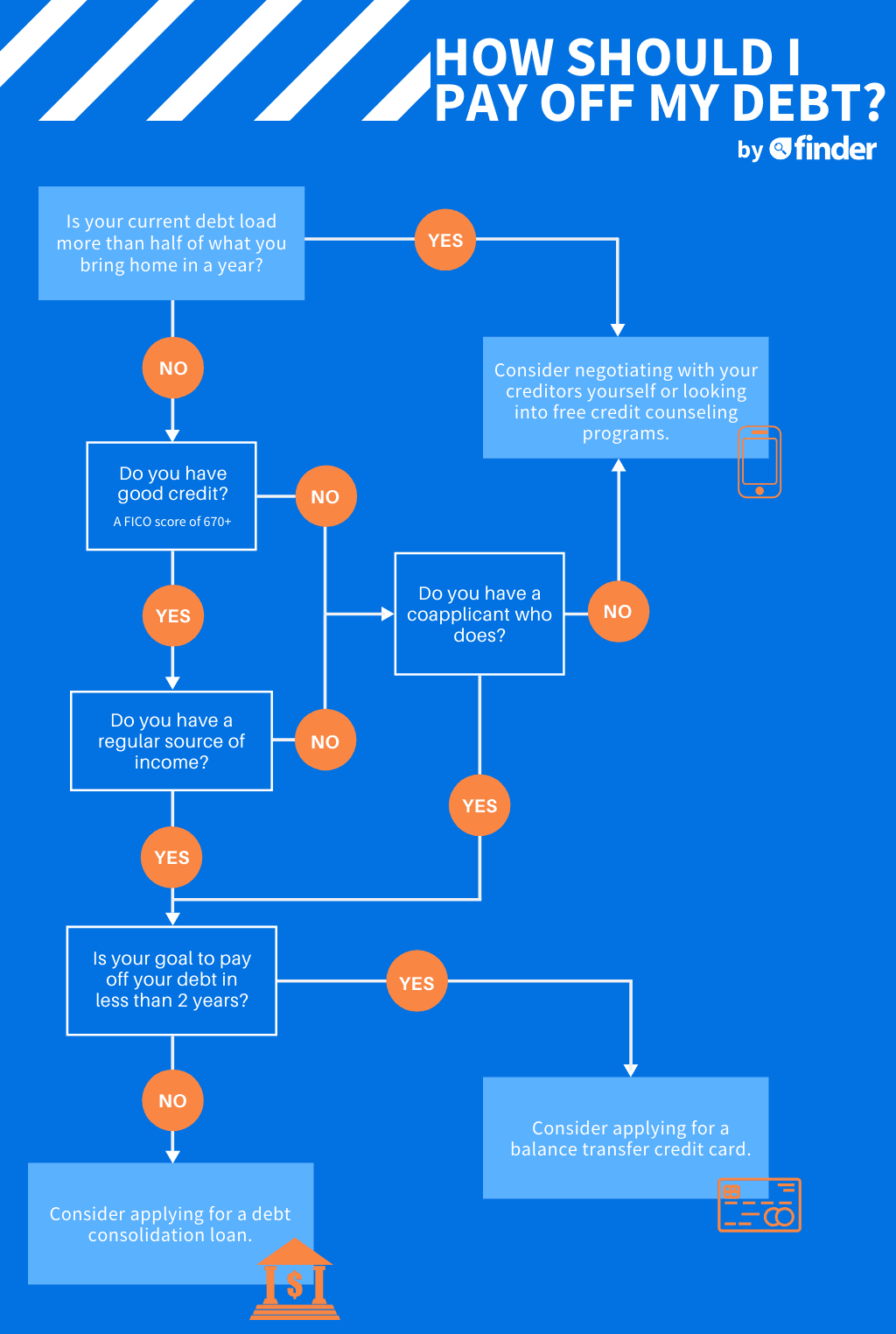 Strategies for beating debt based on how much you owe
6 ways to consolidate your debt
Debt consolidation generally involves taking out a loan or credit card, but you have several different types to choose from. The best option for you depends on how much you owe, your income and credit score.
1. Debt consolidation loan
Best for: Paying off large amounts of debt over several years at a low interest rate.
A debt consolidation loan is an unsecured personal loan you use to pay off one or more account balances. Typically, you can borrow up to $50,000 with APRs ranging from 5% to 36% that you pay back over three to seven years.
Generally, you need good to excellent credit to qualify.
Personal vs. debt consolidation loans
You can use any personal loan for debt consolidation. But some lenders specialize in debt consolidation, specifically. Often these will pay off your creditors directly and are easier to qualify for with a high debt load.
2. Balance transfer credit card
Best for: Paying off credit card debt over 21 months or less with no interest.
A balance transfer credit card allows you to move multiple credit card balances onto one new card. Often these come with 0% APR promotional rates that last up to 21 months. Generally, you also need good to excellent credit to qualify.
Debt consolidation loans vs. balance transfer credit cards
3. Secured personal loan
Best for: Getting a more competitive rate with mediocre credit.
A secured loan is a personal loan that you back with collateral. This can be anything of value that you own, like a savings account or CD. They're typically easier to qualify for than other types of funding and can be a great option if your credit is less-than-perfect or you have a high debt-to-income (DTI) ratio.
4. Home equity loans and HELOCs
Best for: Homeowners with large amounts of debt or mediocre credit.
Also known as a second mortgage, home equity loans and lines of credit (HELOCs) are backed by the amount you currently own in your home — or equity.
These typically come with lower rates than unsecured personal loans. But the risk is greater: You could lose your home if you default.
5. 401(k) loan
Best for: Anyone with rock-solid job security and a 401(k) retirement account.
A 401(k) loan allows you to borrow from your retirement fund balance at a low interest rate — without paying early withdrawal fees.
You're effectively paying interest to yourself, so it can be one of the least expensive debt consolidation options. But you stand to owe it all back in one lump sum if you leave your current employer.
6. Student loan refinancing
Best for: Anyone repaying student loans who wants better rates or terms.
The best way to consolidate your student loans is by combining them into one new loan with a student loan refinancing provider. This allows you to change up your loan term, get a more competitive rate — or both.
Generally, you need to have at least a year of repayment history and excellent credit to qualify.
What about student loan consolidation?
Student loan consolidation usually refers to a federal Direct Consolidation Loan, which you can use to consolidate multiple federal student loans into one. It won't change your rate, but it can help you qualify for more repayment and forgiveness options. But it's not available for private student loans — only federal.
How much does debt consolidation cost?
That depends on the method you use to consolidate your debt. Here's how much the two most common types of debt consolidation cost:
Personal loans. These typically come with an origination fee of 1% to 5% of the loan amount, which the lender deducts from your loan balance.
Balance transfer credit cards. These usually come with a balance transfer fee, which can range from 3% to 5% of the amount you transfer, usually with a minimum. You might also pay an annual fee.
However, you might still end up saving money in the long run if you're consolidating high-interest debts with a new loan or credit card with a lower rate and shorter term.
Pros and cons of debt consolidation
Consolidating debt can be helpful, but it's not for everyone. Weigh the pros and cons of debt consolidation before taking the plunge:
Pros
Save on interest. If your credit has improved, you may be able to qualify for a lower interest rate by consolidating your debt. Or no interest at all.
Lower monthly cost. Getting a long-term loan can give you consistent repayments that fit well within your budget.
Manage repayments. Debt consolidation means you only have one fixed repayment to keep track of each month.
Cons
Won't fix bad habits. If you're in debt because of spending habits, consolidating your debt won't help unless you also take steps to cut back.
Can't help with large amounts of debt. If you owe more than half of what you make in a year, you might not qualify for a loan or balance transfer credit card.
Can cost you more. Taking out a loan with a long term to reduce your monthly debt payments means there's more time for interest to add up.
8 myths about debt consolidation — debunked!
What kinds of debt can I consolidate?
Understanding what types of debt you can consolidate is the first step toward deciding what consolidation options you might want to consider — if at all. People generally consolidate these kinds of debts:
Credit card debt
Unsecured personal loans
Medical bills
Business loans
Retail credit cards
Tax debt
Student loans
Debt consolidation options for members of the military
Look for offers for service members and veterans. Often these have lower rates and more favorable terms than your average personal loan. Especially if your credit is less than perfect
How can debt consolidation affect my credit score?
When you take out a new loan or credit card, creditors do a hard credit check that temporarily lowers your score by a few points. However, if it helps you pay off your debt faster and make on-time payments, your score could improve in the long run.
How debt consolidation affects my credit score
What can I do if I'm denied?
If you're denied, that could be a sign that debt consolidation isn't the right choice for you.
Ask why. Lenders often tell you the reason you were rejected if you ask. That way you'll know which areas need work.
Boost your credit. Take steps to improve your credit score first before applying for another loan to increase your chances of approval.
Pay off some of your debt. If your debt load is too high, you might not qualify for a loan. Focus on lowering your debt to below 40% of your income before applying again.
Consider other lenders. No lender is right for every borrower. There's a chance there's another lender out there that offers a better debt consolidation loan for you.
Look into alternatives. If improving your credit and lowering your debt just won't cut it, another debt relief option could be a better fit.
Debt consolidation alternatives
If debt consolidation doesn't seem like the best option for you, consider one of these alternatives.
Credit counseling. Set up a free meeting with a financial adviser to go over your options and come up with strategies to get out of debt at a credit counseling agency.
Debt management. Have a credit counseling agency negotiate with your creditors to reduce your interest rate, monthly payments or both.
Debt settlement. Sign up to have a debt relief company negotiate down your balance in exchange for a one-time payment.
Bankruptcy. Best saved as a last resort, you can file for Chapter 11 or 13 bankruptcy to have a judge either eliminate or reduce the amount you owe to your creditors.
When to turn to debt relief
When your debt becomes unmanageable and a balance transfer credit card or consolidation loan just won't cut it, you may want to consider turning to debt relief. Debt relief comes in several forms such debt settlement, bankruptcy, debt management, negotiation or credit counseling. Generally, debt relief is for those whose debt is over 50% of their annual income or have only a nominal chance of paying off their unsecured debts within a reasonable time frame.
Compare debt relief providers
Compare more debt relief options
Bottom line
Debt consolidation can be a great option if you're looking for lower rates or more manageable repayments. If that's the case, you can learn more about how to apply and what to expect by reading our guide to personal loans.
But it's not ideal if you have poor credit or a high DTI. In that case, you might want to consider other debt relief options.
Back to top
Frequently asked questions
Read more on this topic