Finder is committed to editorial independence. While we receive compensation when you click links to partners, they do not influence our content.
How to buy Bitcoin in Singapore
Step-by-step instructions for getting started with Bitcoin (BTC).
Binance Cryptocurrency Exchange
Buy crypto with SGD
Huge range of supported cryptos
Advanced trading features available
Go to site
With Bitcoin reaching new all-time-highs in 2021, many buyers are looking to enter the market for the first time. We've put together this simple guide to help you do so safely and securely.

1. Compare crypto exchanges
The easiest way to buy Bitcoin is from a cryptocurrency exchange. Comparing in the table below lets you find one with the features you want such as low fees, ease of use or 24-hour customer support.
2. Create an account
To create an account on an exchange you will need to verify your email address and identity. Have some photo ID and your phone ready.
3. Make a deposit
Once verified, you can deposit SGD using the payment method that best suits you – bank transfer and credit cards are all widely accepted.
4. Buy Bitcoin
You can now exchange your funds for Bitcoin. On easier-to-use exchanges, this is as easy as entering the amount you want to purchase and clicking "buy." If you like you can now withdraw your Bitcoin to your personal wallet.
---
---
Disclaimer: This information should not be interpreted as an endorsement of cryptocurrency or any specific provider, service or offering. It is not a recommendation to trade.
Quick guide: How to buy Bitcoin in Singapore
Register for an account with a Bitcoin exchange like Coinhako.
Enable 2-factor authentication.
Verify your account.
Click "Deposit SGD".
Transfer funds into your account.
Click on "Buy BTC".
Enter the amount of BTC you want to buy or the amount of SGD you want to spend.
Review the transaction details.
Click "Buy BTC".
This is our quick guide to just one way to buy Bitcoin. Compare some other options in the table below.
Where to buy Bitcoin in Singapore
Disclaimer: This information should not be interpreted as an endorsement of cryptocurrency or any specific provider, service or offering. It is not a recommendation to trade.
A step-by-step guide to buying Bitcoin
You can buy Bitcoin in Singapore in two simple steps:
Step 1. Choose a cryptocurrency exchange
The first step, if you've decided that buying Bitcoin is right for you, is to decide how and where you'll make the purchase. There are hundreds of platforms to choose from, but they can be separated into three main categories:
Bitcoin brokers
Bitcoin brokers are retailers that sell Bitcoin and other digital currencies. They offer user-friendly platforms and are the quickest and easiest way to buy Bitcoin. Brokers let you pay with fiat currencies (like SGD or USD) using familiar payment methods like a credit card or a bank transfer. Their main downside is that they often charge higher fees than other options. CoinJar and eToro are two well-known cryptocurrency brokers.
Cryptocurrency trading platforms
These platforms, such as Binance and Independent Reserve, let you buy Bitcoin from other traders on the open market. Some exchanges let you buy with fiat currency, while others are for trading cryptocurrencies only and don't accept fiat deposits. They tend to offer lower fees and better rates than brokers, provide access to a more diverse range of coins and can also be used to actively trade cryptocurrencies. However, they're more complicated to use and require some basic familiarity with trading concepts, like the difference between limit and market orders.
Peer-to-peer (P2P) exchanges
Peer-to-peer exchanges are like noticeboards where people can post notices saying whether they're buying or selling Bitcoin, and what their price is. Buyers and sellers on peer-to-peer exchanges directly contact each other and make their own arrangements. This makes it possible to access a wider range of payment methods, such as cash, and trade with increased privacy. The downsides are that prices on peer-to-peer exchanges are often higher than the market exchange rate, and users need to be wary of scammers on these platforms. Examples of peer-to-peer exchanges include LocalBitcoins and Paxful.
Step 2. Buy Bitcoin
In most cases, the first step after choosing an exchange is to create an account by providing your email address. Depending on the exchange you use and the regulatory requirements it is subject to, you may also be required to provide your full name, contact information and proof of ID before being allowed to trade.
Once your account has been verified, you can make your purchase and pay for it. This looks different depending on whether you're using a broker, a trading platform or a peer-to-peer exchange.
When using a broker
Simply enter the amount of Bitcoin you want to buy, and the broker's website tells you how much it costs and what the available payment options are. Once you make your payment, the broker sends the Bitcoin to your account. From there, you can withdraw the Bitcoin to your personal wallet or send it anywhere else you want.
When using a trading platform
First, you need to deposit funds into your account. Once you've made the deposit, go to the market for the currency pair you want to trade. For example, if you want to buy Bitcoin with US dollars, you'd go to the BTC/USD section of the exchange website. To buy Bitcoin in that market, place a buy order. There are different order types, but if you simply want to buy at current market prices, you can place a market order.
When using a peer-to-peer exchange
Browse sell offers to find one with an acceptable price and a suitable payment method. Ideally, the seller will also have a good reputation score, and their notice won't raise any red flags. Contact the seller, tell them you want to buy Bitcoin and make a deal. Peer-to-peer exchanges usually use escrow services to protect buyers and sellers, but you should still be wary of scammers when using them.
---
How to store Bitcoin
After buying Bitcoin, it usually gets sent to your account on the exchange. While some people keep their Bitcoin in exchange accounts indefinitely, it's not the safest option. If the exchange goes out of business, gets hacked or if you somehow lose access to your exchange account, you could lose your Bitcoin.
That's why it's usually safer to store Bitcoin in a personal wallet.
To do this, you first need to create a personal Bitcoin wallet address. Then you can send Bitcoin from your exchange account to that personal wallet address.
Read the cryptocurrency wallets guide to learn how to create a personal Bitcoin wallet address, and what the types of wallet are.
How to pay for your Bitcoin
Not all exchanges accept all payment methods, so if you have a specific payment method in mind, it can be helpful to specifically look for an exchange that accepts it.
Different payment methods have their own pros and cons.
---
Buying Bitcoin with your bank account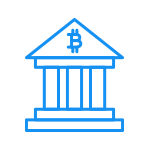 Most Singapore-based cryptocurrency exchanges will accept bank transfers and other payment services such as Xfers and PayNow. These transfers are often free and near-instant, so they can be an excellent choice where available. Exchanges that accept these options include Coinhako and Binance.
When using an overseas cryptocurrency exchange, you may see bank transfer payment options referred to as wire transfer or SWIFT payment. These payments will usually be much slower (they can take up to a week) and will attract significantly higher fees than domestic bank transfers, including currency exchange fees. If you want to use a specific overseas exchange, it may be preferable to buy cryptocurrency domestically with local currency and then deposit cryptocurrency onto the exchange instead.
Compare cryptocurrency exchanges to find one that supports bank transfer payments.
---
Buying Bitcoin with a credit card or debit card
Many Bitcoin brokers let you buy Bitcoin using your credit card, including platforms like Coinbase and Coinmama, and using your credit card allows you to make quick and convenient purchases. Trading platforms such as Binance have also started letting customers directly buy cryptocurrency with a credit card via third-party payment integrations.
However, in all cases, credit card transactions attract relatively high fees, typically in the 1.5% to 3% range. On top of that, they can also incur cash advance fees. Banks often don't look too favourably on these transactions either, and some have blocked customers from buying crypto with plastic. Debit cards aren't as widely accepted as credit cards but can still be used to buy cryptocurrency on some platforms.
Credit cards aren't typically accepted on peer-to-peer exchanges due to the risk of chargeback fraud.
Find an exchange where you can pay for Bitcoin with your credit/debit card.
---
Buy Bitcoin with cash
The most direct way is to buying Bitcoin with cash in Singapore is to use a peer-to-peer exchange, and arrange an in-person cash purchase with someone in your local area. Another way is to find a Bitcoin ATM near you, and deposit cash that can then be converted to BTC.
Buying Bitcoin with cash can be as quick and convenient as other payment methods, but it also tends to be among the most expensive payment methods.
Get a complete list of exchanges that let you buy crypto with cash.
---
Buy Bitcoin with PayPal
PayPal is rarely accepted by cryptocurrency exchanges or other sellers, given the risk of chargeback fraud. This is when someone buys Bitcoin, but then requests PayPal reverse their transaction after they get the Bitcoin, so they get their money back and get to keep the Bitcoin.
If you've got your heart set on buying Bitcoin with PayPal, there are still some options though.
It's unlikely, but not impossible, to find sellers accepting PayPal on peer-to-peer exchanges like Paxful. And if you're more interested in Bitcoin's price action than the underlying asset, you can also fund an eToro account with PayPal.
A potentially riskier third option is a relatively obscure peer to peer platform called xCoins, which was specifically designed to facilitate PayPal for Bitcoin transactions. It's a little vague on how it works though and doesn't have the best security track record.
If you just want to draw down on your PayPal balance, you can also link your PayPal account to a credit card and then buy Bitcoin with that credit card.
Using PayPal can incur additional fees, and it can be difficult to find exchanges that allow it. But if you really want to use it, there are still a number of options.
Head to our full list of exchanges that support PayPal to learn more.
---
Buy Bitcoin with another crypto
It's easy to swap other cryptocurrencies for Bitcoin, since BTC is listed on almost all crypto exchanges with a huge range of trading pairs.
You'll need to search for exchanges that list your desired trading pair. For example, if you want to trade Ether for Bitcoin, you'd look for an exchange with a BTC/ETH pair. Once you've found a suitable exchange, you can buy Bitcoin by following a few simple steps.
Simply create an account, and deposit the cryptocurrency (such as ETH) into your exchange wallet. Then go to the market (such as BTC/ETH) and look for where it says "Buy BTC" or "Sell ETH" as the case may be.
Enter the amount you want to buy or sell and create a new order. If you want to aim for a specific exchange rate, you can create a limit order which may be executed when the market shifts enough that it's a good offer. If you just want to swap at current market prices, you can create a market order.
Compare crypto-to-crypto exchanges to find one that's right for you.
---
Buy Bitcoin anonymously
As a rule of thumb, cryptocurrency exchanges will always verify your identity if you are exchanging between fiat currency and cryptocurrency. As such, one of the most reliable ways of buying Bitcoin anonymously is by paying with another cryptocurrency on an exchange that doesn't require user verification. But this isn't much help if you're trying to convert fiat currency to cryptocurrency.
In that case, the most reliably anonymous way of buying Bitcoin is to pay with cash or another untraceable payment method, such as prepaid gift cards, on a peer-to-peer exchange.
Other methods, even if they don't involve identity verification, are only partially anonymous. Bitcoin ATMs have different compliance requirements in different countries, but they will often photograph their users or require them to present ID to a camera in the machine.
And while you can use exchanges such as Changelly to buy cryptocurrency with a credit card, without going through a formal identity verification process on the exchange, these purchases aren't anonymous. They typically require a 3D Secure card, which means buyers are still being identified.
To learn more, check out our guide on how to buy Bitcoin without ID.
---
How to choose a Bitcoin exchange
With hundreds of platforms to choose from, finding the best Bitcoin exchange for your needs is a challenging task. To make your choice easier, consider these key factors when comparing exchanges:
Where the exchange is based and how it is regulated. Using local exchanges can be a good idea where possible. They're more likely to accept the local currency and local payment methods, which makes it easier to avoid expensive international transfers and exchange fees that may be incurred when making a deposit to an overseas exchange. It may also give you more recourse in case something goes wrong as well as additional protections under specific exchange or financial services regulations and any applicable consumer rights laws in your country.
Security. Look at the security features a platform has to offer, such as 2-factor authentication and PGP-encrypted emails. Has it ever been hacked or linked to any suspicious activity?
Fees. Check the fine print to find out exactly how much your transaction will cost. Depending on the platform you choose, these could include trading fees and transaction fees as well as deposit and withdrawal charges.
Transaction limits. Are there any minimum or maximum limits on the amount of Bitcoin you can purchase? Does the exchange restrict the amount of funds you can withdraw from your account in any one transaction or 24-hour period?
Supported currencies. As the biggest digital currency in the world by some margin, Bitcoin can be bought and sold on a huge range of platforms. However, if you're looking to acquire other cryptocurrencies as well as Bitcoin, check to see what other coins you can buy through the platform.
Customer support. If you ever have a problem with a transaction, will you be able to quickly and easily get in touch with the customer support team? Check what contact methods are available and find out how quick the team is at responding to enquiries.
Reputation. Finder's review pages include user reviews, which help you get a better idea of what the exchange is like to use for other people starting out just like you.
Learn more about how to choose an exchange in our cryptocurrency exchange guide
---
Buying from an Singapore-based Bitcoin exchange: Pros and cons
There's plenty of choice when selecting a Bitcoin exchange, and Singaporean users can choose from platforms based here at home or in countries all around the world. So, should you buy Bitcoin from an Singapore-based exchange or from a foreign platform? To help you decide, consider the pros and cons of buying on a local exchange.
Pros
Local exchanges are regulated and must comply with MAS' AML/CTF reporting obligations.
You can usually buy Bitcoin with SGD.
Singapore-based exchanges support local payment methods, such as Xfers and PayNow.
You can access local customer support.
You get better consumer protection if your funds go missing.
Cons
You'll need to provide your personal details and proof of ID – a disadvantage for people who want to trade anonymously.
Some bigger platforms based overseas offer much better liquidity.
SGD to crypto prices are often higher than USD to crypto prices, meaning you sometimes pay a premium for buying directly with SGD.
Some things are simply not available on Singapore-based exchanges. For example, 100x leverage margin trading, staking features and many altcoins.
Regardless of whether you choose an Singapore or overseas-based crypto exchange, make sure you compare a range of options before deciding which platform to use.
---
The risks of buying Bitcoin
You wouldn't invest in shares without doing your research first, so make sure you understand the following essential facts about Bitcoin before you buy:
It's volatile. Take a look at a graph charting the price history of Bitcoin and you'll see straight away that its value is capable of rising and falling sharply in a relatively short space of time. Not only is Bitcoin volatile but, as a very new asset class, it's also highly unpredictable. This means there's a high level of risk associated with buying Bitcoin.
Security is your responsibility. One of the core ideas behind Bitcoin is to remove intermediaries and middlemen from finance. It does this quite well, but this means that at the end of the day, you're solely responsible for the security of your Bitcoin. If you lose your private keys or get hacked, there's probably no one to help you and there's probably no way of getting your money back.
Bitcoin transactions can't be cancelled. Once you've submitted a transaction to the Bitcoin network, it cannot be cancelled. With this in mind, make sure you double-check the receiving address before sending a Bitcoin payment.
Bitcoin is not anonymous. There's a widespread misconception that all Bitcoin transactions are anonymous. This isn't the case as your public address and the details of your transactions are visible to everyone. If anonymous transactions are an important feature for you, it may be worth researching privacy-focused coins, such as Monero.
You need to do your homework. To buy, sell and hold Bitcoin safely, it helps to do your homework. It's good to know how to spot scams, what the difference between private and public keys is, what it means when you "fat finger" an order on an exchange and whether it's called "the blockchain" or just "blockchain." If you're looking for a place to begin, try bookmarking our cryptocurrency hub for future reference.
Regulation. The regulatory environment for Bitcoin is constantly changing. The bull market of 2021 caused many regulators and financial bodies around the world to reconsider how they treat Bitcoin, whether in regards to purchasing, taxing, or outright banning it. Even if you live in a country with a supportive regulatory environment for Bitcoin, it is still important to understand how events in other nations have the potential to impact this borderless currency – for both good and bad.
Finally, it's also worth remembering that Bitcoin is far from the only fish in the cryptocurrency sea. While it may be the biggest and best-known, there are more than 4,000 other cryptocurrencies available as of February 2021 (and growing). While the value of some of these coins is questionable, there are plenty of other digital currencies worth considering as alternatives to Bitcoin.
Bitcoin in brief
Bitcoin is the world's oldest and biggest digital currency by market cap. Created in 2009 by an unknown person (or persons) using the alias Satoshi Nakamoto, Bitcoin is a form of decentralised electronic cash designed to provide a viable alternative to traditional fiat currency.
Rather than having to deal with a centralised authority such as a bank to process transactions, Bitcoin holders can transfer their coins directly to one another on a peer-to-peer network. All Bitcoin transactions are tracked on a public ledger known as the blockchain, and people working as miners verify transactions and update the blockchain.
The maximum coin supply of Bitcoin is limited to 21 million, but it's possible to buy a small fraction of a coin – each individual coin can be divided down to 0.00000001 BTC. Find out more about how Bitcoin works in our comprehensive beginner's guide.
Back to top
---
Other ways to get Bitcoin
Want to get your hands on some Bitcoin without actually buying it? There are a few options available:
---
Next steps
If you want to buy Bitcoin, start comparing a range of cryptocurrency brokers and exchanges. Look at their features, fees, security and overall reputation to decide which platform is the right fit for you.
You can then sign up for an account and get ready to start trading. However, make sure you research your purchase thoroughly and are fully aware of the risks involved before you buy.
FAQs
Disclaimer: Cryptocurrencies are speculative, complex and involve significant risks – they are highly volatile and sensitive to secondary activity. Performance is unpredictable and past performance is no guarantee of future performance. Consider your own circumstances, and obtain your own advice, before relying on this information. You should also verify the nature of any product or service (including its legal status and relevant regulatory requirements) and consult the relevant Regulators' websites before making any decision. Finder, or the author, may have holdings in the cryptocurrencies discussed.
Icons made by various artists on www.flaticon.com
Disclosure: At the time of writing, the author holds ADA, ICX, IOTA and XLM.
More guides on Finder