Finder is committed to editorial independence. While we receive compensation when you click links to partners, they do not influence our content.
How to buy Bitcoin in Singapore
Step-by-step instructions for getting started with Bitcoin (BTC).
Binance Cryptocurrency Exchange
Buy crypto with SGD
Huge range of supported cryptos
Advanced trading features available
Go to site
To buy Bitcoin, you just need some photo ID to create an account on a platform that sells it, then link a payment method to buy it with, like a bank account or debit card. You don't have to buy a whole Bitcoin either – it's completely up to you how much you spend.
Cryptocurrency exchanges are the main way people buy Bitcoin and other cryptocurrencies. Don't worry – while the technology behind Bitcoin is complex, buying it is straightforward and will take about 30 minutes out of your day. Plus, you could learn some new skills to help you build your cryptocurrency portfolio and get the most out of your investment.
Step 1. Choose where to buy Bitcoin
A cryptocurrency exchange is a website that allows you to buy and sell cryptocurrencies. They operate similarly to stock trading platforms.
Cryptocurrency exchanges differ by fees, security and payment methods, so you'll need to research which is the right fit for you. As a beginner, you don't need a big range of features, and you can always change exchanges later.
The first time you purchase Bitcoin, you will need to choose an exchange that accepts payment in Singapore dollars or your local currency.
Some of the most popular exchanges that accept Singapore dollars are Coinhako, Binance Singapore and Gemini. They are considered beginner-friendly and accept most common payment methods, like bank transfer and debit or credit card.
You can see a list of exchanges in the table, which lets you compare various features, like supported payment methods, fees and the range of different cryptocurrencies on offer.
Once you have chosen an exchange, you will need to go to its website and create an account. You can do this by selecting the button next to the exchange's name in the table.
To help you pick an exchange, consider the following:
Fees: Fees are charged on each purchase and can add up over time. Paying with a credit card tends to be the most expensive option, so keep an eye out for exchanges with free payment methods like a bank transfer.
Coins: Obviously, you want some Bitcoin, but have you thought about what other cryptocurrencies you might like to purchase later on? If you plan to expand your portfolio at some point, consider picking an exchange with other coins of interest.
Location: Cryptocurrency exchanges based in Singapore must comply with local laws and regulations, and you will find some exchanges are unavailable in certain states. Be wary of exchanges located in foreign tax-havens with weak consumer laws.
Step 2. Create an account on an exchange
Once you have selected an exchange from the table below, you can sign up for an account by selecting the Go to site button. This will take you to the account creation page, where you can fill in your details, starting with your name and email address.
You will then need to verify your identity and address, which is part of a process called Know Your Customer (KYC), which is a legal requirement by exchanges in Singapore. To do this, you will need a photo ID and a copy of a recent bank statement or utility bill that has your address on it.
KYC is typically approved instantly, although in some cases, you may have to wait a few days before your account is verified.
Once your account is approved, you will need to choose a payment method to deposit funds into your account before you can make any purchases.
Step 3. Fund your account
To buy Bitcoin, you will first need to deposit money into your exchange account or link a credit or debit card.
Depositing funds: The cheapest way to buy Bitcoin is typically by depositing money from your bank account to an exchange and then using it for purchases. You can always transfer the money back to your account later if you decide to sell your cryptocurrency.
Transferring money from your bank account is typically the cheapest option, but you might end up waiting a few days for the funds to arrive, depending on your bank. Once the funds arrive, you can then purchase Bitcoin or another cryptocurrency. Depositing money this way typically gives you the most options and the lowest fees.
Linking a card: Linking a card to your account can be a convenient way to buy Bitcoin, but it has a few downsides. Funds are only transferred when the purchase is made, and fees are typically more expensive than a bank transfer. Credit and debit cards are primarily used for instant purchases, so you can't deposit funds to use on the spot market.
If you only have a credit card available, the fees can add up quickly, and some providers may not even let you purchase cryptocurrency. It's generally advisable to avoid using a credit card, as you will also have to pay interest on top of fees.
Don't stress too much about which option you choose, as you can always change it later. But if you're planning to make a large purchase, then it is worthwhile to calculate the fees involved with each method to determine the best value.
Step 4. Buy Bitcoin
First things first – you don't have to buy a whole Bitcoin. Most exchanges will let you buy as little as $10 worth, maybe even less. Simply type in how much you want to spend in Singapore dollars, and let the exchange calculate the rest.
Secondly, keep in mind that some exchanges only have one way to buy Bitcoin, while others offer multiple ways to buy. The two most common methods in Singapore are instant buy and the spot market.
Instant buy
Many exchanges now offer users the ability to buy Bitcoin instantly. In this case, the exchange acts as a broker, which means they are selling you the cryptocurrency directly for a set price. This differs from the spot market, where all the users on the exchange go to trade with each other, setting their own price by making bids and offers.
Buying Bitcoin this way is typically a bit more expensive than the spot market, as the exchange usually adds an extra fee on top of the market price. If you want to buy Bitcoin using a credit or debit card, this is usually the way to go. But again, you will pay an extra fee for using a card.
While a very beginner-friendly way to purchase Bitcoin, the fees for this method can really add up if you're not careful.
Spot market
The spot market is the most common way to buy, sell and trade cryptocurrency.
It operates like a stock exchange, where buyers and sellers come together and make offers. As a buyer, you can look for the lowest price available and take that, or make an offer at an even lower price and hope that it gets accepted. This gives users full control over the price they want to buy or sell Bitcoin for and offers the most competitive fees and pricing. If you've ever heard of people trading Bitcoin, this is the system they use.
The spot market offers the best value for money and is the heart of the Bitcoin market. If fees are your biggest concern, then you may want to use the spot market. You can always use a market order if you want to purchase Bitcoin immediately.
Step 5. Withdraw to wallet
Once you have purchased your Bitcoin, you should consider moving it off the exchange to your own Bitcoin wallet.
What is a Bitcoin wallet?
A Bitcoin wallet is a software application that helps you securely manage your Bitcoin. Bitcoin uses public and private keys to guard access to your coins. You can think of these as an email address and a password, where the public key is like your email address that everyone can see and is used for sending and receiving Bitcoin. Your private key is like your password and must never be shared with anyone else. If someone obtains access to your private key, then they could steal your Bitcoin. So a wallet helps you keep your private keys safe.
Public key: Your public address used for sending and receiving Bitcoin. It's similar to your email address.
Private key: Your private key is used to access your public address. Never share your private key with anyone. It's like the password to your email address.
Learn more about how cryptocurrency wallets work and how to get started using one
Reasons to use a Bitcoin wallet
Learning how to use a cryptocurrency wallet takes some time and effort. But there are several benefits to moving your coins off an exchange.
Not your keys, not your coins: A mantra repeated by cryptocurrency enthusiasts is "Not your keys, not your coins." Unless your Bitcoin is in a wallet that you own the private keys to, then you don't have control over it. Many consider it bad practice to keep coins on an exchange, as this means you are trusting them to a third party.
Hacking: Exchanges are prime targets for hackers, who can either hack the exchange itself or trick users into handing over their account information through techniques known as phishing.
Security: Bitcoin and cryptocurrency wallets vary greatly in their features and security, but even the most basic are considered more secure than leaving your coins on an exchange. For the most secure experience, consider purchasing a hardware wallet, which is a small USB device that keeps your private keys offline at all times, adding an extra layer of security.
Autonomy: A core principle of the philosophy behind Bitcoin is that it enables personal control over your finances without the need for banks. Leaving your coins on an exchange goes against this, so learning to use a Bitcoin wallet is considered an important part of your cryptocurrency journey.
Utility: If you are planning to use your Bitcoin for transactions, daily spending or decentralized finance (DeFi), then storing it in a wallet rather than an exchange will be far more convenient.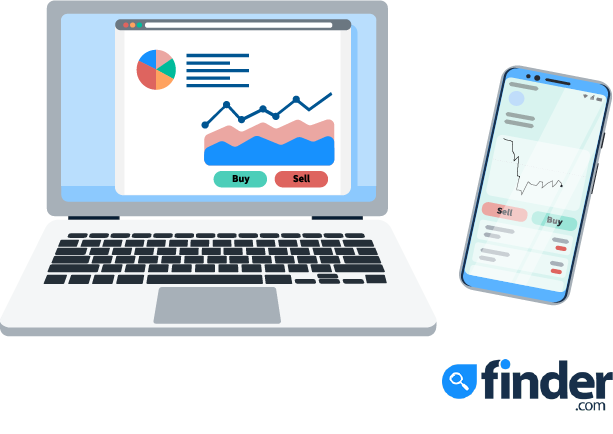 Finder Crypto Report, 2021
Finder polled more than 42,000 people across 27 countries to reveal the countries with the highest rate of cryptocurrency ownership. Singapore ranks 12th out of the 27 countries with 19% of adults saying they own cryptocurrency.
The global average for ownership is 19% with men much more likely than women to own cryptocurrency.
All the content may be republished with a link to this page
Download cryptocurrency statistics PDF
Reasons to keep your Bitcoin on an exchange
Exchanges have come a long way since the early days of Bitcoin. Many of the big players now use advanced security practices, hardware and education to help protect user funds. Several now also insure user funds up to a certain value.
As of July 2021, many exchanges, including Kraken, Coinbase and Gemini, have never been hacked, and while Binance was hacked in 2018, it compensated users through its now-famous "Safu" fund. As such, you may want to keep your coins on an exchange for a number of reasons.
Convenience: Leaving your cryptocurrency on the same exchange you purchased it on is convenient for a number of reasons. You only need to remember a single account and password and can easily top up your portfolio as you see fit, and it allows you to manage all your crypto-related finances in one place.
Casual investor: If you are a casual investor and more concerned with speculating on the price of Bitcoin than taking advantage of its utility, then keeping your Bitcoin on an exchange might be the easiest way for you to manage your investment.
Frequent trader: If you plan to trade Bitcoin frequently, then leaving it on the exchange may be the easiest option. But you can always use a decentralized exchange, which is a way of trading directly from your personal cryptocurrency wallet.
Security: Every cryptocurrency exchange is different, and so is its security. Some exchanges share their security practices publicly, while others prefer to keep them confidential. If you plan to keep your coins on an exchange, make sure to do your own research. Some features you want to look for include: Cold storage, multi-sig wallet, two-factor authentication (2-FA), KYC/AML required for all users, anti-phishing measures.
Insurance: Some exchanges now insure user funds up to a certain amount. Choosing a US-based exchange may also mean your cash deposits are protected by FDIC insurance. A local exchange will also give you access to legal recourse should there be any issues.
Lending: Some exchanges will offer you the chance to earn interest on your Bitcoin holdings, just like a bank pays interest on cash deposits. This can be a great way to grow your portfolio without trading.
Where to buy Bitcoin in Singapore
The risks of buying Bitcoin
You wouldn't invest in shares without doing your research first, so make sure you understand some essential facts about Bitcoin before you buy:
Price volatility: Bitcoin's price is largely based on speculation, which means it can rise or fall in a short time. It is not uncommon for Bitcoin to lose more than 10% of its value in a single day. A common piece of advice in Bitcoin circles is "only invest as much as you can afford to lose."
Security: Understanding the risk of leaving your coins on an exchange versus using a wallet is essential. If you want to use a wallet, you will also need to learn how public and private keys work.
Transactions can't be reversed. Once you've submitted a transaction to the Bitcoin network, it can't be cancelled or reversed. So double-check the receiving address before sending a Bitcoin payment. There is no bank to refund you any lost funds sent to the wrong address.
Bitcoin is not anonymous. There's a widespread misconception that all Bitcoin transactions are anonymous. This isn't the case as your public address and the details of your transactions are visible to everyone. If anonymous transactions are an important feature for you, it may be worth researching privacy-focused coins, such as Monero.
Regulation. The regulatory environment for Bitcoin is constantly changing. The bull market of 2021 caused many regulators and financial bodies around the world to reconsider how they treat Bitcoin, whether in regards to purchasing, taxing or outright banning it. Even if you live in a country with a supportive regulatory environment for Bitcoin, it is still important to understand how events in other nations have the potential to impact this borderless currency – both good and bad.
Bitcoin is not the only cryptocurrency out there. While it may be the biggest and best-known, more than 4,000 other cryptocurrencies are available as of June 2021. While the value of some of these coins is questionable, there are plenty of other digital currencies worth considering as alternatives to Bitcoin.
---