Finder makes money from featured partners, but editorial opinions are our own.

Advertiser disclosure
How to get a personal loan with bad credit in 5 steps
Bad credit personal loans are available — but the high interest rates and fees might not be worth it.
A bad credit loan is a loan from a provider that accepts borrowers with low credit scores or no credit history. The credit scoring company Fair Isaac Corporation (FICO) defines a poor credit score as a personal credit score below 580 — though some lenders consider a credit score below 670 to be bad credit.
If your credit scores falls within this range, your options are limited. Those that accept bad credit typically charge borrowers who have bad credit APRs above 30%. Getting approved for a bad credit personal loan at an affordable rate can take more steps than your average personal loan application.
How to get a bad credit personal loan
Following these steps can help you find the best personal loan available to you — even with bad credit.
1. Check your credit
It helps to check both your credit report and credit score before you apply for a personal loan. This helps ensure your score is accurate — and avoid a lower rate than you would otherwise qualify for.
Start with your credit report
Before you start comparing lenders, check your credit report for mistakes that lower your credit score.
How to check your credit report: You can get a free copy of your credit report at annualcreditreport.com. You're entitled to one from each of the three credit bureaus every 12 months. Or, call 877-322-8228.
Next steps: If you notice a mistake, contact the creditor that reported an error to have it removed before you apply for a loan.
Next, get an estimate of your score
Once you're sure your credit report is accurate, get an estimate of your personal credit score.
How to check your credit score: Many banks and credit card companies offer this service for free to current customers. Other websites also offer credit scoring services.
Next steps: Use your credit score estimate to you rule out personal loan providers you won't qualify with.
Credit score estimates are based on a soft credit check. This means they won't affect your credit score — but also aren't guaranteed to reflect what you lender sees.
2. Compare lenders that accept bad credit
Start your search by looking for personal loan providers with a minimum credit score requirement lower than your score. Then compare using factors like loan amounts, terms, restrictions on the use of loan funds, interest rates and fees. Also consider a variety of different types of lenders and lending services:
Community banks often have more flexible requirements than large national banks and may be willing to overlook poor credit due to a one-time event — like a divorce or medical emergency.
Credit unions are nonprofit lenders that can work with borrowers of all credit types. Some federal credit unions even offer payday alternative loans (PALs), which cap interest rates at 28%.
Community development financial institutions (CDFIs) are nonprofit lenders with a mission to bolster the economy of the communities they serve. Many offer low-cost loans to locals with bad credit.
Online lenders typically look at factors beyond personal credit to help you qualify for a low rate with a less-than-stellar credit. The interest rates and fees are high compared to banks, but can often fund your loan within 24 hours.
Connection services can help you compare offers from multiple lenders that accept borrowers with your credit score. But you have to agree to share your information with several lenders, who might contact you even after you've received your loan.
Short-term lenders like payday and installment loan providers offer small loans with fees equivalent to 700% APR in some cases. But they may be the only option if you don't have a checking or savings account.
Save short-term loans for emergencies
Some short-term lenders offer what they call installment loans for people with a bad credit score or no credit history. In fact, many don't conduct a credit check at all. But they're also the reason the average APR for bad credit borrowers was over 100% in 2019, according to a report by personal loan marketplace LendingTree.
These lenders get around state laws that limit personal loan rates by offering shorter repayment terms and loan amounts under $10,000. These can lead to high monthly repayments and come with the risk of getting caught in a cycle of debt. Save them for emergencies when you can't qualify for a regular personal loan.
Get started on our search by using our personal loans comparison table. Fill out the form to get personalized results. Or, read about our picks for the best personal loans for bad credit.
3. Prequalify with your top choices
Prequalifying for a personal loan gives you an estimate of the interest rate, origination fee, loan amounts and terms you might be eligible for.
Prequalification is usually based on a soft credit check and gives you an idea of the cost of the loan without affecting your credit score.
You can typically prequalify for a personal loan by filling out a form on the lender's website.
If a lender doesn't offer prequalification, call and ask for an informal quote.
After you've prequalified for a loan, use our calculator to get an estimate of your monthly payment and total cost.
Bad credit personal loan calculator
Enter your estimated loan amount, term and APR for an estimate of monthly paments.
Your loan
Loan amount
Loan terms (in years)
Interest rate
Fill out the form and click on "Calculate" to see your estimated monthly payment.
or
Compare more lenders
You can expect to pay back
$
per month
Based on your loan terms
| | |
| --- | --- |
| Principal | $ |
| Interest | $ |
| Total Cost | $ |
4. Complete the application
If you prequalify for a loan, the lender will send you instructions on how to complete the application. Often, you can complete the form online — even if you apply with a bank or credit union. However, in some cases you may need to meet with a loan officer.
While it varies by lender, you'll typically be asked to provide the following information and documents:
Contact information
Employer details
Social Security number
Date of birth
Pay stubs, tax returns or bank statements
If you're applying for a secured loan, you'll also need to provide information about the collateral you're using to back the loan. Usually an unsecured loan requires less information.
Typically, lenders run a hard credit check after you submit the application or once you accept the offer. This will show up on your credit report and lower your credit score by about five points for the next 12 months, according to FICO.
5. Review and sign your final offer
Once approved, your lender will send you a loan offer. With an online lender, you can receive your offer in less than a day. Loan approvals from banks or credit unions can take at least a week — especially if it's a secured. Read over your loan agreement, taking note of the following important information.
Loan amount
Interest rate
Origination fee
Repayment terms
Prepayment penalties
Late fees
If the rates and terms are close to what you expected, sign and return your loan agreement to the lender. Otherwise, go back to another top choice and follow their instructions to apply for a loan. This shouldn't affect your credit again as long as you apply within two weeks.
Once you sign your loan, you should receive your loan funds in your bank account within three business days. If you applied for a debt consolidation loan, some lenders may send the funds directly to your creditors.
Tips to get a loan with less-than-stellar credit
These tips won't guarantee you'll be approved for a loan, but they can help increase your chances when you have bad credit.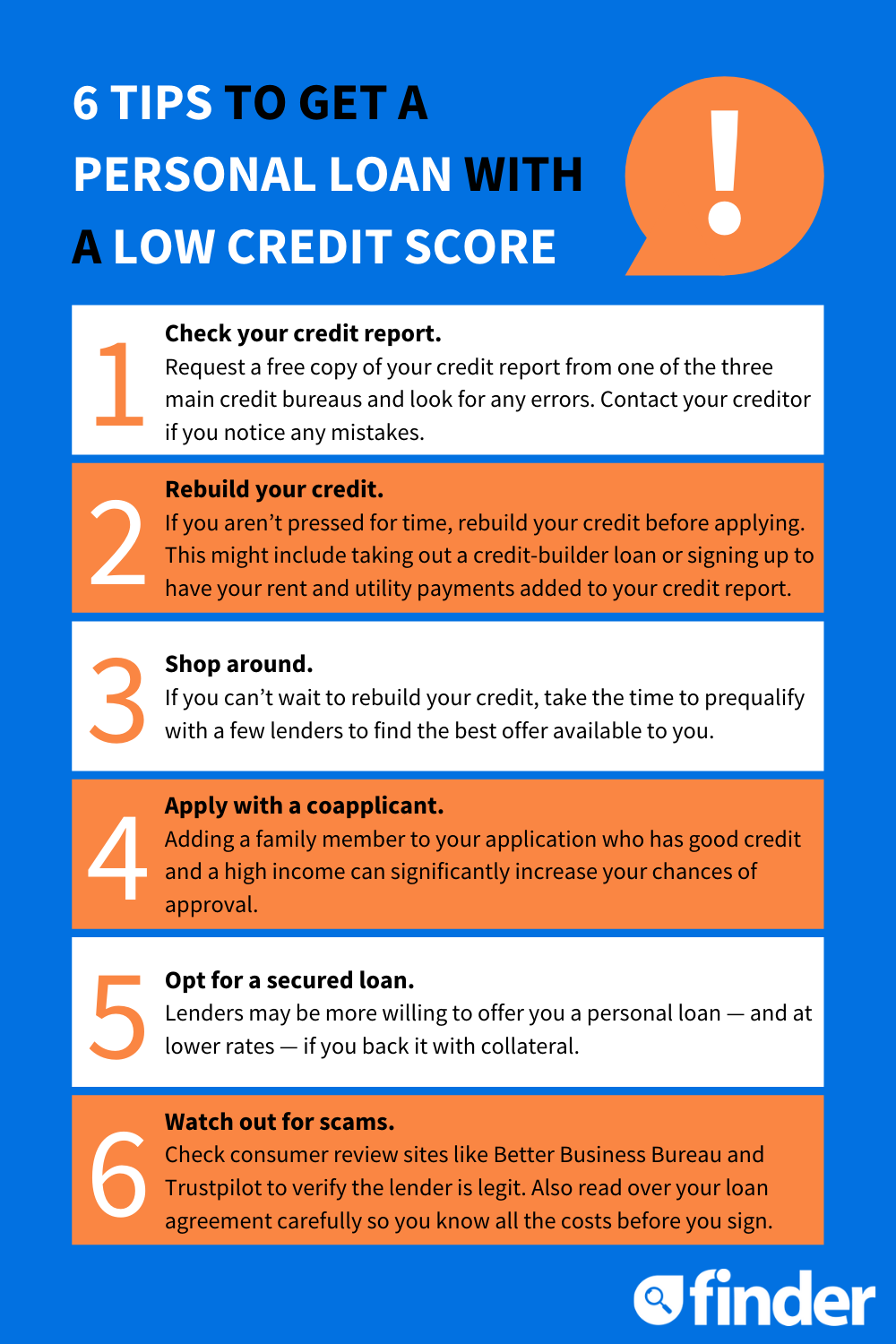 Tips to get a personal loan with a low credit score
Follow these steps to up your chances of qualifying for a personal loan with a low credit score.
Check your credit report by requesting a copy from one of the three main credit bureaus and look for any errors. Contact your creditor if you notice a mistake to get it fixed before you apply for a loan.
Rebuild your credit before you apply if you aren't pressed for time — or consider a credit-builder loan. While it will take time and careful budgeting, improving your score means lower rates in the future and a better chance of being approved for larger loans, like a car loan or mortgage.
Compare multiple bad-credit lenders, especially if you can't wait to rebuild your credit. Prequalify with a few different lenders to find the best offer available to you. You can even let an online loan connection service do the work for you.
Find a cosigner, like a friend or family member. Someone willing to vouch for you and cosign a loan can significantly increase your chances of approval. But they'll be on the hook for repayments should you find yourself unable to pay.
Opt for a secured loan to increase your chances of approval. Lenders may be more willing to offer you a personal loan — and at lower rates — if you back it with collateral. Just be careful: Defaulting on a secured loan means losing whatever asset you put on the line.
Watch out for predatory lenders and personal loan scams. Borrowers with bad credit are targeted more frequently, so do your research before applying. Check consumer review sites like the Better Business Bureau and Trustpilot to verify the lender is legit. And read over your loan agreement carefully to ensure you understand all of the costs that come with borrowing.
Personal loan alternatives for bad credit
Not sure a personal loan is right for you? Consider these alternatives instead.
Credit card cash advances are available instantly: You can withdraw a cash advance from an ATM if you have a credit card. Check your credit card advance rates first. While they can be high, they might not be as costly as a short-term loan.
Pay advance apps like Earnin allow you to get an advance on the hours you've already worked for an optional tip. And some employers offer pay advances as an employee benefit.
Friend and family loans are informal loans from your social circle. They might be willing to help you out for a lower rate than a personal loan provider.
Crowdfunding is a popular way to raise money from your peers for expenses like medical bills or to finance a wedding. You don't have to repay any contributors, though most platforms charge a fee if you reach your goal.
Bottom line
Bad credit isn't the end of the line when it comes to taking out a personal loan. Credit unions, local banks and online lenders all offer options, though how much you're able to borrow might be limited. And you'll likely face higher interest rates and fees, since you pose more of a risk to the lender.
Learn more about how it all works with our guide to personal loans.