Finder is committed to editorial independence. While we receive compensation when you click links to partners, they do not influence our content.
Get a bad credit personal loan
Find out how much you can borrow, APRs and more.
Editor's choice: OppLoans Installment Loans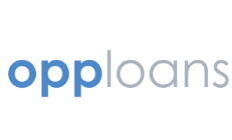 Easy online application
Quick approval
Long repayment terms
See my rate
Personal loans for bad credit are typically meant for borrowers who have a credit score less than 580. While you may find yourself paying higher interest than other borrowers, if you have the ability to repay, there are lenders that can work with you.
Compare personal loans for bad credit
How to get a personal loan with bad credit
Check your credit score. Before you get started, get a recent estimate of your credit score — knowing this can help you find a lender that you're eligible for.
Shop around. Compare lenders that you can qualify with by looking at factors like eligibility, loan amounts, APR and how long it takes to get your funds.
Prequalify with multiple lenders. Once you've narrowed down your list, apply with a few of your top picks to find out what rates, terms and loan amounts you might qualify for. You can combine this and the shopping around step by using a connection service — or multiple connection services.
Apply for the loan. Depending on your lender, you may be able to complete an application online or in store. You might have to submit documents verifying your income and identity before you can sign the contract.
Receive your funds. Most lenders transfer the funds to your bank account, though some might offer a check or even prefilled debit card.
How long does it take?
The time it takes for a lender to finalize your loan and get you funds will vary significantly. Some may be able to finish everything the same day you apply, while others may take a week or two. Check with the lender to get an idea of how long the entire process takes before applying.
What information do I need to apply?
While it varies by lender, you'll typically be asked to provide the following:
Contact information
Employer details
Social Security number
Date of birth
Pay stubs, tax returns or bank statements
Where can I find a personal loan if I have bad credit?
While you might not be able to borrow from a large bank when you have poor credit, you still have several options to choose from.
Online lenders. Online lenders tend to have more forgiving credit requirements than other providers, since many consider factors other than credit when you apply.
Credit unions. Credit unions are nonprofit lenders that can work with borrowers of all credit types. Some federal credit unions even offer payday alternative loans (PALs), which cap interest rates at 28%.
Local banks. Some banks specialize in building up the economy of their communities and may offer loans with favorable rates and terms designed to help you build your credit.
Short-term lenders. After you've gone through your other options, payday and installment loan providers offer small-dollar loans — sometimes without a credit check. But you might pay APRs above 700%.
7 best personal loans for borrowers with bad credit
What interest rate should I expect?
Interest rates on a bad-credit personal loan will vary by lender, though you could see rates as low as 28% APR if you borrow from a federal credit union or over 700% APR if you opt for a short-term loan. APRs are higher when you have poor credit since you pose more of a risk to the lender.
While a low credit score won't necessarily prevent you from finding a loan, your score will impact how much you can borrow and the interest rate you receive. Lenders view lower credit scores as a sign that a borrower is more likely to miss a payment or default on their loan.
Lenders that extend loans to borrowers with bad credit tend to look at your income, current debts and ability to repay instead of your credit score.
How to get a loan with a low credit score
These tips won't guarantee you'll be approved for a loan, but they can help increase your chances when you have bad credit.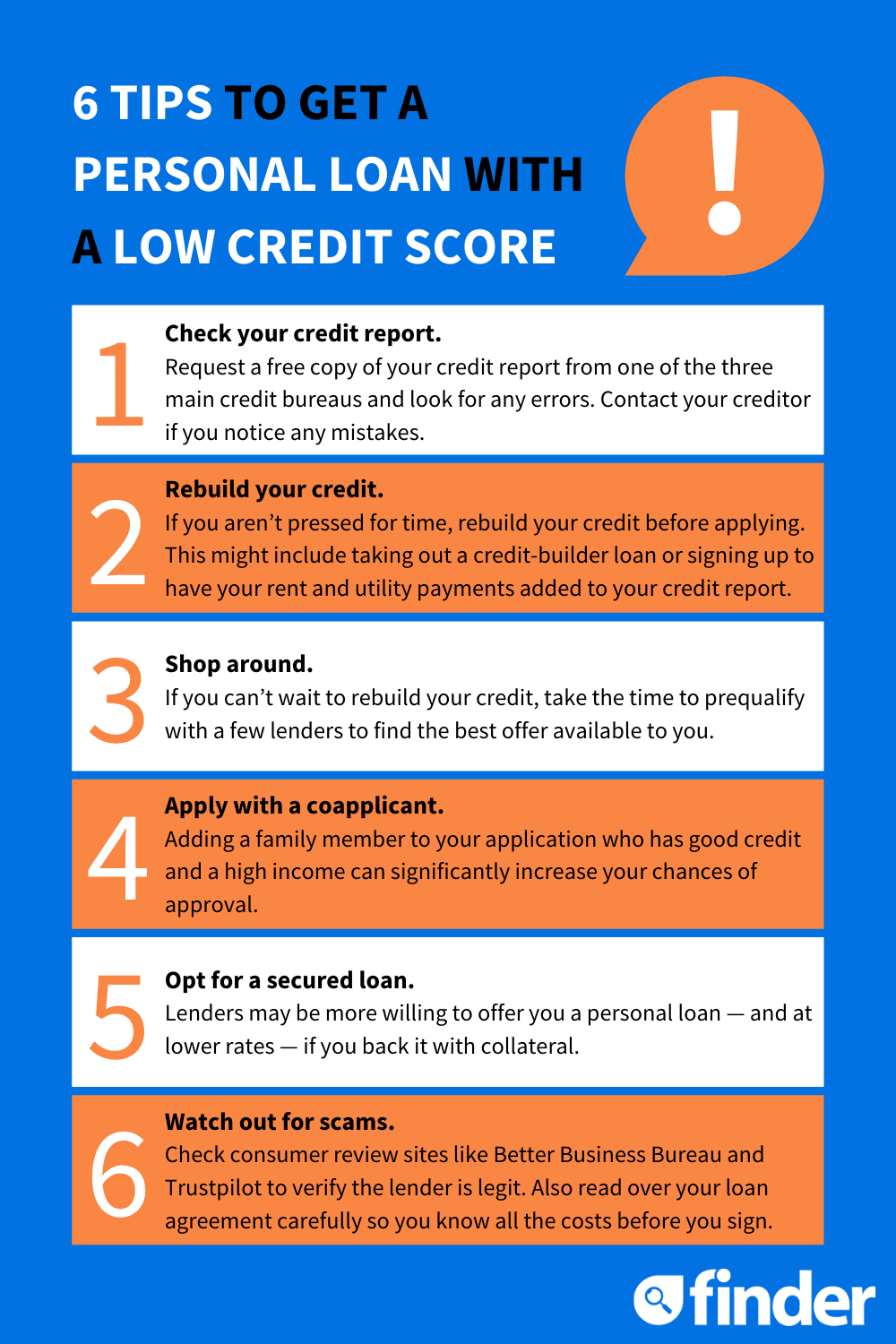 How can I tell if I have bad credit?
The easiest way to know your credit score is to check your credit report. You're entitled to a free copy of your credit report every 12 months from any of the three main credit bureaus: TransUnion, Equifax and Experian. You can also read our guide to bad credit to learn more about the ways you can tell if your credit is below average.
What to avoid when borrowing with bad credit
Applying for a bad-credit personal loan? There are a few things to avoid:
Fully applying for multiple loans at once. Multiple hard pulls of your credit could impact your score negatively. Instead, try prequalifying with a few lenders to get an idea of what rates you can qualify for.
Just skimming the rates and fees. Many loans for people with bad credit can be costly, so carefully read over the loan contract before you sign. This can help you determine if a lender is right for you — and if you can afford your loan.
Borrowing more than you can afford. Use our personal loan monthly payment calculator to make sure you can handle repayments on however much you're planning on borrowing.
3 personal loan alternatives for bad credit
Not sure a personal loan is right for you? Consider these alternatives instead:
Credit card cash advance. You can withdraw a cash advance from an ATM if you have a credit card. Check your credit card advance rates first. While they can be high, they might not be as costly as a personal loan with bad credit.
Pay advance. Pay advance apps like Earnin allow you to get an advance on the hours you've already worked for an optional tip. And some employers offer pay advances as an employee benefit.
Friend and family loans. Your social circle might be willing to help you out for a lower rate than a personal loan provider. Consider using a service like LoanWell to come up with a legally binding contract.
Bottom line
Bad credit isn't the end of the line when it comes to taking out a personal loan. Credit unions, CDFIs and online lenders all offer options, though how much you're able to borrow might be limited. And you'll likely face higher interest rates and fees, since you pose more of a risk to the lender.
Learn more about how it all works with our guide to personal loans.
Frequently asked questions
More guides on Finder