Finder is committed to editorial independence. While we receive compensation when you click links to partners, they do not influence our opinions or reviews. Learn how we make money.
Subaru Ascent insurance rates
How to find affordable coverage for your midsize SUV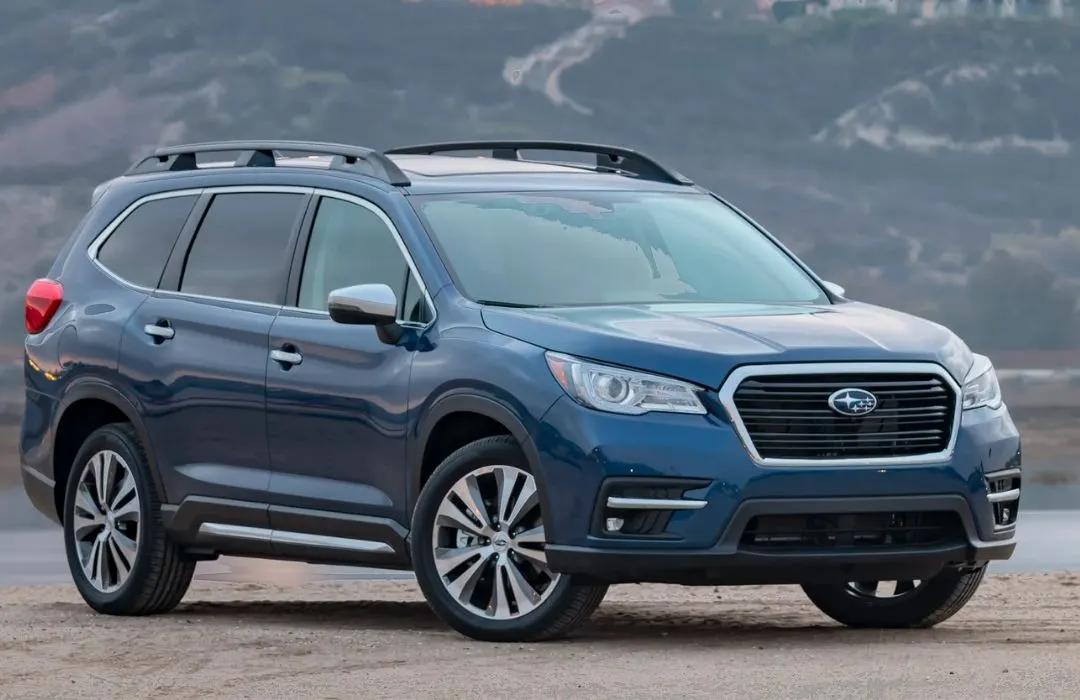 Compare car insurance quotes
Enter your ZIP code below and click Compare to see the cheapest rates in your area.
Available in late 2018, the Subaru Ascent is a midsize SUV designed as a replacement for the Subaru Tribeca, which was sunset in 2014.
According to our estimates, you'll pay about $123 a month — or $1,476 a year — to insure your Subaru Ascent. Your actual price will vary depending on the trim package you choose, your age and gender, where you live and other factors.
To put the annual cost into perspective, the average cost of auto insurance in Maine is $984 a year, whereas residents of New Jersey pay an average of $1,905 a year.
Discover coverage that's broader than competitors, valuable discounts up to 30% off and perks like shrinking deductibles that reward no claims.
Broad coverage, including for custom car parts or ridesharing
Transparent pricing tools that help you buy within budget
Accident forgiveness on small claims or for staying claim-free
Stack a variety of discounts for multiple cars, autopay or homeownership
Compare insurance for your Subaru Ascent
Subaru Ascent price
A 2019 Subaru Ascent starts at a base price of $31,995, with an average insurance rate of $123 a month.
| Model | Monthly insurance rate | Base car price |
| --- | --- | --- |
| BRZ | $154 | $25,495 |
| CROSSTREK | $220 | $21,695 |
| FORESTER | $141 | $22,595 |
| IMPREZA | $227 | $18,395 |
| LEGACY | $150 | $21,995 |
| OUTBACK | $139 | $25,645 |
| WRX | $144 | $26,695 |
| ASCENT | $123 | $31,995 |
How to compare insurance for the Subaru Ascent
Auto insurance is one of those things that almost everyone needs — but nobody hopes to use.
While you typically can't avoid coverage altogether, you can get stronger rates if you know what to look for.
Price. When comparing insurance costs across providers, factor in any discounts you might qualify for. Some insurers offer savings for owning your home, bundling policies or being a teacher, which could shave down your premium.
Deductible. Because your deductible directly affects your premiums, look for an amount that fits your monthly budget and won't be too expensive if you need to file a claim.
Minimum coverage. Before purchasing a policy, ensure that it meets your state's minimum requirements.
Additional coverage. If you live in an area prone to natural disasters or heavy congestion, you might want the protection of collision or comprehensive coverage.
Extras. Policy extras like accident forgiveness and vanishing deductibles can tailor a policy to your needs. Find out which are included and which you'll need to pay for.
Restrictions. Confirm any restrictions to your policy — like coverage limits — to avoid gaps in coverage or denied claims.
Manufacturer offer or loyalty discount. Liberty Mutual partners with Subaru to offer exclusive car insurance coverage that could save you up to $509 a year on your premiums.
Warranty. The Subaru Ascent comes with a three-year, 36,000-mile Subaru Limited Warranty, which includes roadside assistance, so you can pass on adding this feature to your insurance policy.
What factors affect car insurance rates for the Subaru Ascent?
Insurance providers calculate your premiums based on factors that relate to your odds of an accident and cost of filing claims.
While your age, gender, driving history and city will affect the price you pay for coverage, the vehicle you drive often factors heavily into the equation. This is because safety features, vehicle performance, theft rates and other factors vary among makes and models.
Body type. The Subaru Ascent is a sturdy SUV that holds up well in an accident, which could reduce the cost of insuring it.
Type of car. The Ascent is a moderately priced midsize SUV that's designed for daily driving and road trips. Its reduced risk of accidents could lead to cheaper rates.
Theft. SUVs like the Ascent are stolen far less than sedans and pickups, which could help you save on premiums.
Repairs. Subaru vehicles often have above-average repair costs, which might make it more expensive to insure.
Safety ratings. While the Ascent is too new for official safety ratings, Subaru vehicles are considered safe. This could translate to lower insurance premiums.
Fuel type. Gas vehicles like the Subaru Ascent are cheaper to insure compared with diesels or hybrids.
Trim and packages. Packages that drastically increase the value or power of your vehicle could lead to higher premiums. That said, choosing options that improve visibility or safety may have the opposite effect.
Subaru Ascent money-saving safety features
Aside from scoring a new car discount, you might save on insuring your Subaru Ascent given its safety features:
Airbags
Antilock brakes
Antitheft device
Daytime running lights
Electronic stability control
Backup camera
Lane departure warning system
Adaptive cruise control
Subaru Ascent safety and reliability ratings
As of July 2018, the Insurance Institute for Highway Safety and the National Highway Traffic Safety Administration haven't yet issued safety ratings for the Subaru Ascent. In general, Subaru vehicles garner solid safety ratings, with features that can help you save on insurance.
Because the Ascent is a new vehicle, there isn't enough data for official reliability ratings either. However, most Subaru vehicles have average or below-average reliability ratings and above-average repair costs.
Subaru Ascent maintenance
The Ascent is a midsize SUV designed to offer a comfortable, dependable driving experience. It comes equipped with safety and driver assistance features that help provide a smooth ride, even on bumpy trips to the cottage or beach.
Despite its versatility, Subaru vehicles are often less reliable and more expensive to repair than the competition. Regardless of what your Ascent is used for, sticking to a routine maintenance schedule can ensure it operates as it should.
Service appointments. Subaru recommends service appointments every six months or 6,000 miles, whichever comes first. The first appointment includes replacing the engine oil and filter, inspecting various components and servicing the battery.
Oil changes. Changes should cost between $75 and $150, but your price will vary by repair shop.
Is an extended warranty worth it for the Subaru Ascent?
The Ascent is backed by Subaru's Limited Warranty, which covers defective OEM parts and service and includes roadside assistance for three years or 36,000 miles.
It also comes with a:
Five-year, 60,000-mile powertrain warranty.
Three-year, 36,000-mile wear item warranty.
Five-year rust warranty.
For added security, look into Subaru's lineup of extended service agreements and maintenance plans available in terms of up to seven years or 100,000 miles.
About the Subaru Ascent
The Subaru Ascent was initially announced at the 2017 New York International Auto Show, with a planned release date of late 2018. It was designed as a replacement for the Tribeca, a five- or seven-seat passenger SUV discontinued in 2014.
Production began in early 2018 at the Subaru of Indiana Assembly Plant in Lafayette, Indiana.Although exact specs are unclear at the time of writing, Subaru has announced that the Ascent will come with a 2.4L turbocharged engine that puts out 260 horsepower.
Other little-known facts about Subaru:
Subaru was founded in 1953. It's known for manufacturing Japanese automobiles.
It's a well-known brand for rally racing. Since 1973, Subaru vehicles have won 47 World Rally Championships.
Its cars are built to last. Approximately 96% of Subaru cars built in the past 12 years are still on the road today.
It uses a boxer engine layout. This special engine makes for a safer, smooth ride.
Its cars are relatively affordable. Subaru base prices start at $19,000 and can go up to $32,000.
Compare Subaru competitors
Explore other Subaru models or compare similar options from different manufacturers with the comprehensive car insurance breakdown by brand.
Bottom line
The Ascent is a midsize SUV that's equipped with plenty features that Subaru is known for. Because the car is designed for daily driving and road trips, insurance is generally affordable. However, Subaru vehicles are often considered less reliable than their competition, so you may spend more than average on repairs and maintenance.
You can find the best price on coverage by comparing your car insurance options.
Get the cheapest quotes
Compare car insurance companies near you.
Your information is secure.
Frequently asked questions about the Subaru Ascent
Read more on this topic