Meet Finder's Editorial Review Board
From commercial bankers to insurance agents to financial planners, get to know our board of financial experts and review process.
Finder upholds a rigorous editorial process that ensures what we write is fair, accurate and trustworthy. To that end, we select credible, experienced experts across the insurance, legal, accounting, business, lending and consumer credit industries to regularly review our content for accuracy and relevancy. Our board members are not compensated, meaning its their own passion for financial literacy that drives their participation.
Each board member is selected based on their:
Who's on our review board?
Our editorial review board represents a combined total of nearly 100 years of experience in the finance, insurance, healthcare and business industries. Here's what sets them apart from the crowd.
---
---
---
---
---
How does the review board work?
Every article published on Finder is backed by a team of writers and editors who research, write, edit and fact-check with years of experience in the insurance, finance and digital publishing industries.
For articles that cover advanced topics, complex processes or regulatory information, we rely on the expertise of our editorial board members to reinforce our credibility and authority. We assign such articles to a member with the most relevant expertise to review the content for accuracy, relevancy and clarity.
Our editorial team makes the appropriate adjustments, adding an official badge to the top of the page letting you know it's a page you can trust — with a link to the board member's complete bio to learn more about their expertise.
Preventing conflicts of interest
To avoid the possibility of personal or professional bias, our board members recuse themselves from reviewing articles that promote brands or companies they or immediate family members work for, have a business relationship with or otherwise benefit financially from.
We further ask our board members to disclose nonfinancial conflicts of interest that affect an objective or impartial consideration of the facts and other details presented. And we conduct an independent review of each member before accepting them into the board.
Review board application process
Our publishing team is continuously looking for qualified, passionate candidates in the financial, insurance, legal and business industries to join the review board.
Each candidate is asked to complete a thorough application detailing their education, experience and accomplishments, as well as answer questions on industry topics to help us get to know them better.
Next, Finder's leadership team meets to discuss each candidate's application to determine whether their expertise and experience make them a good fit for the board.
For those candidates we're interested in moving forward with, we complete a background check and social media screening through a third-party service to verify all of their information is accurate and their values align with those at Finder.
How to look for board-reviewed articles
Confirm whether an article has been reviewed by our editorial board by looking for the "reviewed by" badge and blue checkmark at the top of the page.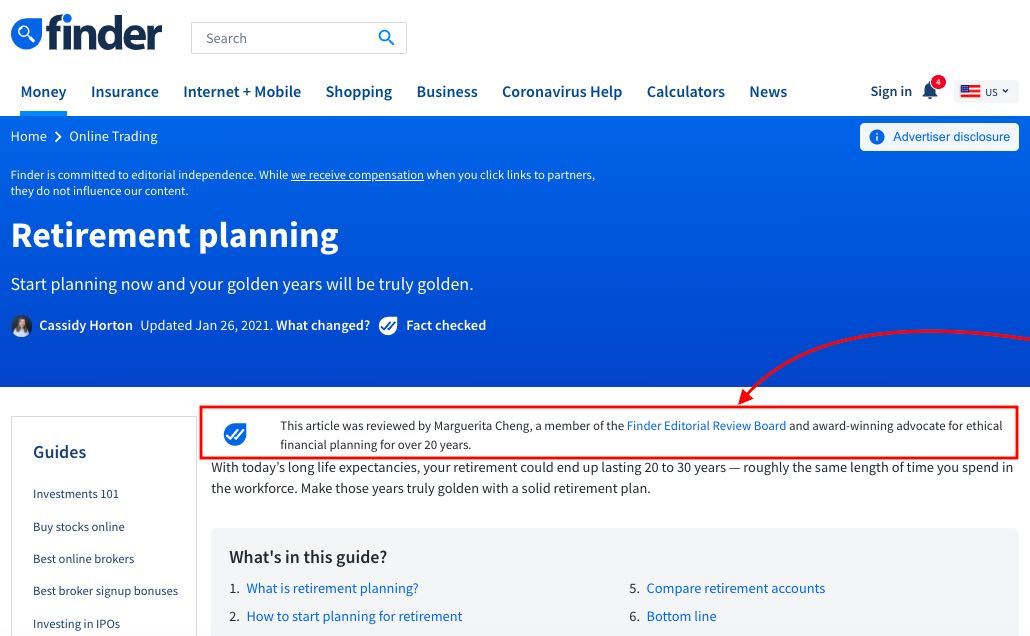 Questions or feedback? We'd love to hear it!
Our No. 1 mission is to empower our readers with accurate, trustworthy information to help you make informed financial decisions — and we're always striving to do better.
If you have a question about a member of our editorial review board, how the process works or anything else about our editorial commitment here at Finder, drop a note below, and a member of our team will get back to you soon.
Want to join our editorial board?
Do you have a passion for financial literacy and empowerment? Looking for new ways to share your expertise with the world? We want to hear from you! Leave a note with your professional credentials and why you're interested in joining our review board for consideration.