Peter surfing the Ecuadorian coast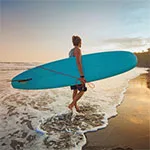 Peter recently backpacked across South America. He visited Colombia and travelled to the south of the continent. He started his trip in Esmeraldas, continued south to Guayaquil, Montanita and finally Quito before travelling to Peru. Peter spent one month in Ecuador in total.
Where could you use your cards?
Peter says he didn't expect to be able to use his debit and credit cards much in Ecuador. Excluding flights and one meal at a nice restaurant, every transaction on his trip was made in cash.
Hotels he stayed at (especially in places such as Esmeraldas, Atacames and Montanita) were also cash only. Meals and drinks and travel between towns and cities all had to be paid for using cash too. Peter says he didn't spend much time in the urban centres of Quito and Guayaquil, but he expects more businesses are setup to accept card payments in these places.
What about ATM withdrawals?
Peter says he regularly made ATM withdrawals in Ecuador as everything was cash only. He says he withdrew US$300 at a time from whichever ATM machine he could find. The most common ATMs he saw were operated by the Bank of Guayaquil. He used his St.George Visa debit card at these ATMs and both St.George and the ATM operator charged fees. He paid an international ATM withdrawal fee of $5 and a local ATM withdrawal fee of US$1.50 every time.
Do you have any travel money tips?
Plan ahead. The Internet in Ecuador is temperamental and Peter says it's hard to find a reliable connection (particularly on the coast). He recommends making sure you transfer money to your transaction account in advance so you can withdraw money when you need to.
Everything is negotiable. Peter says not to be afraid to ask for a better price if you feel you're being overcharged. Locals have been known to take advantage of travellers with a lack of knowledge from time to time.