NatWest launches Mettle, its own digital app-only, future-focused business bank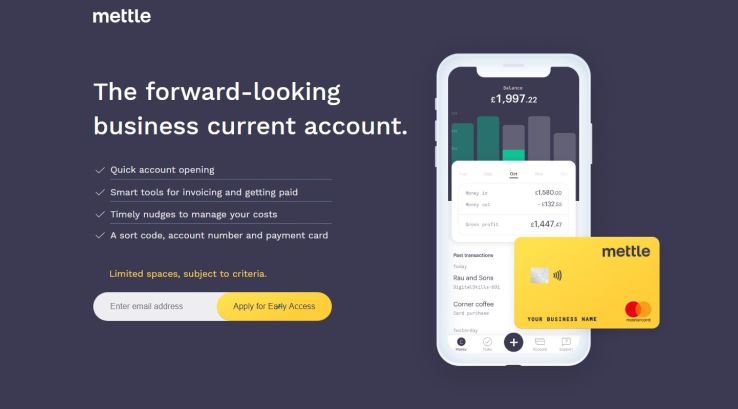 The hope is that Mettle will help the bank maintain its profit and see off its growing number of UK challengers.
NatWest, part of the Royal Bank of Scotland (RBS) group, has been working on Mettle since earlier this year. The launch has been developed in partnership with 11:FS, which describes itself as a "challenger consultancy" helping organisations become "truly digital", and complex technology transformation company Capco.
Mettle's beta version is now ready. It is offering business current accounts initially to "early access" users, whom it wants to provide detailed feedback. As NatWest's commercial and private banking chief executive Alison Rose explains, these early adopters will "influence how the product will develop".
Rose says Mettle wants to help customers focus on their businesses' "forward-looking" finances. She believes that by combining technology and proactive insights, SMEs will be able to make better decisions and be able to run their operations more successfully with the future in mind. Too often, banking apps and bookkeepers only offer a view of past financial transactions.
You do not have to be a NatWest or RBS customer to start using the service. By visiting Mettle's website you can obtain a sort code, account number and a debit payment card. The app then provides instant invoicing, reminders for chasing payments, forecasts of business performance, plus an option to add receipts to transactions and track expenses from your phone.
However, Mettle claims it is not a bank, instead it operates as an agent under an e-money licence held by PrePay Solutions (PPS), a body regulated by the Financial Conduct Authority (FCA). It should be noted that money deposited with Mettle is not protected by the Financial Services Compensation Scheme (FSCS).
Mettle is just one of a number of digital plans that the RBS group – that owns NatWest – has underway. As already reported by Finder UK, it is also developing a mobile bank initiative, called Bó, and plans to move one million RBS customers onto this new offering. The business model is focusing on "marketplace" banking, which will allow customers to "switch and save" on RBS group financial products along with those of its partner fintech firms, on which RBS will earn a commission.
Starling Bank, which itself launched a business bank account in March, signed a contract in August to provide payment services in support of both RBS and NatWest's digital banking ambitions. It is yet another indication of the interest that business banking is attracting from the digital banking sector. Just last month, for example, Azimo and Monese also started targeting young entrepreneurs.
To find out more about app-only digital banking, have a look at Finder UK's content on the subject.
Picture: Mettle