What is ICON (ICX)? A beginner's guide
An in-depth look at the cryptocurrency project that plans to "hyperconnect the world".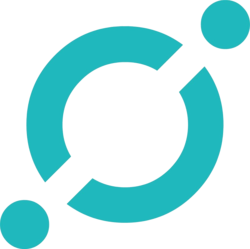 $1.05
ICON is building one of the world's largest decentralised networks for dapps and smart contracts, which will allow different blockchains to interact with one another via smart contracts. It's a massive and ambitious project that aims to unify blockchains from all manner of industries, entities and individuals into one single network.
So, how does it all work and what can we expect from ICON in the future? Let's take a closer look.
Disclaimer: This information should not be interpreted as an endorsement of cryptocurrency or any specific provider, service or offering. It is not a recommendation to trade.
What is ICON?
ICON's goal is to "hyperconnect the world" by allowing communication and interoperability between blockchains. The overall goal of the project is best explained in its whitepaper:
"The ICON Project aims to build a decentralised network that allows independent blockchains with different governances to transact with one another without intermediaries. Anyone can create a new blockchain project and join the network. A new blockchain project is free to connect with existing projects and create new unique worlds, or blockchain multiverse."
The team behind the project says the end result will allow the decentralisation and interconnection of communities, allowing them to overcome political, social, economic and geographical boundaries.
Where to buy ICON
Table: shows partner brands and other brands, sorted by popularity
Learn how to buy ICON in our step-by-step guide.
How it works: The Technology behind ICON
ICON revolves around loopchain, a blockchain based on a smart contract system which can be customised to include different rulesets, consensus mechanisms and other features. Connection between different blockchains in the ICON ecosystem is based on a handful of key systems and structures:
Communities. A community is a network made up of different nodes within the same governance system. For example, bitcoin and Ethereum can both be considered communities, as can banks, governments, healthcare providers, e-commerce platforms and many more. Each community has its own rules and consensus mechanisms.
C-Nodes. These Community Nodes are nodes that have the right to create transactions but cannot vote on the verification of transactions and the governance within the ICON Republic. In short, their job is to govern and maintain their community's own blockchain.
C-Reps. C-Rep is short for Community Representative and has the right to authenticate transactions in the ICON network and vote on governance issues. C-Reps are selected by each community and receive incentives for maintaining the ICON Republic.
ICON Republic. This refers to the entire ICON network, the governance of which is voted on by C-Reps and is therefore decentralised. The Republic acts as a communication channel between communities but doesn't interfere in the governance of those communities.
Citizen Nodes. Citizen Nodes allow individuals to connect with the ICON network to create transactions and use dapps built on loopchain. However, they don't have the right to vote on the governance of the ICON Republic.
The blockchain network that constitutes the ICON Republic is called Nexus. A Nexus is a collection of communities that connect to one another throup C-Reps. This one Nexus can then be linked to others, allowing not only interconnectivity but also network scalability.
Connections within the ICON network
There are four different ways to connect within the ICON Network:
Connection between nodes within a single community. Communities can organise themselves into different blockchains, customise them to suit their needs, and use different consensus algorithms.
Connection between nodes within ICON Republic. ICON Republic uses a Loop Fault Tolerance consensus algorithm that allows the processing of real-time transactions.
Connection between community and ICON Republic. A community and ICON Republic are connected in real-time via DEX, ICON's Decentralised Exchange. This sets currency reserves for each individual community, allowing for the real-time exchange of value between communities through the ICON Republic.
Connection between different communities. C-Nodes are also connected in real-time to other C-Nodes in different communities via C-Reps and the ICON Republic.
What is ICX?
ICX is ICON's native coin. The ICX coin can be used for a variety of purposes, such as payments, launching smart contracts, and creating new tokens on the network, much like Ethereum's ETH. Among ICX's more interesting use-cases, is the ability for ICX to transact between different cryptocurrencies, by calculating the exchange rate via Icon's upcoming Decentralised Exchange (DEX). ICX's use in cross-blockchain communication sets it apart from similar coins such as ETH and NEO, and underpins ICON's membership in the interoperability alliance with Wanchain and Aion.
The total supply of ICX is 800,460,000. Half of this maximum supply of tokens was distributed during ICON's September 2017 ICO, with the remaining tokens split amongst the ICON team, its partners and set aside for future development.
The ICON team
The ICON project was founded in South Korea by DAYLI Financial Group, a fintech company which also owns the Coinone cryptocurrency exchange. It's also backed by the ICON Foundation, a Switzerland-based not-for-profit organisation.
ICON boasts a team of more than 45 people and an ICON Foundation council of six members. Its website also lists several advisors, most notably Don Tapscott, who wrote the book Blockchain Revolution and also opened the Blockchain Research Institute.
Notable partnerships
At the first ICON Annual Summit in late January 2018, the project team announced new agreements with a host of partners, including Bluewhale, Silkroad and Nucleus Vision.
However, the biggest news was its partnership with global online gaming firm Smilegate, the company behind the world's most-played online first-person shooter (FPS), CrossFire. With over 8 million concurrent users and 650 million registered players, CrossFire is kind of a big deal. As announced in a blog post, the two companies: "plan to create a new gaming ecosystem that guarantees the rights of creators and eliminates the boundaries of users and creators". The platform will be called STOVE, and aims to reward all participants of the gaming ecosystem, from streamers, to watchers, to developers and more.
ICON has secured a number of other important partnerships that could potentially drive future growth, including:
Line. ICON's May 2018 announcement of its partnership with Line, a messaging app with a large user base across Asia, made plenty of headlines. The partnership will see an offshoot called Unchain develop dapps on ICON and further expand the ICON ecosystem.
Kyber Network. In January 2018, ICON and Kyber Network announced that they had formed a strategic partnership to use a scalable protocol of Kyber Network's token exchange service to bridge the divide between separate blockchains.
Raonsecure. Announced in February 2018, this partnership is focused on implementing compliant biometric security and user ID on ICON's blockchain.
Blockchain Interoperability Alliance
ICON is one of several cryptocurrency projects focused on ensuring interconnectivity between blockchains. Acknowledging this fact, it joined Aion and Wanchain in a collective known as the Blockchain Interoperability Alliance. The alliance has the shared goal of: "promoting interconnectivity between the isolated blockchain networks". Aion aims to become the common protocol used across blockchains, while Wanchain is focused on uniting isolated digital assets through the use of cross-blockchain smart contracts.
Wallets that support ICX
ICX tokens were originally issued as ERC20 tokens on the Ethereum network. However, following the launch of ICON's mainnet in early 2018, ICON is preparing to complete a token swap that will see these ERC20 ICX tokens exchanged for ICX mainnet coins. Users will be able to swap tokens for coins through ICONex, ICON's official wallet service, or using a cryptocurrency exchange.
However, at time of writing (May 2018) no date has been confirmed for when the token swap will begin, so existing tokens can be stored in any ERC20-compatible wallet. Examples of wallets you may like to consider include the MyEtherWallet web interface or the Ledger Nano S and TREZOR hardware wallets.
What's next for ICON: The ICON roadmap
ICON's 2018 roadmap outlines the key objectives it will be focusing on across five key industries:
Securities. ICON launched its enterprise blockchain service, Chain ID, and a shared security system to protect against identity theft in Q4 2017. The technology will be implemented in the clearing and settlements sector throughout 2018.
Insurance. ICON plans to launch its automated insurance claiming service using loopchain to the general public.
Banking. ICON network's bank community is currently developing a pre-paid digital payment system, and ICON plans to expand its banking partnerships in 2018.
Education. ICON started rolling out its custom-built mobile app/vending machine solution, the "U-coin" system, in 2017. The plan is to introduce a network of Smart Vending Machines that can be used for day-to-day payments and transfers at South Korean universities.
Healthcare. ICON's Precision Healthcare Information System (P-HIS) aims to boost data integrity and bolster inter-hospital data exchanges among leading institutions in South Korean healthcare. The stable launch of the platform is scheduled for the middle of 2018.
What to watch out for
ICON isn't the only project focused on interconnectivity between blockchains, so competition is a factor that will need to be taken into account. However, ICON's alliance with Wanchain and Aion, two other big players in the sphere, is good news and could help alleviate those concerns to a degree.
The other main factor to be aware of is that it's still early days in ICON's quest to hyperconnect the world. While it has some strong partnerships in South Korea, it's still too early to tell just how many communities will come together under the banner of the ICON Republic. If it fails to achieve widespread adoption as a blockchain connectivity platform, the value of ICX will suffer.
Bottom line
ICON is a complex project with an ambitious goal, and whether or not it can deliver on its potential remains uncertain. However, it does have several factors in its favour. Interconnectivity between blockchains is a logical and necessary step if blockchain technology is to ever transform the world the way its proponents say it's meant to, and ICON already has some strong partnerships lined up.
Just make sure to do your own research before deciding whether ICX tokens are worth buying.
Disclaimer: Cryptocurrencies are speculative, complex and involve significant risks – they are highly volatile and sensitive to secondary activity. Performance is unpredictable and past performance is no guarantee of future performance. Consider your own circumstances, and obtain your own advice, before relying on this information. You should also verify the nature of any product or service (including its legal status and relevant regulatory requirements) and consult the relevant Regulators' websites before making any decision. Finder, or the author, may have holdings in the cryptocurrencies discussed.
---
Images: Shutterstock
More guides on Finder
Best wallets for ICON in 2022

Your guide to the best wallets for storing and managing ICON's ICX tokens, including tips on how to choose the right wallet for your needs.