15 best crypto wallets in the UK
Our picks for the best Bitcoin and other crypto wallets for price, features, security and more.
Check out
how we chose these products
. Crypto is unregulated in the UK; there's no consumer protection; value can rise or fall; tax on profits may apply*.
Each year, we conduct an extensive review of Bitcoin and crypto wallets available in the UK. To arrive at these picks, we've compared more than 50 wallets on features like security, usability, cost and supported coins.
Our picks are designed to help you choose the best wallet for your goals and holdings. Since some wallets are better at some things than others, it's common to use multiple wallets at once. For instance, you might use one wallet for staking and another for its Web3 features.
Regardless of what you choose, it's a good idea to pair any software wallet with a hardware wallet for added security.
Best crypto wallets in the UK for 2023
Crypto is unregulated in the UK; there's no consumer protection; value can rise or fall; tax on profits may apply.*
1. Ledger Nano S Plus – Best wallet overall
Ledger Nano S Plus Wallet
The Nano S Plus is our pick for the best crypto wallet overall thanks to Ledger's robust security, wide range of cryptocurrencies and NFTs all at the affordable price point of US$79.
The Nano S Plus is a hardware wallet manufactured by French company Ledger, which has been around since 2014. Ledger wallets have a clean security track record, with no hardware breaches recorded.
The accompanying Ledger Live app also allows you to swap cryptocurrencies, purchase them with debit or credit card or put them to work via DeFi and staking. Ledger Live features the Merlin dashboard which lets you interact with 1,000+ DeFi protocols across 10 chains and track yield, PnL and impermanent loss.
You'll be hard-pressed to find another wallet that offers so much value at such a moderate price.
Cheaper than the Nano X, but has most of the same features
Supports 5,500 tokens
Highly secure
CC EAL 5+ rating
Not Bluetooth enabled
Not iOS compatible
2. Ledger Nano X – Best hardware wallet
Ledger Nano X Wallet
Free shipping
The Ledger Nano X is one of the best-known and feature-rich hardware wallets on the market. Its robust security, support for a wide range of cryptos and connection to both desktop and mobile interfaces are some of the reasons it was our pick for the best hardware wallet.
Ledger has a long track record of providing industry-standard level security for digital assets.
The Nano X hardware is supported by the Ledger Live app, which helps you manage up to 5,500 cryptos, Ethereum and Polygon NFTs and over 1,000 DeFi apps from a single user interface available on both desktop and mobile.
You can also stake a selection of your digital assets via Ledger Live or put them to work in DeFi.
The Nano X is Bluetooth-enabled and compatible with both Android and IOS mobile devices, so you can manage your crypto on the go.
Manage over 5,500 crypto assets
Highly secure
CC EAL 5+ rating
Mobile and desktop compatibility
Expensive compared to the Nano S Plus
Can't stake many cryptos via Ledger Live
3. Exodus – Best wallet for beginners
Exodus Wallet
Free download


Price (USD)
Mobile
Desktop
Web3

Wallet type
Exodus Wallet is a software wallet for desktop and mobile that provides access to a wide range of cryptocurrencies. While many wallets only let you manage coins on a single network, Exodus supports assets on blockchains including Bitcoin, Ethereum, and Solana. This all-in-one functionality makes it our top wallet pick for beginners.
The wallet has added features like a portfolio overview that help you to oversee your holdings. And if you'd like to top up your portfolio, you can use the wallet's built-in exchange to swap your digital assets.
You can also stake cryptos like Algorand (ALGO) and Cosmos (ATOM) through Exodus.
For added security, you can store the keys to your assets on a Trezor hardware wallet, making it easy to upgrade from one to the other if you decide to go pro.
One of Exodus's most beginner-friendly features is its highly-responsive support staff. If you email them for support, you can expect to hear back within an hour.
Easy-to-use interface
Supports tokens and coins from a variety of blockchains
Great customer support
Less secure than a hardware wallet
Doesn't support 2-factor authentication
4. Ledger Nano S Plus – Best value crypto wallet
Ledger Nano S Plus Wallet
The Nano S Plus provides the security of its predecessor, the Nano S, but with almost all of the capabilities of Ledger's top-of-the-line hardware wallet, the Nano X.
And at a price point of US$79, the Nano S Plus costs US$70 less than the Nano X at US$149. When you consider that the only key difference between the X and S Plus is Bluetooth connectivity and iOS support, the S Plus's value starts to become clear.
The Nano S Plus lets you keep the private keys to over 5,500 digital assets and NFTs in cold storage.
The accompanying Ledger Live software helps manage and stake your digital assets. You can put your assets to work in DeFi through the Ledger Live app or by syncing with MetaMask.
You'll be hard-pressed to find a hardware wallet that does as much for you at such a reasonable price.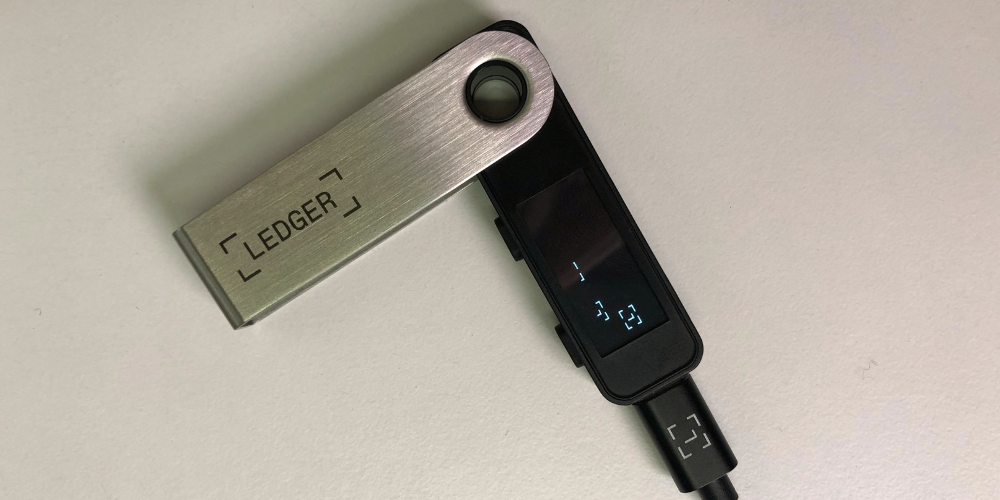 Larger screen size (128 x 64px) than the original Nano S
Highly secure
CC EAL 5+ rating
Native support for NFTs
Can't stake many cryptos via Ledger Live
Can't view NFTs outside of Ethereum and Polygon blockchains via Ledger Live
5. Atomic Wallet – Best desktop wallet
Atomic Wallet
Free download


Price (USD)
Mobile
Desktop

Wallet type
Atomic Wallet is our pick for best desktop wallet thanks to its support for over 500 crypto coins and tokens across more than 50 blockchains in a single app – and it's available on Windows, Mac and Linux.
Its easy-to-use interface makes it a popular choice for beginners and pros alike.
The wallet was launched in 2017 by Konstantin Gladych, CEO of Changelly. Changelly is a decentralised crypto exchange built into Atomic Wallet, allowing you to swap cryptos or purchase them with a credit or debit card.
You can stake 10+ digital assets including Cardano (ADA), Cosmos (ATOM) and Tezos (XTZ), and the wallet features an NFT gallery for the Solana blockchain.
If you run into any problems while using Atomic Wallet, you can reach out to its 24/7 customer support team.
Easy-to-navigate interface
Built-in decentralised exchange
Supports staking for various cryptos
Only supports NFTs on Solana
The in-built exchange charges a high fee and the minimum spend can be high for certain coins
6. Trust Wallet – Best mobile wallet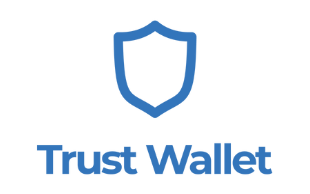 Trust Wallet
Free download


Price (USD)
Mobile
Web browser

Wallet type
Trust Wallet supports coins and tokens from 65 different blockchains. This saves you the hassle of downloading multiple wallet apps and makes it our standout pick for the best mobile wallet.
Trust Wallet lets you quickly import popular coins and tokens, view charts and pricing information and receive notifications directly to your mobile device.
If you want to view cryptos that aren't listed by default, Trust Wallet also lets you import custom tokens. You'll need to be careful to verify contract addresses when doing this, as anyone can create fake versions of existing cryptos.
You can also connect to dApps and DEXs that support the Wallet Connect extension. As an added convenience, you can also purchase cryptos with fiat through third-party providers like Moonpay and stake assets directly from your Trust Wallet.
Built-in decentralised exchange
Stake cryptos directly from your wallet
Purchase cryptos with credit and debit card
Supports Bitcoin transfers
NFT support
Built-in DEX only supports BSC assets
NFTs only supported on Ethereum and BSC
Withdrawals to bank accounts not available from wallet
No browser extension
7. Coinbase Wallet – Best exchange wallet
Coinbase Wallet
Free download


Price (USD)
Mobile
Desktop
Web browser

Wallet type
The Coinbase Wallet doesn't require a Coinbase account to use it but verified account holders can connect directly to Coinbase's exchange to buy crypto. This seamless integration makes it our pick for the best exchange wallet.
The Coinbase Wallet can be downloaded as a mobile app or browser extension and features an easy-to-navigate UI consistent with the Coinbase exchange. The wallet is automatically configured to support many blockchains, including all EVM-compatible chains, Solana, Fantom Opera and more.
Security on the Coinbase wallet is consistent with the industry standard for non-custodial wallets, which means it does come with some counterparty risk. If convenience and easy access to your funds on Coinbase is important to you, then this exchange wallet has a lot to offer.
Sync directly to Coinbase exchange
Mobile app and browser extension
Preconfigured blockchains
Purchase with selected fiats in-wallet
Coinbase company backing
Fee for coin swaps in the wallet
No DEX in the wallet, you must connect to an external exchange
8. COLDCARD Mk4 – Best Bitcoin wallet
COLDCARD Mk4
The COLDCARD Mk4 is a popular hardware wallet among hardcore Bitcoiners.
It was designed for Bitcoin maximalists by cypherpunks – technologists who advocate for privacy-enhancing technology.
The Mk4 doesn't have some of the functionality of Ledger or Trezor hardware wallets, but it does offer industry-leading security for the private keys to your BTC.
The device features 2 Secure Element chips – the same type of chips used to protect data for passports and credit cards – to protect your private keys.
To keep the private keys that you store on the device extra secure, you can send BTC to and from your device without even connecting it to a computer. When you use desktop software wallets like Sparrow or Electrum, you can use a microSD card to transfer data back and forth from your computer to your Mk4.
Highly secure
Contains 2 Secure Element chips
Doesn't require a connection to computer
Features a high-contrast 128 x 64 pixel screen for messaging
Multisig-enabled
Only supports BTC
The user interface for Sparrow Wallet is less intuitive than competitor alternatives
You will have to purchase a microSD card adapter for your computer if you prefer to transfer data via the card
9. Coinomi – Best multi-crypto wallet
Coinomi Wallet
Free download


Price (USD)
Mobile
Desktop

Wallet type
Coinomi is a desktop and mobile wallet that supports over 1,770 coins and tokens on 125 different blockchains. This impressive range puts Coinomi far ahead of most wallets on the market and makes it our pick for the best multi-crypto wallet.
In addition to storing your private keys, Coinomi wallet also allows you to manage your NFTs, stake certain assets and interact with DeFi apps.
There is a built-in decentralised exchange (DEX) that allows you to swap your cryptocurrency without having to use a centralised service like Coinbase or Binance.
Founded in 2014, Coinomi was the first ever multichain wallet to come to market. In its 8 years of operation, there have been no reported hacks. Customer support is available via live chat or support tickets.
Works on all major desktop and mobile operating systems
Allows users to manage and swap a wide variety of cryptos
Never been hacked
Not as secure as a hardware wallet
Staking is limited to Ethereum tokens, Algorand, SmartCash and Callisto.
10. Trezor Model T – Best wallet for experienced users
Trezor Model T Wallet
The Trezor Model T wins our best pick for experienced users thanks to several advanced features which come together to give you greater control over your funds.
Multisig. Multisig wallets allow for multiple stakeholders to manage a single Bitcoin wallet. This is particularly useful for businesses and families.
Taproot. Trezor Suite supports Bitcoin Taproot addresses which can reduce fees, improve privacy and enable smart contracts on Bitcoin.
Shamir backup. Instead of using a single seed phrase, Shamir backup distributes it across multiple phrases which can then be stored in different locations. Think of it like multisig for a seed phrase.
Timelock. Users can delay a transaction until a specified block height.
Tor Switch. Anonymise your crypto transactions using the Tor network, which can be enabled via Trezor Suite.
Where the Model T falls short is the range of coins and tokens it supports. It's best thought of as a Bitcoin wallet first and an altcoin wallet second. The Trezor Suite software only supports a small handful of popular blockchains, but through third-party software, the Model T supports over 1,800 coins and tokens.
Advanced transaction types for Bitcoin
Highly customisable security features
Integration with MetaMask for additional usability and DeFi
Touchscreen for improved functionality and security
In-app swaps and purchases
Trezor Suite only supports 14 blockchains
No native staking support in Trezor Suite, must use third-party apps
Expensive compared to the Ledger Nano X
No support for iOS
11. Ledger Nano S Plus – Best wallet for staking
Ledger Nano S Plus Wallet
The Ledger Nano S Plus is our pick for best staking wallet because it lets you stake your cryptos while keeping the private keys securely offline. This sort of security can only be provided by a hardware wallet, and the Nano S Plus offers one of the widest range of staking assets for any hardware or software wallet.
You can stake a handful of currencies like Ether (ETH) and Polkadot (DOT) via the device's native Ledger Live interface.
Where it really shines though is its integration with third-party apps which allows you to easily stake over 25 cryptocurrencies, including crowd favourites like Avalanche (AVAX) or Solana (SOL). There is also support for 1,000+ DeFi protocols through the Merlin app.
When you sync your Nano S Plus with a third-party wallet for the purpose of staking, the private keys to the assets that you stake remain stored in cold storage on your Nano S Plus. This gives you greater security than if you were to use a software wallet on its own.
Enables staking and cold storage of private keys simultaneously
One of the most diverse wallets for staking
Can only stake certain cryptos via Ledger Live
12. MetaMask – Best Web3 wallet
MetaMask Wallet
Free download


Price (USD)
Mobile
Web browser

Wallet type
With over 30 million monthly active users at the time of writing, MetaMask is a crowd favourite and considered the go to for Web3 apps, making it an easy choice for best Web3 wallet.
MetaMask was one of the first non-custodial wallets to help open the door to the world of Web3 and DeFi. Operating on both desktop and mobile devices, MetaMask lets you connect to dApps, store NFTs and digital assets and trade cryptos across several different blockchains.
A key feature behind the popularity of MetaMask's Web3 wallet is the ability to buy and sell cryptos without providing any personal information. To start trading on DeFi exchanges you simply install the app or browser extension and log in using your private seed phrase.
Your MetaMask seed phrase acts as a password, login and proof of ownership all in one. Your information is not stored on any database and asset ownership is entirely in your hands; an important element of decentralisation.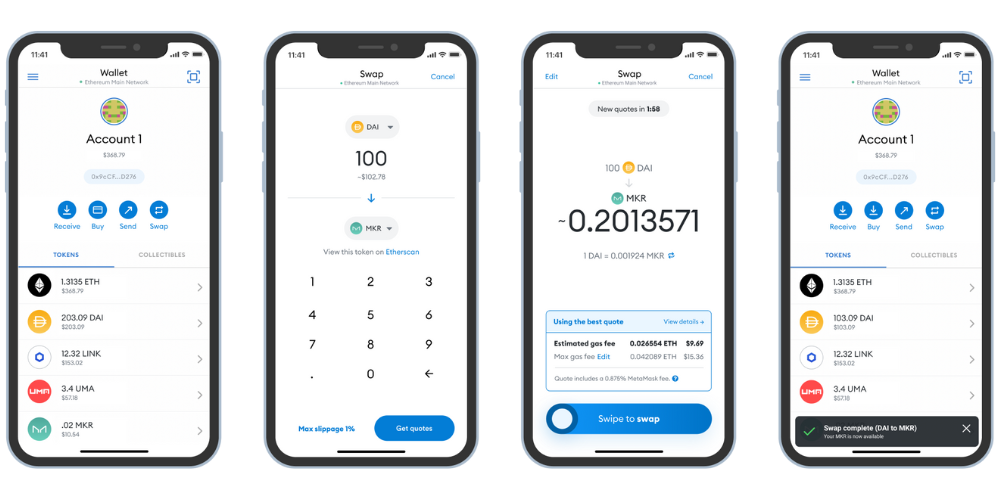 Easy to set up and install
No personal identification required
Supports multiple blockchains, including testnets for dApp development
No native Bitcoin support
Incorrect storage of private keys can result in hacks and lost funds
Limited technical support
13. Crypto.com DeFi Wallet – Best wallet for DeFi
Crypto.com DeFi Wallet
Free download


Price (USD)
Mobile
Desktop
Web browser

Wallet type
Though most known for its global exchange, Crypto.com also offers a tailored non-custodial DeFi wallet with standout features deserving of our pick for best DeFi wallet.
Crypto.com DeFi Wallet is available to anyone – not just existing Crypto.com users. The DeFi wallet can be synced to the centralised Crypto.com app to make transfers between accounts simple.
The Crypto.com DeFi Wallet also features in-app swaps via the Ethereum, BNB Smart Chain, Cronos, and Polygon blockchains. Users of the Crypto.com DeFi wallet can bridge assets between selected blockchains to the native Cronos Chain or Crypto.org.
In-app staking and connection to Web3-enabled sites are also possible. Crypto.com DeFi Wallet users can connect to dApps, DEXs, lending platforms and marketplaces without ever having to leave the app.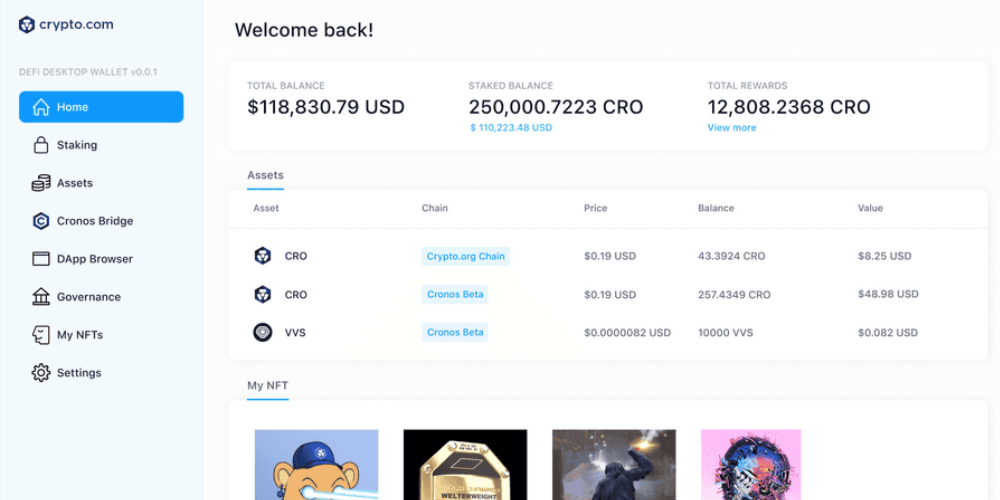 Retain full ownership of your crypto, unlike on a centralised exchange
Sync your Crypto.com DeFi Wallet to the centralised exchange app
Simple in-app staking, swapping and bridging
Connect to Web3-enabled sites from the app
Limited blockchain connections
No fiat withdrawals
14. Ledger Stax – Best-designed crypto wallet
Ledger Stax Wallet
Free shipping
The Ledger Stax was designed by Tony Fadell, the co-creator of the iPod and iPhone.
The device is more sleek and stylish than previous Ledger hardware wallets, yet it still offers the same level of security for which Ledger wallets have come to be known and trusted.
The most notable feature of the Ledger Stax is its 3.7-inch (672x400px) electronic ink (e-ink) touchscreen, which makes managing your assets and clear-signing transactions via the device a smooth and convenient process.
Other features that make the Ledger Stax stand out from previous versions of Ledger wallets are its wireless-charging capability and its lock screen, which you can customise with an NFT.
The device is also shaped differently than previous Ledger wallets. It's the shape of about 5 credit cards stacked on top of one another, while all previous Ledger wallets resembled a flash drive.
Large e-ink touchscreen
Wireless Qi charging
Bluetooth-enabled
Enables clear-signing (to prevent hacks and phishing attacks)
CC EAL 5+ security certification (highest level of security against penetration tests)
Lock screen can be customised with NFTs
Strong casing
Sleek design
Most expensive Ledger hardware wallet
Can't stake many cryptos via Ledger Live
15. XDEFI Wallet – Best wallet for NFTs
XDEFI Wallet
Free download


Price (USD)
XDEFI is a blockchain-agnostic wallet that lets you showcase NFTs from more than 15 different blockchains side-by-side. It's this breadth that's made it our top pick if you're looking for a dedicated NFT wallet.
The wallet's streamlined, cross-chain UI makes sending, receiving and trading NFTs and cryptos across blockchains simple and user-friendly.
Once the browser extension is installed, accounts can be set up directly in XDEFI or imported from external wallets. Preconfigured blockchains include ETH, BSC, Arbitrum, Thorchain, Bitcoin and more.
XDEFI also gives you the ability to complete in-wallet swaps and purchase cryptos using any currency through its fiat onramp.
Holders of the wallet's own token, XDEFI, can stake their holdings to earn trading rebates and collect utility NFTs.
View NFTs and assets across different blockchains in a single gallery
Easily import custom tokens
Earn rewards through staking XDEFI token
Value of staking incentives depends on performance of the XDEFI token
Sell-to-fiat feature not currently supported
Browser extension only, mobile app not available
Best Bitcoin wallets UK
With the notable exception of MetaMask, all of our best crypto wallet selections can also help you safely store your Bitcoin.
The following are some of our other picks for the best Bitcoin wallets in the UK.
Wallet type
Asset support
Electrum Bitcoin Wallet
Hot
Bitcoin only
Sparrow Bitcoin Wallet
Hot
Bitcoin only
Wasabi Bitcoin Wallet
Hot
Bitcoin only
Mycelium Bitcoin Wallet
Hot
Bitcoin only
Blockstream Jade
Cold
Bitcoin only*

Blockstream Jade technically supports a handful of other assets that exist on Liquid Network – a Bitcoin Layer 2 network.
Ledger wallets (Ledger Stax, Ledger Nano X, Ledger Nano S Plus)
Cold
Multi-asset
Trezor wallets (Trezor Model T, Trezor Model One)
Cold
Multi-asset
SafePal S1
Cold
Multi-asset
When deciding which Bitcoin wallet is best for you, you have to first decide whether you'd like to use a hot or cold wallet.
Hot wallets are crypto wallets that remain connected to the internet and are therefore less secure than cold wallets, which are used to store assets offline. Hot wallets can be used in conjunction with a cold wallet like our pick for the Best Bitcoin wallet, the COLDCARD Mk4.
Compare more crypto wallets in the UK
Crypto is unregulated in the UK; there's no consumer protection; value can rise or fall; tax on profits may apply.*
What is a crypto wallet?
A cryptocurrency wallet is a software program that allows you to store, send and receive digital currencies.
Because cryptocurrency doesn't exist in any physical form, your wallet doesn't actually hold any of your coins – instead, all transactions are recorded and stored on the blockchain.
Some cryptocurrencies have their own official wallets, while other products allow you to store multiple currencies within the same wallet.
Bear in mind that different digital currencies have different address types and you're usually only able to send coins between like wallet addresses. This means you'll need to send Bitcoin to a Bitcoin wallet address, Ethereum to an Ethereum wallet address and so on.
How do cryptocurrency wallets work?
Instead of holding physical coins, a wallet has a public key and a private key.
Public key. This is a long sequence of letters and numbers that forms the wallet address. With this, people can send money to the wallet. It's similar to a bank account number in that it can only be used to send money into an account.
Private key. This is used to access the funds stored in the wallet. With this, people can control the funds tied to that wallet's address. It's a lot like your PIN number in that you should keep it 100% secret and secure. However, it's worth noting that not all wallets give you sole ownership of your private key, which essentially means that you don't have full control over your coins.
As well as storing your public and private keys, crypto wallets interface with the blockchains of various cryptos so that you can check your balance and send and receive funds.
Best non-custodial wallets
How wallets and blockchains interact
The blockchain of any cryptocurrency contains a public record of all the transactions that have been made since it began. Your wallet address keeps a record of all your transactions and tracks your crypto balance. By following the chain all the way to the present day, a wallet can figure out how many coins you have.
For example, let's say Alice sends Bob 0.001 BTC. Once this transaction has been verified and added to the blockchain, the ledger records that the amount of Bitcoin at Alice's wallet address has decreased by 0.001 and that the amount of Bitcoin at Bob's wallet address has increased by 0.001 BTC.
The amounts sent and received as well as the public wallet addresses are all public information.
Types of cryptocurrency wallets
Now that you know how crypto wallets work, let's take a closer look at the different types of wallets available. Each has its own advantages and disadvantages in terms of security, ease of use, convenience and a range of other factors.
| | Hardware | Software | Exchange |
| --- | --- | --- | --- |
| Security | Excellent | Good | Poor |
| Usability | Easy, but more complex than software | Easy | Easy |
| Convenience | Can't access funds without the hardware device | Need access to the same device you set the wallet up on | Can access from any internet-connected device |
| Risks | Not having access to the device can be an issue if you need instant access | Vulnerable to malware, theft and hacking | Highly vulnerable to phishing and a popular target for hackers |
| Examples | Ledger Nano S Plus, Trezor One | MetaMask, Atomic Wallet | Binance, Kraken, Crypto.com |
| Cost | US$50-$300 | Free to download | Free to download |
Must read: Hot wallets vs cold wallets
As you're researching and comparing a range of wallets, you'll probably come across the terms "hot wallet" and "cold wallet", or perhaps the concept of "cold storage."
So, what does temperature have to do with crypto storage?
Hot. A wallet is hot when it's connected to the internet. Nothing on the internet is 100% secure, so funds kept in a hot wallet are always at a slight risk of theft or loss from software bugs or hackers.
Cold. A wallet is cold when it's safely offline and can't be deliberately or accidentally compromised over the internet.
How to choose the best crypto wallet
Now that you know all about the different types of wallets available, it's time to find a wallet that's right for you. To do that, you'll need to consider your needs and compare a range of wallets based on several key factors, including the following:
The type of wallet you want. This factor comes down to personal preference. If security is your number 1 priority, you'll probably want to compare hardware wallets. But if your main goal is being able to quickly and conveniently access your coins, a mobile or web wallet may be your preferred choice.
Ease of use. Sending, receiving and storing cryptocurrency can be complicated and confusing, particularly for beginners. It's essential that any wallet you choose suits your tech knowledge and level of crypto experience. So while crypto novices might focus on finding a wallet that is simple to set up and use, experienced holders might look for more advanced features including in-wallet exchange and multi-signature transactions.
Security features. Find out the security features of the wallet such as 2-factor authentication and multi-signature functionality. Will your private key be stored online or offline? Has the wallet ever suffered any security breaches?
Other features. Check what other features the wallet includes, such as the ability to exchange between currencies within your wallet or providing easy access to live fiat exchange rates or other market information.
Supported cryptocurrencies. Are you looking for a wallet that stores just 1 crypto, like Bitcoin, or are you in the market for a multi-currency wallet? Make sure the wallet you choose is compatible with the cryptocurrencies you need to store and remember that some coins and tokens can only be held in an official wallet.
The team behind the wallet. Next, see what sort of information you can find out about the people behind the wallet. How long have they been in business? What qualifications do they have? Are they continually working to upgrade and improve the wallet?
Cost. While most crypto wallets are free to use, choosing a hardware wallet means you'll have to be willing to part with some cash. Consider the upfront price and shipping costs when making your decision. Some wallets charge a fee for every transaction you make, so check the fine print.
Reputation. What level of community trust does the wallet have? Check out a range of independent online reviews to gauge how other users rate the wallet and whether they would recommend it.

How to use a crypto wallet
You've chosen your wallet and completed the setup process. Now it's time to learn how to use it, so check out the step-by-step instructions below on what you'll need to do.
How to send cryptocurrency from your wallet
To send funds from your wallet, you'll need a wallet address (the recipient's public key). These addresses are given in 1 of 3 ways:
A long alphanumeric string (numbers and letters)
A QR code (for smartphone wallets)
A URL-like web link (clickable – opens your wallet automatically)
Once you have this address, you will need to do the following:
Log in to your wallet.
Click on "Send".
Enter the recipient's wallet address. Please note that you can generally only send and receive like coins. For example, you can only send Bitcoin to Bitcoin or Ethereum to Ethereum. You can't send Bitcoin to an Ethereum wallet address.
Specify the amount (and possibly the currency) you want to transfer.
Check any transaction fees that apply, making sure you have enough coins in your wallet to pay the fees.
Review the details of the transaction to make sure you've correctly entered all the information.
Click on "Send".
Please note that the exact process will vary depending on the type and brand of wallet you choose. Hardware wallet users will typically need to connect their wallet device, enter a PIN or password and manually verify the transaction on the device itself.
How to receive cryptocurrency in your wallet
Receiving coins is even easier than sending them. However, wallets vary greatly in the way this is done: some will provide you with a fixed public address, some will give you a new address for every transaction and others will provide a combination of the two.
Log in to your wallet.
Click on "Receive" link.
Copy the public wallet address provided.
Send your address to the person who will be sending you a payment.
Wait for the funds to arrive in your wallet.
Holding funds in your crypto wallet
If you want to hold onto your crypto, there's typically not much you need to do once the funds have arrived in your wallet. You can log in to your wallet whenever required to check your balances. Some currencies may allow you to earn interest on your coins by "staking" your holdings (you may need to follow specific instructions in your wallet to do this).
Other than that, the main thing you need to focus on is maintaining a high level of security at all times.
Learning to use a crypto wallet is an essential part of your journey, but many people find them difficult to use at first. Go slow, read plenty about how they work and remember that each blockchain is different. Test out transactions with small amounts to prevent big mistakes. If you've got a sizeable investment, consider using a hardware wallet for the best security.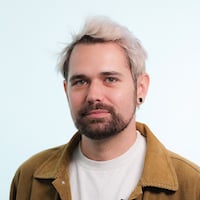 How to keep your crypto wallet safe
Wallet security is a crucial consideration for any crypto owner, so keep these tips in mind to ensure you keep your funds as safe as possible:
Research before you choose. Don't just choose the first crypto wallet you come across. Thoroughly research the security features and development team behind a range of wallets before making your final decision.
Enable 2-factor authentication. This is a simple security feature available on an increasing number of wallets. It's simple to use and provides an extra layer of protection for your wallet.
Pick your password carefully. Don't be lazy when choosing a password. Make sure all usernames, PINs and passwords related to your crypto wallet are as strong as possible.
Consider a multi-signature wallet. Multi-signature wallets require more than 1 private key to authorize a transaction, which means another user or users will need to sign each transaction before it can be sent. Though this means it'll take a little longer to send funds, you may find that the extra peace of mind is well worth the minor hassle.
Update your antivirus protection. Make sure your PC, laptop, smartphone or tablet has the latest antivirus and anti-malware software installed. Make sure to set up a secure firewall on your computer and that you never install software from companies you don't trust.
Update your wallet software. Take care to update your wallet software regularly so that you always have the latest security upgrades and protections installed.
Make a backup. Ensure that you have a wallet backup stored in a safe place so you can recover your crypto funds if something goes wrong, like if you lose your smartphone.
Check the address. When sending or receiving funds, make sure you're using the correct wallet address. Similarly, if using an online wallet, make sure it is secure (i.e. check that its URL starts with "https://")
Don't use public Wi-Fi. Never access your wallet over a public Wi-Fi network.
Split your holdings. Consider splitting your crypto coins up between online and offline storage. You can keep a small portion of your funds in online storage for quick and convenient access, and store the bulk of your holdings offline for extra security.
Private key protection. Remember – you can't access your coins without your private key, so don't disclose it to anyone. Check whether the wallet you choose allows you to retain full control of your private keys, or whether you'll have to surrender ownership to a third party such as an exchange.
Review: Billfodl & CRYPTOTAG recovery seed phrase backup devices
2023 crypto wallet industry predictions report
We polled a panel of 56 fintech specialists to get their thoughts on the importance of non-custodial wallets and self-custody of crypto assets.
Almost two-thirds of the panel (62%) think crypto holders should transfer their crypto assets into non-custodial wallets in the wake of the collapse of FTX. Just over one-third (34%) don't think crypto holders should do so.
In fact, 64% feel that a consumer's cryptocurrency is not safe unless they are storing their coins in a wallet to which they alone control the private key. Over a fourth (28%) think otherwise while the remaining 8% are unsure.
What's the best way to store crypto?
The majority of the panel (67%) say hardware wallets are the best way to store crypto. However, 10% believe it's best to store crypto in a software wallet and only 2% favour leaving your crypto in the custody of an exchange.
15% feel that other methods are better, including memorising your seed phrase and destroying all paper copies of it or keeping your funds in a multisig vault.
Given the preference for hardware wallets, it's unsurprising that 93% of the panel expect the adoption of hardware cold wallets to increase, with 56% predicting a decrease in the use of exchange hot wallets.
Bottom line
There's no such thing as a one size fits all "best crypto wallet." The right wallet for you will match your needs, so if security is your number 1 concern, you'll probably end up choosing a different wallet to someone who wants fast and easy access to their coins.
The key thing to remember is to do your research and compare a range of wallets first. Start with our range of crypto wallet reviews to get an idea of what's available and the key features you need to consider.
Methodology
To evaluate our 2023 picks for the best crypto wallets, we compared 50+ wallets on a range of criteria, including the following:
Crypto and blockchain compatibility. Does it support a good breadth of coins, tokens and blockchains?
Ease of use. Is it user-friendly and suitable for new crypto investors?
Security. Does it offer non-custodial or offline cold storage for added security?
Cost. Is it a free software wallet or is there an initial outlay? If applicable, how does its price compare to similar products?
Extra features. Does it support NFTs or offer additional features such as staking or in-wallet purchases?
Mobile accessibility. Can you manage your portfolio from a mobile device?
Web3 support. Can you directly access Web3 and decentralised apps (dapps) from within the wallet?
Frequently asked questions about crypto wallets
Read our crypto wallet reviews
* Cryptocurrencies aren't regulated in the UK and there's no protection from the Financial Ombudsman or the Financial Services Compensation Scheme. Your capital is at risk. Capital gains tax on profits may apply.
Cryptocurrencies are speculative and investing in them involves significant risks - they're highly volatile, vulnerable to hacking and sensitive to secondary activity. The value of investments can fall as well as rise and you may get back less than you invested. Past performance is no guarantee of future results. This content shouldn't be interpreted as a recommendation to invest. Before you invest, you should get advice and decide whether the potential return outweighs the risks. Finder, or the author, may have holdings in the cryptocurrencies discussed.