Gaming has come a long way since Pong, one of the earliest video games, based on ping-pong, released in 1972. These days, games are much more complicated and sophisticated — often with a "world", a storyline, characters and music. Because of this, modern day games can take several years, potentially even an entire decade, to develop.
This means that growth on gaming stocks could be stagnant for a period of time but could see rapid growth over short periods, potentially in the run up to a game release or shortly after. If the game doesn't meet expectations, the stock price may fall.
What are gaming stocks?
Gaming stocks are the shares of companies that develop and sell video games. Some game design companies are directly listed on the stock market, while some are owned by larger companies that are listed, so it's worth looking into what other companies you might be investing in. The gaming industry is booming, and you don't even need to be a hardcore "gamer" to contribute to it, even Candy Crush counts! New technology, such as VR, means that there's always new ways to play games.
How to invest in gaming stocks
Choose stocks to invest in. You can check out some gaming stocks below and find out more about them.
Choose an investment platform. You'll need one that lets you invest in the stock exchange that your chosen stocks are listed on.
Sign up and fund your account. You might need to wait for your account to be verified and for your funds to hit the account before you can begin.
Find your chosen stock. You can search its name or ticker.
Review and buy. It's as easy as that!
UK gaming stocks
You might not recognise the names of some UK gaming companies, but you'll certainly recognise some of the games they have produced or companies they have worked with. Here are some UK gaming stocks.
Team17
Team17 is a video game developer and publisher based in the UK. It's known for its artillery game Worms as well as several sequels to the game, including Worms: Open Warfare and Worms: A Space Oddity.
Compare brokers to buy Team17 shares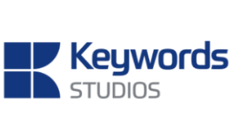 Keywords Studios
Keywords Studios is a video game company based in Ireland. It offers localisation services, translation and player support for video game software. It also offers game development services and game testing. Keywords Studios has acquired many companies over the years, all offering different services to the video game industry.
Compare brokers to buy Keywords Studios shares

Frontier Developments
Frontier Developments is a video game developer in the UK. It developed RollerCoaster Tycoon, as well as several sequels, including RollerCoaster Tycoon 2, RollerCoaster Tycoon 2: Wacky Worlds, RollerCoaster Tycoon 2: Time Twister and RollerCoaster Tycoon 3. In more recent years, it has created Jurassic World Evolution, Planet Zoo and Elite Dangerous: Odyssey. It is currently developing two unnamed games: one which will be a Formula One management game, and another that will be a Warhammer Age of Sigmar strategy game.
Compare brokers to buy Frontier Developments shares
Investing in gaming stocks from the UK
Some of the most recognisable gaming companies are listed on global stock exchanges, so if you invest in some global stocks, you can get exposure to them. Remember to account for foreign exchange fees when comparing trading platforms.
Nintendo
Nintendo is a multinational video game company in Japan. Nintendo is the company behind Mario, a red-overalled plumber who saves Princess Peach with the help of his brother, Luigi. Nintendo's latest console, the Nintendo Switch, has sold nearly 93 million units, almost catching up with the Wii (101.63 million).
Compare brokers to buy Nintendo shares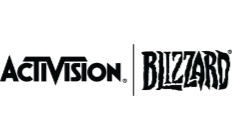 Activision Blizzard
Activision Blizzard is a video game holding company based in the US. It owns and operates Activision Publishing, Blizzard Entertainment, King, Major League Gaming and Activision Studios. Activision Publishing is behind Call of Duty, Crash Bandicoot, Guitar Hero and Candy Crush Saga.
Compare brokers to buy Activision Blizzard shares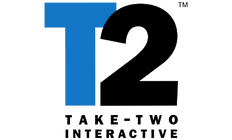 Take-Two Interactive
Like Activision Blizzard, Take-Two Interactive is a video game holding company which owns two publishing labels: Rockstar Games and 2K, both of which develop games.
2K is the company behind BioShock, Borderlands, Civilisation and Mafia.

Compare brokers to buy Take-Two Interactive shares
Why invest in gaming stocks?
The gaming industry is thought to be one of the winners of the pandemic — what else were we all going to be doing with our time? Video gaming might seem a little childish or foolish, but it's a growing industry that's currently booming.
There are loads of different types of games, from mobile apps designed to kill time waiting for the bus or at the doctor's, to sophisticated multiplayer games that require high powered computers. This broadens the target audience, which makes the industry more sought after.
Compare platforms to buy gaming stocks
The risks of gaming stocks
This industry does well while companies are releasing new hardware and software — if there's not much going on in terms of new releases, the stocks might be quite stagnant. This isn't necessarily because the companies don't have anything to show, they could just all be knuckling down on their products.
Some gaming companies might create gambling products — consider whether these match with your personal values. You can't pick and choose parts of a company that you want to invest in, so if these are products you'd rather avoid, you'd want to steer clear from the entire company.
All investing should be regarded as longer term. The value of your investments can go up and down, and you may get back less than you invest. Past performance is no guarantee of future results. If you're not sure which investments are right for you, please seek out a financial adviser. Capital at risk.
Bottom line
Gaming is everywhere — smartphones allow us to carry games with us all the time, and new hardware is being released every few years. Alongside this, games are becoming more and more sophisticated, often being turned into sequels, with additional downloadable content and expansion packs on offer, keeping the games fresh for consumers and pushing up revenue. Investing in gaming stocks might allow you to get in on the action, and could hopefully see some good growth in the next few years.
Browse all media stock guides