What is Dash (DASH)?
Dash has seen remarkable growth. Here's how this altcoin works.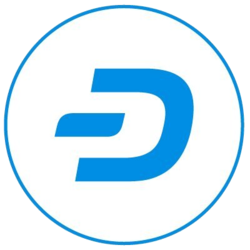 $128.93
You've probably heard of Bitcoin, the cryptocurrency that's taken the world by storm. Ever since Bitcoin passed the US$1,000 price mark in January 2017 — a three-year high — general interest in cryptocurrency has skyrocketed.
One of the beneficiaries of that interest is Dash, a cryptocurrency that's been around in some form since 2014. Worth around US$10 at the beginning of 2017, it broke the US$300 price mark in less than a year.
If you're wondering what's behind the incredible growth of this cryptocurrency and how it compares to Bitcoin, you've come to the right place.
Disclaimer: This information should not be interpreted as an endorsement of cryptocurrency or any specific provider, service or offering. It is not a recommendation to trade.
What is Dash?
| Icon | Symbol | Initial release date | Algorithm type | Max. supply |
| --- | --- | --- | --- | --- |
| | DASH | 18 January 2014 | X11 | 18 million DASH |
Like Bitcoin, Dash is a cryptocurrency — or a digital currency exchanged through encrypted software. You might hear it described as an altcoin, which refers to any cryptocurrency other than Bitcoin.
Dash first existed as Xcoin. It was relaunched as Darkcoin in January 2014. A year later in March 2015, developers rebranded Darkcoin as Dash — short for "digital cash."
Read our guide to find out how cryptocurrency works.
How to buy Dash
Table: shows partner brands and other brands, sorted by popularity
Ready to buy Dash tokens? Here's how to get some of the cryptocurrency for yourself.
1. Get a cryptocurrency wallet.
A cryptocurrency wallet is where you'll receive and store your Dash. You have several options for Dash wallets:
Desktop. Dash offers an official desktop wallet that includes PrivateSend and InstantSend functionality. Dash developers also recommend Jaxx and Exodus.
Mobile. You can also store Dash on your phone. Look for wallets like Jaxx (iOS and Android), Coinomi (Android) and Dash Core (iOS).
Paper. With a paper wallet, you simply write down your public and private keys — blocks of encryption that allow you to send and receive cryptocurrency.
2. Buy Dash.
You have two main ways to buy Dash: trade it with Bitcoin or buy it directly with fiat currency.
What is fiat currency?
Fiat currency is government-issued money like dollars, euros and yen. It's centralised because it's printed by the government — as opposed to many digital currencies that are decentralised and distributed by no one.
It's easiest to buy Dash if you already own Bitcoin. Then it's just a matter of moving your Bitcoin to a cryptocurrency exchange and trading it for Dash. Kraken, ShapeShift and Bittrex are a few popular exchanges that allow Dash trading. Read our guide on how to buy Bitcoins.
Buying Dash with fiat currency is a little trickier because there aren't many platforms that allow it. Two services that offer fiat-to-Dash transactions are BitPanda and Kraken.
Dash developers are forming new partnerships with cryptocurrency services for more accessible fiat-to-Dash transactions. For example, you can sign up for Coinapult and Crypto Capital to buy Dash.
3. Transfer Dash to your wallet.
Whichever exchange you use to buy Dash, you'll have the option to transfer the coins to your wallet. Avoid leaving the coins on the exchange, where they can be stolen through hacking.
Dash developers attempted to create a payment platform that's:
Decentralised. Users can send cryptocurrency to one another without relying on a middleman, such as a bank or government.
Private. Over the years Bitcoin has existed, it's proven anonymous — but not fully private. In response, Dash developers sought to create fully private cryptocurrency.
Fast. Many users feel that Bitcoin's slow confirmation times make it unviable as a consumer option. Dash was built to enable quick transfers.
What is a confirmation?
A confirmation is a verification of a transaction on a cryptocurrency network. This happens when a new block is added to the blockchain through mining.
To become final, a cryptocurrency transfer requires multiple confirmations. This is to prevent double spends, during which a coin is spent in more than one transaction. The more confirmations there are, the less likely there will be a double spend.
As we'll discuss later in this guide, Dash's privacy is up for debate. However, cryptocurrency observers widely agree that Dash has achieved its other two goals.
A few things you should know about Dash
Let's run through a few quick stats that illustrate what Dash is all about.
There's a cap on Dash coins
You may know that only 21 million Bitcoin can ever be mined. Similarly, only 18 million Dash can ever be mined.
A cap on the number of cryptocurrency that can be mined is what's known as a controlled supply.
Around 7.5 million Dash coins exist right now, with the last coin expected to be mined around the year 2300.
Dash has become one of the biggest cryptocurrencies
Of the hundreds of cryptocurrencies out there, Dash is one of the most popular. In the fall of 2017, it was the eighth-largest cryptocurrency by market capitalisation. At that time, the 7.5 million Dash in existence were worth US$1.5 billion.
That said, the cryptocurrency still has a way to go. In September 2017, Bitcoin, Ethereum and Bitcoin Cash — the three largest cryptocurrencies — had market caps of US$69 billion, US$29 billion and US$11 billion, respectively.
What is market capitalisation?
Market capitalisation is what the entire market for a cryptocurrency is worth. It's calculated by multiplying a cryptocurrency's price by the number of coins owned by the general public.
For example, if a cryptocurrency is worth US$10 and there are 1,000 of the cryptocurrency's coins in circulation, the market cap is US$10,000:
Market cap = US$10 x 1,000 = US$10,000
Dash grew rapidly in 2017
From 2014 to the end of 2016, the price of Dash generally stayed below US$10. That changed at the turn of 2017.
On 1 January 2017, Dash's price sat at US$11.
By mid-March, it had broken the US$100 mark.
Dash passed US$200 by mid-June…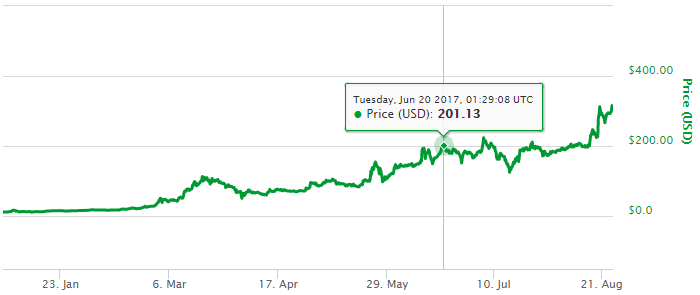 … and in late August, it reached the US$300 mark. As of 27 August 2017, one Dash was worth US$368.
Some observers say Dash's growth came from speculative trading on cryptocurrency exchanges. Dash supporters say it's because the world finally learned about the cryptocurrency's structural advantages — such as low fees.
What makes Dash special?
Dash was created in part to address two of Bitcoin's biggest problems: lack of privacy and speed of transactions. It boasts other advantages that reportedly improve on Bitcoin.
Anonymous transactions
It's a common misconception that Bitcoin transactions are anonymous. In reality it's easy to identify a wallet address, and you can trace transactions through the blockchain.
Confused about the blockchain? Read our guide on how it works.
According to Dash developers, you can send anonymous transactions with the cryptocurrency through its PrivateSend feature. With PrivateSend, your transaction is bundled with other anonymous payments. This makes it difficult for someone to see where transactions originate and where they're going.
Optional instant payments
Through InstantSend, you can send payments for confirmation in under a second. At this speed, you'll pay higher processing fees to masternodes — or the computers that verify transactions.
According to the developers, Dash's transfer speed allows more consumer uses of the cryptocurrency. Because transactions can be confirmed almost instantly, Dash could be better suited for "point of sale" transactions — for instance, buying a drink at a juice bar or paying for clothes at a store.
In contrast, Bitcoin transactions usually take 10 minutes to an hour for confirmation.
Low fees
The average Dash transaction fee is around US$0.10. Meanwhile, the average Bitcoin transaction fee is US$2 to US$4.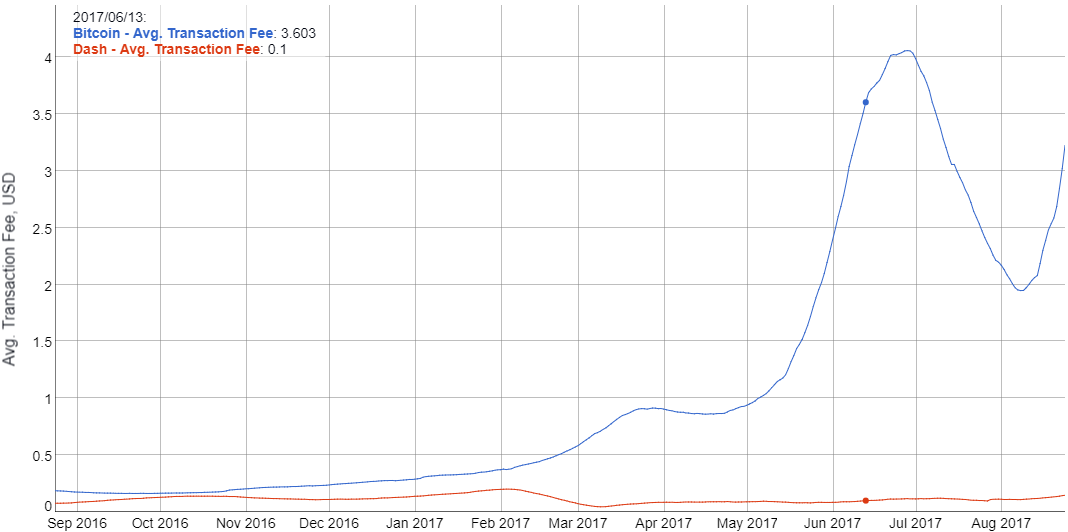 Because those averages skew toward larger transactions, you'll want to look at the median transaction fees to learn what the typical user pays.
That brings good news for Dash enthusiasts. The typical Dash user pays around one to two cents per transaction. Meanwhile, the typical Bitcoin user pays between US$0.50 and US$2.50 per transaction.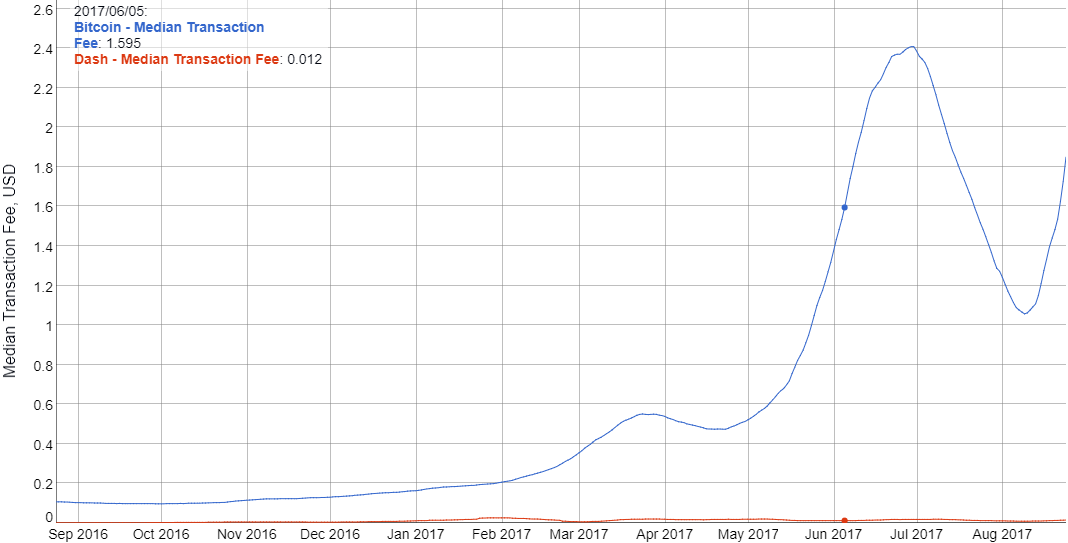 What's interesting is that Dash's transaction fees have held relatively steady, even with the cryptocurrency's unprecedented rise. Down the line, we'll see if they remain low.
Incentivised governance model
According to the developers, Dash's governance model is superior to that of Bitcoin. Whereas Bitcoin's development relies on community contributions, the Dash network is funded by the transaction fees it generates. In the next section, we dive deeper into Dash's structure.
How Dash works
Dash's unique structure runs on a two-tier network called the masternode network. According to Dash developers, the network is an "incentivised full-node operation." There's a lot to unpack there, so let's talk about what it means.
The Dash network's first tier is composed of nodes — computers that communicate with one another within the network. Miners use these nodes to verify Dash transactions and create new coins.
The second tier is composed of masternodes. These are full nodes — computers that contain the full blockchain of a cryptocurrency and enforce rules of the network. Masternodes facilitate specialised transactions for PrivateSend and InstantSend. Furthermore, they control the development of the Dash network.
To understand why masternodes are "incentivised," you should know how someone runs this type of node and what they get out of it.
How does someone run a masternode?
To run a masternode, you need to have 1,000 Dash available as collateral. An operator needs to continuously hold this collateral to continue running a masternode and receiving transaction fees.
In theory, requiring masternode operators to post collateral helps protect the network. If someone wanted to attack the Dash network, they would first need to buy a substantial amount of Dash to become a masternode operator. At that point, it wouldn't make sense to attack the Dash network, as doing so would destroy their holdings.
Because they have a lot invested in the network, masternode operators have an incentive to protect the Dash ecosystem. To that end, they carefully consider and approve community-submitted budgets and initiatives.
Dash transaction fee
According to Dash developers, one of the key weaknesses of other cryptocurrencies is a lack of financial incentives to run a full node. Dash built in incentives for users to run masternodes.
Here's the fee distribution from Dash's block rewards:
The masternode operator receives 45%.
The Dash maintenance fund receives 10%.
What are block rewards?
Miners in a cryptocurrency network are incentivised to confirm transactions through block rewards — coins distributed when a block is solved.
Compare that to the fee distribution of Bitcoin's block rewards:
The miner receives 100%.
The full node operator receives 0%.
0% goes to Bitcoin development.
According to Dash developers, the 10% fee allocation is a big advantage. Instead of relying on community donations, Dash can fuel its growth directly from its blockchain.
Did you know?
At the time of writing, 4,756 masternodes are on the Dash network. In comparison, there are around 9,000 nodes on the Bitcoin network.
What to watch out for
No cryptocurrency is without its downfalls. Here are a few of Dash's potential weaknesses to consider.
It may not be as private as it claims to be.
Though Dash supporters tout its privacy features, other observers question how anonymous the cryptocurrency really is. For example:
There's a "rich list" for Dash. This is a public record of the top 100 wealthiest addresses in the network. (A cryptocurrency address is a string of alphanumeric characters from which transactions are sent and received.) Meanwhile, no such list exists for a cryptocurrency like Monero, which is often said to be fundamentally private.
PrivateSend transactions are routed through masternode networks. According to critics, someone could theoretically see a transaction's details if they controlled all of the masternode networks the transaction passed through.
Critics say Dash's privacy features are essentially just cryptocurrency mixing. Cryptocurrency mixing services — also known as "tumblers" — exchange coins for different ones that can't be traced back to the original owners. Some observers say Dash doesn't do anything different.
Instamine controversy
According to some observers, Dash's "instamine controversy" is a big red flag.
Within the first 48 hours after developers released Dash — called Xcoin at the time — 2 million coins had been mined. If you recall, only 18 million Dash can ever be mined. That means around 11% of the currency was released within the first two days.
Critics say this casts doubt over Dash's legitimacy. Some speculate that it's evidence that Dash is a "pump and dump" scheme, in which individuals inflate a cryptocurrency's market price and quickly sell their holdings. This claim should be investigated further by potential buyers of Dash assets.
What is an instamine or premine?
In an instamine or premine, a cryptocurrency developer releases a large number of coins before distributing the cryptocurrency's source code to the public. These coins go to a few people, who stand to benefit greatly if the cryptocurrency becomes successful.
Developers often claim premines are useful to incentivise the people who created the source code — and to reward investors. Many observers, however, say premines are unethical and the work of greedy developers.
Today's Dash price
What's next for Dash?
The rise in Dash's prices in 2017 was extraordinary. The question is whether it'll keep going up.
Dash developers aim to make cryptocurrency extremely easy to use for consumers. To that end, they're working on Dash Evolution, a new cryptocurrency, that's expected to include:
Integrations with web stores or apps.
Easy payments along the lines of PayPal and Google Wallet.
Usernames to make it simple to send transactions.
Recurring payments.
The option to clear your transaction history.
Dash Evolution is slated for release in late 2017 or early 2018.
Disclaimer: Cryptocurrencies are speculative, complex and involve significant risks – they are highly volatile and sensitive to secondary activity. Performance is unpredictable and past performance is no guarantee of future performance. Consider your own circumstances, and obtain your own advice, before relying on this information. You should also verify the nature of any product or service (including its legal status and relevant regulatory requirements) and consult the relevant Regulators' websites before making any decision. Finder, or the author, may have holdings in the cryptocurrencies discussed.
Image sources: Shutterstock, CoinMarketCap
More guides on Finder
Dash (DASH) price prediction 2022

A comprehensive look at the factors influencing the price of Dash and how the value of this popular cryptocurrency might change in the future.

Best wallets for Dash (DASH)

We review eight of the best Dash wallets that make it easy and convenient to store, send and receive this popular cryptocurrency.