Supported assets

1

Price (USD)

$157.94

Wallet type

Hardware wallet
This is not financial advice or an endorsement of digital assets, providers or services. Digital assets are volatile and risky, and past performance is no guarantee of future results. Potential regulations or policies can affect their availability and services provided. Talk with a financial professional before making a decision. Finder or the author may own cryptocurrency discussed on this page.
Our verdict
The latest COLDCARD hardware wallet offers a unique approach to storing your Bitcoin private keys offline.
The COLDCARD Mk4 is a secure hardware wallet in which you can safely store the private keys to your BTC.
The Mk4 is built with not one but two Secure Element chips for transactions using the wallet without a computer connection.
These factors make the wallet a favorite among Bitcoiners who prize the safety that their Bitcoin wallet provides above any other features.
But this safety comes at a price. The Mk4 and its corresponding accessories will run you close to $230 — a price point similar to the Trezor Model T, a high-end hardware wallet from Trezor that can do many things that the Mk4 can't.
Safely storing the private keys to your digital assets is a very crucial part of investing in crypto. Do your research on the best crypto wallets out there before making a purchase.
Hardware wallets are widely considered to be one of the safest ways to store the private keys to your crypto offline.
Pros
Uses two Secure Element chips to protect the private keys to your BTC

Doesn't have to be connected to the internet; you can transfer data using a microSD chip

Large screen (124 x 68px) helps you to review transactions

Large buttons make navigation easy

Developed with open-source code (anyone can search the code for bugs)
Cons
More expensive than a device like the Ledger Nano S Plus, which offers a similar level of security for your BTC

Can only store the private keys to your Bitcoin (BTC)

Have to pay for extra hardware (required)
The COLDCARD Mk4 hardware wallet was designed to help you to safely store the private keys to your Bitcoin (BTC) — and your BTC only.
The first COLDCARD wallet came to market on Sept. 11, 2018, and the Mk4 is the latest iteration of the wallet.
The information on the device is protected by not one but two Secure Element chips — the same chips found in passports and credit cards — and you can use the device without connecting it to the internet.
But said security comes at a price.
The wallet itself runs for $157.94, and once you buy all of the accessories you need to get started using the wallet, your bill could top $200.
---
What's in the bag?
Inside the bag are the following items:
The COLDCARD Mk4 device in a transparent plastic case.
A card with the text Wallet Backup Card printed at the top of it.
A sticker with the text No shitcoin inside printed on it.
A sticker with the text Just a calculator printed on it.
A plastic sheet with the same number from the pouch's exterior twice printed on it.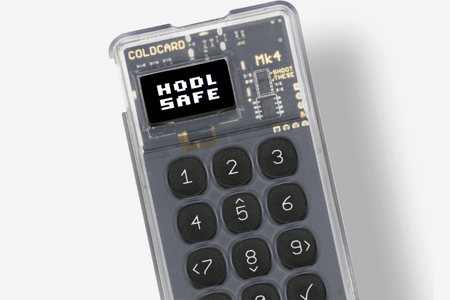 ⚠️ Must read
Anytime you buy a hardware wallet you must ensure the product hasn't been tampered with, otherwise your private keys may be compromised. Check that what you received matches what is listed on the retailer's website, and carefully check that no tamper-proof seals or packaging have been damaged.
COLDCARD Mk4 price
The COLDCARD Mk4 costs $157.94. But you must purchase more than the device to use it.
You will also need to purchase a Power-Only USB-C Cable (US$16.99), a COLDPOWER Adapter (US$24.99) and a 9V battery if you want to refrain from plugging your device into your computer for charging power.
If you don't mind plugging the device into your computer, you only need to buy the Power-Only USB-C Cable.
You will also need to buy a microSD card. Industrial-grade versions of these are sold on COLDCARD's website for US$39.94.
When you add up all of the hardware necessary to get started with your COLDCARD Mk4, you could spend upwards of $229.
This price point is far higher than that of a Ledger Nano S Plus ($79) — which also uses a Secure Element chip to safely store the private keys to your Bitcoin (BTC) offline.
Another reputable and cheaper hardware wallet for storing your Bitcoin is the Trezor Model One — which costs $69. This hardware wallet doesn't use a Secure Element chip, though.
Where to buy the COLDCARD Mk4
Purchase the COLDCARD Mk4 through the official Coinkite website. Coinkite is the parent company of COLDCARD.
If you purchase it through a third-party provider, you may be purchasing a device that's been tampered with and is therefore compromised.
COLDCARD Mk4 coin support
The COLDCARD Mk4 only permits you to store the private keys to your Bitcoin (BTC). It does not allow for the storage of private keys to altcoins or NFTs.
COLDCARD Mk4 security
The COLDCARD Mk4 uses two Secure Element chips — from two different manufacturers — to minimize security risk. Ledger hardware wallets only have one Secure Element chip, and Trezor wallets have zero.
AirGap support
The COLDCARD Mk4 allows you to make transactions without connecting the wallet to the internet.
To make such transactions, you download data from your COLDCARD Mk4 to a microSD card then insert the card into your desktop computer.
Once inserted, you can make transactions using that data via an assortment of software wallets including Sparrow Wallet — the most widely recommended desktop wallet to use with your COLDCARD Mk4.
Multiple PINs
Create multiple pins for your COLDCARD Mk4. The PINs can help to more securely store your BTC.
Two types of PINs you can create are a Duress PIN and a Brick Me PIN.
Duress PIN. If you find yourself under duress — that is, being attacked for your BTC — you can give your attacker this PIN. It will open a wallet in which you can store an amount of BTC you're willing to lose and not the full amount of BTC that you manage on your Mk4.
Brick Me PIN. By entering this PIN, you command your COLDCARD Mk4 to self-destruct. Once you enter this PIN, the device becomes useless. Use this PIN also as a security measure when you discard an old, unused device.
COLDCARD Mk4 vs. Mk3
| | Mk4 | Mk3 |
| --- | --- | --- |
| Connector | UCB-C | Micro USB |
| Number of Secure Element chips | 2 | 1 |
| CPU apeed | 120 MHZ | 80 MHz |
| Memory | 840 kB + 8 MB RAM | 360 kB |
| Flash memory (firmware) | 1.5 MB | 700 kB |
| Settings memory | 512 kB | 4 kB |
| USB-in-use LED light | Yes | No |
| Sliding cover | Yes | No |
| Firmware upgrade time | 15 seconds | 2 minutes |
| Bitcoin transaction size limit | 2 MB | 384 kB |
How to set up the COLDCARD Mk4
If you plan to set up your Mk4 without connecting it to your desktop, you'll need all of the items that come in the bag with the wallet. These include a USB cable, a COLDPOWER adapter, a 9V battery, a microSD card and a microSD card adapter if your desktop computer doesn't have an input for one.
If you plan to connect your Mk4 directly to your computer, you'll only need the device and a Power-Only USB-C cable.
You'll also need to download a desktop wallet like Sparrow Wallet, Electrum or Wasabi to your computer.
After doing all of this, follow the instructions on your device once you power it up for the first time.
There are numerous tutorials online to assist in this process.
How to use the COLDCARD Mk4
Using your COLDCARD Mk4 can be a little more complicated than using Ledger or Trezor devices and their corresponding software.
Visit COLDCARD's site for detailed instructions for how to send and receive BTC with your Mk4.
COLDCARD Mk4 vs. other hardware wallets
While the COLDCARD Mk4 has some features in common with Trezor and Ledger wallets, it's unique in multiple ways, as well.
One major difference between the COLDCARD Mk4 and Ledger and Trezor wallets is that the COLDCARD Mk4 doesn't have native desktop software, while Ledger and Trezor wallets do.
COLDCARD Mk4 alternatives
Whether products shown are available to you is subject to individual provider sole approval and discretion in accordance with the eligibility criteria and T&Cs on the provider website.
Are you visiting from outside the US?
Frequently asked questions
You are about to post a question on finder.com:
Do not enter personal information (eg. surname, phone number, bank details) as your question will be made public

finder.com

is a financial comparison and information service, not a bank or product provider
We cannot provide you with personal advice or recommendations
Your answer might already be waiting – check previous questions below to see if yours has already been asked
Accept and continue