How much are we overpaying for Coronavirus essentials online compared to the grocery store?
We've located were the bargains can be found.
The current coronavirus pandemic has seen certain shopping items in high demand across the UK. And with some supermarket shelves still not fully restocked after the public's initial bout of panic buying, consumers are now turning to online marketplaces to source supplies such as face masks.
However, some sellers on eBay have been accused of trying to profit from the health crisis and the subsequent shortage of essential goods, by adding huge markups to what are usually reasonably priced products.
We've compared a range of prices across three of the UK's leading supermarkets with those on the online marketplace for five of the most in-demand items: hand sanitiser, paracetamol, gloves, toilet paper and thermometers.
Quick overview
Paracetamol is the product seeing the biggest percentage markup online, with average online marketplace prices a staggering 874% more than shelf prices in grocery stores.
In terms of markup in pounds, it's gloves that come in as the most expensive item, with a pack of 100 costing a whopping £32.96 online compared to an average of £11.18 in store.
The highest individual markup found was a paracetamol listing, which charged 1,710% more per tablet than supermarkets (although it has now been taken down).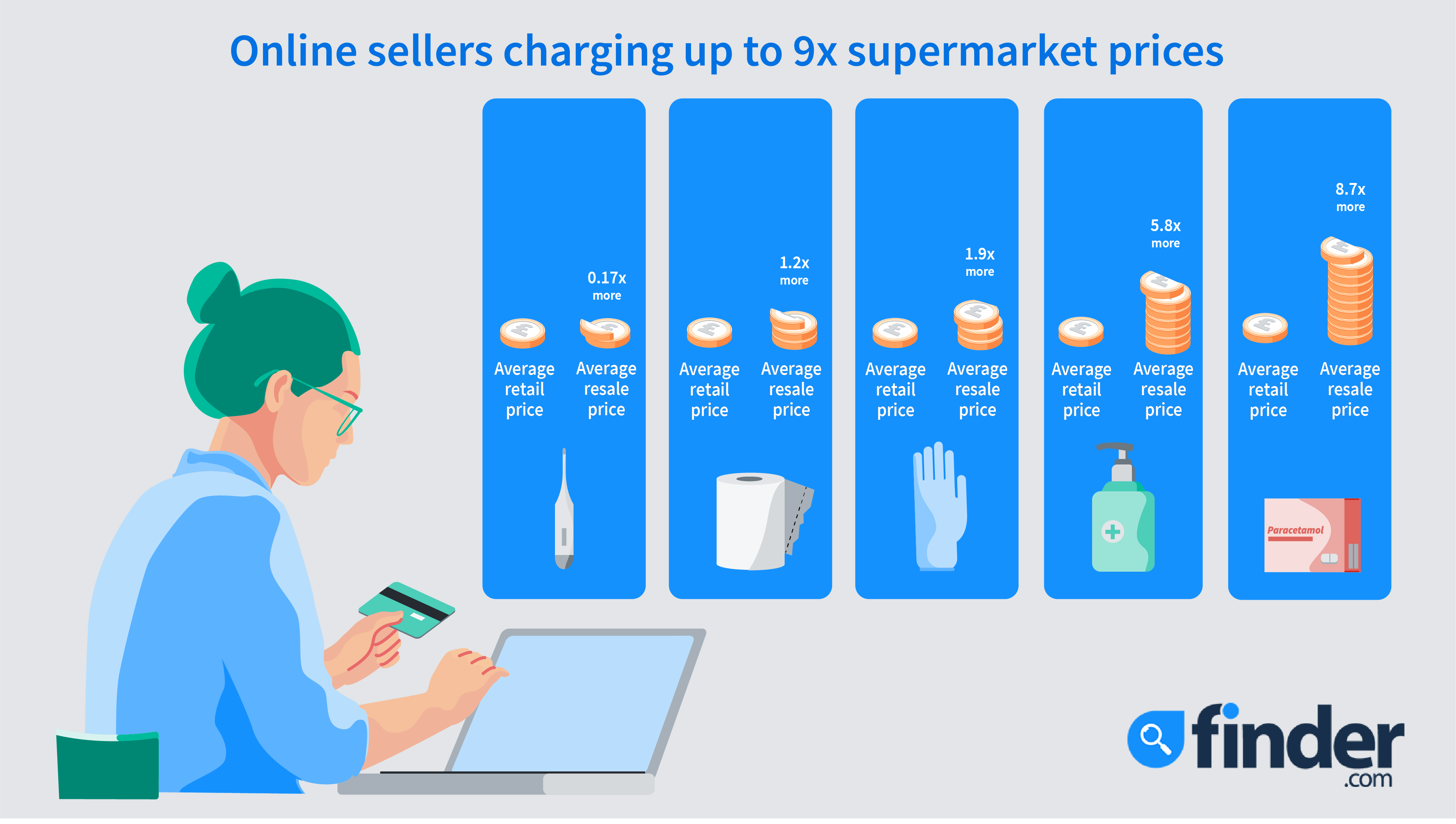 Percentage markup
It's perhaps no surprise that paracetamol recorded the biggest percentage markup out of the five products we looked at. Usually widely available and only cost a pound or two for a pack of 16 tablets in non-coronavirus times, it was one of the first products to sell out in most stores across the country. As a result, online listings are showing prices that are on average 874% higher than those found in major supermarkets.
Hand sanitiser took the second spot in this ranking, with a bottle of 100 millilitres recording an average markup of 585% on online selling platforms. It was the humble thermometer that fared best, costing (a mere) 17% more online.
| Item | Difference in percent |
| --- | --- |
| Paracetamol | 874.23% |
| Hand sanitiser | 584.84% |
| Gloves | 194.81% |
| Toilet paper | 118.62% |
| Thermometer | 17.22% |
Average markup in pounds
Following on from the table above, a box of paracetamol comes in at a jaw-dropping average £9.45 online, rather than the average price tag of 97p found in supermarkets.
The 585% markup for hand sanitiser translates to a 100ml bottle costing a pricey average of £10.49 online, compared to just £1.53 in a grocery store.
But it is a pack of 100 gloves that could really break the bank, with online listings asking for an average of £32.96 from potential buyers, compared to £11.18 in-store.
| Item | Grocery store | Online |
| --- | --- | --- |
| Paracetamol (pack of 16) | £0.97 | £9.45 |
| Hand sanitiser (100 ml) | £1.53 | £10.49 |
| Gloves (100 pack) | £11.18 | £32.96 |
| Toilet paper (10 rolls) | £4.78 | £10.45 |
| Thermometer | £5.40 | £6.33 |
Most expensive products per item
We searched a number of online marketplace listings to find the worst offenders in each product category in terms of price per individual item.
Toilet paper comes out top here, with one Internet seller asking for £1.75 per roll, compared to a top price per roll of 48p in major supermarkets.
Paracetamol is also being priced at a premium, being offered for a maximum cost of £1.10 per tablet online, versus just 6p per pill in a grocery store.
| Item | Grocery store | Online |
| --- | --- | --- |
| Paracetamol per pill | £0.06 | £1.10 |
| Hand sanitiser per ml | £0.02 | £0.10 |
| Price per glove | £0.11 | £0.79 |
| Toilet paper per roll | £0.48 | £1.75 |
If you find yourself struggling to source and buy items during the coronavirus outbreak, check out Finder's guides to online shopping, which will help you identify which online retailers have essential products in stock.
Check out your local corner shops – while they may not stock something a bit niche like a thermometer, they are often overlooked when shopping for the basics such as toilet roll.

If you're classed as a vulnerable customer (either because of your age or an underlying health condition), then look to see what shopping help your local big-chain supermarket has on offer. Most major supermarkets have put aside time slots at the beginning of the day for people categorised in this group, so you can shop safely among fully-stocked shelves. Many grocery stores are also prioritising vulnerable customers for online deliveries.

The UK's supermarkets are working to increase the number of delivery slots that they have available for grocery orders placed online. For example, the nation's largest grocery chain, Tesco, has just added an extra 145,000 delivery slots, an increase of more than 20%.

Have a look at Finder's shopping guides to help you source essential items during the coronavirus outbreak, as well as discounts if you're an NHS worker. We've searched the web to unearth which retailers are stocking what items and found some surprising results – who knew stationery firm Staples sold toilet roll?

Finally, you don't need to ignore online marketplaces like eBay. While the average cost of essential items appears to be higher at the moment, there may be some good deals around if you have a look. You may also be willing to pay a bit of a premium for an item you can't find anywhere else."
For all media enquiries, please contact
Sources
Finder chose five of the UK's most popular shopping items right now: hand sanitiser, paracetamol, gloves, toilet paper and thermometers.
The in-store price of these items was collected at three major supermarket chains (Tesco, Asda and Sainsbury's). The online asking price for these items was also taken from the top two pages on eBay for each item, totalling 156 listings. The difference in these prices was then analysed to calculate the average resale price online compared to in-store.