Best Dogecoin (DOGE) wallets
Find the best Dogecoin wallets that have what you need for features, security and convenience in our up-to-date list of the best DOGE wallets on the market.
Launched in 2013 as something of a joke, Dogecoin (DOGE) was an instant success and gained widespread popularity in the crypto community.
5 Dogecoin wallets we love
Crypto is unregulated in the UK; there's no consumer protection; value can rise or fall; tax on profits may apply*.
Compare wallets for Dogecoin
We've sorted through more than 70 wallets to help you find the best one for your Dogecoin needs. Compare wallets on type, supported currencies and price using our comparison table — click Go to site when you're ready to buy.
What to look for in a Dogecoin wallet
When searching for the best DOGE wallet for your needs, remember to keep an eye out for the following features:
DOGE support. Before looking into a wallet's features, check the fine print to make sure it's actually compatible with DOGE.
Ease of use. If you're new to digital currencies or simply not all that good with technology, look for a wallet that's designed with beginners in mind. A simple user interface can make it a whole lot easier and less stressful to manage your coins.
Security. What security features does the wallet offer? For example, does it offer hot or cold storage? Does it include 2-factor authentication and/or multi-sig functionality? Have there ever been any security breaches reported in the media?
Backup and restore. Is it easy to make a backup of the wallet and then restore it if needed, ensuring that you don't lose any coins if something goes wrong?
Ongoing development. Research the development team behind the wallet to see if they are constantly working to upgrade and improve the wallet's features and functionality.
Customer support. If you ever have a problem with your wallet or a particular transaction, how will you be able to contact customer support? Check out the contact options available and research whether the wallet provider has a good reputation for quickly answering calls for help.
Positive reviews. Don't just trust the marketing spiel from a wallet provider; check out independent online reviews from other users to find out their views on a wallet's pros and cons, and whether they would recommend it to new users.
Find out more about choosing a cryptocurrency wallet in our complete guide.
5 wallets for holding Dogecoin (DOGE)
Ledger Nano S (hardware wallet)
Storing multiple cryptocurrencies, good security features, simple and straightforward to use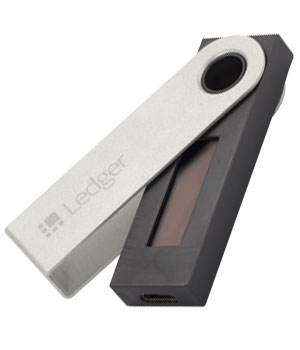 For safe and secure storage of cryptocurrencies, most users recommend offline storage. One offline storage option worth considering is the Ledger Nano S, a popular hardware wallet that boasts a number of security features.
This small USB device stores your private keys in a secure element protected by a PIN, and it also features an easy back-up and restore feature along with support for 2-factor authentication. There's a built-in OLED display that, along with buttons on the device that need to be physically pressed, can be used to manually verify transactions.
Read our full review of the Ledger Nano S
The setup process for the Nano S is quick and easy, and the device supports more than 20 cryptocurrencies (including Dogecoin, Bitcoin, Ethereum, Dash and Litecoin).
The main drawback of this handy little device is the cost. Like any hardware wallet, it comes at a price.
---
KeepKey (hardware wallet)
Security, can store multiple cryptocurrencies
KeepKey is another leading player in the hardware wallet sector. Launched in 2015, this cold-storage wallet supports several cryptocurrencies as well as Dogecoin, including Bitcoin, Ethereum and Dash, and places a heavy emphasis on security.
As it's a hierarchical deterministic (HD) wallet, the KeepKey allows you to generate and store an unlimited number of private keys. The device is PIN protected and features a large display for tracking transactions.
Read more in our review of the KeepKey wallet
All transactions need to be manually confirmed using a button on the device. You can exchange between assets directly on your KeepKey using ShapeShift, and your wallet works on PC, Mac, Linux and Android operating systems.
However, you'll need to fork out more for the KeepKey than other wallets, which means it may not be an ideal option for some DOGE holders.
---
Exodus (desktop and mobile wallet)
Storing multiple cryptocurrencies, free, easy to use, great for staking, responsive customer support
Mild security concerns, no two-factor authentication
Exodus is a multi-coin wallet that can be accessed on multiple devices. It's a safe and convenient way to store your Dogecoin. In its seventh year of existence, Exodus is now not only a great place to store your DOGE, but also the over 150 other cryptocurrencies that the wallet supports.
Exodus is not only a great place to store your crypto, but to stake it, as well. You can stake your SOL, ADA, and ATOM hassle free using Exodus.
You can use Exodus on your desktop (Windows, Mac and Linux operating systems) or on your mobile device (Andriod or IOS).
Read more in our review of the Exodus wallet
Exodus allows you to retain control over your private keys, and it requires a password for login. For those looking to be extra safe, you can also use Exodus as an interface for your Trezor hardware wallet. Also, you can also trade digital assets from your Trezor via Exodus' Shapeshift cryptocurrency exchange, which is built into the Exodus wallet and allows you to exchange dozens of cryptocurrencies.
If you have any trouble using your Exodus wallet, the company's customer support team is highly responsive and eager to help.
One downside of Exodus is that you cannot purchase cryptocurrency from fiat currencies (e.g., US dollars or euros). Another downside of Exodus is that it can be hacked by those who infiltrate your device with malware or keyloggers. A third downside is that signing into your Exodus wallet doesn't require two-factor authentication.
Must read: Storing DOGE in an exchange wallet
In addition to the above options, you may also want to consider storing your DOGE coins in an exchange wallet. While this is a quick and convenient option for anyone who needs easy access to their funds, such as for future trades, it's generally not recommended.
This is due to the fact that you can't retain full control of your wallet's private keys, which means you don't have full control of your funds. It's also worth noting that cryptocurrency exchanges are a popular target for hackers looking to get their hands on other people's coins, so the safest way to store your holdings is to move them into a private wallet.
Which exchanges list DOGE? Find out in our handy guide.
Coinomi (mobile wallet)
Storing multiple cryptocurrencies, easy to use, HD wallet, built-in ShapeShift exchange
Features can be excessive if you just want a basic wallet
Coinomi is a user-friendly mobile wallet that provides a host of useful features for DOGE buyers. With a focus on fast and easy cryptocurrency management, this popular app supports more than 1,000 cryptocurrencies, including Dogecoin, Bitcoin, Ethereum, Dash and Zcash.
An HD wallet, Coinomi is fast to set up and allows you to store your private keys on your device.
You can start sending and receiving payments in just a few simple steps, and there's an in-built ShapeShift exchange for extra functionality.
You also don't have to go through any Know Your Customer (KYC) bureaucracy to manage your funds, which is an important feature for anyone who values their anonymity.
Read our full review of the Coinomi wallet
---
Dogecoin Wallet (desktop and mobile wallet)
An "official" DOGE wallet
While you can still find and download the "official" Dogecoin wallet, it's not the wisest choice. It is no longer actively supported or worked on, and many people have reported losing funds to it.
---
Tips for securely storing your DOGE
Keep the following tips in mind to help ensure the safe storage of DOGE and any other crypto coins or tokens:
Research your options. Before choosing a wallet to store your DOGE, make sure you've thoroughly researched what it has to offer. Is it backed by a reputable provider? What security features does it include? Has it ever been hacked? Considering these questions will help you find a safe and secure storage option.
Go offline. Cold storage is widely considered to be the safest way to store cryptocurrency. With this in mind, if you're holding a large balance, consider leaving a small number of coins/tokens in an easily accessible wallet (if needed), and move the rest into offline storage, for example, a hardware wallet.
Set a strong password. Don't be lazy when setting up a password for your wallet or any other cryptocurrency account; use multiple letters, numbers and other characters to make it virtually impossible to crack.
Protect your privacy. The only way to access your DOGE is with your private key, so make sure you store all crypto private keys in a secure place and never share them with anyone else.
Protect your devices. Install the latest antivirus and anti-malware software on all devices that you will use to access your crypto wallet.
Make a backup. Ensure that your wallet is backed up so that you can successfully recover your funds if something goes wrong.
Make use of all available protections. Familiarise yourself with all the security features your wallet offers, like 2-factor authentication and the ability to create a secure PIN, and make use of all protective measures available.
Check out our comprehensive guide to choosing a crypto wallet
* Cryptocurrencies aren't regulated in the UK and there's no protection from the Financial Ombudsman or the Financial Services Compensation Scheme. Your capital is at risk. Capital gains tax on profits may apply.
Cryptocurrencies are speculative and investing in them involves significant risks - they're highly volatile, vulnerable to hacking and sensitive to secondary activity. The value of investments can fall as well as rise and you may get back less than you invested. Past performance is no guarantee of future results. This content shouldn't be interpreted as a recommendation to invest. Before you invest, you should get advice and decide whether the potential return outweighs the risks. Finder, or the author, may have holdings in the cryptocurrencies discussed.
Images: Shutterstock
At the time of writing, the author holds IOTA and XLM.