The 6 best budgeting apps UK
Discover the best budgeting apps to manage your spending and get better insights.
Budgeting isn't going to be the most fun task on your to-do list, but it's a pretty essential one if you want to be able to manage your money well and have a bit left over at the end of the month to put towards a specific goal.
The good news is that there's quite a few apps now which are designed to take some of the pain out of budgeting. No more poring over spreadsheets, adding up receipts or working out your spare cash on the back of an envelope – we round up some of the digital tools that will do it for you.

Money Dashboard
Money Dashboard is a budgeting app that aims to help people make better spending decisions by showing them all of their finances in one place, and giving them a clear overview of their everyday spending through various graphs and tables. You can also use this analysis to forecast your future outgoings and set savings goals.
To see all this information you will need to add feeds from your current accounts, savings accounts and credit cards to your personal dashboard in the app. Money Dashboard uses the Open Banking concept to see all this data in a read-only format (as you've given it the permission to), but it doesn't make any actual changes to your bank accounts.
The Money Dashboard app and its features come for free, although Money Dashboard does make money by providing consumer spending insights to market research companies. All of the data it sends is anonymised, so you can't be personally identified, but some users may not be totally comfortable with this model.
Yolt
Another free budgeting app that's available in the UK is Yolt, which is probably one of the most comprehensive out there. It also uses Open Banking to pull in read-only information from whichever current, saving and credit card accounts you choose to add to the app.
Yolt then analyses this data on your spending habits to produce charts and spending reports, to help you get an overarching view of all your transactions and track where you're spending the most money.
Yolt also offers you budgeting tips and spending advice, as well as deals on credit and banking products. It then makes a commission if you choose to sign up to one of the financial products that it suggests.
Emma
The basic version of the Emma app is free to use and works in the same way as its peers, by pooling all of your bank account data. But it has a focus on categorising your transactions and telling you where you're overspending, including which one of your bank accounts is charging you the most in fees.
Emma also suggests which unused subscriptions you could cancel and tells you if you go over budget on any of the category spending limits that you decide to set. But it has less in the way of visuals and month-by-month comparisons than some of the other apps.
One interesting point about Emma is its ability to integrate with other types of financial account – so you can check your pension, investment and cryptocurrency holdings, if your provider is one that's compatible with Emma.
Bean
Bean is another budgeting app that has a focus on saving you money by highlighting cheaper alternatives to the services you're currently using, or suggesting some that you could potentially cancel altogether.
It does this through scanning the bank or credit card accounts that you connect to the mobile app (although you can use Bean through a computer as well). Then it might suggest unused subscriptions you could cancel, point out a cheaper insurance provider, or advise you to transfer your credit card debt to an interest-free card.
You can switch service providers through the app, and while Bean is free for the consumer to use, it will make some commission from the new providers that you choose to sign up to.
Wally
The Wally budgeting app does things the old-fashioned way. Rather than reading your bank account data, you'll need to manually input what you've spent (although you can take a picture of your receipts, or ask Wally to remember regular payments such as your rent). While this isn't the quickest way to produce a monthly budget, you don't have to connect the app to any of your bank accounts, which will appeal to more privacy-conscious users.
Wally takes all of the information you've entered, helps you set a budget, and then tells you how much of your daily or monthly budget you've still got left, as well as how much you've spent in each of the categories that you've specified.
The basic version of Wally is free to use, and there's also a paid-for Wally Gold option, which has extra features such as a currency converter and custom budget tools.
Moneyhub
Moneyhub offers a more personalised service, so it doesn't just use technology to help you budget, it also gives you the option of speaking with an adviser as well.
However, the human touch does come at a price, as Moneyhub makes its revenue by operating as a subscription service. If you subscribe through Moneyhub directly, it's 99p per month or £9.99 per year.
For that, you get the usual breakdown of where you're spending your money by category, what your future spending forecast looks like and the ability to set savings goals. You can also look at your other financial accounts, covering things like your mortgage, pensions and investments. Plus you can use the app to connect with a financial adviser.
Why should I use a budgeting app?
You don't have to. You could whip up a financial modelling spreadsheet instead to track your incomings and outgoings each month using an array of formulae…! You could even update your spreadsheet every day and keep hold of receipts and track your expenses.
Or if you're a bit lazier, you could download a budgeting app today and it could take care of all of that for you.
The real benefit of these apps over manual budgeting and traditional banks is simplicity and ease of use.
The other benefit is that the apps are mostly free!
While some charge a fee, many banking apps don't (such as Revolut, Monzo, Starling, Monese). For no money, you can visualise your spending on-the-go and in real time.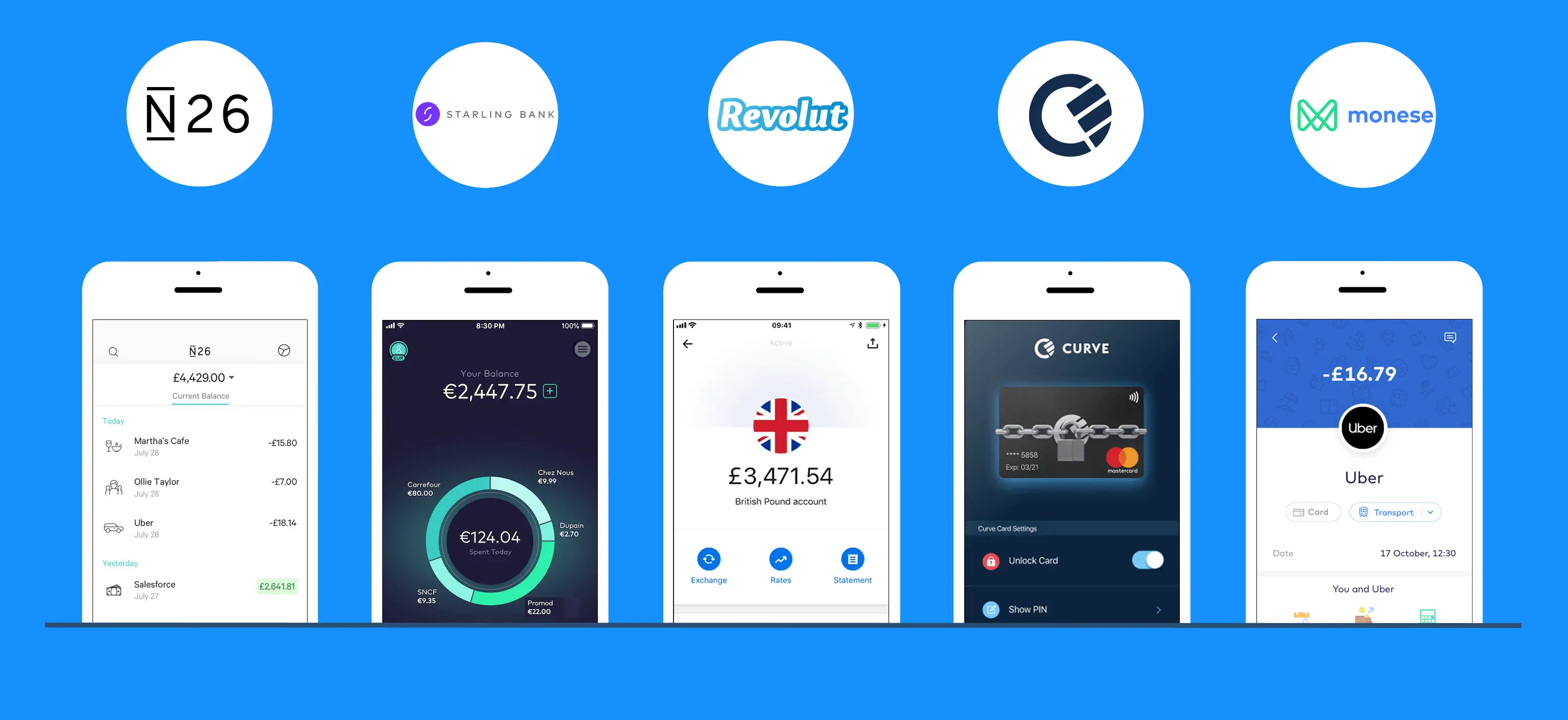 If they're free, how do banking apps make money?
A lot of banking apps are drawing in customers with free services, and the companies plan to diversify later with more traditional banking products (such as savings accounts, mortgages, loans, overdrafts). These products provide the apps with potential revenue in the future.
Some apps are partnering with other fintech startups, to cross-sell each others' services. Head to our news section for the latest developments in digital banking.
What about regular savings accounts?
If you're looking for interest on your savings, then these apps might not be for you. Though savings accounts might not be for you, either. Interest rates have been low for years, and that doesn't look likely to change.
Low interest rates have played a part in driving people away from big banks and towards these newer startups.
While a few do offer interest (see below), most don't.
The way these apps help you save is by acting as pocket accountants, automatically categorising transactions so you can budget better. If you think you're spending too much on eating out, then take a look at the cold hard numbers. Some apps even provide graphs and charts to ram home the message.
In terms of helping you save up, apps like Revolut and Cleo use algorithms to work out how much you can afford to squirrel away. If you choose, they'll also automatically transfer the money to a savings pot.
Which of these apps can I earn interest from?
Longer-term savers may be looking to earn interest from their savings pot. A number of these money apps don't currently offer interest. However, there are some options.
Tandem offers a fixed savings account. Check out our Tandem review to find out more.
Starling offers some interest, so it's definitely worth considering.
So does Monzo, but you need to be able to put aside at least £1,000 to open a Savings Pot.
Moneybox is an easy and simple investment app which works by rounding up your transaction to the nearest pound and investing the spare change in a share portfolio.
Nutmeg or Plum also offer investment options.
The offers compared on this page are chosen from a range of products we can track; we don't cover every product on the market...yet. Unless we've indicated otherwise, products are shown in no particular order or ranking. The terms "best", "top", "cheap" (and variations), aren't product ratings, although we always explain what's great about a product when we highlight it; this is
subject to our terms of use
. When making a big financial decision, it's wise to consider getting independent financial advice, and always consider your own financial circumstances when comparing products so you get what's right for you.